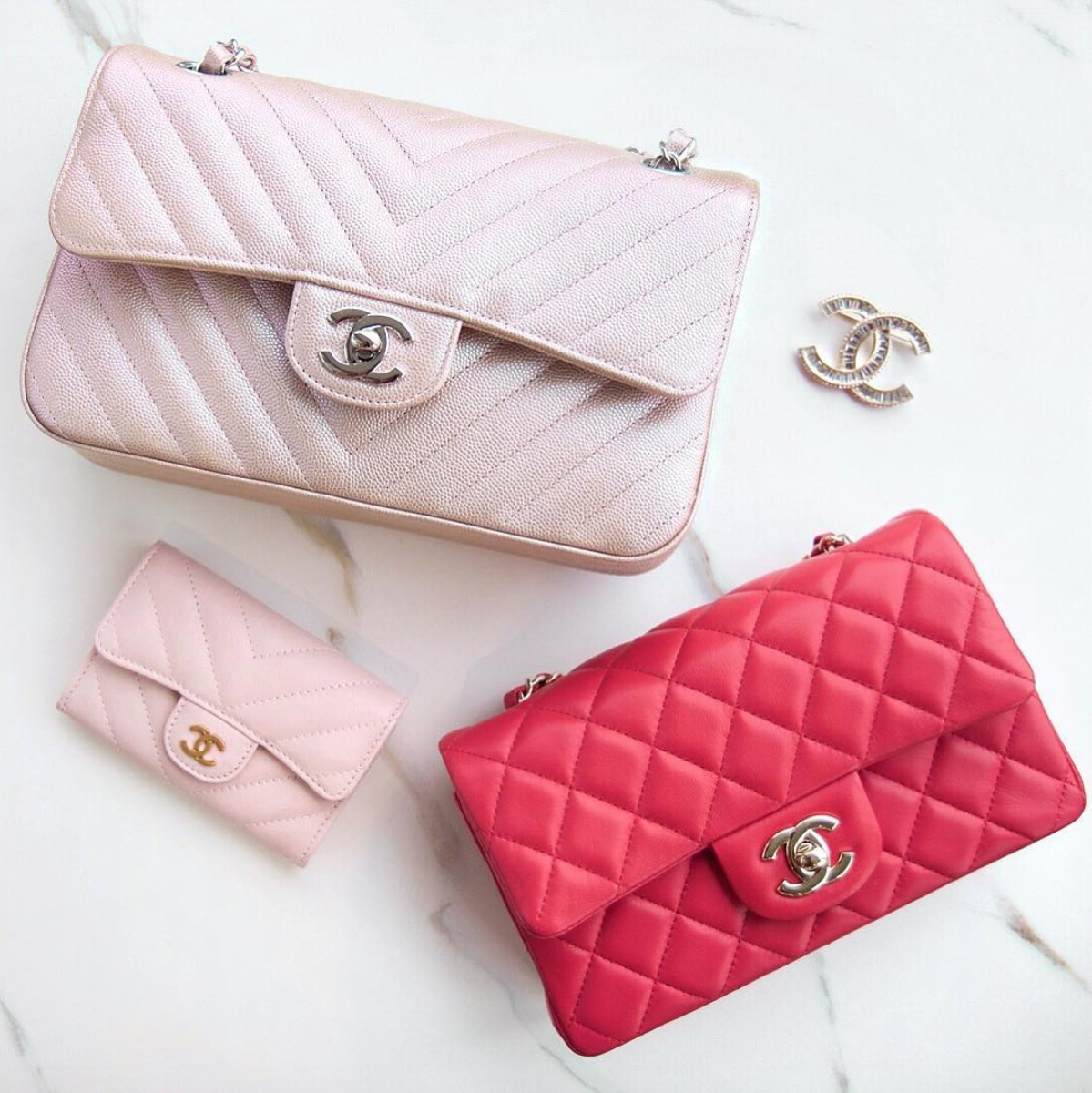 I get asked so many questions all the time about various aspects of buying bags and a fair amount of these are weighted towards Chanel bags. I've answered probably the vast majority of these questions in videos before but I know it can get hard to track what information is in what video so I thought I would do a series of blog posts with reference information that people can refer back to. There is of course, plenty of other information on the internet (which I use myself) with regards to pricing, styles etc. so this is going to be more about my take and own personal opinion on the topics.
I wrote about how to score a Chanel mini here and for today's topic, I'm discussing lambskin vs. caviar – the ultimate Chanel leather question! So, before I dive head first into my opinion, I thought I would shared a few basic facts regarding the different types of leather.
Chanel Lambskin vs. Caviar – The Basics
The 'classic' flaps in the sizes Small, M/L, Jumbo and Maxi should be available all year long in both caviar and lambskin. Caviar is generally the more popular of the two and so is occasionally sold out but deliveries should be fairly often. If you're told it's sold out, try another store or another week.
Other colours and sizes (including the mini) are produced on a seasonal basis and released periodically in line with their seasonal release dates. The exact date of these vary from year to year so when in doubt, contact a store or check the Purse Forum for intel!
Chanel made the move to concentrate more on lambskin a few years ago which means more seasonal bags are produced in lambskin than in caviar. So when you see a gorgeous new colour in the seasonal collections? It's more likely to come in lambskin than caviar.
Lambskin and caviar are not the only leathers that Chanel offers – they will often include calfskin, goatskin, exotic skins and a number of others.
Caviar in particular comes in a few different 'finishes' such as matte, soft and shiny caviar – and there also seems to be a few variations in between! Generally speaking, the shiny caviar is the most popular for both the look and durability.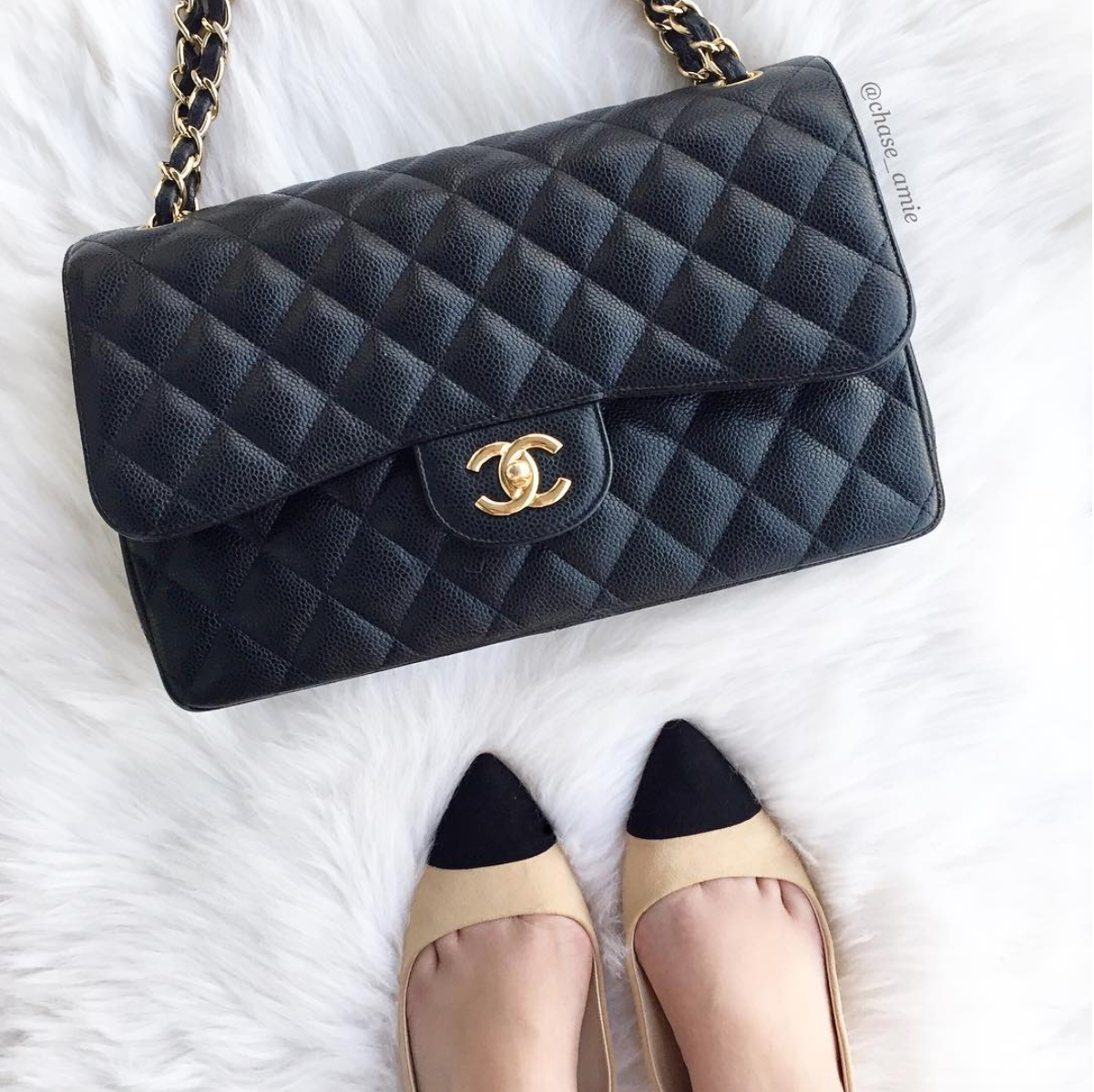 Caviar Leather Durability
There really is no question here that caviar is the more durable leather. The pebbled quality lends itself well to daily wear and tear and holds structure very well because of its more rigid nature. You will eventually see some minor wear on the corners of your flap but if your experience is anything like mine – this will be minor and only after several years.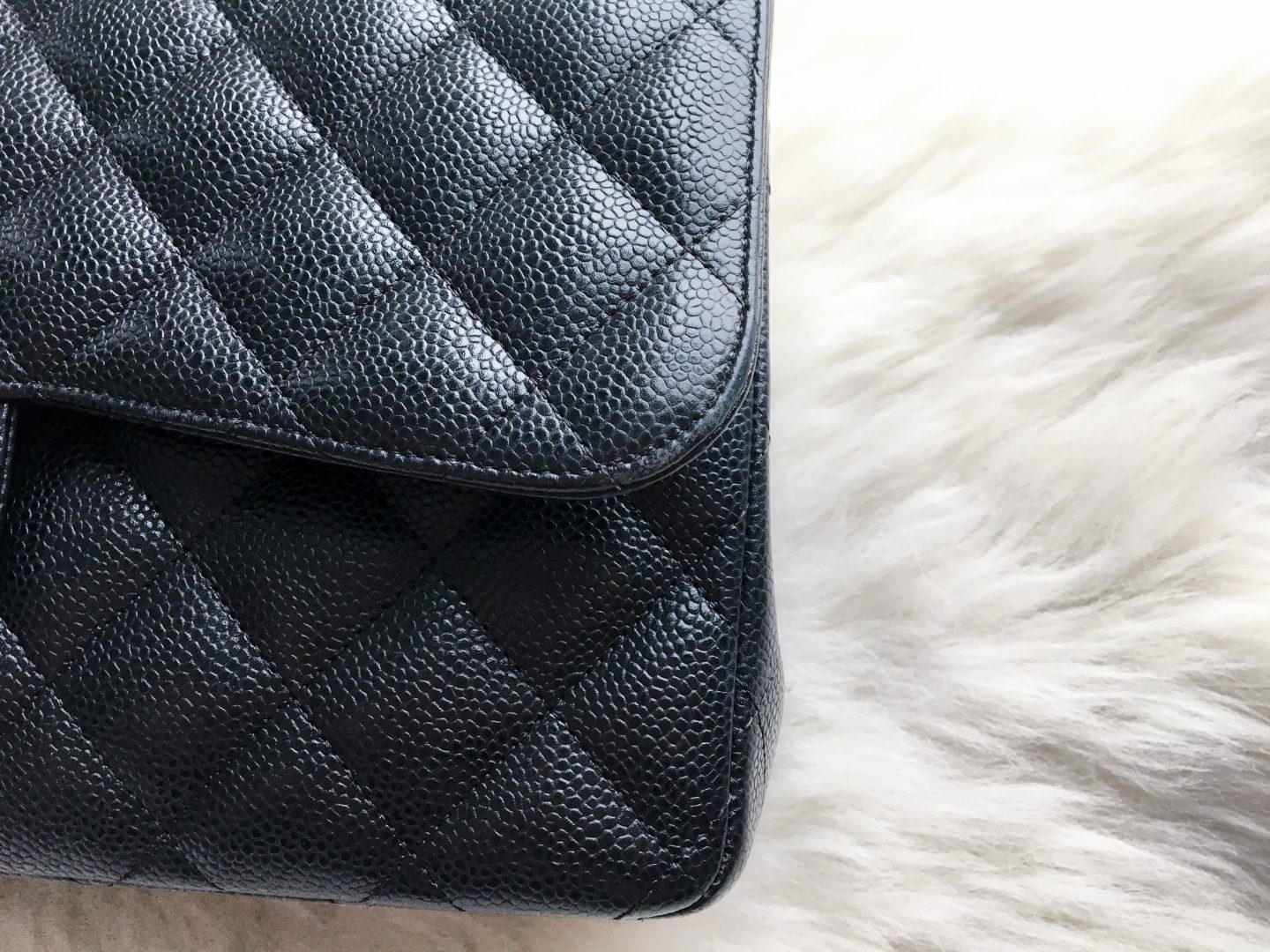 I have heard complaints about the dullness of leather in cases but this will have to do with either the type of caviar leather (because Chanel likes to keep us on our toes and vary the finishes) or the batch (more on that further down).
Generally speaking though, a caviar leather Chanel bag should be extremely carefree – I have owned my Chanel Jumbo for 6+ years now and have never buffed or otherwise conditioned the leather. I've accidentally caught it in downpours and it's come out absolutely fine and generally still looks unbelievably good after so many years of consistent wear.
Lambskin Leather Durability
Lambskin on the other hand will wear fairly quickly under constant use. The first signs of wear will likely appear on the corners of the flap and at the bottom of the bag but you also need to mindful of the overall leather condition and any creases or scratches.
However, it is true that lambskin varies hugely in quality – this is true of caviar too however I would say the difference is more noticeable in lambskin. A lambskin flap that I own that is around 15 years old is made of far sturdier leather than a lambskin flap I bought a couple of years ago. So, it's important to inspect the leather that you're getting.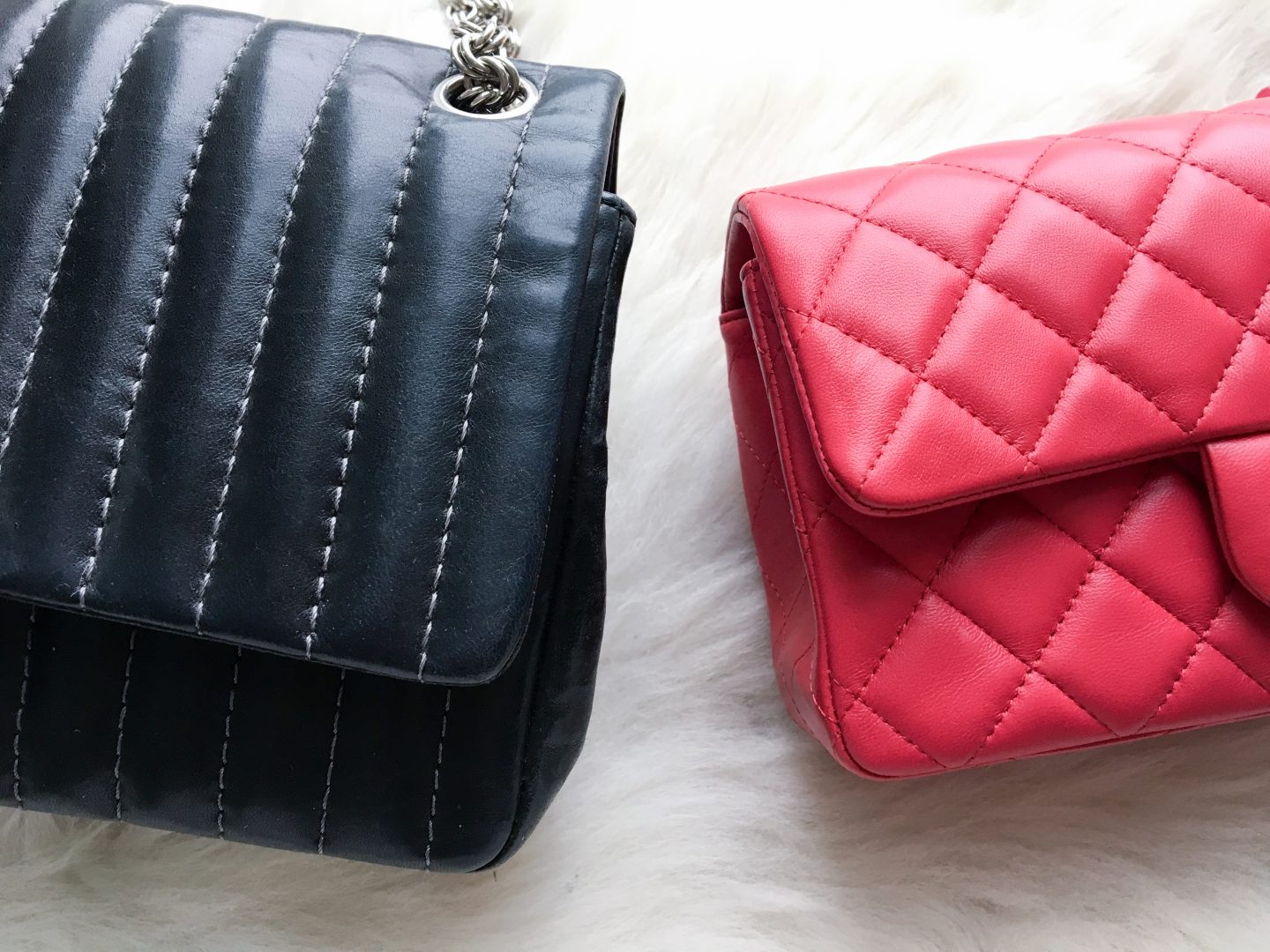 Lambskin Mademoiselle Ligne Flap Bag that is around 15 years old vs. a red Mini Rectangle Flap that was purchased a couple of years ago. The 15 year bag's lambskin is considerably puffier and less prone to creasing.
If you do decide to go for lambskin, then it's worth nothing a few things. Firstly, even though lambskin bags are more delicate – you shouldn't be afraid to use them. I've had my red Chanel mini caught in the rain with zero consequences. If you do get a scratch on your bag, try buffing the leather with the buffer cloth that Chanel provides you. You'd be surprised at how much a little TLC can take care of.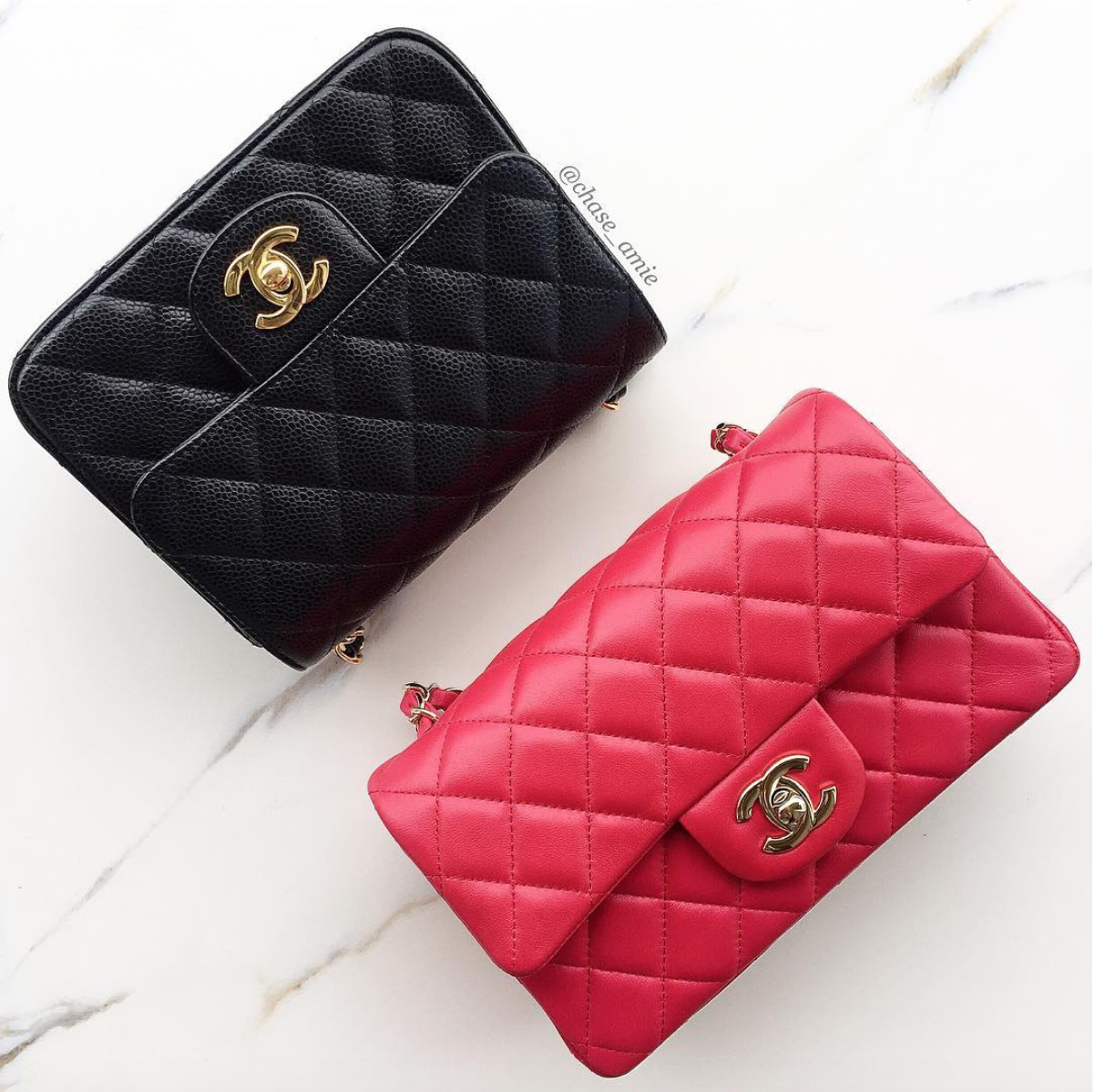 What's best? Caviar or Lambskin?
This does ultimately depend on preference however for those just starting out with Chanel, I would always recommend to go with caviar if you are planning on using it as a frequent bag. Now that I am lucky enough to have a few bags, I am happy to buy lambskin with the knowledge that I can rotate and therefore spread the wear out between all of my bags.
For those more concerned about the look than the practicality, then lambskin might be a good option for you – more of the seasonal colours (and often the best ones) are released in lambskin; I suspect this is because lambskin holds colour a lot better than caviar. So if you have your heart set on a particular lambskin colour, you can absolutely make it work – you'll just have to be mindful that you'll have to be more careful and it will involve a little more TLC.
Tips For Deciding On Your Leather
Again, much of this will come down to preference but there are a few things to think about whilst making your decision.
Be aware that not all leathers are created equal and quality differs from season to season and batch to batch. Do your research on the batch of leather currently available – the Purse Forum is an excellent resource for this. If there's a problem with the leather of the bags currently available, the ladies there will be talking about it!
When seeing the bag in person, inspect it and if necessary, ask to see the same leather on another similar style. The leather can differ significantly from different batches to different lines. Have a feel of the leather and check for any creasing or unusual markers.
Keep in mind your lifestyle and your current collection of bags. If this is your very first designer bag, I'd say go with caviar. Or, if you have a couple of high-end bags but really want a special occasion bag, then lambskin could still work. I made the mistake of buying my first in-store Chanel bag (a Maxi) in lambskin and ending up selling it and going for my Jumbo in caviar instead. Now though? I don't have an issue buying lambskin because I know I have enough bags to rotate.
Be honest with yourself about how careful you are with your bags. If you're not one to baby your items, then perhaps lambskin might not be for you.
I hope you found this useful and I covered most of your questions. If not, feel free to leave me a question below and I'll be happy to either answer, or add it to the post.
Thank you so much for stopping by! 🙂