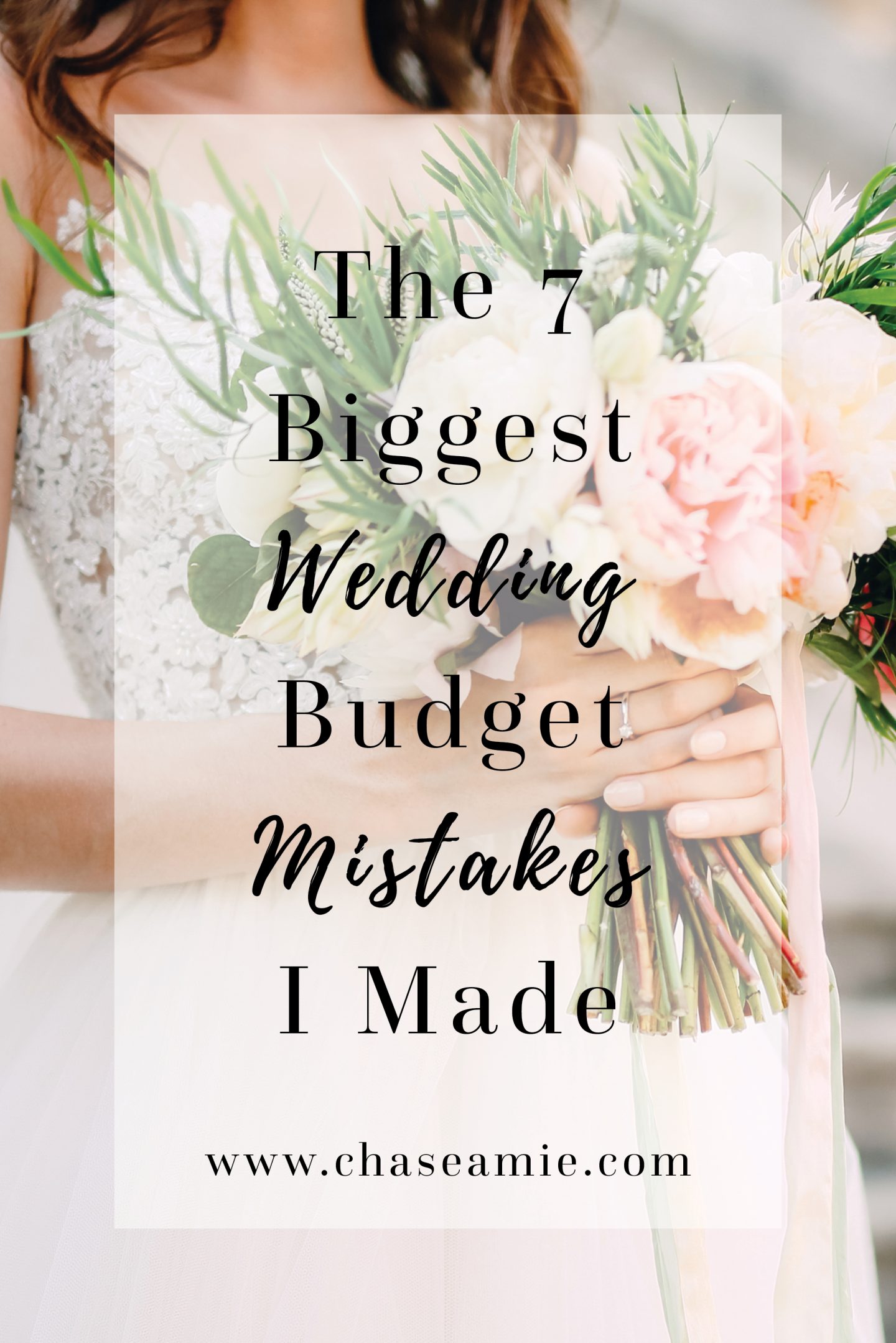 One perhaps surprising thing about planning a wedding is just how much of it revolves around budgeting. You think it's going to be all cake tastings and dress shopping, when actually there's only a little bit of that and a whole lot of staring at your excel budget spreadsheet wondering where on earth all your money went. Whilst I consider myself to be both fairly well versed in planning events and also a pretty organised person, there were still quite a few areas that we just did not plan for when it came to our wedding. So, now that all of our wedding budget is allocated, I thought I would share our biggest budget blunders – hopefully if you're planning your wedding, you can learn from our costly mistakes! 🙂
1. Not thinking through the rentals with our venue.
Truth be told, I was getting a little panicked about finding a venue so when our one popped up and it was every bit as beautiful as the photos, I was sold. The cost was less than our budget but what I hadn't fully considered was the fact that it wasn't a proper wedding venue – meaning, I had to rent in everything myself from cutlery to tables and chairs. As I'm sure you can imagine, these added up quickly.
2. Leaving the caterer quote until last
Everything I had heard about booking wedding vendors indicated that the good ones get booked up really far in advance so I went about booking the most in-demand vendors first (i.e. photographer, videographer, florist etc.). Even though food was really important to us, we weren't concerned about getting a great caterer – France is after all, known for its food! What we didn't anticipate was the cost… it was considerably more than we budgeted and by far the biggest expense of the whole wedding. We quickly had to rejig the budget to make it work which obviously could have been avoided had we have gotten quotes first.
My advice? Definitely prioritise competitive vendors BUT make sure you get initial quotes for your highest cost items so you can build out your budget from there.
3. Not factoring in small décor items and accessories
We've paid for all our wedding vendors by cash because we've had to do bank transfers for them all (all our vendors are international) so it's been fairly easy to keep track of budgeted items. Less easy to track? Smaller décor items that I buy online and pay for by credit card. I started buying items almost straight away and I'm not going to lie – I've not been good at keeping track of exactly how much I've spent and where. Sure it's only £20 here and £30 there but it does add up and can increase a wedding budget significantly. I'm trying to be more careful about recording what I spend but I do wish I'd started as soon as I began buying.
 4. Outdoor wedding = extra toilets needed
Not a very glamorous one and certainly one that we completely forgot to include in our initial budget plans. We were really set on having an outdoor wedding and in the excitement of finding somewhere with such beautiful grounds, it didn't even occur to us to that we might need additional toilets. Even though our venue has toilets inside, they weren't built for events. It turns out that portable toilets don't come cheap (at least not the nice ones!) and although it's not a particularly fun way to spend money, we knew that we didn't want our guests' experience ruined by a dysfunctional toilet situation!
5. Transport for a destination wedding
Here's another one we didn't think about whilst dreaming of a beautiful destination wedding – transport for everyone! We said early on that if we wanted our loved ones to travel to a different country for us, we wanted to host them as best we could – and for us, that meant taking care of every detail that was feasible budget-wise. Of course, these costs also add up and suddenly something as simple as getting people to and from the airport can become a large wedding expense. Now of course, I am very familiar with all the expenses that go into a destination wedding but a year ago? I was totally clueless and I wish I had been better prepared and done a bit more research.
6. Buying items too early on
I touched upon this in an earlier blog post but I am absolutely guilty of getting swept up in engagement-fever! I was SO excited to be planning our wedding that I wanted to do everything now – and that included buying whatever I could early-days. After all, better sooner rather than later right?
Yeah, not so much. I look back at what I pinned on my Pinterest board a year ago and wonder what on earth was I thinking?! The truth is that tastes change as does your vision of the big day. I'm grateful I didn't spend more than I did on wedding items that aren't going to be used but I do have some invites and other decor pieces which aren't making it to the big day. Lesson learnt – there really is no rush. That super cute decorative piece you must have? It'll probably still be there in six months time.
7. Not factoring in trips and arriving early accommodation
And finally, another one that relates to a destination wedding. When looking into France, we took into account venue costs and other big expenses but we didn't really think through all the other logistical items. I'm talking the costs of trips there to do tastings, trials etc., the cost of accommodation to arrive in the country early as well as if you need to stay any extra time after the wedding too. Hotels or Airbnbs can be a significant expense and should have been factored in to our venue/ vendor costs but definitely weren't!
I do want to add that whilst there is a lot of reality-checking in this blog post, I'm still a firm believer that it's possible to have the wedding of your dreams on a budget that makes sense to you. As with most things, it just takes a little bit of creativity and flexibility!
For us, the extra expense that was involved in a lot of the above items was met with cutting back in other areas and adjusting where we could. We did increase our budget a little from where it was originally at but I'm happy to say we've stuck to our guns in most places. And just a final note to say that while wedding planning can be a LOT about budgeting and finances – all of that number crunching pain can be eased if you remember the real reason while you're doing it all 🙂
And that's it for this post! I hope you found it useful and thank you for stopping by!