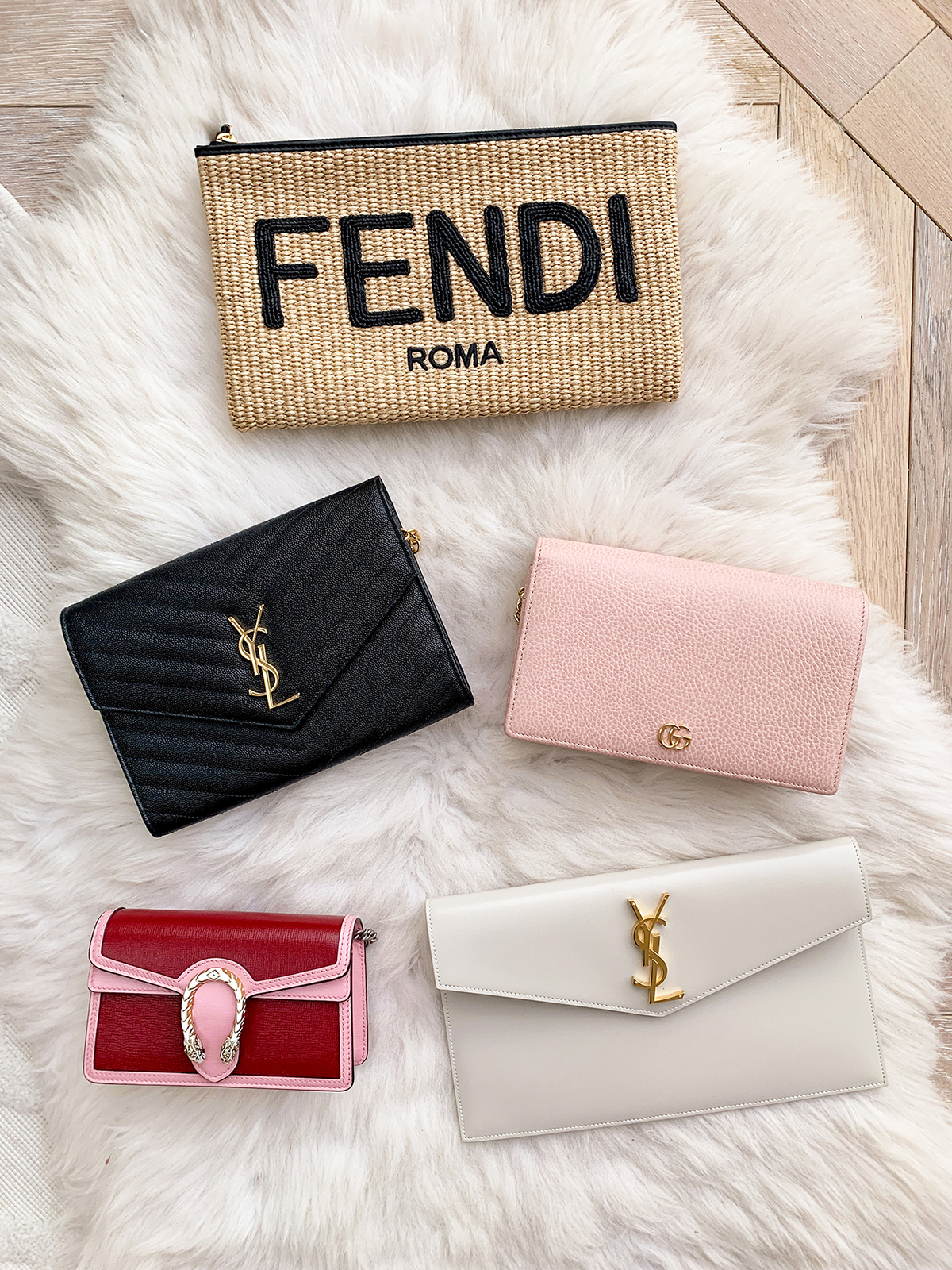 This blog post started life as a video idea – I'm planning on doing a bag collection under a certain value amount and whilst I was initially debating between $1000 and $1500, I had so many messages about a $2000 and $2500 price point! That said, there were enough responses around this lower price option that I thought I would cover it separately in a blog post. These bags will also eventually be covered in the video but obviously a little more briefly (the more bags in a video, the less time I can dedicate to each one!).
The under $1000 price point is getting harder and harder to come – every year brings new price increases and so it feels like every year, there are fewer bags within this category. That said, there are still a few great options if you wanted something that was beautiful quality, still very much a luxury style but isn't in the multiple thousands price range. I'm ranking the ones I own in terms of versatility and general value for money – I love them all but some definitely do better than others in terms of bang for your buck 🙂
So without further ado, starting with number 6…
6. Fendi Pouch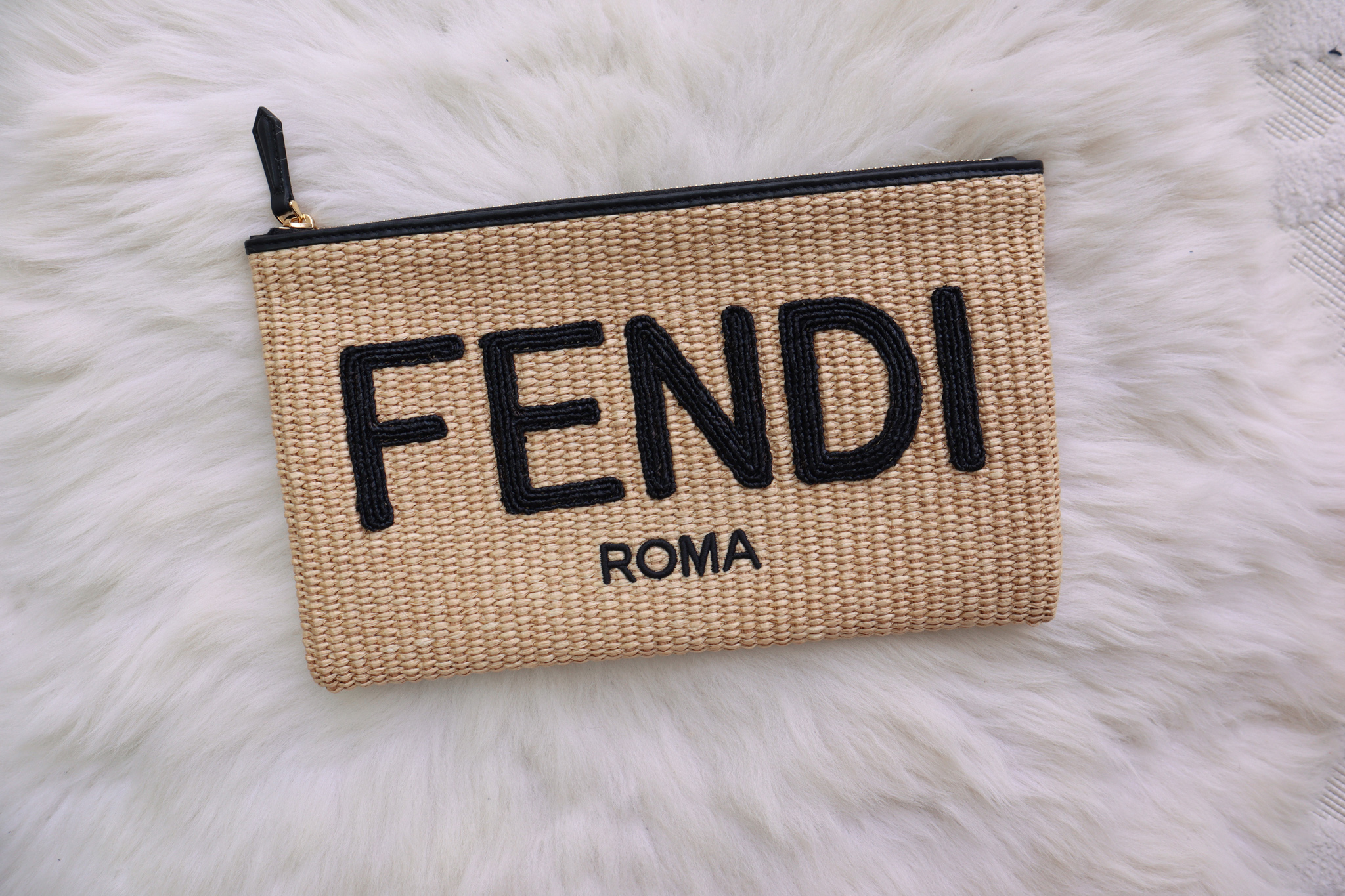 I feel a little bad ranking this one last because I really do love it! But truth be told, it's not the best value for money and it is fairly seasonal in nature. I couldn't imagine wearing this in the colder months and whilst it's perfect for dinners on warm, balmy nights – its use is obviously pretty limited as a result.
Capacity-wise, it can actually fit a decent amount! I'd say you're more limited by the fact that there's no wristlet strap option on this smaller size (and the larger version which does have a strap is really very large) so that may impact how much you'd actually want to carry with you.
The style is lovely and is right on trend if you love large logos. Fendi is in general a little more under the radar and a bit more high fashion so whilst I'm not always one for a huge printed logo, I really love the way this one looks.
That said, it's unlined and you're not getting a whole lot of expensive material for what you pay for here. It's very much a 'you're paying for the name' type situation so that coupled with its seasonal nature, does mean it's not-so-great value and not really one I'd recommend as a first designer bag option as a result.
5. Saint Laurent Uptown Clutch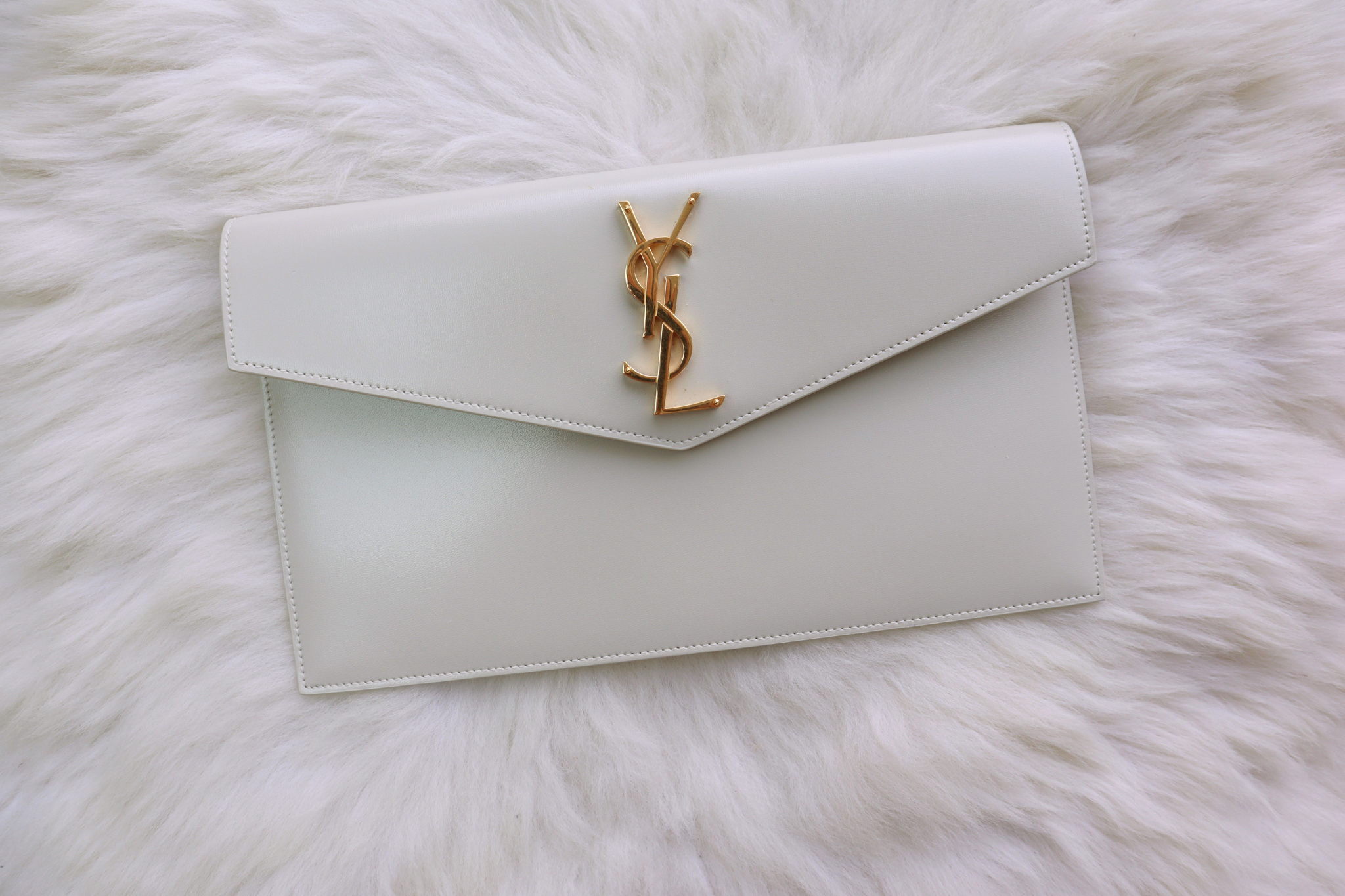 This one I actually would recommend as a first or second designer bag! In terms of proper designer bags from established fashion houses, it doesn't get much better value than the Uptown Clutch. The price point is definitely the selling factor here – I can't think of any other designer styles that are under £500/$600 and you do really get that luxury look for a lot less. The leather is lovely quality and the YSL logo looks and feels substantial and luxurious.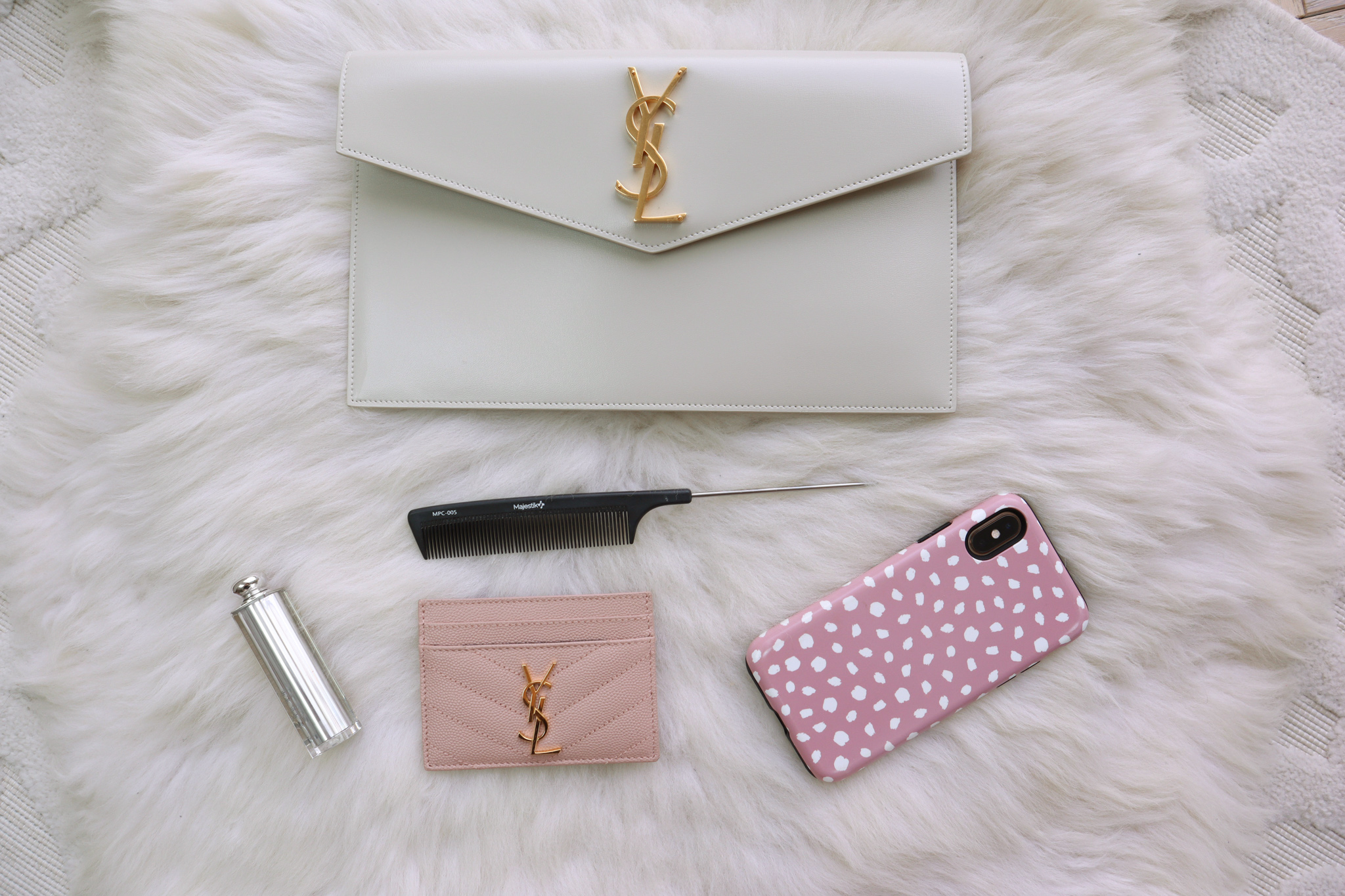 The only downfalls of this bag are the size and the versatility. It is slimline so you can't fit a ton inside – although that will also depend on your tolerance for how much you want to stretch it out! Because it is such a slimline clutch though, this is really only suitable for dinner or special occasions, i.e. any time that you would usually use a clutch. A fantastic option if this is what you're after but a little limiting if you were really hoping to get that cost per wear down.
4. Chloe Mini Marcie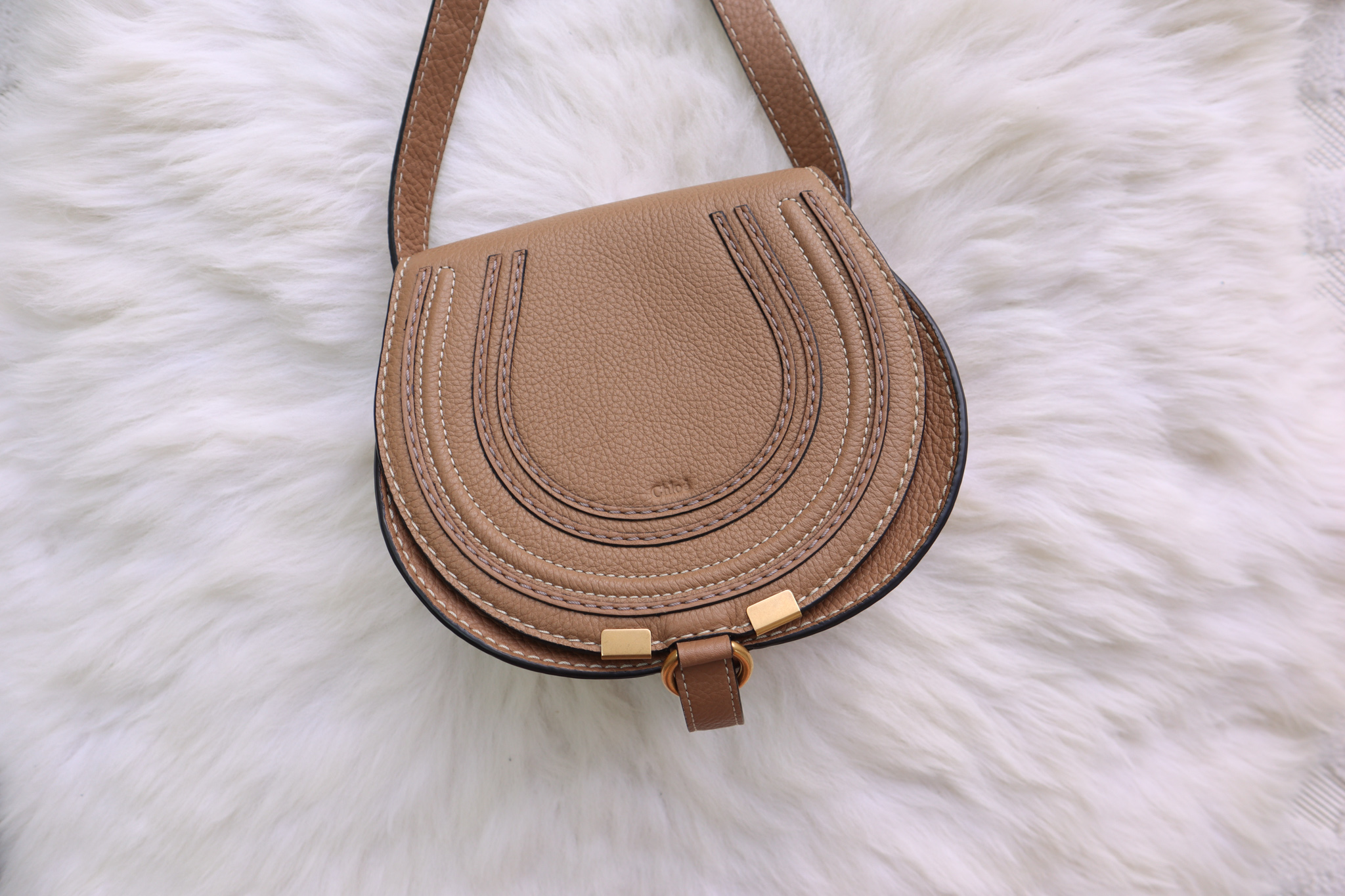 And now for a classic – the Chloe Mini Marcie. I feel like this is a bag that you either get – or you really, really don't. I must admit that I was in the latter category for many years but after seeing the style's longevity (as well as its cameo in James Bond!), I was finally converted. This one really does feel like a classic and the rare Chloe style that really does have staying power.
The leather is lovely quality and the whole bag has an ease to it which is just so perfect for warm summer days.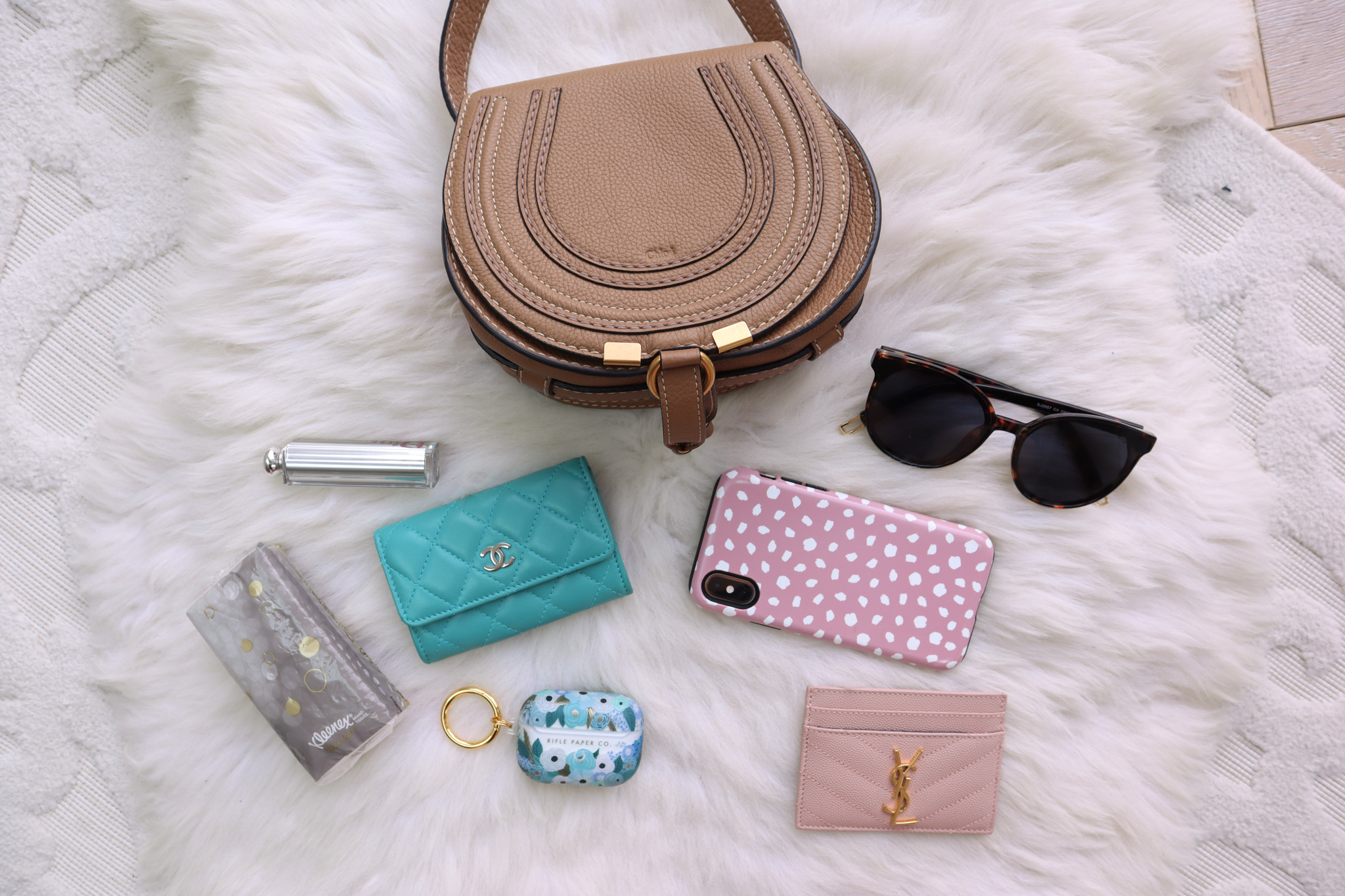 The capacity is fairly decent despite its small size. The main drawbacks to this bag are all mainly personal preference ones – the leather is definitely a bit more 'raw' and features wrinkling and a whole lot of texture. My bag was like that when purchased and it hasn't gotten any worse but definitely something that not everyone will like.
The closure is barely there too so if you like a lot of security with your bags, this probably isn't one for you. Lastly, for me – this is a little more of a summer style. I'm not entirely sure why as I have plenty of styles in this colour that I like to use during A/W but something about the easy going, satchel style makes me reach for it more in summer.
Overall though, if you like the style and want a more casual bag that has a lot of staying power then I do think the Chloe Mini Marcie is a lovely and overall, excellent value choice!
3. Gucci Super Mini Dionysus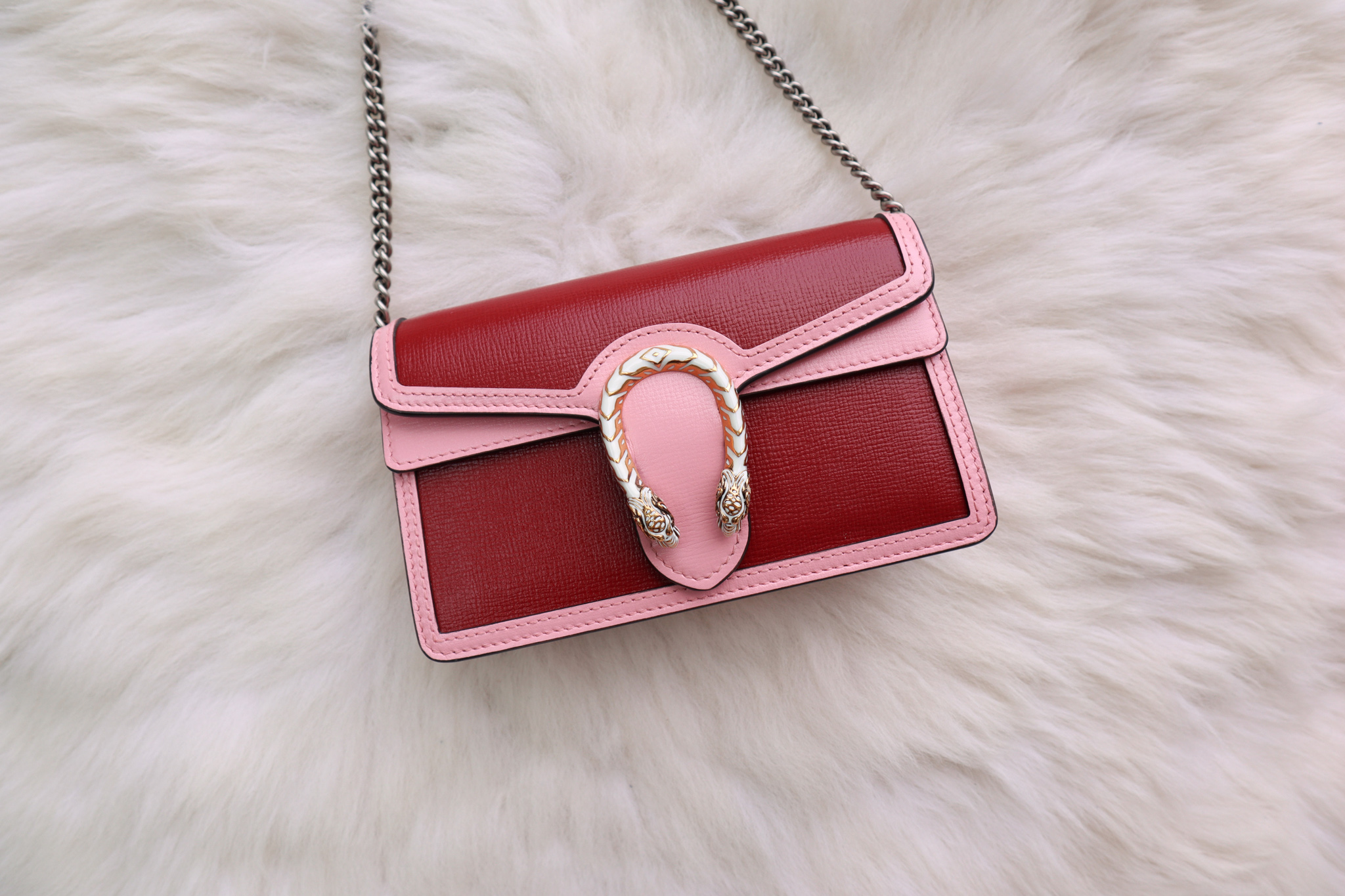 Gucci Dionysus Super Mini (gift/ad)
Ahh my Gucci Dionysus Super Mini! If you've been following my IG stories and OOTDs, you'll probably know this one has been on heavy rotation recently. We've been having a pretty intense heatwave in the UK recently and my outfits have definitely been on the lighter side so this has been the perfect companion to pretty much anything I've been wearing. I'm usually terrible with pops of colour but this one is small enough that I've found it really easy to pair with my daily wardrobe, whether that's with a matching pink or red or a contrasting black or navy.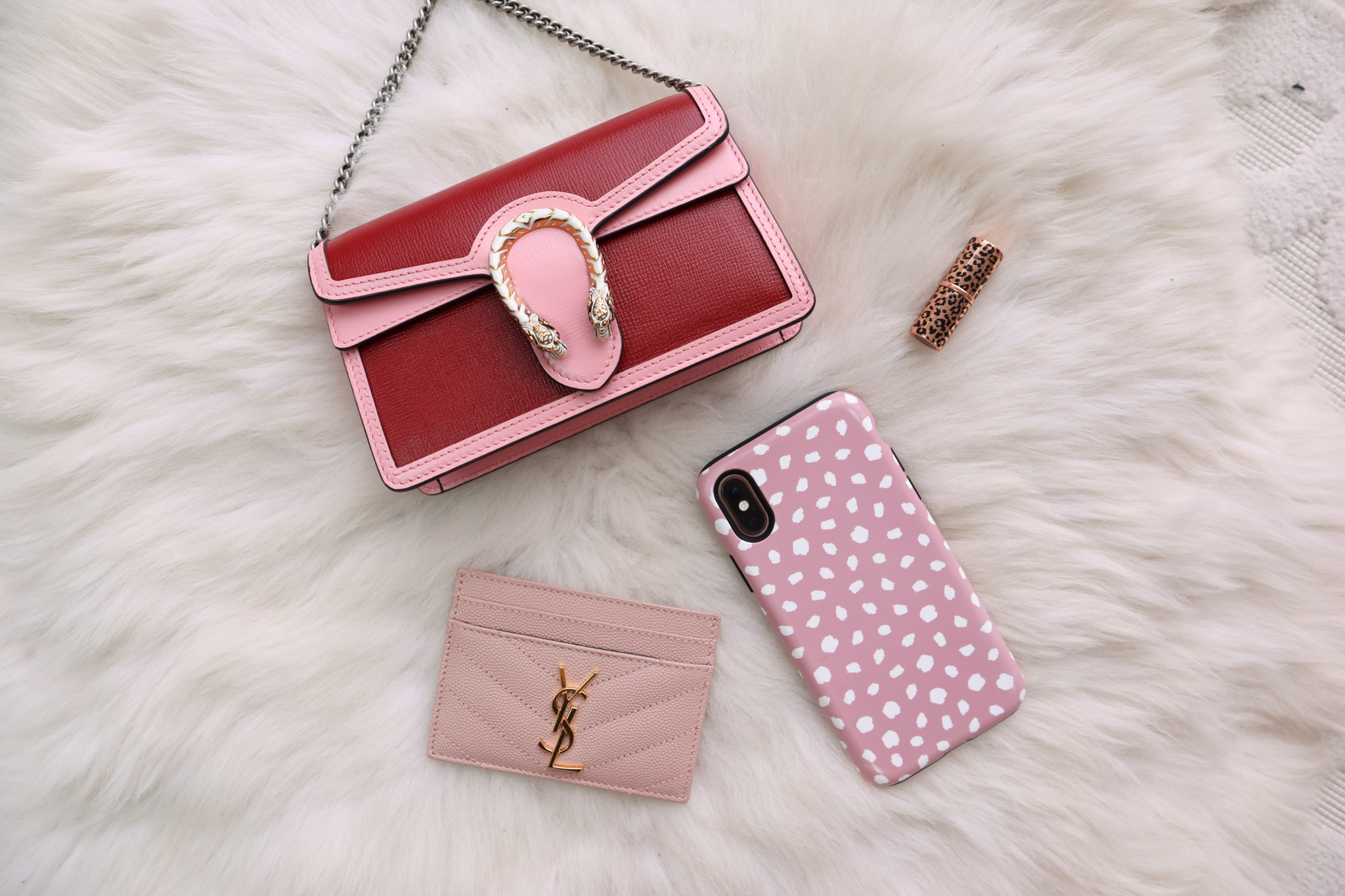 This style is probably the closest I'll ever get to a micro bag and it is definitely very dinky and small. I can only fit in my iPhone (the Pro wouldn't fit I don't think), a card holder and a mini lipstick so this is more of an out-to-dinner bag rather than a 'full day out' bag, where I typically might need to carry a little more.
Nevertheless, I've been loving it for meals or quick outings out and in terms of the overall look and feel, I'd say this one feels like the most luxurious out of all the styles in this post. The clasp is beyond beautiful IRL (my photos don't do it justice!) and it just feels like a seriously luxury bag. If you can make the size work and are looking in this price range, then this is certainly one to consider. If the pink/red combo isn't your thing, then it also comes in the beautiful white and classic black.
2. Gucci WOC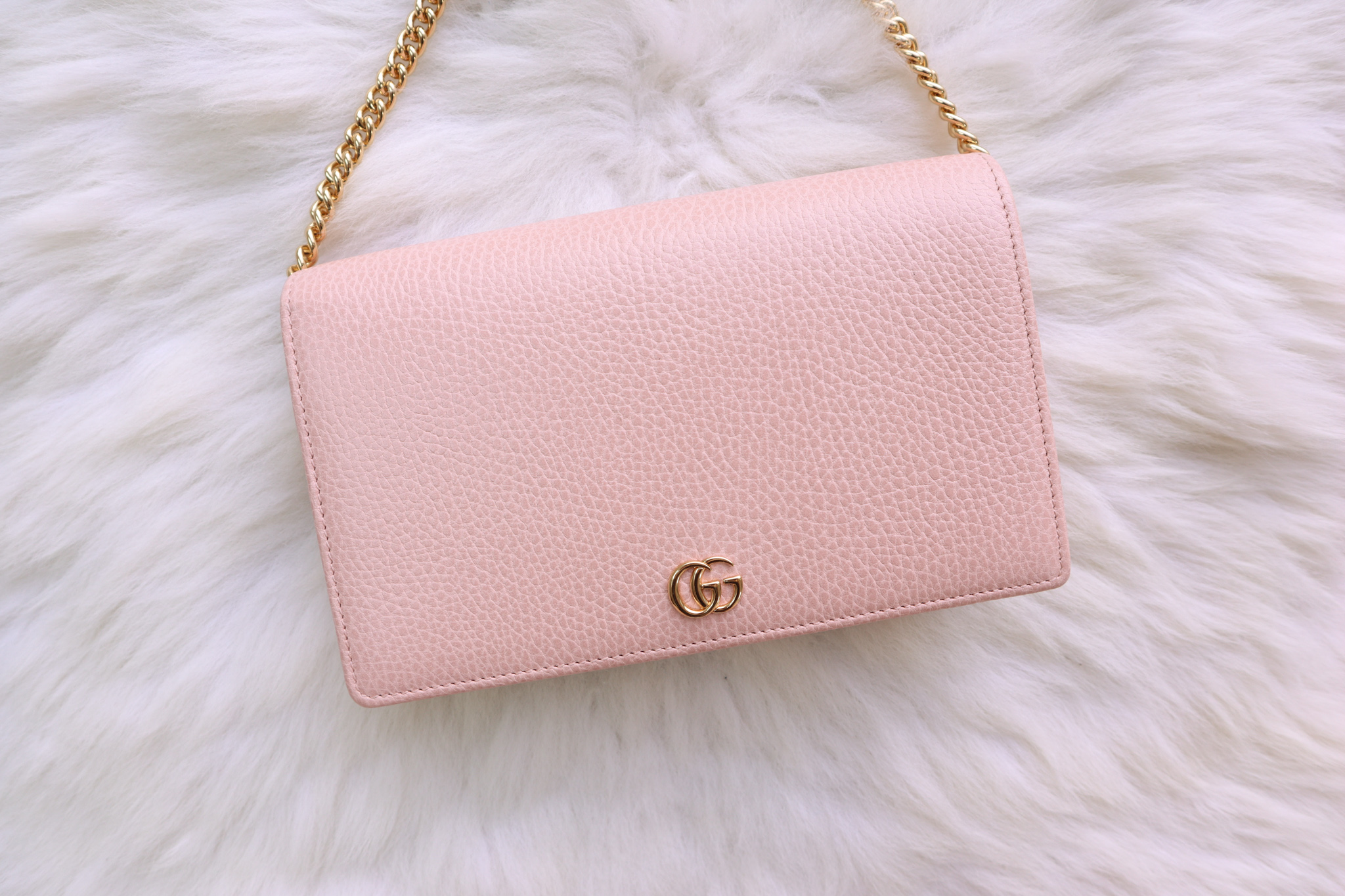 Gucci WOC (only available in black currently)
I've spoken about my love for this bag before – it is so great and such an underrated style from Gucci! My one is the pink version which sadly seems to be discontinued but you can still get the black version here. I've used mine countless times and it's a frequent choice for me when travelling because of its multi-purpose nature and ability to go from day to evening. It makes for a comfortable crossbody thanks to the lightweight chain but easily converts into a clutch for evening with the removable chain.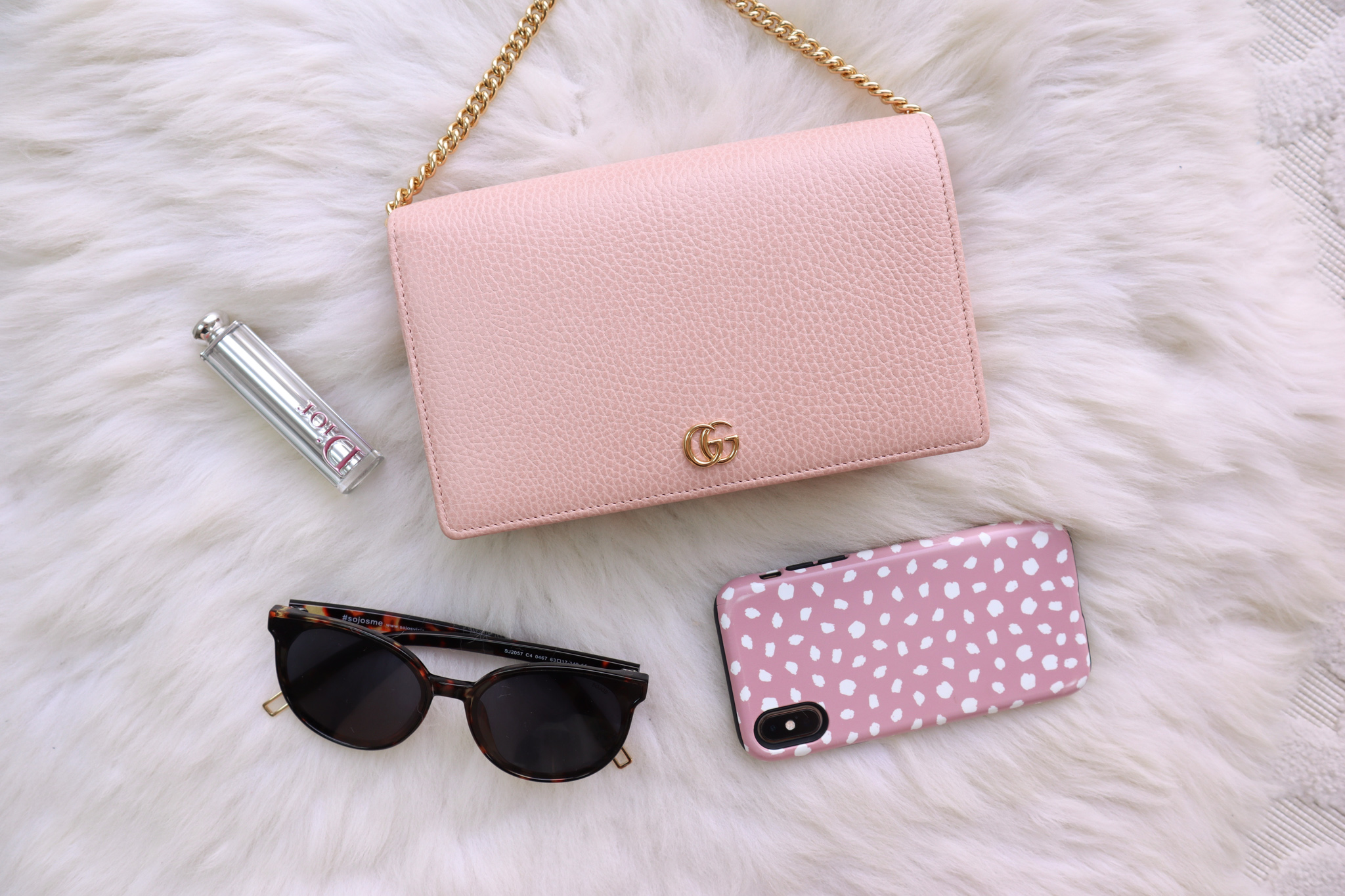 WOCs are by their very nature small – and this one is no exception. This style actually features a mirror on the inside though which I love! So useful and well thought-out. This, combined with the multiple card slots and zipper section means you actually don't need to carry too much and I can easily fit in my cash, cards, phone, lipstick and sunglasses without stretching anything out 🙂
If you're looking for a WOC or even a nice evening style that has a little more versatility, I would definitely recommend the Gucci WOC. Lovely quality, well designed and genuinely a pleasure to use.
1. Saint Laurent Wristlet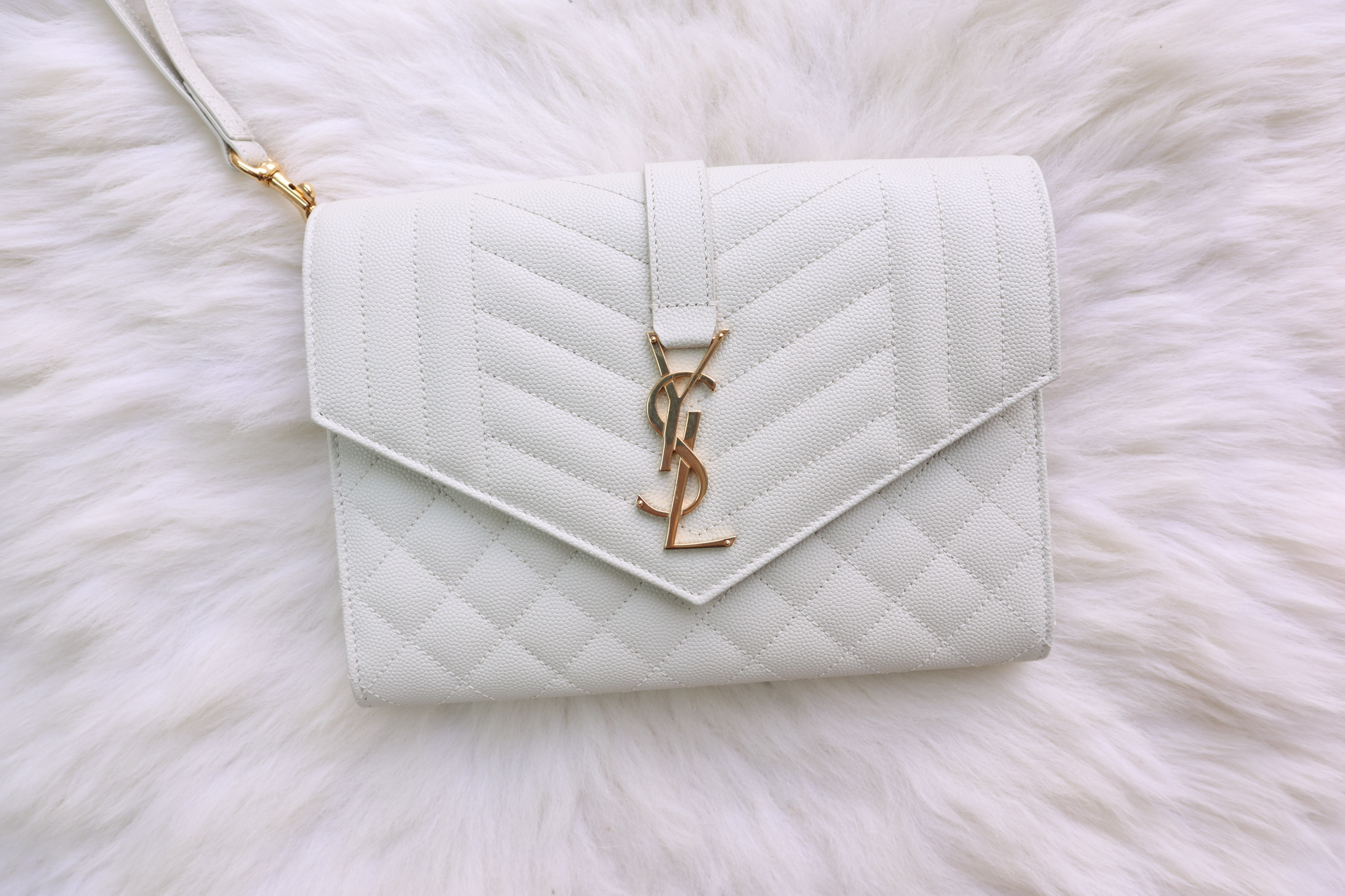 Saint Laurent Wristlet // Black version here
Probably coming as no surprise to anyone, but my favourite bag style under $1000 sits comfortably under the $1K mark and is my beloved Saint Laurent wristlet! I've sung this bag's praises on multiple occasions and I think it's a stand out choice for anyone looking to start or build out their bag collection. The wristlet functionality is fun and easy to wear, whilst it quickly converts into a sophisticated clutch for evening. I use the Senreve chain to convert it into a crossbody to extend its use further.
The leather quality is no different from the pricier Saint Laurent options I own and whilst the lining is only a fabric, it does mean that the bag is incredibly lightweight and a breeze to carry.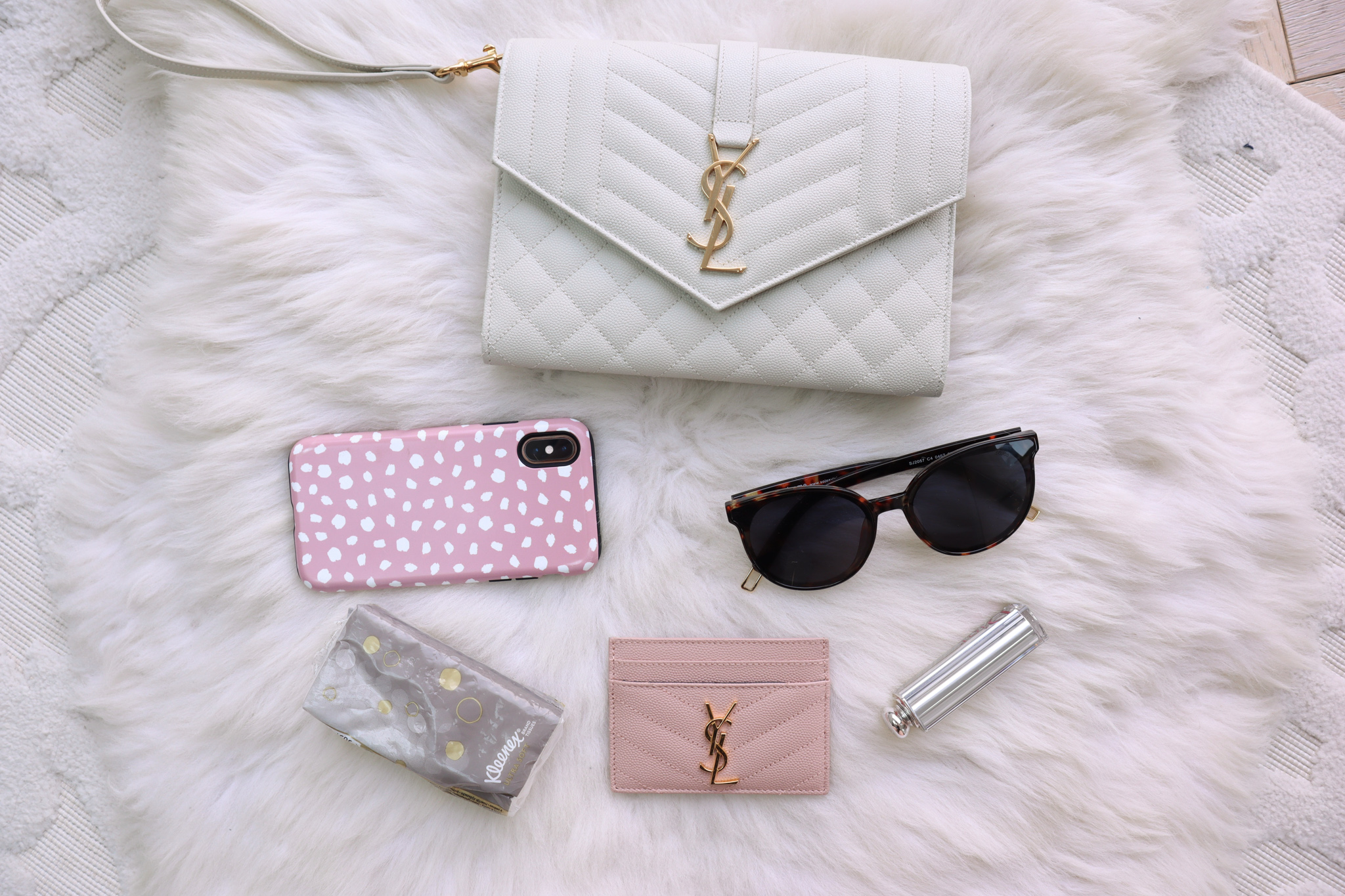 The capacity isn't huge but it is substantially bigger than the Uptown clutch and can fit in everything I need for a meal out. Whilst I do love the Saint Laurent Uptown clutch, if you can stretch to the wristlet, I do think it represents better value for money. It can act like a clutch, just like the Uptown style but also adds value as a wristlet and potential crossbody style too.
The look is extremely similar to Saint Laurent's much pricier WOC options and I just think these are hard to beat in terms of a genuinely lovely, luxurious looking bag that doesn't cost in the thousands!
Hopefully you found this helpful if you're in the market for an under $1000 bag style – and thank you for stopping by!