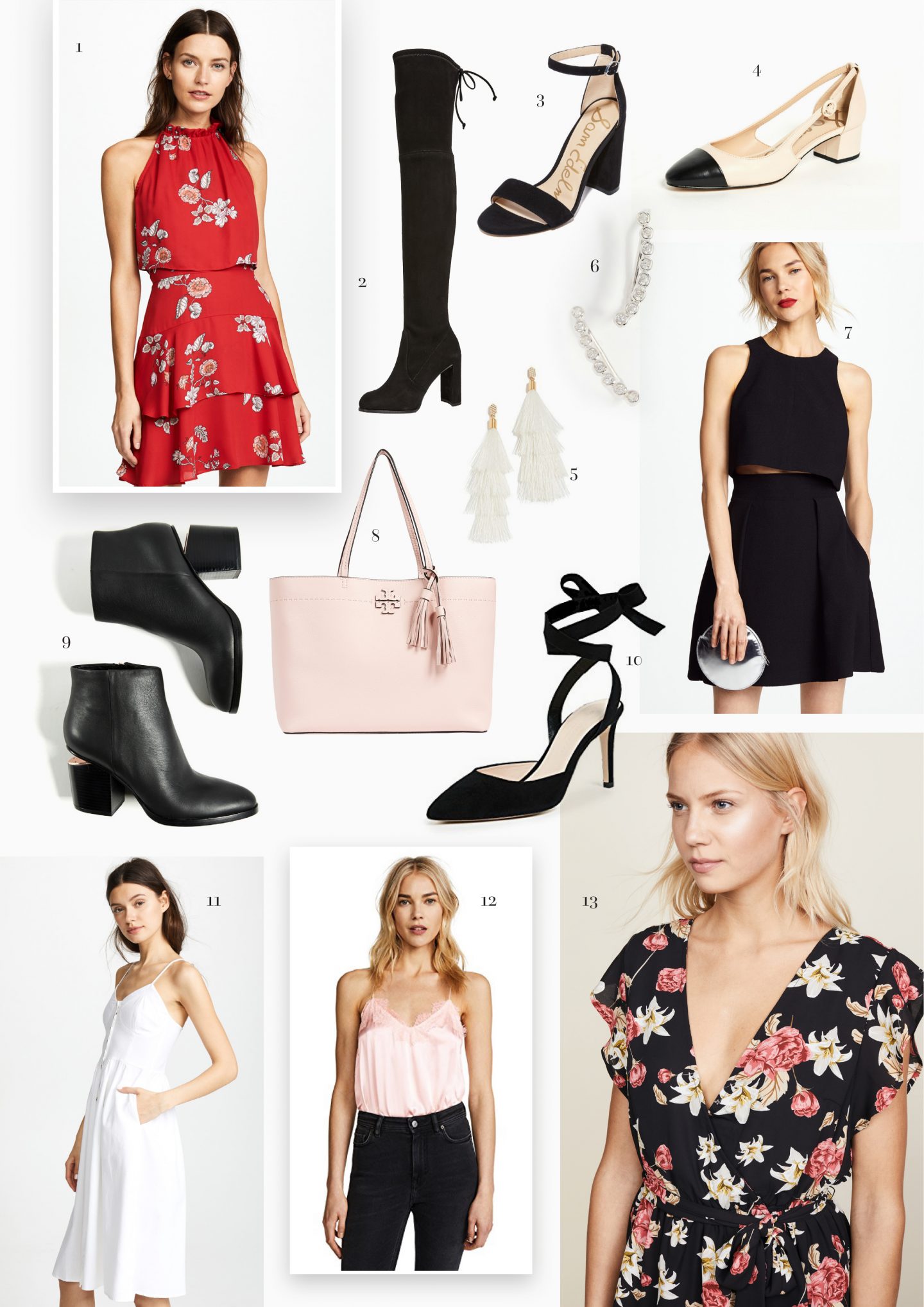 Hello! I thought it was high time I started blogging properly again and what better way to kick things off than with a sale round-up post? Shopbop's annual 'Buy More, Save More' sale just went live and as usual it's full of gorgeous items.
You'll need the code GOBIG18 for the discount to apply and you can get from 15% – 25% off your entire order from $200 upward.
Red Floral Dress // 2. Stuart Weitzman Over the Knee Boots // 3. Sam Edelman Sandals // 4. Chanel-inspired two toned heels // 5. Tassel Earrings // 6. Ear Crawlers // 7. Two Piece Black Dress // 8. Tory Burch McGraw Tote // 9. Alexander Wang Boots // 10. Tie Lace Black Heels // 11. White Dress // 12. Cami NYC lace top // 13. Floral Print dress
I've featured my favourites above including plenty of items I already own, a few items I ordered and items I wish I could order (hello, wedding budget!)
I bought my Alexander Wang boots during their last 'buy more' sale and they've been such a great buy, with people actually stopping me on the street to ask where I bought them! They are a bit of a splurge so now is a great time to nab a discount on both these and the Stuart Weitzman Over The Knee boots. My Tory Burch McGraw tote is also included in the sale in the adorable pink colour – last time it was excluded so this is a new addition.
I also bought this two piece dress in the last sale which I love – I have it in white and am planning on wearing it for my bridal luncheon 🙂 And of course, I had to mention two of my most worn pieces over the last few months – some sparkly ear crawlers and my beloved Cami NYC camisoles! Both are included in the sale and have been absolute staples in my closet recently.
And that's it for this blog post! I'll be back later in the week for a post on Chanel leather comparison if you're currently trying to decide between lambskin and caviar 🙂