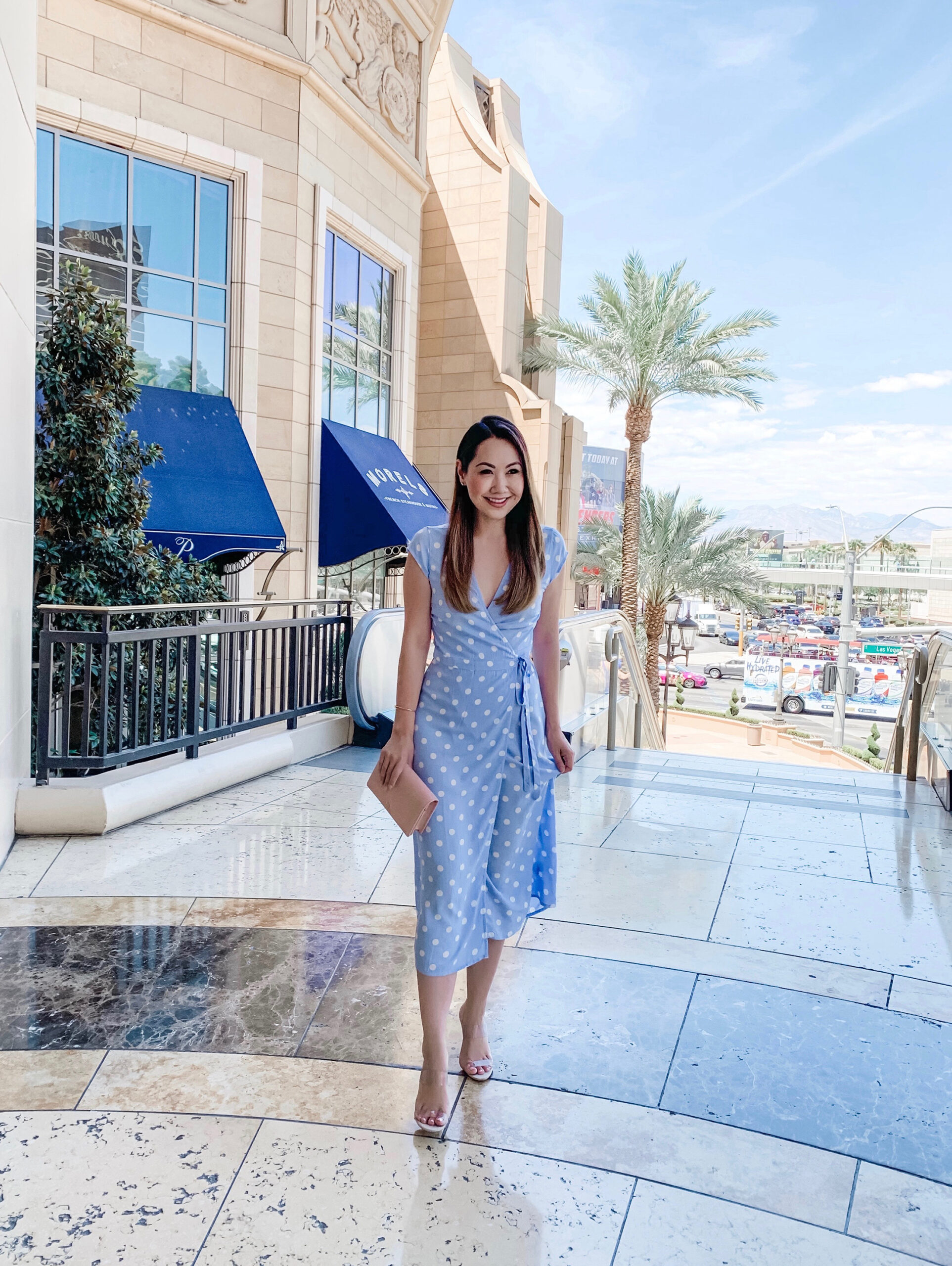 This is something that I've been meaning to do for years so I'm excited to finally get around to doing it! This guide is going to mainly focus on food with a small bit on accommodation. I know Vegas is known for its shopping but coming from Europe, luxury stores are a great deal cheaper in London so I tend to avoid high end shopping in Vegas, other than some fun browsing :). I do love their regular priced stores (i.e. LOFT, Ann Taylor, Nordstorm etc. but these can easily be found in the Fashion Show Mall and Miracle Mile Stores).
Accommodation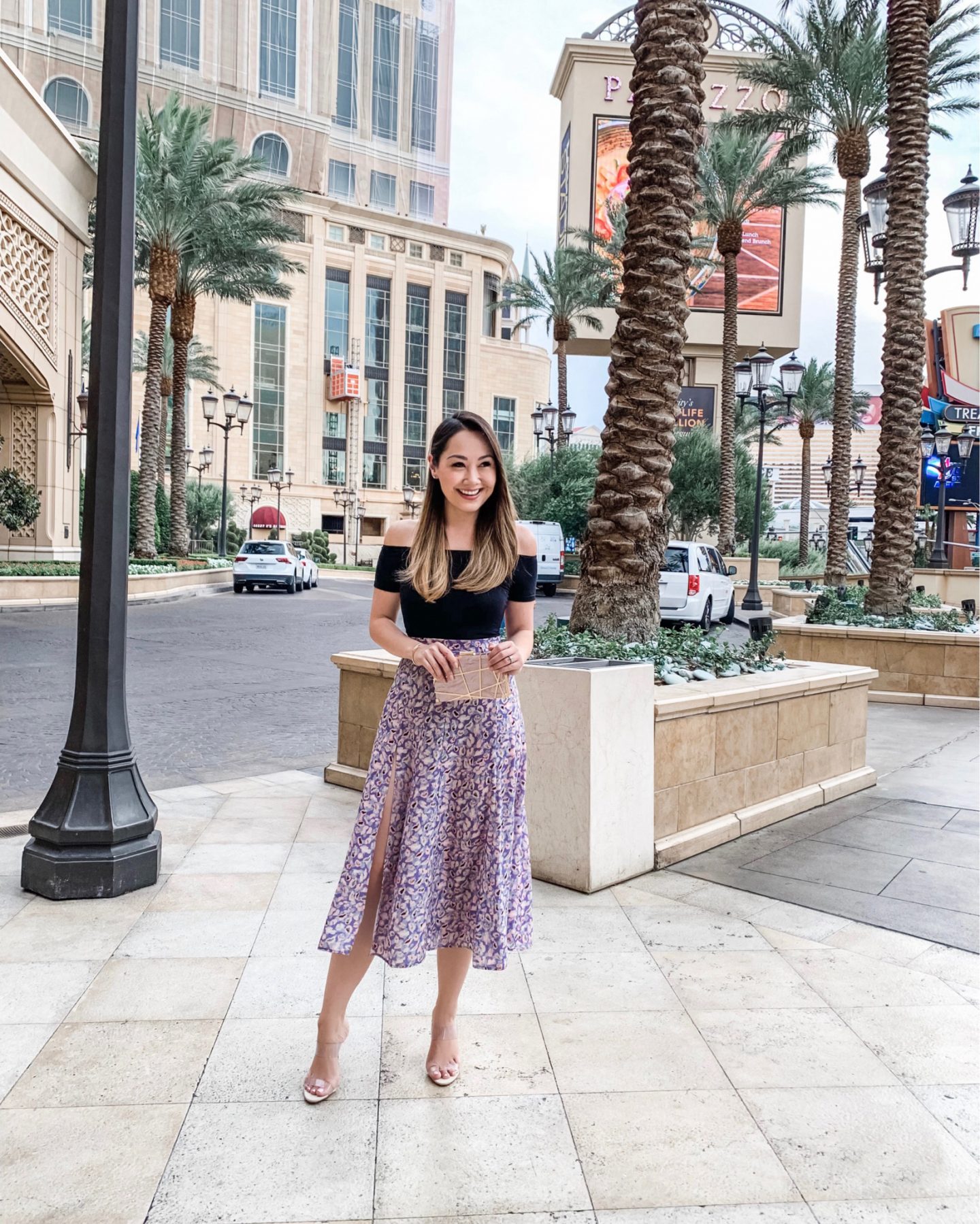 There are no shortage of hotels in Vegas and everyone seems to have their favourites. For me, a casino is a must – not because I'm a big gambler ($5 a bet is pretty much my limit, lol!) but because I do think it helps the atmosphere to feel more 'Vegas'. This will of course come down to personal preference. This year was our first time staying at the Palazzo and it was worlds away from our other hotel experiences.
We've also stayed at the MGM Grand (which is a great budget option if you're trying to save on accommodation), the Bellagio (which is nice but not worth the price IMO) and Caesars, which until this year was our favourite. We had an issue with the hotel not honouring the room upgrade we paid for so we ended up leaving early to return back to the Palazzo. Caesars is still a fun option – especially if there's a group of you but I personally don't think I'd stay again as even the customer service issue aside, it's a pretty chaotic hotel and the service is slower and generally less welcoming as a result.
Because of this, the Palazzo was a welcome change – it's still a super busy and bustling hotel but there's more staff so happily no 1 hour+ waits to check in and even things like catching an uber or storing luggage are made 100 times easier as a result. The location is fantastic and is well situated for everything you'd want to do on the strip. The restaurants within the Palazzo are of unbelievable quality, the pool areas were stunning and the rooms (all of which are suites I believe) are spacious and beautiful. The service was also wonderful – everyone we spoke to was lovely and generally went above and beyond to make our stay pleasant. All in all, I don't think I ever want to try another hotel in Vegas again! I obviously can't comment on every hotel in Vegas, but the Palazzo prices were comparable to Caesars if not a little cheaper and the quality was much, much better. It really felt like a super luxurious stay in the heart of the Strip.
Food
Oh my goodness, where to begin? This year we branched out from our usual haunts and discovered some really great options and importantly, some great deals! Vegas can be incredibly expensive and while some of these are pricey, they all represent fantastic value IMO.
Sushi Samba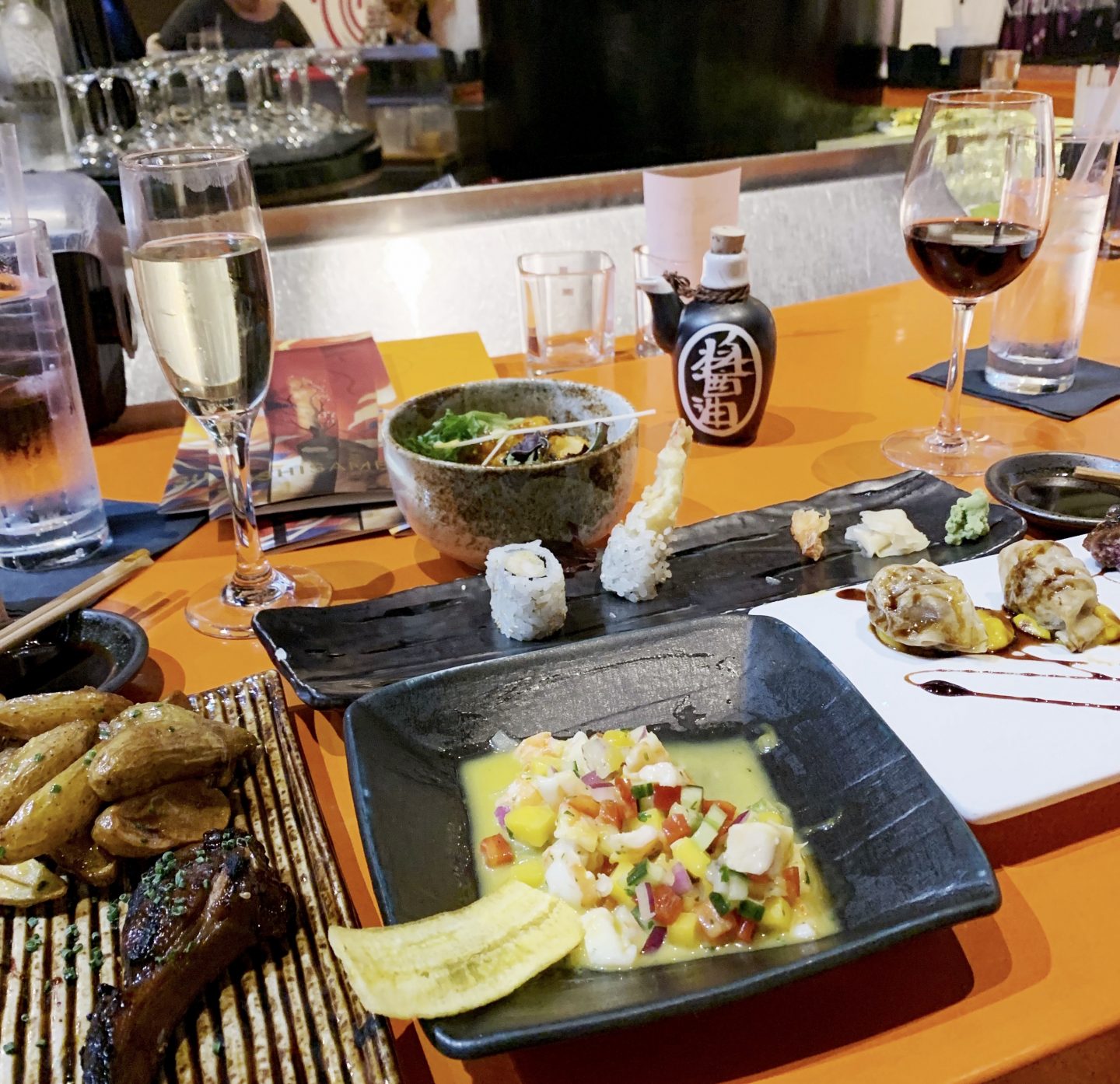 I've never actually been to the London version but the happy hour (or rather 'Samba Hour' as they call it) at the Vegas branch was so recommended, we had to try it. We went here on our first night and I'm too embarrassed to say how many more times we visited. Sushi Samba is certainly not cheap but the happy hour prices are very reasonable for Vegas.
You have to sit at the bar but it's a great atmosphere and there are several cocktails as well as wine and Prosecco included in the happy hour pricing. The best part is the food though. There is an extensive happy hour food menu (served between 4pm-7pm) and literally every single thing we tried was delicious. We were blown away by the food – it was truly incredible! For three drinks each and more food than we could finish (we were eating it as dinner), it came to less than $100. Terrific value for extraordinary food.
Brunch at Lakeside, The Wynn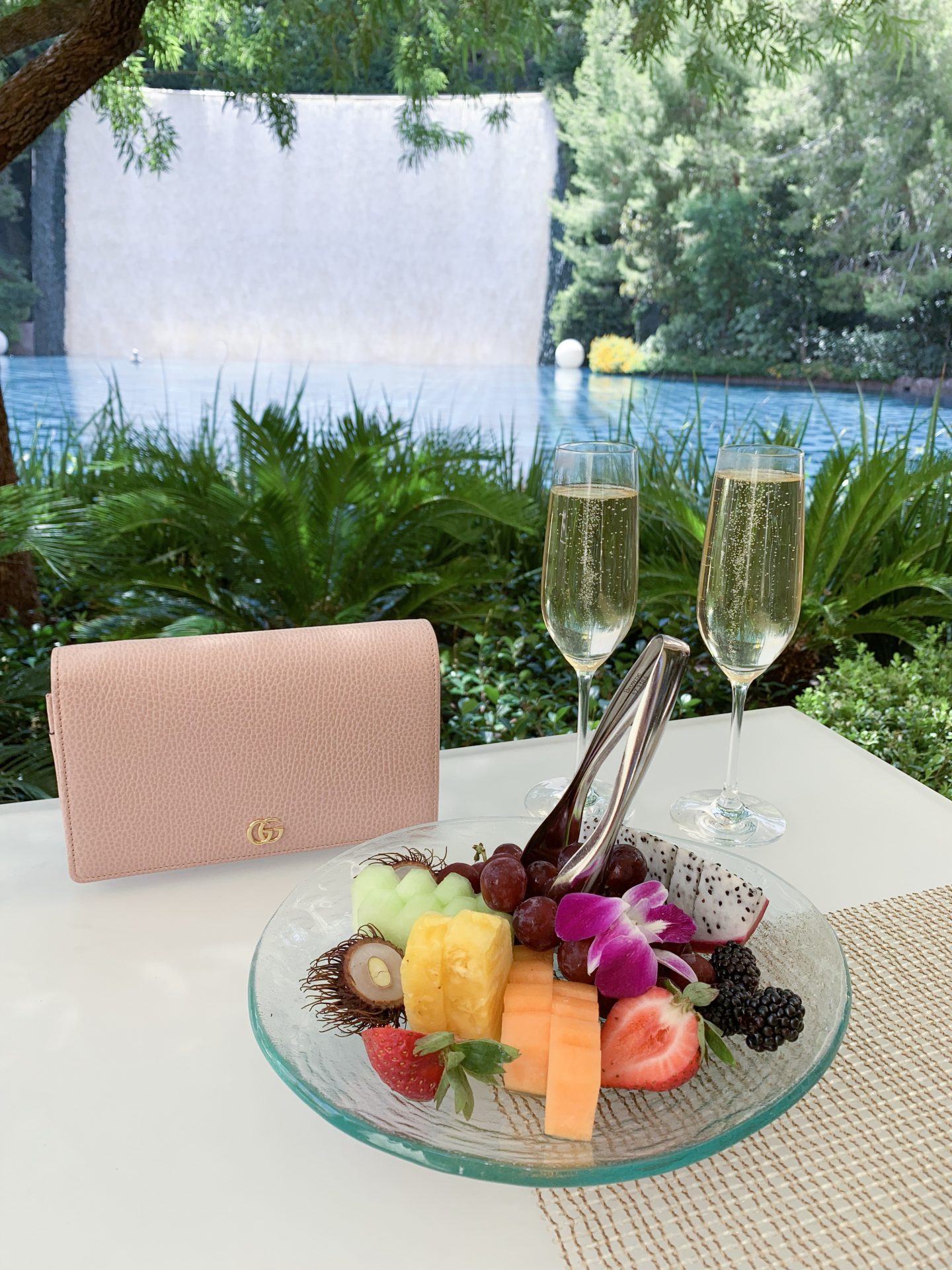 By far, our favourite thing that we did on this trip and quite possibly, our favourite thing we've ever done in Vegas, period. This is definitely a splurge but 100% worth it IMO. Everything from the food to the venue (and the AMAZING view!) to the service was perfect. There is genuinely nothing to fault.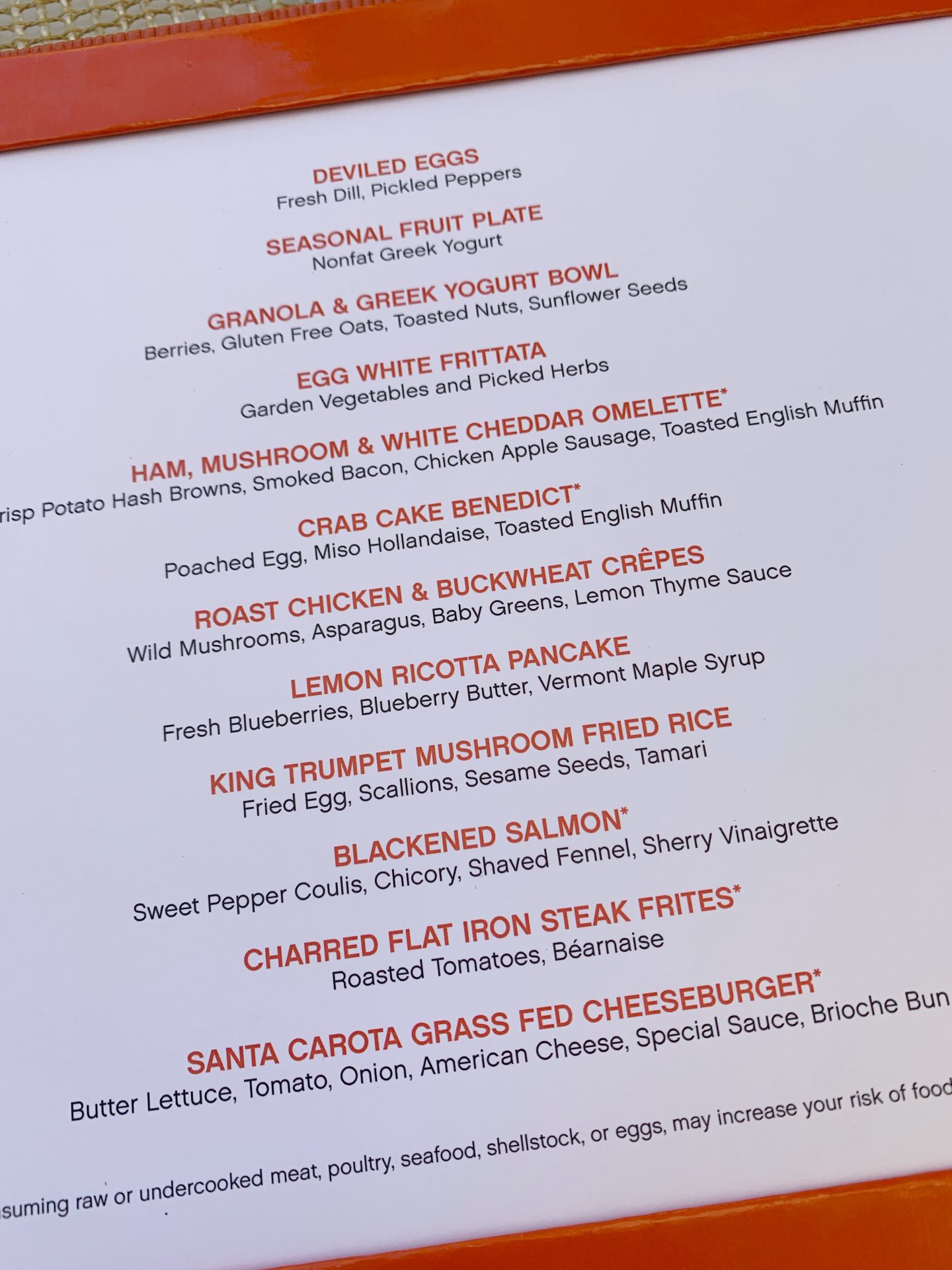 It's a mixed buffet/ a la carte. The buffet part is only seafood which we used as a starter – plenty of shrimp, crab legs and oysters as well as salad etc. Then you could order as many dishes as you wanted from the a la carte brunch menu. There was a decent selection and covered everything from eggs to pancakes to steak and burgers. I went for the steak whilst my mum went for the burger, and then we split the pancakes and a fruit plate. Everything was beyond delicious! There is also a dessert buffet station although we barely had room for anything more. There are unlimited drinks packages available too and it's fantastic that they offer both Prosecco ($40 each) and Laurent Perrier Champagne ($65 each). Our glasses were never even close to empty and kept on being refilled way past the 2 hour mark (despite the restaurant being officially 'closed' at that point!) – the refills only actually stopped when we had to refuse them!
Without gratuity, the bill came to a little less than $300 but that was with the unlimited Champagne option. Just for the food, it's $68 each. Pricey, but if you're planning on splurging on one fancy meal, I would definitely recommend Lakeside at the Wynn.
Charlie Palmer Steak, Four Seasons
We did the 'Cut of the Week' menu which represents fantastic value for money, especially when you consider that 1. this is Vegas and 2. it's the Four Seasons. I don't think I've ever tried a restaurant within the Four Seasons that I've been disappointed by so I was super excited to try this and I was not disappointed.
You do have to specifically ask for the Cut of the Week menu as it's not automatically handed to you but they do so happily. The choices change each week but it's essentially a three course meal (with obviously steak as the main) along with unlimited wine pairings for $58 a person. Considering the prices on the a la carte menu, this is a steal. I assumed the steak was going to be small as they state 'petite' but the portion was extremely generous – we couldn't finish everything! They constantly pour the wine and again, your glass never comes close to being empty. We went on a Monday and there was also a jazz band playing – so great! The food was delicious and the service was great too. Sadly no photos because the restaurant is incredibly dark (why do so many restaurants do this?!) but this is definitely another one I would happily return back to.
Best Friend, Park MGM
We wanted to visit Best Friend after watching the Chef Show on Netflix (if you haven't watched it, I'd definitely recommend!). We understood this to be a Korean/ Mexican fusion but to be honest, the Mexican influence was fairly minimal. Nevertheless, the restaurant is one of the coolest I've ever been to (tucked away in Park MGM) and the food was very, very good.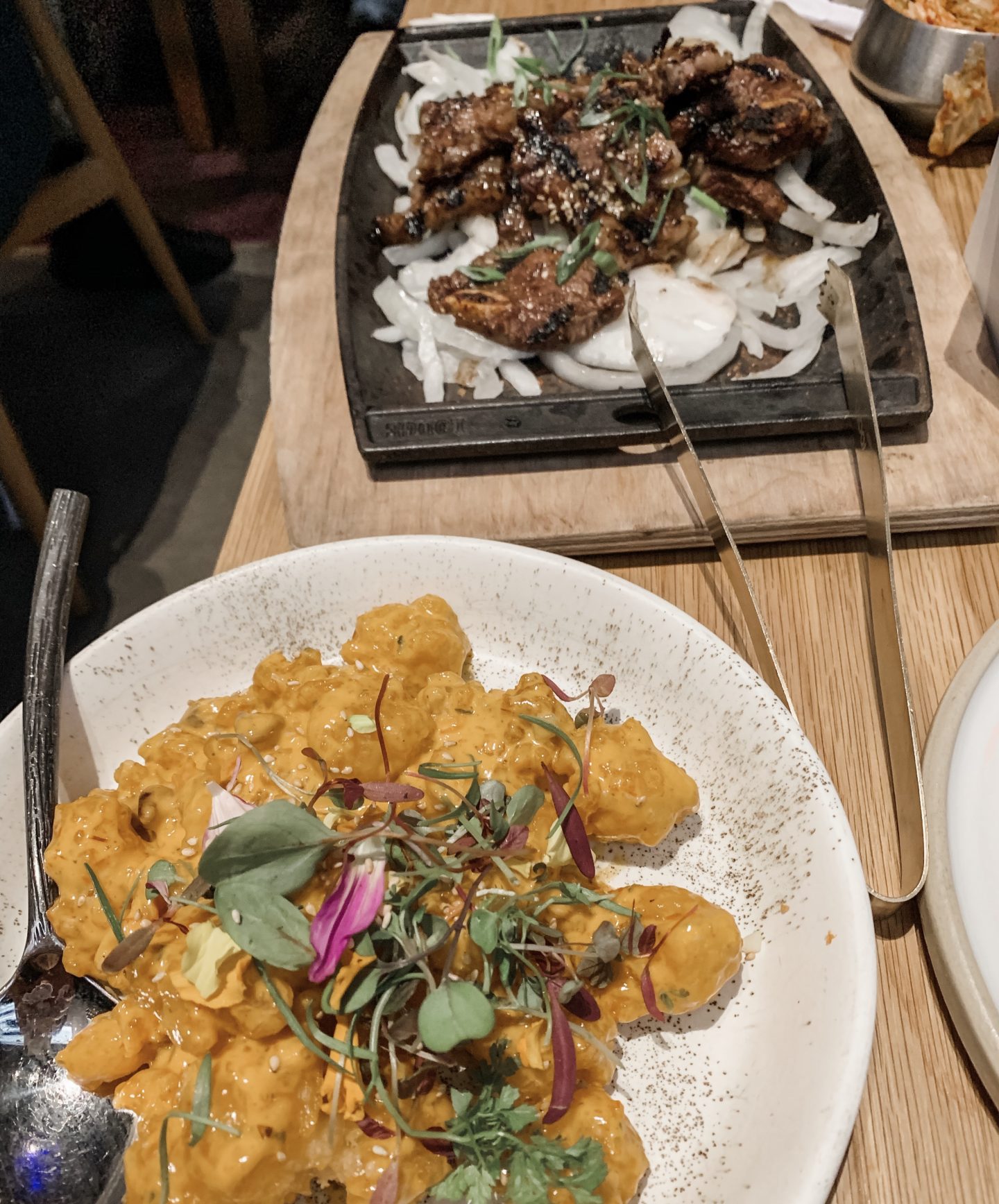 Not everything was a win – the highly recommended slippery shrimp was a little too rich for me but everything else was delicious. In particular, the Kalbi and Kogi Short Rib Tacos stole the show. Super yum and definitely worth a visit, regardless of whether you're familiar with Korean cuisine or not. It's definitely got a lot of LA influence and I imagine most people would find several things on the menu to enjoy. One to book ahead for though – it was totally full when we visited.
Mr Chow
I've never visited for a full meal and to be honest, I've heard mixed reviews about dinner here but I've done the happy hour several times and I love it each time. Mr Chow is situated in Caesar's Palace and the happy hour runs from 5-7pm. It's half off all drinks under $40 (meaning you can get some very fancy glasses of champagne for under $20 – unheard of in high-end Vegas restaurants!) and they also do a selection of mini bites at special happy hour pricing. The glazed prawns are worth the visit alone (we ordered a second helping!) and the mini ribs and prawn toast are great too. Great value and super yummy food.
Grimaldi's Pizza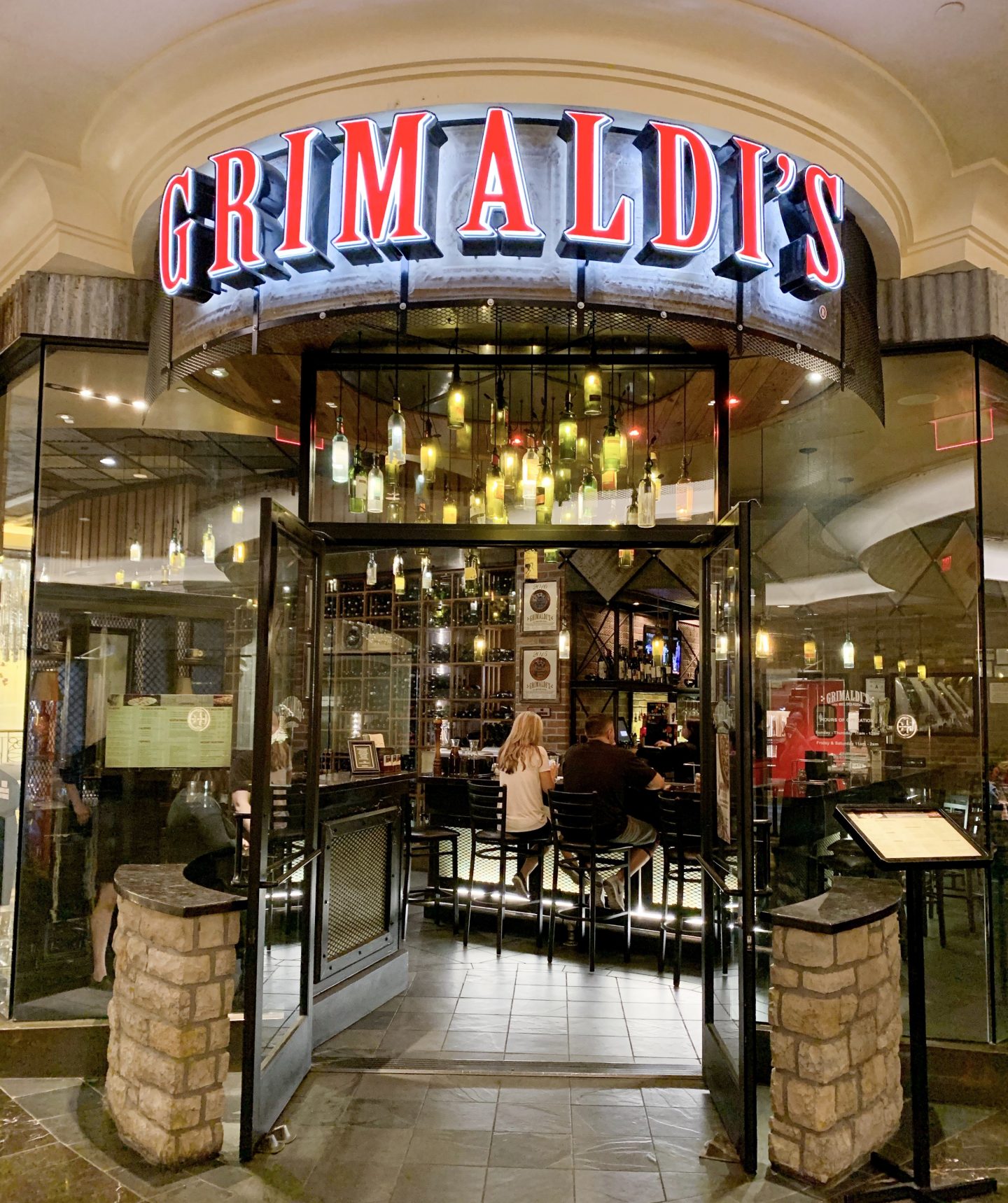 For a more affordable option, Grimaldi's pizza is always delicious. We frequented the one in the Palazzo shopping area but there's also one in the Fashion Show Mall. The pizza is thin crust but the perfect combination of crispy without being too crispy (if that makes any sense!). A 12 inch pizza was great for two of us to share for lunch and along with a salad and drinks came to less than $40 each time. Dan was actually the one to recommend this to me for the first time and we always make sure to visit now.
Bouchon Bistro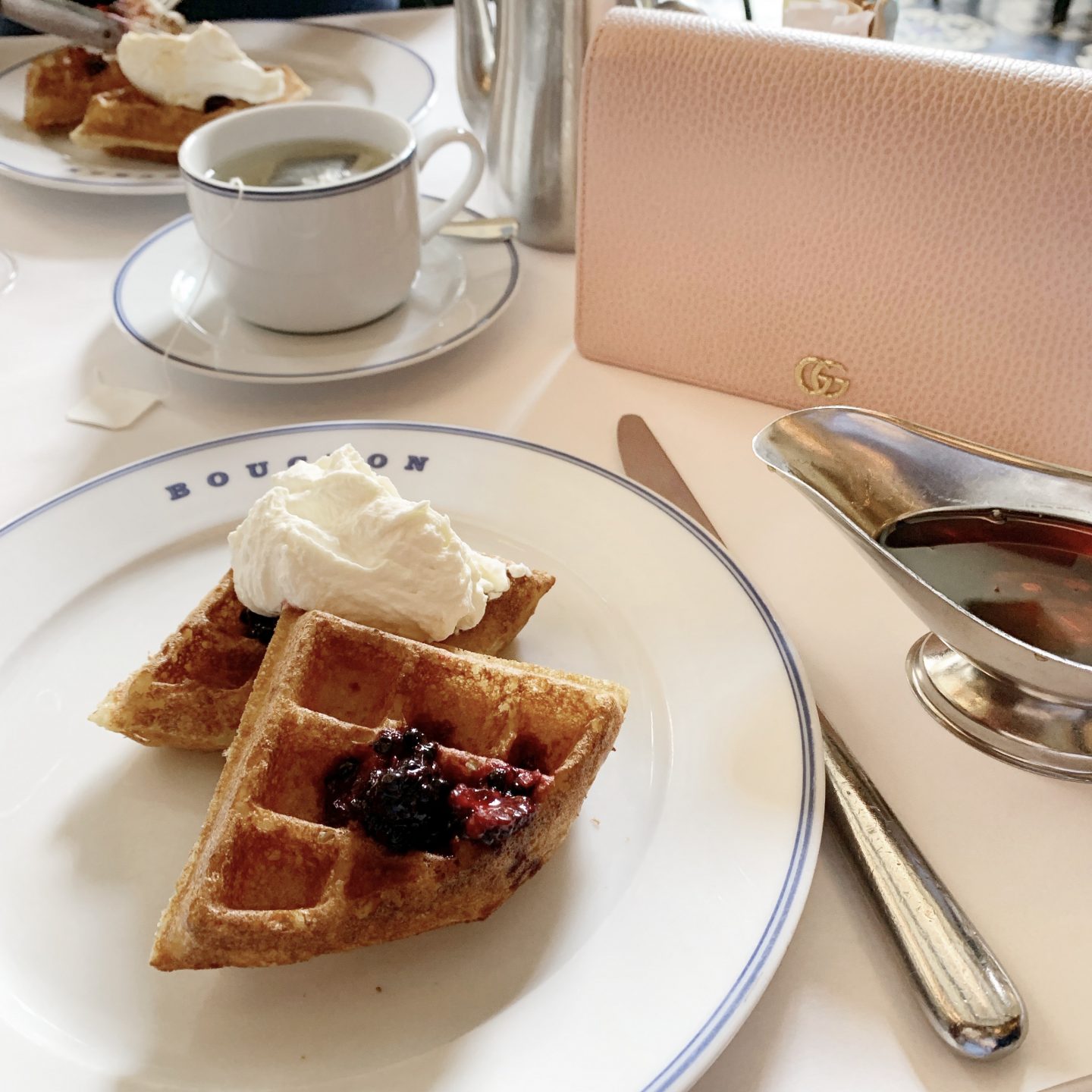 Bouchon is tucked away on the upper levels of the Venetian. It's not that easy to find (so best to ask for directions if you're lost) but this is always a must-visit for us. We go for brunch which only runs until 1pm but the food is fantastic. I've had the burger and the waffles here and both are delicious and absolutely huge in terms of portions, so fully possible to share between two of you unless you're really starving (the photo above is one serving of waffles, split between two). The warm donuts are pretty famous here and are definitely worth an order BUT they come as a set of 4 and one each is plenty (especially if you're eating a main meal as well) so keep this in mind when ordering.
The surroundings look like they could be a proper bistro in Paris, the service is always great and the prices are reasonable for Vegas. Highly recommend.
Sprinkles Cupcakes
This was sadly closed during our last visit but I believe they are opening 2 more locations this autumn. I'm not a huge cupcake fan but their red velvet ice cream is incredible. I'm not sure if the new branches will have an ice cream option but if they do, I would 100% recommend trying it!
Phew! And that's it for this round-up of my favourites in Vegas. If you're planning a trip there soon, I hope you found this useful! And if you have any recommendations, please do share below! 🙂