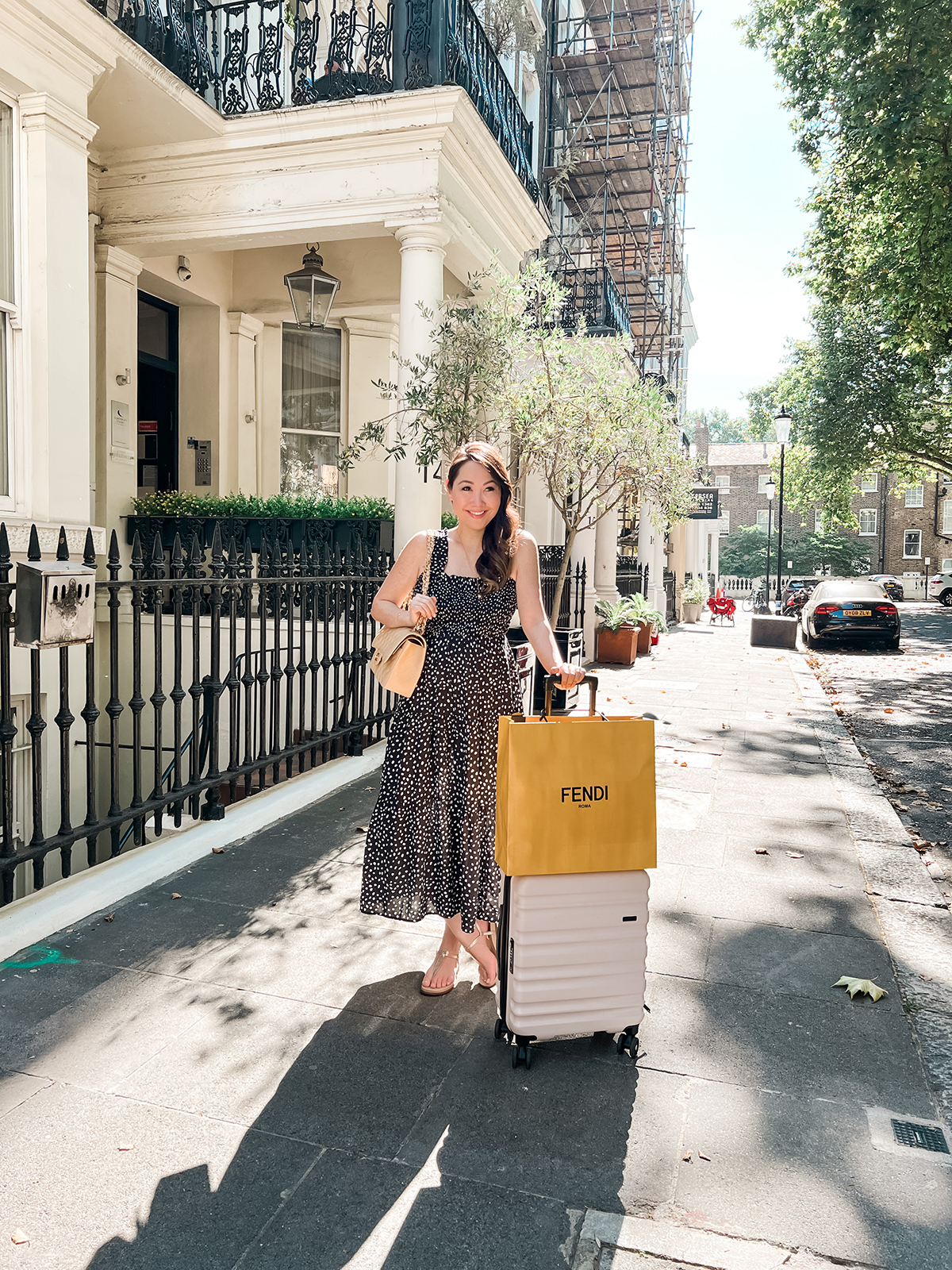 Now that travel is finally happening again, we have been busy making all kinds of plans – from mini breaks in London to long delayed trips to the US (speaking of, if anyone has any tips about flying with a baby – please let me have them! That's happening next year and the thought is a little terrifying haha).
FEATURED ABOVE
Polka Dot Dress // Pearl Necklace // Sandals // Chanel Jumbo (not available online) // Antler Cabin Suitcase
We have been long been overdue some new luggage as our previous items were… well loved to say the least! I shared my thoughts in a recent video of not wanting to spend thousands and thousands on luggage so the hunt was on for some luggage that was functional, beautiful and yes, luxurious without being silly money.
Enter… Antler! I suddenly started seeing this luggage brand everywhere and adored how the items looked – clean and sleek looking as well as super cute in the myriad of colour options available.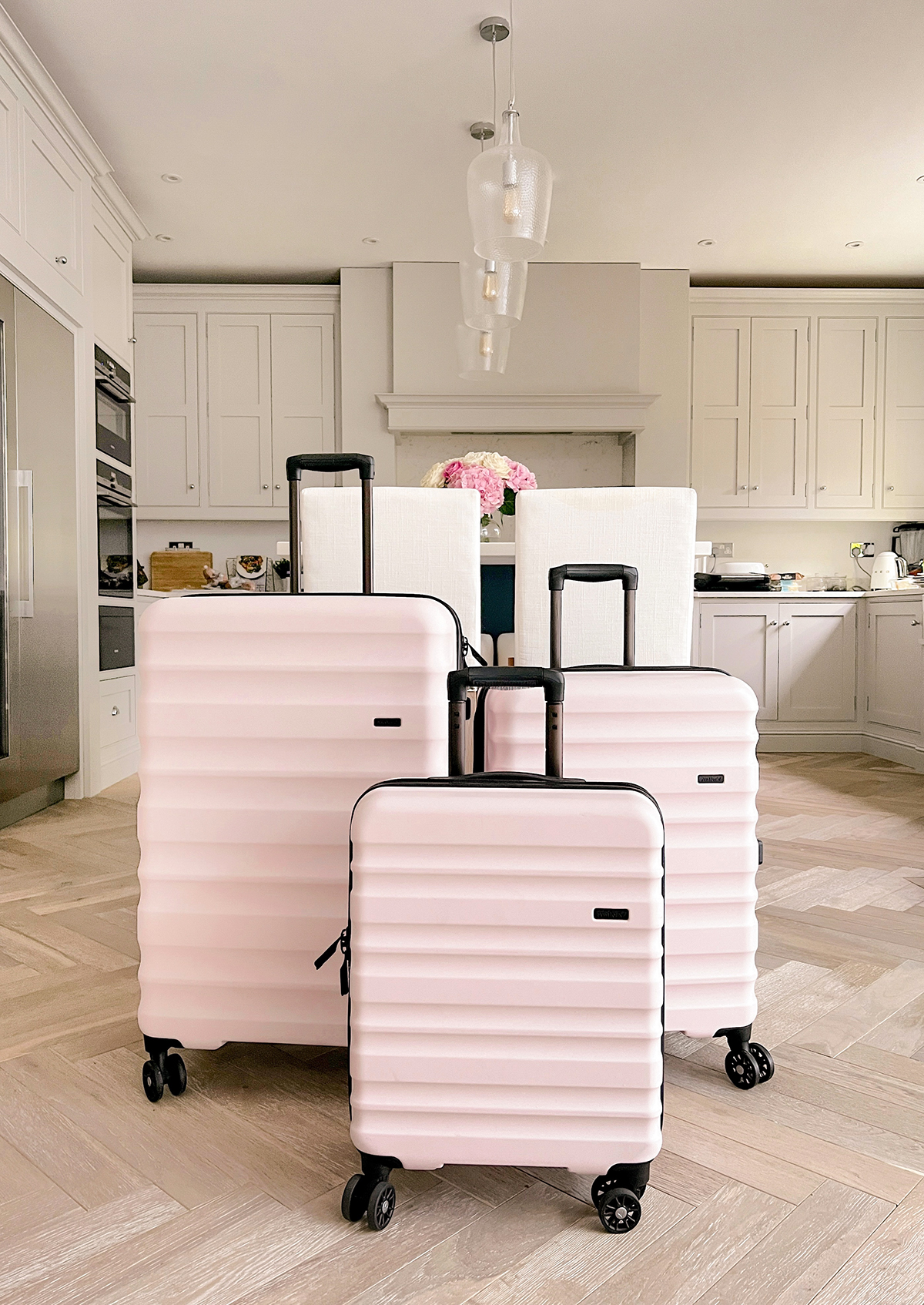 Antler were kind enough to gift me a set and wow – they do not disappoint in person! I went for the Clifton set in the blush pink which comes complete with three sizes; a mini rollercase (perfect for mini breaks away and a cabin friendly size), a mid size suitcase (suitable for week long trips) and a larger suitcase for any longer travel plans.
Dan and I debated on colours (he went for the navy, shown below!) as I know from past experience that scratches can make any piece of luggage look unsightly. Happily, these are all colour-fast though meaning any scratches stay true to the actual colour of your suitcase! I was pretty much sold there and then haha.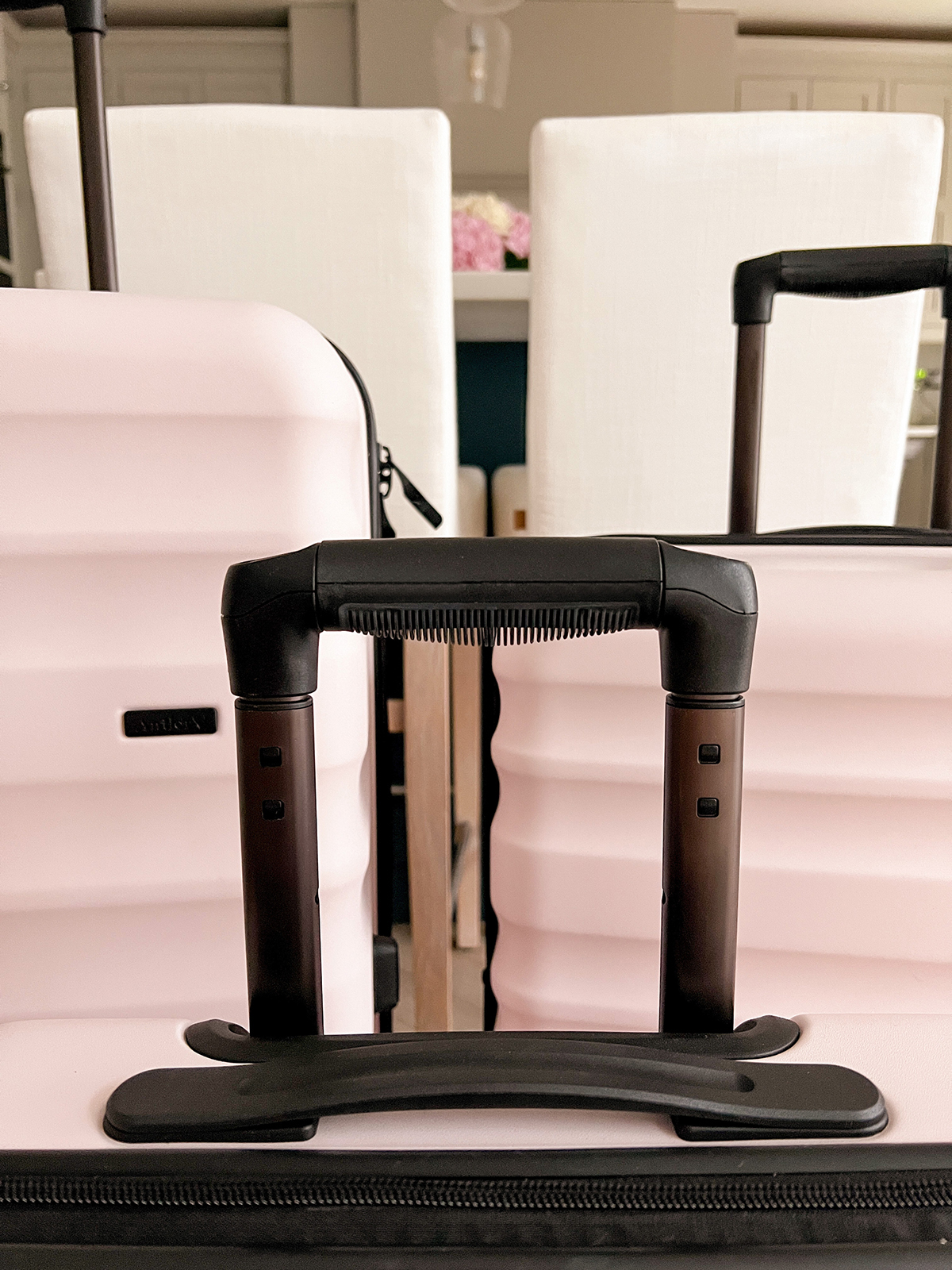 Not only are the pieces super cute but these are the most functional suitcases I've ever used, packed full of thoughtful details that make travelling so much easier. My favourite little feature is the twist grip handle – something I never knew I needed until I used the smallest suitcase on my recent trip to London haha.
The handle has these tiny little soft grips which makes the handle so incredible comfortable and it turns as it moves, allowing for totally seamless manoeuvring – it's difficult to describe just how much of a difference this makes but if you have the chance to test these out in person, I'd highly recommend it. I instantly fell in love with how easy and comfortable these are to move with!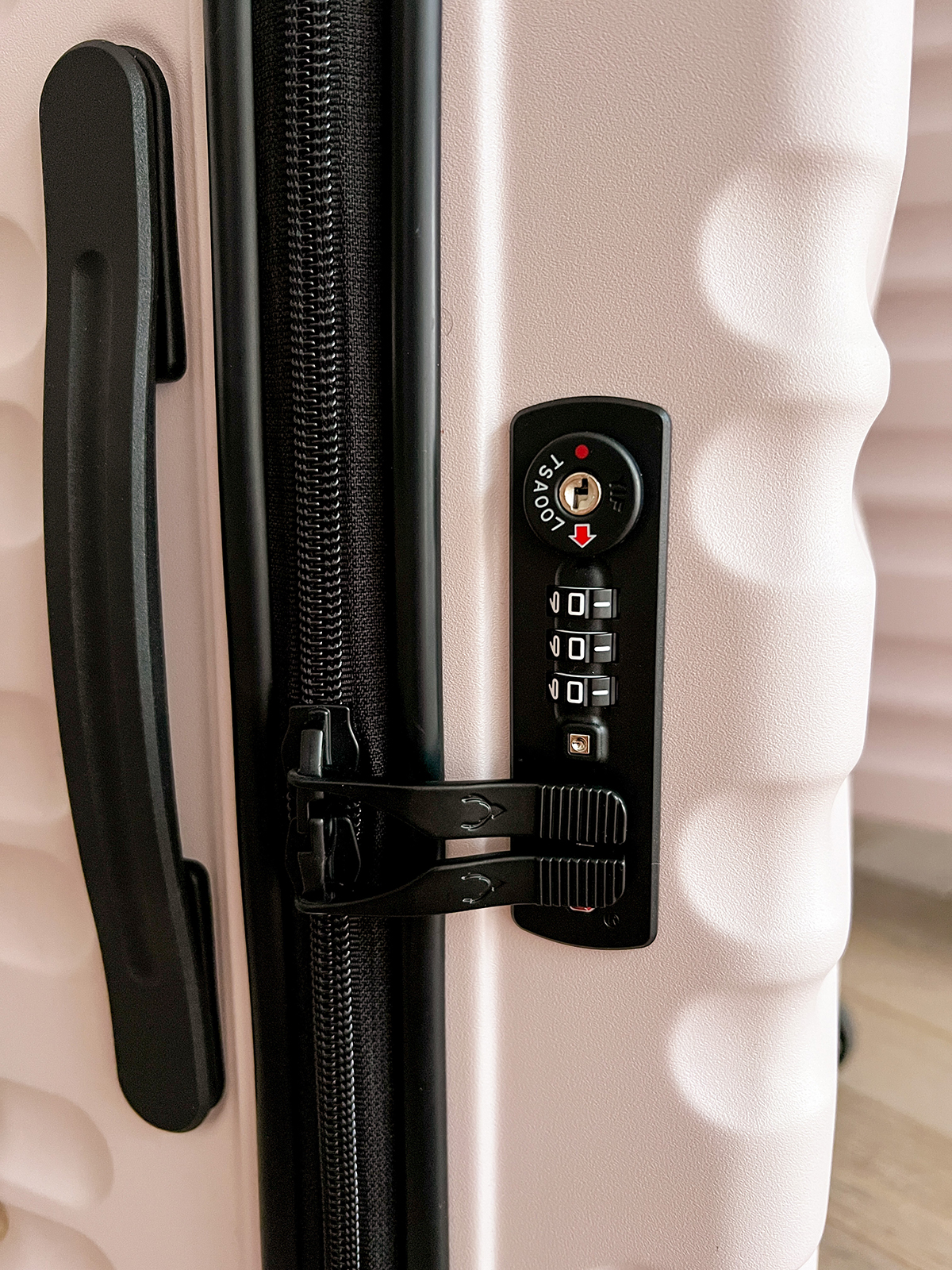 They also all come complete with TSA locks  – super secure which is always at the top of my mind as I frequently travel with a lot of designer bags haha!
The inside is wonderfully thought out with mesh pockets for breathability, slimmer side pockets to keep everything neat and organised as well as secure fastening to protect your items from moving around too much.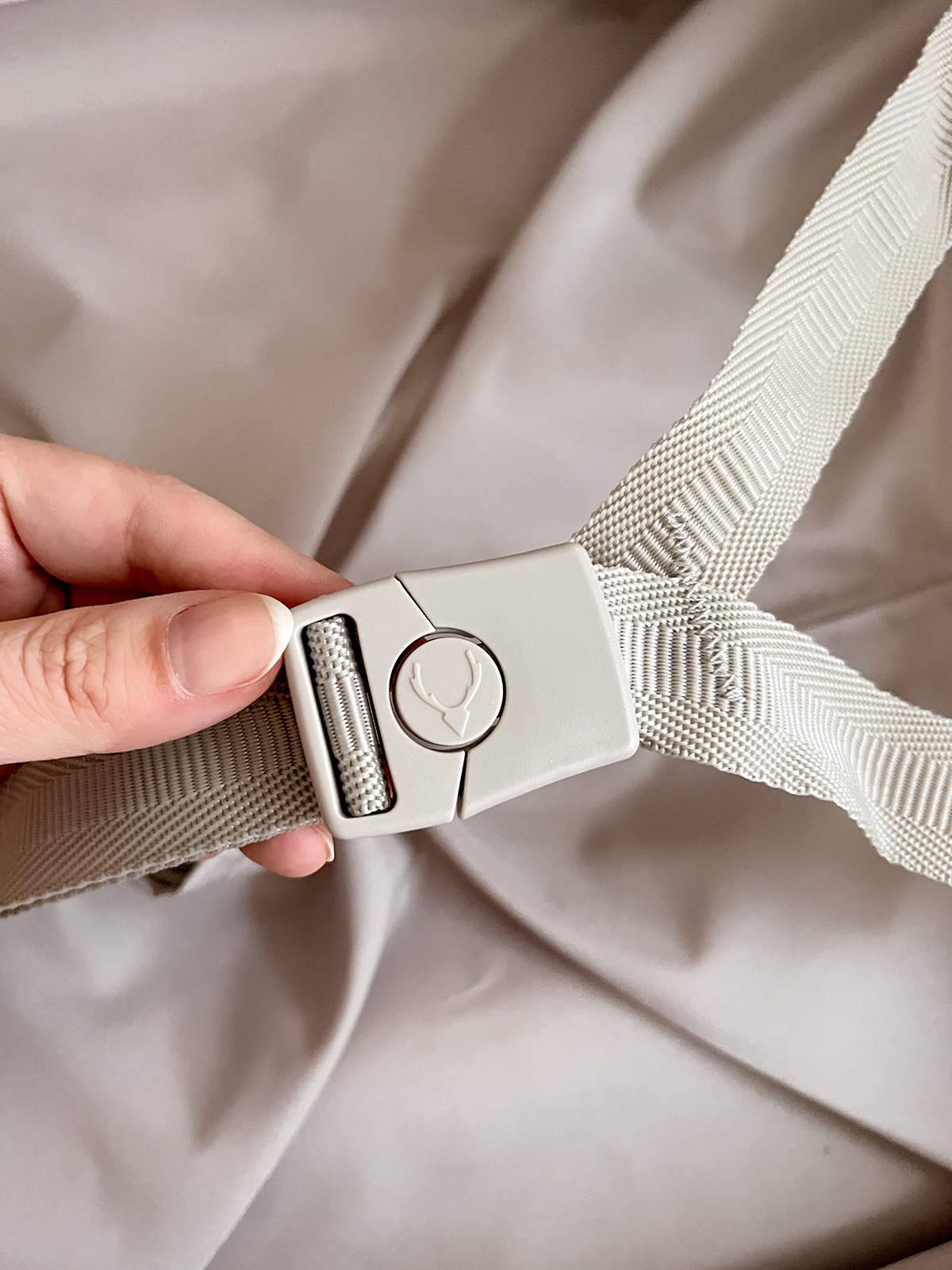 Everything is branded in a really subtle but lovely way with Antler's signature logo. The attention to detail is really lovely – every suitcase even came with its own dustbag so you can keep your luggage looking pristine when not in use!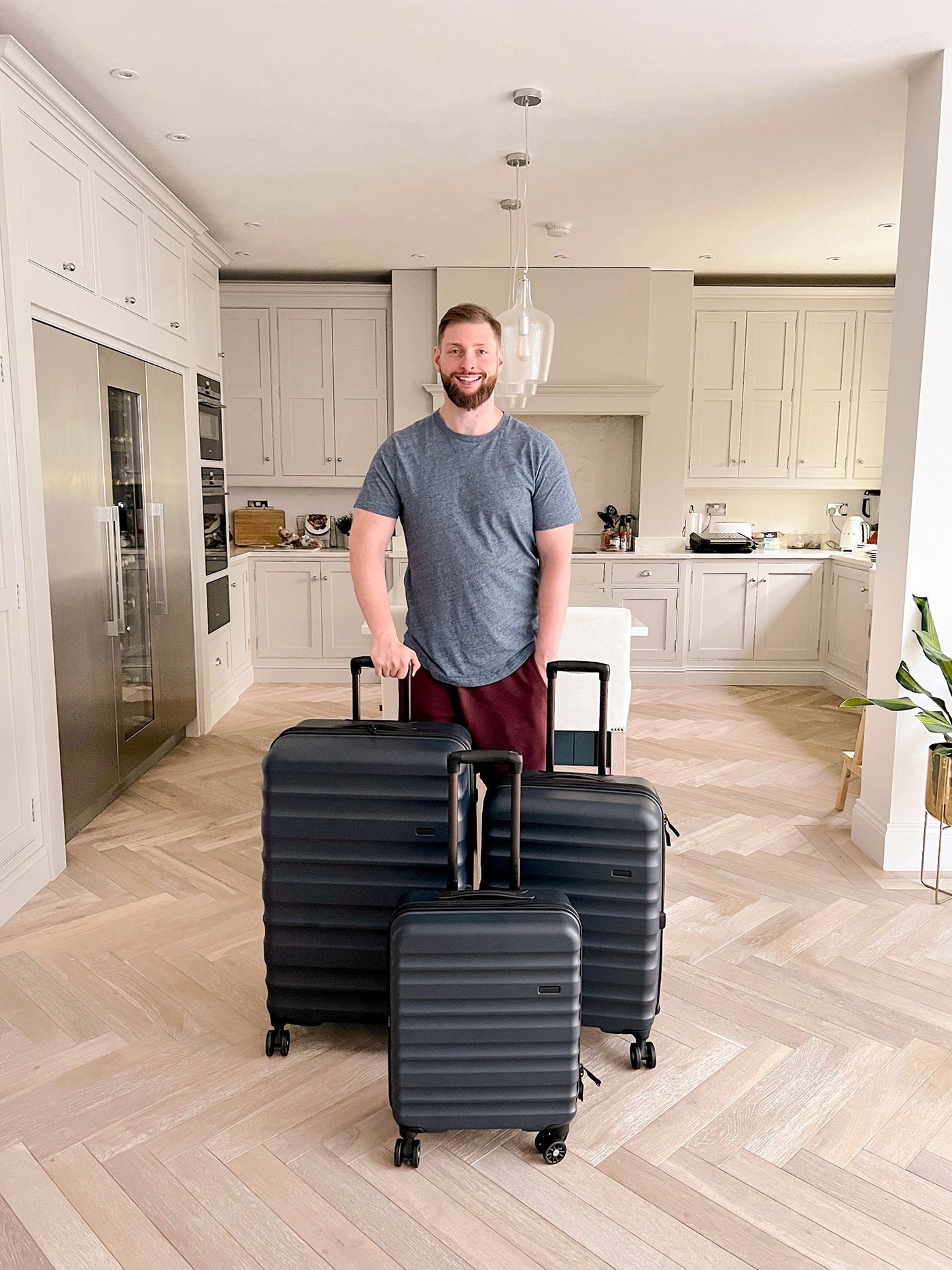 As you can see, Dan went for the navy set and is pretty thrilled with his new luggage haha. The suitcases are all super lightweight whilst being incredibly strong – always a must when travelling internationally in my experience. They all come with a 10 year guarantee so the quality is guaranteed – if you're looking for a beautiful but functional new luggage set, then I would highly recommend Antler. Our pieces come both in a three piece set as well as available for purchase individually!