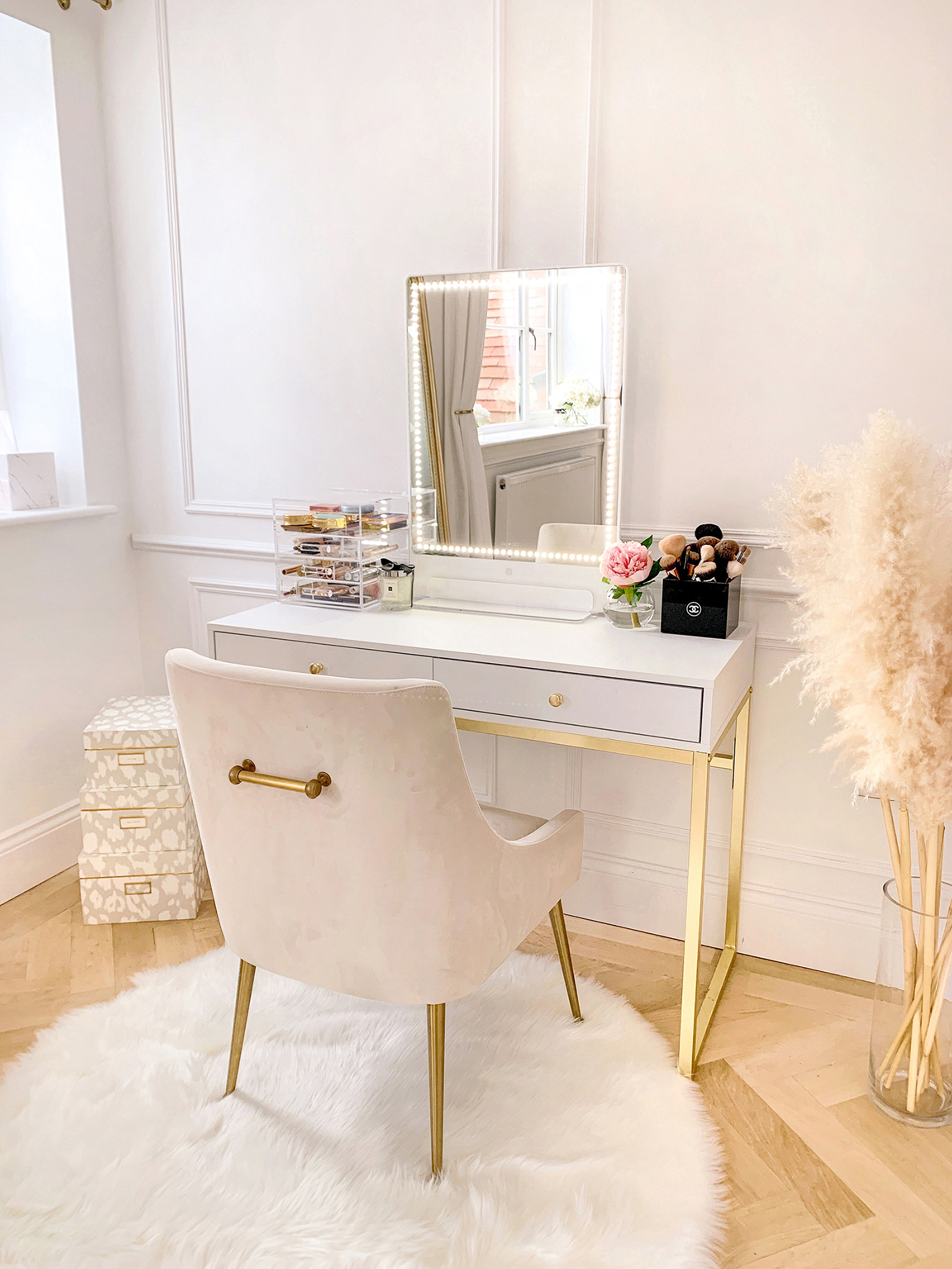 Today I thought I'd share with you some details of my vanity set-up! I was intending for this post to go live towards the end of the month but I posted a photo of this little set-up yesterday and I got so many questions about where everything was from that I figured I would publish it early! 🙂
I don't think I've ever had a dressing table which was just a dressing table (i.e. didn't also double as a desk, filming area etc.!) so this is such a treat and something I've looked forward to for so long.
For anyone that's followed me for a while, you may remember that I got this desk two apartments ago – and it's still going strong! I did purchase a new desk for my actual office area in the new house so I knew I wanted to keep this one for my new vanity area. I love the gold accents and it's the perfect size for a dressing table – not too large and not too small. Considering it's survived being shipped from the US and two house moves – I'd say it's doing unbelievably well!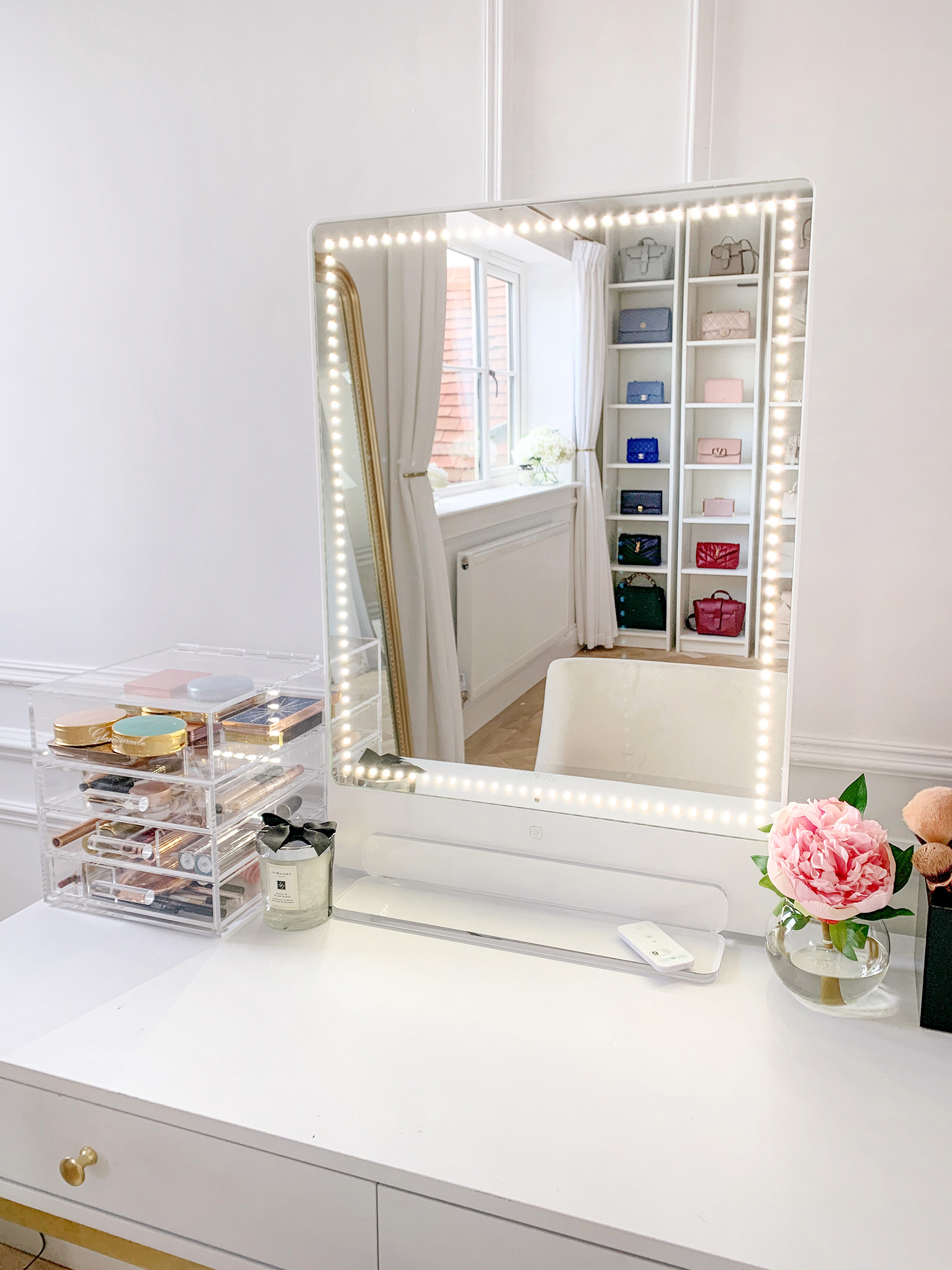 Mirror – Riki Loves Riki (c/o)
My mirror was kindly gifted by Riki Loves Riki – I've had my eye on this ever since spotting it on Instagram. I absolutely love the different levels of lighting available (controllable both by remote control and via a little button on the front of the mirror) – this is photographed with the lowest setting; it can get seriously bright if you want the extra illumination! I love the fact that it feels a little old school vintage glamour whilst still being very modern; it totally makes the space IMO.
This mirror is definitely on the large side though – so something to be aware of! They do offer smaller versions (US link here and UK link here) if you were after something more compact.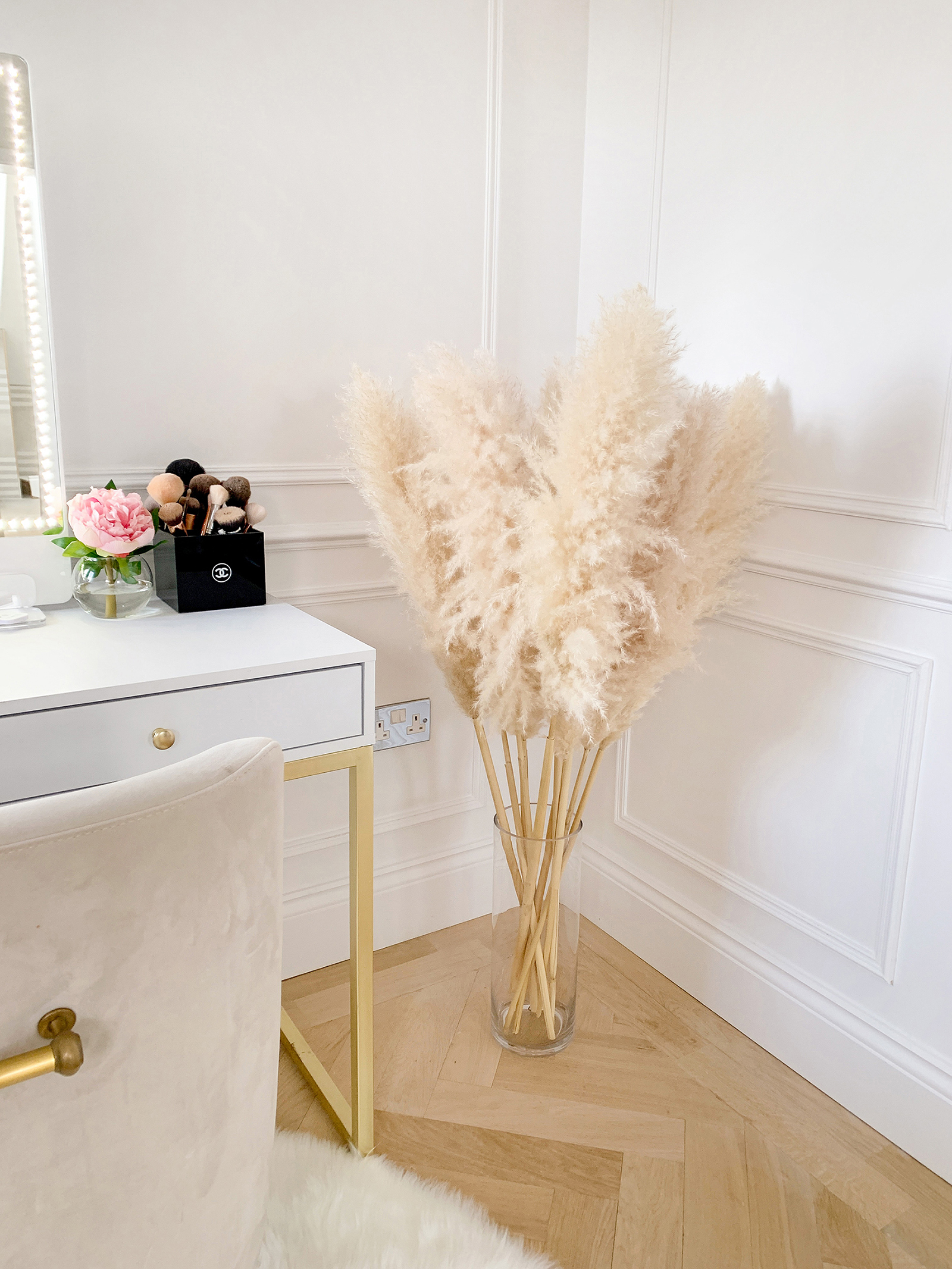 Pampas Grass – Etsy, Vase – Amazon, Peony Arrangement – Diane James
My pampas grass is also from a small business on Etsy. I've bought both the mini version and this larger version and I've been so happy with both. They're not super cheap but her glowing reviews are justified; they really are lovely and make such a statement! My vase is a 40cm x 15cm one from Amazon. Unfortunately the size I got seems to be sold out but here's the link in case they come back in stock/ you're happy with a smaller size.
The single peony in the little vase is from Diane James where I get a lot of my faux flowers from. Diane James is the gold standard for faux florals IMO, and every single arrangement I've bought from them has been fantastic. They definitely aren't cheap but they obviously last forever and the quality is always incredible! For US readers, you can purchase direct from their store (there's also a discount code if you sign up for emails!). For UK readers, you can purchase Diane James from LuxDeco (also make sure you sign up for their emails for a discount!).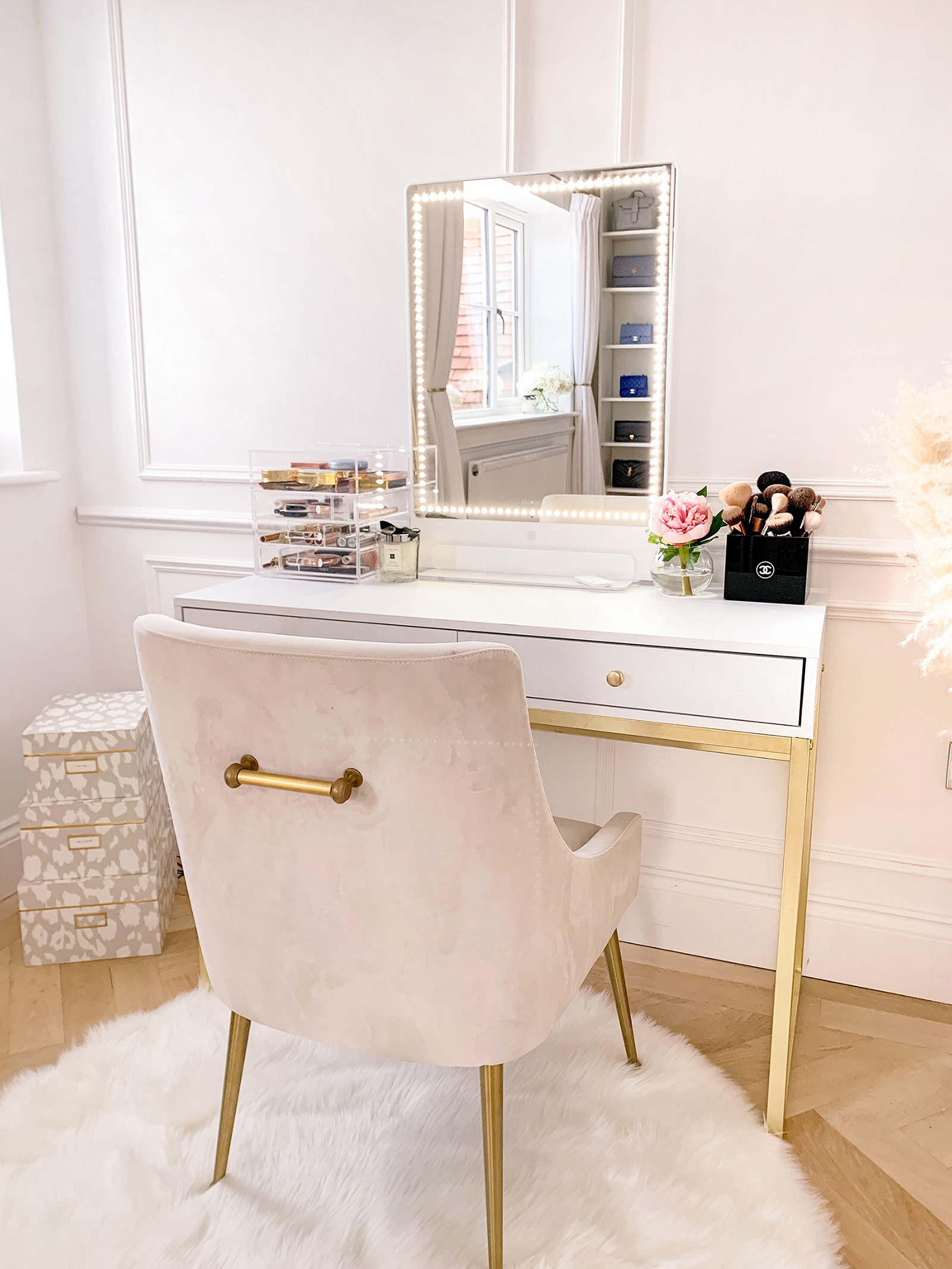 Writing desk (used as a dressing table!) – Joss & Main, Chair – Liang & Eimil
The chair is another one that I've had for years now – it wasn't cheap but is genuinely one of the comfiest formal chairs I've ever sat on! It's velvet so it does have a few marks on it now but considering how much it's been used + two house moves, I'm pretty happy with how it's worn.
Just a little note about it if you're considering getting it – this chair is heavy! The rug underneath it is partly decorative but also to protect the floor; if you move the chair, the weight does mean it marks up hardwood floors so just something to keep in mind 🙂
ITEMS FEATURED
Desk/ Dressing Table – Joss & Main
Mirror – Riki Loves Riki (c/o)
Storage Boxes – Kate Spade (old)
Makeup Cube – Glamour Living (c/o)
Single Stem Peony Arrangement – Diane James
And that's it for this little vanity tour! I promise to do a full room tour when everything is finished but we've reached the point where there's not much we can do until lockdown in the UK is over. We're waiting on some materials we need to customise the units, a door to be fitted to the ensuite (not that a direct view of the toilet isn't super glam haha!), the radiator cover, a rug and an ottoman – most of which are delayed due to Covid. I'm keeping my fingers crossed everything will be ready for spring though and I will definitely film a proper tour when it's all ready :).
Thank you so much for stopping by!