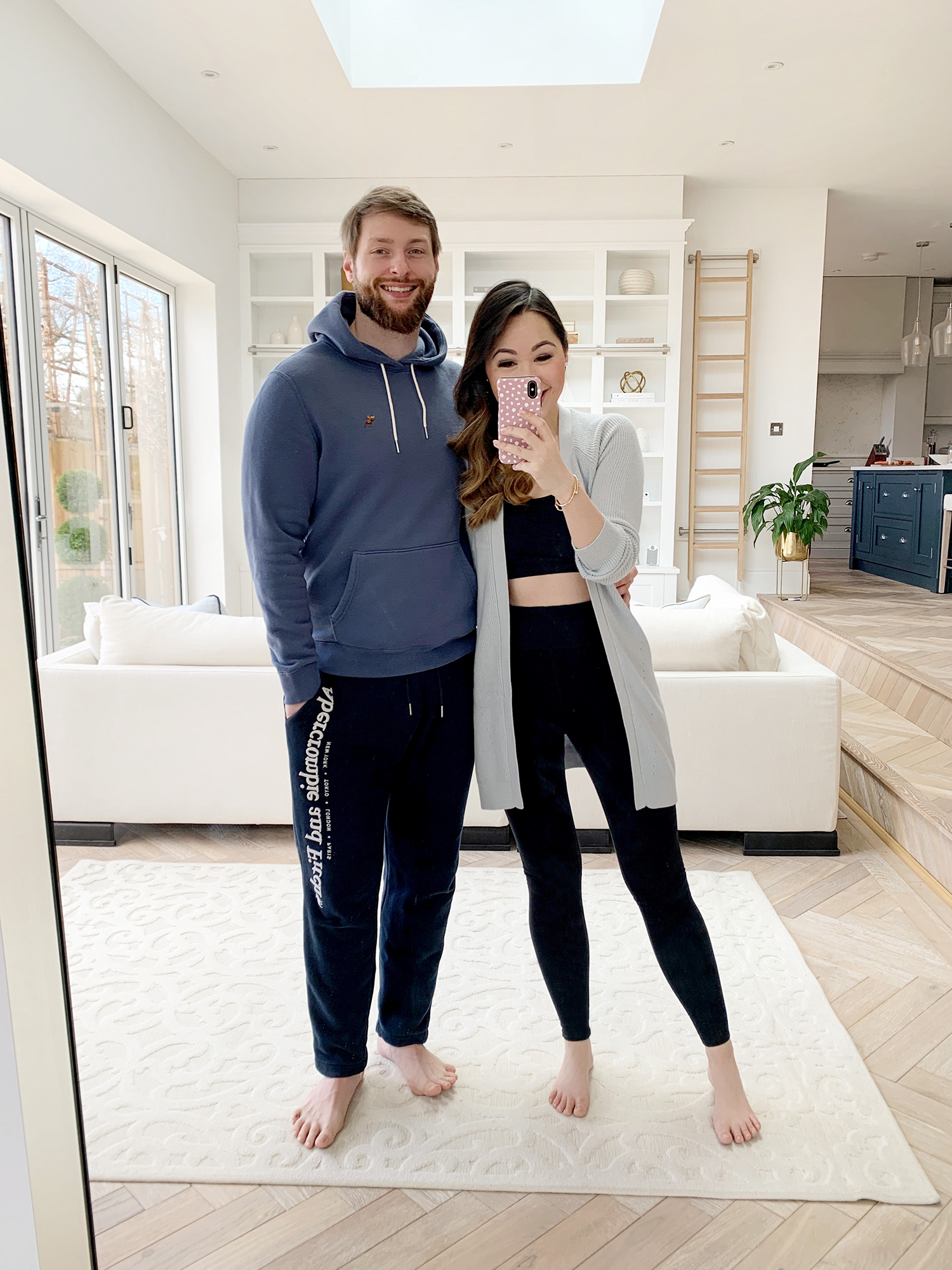 I'm wearing: Black Sports Bra (size small), Leggings (size small) & French Blue Cardigan (size x small)| Dan's wearing: Navy Sweatpants, Blue Hoodie 
I'm so excited to be partnering with Abercrombie and Fitch for today's post! Both Dan and I are huge fans of the brand and I'm not really sure who was more excited…. it's the first time Dan's ever asked to be in my photos haha! Our wardrobes are both full of Abercrombie pieces and especially recently, I've found the womenswear section to always be full of super cute, wearable pieces that are fantastic quality.
Their new spring arrivals really don't disappoint, from their new 96 Hours collection as well as some gorgeous new warmer-weather ready pieces. There's everything from comfy but flattering loungewear pieces right through to date night ready dresses and separates – perfect for our impending lockdown lift!
Lounging Pieces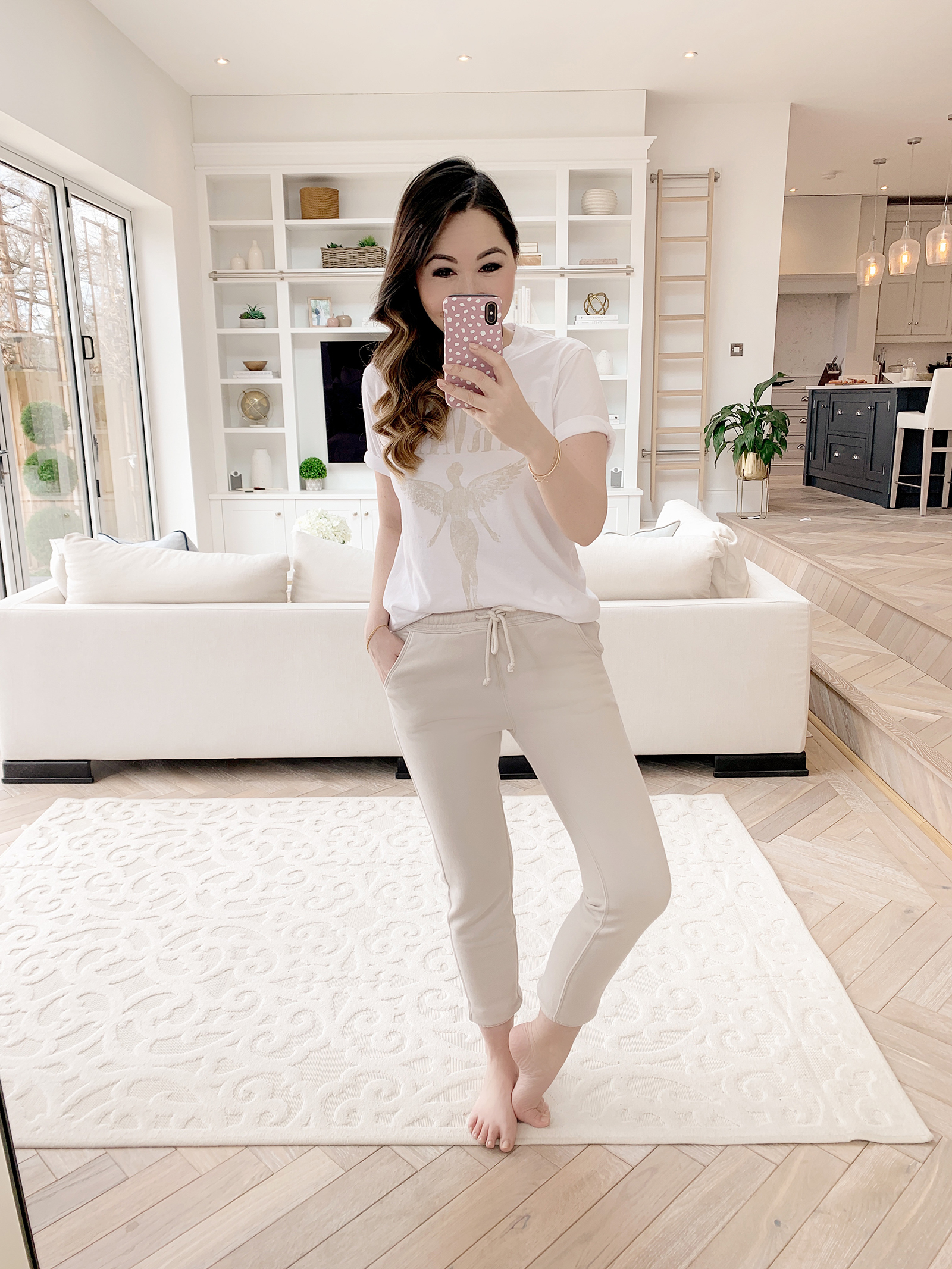 White Printed T-Shirt (size x small) // Beige Joggers (size small)
These joggers are so incredibly comfy and the loveliest neutral shade – great for lounging around the house now, but also for travel later on. I pretty much live in comfy t-shirts around the house and this one is so great – the perfect oversized fit and looks great tucked into joggers or jeans as well as tied in a knot with leggings (how I'm wearing it right now as I type this!).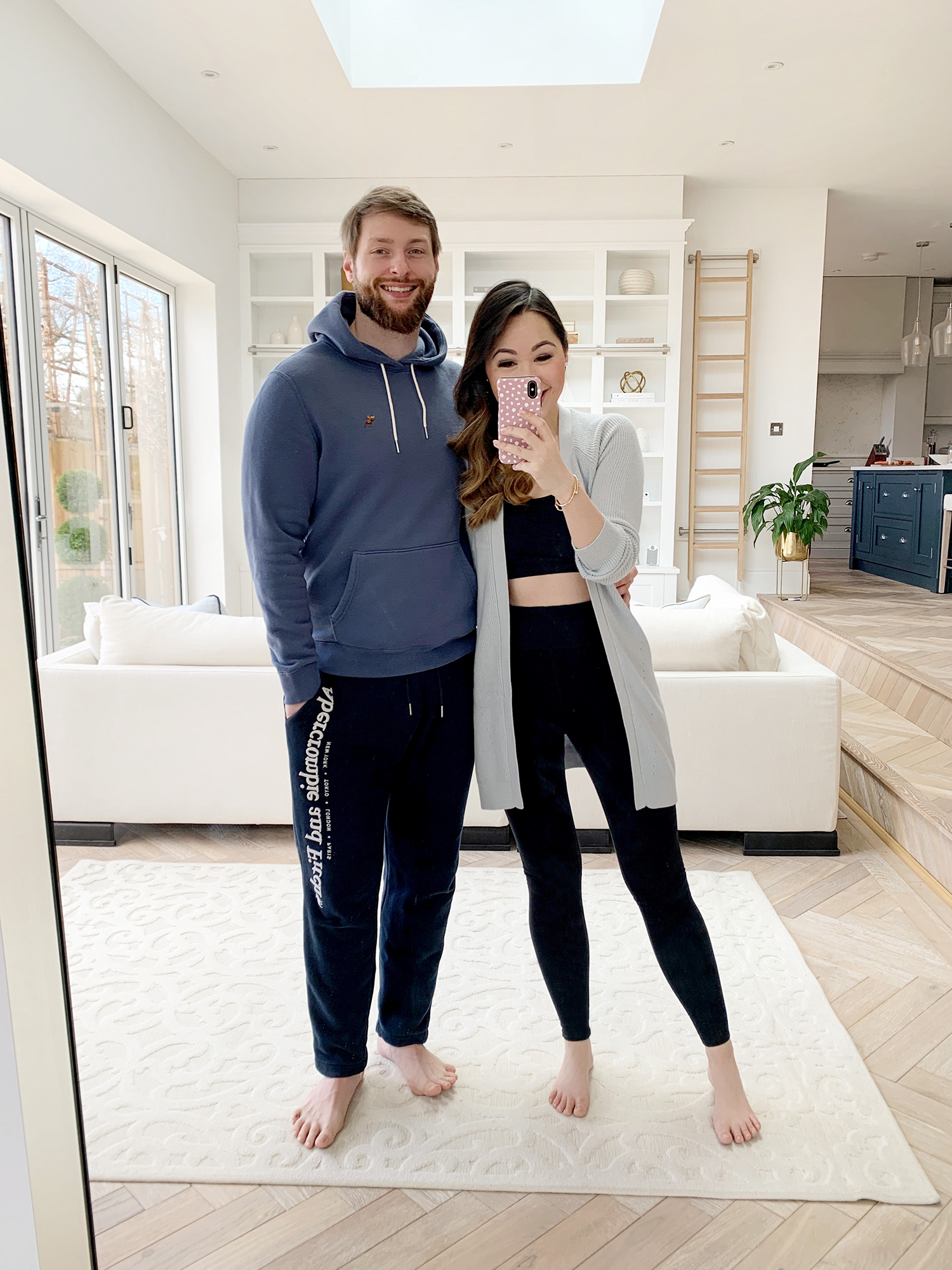 These leggings are so incredible – I was swayed by the glowing review and they really don't disappoint. Super soft and well fitting without being overly tight – love! I teamed mine with their equally soft and supportive sports bra with their gorgeous blue cardigan thrown on top.
Dan is in his favourite Abercrombie sweatpants and one of their fantastic hoodies. He owns about 15 Abercrombie hoodies at this point but always finds new things to love – on this one, it's the fun little moose emblem on the side as well as the perfect medium shade of blue (just enough contrast to wear with dark denim too!).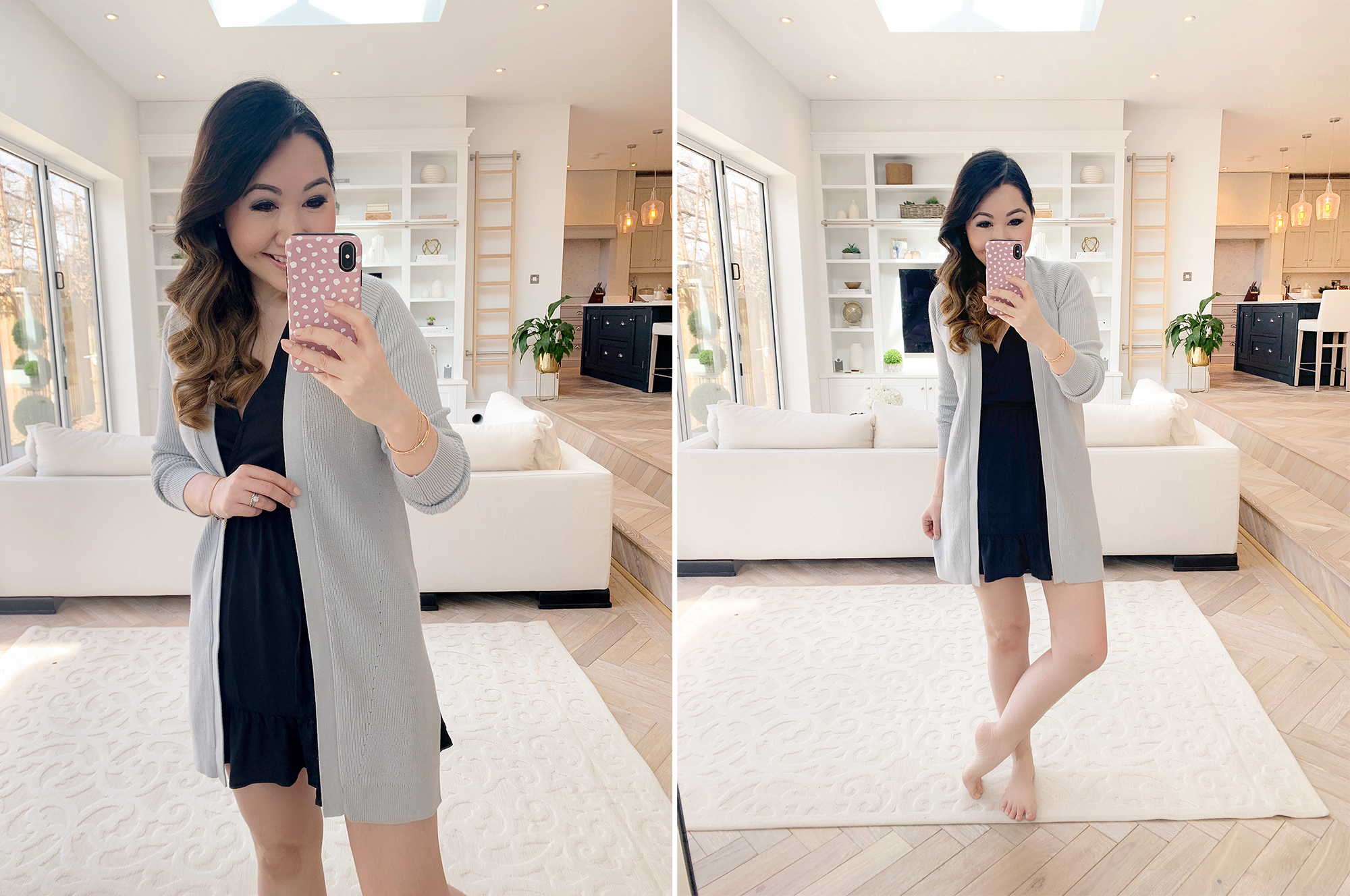 Black Wrap Dress (size small) // Blue Cardigan (size x small)
I'm pretty much obsessed with this cardigan – it's the prettiest shade of French blue and is equally lovely over a pair of leggings as it is over a pretty dress. So easy to wear and it's already getting me excited for all the spring pastel shades in our near future!
Spring Ready Pieces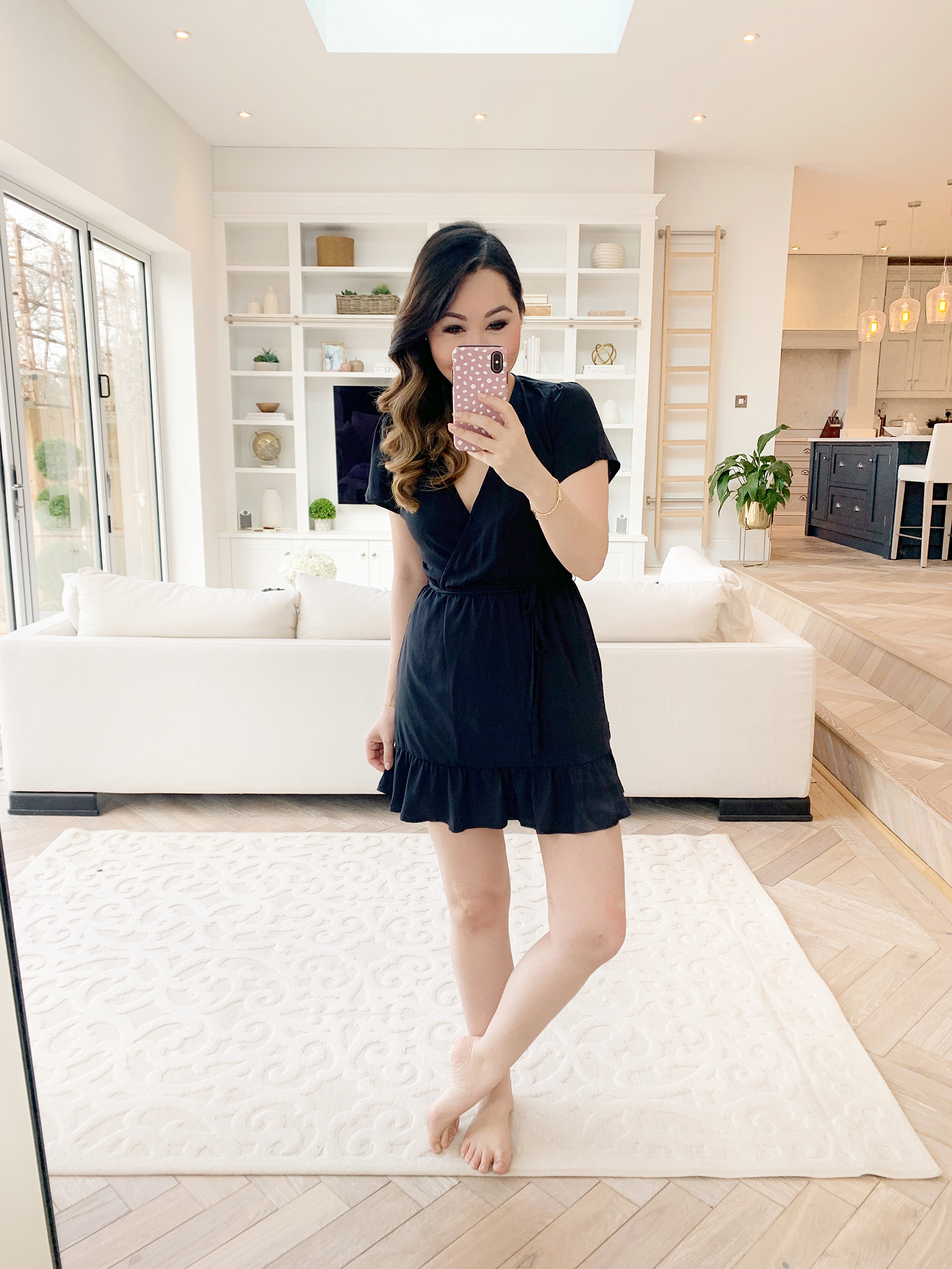 Black Mini Wrap Dress (size small)
My absolutely favourite new Abercrombie piece has got to be this dress – it is the perfect mini wrap dress! So easy and wearable – it literally takes two minutes to throw on but makes you feel so pulled together! Ideal for low-key date nights, this looks equally pretty barefoot as it does with sandals and heels.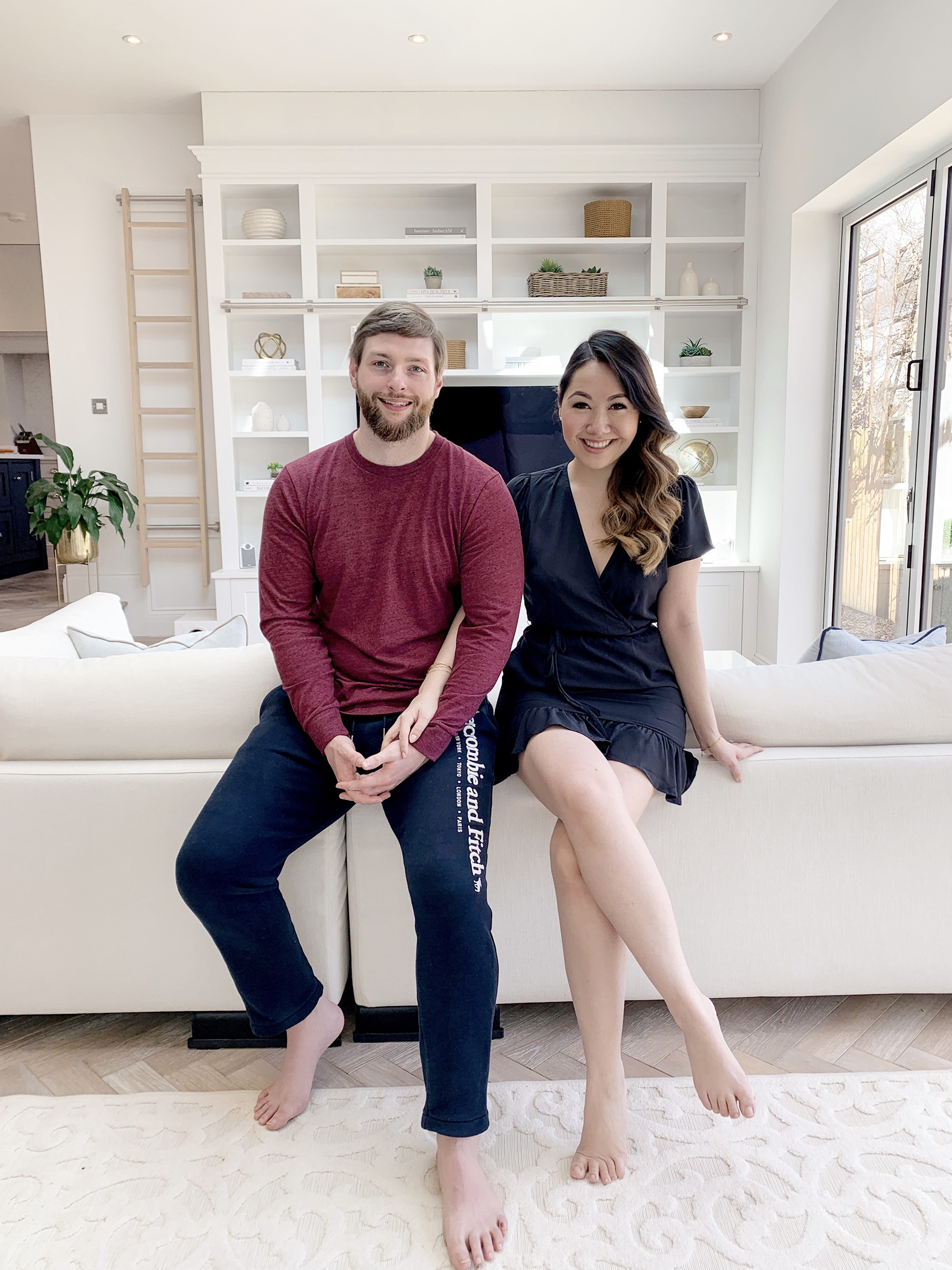 Dan's wearing: Burgundy Long Sleeve Tee, Navy Sweatpants | I'm wearing: Black Wrap Dress
And of course, Dan wanted to share one of his favourite new Abercrombie pieces – these simple long sleeve crew necks with a curved hem (I'm told the curved hem is crucial!). I'm not so practiced as describing menswear so in his own words:
"Great colour and the fit's always good. Comfy too."
He is nothing if not concise haha! 🙂 Dan pretty much refuses to wear anything that isn't soft and not only does Abercrombie nail the fabric every time, the cut and fit is always so great.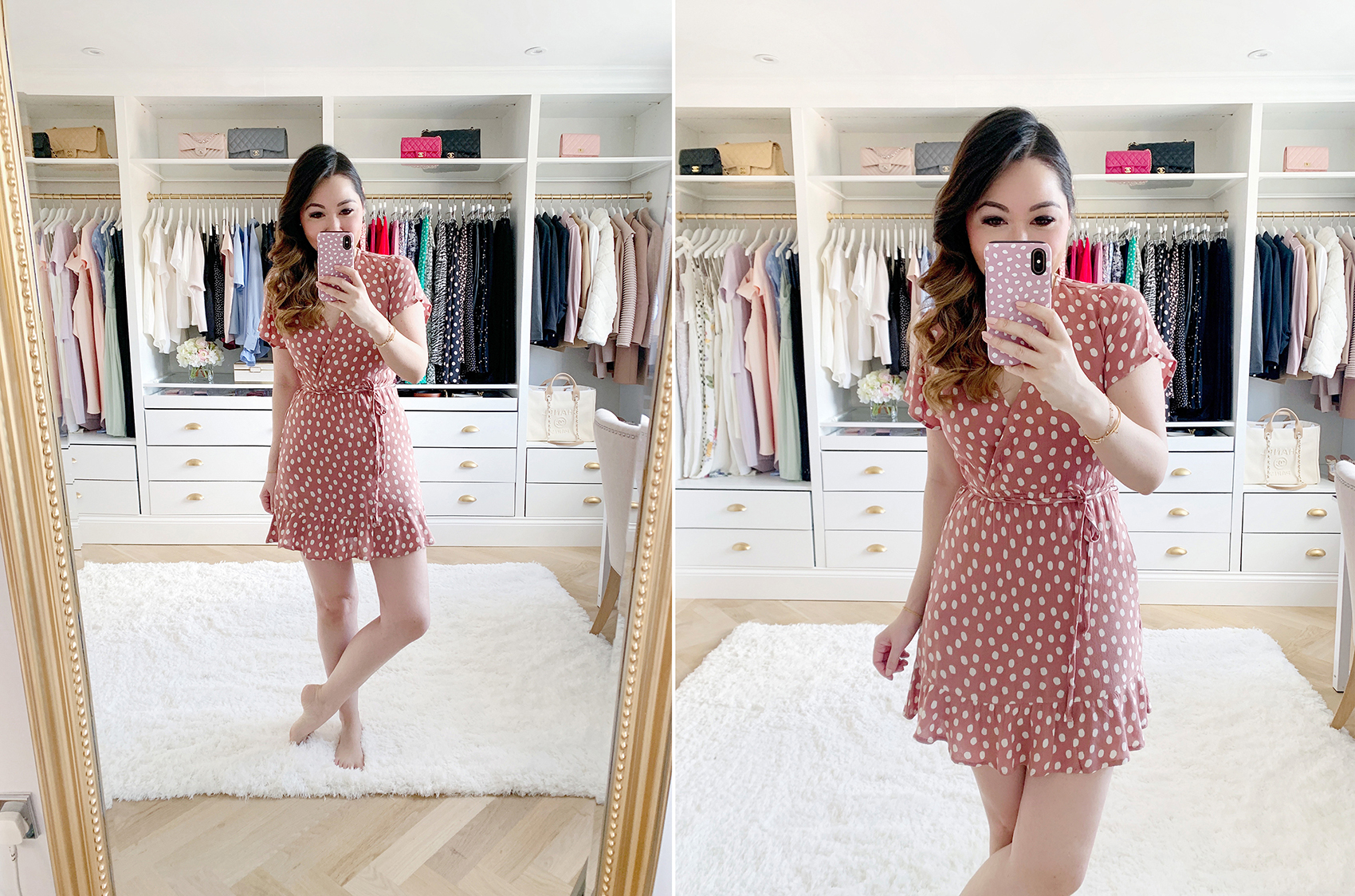 I loved this dress so much that I also got it in the dusky pink polka dot combo (I took a size small) – such a lovely spring dress in my all time favourite print 🙂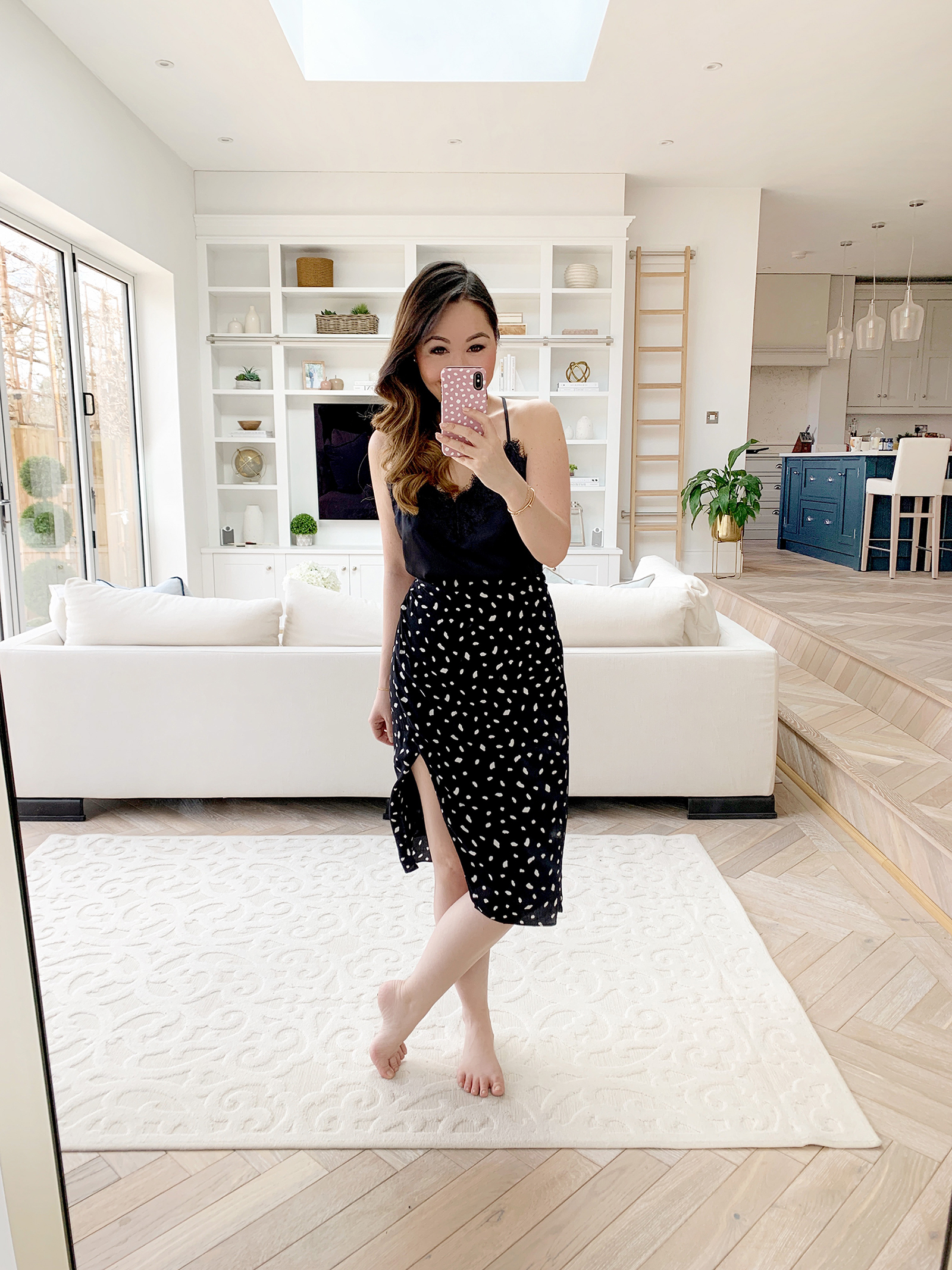 Black Lace Detail Bodysuit (size small) // Side Slit Pencil Skirt (size small)
For another date night idea, I love this side slit skirt – it hugs in all the right places but still manages to be super comfy. It's a fitted style but is still very flattering, skimming over everything rather than clinging. I also love the abstract dot print!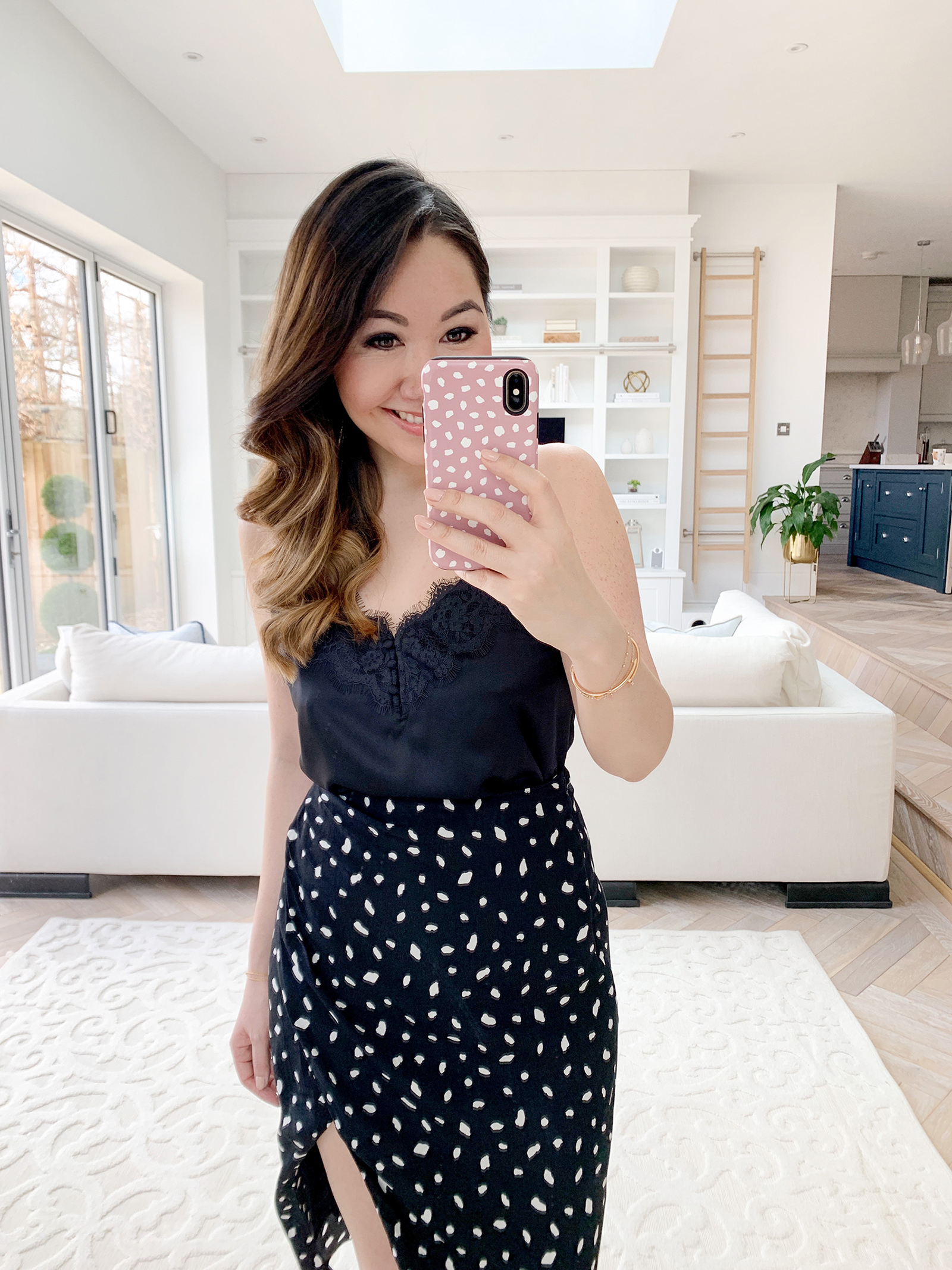 I teamed it with this bodysuit – I love that it looks like a slinky cami but avoids any of the dreaded tuck-in bulk! Equally cute with a skirt as it does a pair of jeans and a blazer and the bodysuit element really helps to give you that incredibly streamlined look.
New Arrivals I Just Bought!
All images are clickable!
1. Polka Dot Sleeve Top // 2. Tier Maxi Dress // 3. Blush Tiered Dress // 4. Side Slit Dress // 5. Gingham Dress // 6. Black Knit Dress // 7. Polka Dot Side Slit Dress
Abercrombie have so many beautiful new arrivals that I couldn't resist placing another order! The new collection is full of beautiful spring prints and pastel colours – all with fun details like flutter sleeves and side slits on skirts. I'll try and show these in a haul over on YouTube when I receive them – I cannot wait to spend spring in pretty floral dresses! 🙂
And that's it for today's post – thank you so much for stopping by!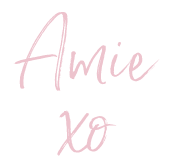 Thank you to Abercrombie & Fitch for partnering with me on this post!