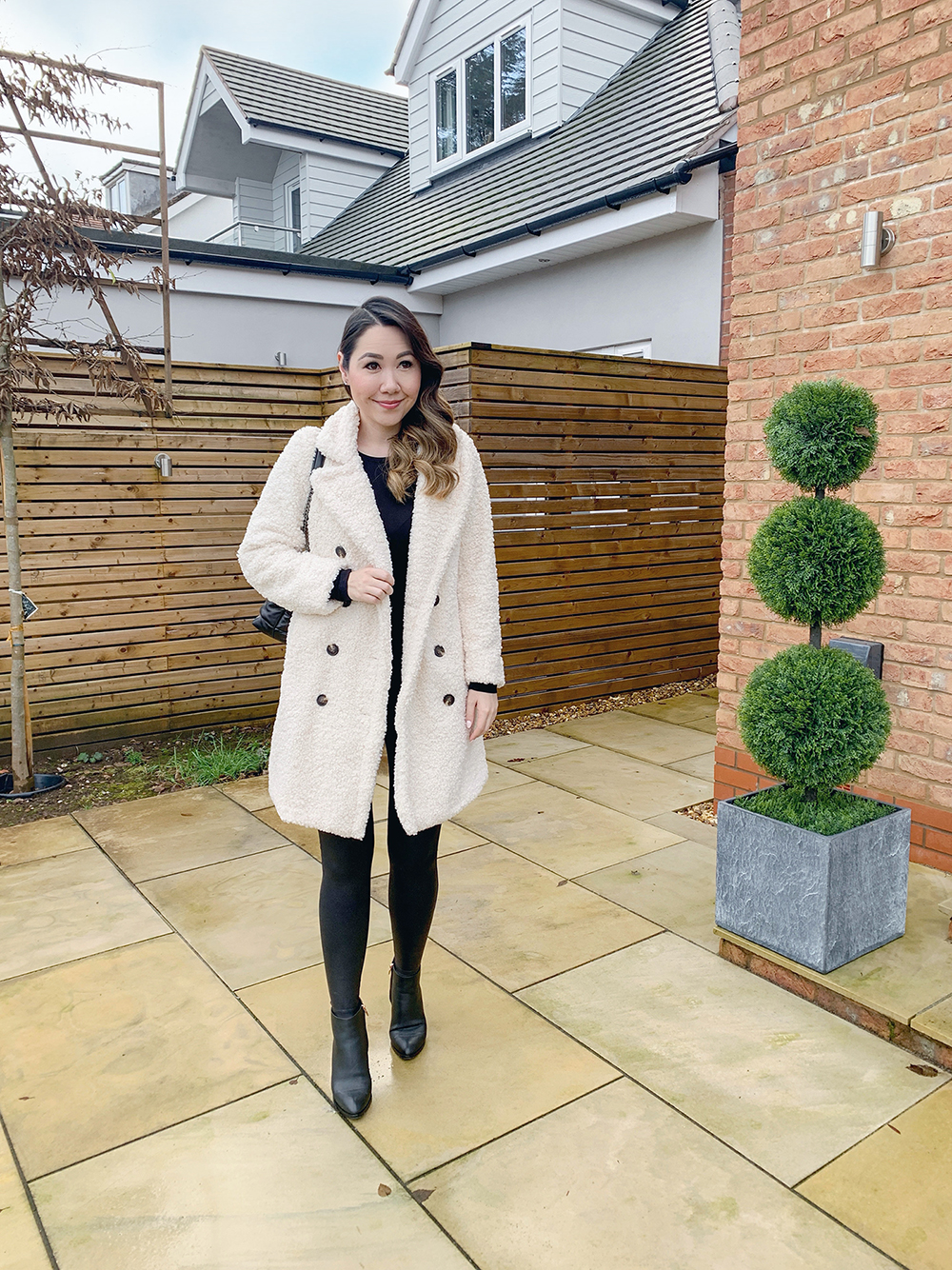 Happy end-of-January everyone! Anyone else breathing a huge sigh of relief? January is always a bit of a strange month and obviously this year, it's more challenging than usual.
We're firmly on lockdown in the UK so there have been less outings and more DIY projects and zoom calls, with the occasional grocery / DIY store run just to mix things up 🙂 That said, I've still had plenty of favourites that I'm so excited to talk about – and I'm thrilled to be partnering with Nordstorm to share them!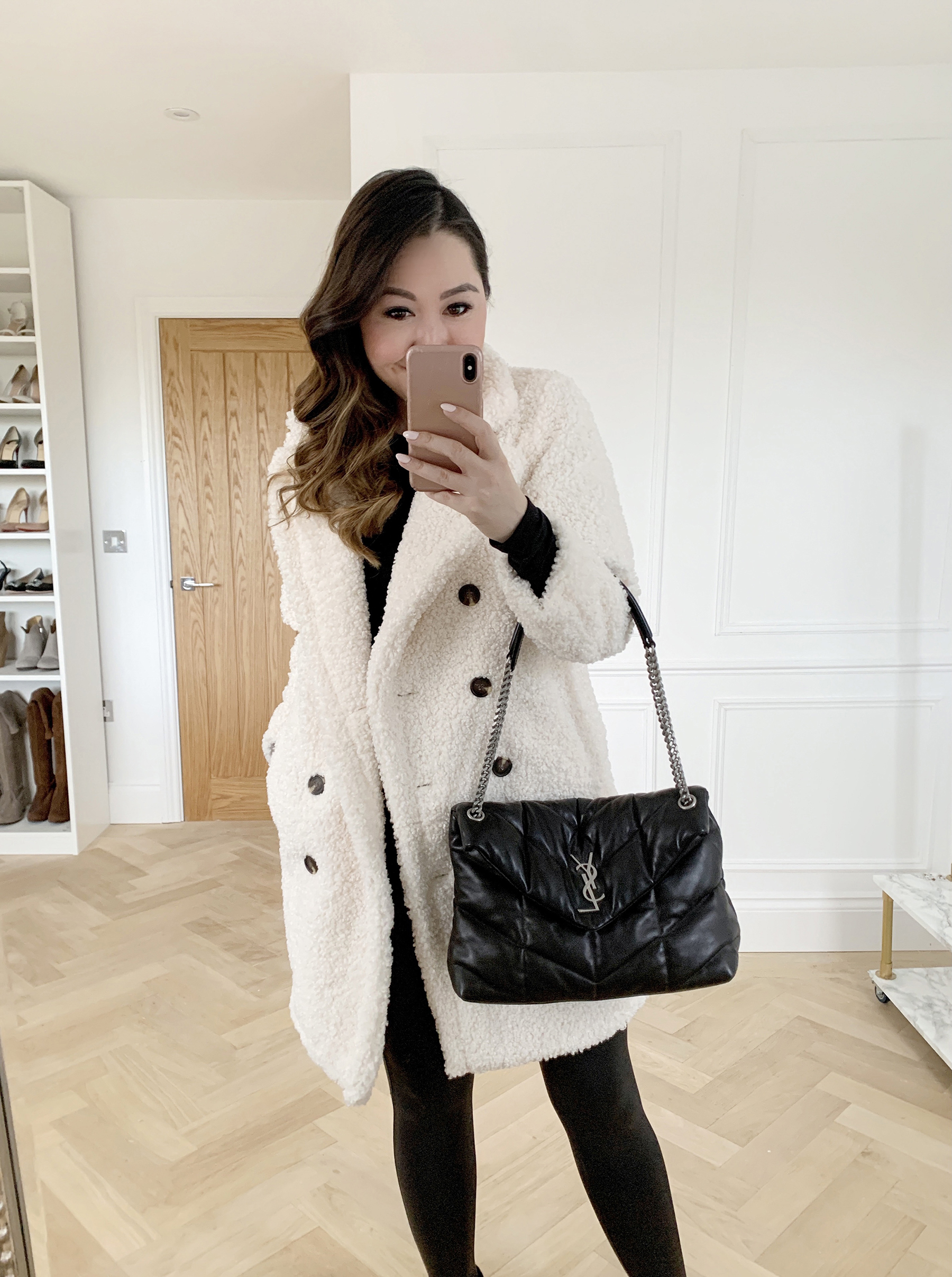 Teddy coat (size XS) with black Spanx faux leather leggings (size small)
As most of you probably know, Nordstrom is always one of my favourites to shop from. I placed an order early January and I am so in love with the items I bought!
Top of my favourites list? This teddy coat. I've been eyeing up this style for what feels like years but could never find the right fit or price point. So many options just felt overly bulky or simply too expensive for a casual coat. As soon as I saw this style though, I was in love. Super snuggly and warm but not overly boxy or 'blanket' like. Would highly recommend – especially at this price point!
STRIPED SWEATERS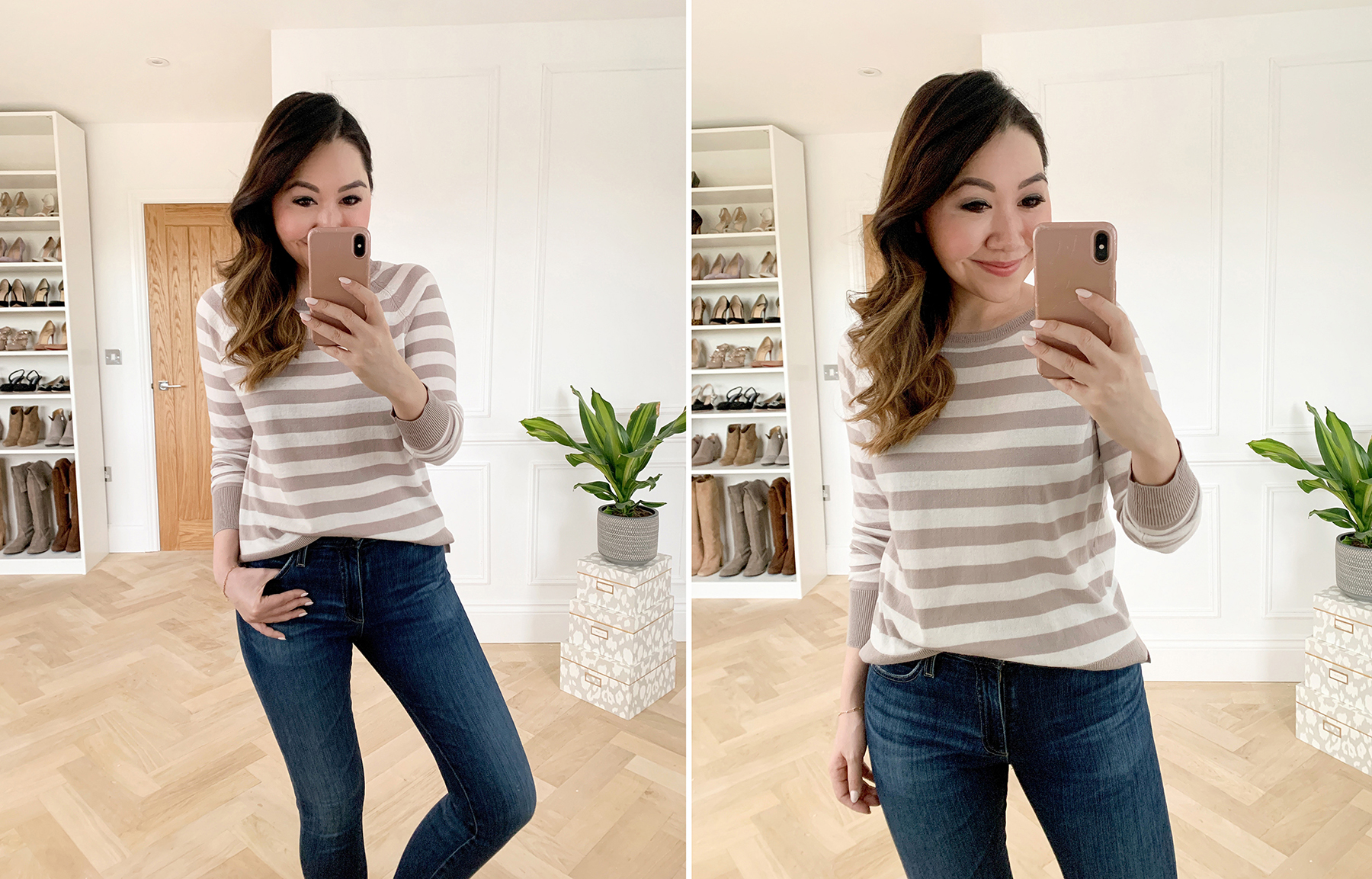 Beige striped sweater – size XS
To say I love striped sweaters would be a bit of an understatement. They are eternally chic and always such an easy go to when you want to look pulled together but with minimal effort (i.e. every day during lockdown for me!). T-shirt varieties are always a go to for me during the warmer months but during winter, I gravitate more towards sweater versions.
Two of my new favourites are this gorgeous beige version and this nautical inspired navy and white version. Both are so easy to throw on and look as great with dark denim (or leggings!) as they will with white denim when it gets a little warmer 🙂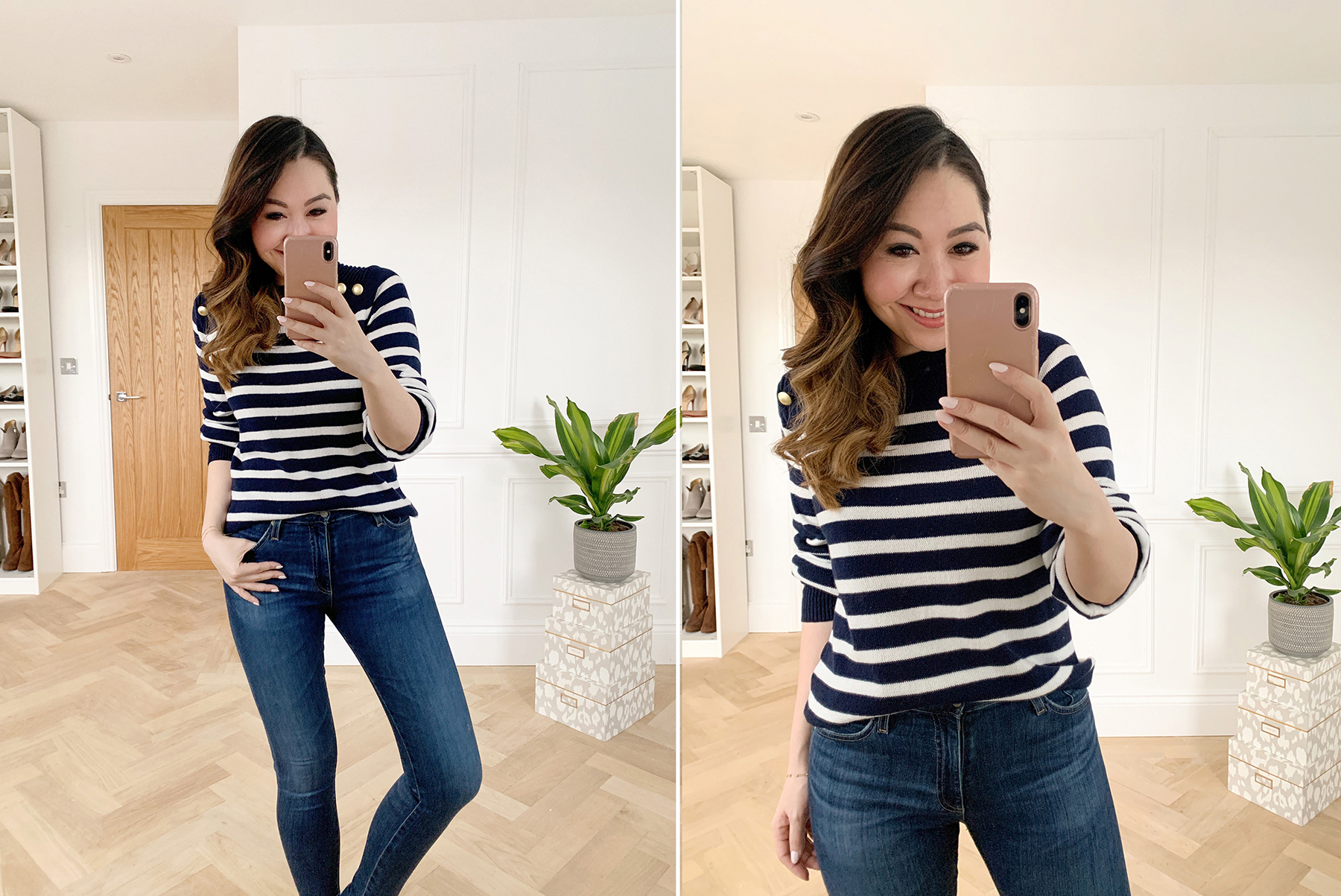 Navy and white striped sweater with gold buttons – size XS
THE PERFECT ZOOM-READY BLOUSE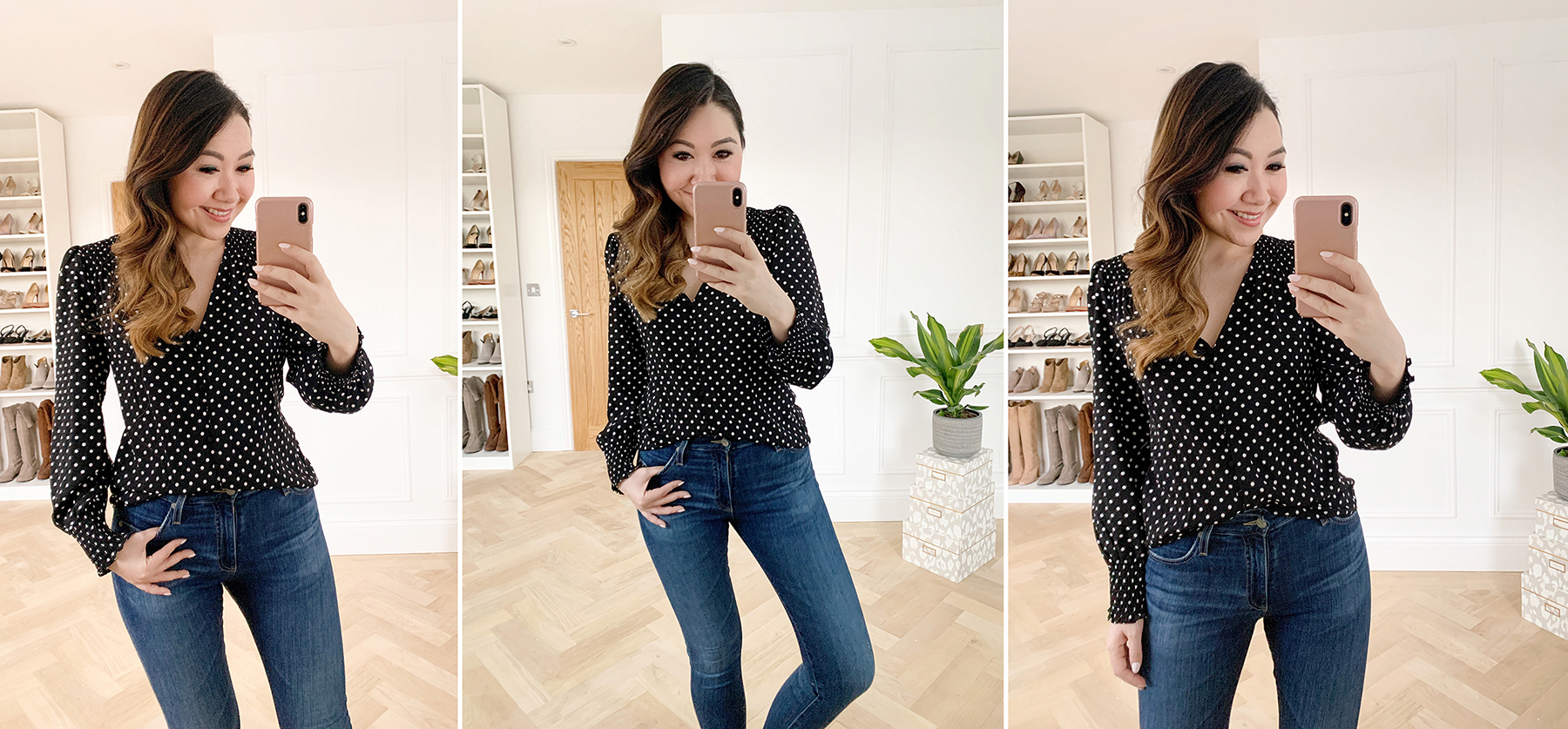 Polka dot blouse – size XS
Unfortunately even with a month as gloomy as January, work still beckons and even with our stay-at-home orders, I do still try to look pulled together on Zoom calls (even if I'm absolutely wearing leggings on the bottom!). This polka dot blouse is one of my favourite new discoveries – it pretty much combines all my favourite things, from a classic polka dot print to a gorgeous easy-but-elegant fit – not to mention, totally resistant to creasing. A win win all around 🙂
A POP OF PASTEL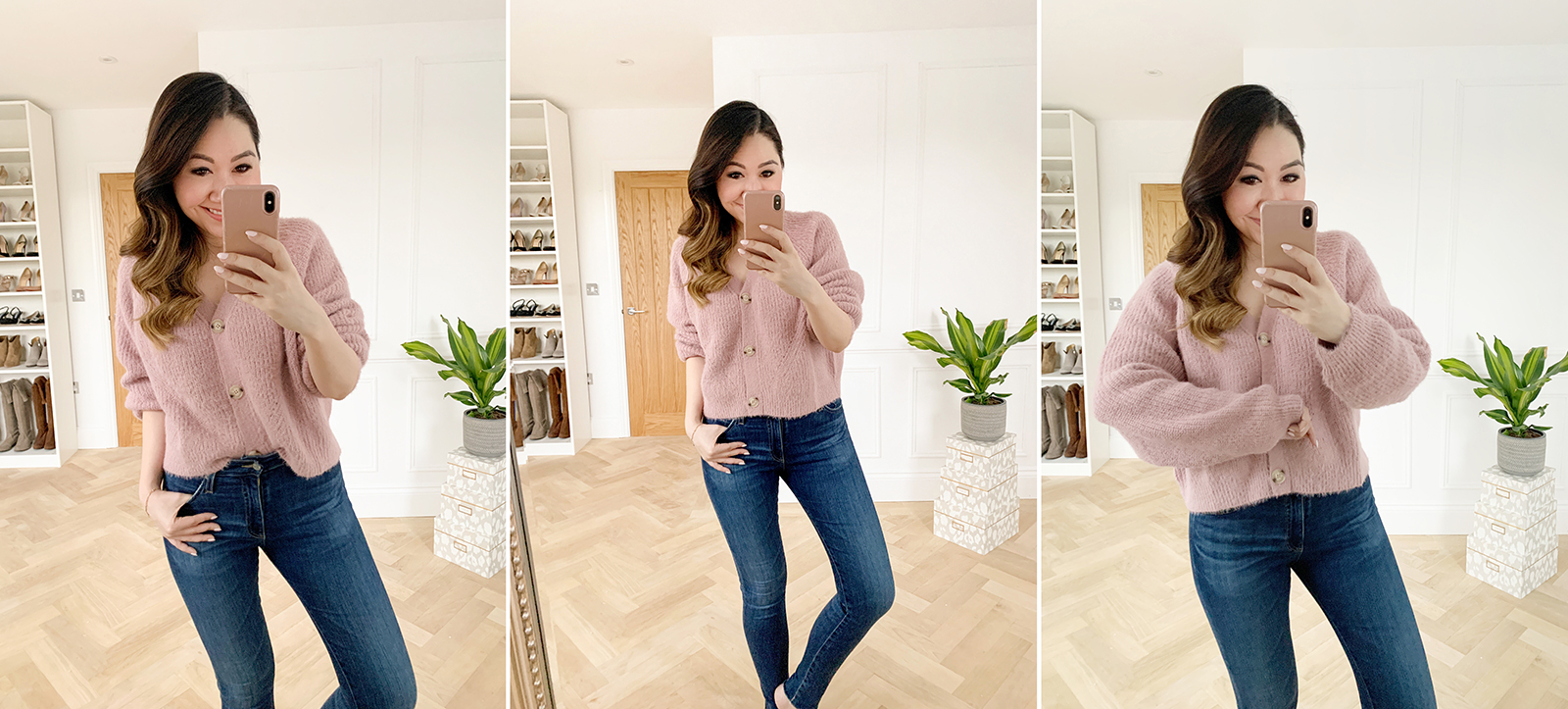 Pink boxy cardigan – size XS/ Small
Anyone else ready for spring? I've already started planning our Easter Sunday lunch – just because it's the (only) next thing on our calendar! This cardigan is giving me all of the spring vibes – the loveliest shade of pink with a super on trend boxy-but-cropped fit. Equally cute tucked in as it is loose, it's the perfect spring choice for when the flowers start blooming but it's still a little chilly out.
A TOUCH OF LEOPARD

Leopard print sweater – size XS
I also had to share this sweater which is just so beyond gorgeous. It's one of those pieces that you really have to feel to appreciate – it is so crazy soft and an absolute dream to wear! If you're a fan of the barefoot dreams leopard blanket, you'll love this too. A similarly pale leopard pattern – really easy to wear but one that still makes a statement. The fit is slightly on the shorter side but fine with mid-to-high-rise denim and just the loveliest thing to wear when you need a bit of a pick-me-up but still want to be super comfy.
THE PERFECT JOGGERS

Grey joggers (size small) with black sweater (size XS)
Finally, I wanted to share the most perfect joggers I think I've ever worn. I always find that actually flattering joggers are not so easy to find but these are not only a super flattering fit but are also ridiculously comfortable. They have the perfect amount of stretch whilst still having enough structure that I'm not worried about them wearing out quickly. They have an elasticated waistband and two easy pockets at the front. SO great for lounging around but also cute enough for errand running (or hopefully travel once we're allowed again!). Definitely one of my favourite loungewear finds over the past few months – the amazing reviews are 100% deserved!
I also wanted to mention my jeans which I always get asked about! My ones are about 18 months old now – an older Nordstrom buy that has served me VERY well! They're from AG and the new version of this style can be found here 🙂
And that is it for this post! Thank you so much for stopping by – and yay for February and longer days ahead! 🙂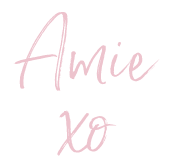 Thank you to Nordstorm for partnering with me on this post!