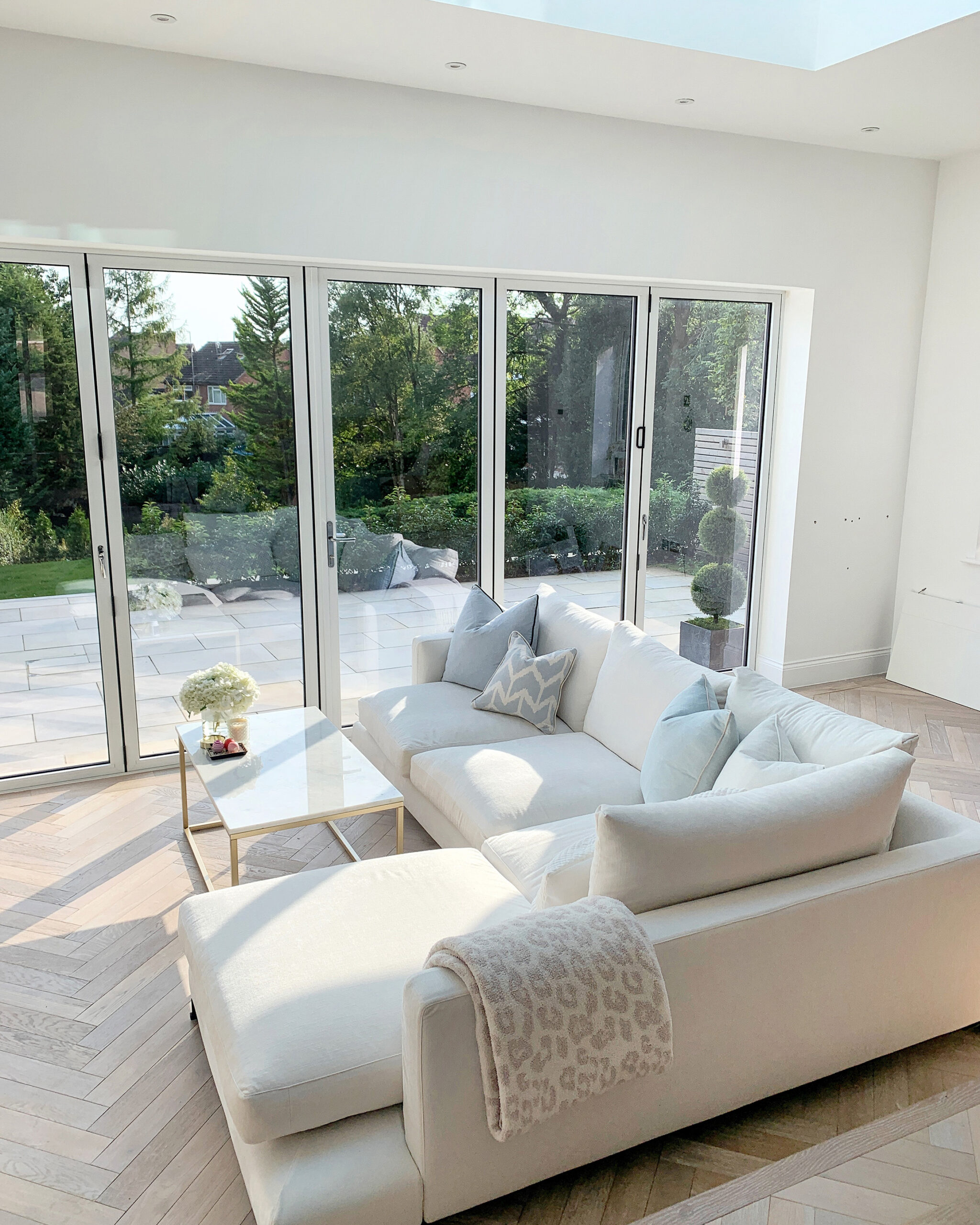 As we're deep into our decorating efforts for the new house, I thought I would share some of our decorating adventures here. I never thought I'd be decorating a new place so soon after we finished our last apartment but even though it's a big task, it's certainly been made easier by the fact I've been through the whole process before.
Sofa shopping is always such a big thing (at least in our household!) so I thought I'd start here as a kind of overall review/ shopping diary. Over the past couple of years, I feel like I've looked at every sofa company out there with several purchases along the way. Even though the shapes we've been looking at have changed, our base requirements are the same – any sofa must be super comfortable, durable and good value. I obviously don't have experience of owning sofas from all of these brands but all of the ones listed below we seriously considered and did a fair bit of research on.
Camerich Sofas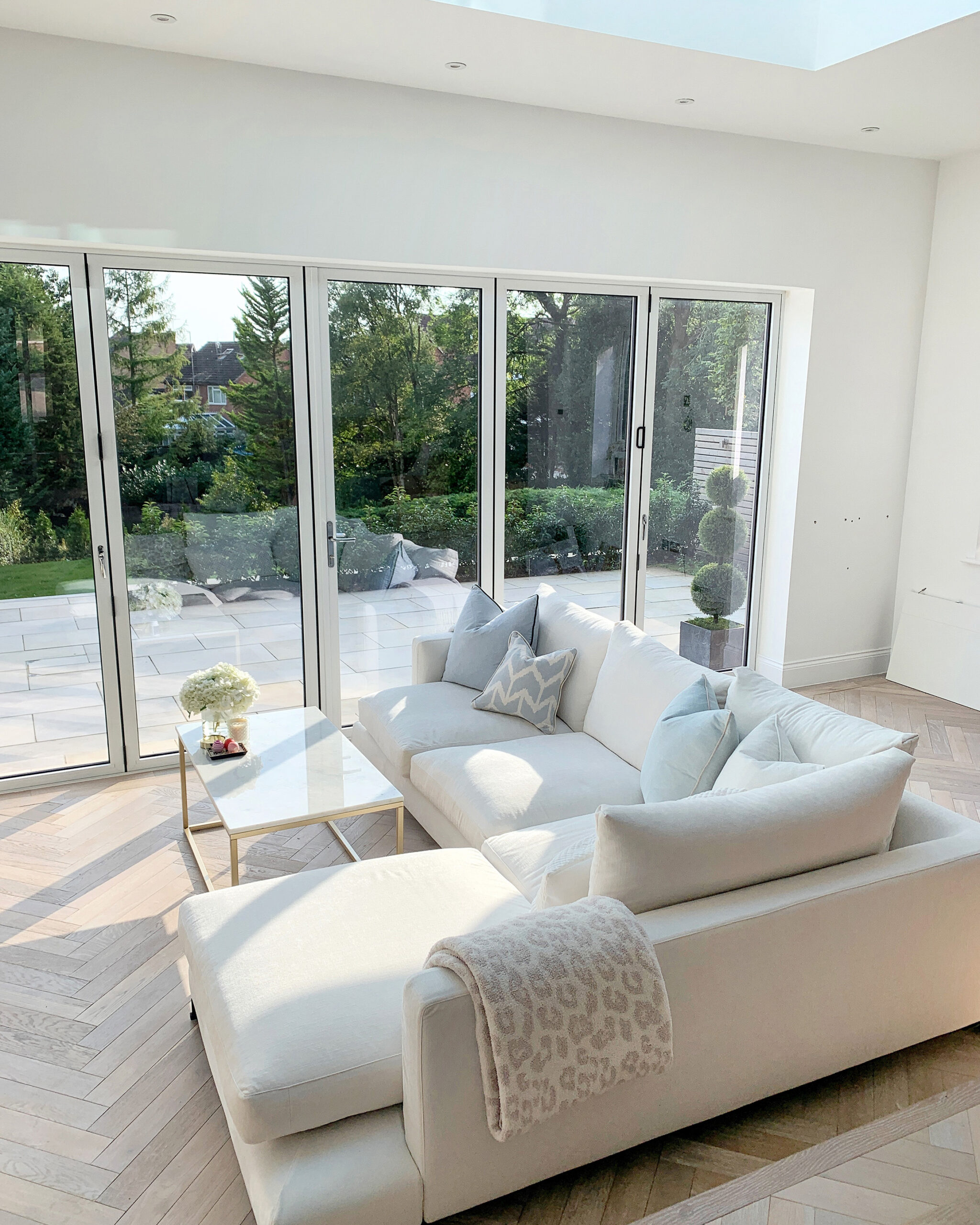 This is where we ordered our new sofa from. I came across Camerich randomly on Instagram and loved their modern, low-key designs. They have a showroom in London so we decided to stop by and we instantly fell in love with their comfy styles. We wanted a corner or chaise sofa so ended up going for their lazy-time corner sofa. They have a great fabric selection (albeit mainly made up of neutrals) and a generous return policy – you can return anytime within 12 months, which put our minds at ease for such a big purchase.
It arrived just before we moved and safe to say, we are in love with our new purchase. Dan and I both agree it's the best sofa we've ever had – not only is it so roomy and well proportioned but it is ridiculously comfortable. As an added bonus, it is extremely low-maintenance. We've only had to plump it 2 times since moving – unthinkable with previous sofa purchases! Camerich sofas certainly aren't cheap but we are thrilled to bits with our purchase – if you're looking to invest in a beautiful sofa, we would definitely recommend so far.
Loaf Sofas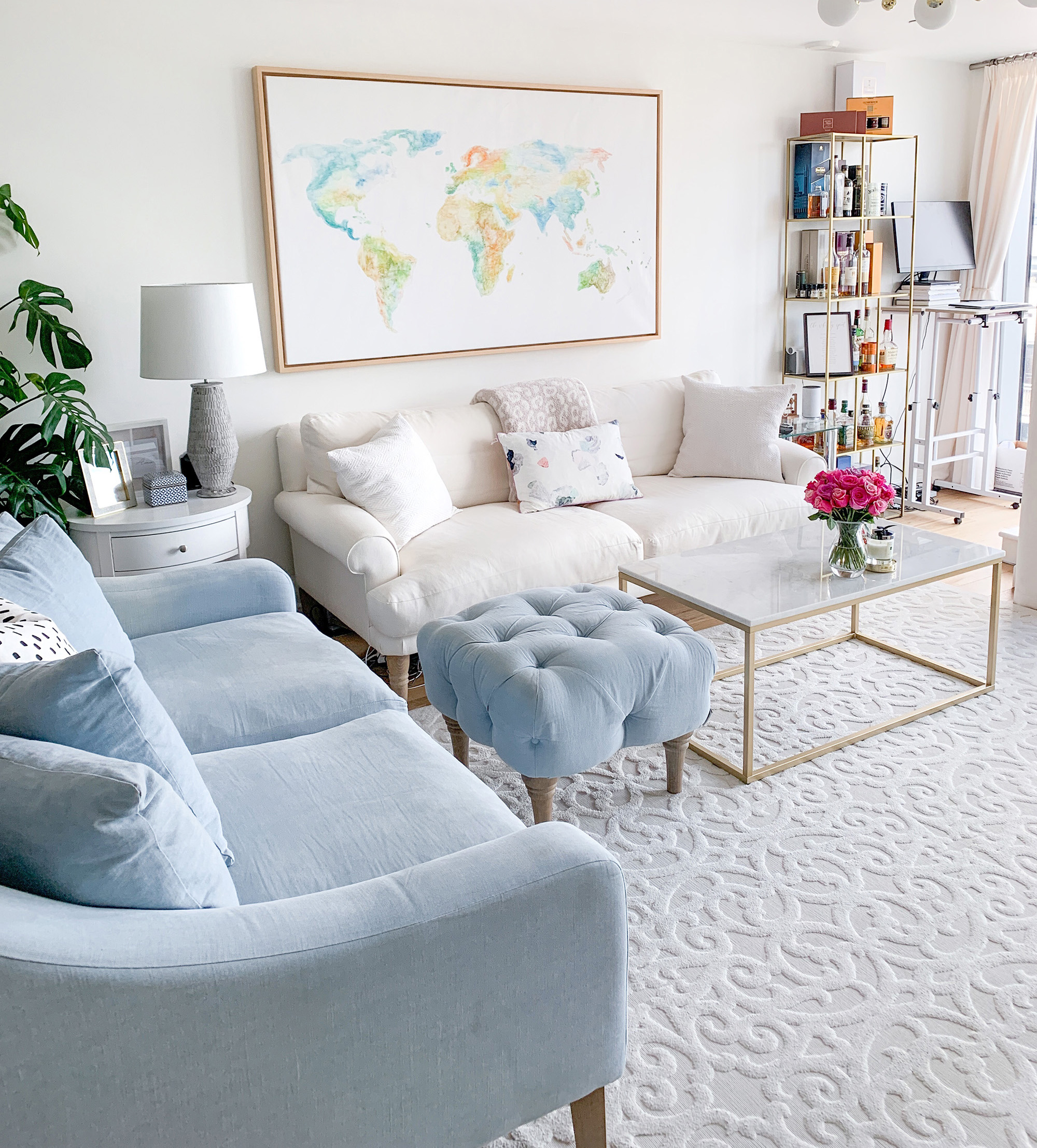 Our 'old' sofas are from Loaf.com and for the most part, we really like them. The white sofa we have is the Slow Coach sofa and the blue one is the Oscar sofa. I would say that my experience with the Slow Coach sofa has put me off feathered based large-cushion backed sofas. Whilst it is very comfortable once you first sit down, they are also very squishy which isn't great for back support if you're sitting down for a longer period of time. They are also a pain to plump as they're pretty heavy – which you really need to if you want the sofa to still look nice.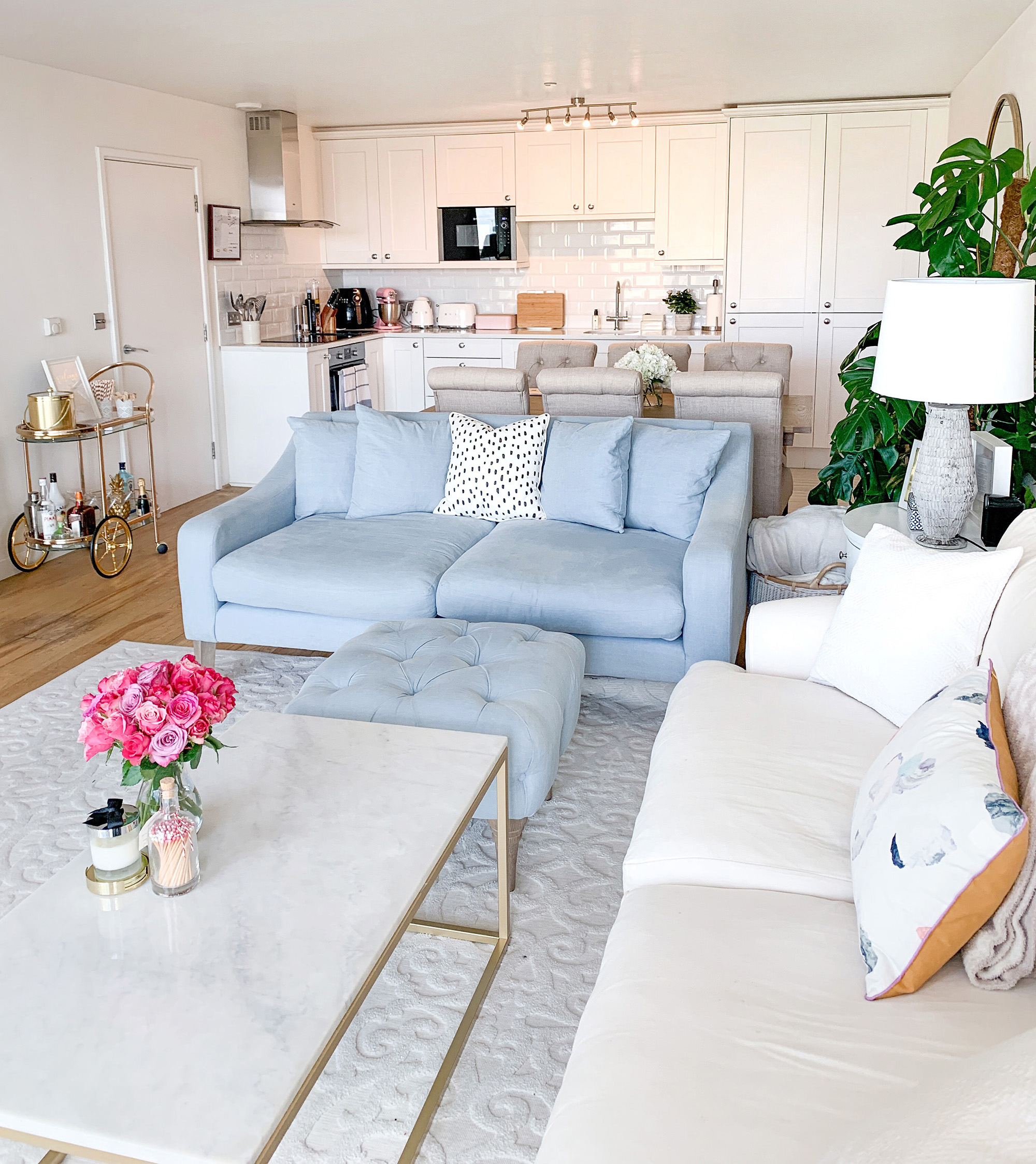 I much prefer the Oscar sofa which is both very comfortable and much easier to maintain. Even though we didn't buy from Loaf for our next place, I would have no hesitancy in doing so again. I originally went with them because I loved their fabric colours – they have a really wide selection of shades and textures, particularly whites and blues (which is obviously what I was looking at!). Their customer service is also truly fantastic – we had an issue with the fabric insurance that we purchased and they intervened straight away and offered to send us entirely new covers. Not only are they very friendly but they also completely stand by their products.
Sofa.com Sofas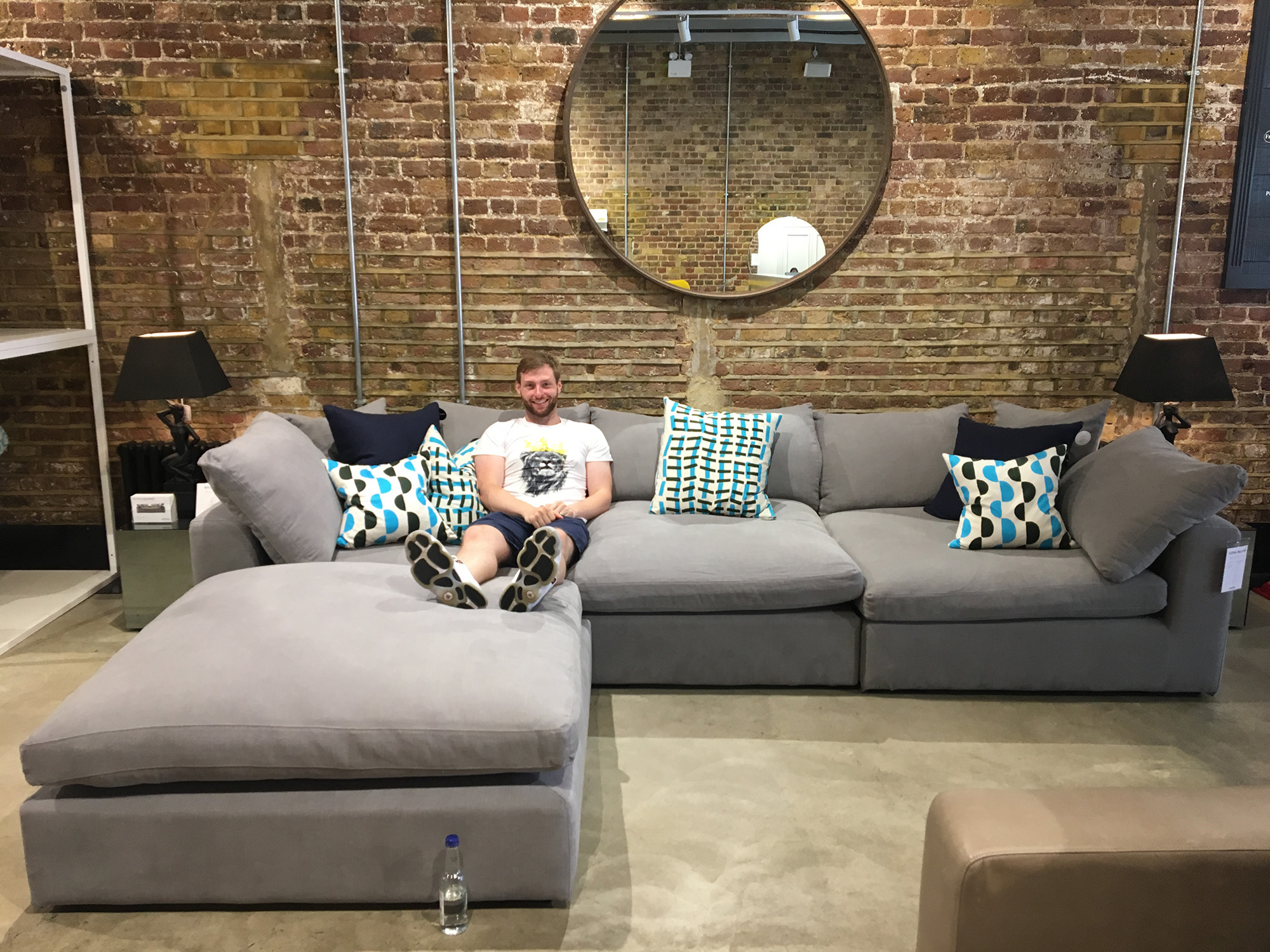 I've had a slightly more mixed experience with Sofa.com. We originally bought a white sofa from them (the Isla) but ended up having to return it – we went for a linen mix fabric but within a week of use, it was so wrinkled and tired looking that the sofa looked 5 years old. Not ideal for something that pricey. To be fair to them, they did accept the return without any issues. They also don't have the biggest fabric selection so for this reason and our previous return issue, we didn't look at them this time.
That said, my mum's sofa is from Sofa.com and it's held up pretty well – she went for a velvet so it does really seem to vary according to what fabric you select. I would definitely suggest getting fabric samples and scrunching them up to see how they'll wear if you do opt for Sofa.com. Sofas always come with such long lead times so it's always best to try and get it right first time!
NB. The one pictured above is the Long Island sofa – one of Dan's absolute favourite styles. It is incredibly comfortable but is also absolutely enormous, so really only an option if you have space to spare!
Sweetpea and Willow Sofas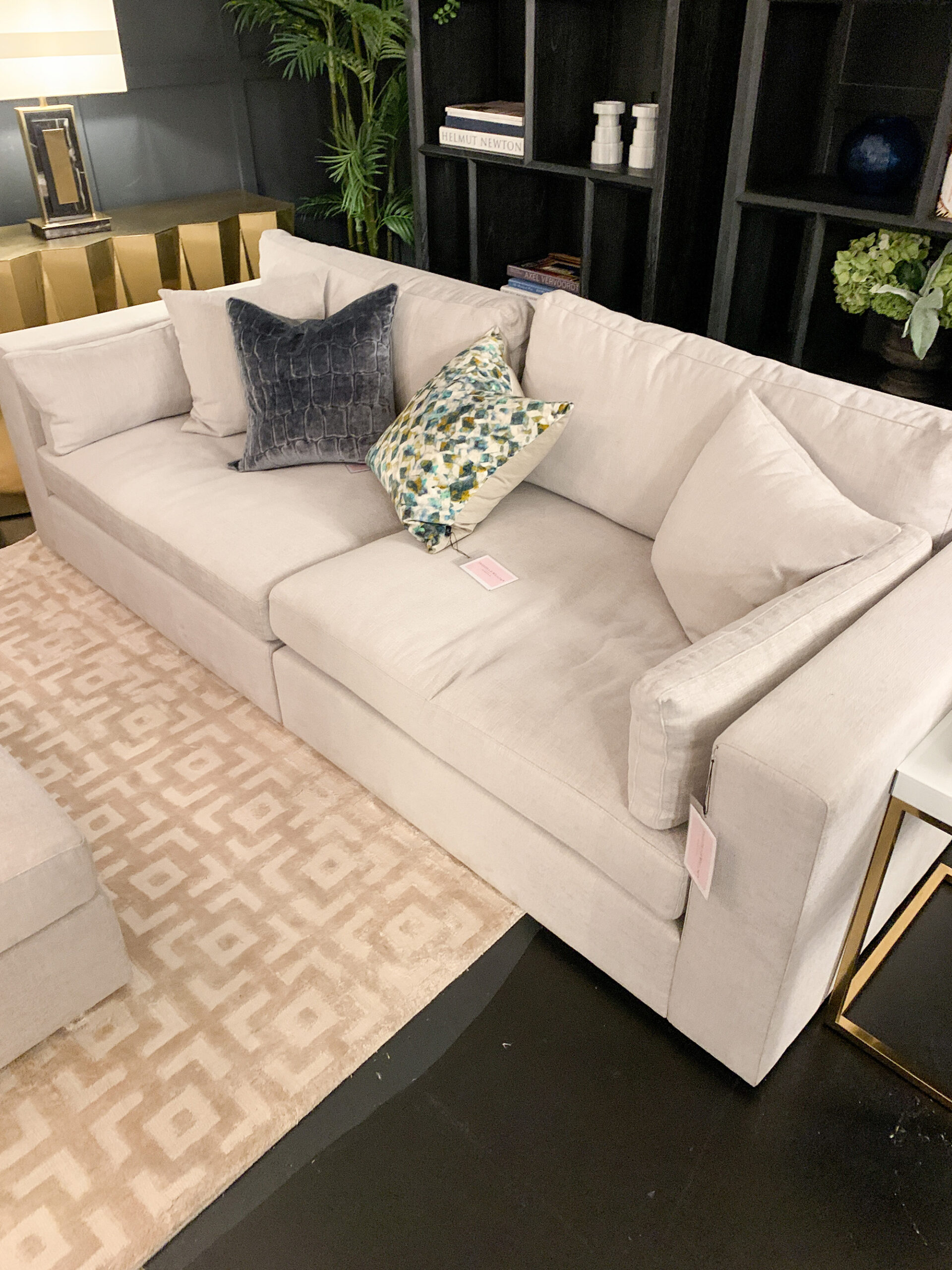 If we hadn't bought from Camerich, we likely would have purchased our sofa from Sweetpea and Willow. We stopped by their showroom after spending hours stalking the beautiful sofas on their website and let's just say – their showroom does not disappoint! It's impossible not to leave without a huge wishlist; each section and area is done so beautifully! The style above was our favourite and is called the Lansdowne. Unfortunately the dimensions were just a smidge too big for our space but we seriously loved the style and the comfort factor. Plus, their fabric selection is the biggest I have ever seen anywhere – every colour, texture and fabric you can think of!
The sofa below is the Bancroft sofa – surprisingly, Dan loved this one (even with the studs!) but again the dimensions just didn't quite work unfortunately.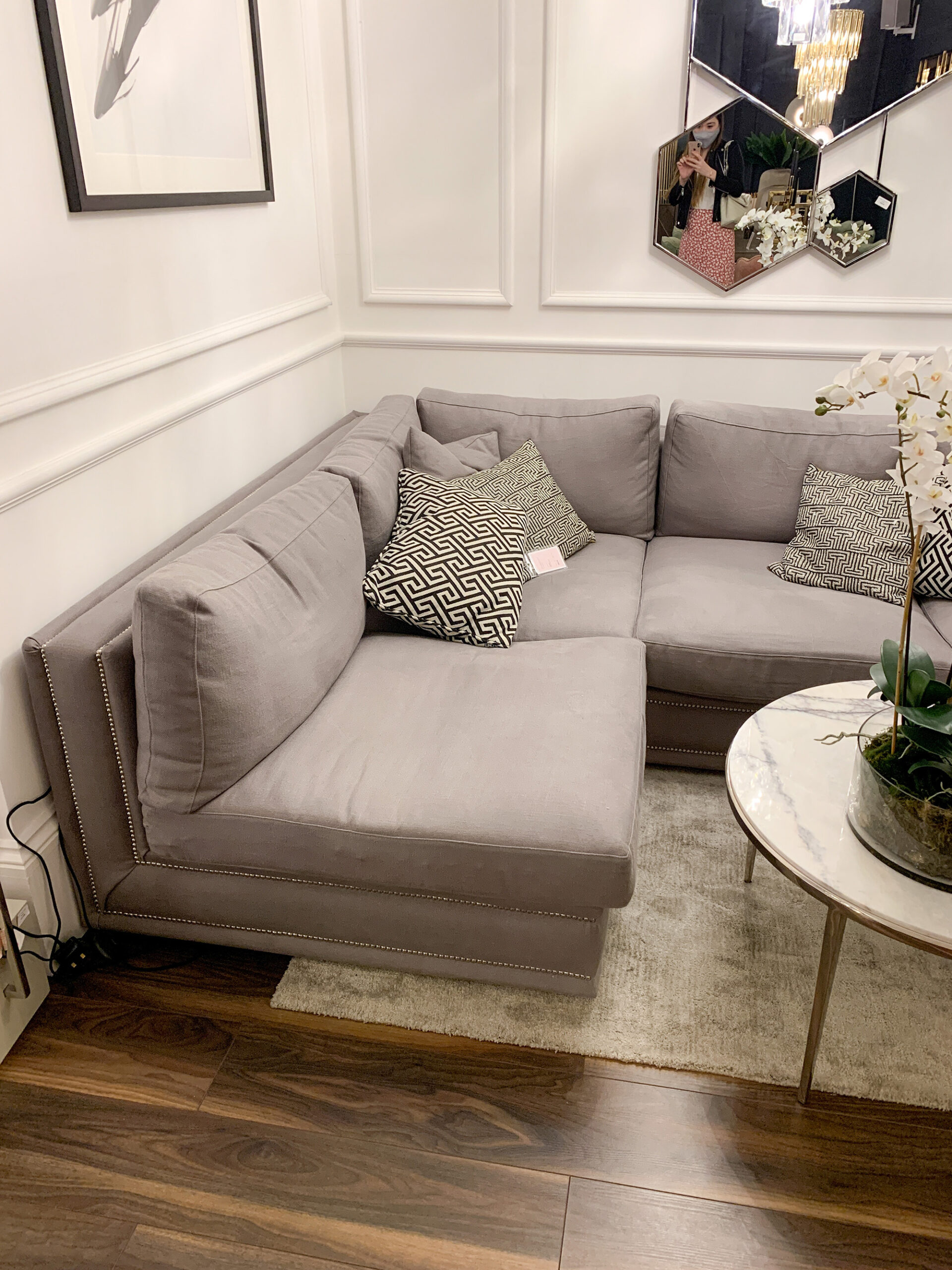 Neptune Sofas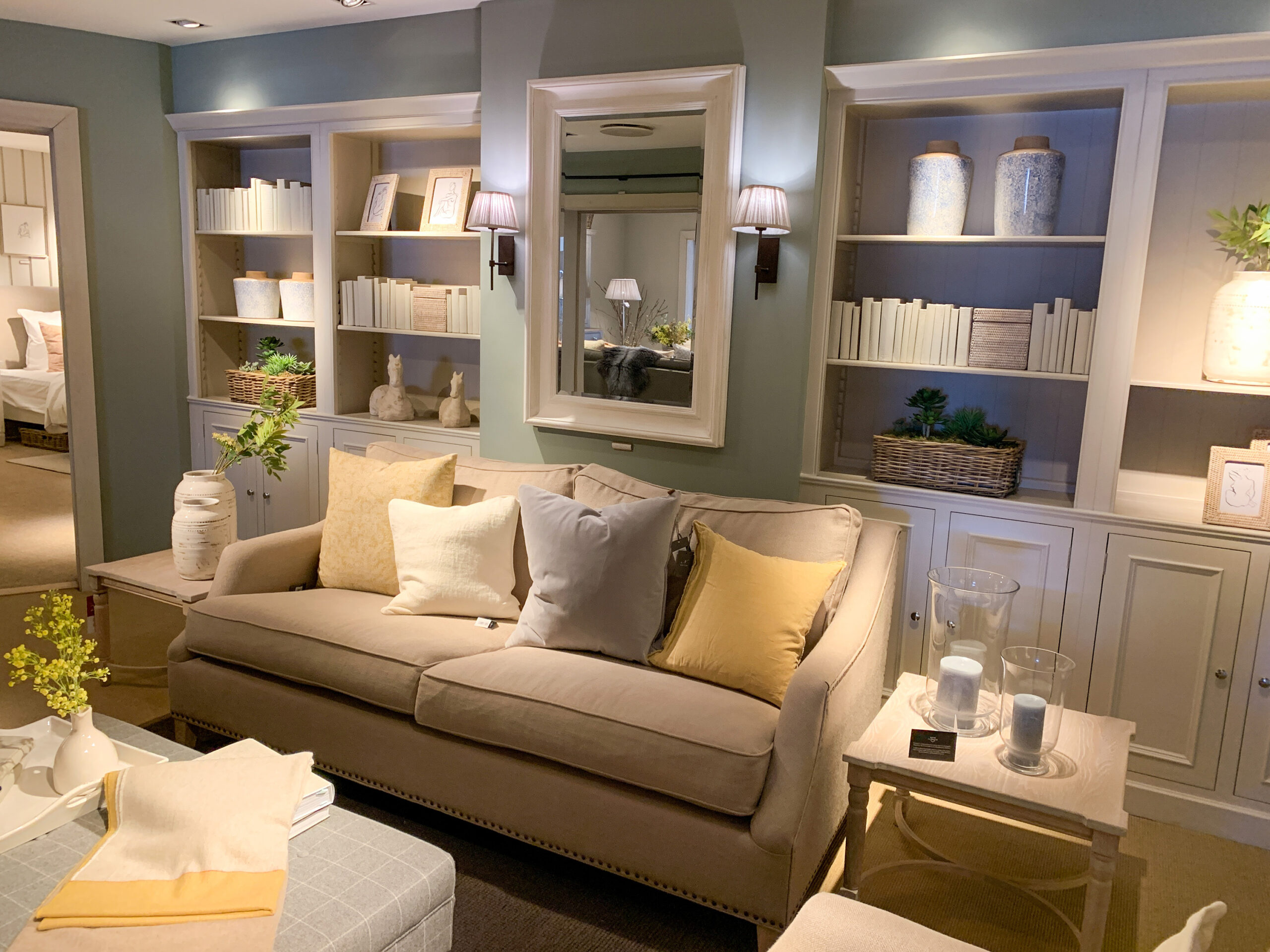 We also purchased from Neptune for the new place as we have two living rooms. We've visited a couple of Neptune showrooms now and every time we do, my wishlist just gets bigger and bigger! Their furniture and styling is always so gorgeous and even though their prices are on the higher side, their quality is fantastic. We've purchased several pieces for the new house from them and I've been so happy with everything – all the pieces are so solid and genuinely feel like they'll last for decades.
I've not had too much experience of their upholstered pieces before but I loved the fact that they so seamlessly blended style and comfort. We've ordered the Eva sofa (pictured above) amongst other things and I cannot wait to receive everything!
Darlings of Chelsea Sofas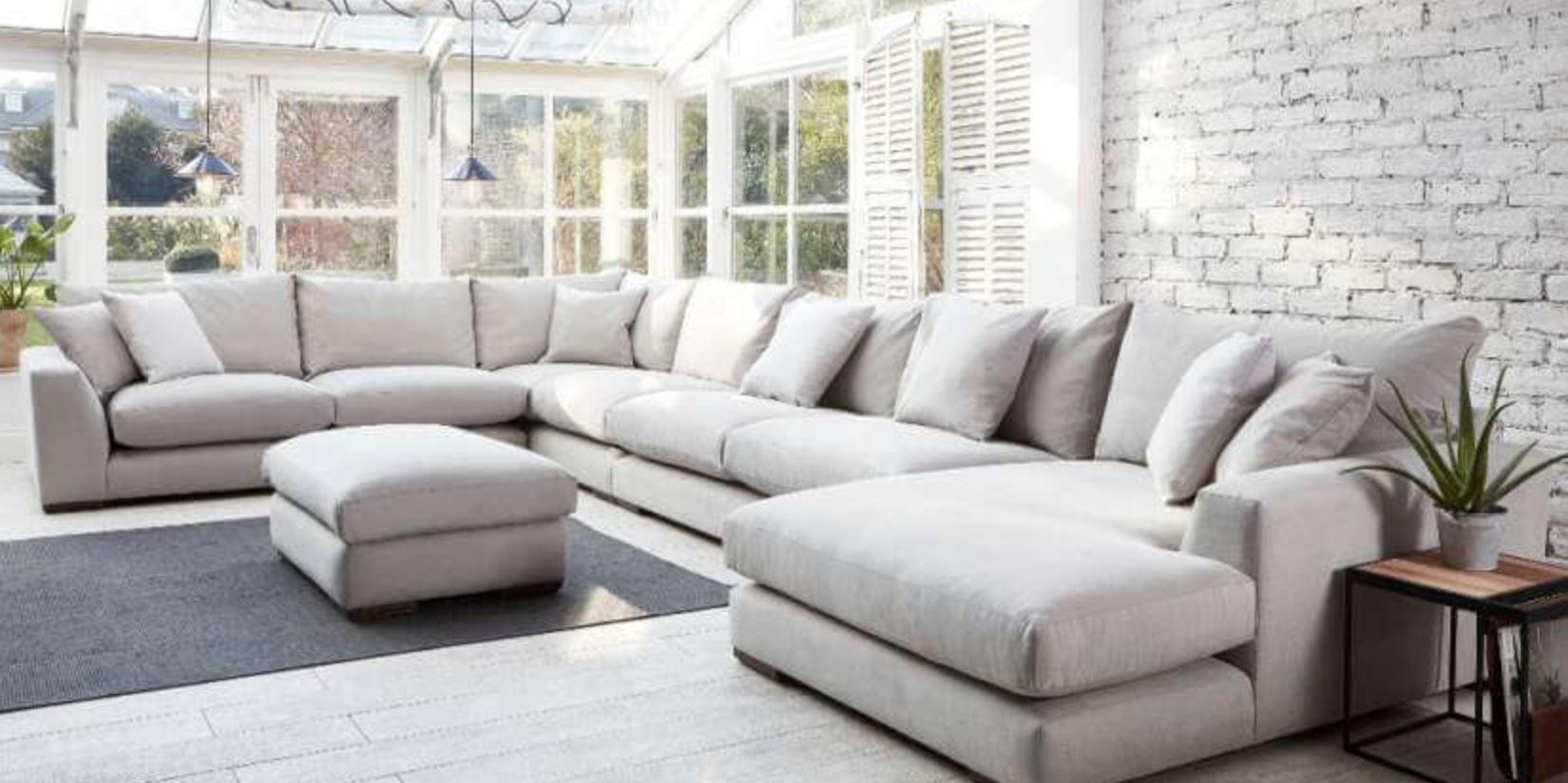 This one we were a little underwhelmed by. I think we found Darlings of Chelsea through Facebook and we loved the look of some of their styles. The prices are definitely on the high side so we did have fairly high expectations but honestly? They were only okay. I couldn't tell the difference between these and some of the styles from other stores I mentioned above and they were considerably more expensive. They do have a great fabric selection but the styles didn't seem particularly special and some even felt a little old fashioned. We made the trip to their showroom but didn't stay long – we were pretty underwhelmed.
More Budget Friendly Options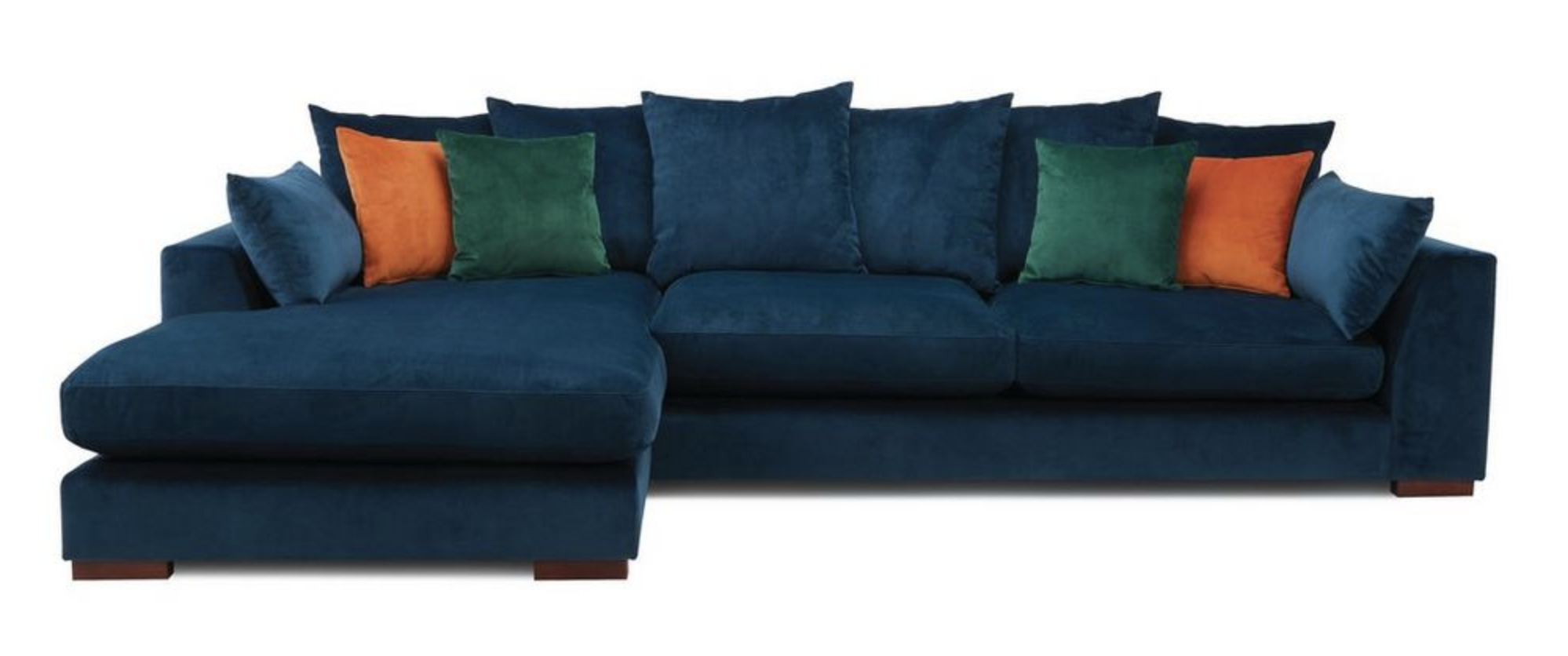 Finally, I wanted to quickly mention some more budget friendly options. We've never bought from DFS before but I know a few people who have been really pleased with their purchases. We stopped by one of their showrooms this time around and found a few styles that we really liked (including this incredibly comfortable velvet corner style). The only drawback for us was the lack of fabric choice which ultimately led us to look elsewhere. Apart from that though, the prices were great and the sofas styles we tried were extremely comfortable.
Another option is to buy a cheaper sofa and upgrade the filling. In our first apartment together, we were on a much tighter budget so we ended up getting two cheaper sofas from Very.co.uk and refilling them with a type of memory foam. The refills were just done with a local upholsterer and whilst it wasn't cheap to do, everything still came to less than £1200 for both – and they were incredibly comfortable. Definitely something to consider if you find a cheaper shell but don't love how it feels when you sit down – we were delighted with the end result and would do this again in a heartbeat.
If you're also decorating right now and are in the market for a sofa, I hope you found this helpful!