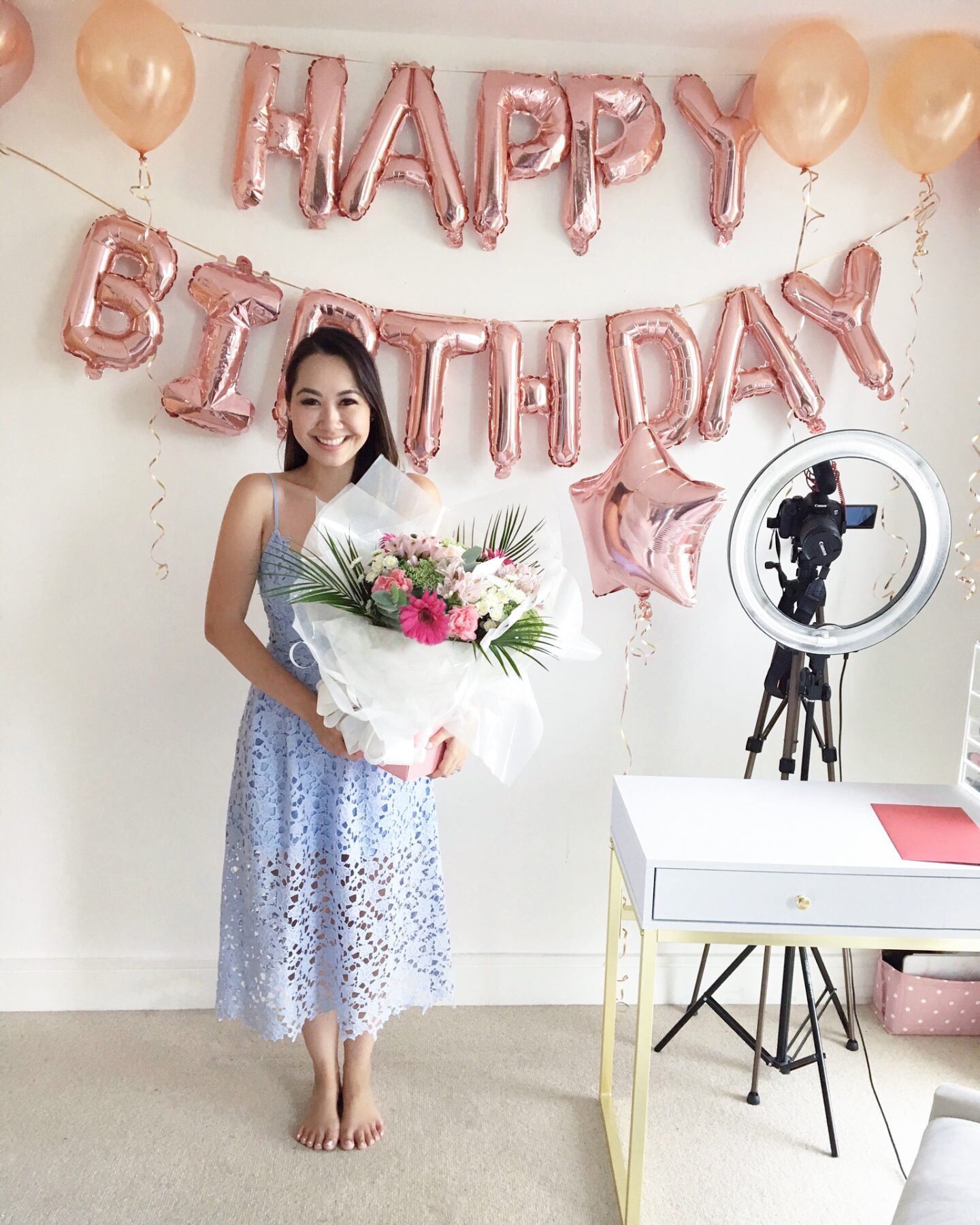 Today's post is a Q&A! I haven't done one of these in so long and as it's my birthday week, I thought it was about time to answer some of your questions! I posted on Instagram asking if you had any and have answered some of them below. I'm sorry if I didn't get to yours but I will try and do these more often!
GENERAL
What is your signature scent/ perfume?
Jo Malone Peony and Blush Suede 🙂 I've worn it almost everyday since first discovering it.
If you could travel anywhere in the world, where would you go?
Oh gosh, so many places on my wishlist! I've been lucky enough to travel a fair bit but at the top of my list is Korea (even though I'm half Korean, I've never been!), Sri Lanka (I've heard so many good things), Bolivia, Peru and to explore Europe more. I've visited various countries in Europe but I know there's still loads more to see!
Would you recommend getting married abroad? 
Yes and no. We loved our wedding and there is something so special about being able to spend a weekend abroad with all your loved ones. The weather was amazing and I truly felt everyone was able to let loose! That said, the planning was beyond challenging. I heard time and time again that you need to hire a planner if you're getting married abroad – I didn't listen, thinking I could save the money instead and it was my biggest wedding planning mistake. So my advice would definitely be: wedding abroad = wedding planner!
What are your beauty and skincare favourites?
I have a ton but some of my absolute favourite game-changing products are:
Skincare: SKII Facial Treatment Essence, Sarah Chapman Overnight Facial, La Mer Eye Cream
Beauty: Charlotte Tilbury flawless finish powder, Armani Luminous Silk foundation and Tom Ford Nude Dip eyeshadow quad
DIET AND FITNESS
What is your workout plan?
I've been using the original Insanity program from BeachBody and recently switched to Insanity Max 30. Insanity is super tough but you get results ridiculously quickly because of it!
What is your diet?
So I actually kept this very simple – all I did was reduce my calories and really pay attention to portions. I've tried all kinds of diets and this is the only thing I've been able to stick to – mainly because I'm actually terrible at dieting and not being able to eat the food I want! Calorie-restricting gets a bad rep but I've found it to be so much less restrictive than every other diet I've tried. It enables me to eat the food I want and portion control in a way that's sustainable for me 🙂
FASHION
Do you experience colour transfer with your light Gucci Marmont bag?
I've had no colour transfer on my Gucci Marmont but I also take steps to prevent against colour transfer. I have a video on this here and here if you want to know more!
Who are your biggest fashion/ style inspirations?
Olivia Palermo will be my all-time favourite style icon. Beyond that, I always get inspiration from real girls I see on the street! London doesn't get enough credit for its fashion – there are so many well dressed girls (and guys!) here.
Do you buy pre-owned bags and if so, where from? Where do you sell your old bags?
I do! Some of my favourite bags are preowned including my Celine Nano and my Chanel mini. I have a whole blog post on this topic here. At the moment I sell my bags on my blog 🙂
MONEY & PERSONAL
What kind of space are you moving into and why did you decide to move?
Not too dramatic of a change – it's a three bed flat not too far away from where we are now. We actually weren't planning on moving until next year but due to an admin error with our mortgage for our current flat, it made more sense to move now.
How do you afford to still buy luxury with a wedding and moving in one year?
Well I certainly waited until after the wedding to tick any super major luxury purchases off my wishlist but the truth is we didn't overextend ourselves with the wedding. As much as we wanted a magical day, we didn't want to bankrupt ourselves to do so. So we took a reasonable approach and planned a day that we could comfortably afford which to us, meant no wedding debt after the big day.
As for our move, apart from some new furniture, it's not actually costing us a ton of money. We're moving into Dan's old flat which he's been renting out ever since we moved in together. It's actually much bigger than what we have now and the reason we didn't move there to begin with was partly because we wanted to buy together but we also didn't think we needed all that space. We're now getting to the point though where we'd like a spare room and a bit more lounge space so decided to make the move (albeit a bit earlier than we initially planned!).
Any advice for young women trying to grow their wealth? Smart investing strategies and saving strategies you've used?
I've had to carve out my own way of saving and investing that makes it fun for me and I truly believe that's the key to making it work. I take lump sums every month and put them in dedicated savings accounts – I have 6 individual accounts with my bank at the moment and have labelled them according to each savings goal. The naming really helps to excite and motivate me to save!
As for investing, there is a lot of exciting stuff happening in this area including lots of digital platforms that make investing a lot less intimidating. Online investment services like WealthSimple and Nutmeg are great because you invest in diversified portfolios instead of individual stocks which tend to be a lot riskier (there's a reason there's the saying, 'don't put all of your eggs in one basket!'). If you want to dip your toes in, I love MoneyBox (a UK service but there are US equivalents) where they round-up your change from daily spending and invest it for you. It's simple to start and use and is about as fun as investing gets 🙂 I do have to add the disclaimer (I used to work in financial services marketing after all!) that investing in stocks and shares should be something to consider after emergency funds etc. as obviously values can drop as well as grow.
And of course, property is a huge one that can often see the greatest returns. If you're thinking of buying, remember that location is everything. The London housing market has been a funny one in the last couple of years because of Brexit but if you pick an up and coming area, you should be able to weather the storm and see returns fairly quickly (although these obviously won't be liquid funds!). Pay attention to development and transport plans as well as general interest in the area. If there's interest, people will be talking about it online and in local papers.
WORK
Do you still have a full-time job in marketing?
Yes, I do! Although I made a pretty major switch last year to working on our own company full-time. It's something we've been running for the past couple of years and last year we were doing well enough to take it full time. I won't bore everyone with the details but we essentially run a digital consultancy that builds and invests in web and mobile applications. It's grown a lot in the last year and we now have 13 people working for us – which is kind of crazy to think about! My focus is still marketing and I head up all branding and marketing efforts as well as determining the go-to-market strategies.
It was definitely nerve-wracking taking such a big step, especially when you're responsible for other people's incomes but thankfully, it's going well so far so hopefully it'll continue to do so 🙂
What do you like most about your job?
The variety and the creativity! I love branding and marketing (especially for start-ups) because it feels like a blank canvas. I also get to work with some insanely talented people to help bring some of these ideas to life. There is nothing more satisfying than seeing an actual project come to life when it just started off as a tiny little idea in your head!
LIFE AND MOTIVATION
How do you stay positive and energetic throughout the day?
This is such a great question and a topic that I'm always hugely interested in! I truly think that everyone struggles with this but I've found a few things to be helpful. The biggest thing for me is to pay attention to how I treat my body. This covers everything from getting enough sleep to being mindful of how much caffeine and sugar I'm consuming. Daily meditation and workouts are another super important aspect of this – when I make the effort to do these things, the difference I see in how I react and respond to things is enormous.
And one more final thing that I've recently begun doing is changing my desktop wallpaper every couple of weeks or so to a phrase that inspires me. I keep it simple and just use a black font on a white background so that the words stand out. I must glance at my desktop dozens of times a day and having that reminder there has been such a great motivator! It's so easy to get bogged down with the stresses of daily life that a little motivational saying or quote can sometimes be the reminder you need to look at the bigger picture or to be reminded as to why you're doing it in the first place.
How do you manage a full time job and a YouTube channel and …life! 
Honestly, it's a constant challenge but the simple truth is I work a lot. I should probably take more time off than I do (and the same goes for Dan) but I think we're both aware that we probably aren't going to be able to work this way forever, especially if we want to start a family one day. We're both pretty focused on setting ourselves up for the future so that we can provide for our family if we're lucky enough to have kids. This is especially important to us as neither of us grew up with a lot of money and whilst our parents absolutely made sure we never went without, we have always had the drive to make sure that we would be financially comfortable in our 30s and beyond.
That said, I've gotten a lot better in the last year about cutting myself some slack and making time for seeing friends and just chilling in general more. It's often resulted in not as much getting done, and usually the casualty has been my YT channel but I've learnt to be kinder to myself and as long as I know I'm doing my best, I try not to stress about my constant to do list!
Do you and Dan want kids?
Yes! We would love to have kids one day (but no, we aren't trying yet!).
Do you have any big plans you are working on? Either for youtube, personal, professional, family vacations, etc.
Yes, we have a ton on! For work, we have a couple of big launches happening in the coming months that I've been working on for over a year. It's probably going to mean a lot of late nights but I'm so excited to see things come together.
On a personal note, we are moving in just over a month so I'm busy planning a few light renovations and redecoration. As for travel, I have a pretty packed schedule! We're going to Romania in a couple of weeks for a friend's wedding, Paris for my mum's birthday in October and then Miami in November! We still need to book our honeymoon too but are waiting for some work schedule clarity before we can do that 🙂
As for YouTube, I am so excited for the videos I have planned! I'll be the first to admit that YouTube has taken a bit of a back-seat this year – I've had a lot on with work and the wedding so my videos have suffered a bit. That said, I feel completely refreshed and so ready to get back to a more regular filming schedule! I have a lot more fashion videos coming up, particularly focusing on high/low fashion as well as a little sprinkling of lifestyle and of course, handbags! 🙂
Phew! That was a pretty lengthy post but some questions just can't be answered in a couple of words (or at least I can't seem to!). I hope you enjoyed this Q&A – if you'd like to know anything else, leave me a question down below and I'll try and do another blog post or video 🙂