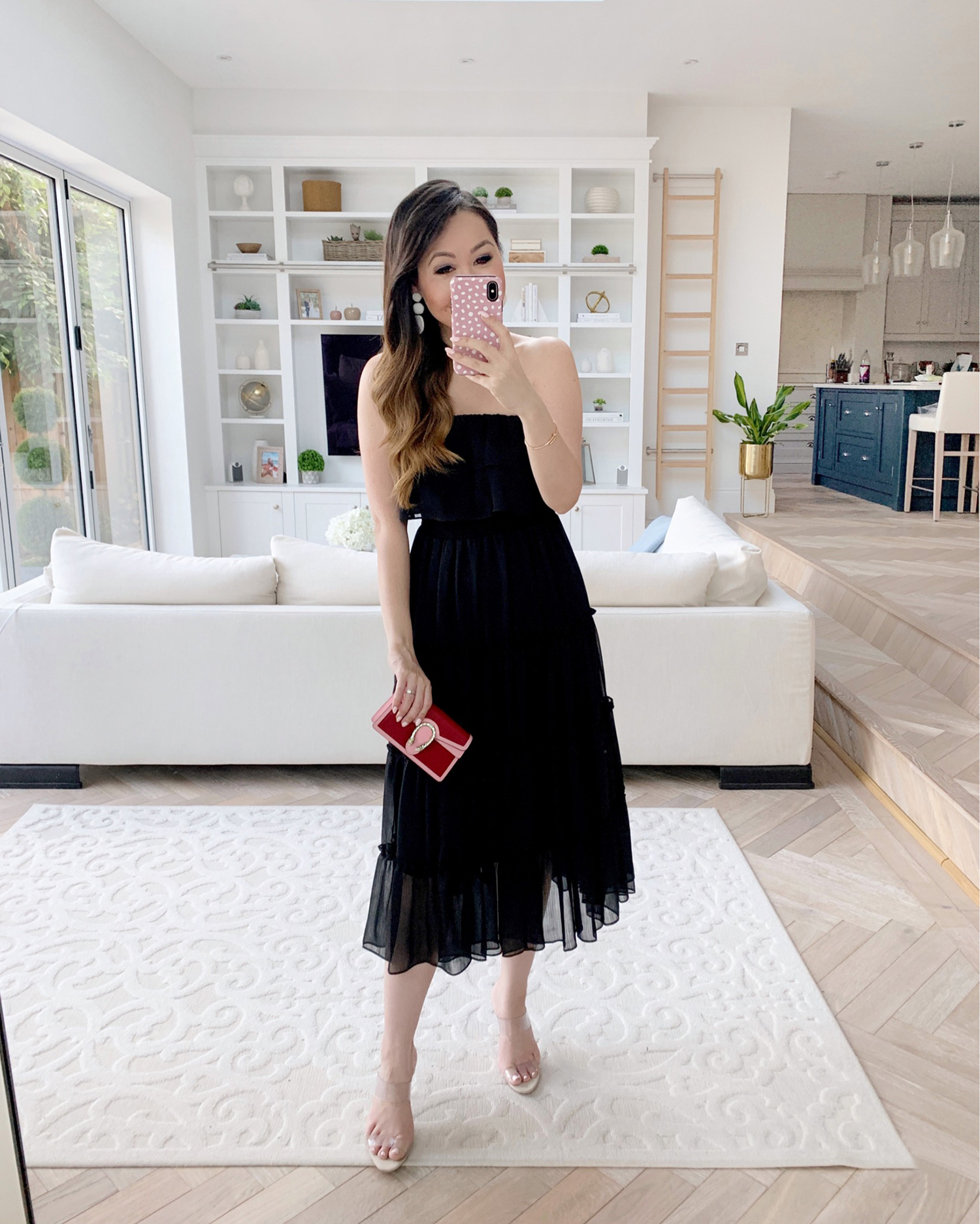 Today I thought I'd share another outfit round-up! It has been ridiculously hot in the UK (sentences I don't get to say often!) so many of these outfits are on the small side – it's been far too warm for lots of layers so one pair of jeans is about as covered up as it gets in this post haha 🙂
FEATURED ABOVE
Black Strapless Dress // Clear Sandals // Gucci Bag (gift/ad) // White Earrings (sold out, but similar and more affordable here) // Cartier Juste Un Clou bracelet
I wore this little black dress on a recent date night and loved it so much. So swishy and just unbelievably fun to wear! I teamed it with some oversized Rebecca De Ravenel earrings which are sadly sold out now – but I found some almost exact dupes at a fraction of the price here 🙂 I turned my Gucci mini into a clutch and then paired with my trusty clear Schutz heels!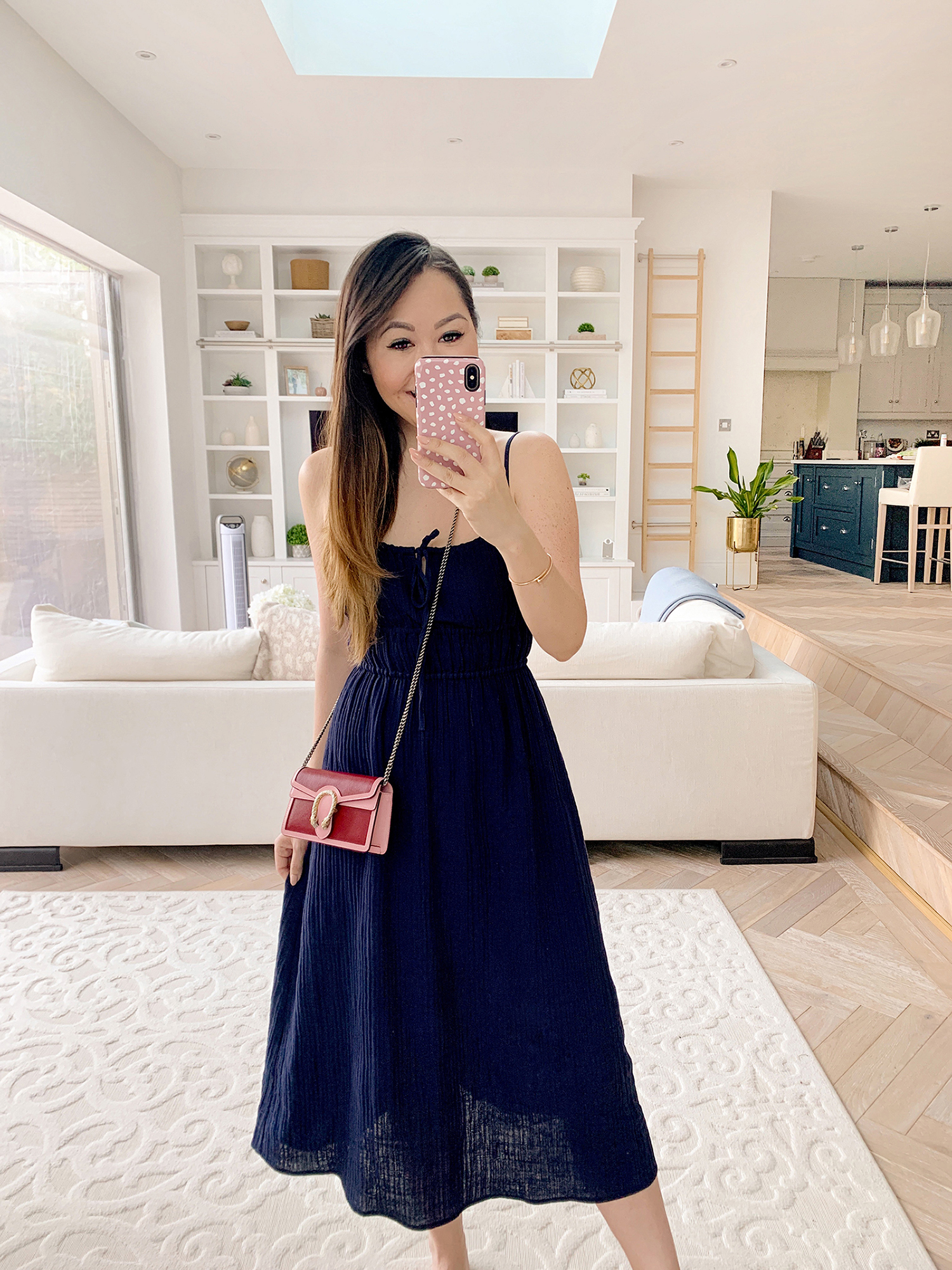 Navy dress // Gucci bag (gift/ad) // Bracelet // Stud Earrings
I'd just gotten my lash extensions filled in so went pretty bare-faced for a trip to Nandos and just slipped on this easy navy summer dress. So light and airy and absolutely made me feel like an extra in a Mamma Mia film haha. You can't see my shoes here but I just went with my Sam Edelman flat sandals. My Gucci mini has been in heavy rotation as a grab a go style and of course, my bracelet – which still pretty much never leaves my wrist! My stud earrings are currently on sale for the Nordstrom Anniversary Sale – my size are the 2ct total weight ones and are perfect for everyday, without being too bling-y 🙂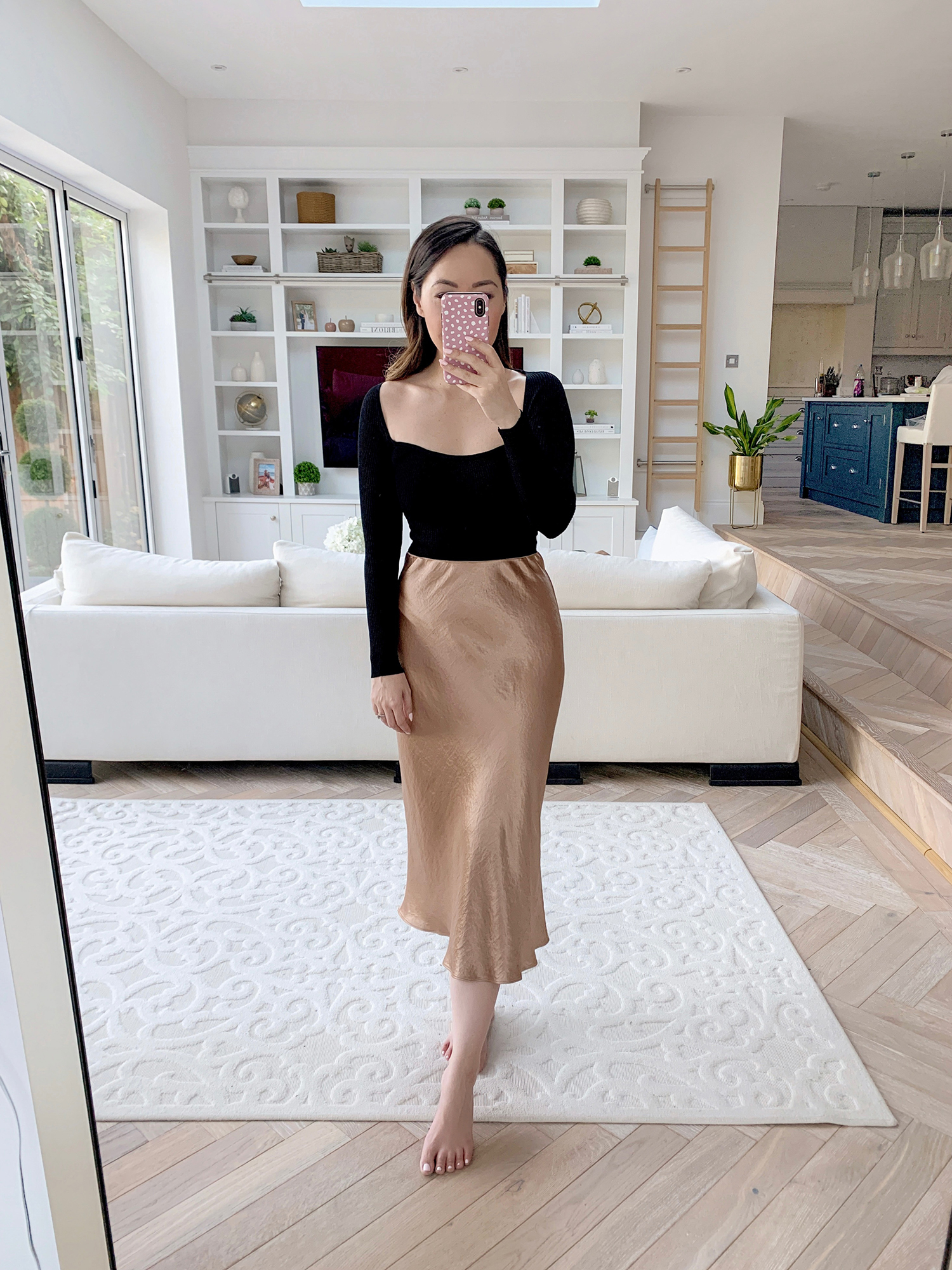 Black bodysuit // Bias cut skirt
I mentioned this bodysuit in my latest Favourites video and cannot even tell you how much I love it! Very much reminds me of the uber pricey Khaite versions but at a fraction of the price. It's a ribbed one but a flattering rib, not the shows-every-lump-and-bump kind haha. Looks equally great with jeans as it does with skirts, I've already ordered it in white as well!
My skirt is a sold out colour but it's a style that they've brought back this year – it's available here in black and then in this beautiful champagne colour. Such a flattering bias cut and even though it's designer, I do think it's good value – especially for the quality and cut!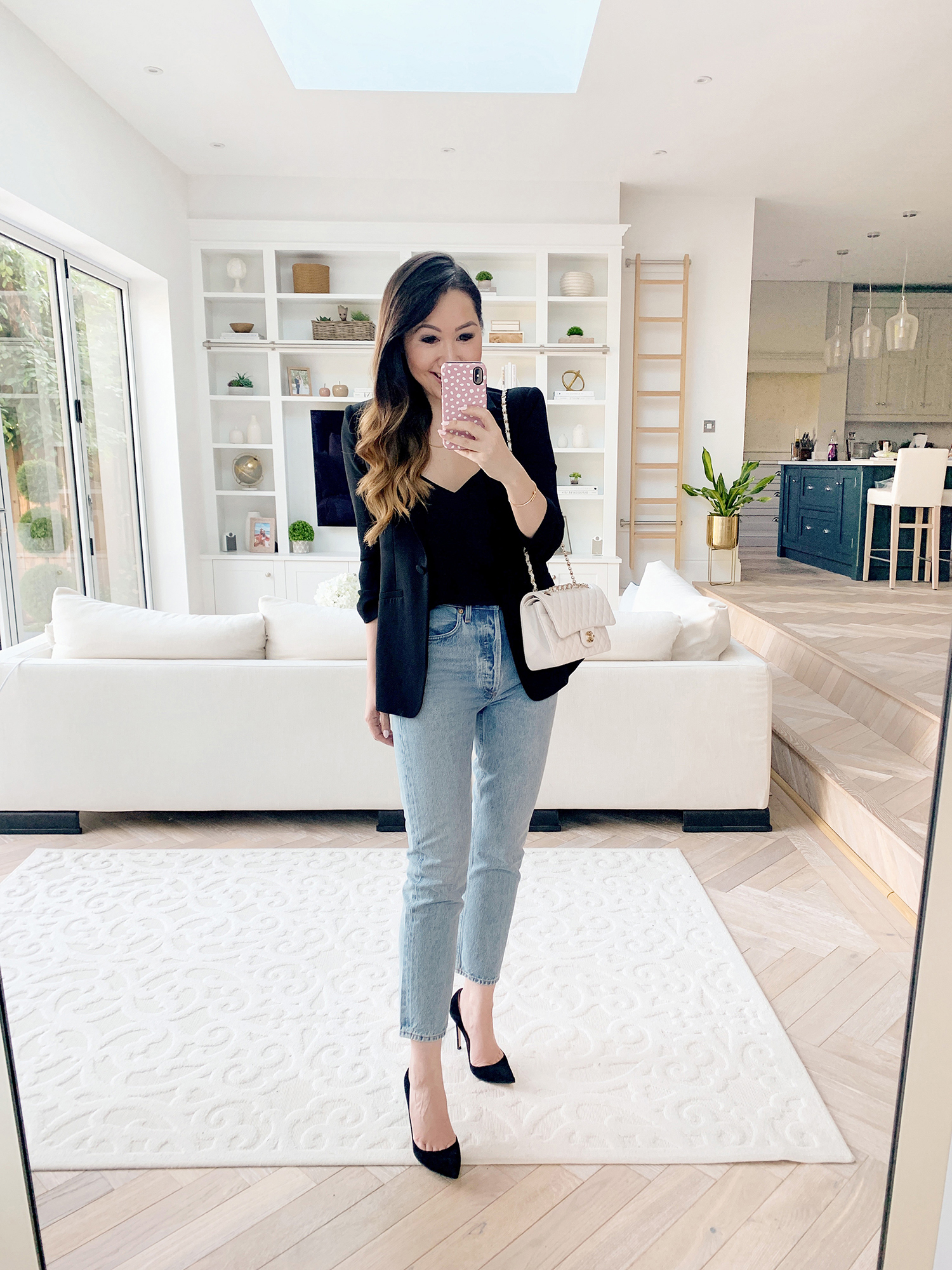 Black blazer (size 00) // Camisole top (size xs) // Jeans (size 27 but I have wide hips!) // Chanel Bag // Black heels // Bracelet // Gold Chain
Yes, I've finally bought a pair of jeans that aren't super skinny! Not sure that this will ever be my go-to style (skinny jeans are just so comfy!) but I do really love this pair. Far more flattering than other straight leg jeans I've tried and the length is perfect! Only took me trying on about 35 pairs to find these haha 🙂
The blazer is my trusty Cinq A Sept one, teamed with my old faithful favourites – L'Agence cami and my favourite black heels. The gold chain is from Cinco and has been another favourite recently – the perfect balance of statement whilst still being dainty enough for everyday wear.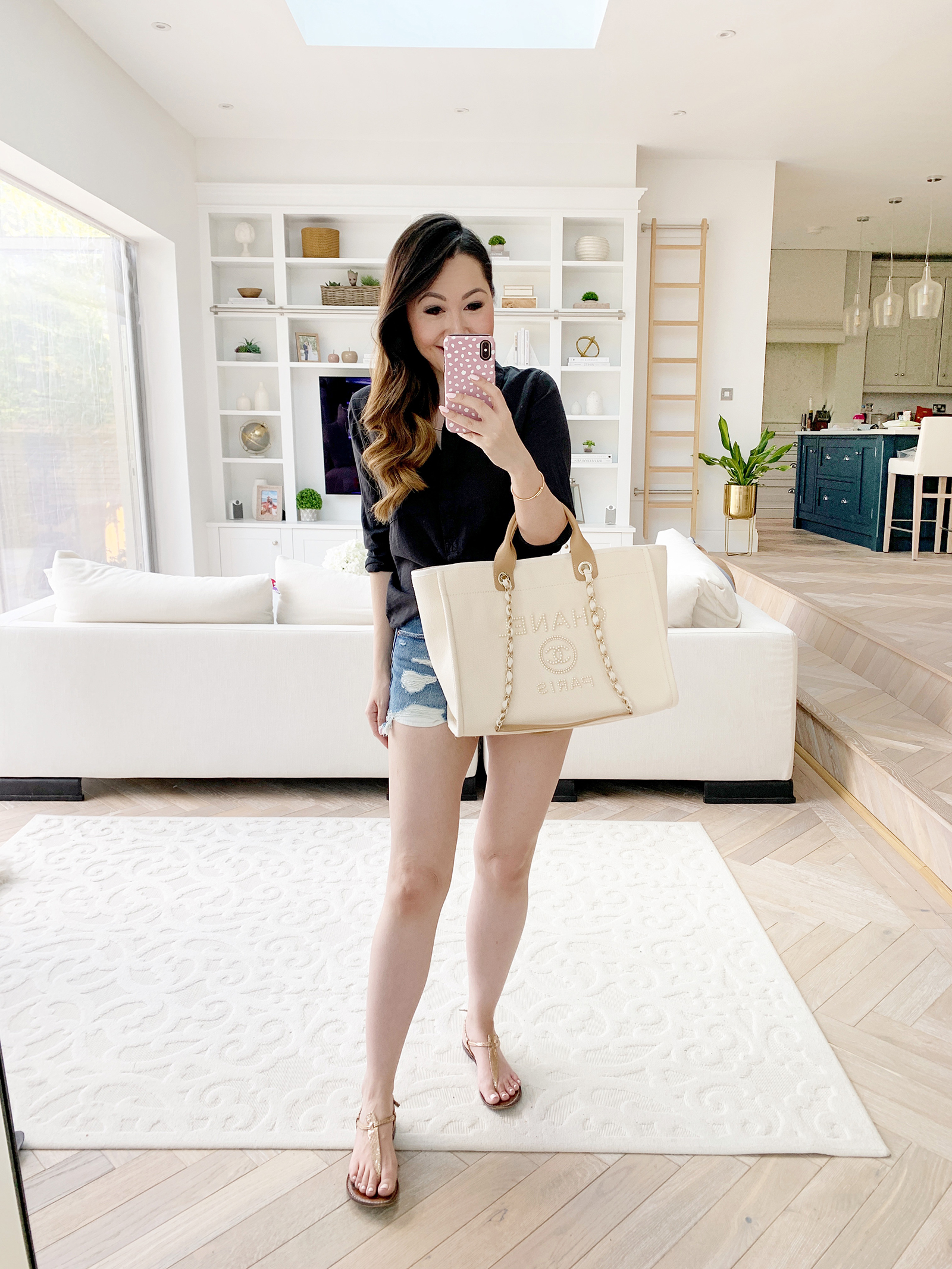 Black shirt // Denim shorts // Sam Edelman Sandals // Chanel Deauville Tote // Gold Chain
These shorts are another favourite new find of mine. I tried on so many pairs this summer, including some super pricey designer options and this pair from Abercrombie beat them all out! I love the fit and the distressing – definitely more on the short side but a really great option if you're after some short denim cut-offs.
I teamed it with this black shirt that I also spoke about in my recent Favourites video. Simple, lightweight and just a really nice casual summer option. The reviews were iffy and many commented on the sheer nature but I've not found it to be an issue with the black colour (albeit I do always wear a nude coloured bra).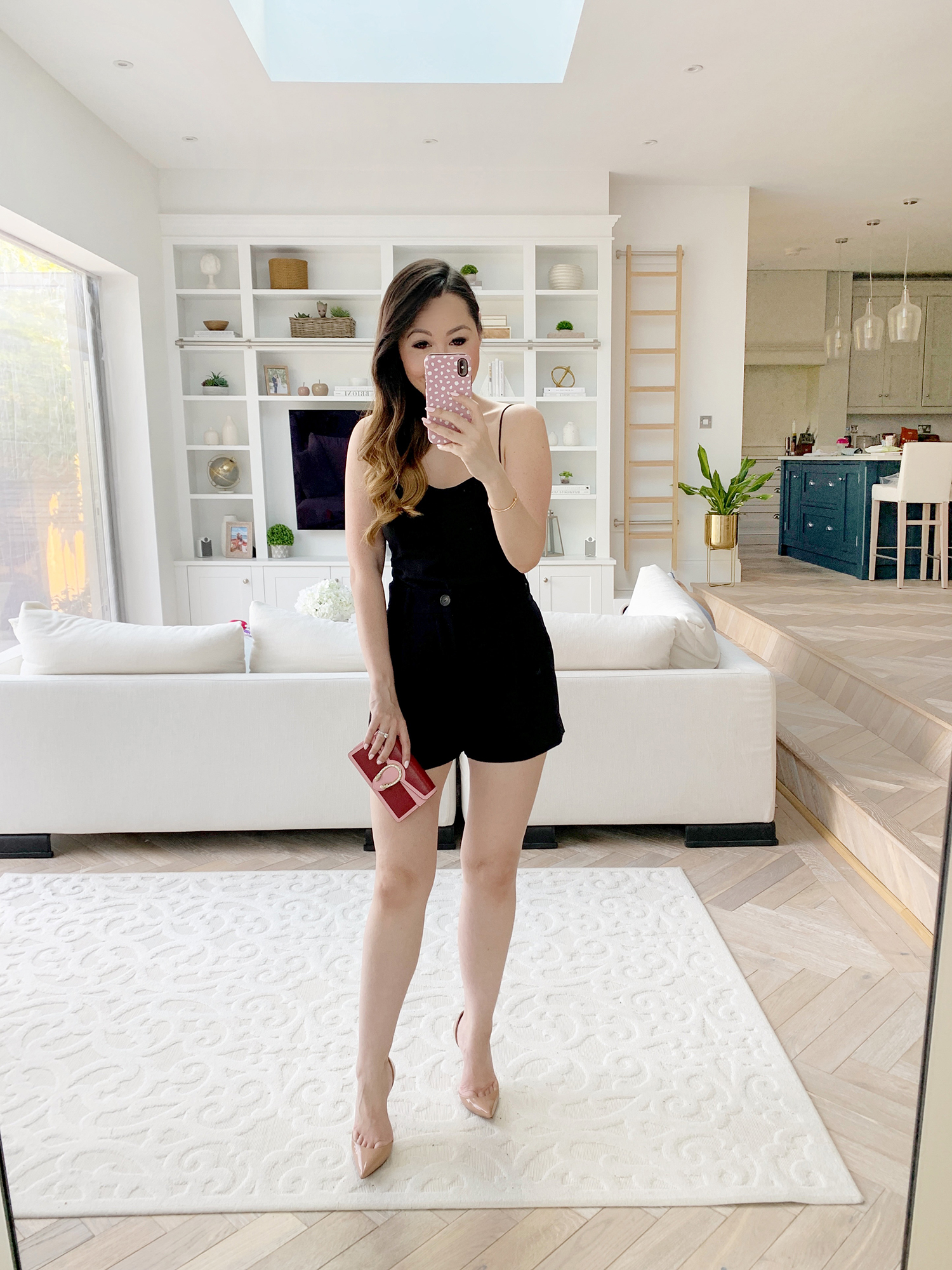 Black shorts (size 2) // Black cami // Nude heels // Gucci bag (gift/ad) // Bracelet
Finally, a shorts-but-still-a-little-dressy look for a date night that was crazy hot. I carried a blazer with me in case the outfit seemed a bit too 'small' once I was inside but it was fine and very apparent that other patrons were as hot as we were haha. My shorts are from Vince – spendy but such lovely quality. The top is a cheap and cheerful one from Abercrombie – I own these in three colours now and would happily have them in every variety. They're a little cropped so perfect for tucking into shorts and skirts whilst avoiding unpleasant bulk around the stomach area.
I kept my shoes neutral with my trusty Irizas and my bag fun with another little outing for Gucci mini (can you tell I'm totally enamoured?!).
And that's it for this round-up! Thank you for stopping by – I hope you're not melting as much as I am right now 🙂 xx