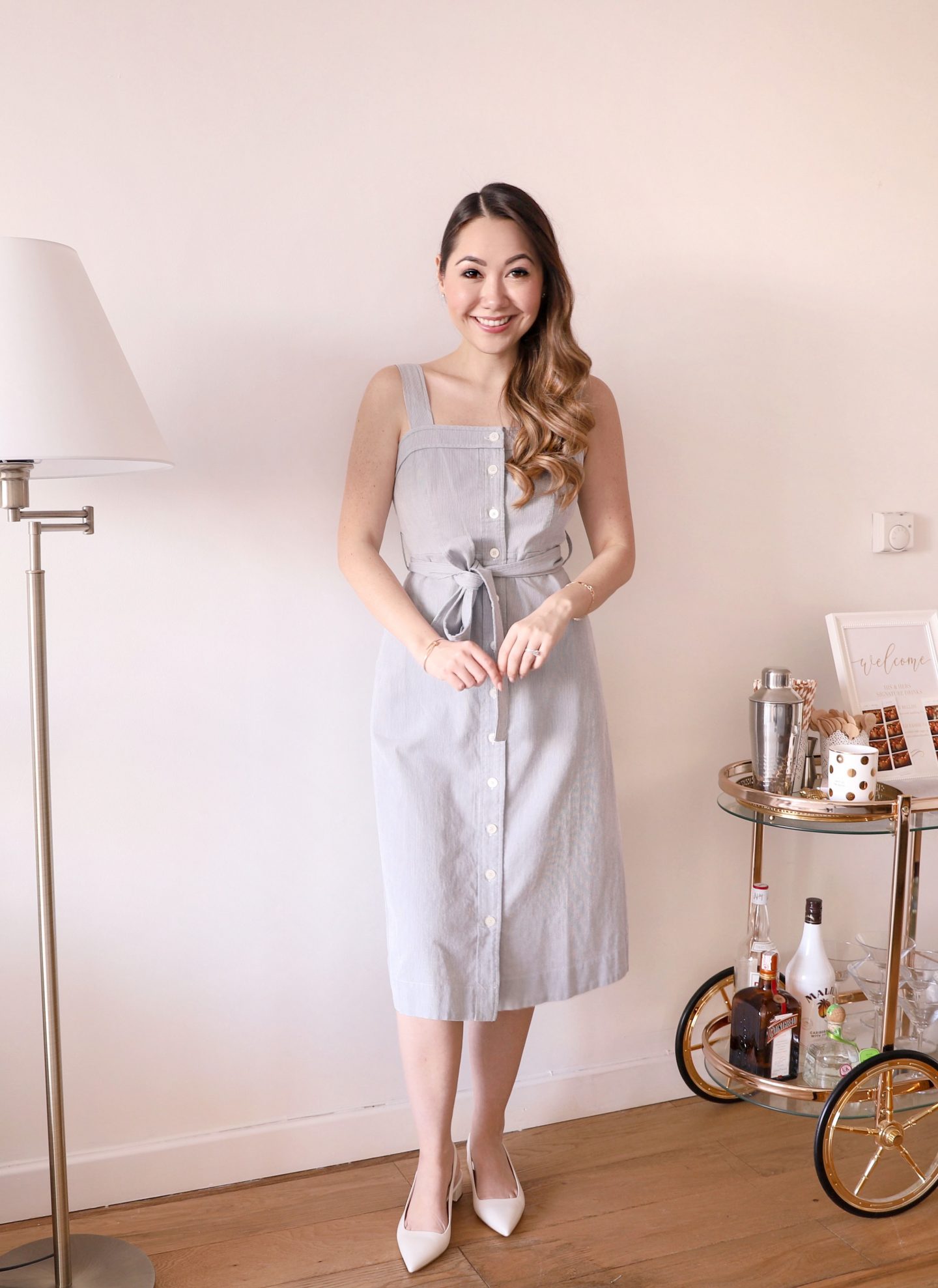 It's a strange time at the moment but I'm trying to make use of my time as productively as possible. I'm finally getting around to those pesky tasks around the house that I frequently put off – including sorting out my closet! I've been taking a good hard look at what I actually use and reach for the most; being fairly brutal about what I no longer love as well as evaluating any gaps in my closet. A big focus for me now is ensuring I have enough great basics and classic pieces to form the foundations of my outfits.
So as you can imagine, I was thrilled about partnering with Everlane. I've heard so much about their basics – and seen so many capsule wardrobes filled with their beautiful and classic pieces. I'm sharing my picks in this post and there is so much that I'm excited about!
Silk Basics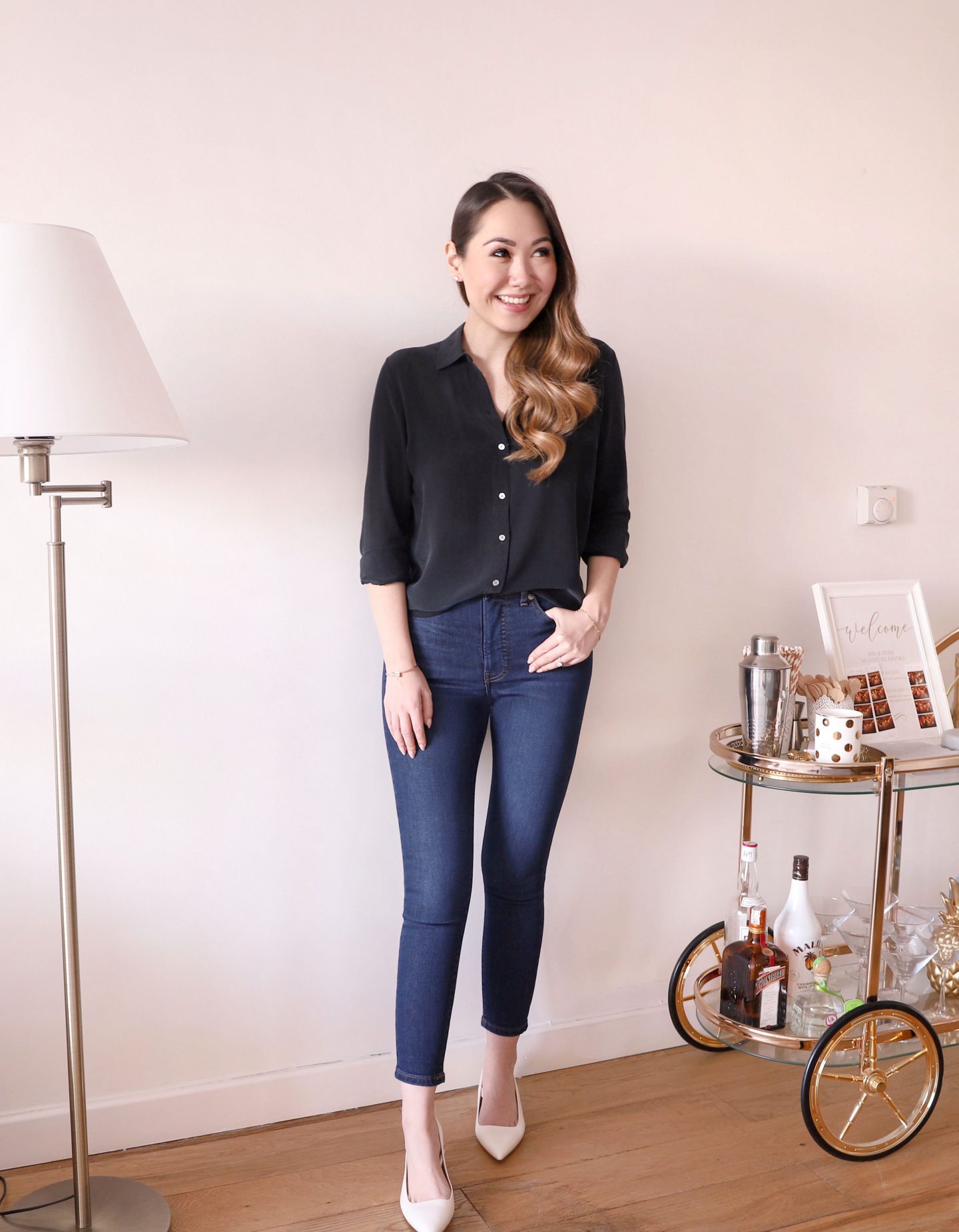 Silk blouse // Skinny jeans // White slingbacks
Silk 'basics' feel like the wrong term here – as these pieces are anything but basic. SO gorgeous and elegant, these are not only beautiful quality but are absolutely forever pieces. Easy to throw on and instantly look chic, these are French elegance at their finest.
The first top I went for was a gorgeous black long sleeve blouse – perfect to pair with denim for an easy elegance but also great for work teamed with a pencil skirt. The fit is light and flowing but structured enough to still look pulled together.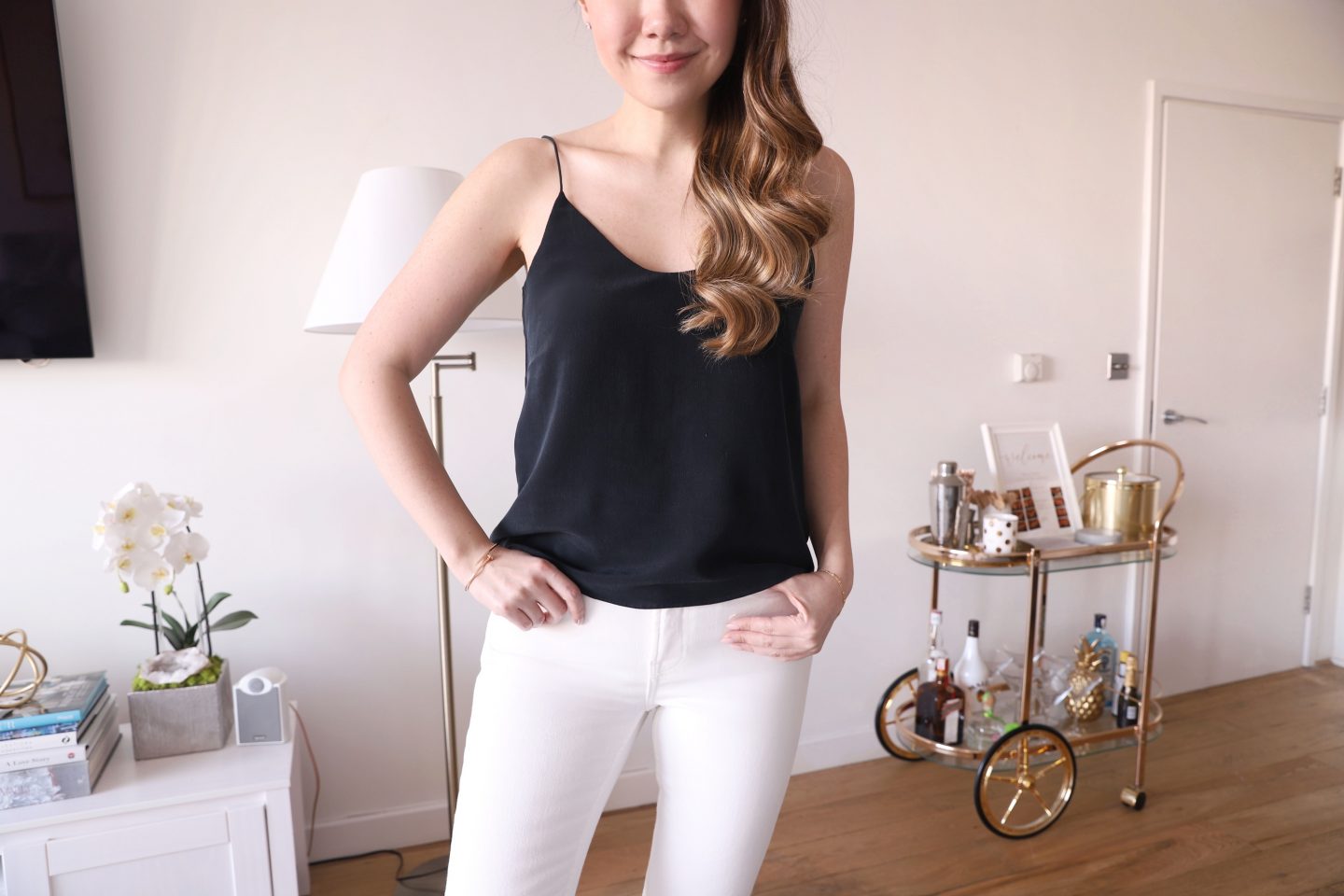 Black silk cami // White jeans
The next piece is a pure silk cami. You guys know how I feel about my camis and this is a stunning one. The perfect relaxed fit with a gorgeous subtle strap and simple scooped necklace. Just perfect.
Essential Denim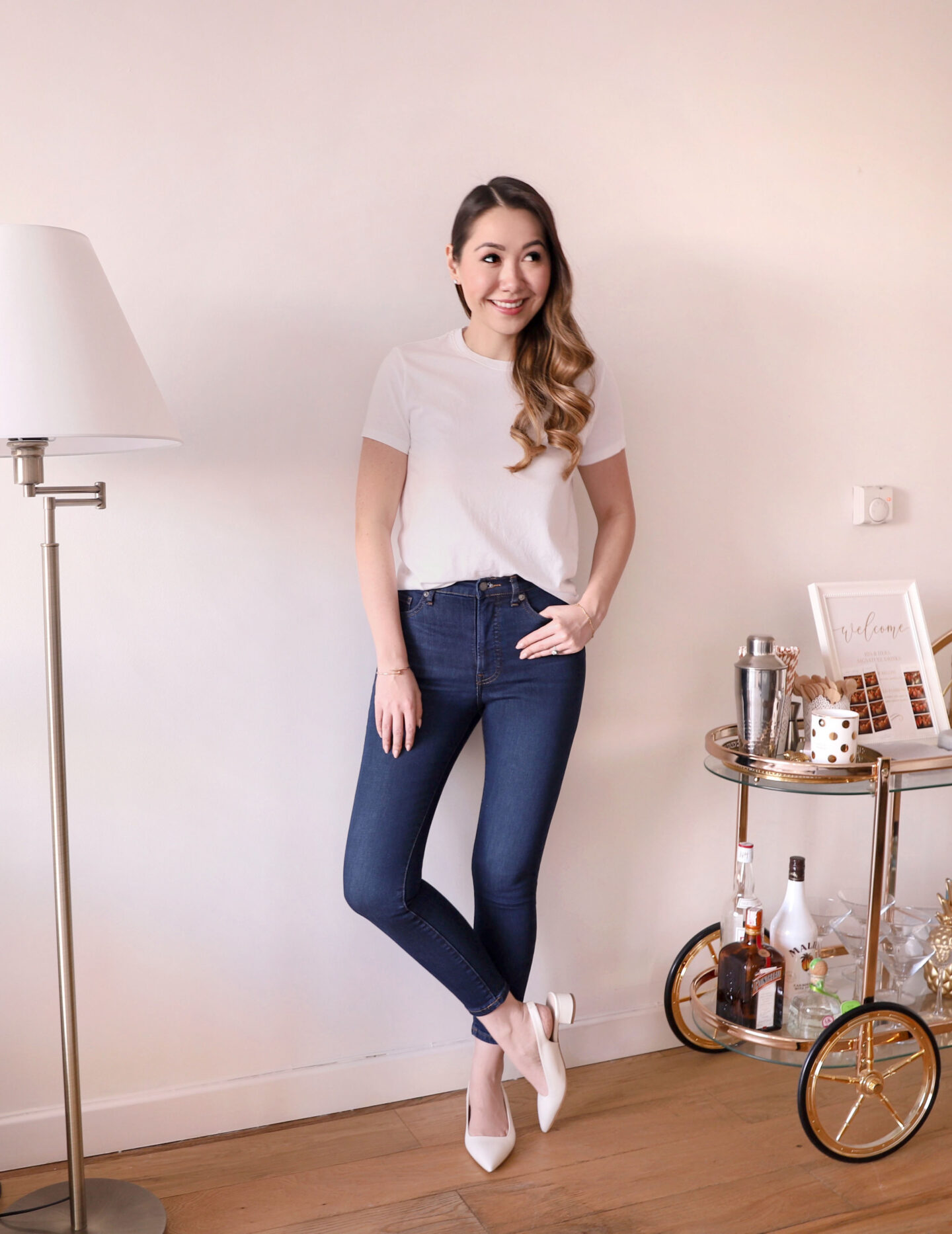 White t-shirt // Skinny jeans // White slingbacks
Great denim at a reasonable price is so hard to find so I was thrilled when I first tried these jeans on. I read the reviews thoroughly before ordering and they were overwhelming positive so I took the plunge and ordered a dark blue pair and a white pair.
The dark blue pair have the perfect amount of stretch and happily come in a variety of different lengths. I've recently begun loving shorter lengths so this was ideal for me. Great for warmer weather and especially good for showing off cute shoes 🙂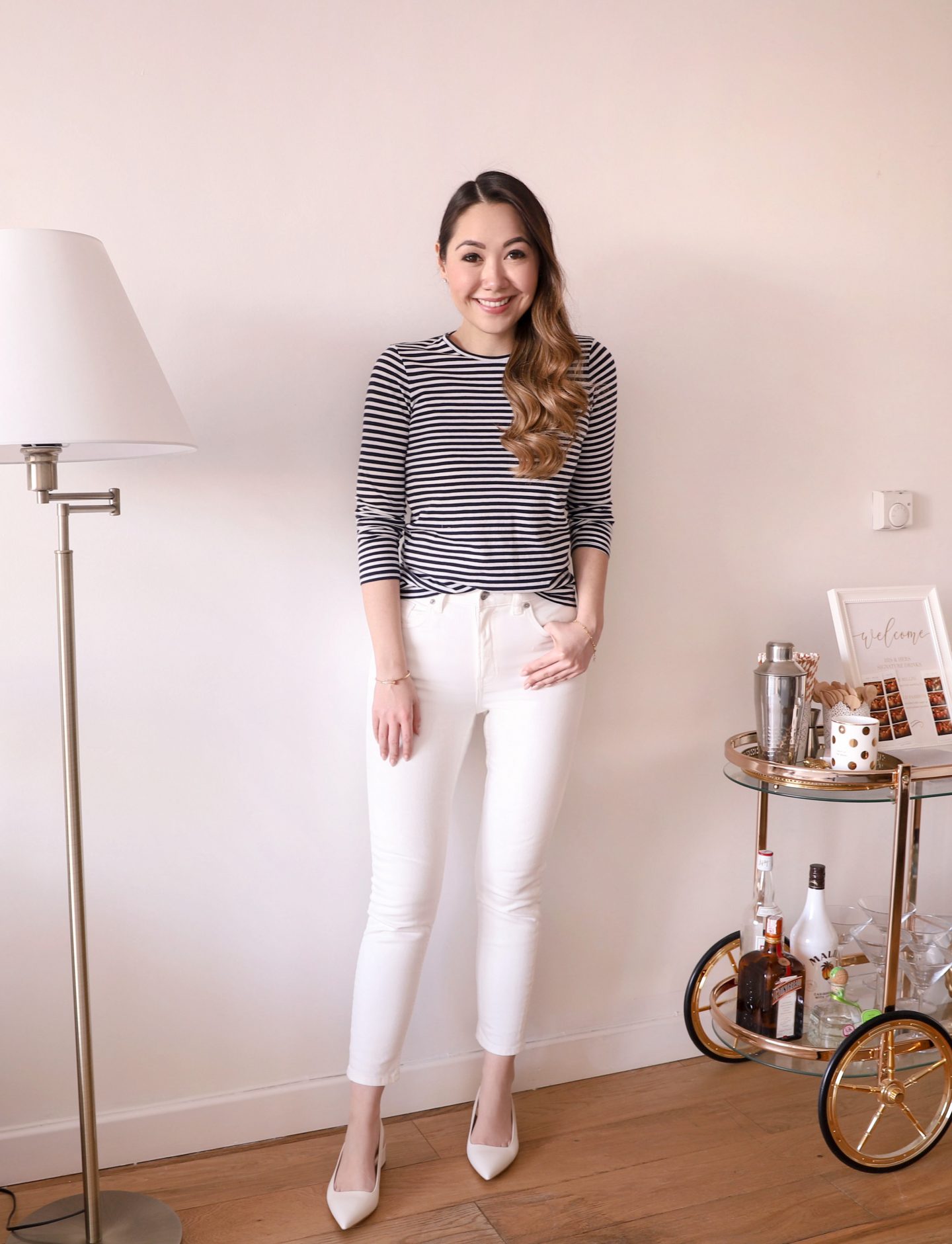 Striped shirt // White jeans // White slingbacks
The white pair are my new favourite things. It is so difficult to find a good pair of white jeans that aren't see through and are actually flattering. These are not only completely opaque but they fit like a dream and are so easy to wear. There's not much stretch which is different from what I usually go for but I am so happy with them! I feel like my hunt for the perfect pair of white jeans is finally over.
Go-Anywhere Heels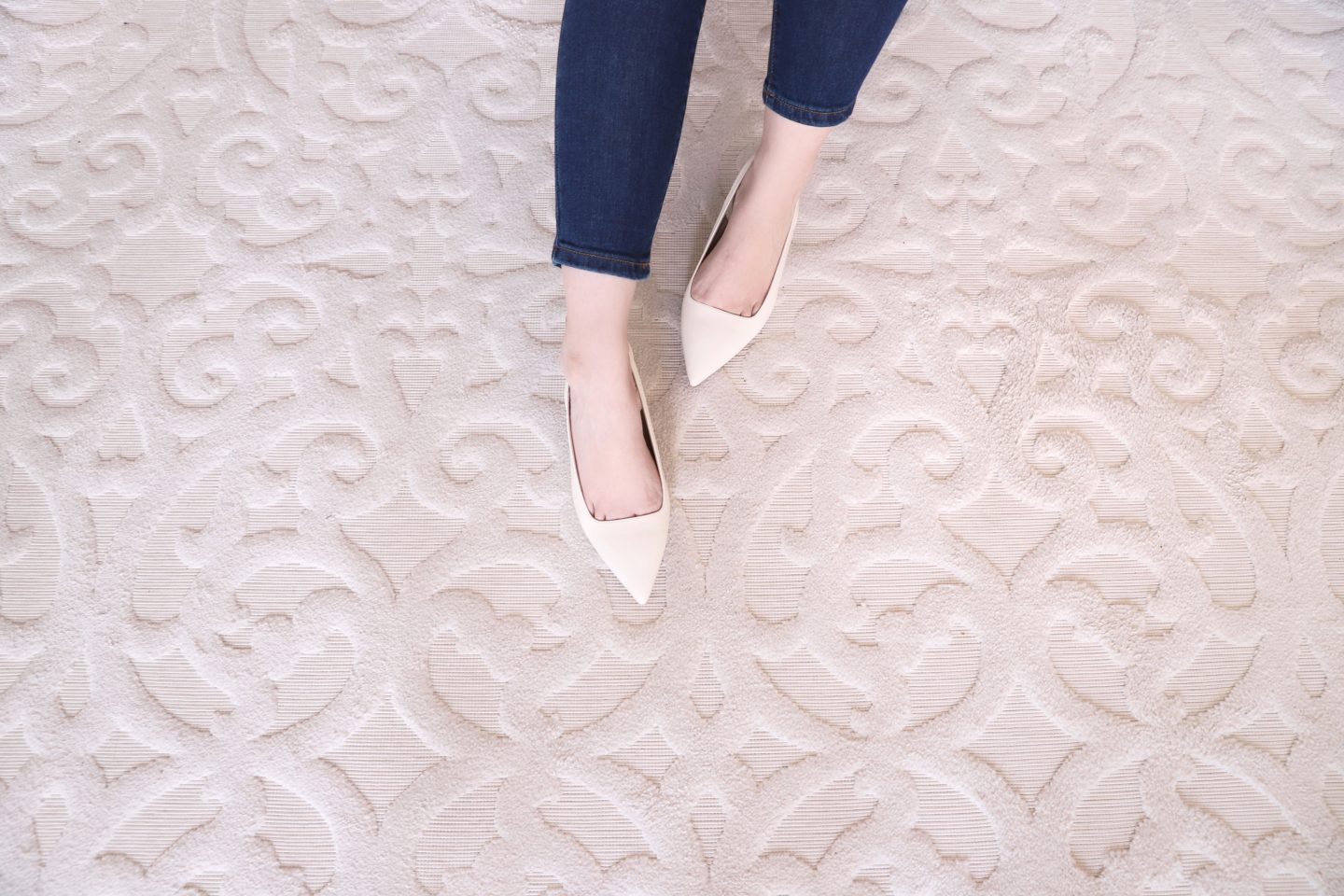 You guys may know that I really enjoy my super high heels but if I'm being honest, it's always the mid-height heels in my wardrobe that get the most use! Living in London means a lot of walking, even if you're using public transport so I treasure heels that are both comfy and chic.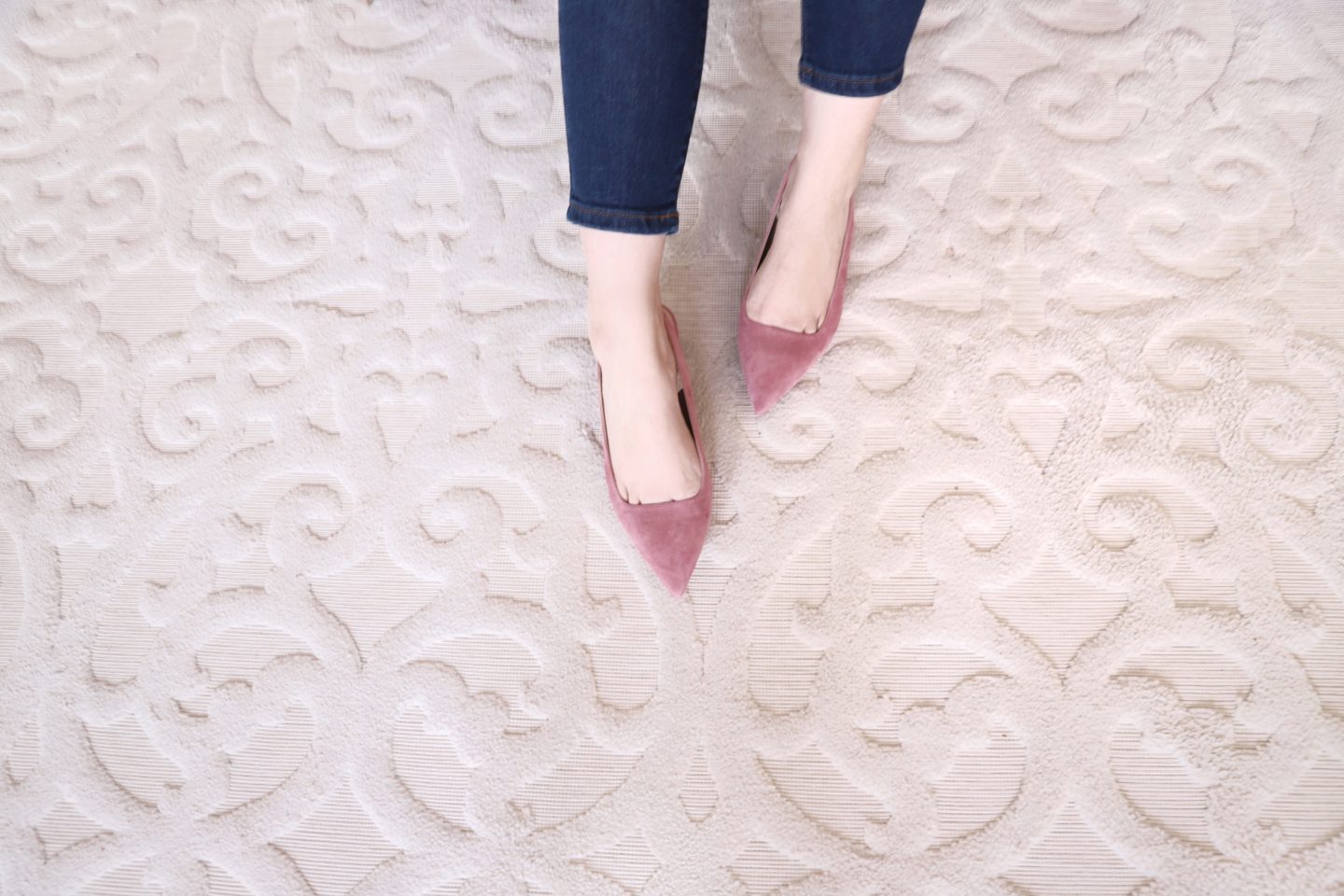 These slingbacks tick all of these boxes and more. I seriously cannot rave about them enough – they are SO comfy and look great with both jeans and dresses/skirts. The heel is manageable enough for all day walking but still gives you a bit of a height boost (and makes whatever you're wearing that little bit more flattering too!). They say in the description that they widened the toe area slightly and it makes all the difference in terms of comfort. So cute, so easy to wear and as comfortable as slippers – what more could you want?
Perfect Tees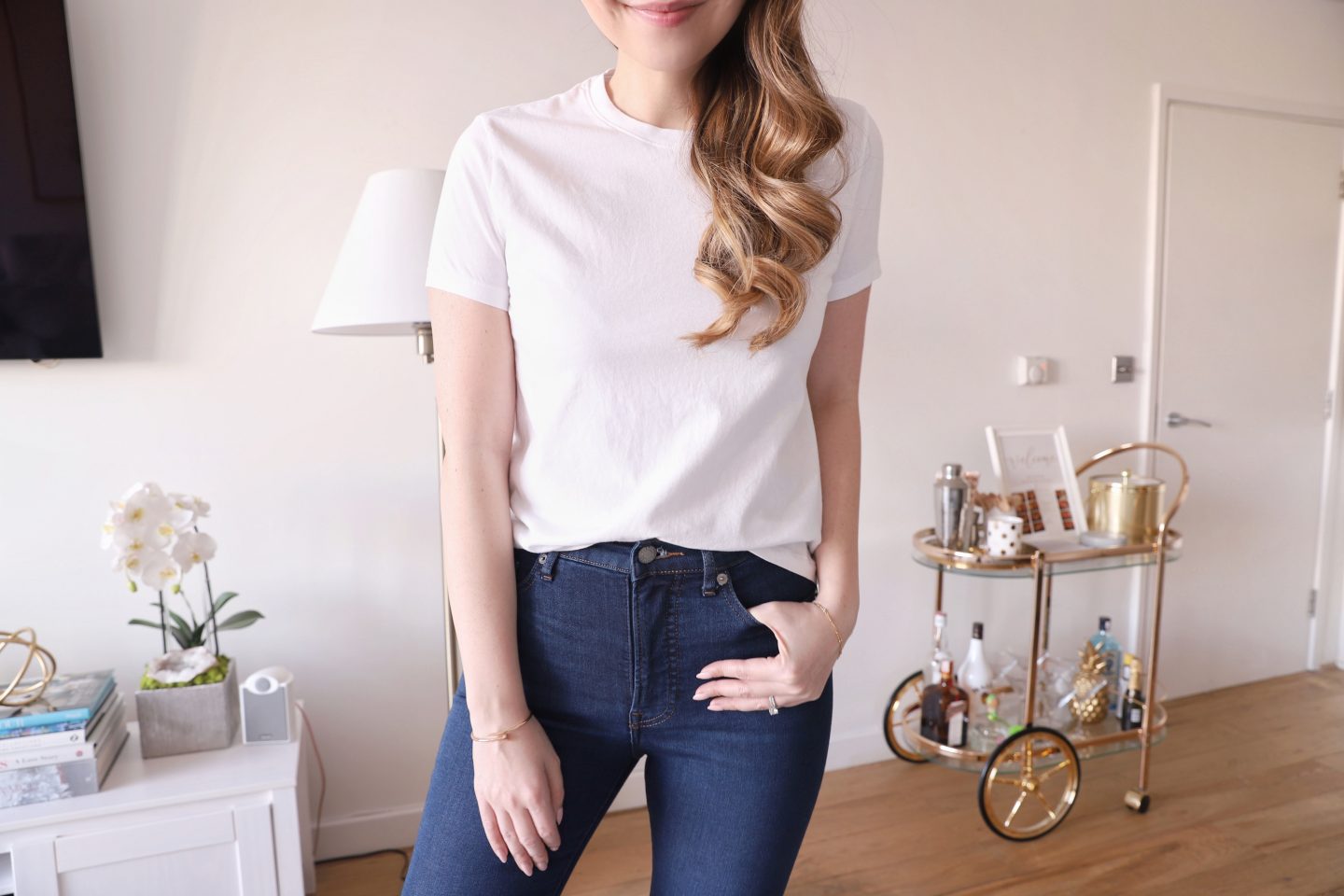 A good t-shirt is an essential in anyone's wardrobe but it's weirdly difficult to find good ones. I got two from Everlane and I'm so happy with both choices. Their white t-shirt is the perfect cotton tee – structured but not overly boxy and not see through. But best of all though? Everlane made it with a cropped fit so it's ideal for tucking into jeans and skirts. Hurray for no excess material! It's so popular that the white one is currently out of stock but they have other colours here and a gorgeous white tee with a similar fit here.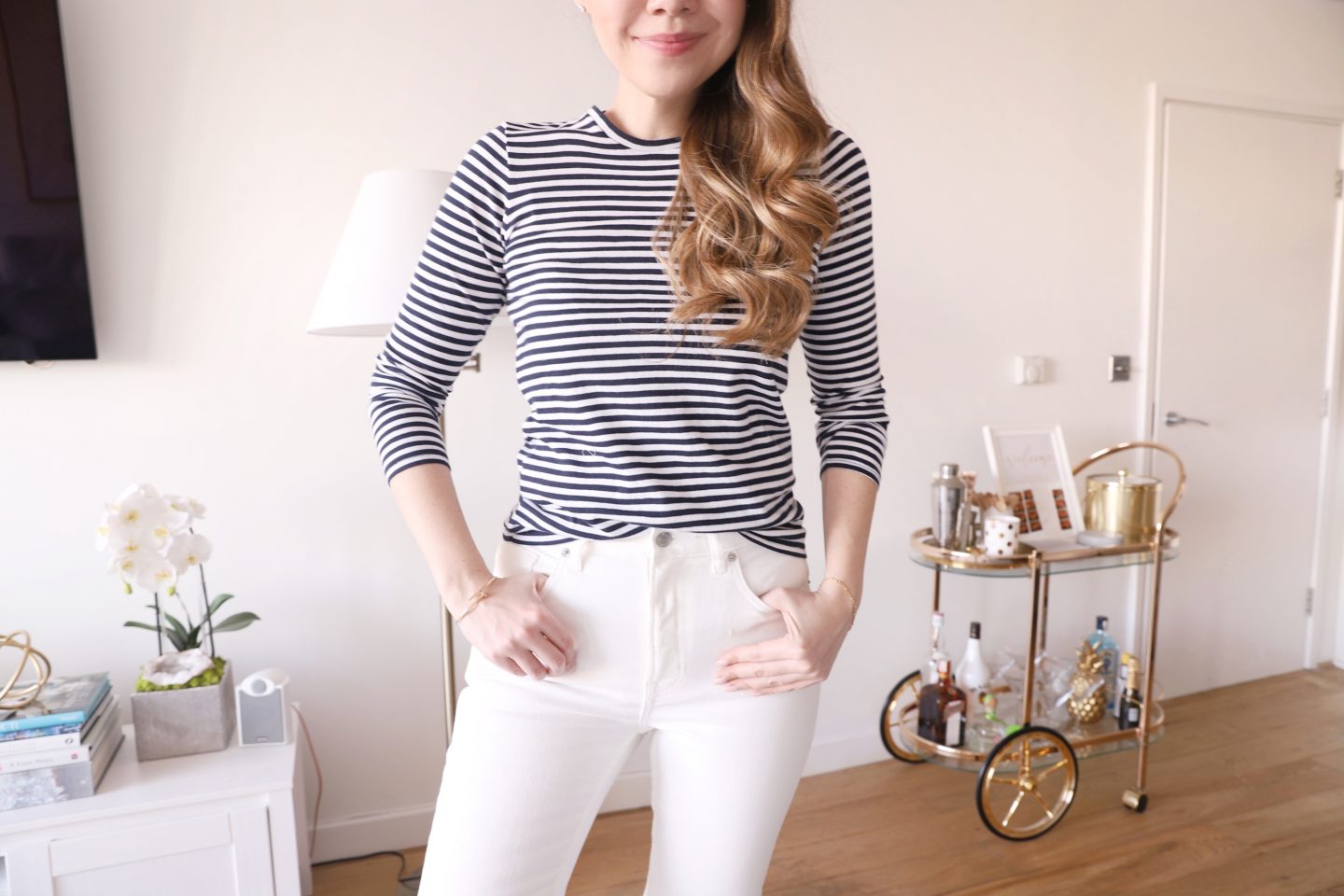 And of course, nothing beats a great navy and white striped shirt. So classic and ideal for teaming with white denim 🙂
The Perfect Picnic Dress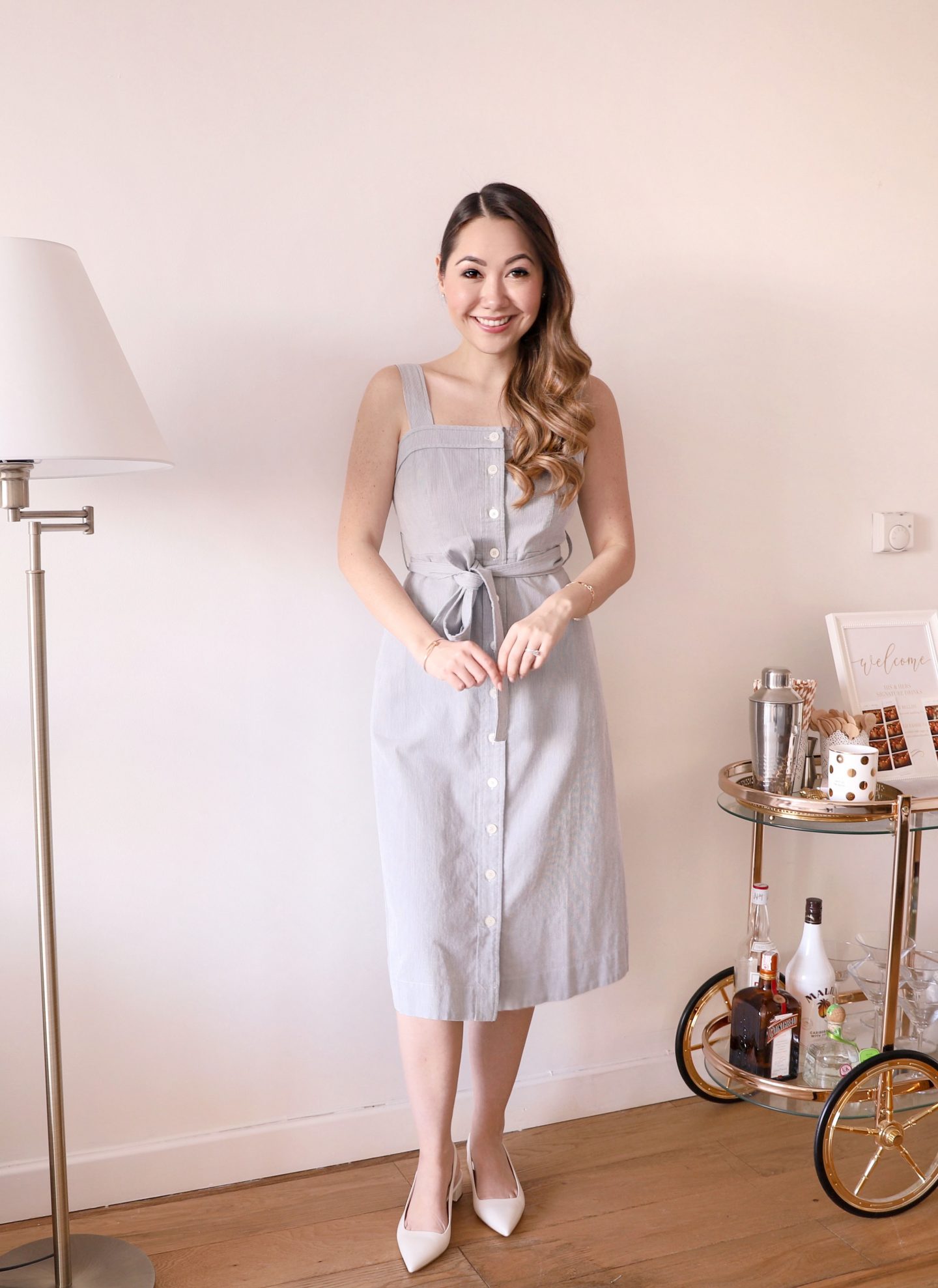 Blue & white stripe 'picnic dress' // White slingbacks
This is called the picnic dress for good reason – it really is the perfect dress to enjoy a picnic in on a hot summer's day. Sadly that's a little far away at the moment considering the current situation (not to mention the fact that it's still freezing in London!) but I'm happy to plan ahead. A summer dress is always a great thing to invest in – especially one as classic as this. The print is an adorable baby blue stripe with a super cute and flattering fit. And icing on the cake? Pockets on each side. Cute and functional.
Phew – and that's it for my choices! I've been so impressed with the quality and the value of these pieces. Not only are the fabrics gorgeous but the fit is fantastic too – always a key factor in how often I revisit an item in my wardrobe. I'm so excited to start incorporating these pieces into my every looks!
Thank you so much for reading!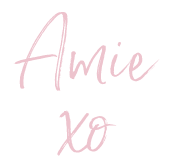 Thank you to Everlane for partnering with me on this post!