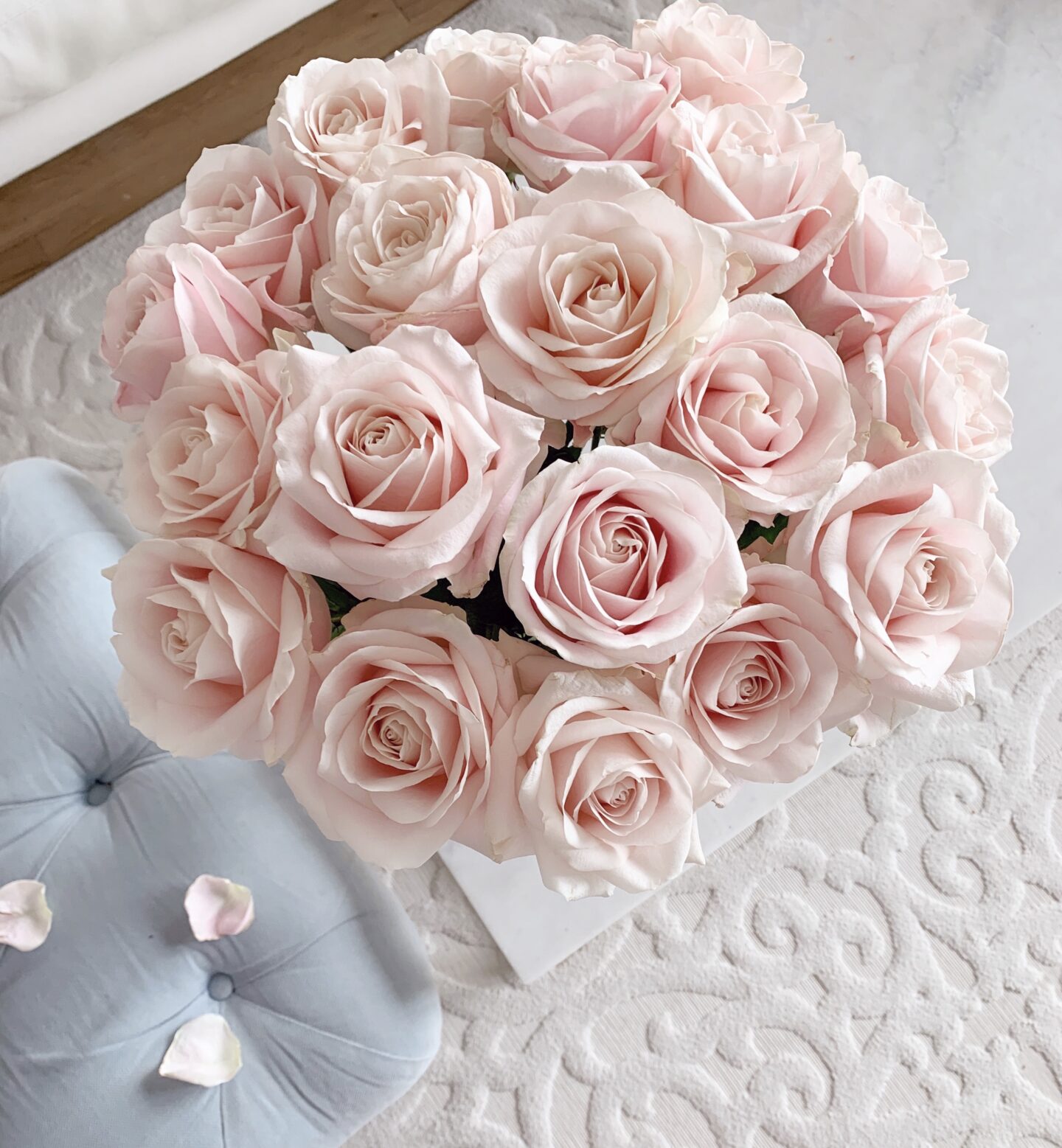 Today I thought I'd share some little things that I've been finding solace in. It's been a crazy time to say the least and even though every day is now kind of the same, so many days also feel incredibly overwhelming, scary and sad. I've tried to keep my other content as 'normal' as possible but I also wanted to jump on here and share some of the things that have been helping me process everything and keep on going.
If you've been feeling a bit stuck, hopefully these might help you too – and if you have any other tips or tricks, I'd love to hear them 🙂
1. Emotionally check-in with friends.
My friendship group isn't really the type to endlessly talk about our feelings but we've been doing that a whole lot more in recent weeks. We've been sharing when we've been struggling (and we've all had our days) and even though just saying it aloud has been helpful, it's also always met with comforting words – and usually a cute dog photo. Even if you're not usually the type to speak a lot about your feelings, now is an extraordinary time and you might be surprised how much better it makes you feel.
2. Making the effort with virtual hangouts.
Speaking of keeping in touch, connecting with friends and family over virtual calls has been so comforting. My friends and I do a weekly 'happy hour' every Friday evening (we most recently used the app 'House Party' and it's so fun – you can even play games :)). It's great to have the social contact and to actually have a standing date every week. It's the thing I look forward to most every week and it truly helps to develop new little routines at a time when everything is changing.
3. Practice a whole lot of self-care.
A little cheesy? Sure. But it's a source of comfort that when everything is crazy and scary, I'm still doing something positive for myself. I know that staying at home is a luxury that not everyone has so I'm trying to be appreciative and make the most of it. So whatever self-care looks like for you, make sure you're taking time for yourself.
4. Reminding myself that staying home is doing something
It's so easy to feel helpless right now but it's important to recognise and remember that the best thing most of us can do is to stay home at all costs – and that staying home is doing something!
We have big windows that look out onto the street and we were pretty dismayed to see the streets filled with people over the weekend. I understand the urge to go out – especially in cities where few of us have gardens, but staying at home literally saves lives and it's good to remind yourself that staying home is being active in the fight against Covid-19.
5. Support local businesses where you can.
We're trying to make it a point to order from our favourite small restaurants whenever we can. The sad truth is that a lot of businesses may not be around at the end of this so we're trying to make a conscious effort to support the small businesses that we know and love. If there are any around you, I'm sure they'd be appreciative of the business! 🙂
6. Donate if you can afford it.
I was heartbroken to read about food banks in the UK closing because of supply shortages, at a time when they'll be needed most. There are a ton of worthy causes to donate to of course but for food banks in the UK, I've been donating to The Trussell Trust who have a GoFundMe here.
On a global level, Partners in Health are working to fight Covid-19 on behalf of those who are most vulnerable – they're an incredible organisation who I've had a standing donation to for years now. Their work is amazing and always goes to those most in need.
7. Tackle a project at home
I've been spending the past week decluttering my wardrobe and whilst I was initially dreading the task, I feel so much better now that it's done and have been so much more motivated to tackle other tasks around the house. It really does feel like a snowball effect so if you're struggling for the motivation, I'd recommend just trying a small task first. The sense of accomplishment when you're done might just be all the encouragement you need 🙂
8. Take on a fun new challenge.
Bear with me on this but I've been doing burpees for a minute at a time and I've been loving it (not a sentence I'd ever thought I'd say). When everyday feels much the same – often only to be interrupted with some new bad news, it's easy to get into a funk. I decided one day that I wasn't getting enough exercise so I figured I'd just do a minute of burpees. They were horrible of course, but I weirdly felt a lot better after. So, I kept on doing it.
The amount varies from day to day. Sometimes I only do two sets (i.e. 2 x 60 seconds) throughout the day, sometimes it's six. It's not only a nice break from sitting down all the time but I also love the idea that even when I'm feeling a little down, just 60 seconds later, I could be feeling way better after having done something that was good for myself.
9. Take news breaks.
It's important to stay on top of things of course but it's also important to stay sane. So if the news or Twitter or Facebook feel overwhelming, just take some time away from it all. Your mental health is more important than ever and sometimes the internet/ TV just doesn't help.
10. Celebrate the little things.
Celebrating happy moments in life is still so important. I was reminded of that with this wonderful tweet that went viral – it's from someone who bought a flat and wasn't sure whether to celebrate until she remembered "joy doesn't undermine suffering; it softens the blow of it". So true and worth remembering – for both the big and the little things in life.
Phew! I did not intend for this to be as lengthy as it turned out to be but I hope that you found this helpful.
Have you been doing anything that you've found comforting/ helpful? Let me know if the comments below 🙂