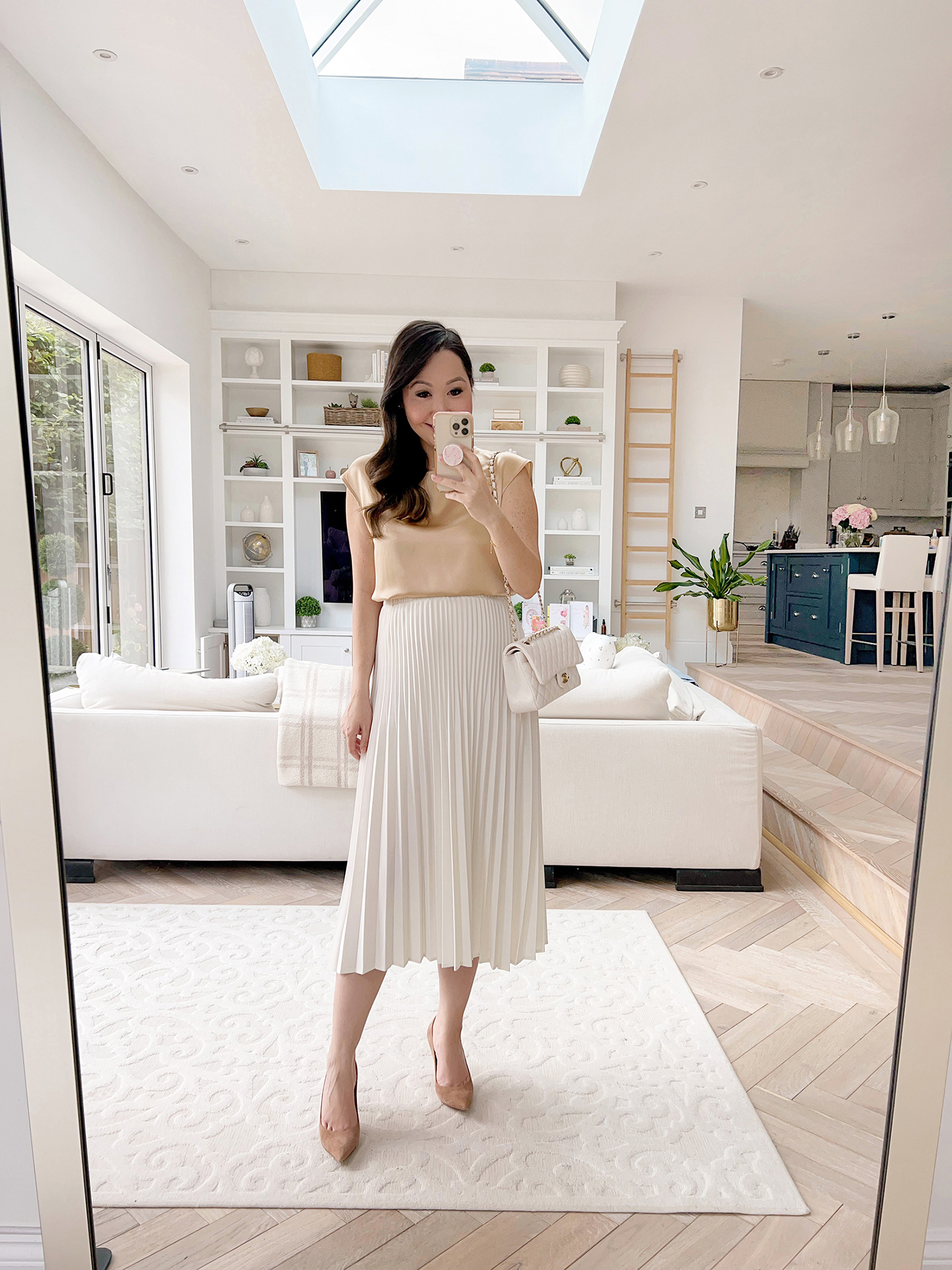 Gold Blouse (size small) // White Pleated Skirt (size small) // Gianvito Rossi Pumps // Chanel White Flap
This skirt is probably one of my favourite bargain finds recently – it's crazy affordable but the quality is SO nice! It looks and feels so much more expensive than it was. Sizing stock levels are low but I have seen sizes come in and out of stock so definitely check back if your size isn't currently available! I teamed it with this golden silk blouse which is legitimately the softest silk blouse I've ever felt. The fabric is so dreamy!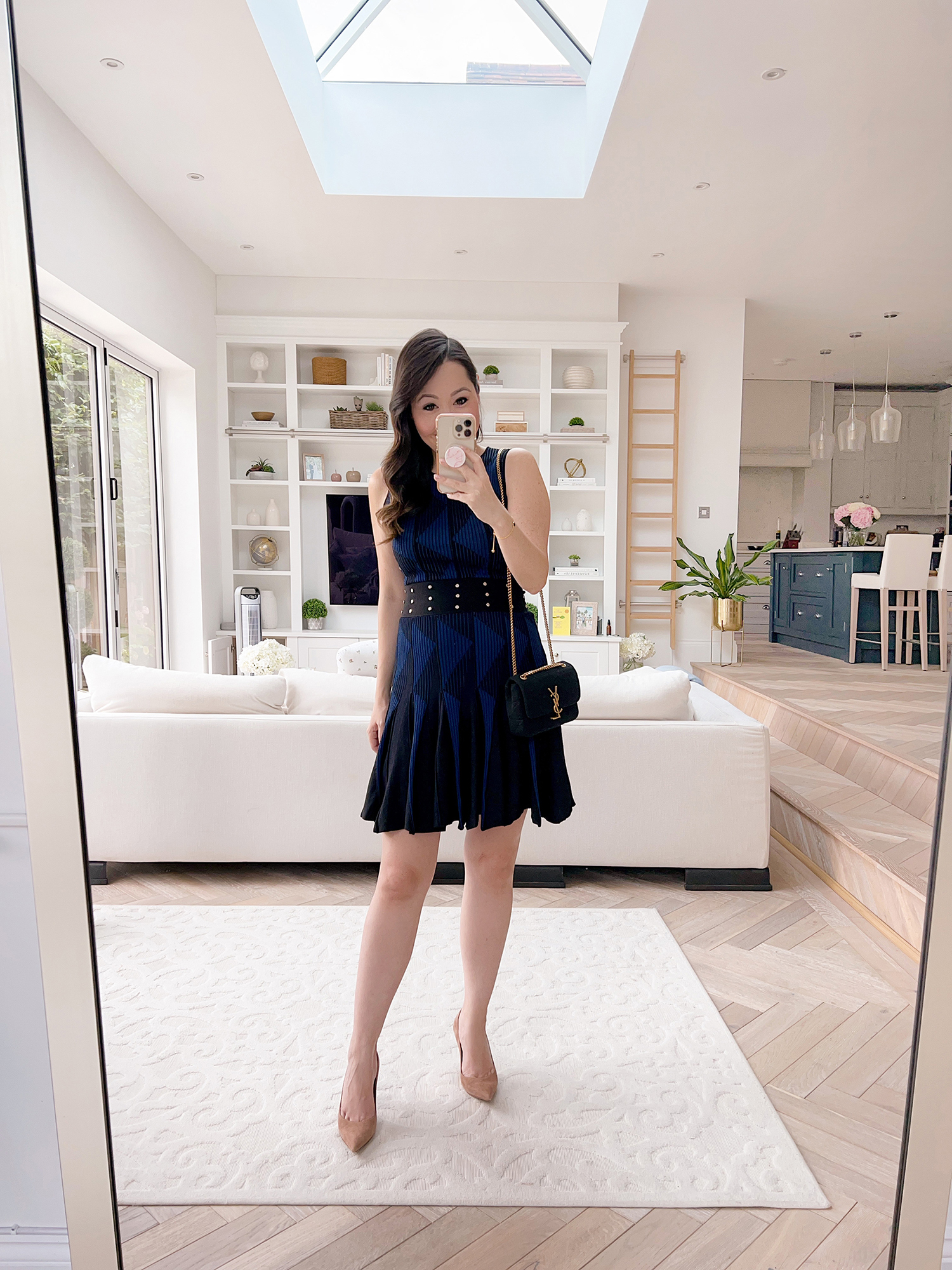 Black and Blue Knit Dress (size UK 10) // Gianvito Rossi Pumps // Saint Laurent Jamie
This blue & black knit dress is one of my favourite discoveries recently. It fits SO nicely and is the perfect transitional piece; a knit stretch dress which is great with bare legs now but super cute with tights when it does get a little colder. I teamed with my Saint Laurent Jamie that I've been loving so much recently!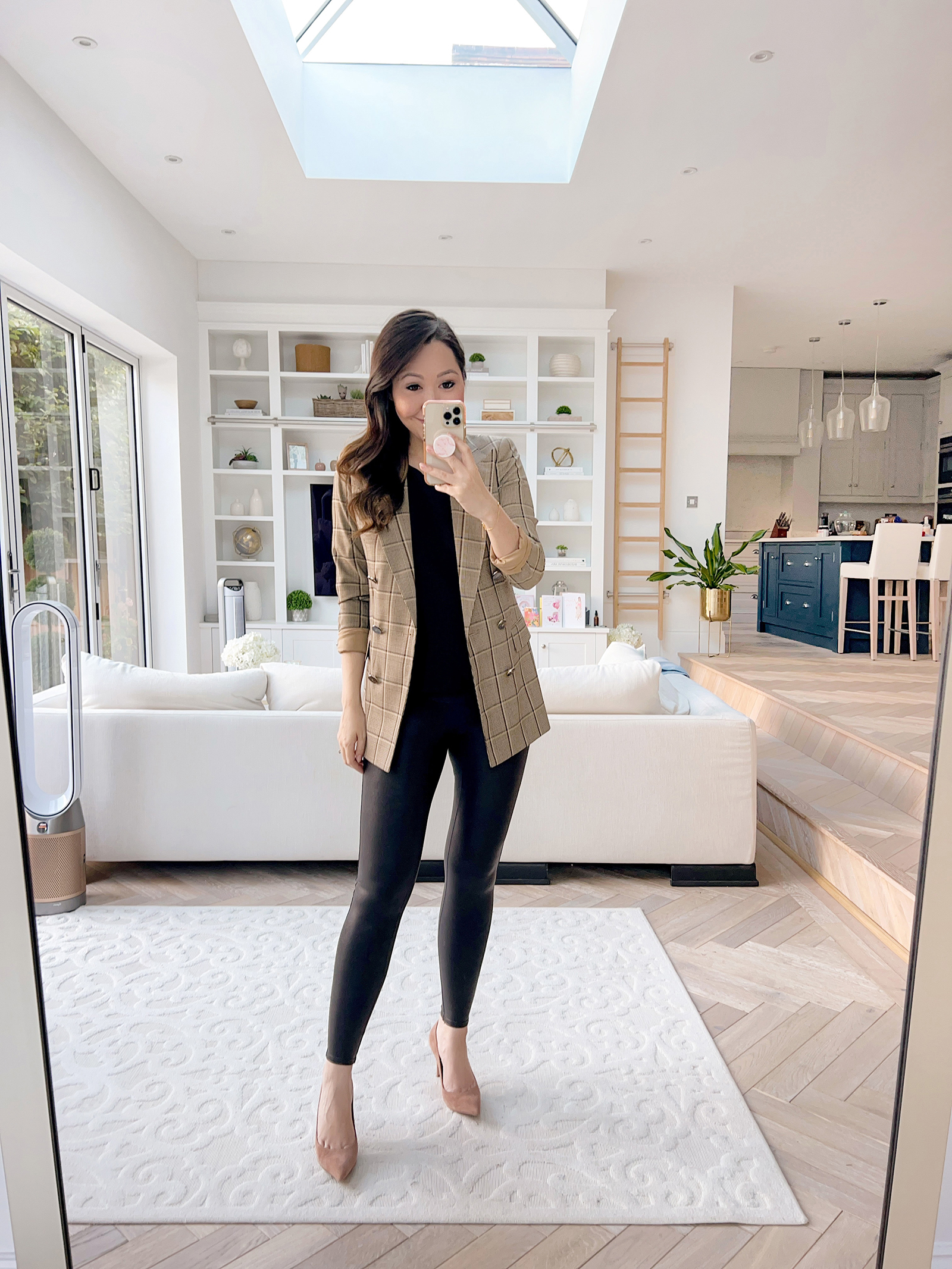 Checked Blazer (size UK 6) // Black Silk Top (regular size 4) // Faux Leather Leggings (size small) (maternity version here) // Gianvito Rossi Pumps
Dan got me this blazer for my birthday and I am so in love with it! It's the absolute perfect checked blazer – it's slightly longer in length with the most gorgeous button detailing. Expect to see this a LOT in the coming months haha.
I teamed it with my faux leather leggings (I'm wearing the wonderful maternity version here!) and my trusty Gianvito Rossi pumps.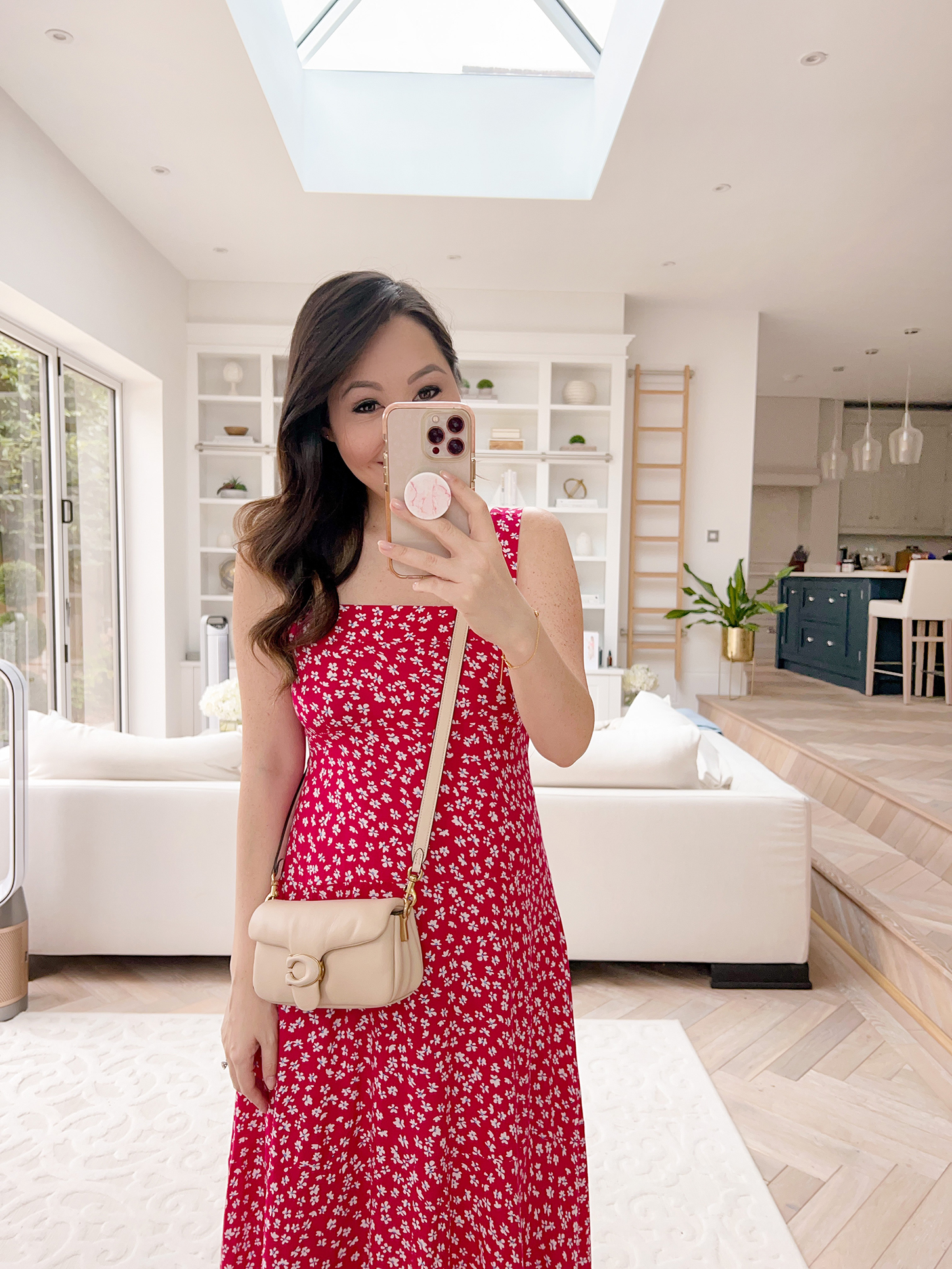 Red Floral Dress (size small) // Coach Mini Tabby
More of a summer one but I found this dress and absolutely loved it. The prettiest berry red colour with a blue and white daisy print – so cute! There's no stretch and it's fitted around the bust area but it's fairly loose and flowy in the body and hip area without being unflattering.
I teamed it with my Coach Mini Tabby that I've been obsessed with recently! There's also a promo on at 24s.com atm, where you can get a great discount on it. Unfortunately the bag if £5 short of the lowest tier but if you add a small item to make up the minimum spend, you can nab £100/$100 off! You can see full details of the offer here.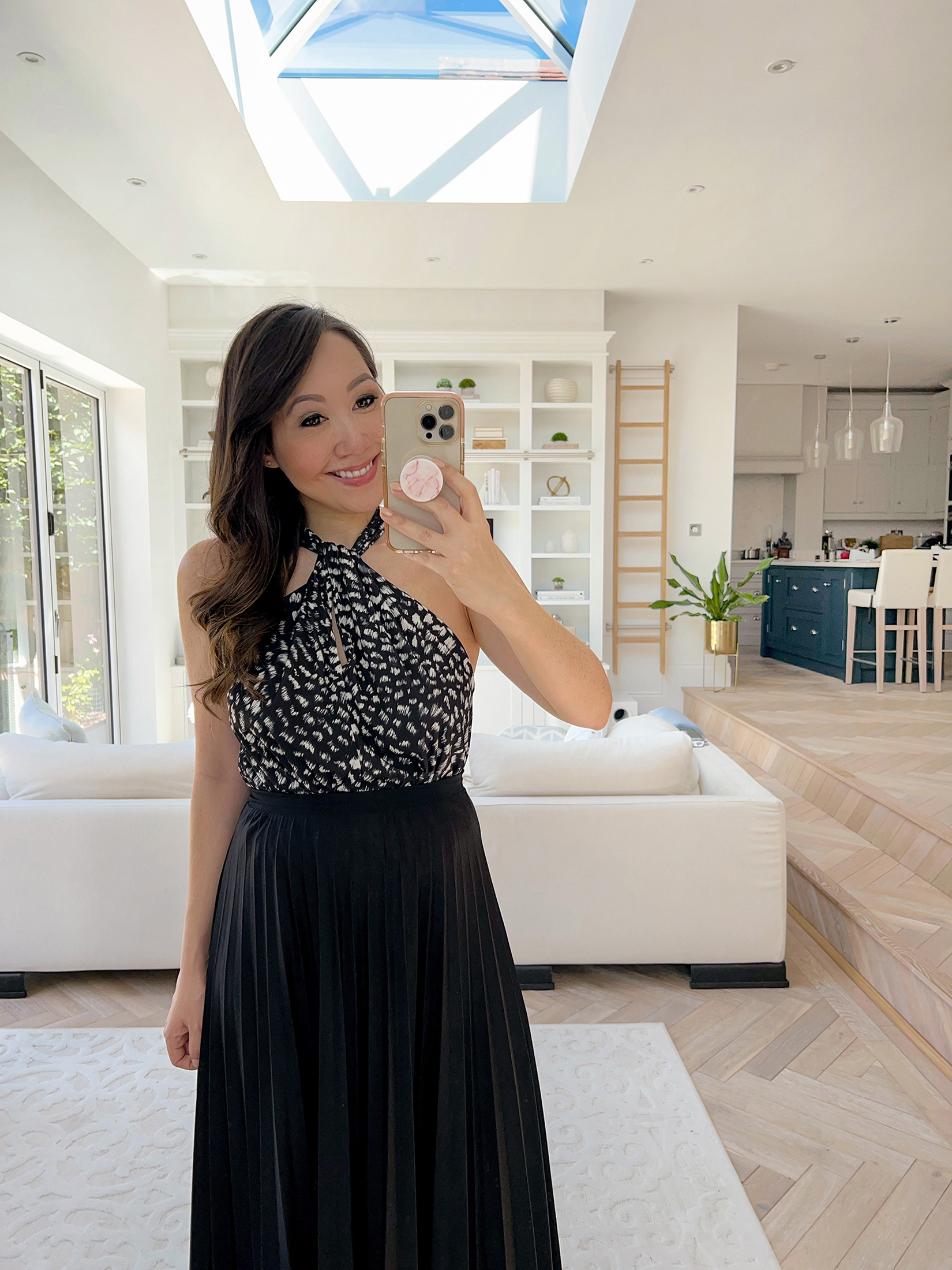 Black & White Bodysuit (regular size 10) // Black Pleated Skirt (regular size 8)
This skirt is a long time favourite – I just recently bought the next size up to accommodate the growing bump because I genuinely don't know how to get dressed without this haha. It's crazy affordable but such nice quality! I've owned my original one for a few years now and it's really held up.
The bodysuit is another new love – it's so incredibly comfortable with its silky soft material but looks so lovely dressed up at the same time! The price is fantastic too – it looks and feels so much more expensive than it was!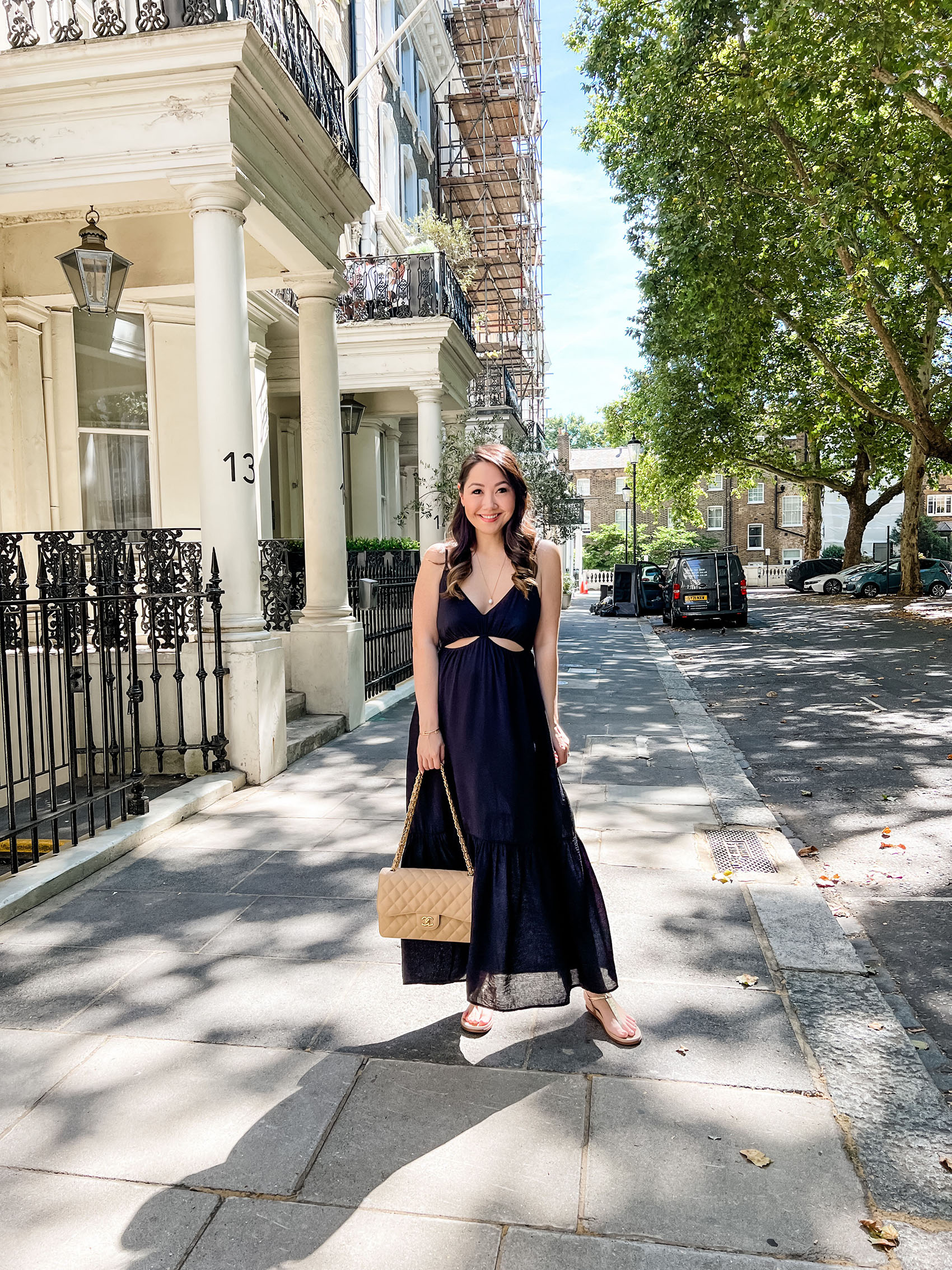 Black Cut Out Dress // Gold Sandals // Chanel Beige Clair Jumbo // Pearl Necklace
If you watch my videos, you've probably seen me in this dress a gazillion times by now haha but I just adore it. It's incredibly light and airy which has been a godsend in the heat that we've been having. I've just been wearing mine with flat sandals (the comfiest I've ever owned!) and my pearl necklace that is still on repeat (you can use AMIER20 for 20% off!).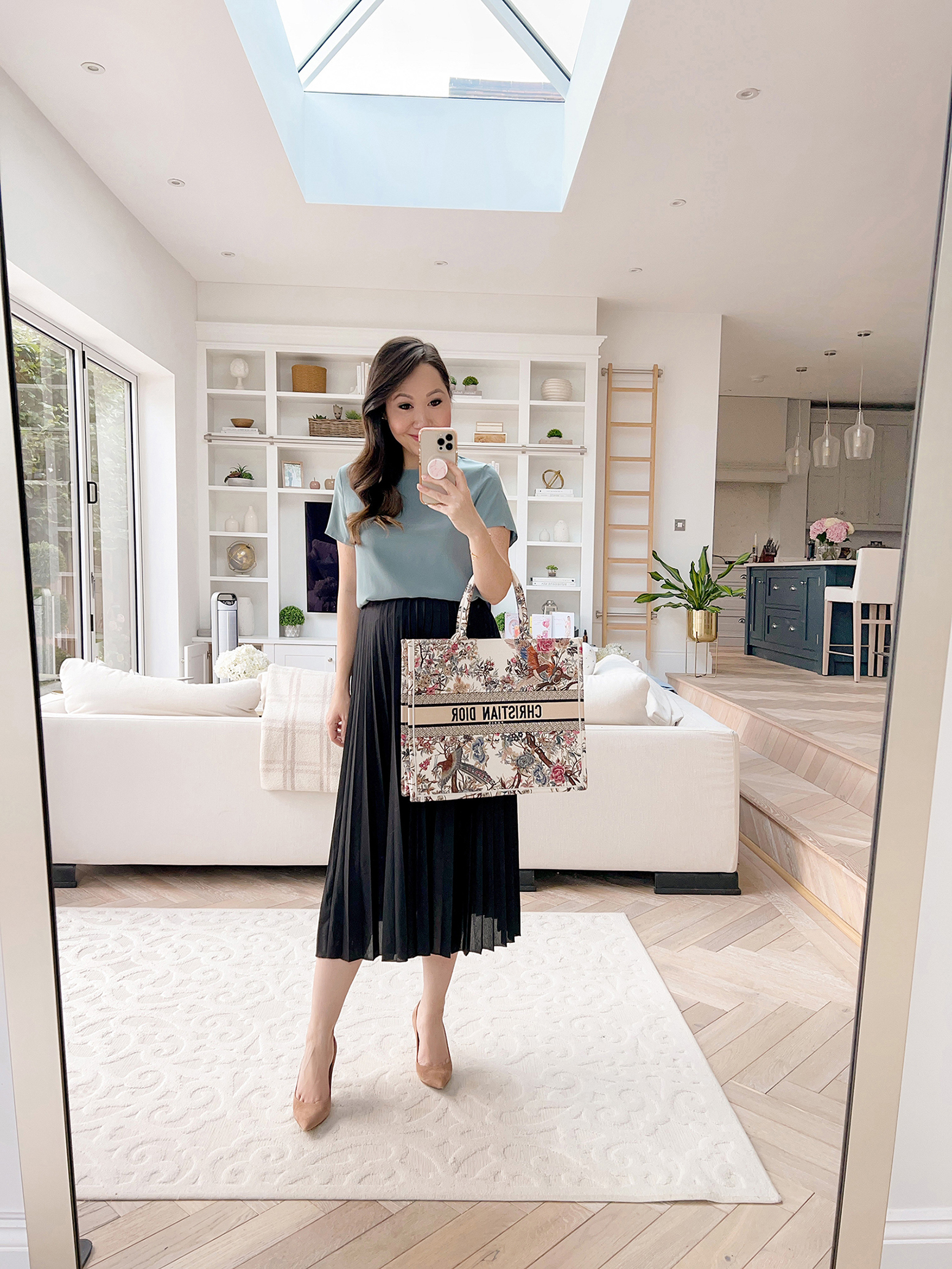 Silk Blouse // Black Pleated Skirt // Gianvito Rossi Heels // Dior Book Tote
The pleated skirt makes another appearance haha! Teamed here with my new Dior book tote and silk t-shirt blouse. This is the one that my mum owns as well and we're both besotted with it! The absolutely perfect fit, it looks as great with skirts as it does with jeans. My colour is in 'blue haze'.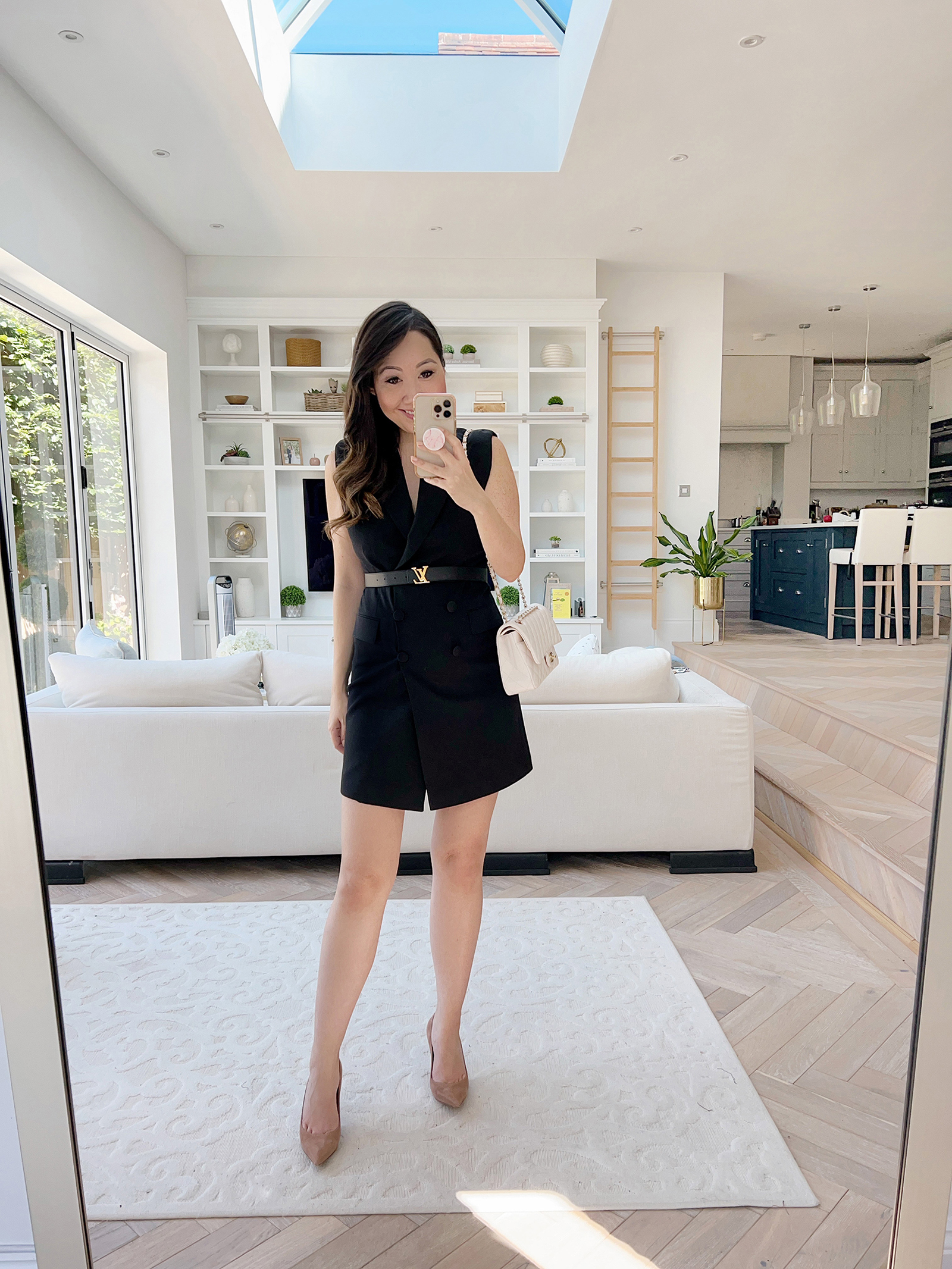 Black Tailored Dress // Gianvito Rossi Pumps // Louis Vuitton Belt // Chanel White Flap
Waistcoat dresses are another wardrobe favourite of mine. So chic and easy to throw on; the perfect way to do tailoring while it's still really warm outside. I love to belt mine and my LV belt is still going strong and a firm favourite even 3 years later! Definitely a pricey accessory but for me, it's been worth every penny.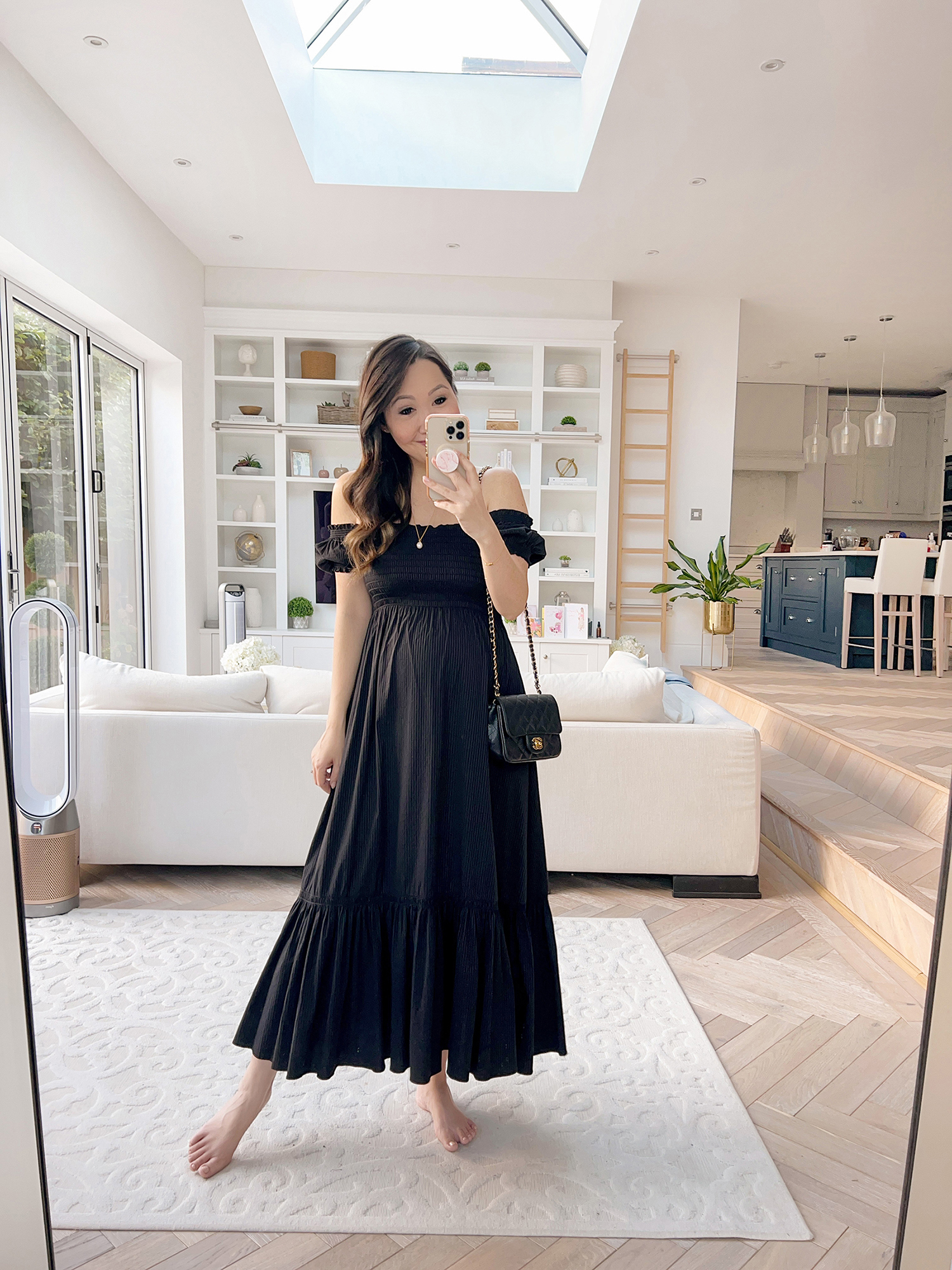 Black Off Shoulder Dress // Pearl Necklace // Chanel Mini
This is one of the dresses that arrived from my long lost NSale order! I'm so happy that all the parcels were eventually found, especially because this dress was in the last one! It's more of a pricey one but has absolutely glowing reviews and I 100% see why. It fits absolutely beautifully, moves in a lovely way and can be worn both off the shoulder and with the cap sleeves on. Absolutely gorgeous! It's back to full price again but NSale styles often do get reduced again at some point so definitely keep an eye out if you're interested in it!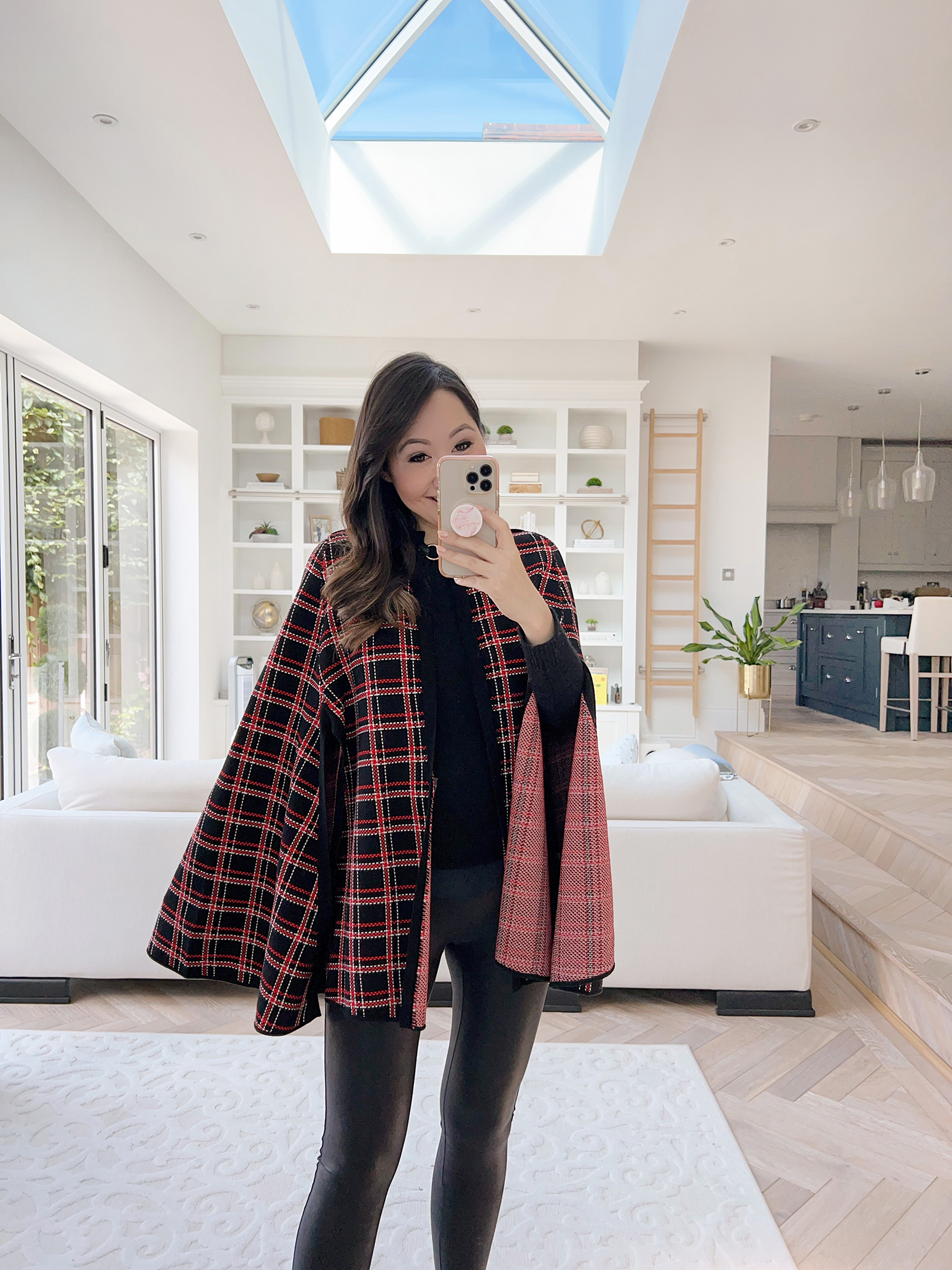 Checked Cape // Black Sweater // Faux Leather Leggings (maternity version here)
A quintessential autumn outfit – you can never go wrong with a simple pair of faux leather leggings (UK link here), cashmere crewneck and statement cover-up! My cape has just been restocked after selling out crazy fast – it really is an absolute dream and is the perfect thing for when the weather turns but isn't yet super cold.
I also need to take a second to sing the praises of the maternity version of my Spanx faux leather leggings. Oh my goodness, these are the best things ever! As in, I may just keep wearing them after pregnancy too haha. For any other pregnant ladies out there, would highly recommend – ridiculously comfy but with the same chic look as my original pair. I took my regular size (size small) and they fit great.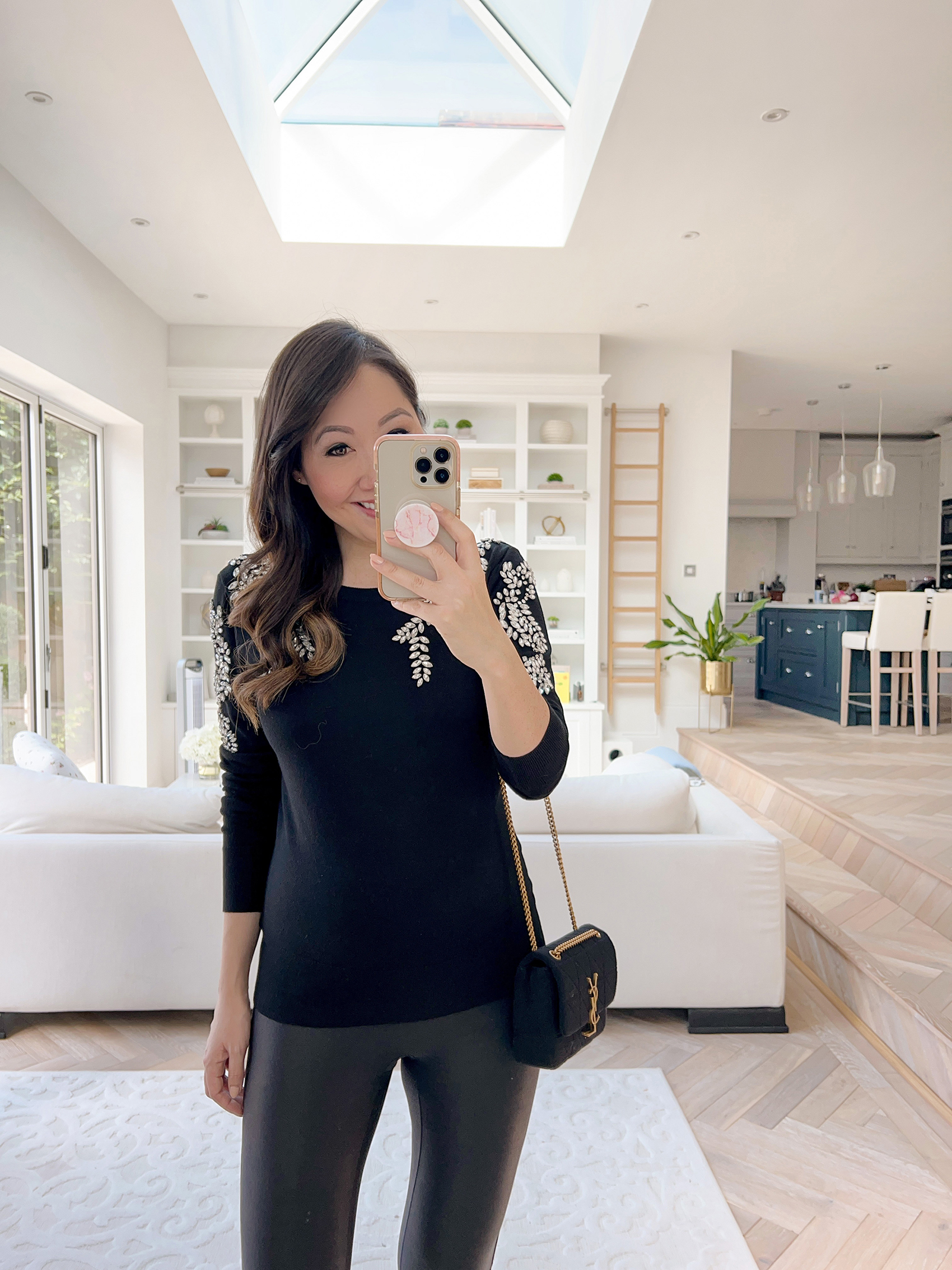 Black Embellished Sweater (size small) // Faux Leather Leggings (maternity version here) // Saint Laurent Jamie
Finally, this sweater! This is absolutely gorgeous IRL – the crystals sparkle in the prettiest way and the detail on it is on a whole other level. Fancy enough to wear during the holiday season but not so festive that you can't just wear it for a nice dinner or brunch out, I teamed mine with my trusty faux leather leggings and love the look!
Phew! And that's it for this outfit round-up! Thank you so much for stopping by!