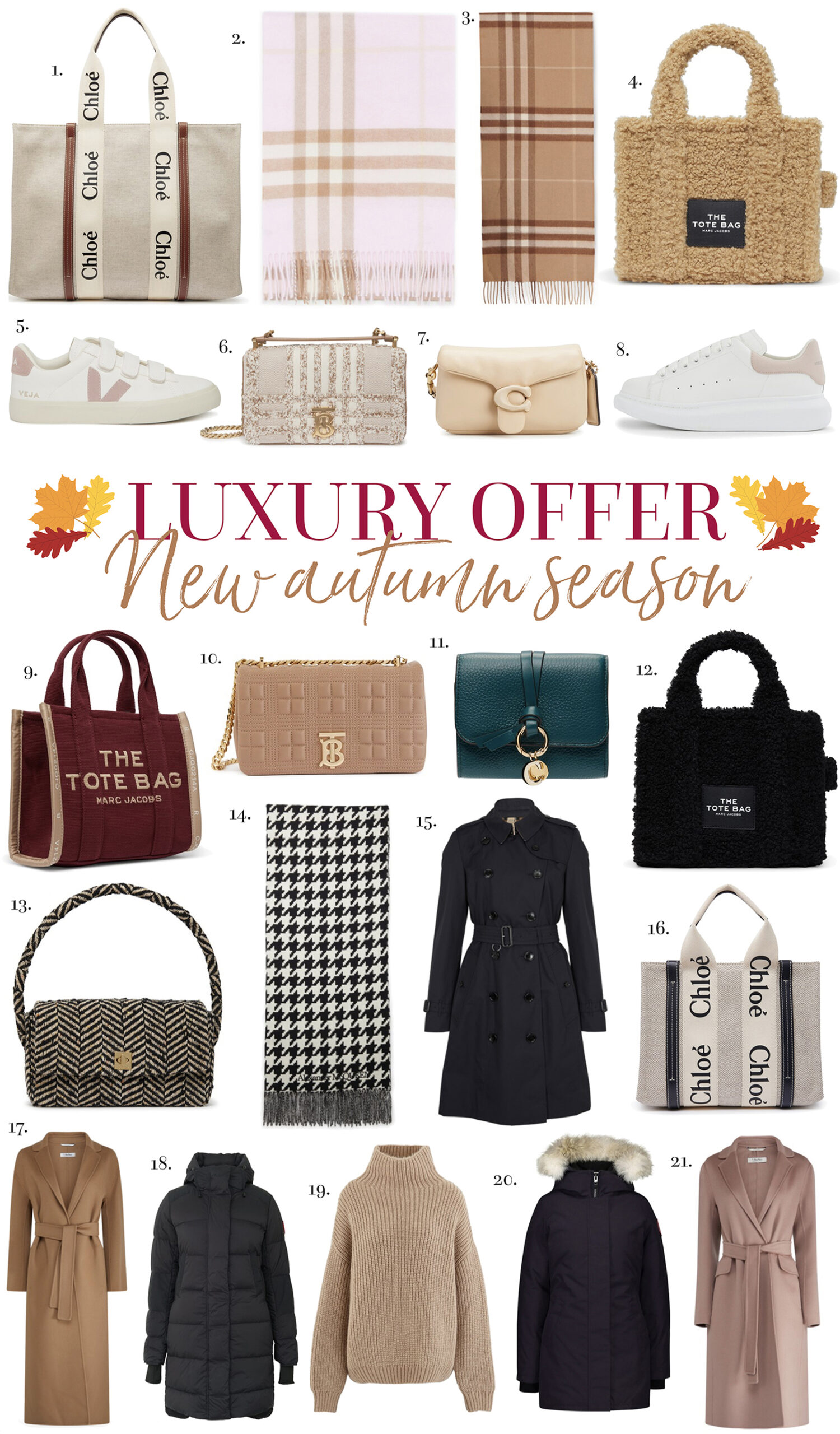 A new offer has gone live at 24s.com! Here to help you get excited about the upcoming season and return to the office (if you were lucky enough to holiday this summer!), this offer is an amazing one – genuinely one of the most generous I have ever seen at 24s.com!
FEATURED ABOVE
1. Chloe Woody Tote // 2. Burberry Pink Scarf // 3. Burberry Tan Scarf // 4. Marc Jacobs Teddy Tote // 5. Veja Pink Sneaker // 6. Burberry Bag // 7. Chloe Mini Tabby // 8. Alexander McQueen Sneakers // 9. Marc Jacobs Burgundy Tote // 10. Burberry Nude Bag // 11. Chloe Wallet // 12. Marc Jacobs Black Teddy Tote // 13. Anine Bing Bag // 14. Houndstooth Scarf // 15. Burberry Trenchcoat // 16. Chloe Mini Woody Tote // 17. S Max Mara Camel Coat // 18. Canada Goose Puffer Jacket // 19. Anine Bing Sweater // 20. Canada Goose Coat // 21. S Max Mara Dusky Pink Coat
This is a tiered discount but with hugely generous discount amounts. The minimum spend starts at $/£400 to claim a discount and it goes up to a $/£1000 spend, where you can take a huge $/£300 off! If you plan your spend efficiently, that works out to be a massive 30% off your purchase – and best of all, the codes work off full priced, new season merchandise. The codes you'll need to shop the offer are as follows:
Take $/£/€ 100 off a $/£/€ 400 spend – use code SHOP100
Take $/£/€ 200 off a $/£/€ 800 spend – use code SHOP200
Take $/£/€ 300 off a $/£/€ 1000 spend – use code SHOP300
There are SO many amazing items included – for new season a/w arrivals, there are plenty of cold weather options from S Max Mara coats to Canada Goose jackets. And happily, because it's the beginning of the season, most items are fully stocked in sizes (which is definitely not always the case when it comes to promos in October/ November!). Burberry scarves are also included in the offer – you can see the women's selection here and the men's selection here.
For popular seasonless options, Chloe bags, Anine Bing wardrobe classics and Coach styles are all included too! I've rounded up my favourites above and below and don't forget, they have new arrivals weekly which are also included!
WARDROBE FAVOURITES I OWN AND LOVE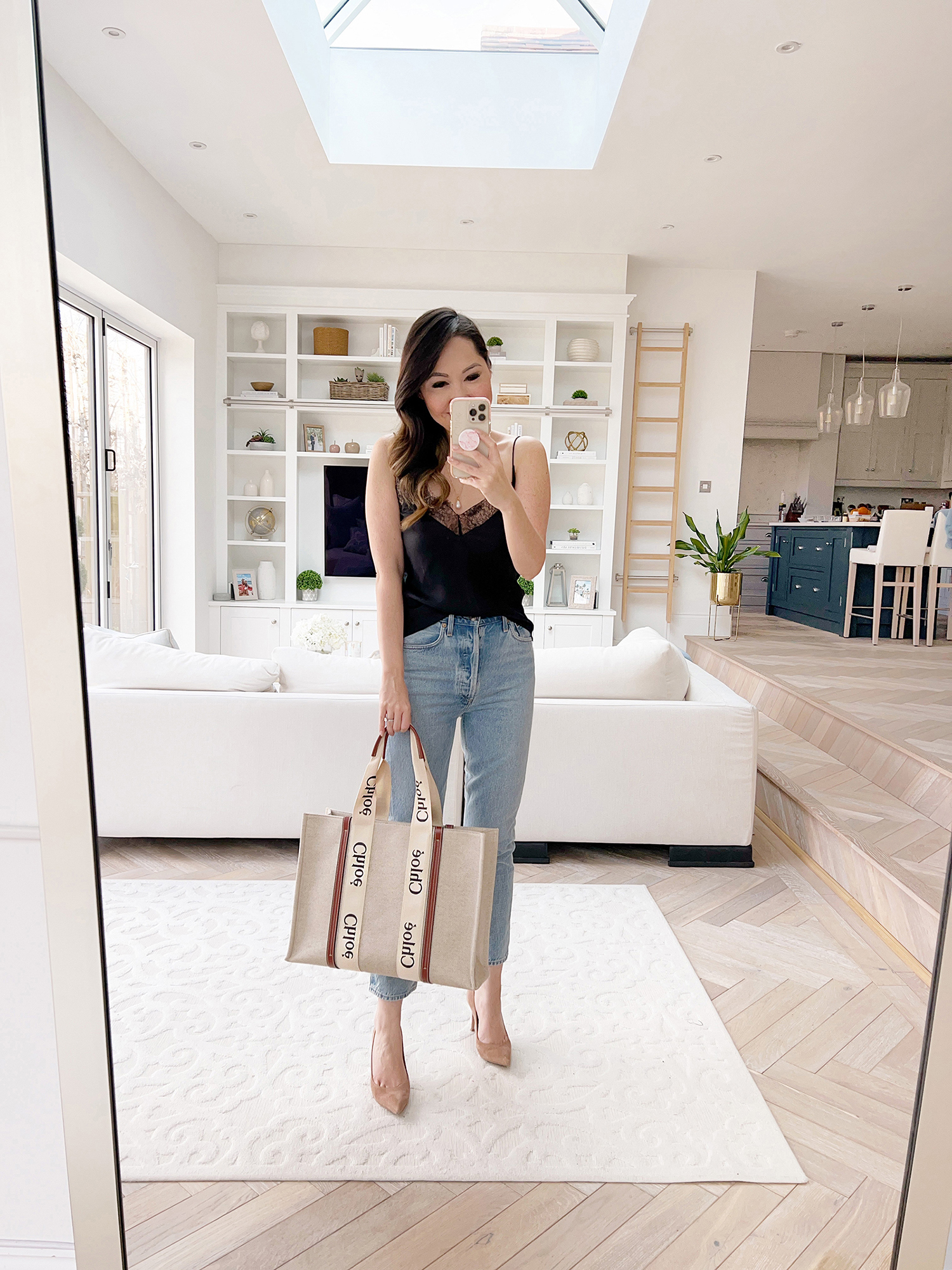 My Chloe Woody tote is finally back in stock! I know so many of you have been stalking this bag waiting for it to be restocked during an offer haha and it finally has been!
My exact colour and size is available here and the navy trim version is here. I would definitely say to move on this sooner rather than later if you did have it on your wishlist as this style notoriously sells out whenever there's an offer on.
A new addition to my bag collection – this adorable mini Tabby style from Coach is included! I had been looking at the puffer line from Coach for ages but always felt like the larger ones were a little too overwhelmingly. As soon as I saw this adorable mini size though, I fell in love and it does not disappoint. Very petite in size but utterly adorable (and still big enough to fit my phone!), this is a fantastic option if you love the puffer trend but don't want to shell out mega money for Saint Laurent or Chanel.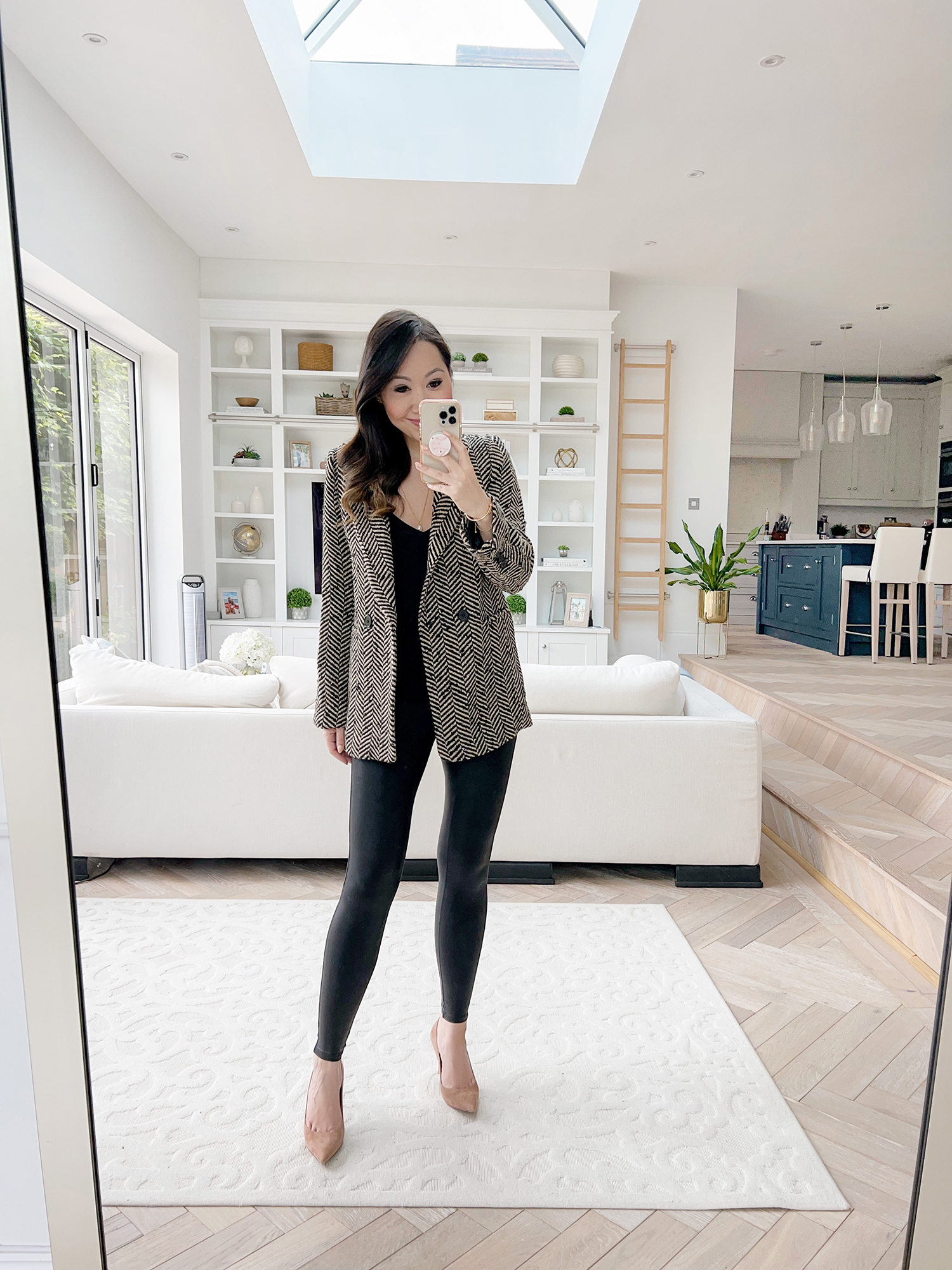 My gorgeous Anine Bing blazer is included – this is a style that I get asked about every single time I show it in a video or photo haha. It truly is so stunning! It's more of a heavy duty blazer and so works perfectly as a transitional jacket before it gets really cold, or bundled up over layers and knits in the chillier months. I'd say it's too thick to wear as an office blazer but for outerwear, it works perfectly and is just so chic! I absolutely adore the way it looks and it looks equally great dressed up with heels as it does with biker boots and a chunky knit.
I sized down to an XXS for reference so I could wear it with lighter layers; take your regular size if you want to wear it with knits.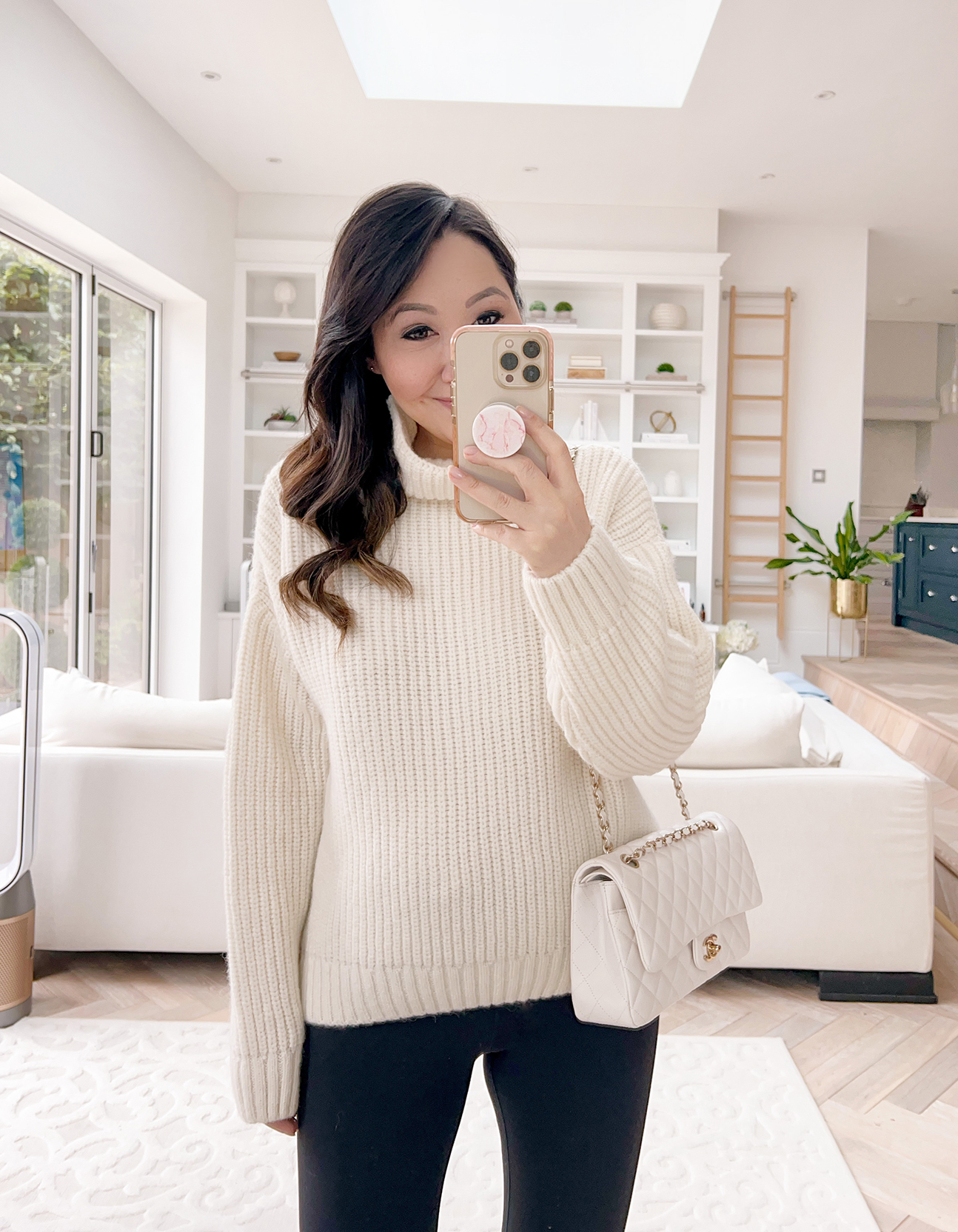 Next up – my Anine Bing chunky knit! This is called the Sydney sweater and is part of Anine Bing's classic line – and for good reason IMO! It's the quintessential chunky knit; perfectly oversized and so incredibly warm and cosy! I own it in both the cream and the camel and happily, both are included in the discount code! I took a size XS and it fits with a lovely oversized look.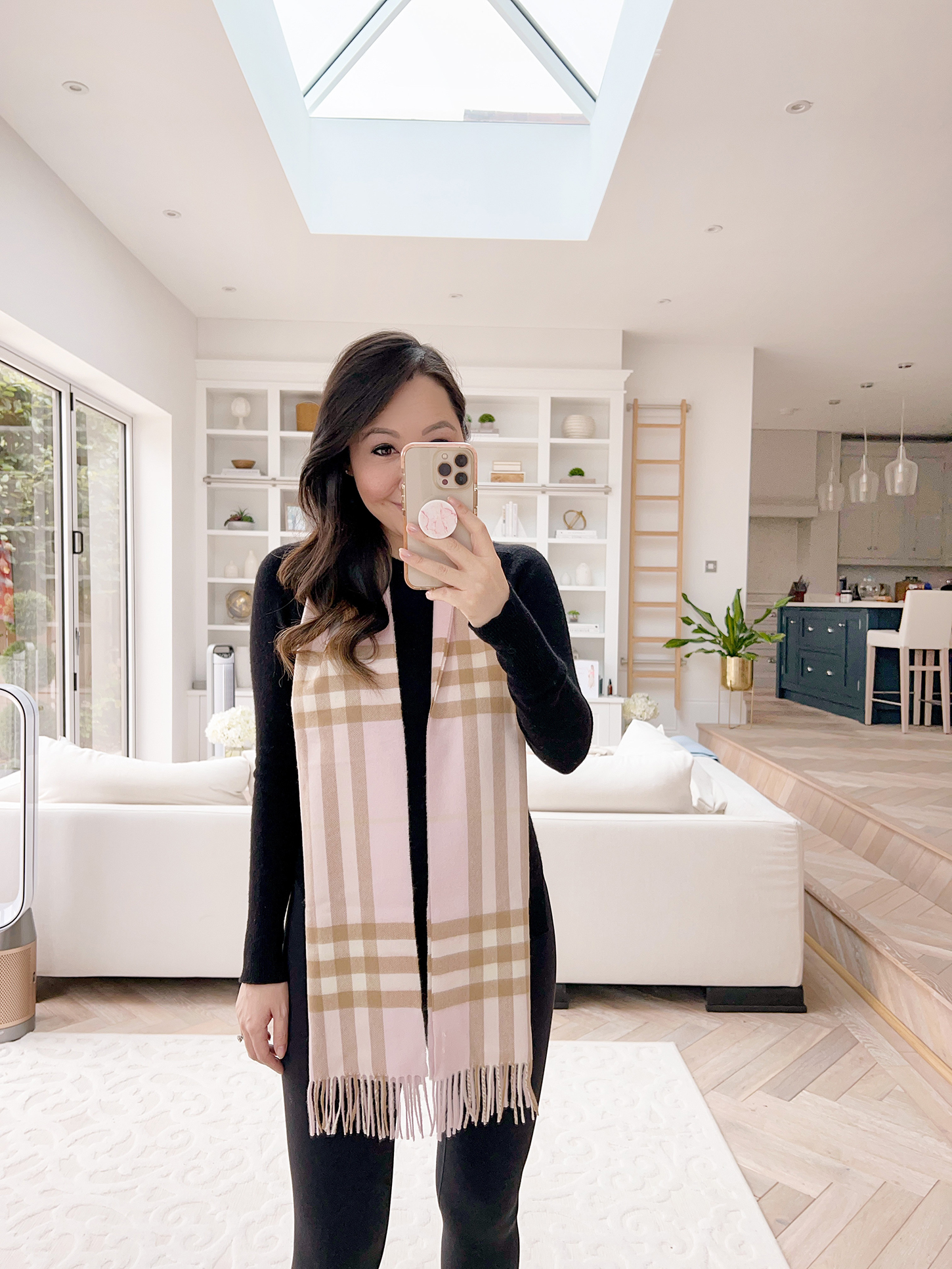 Finally, my blush pink Burberry scarf! You guys will probably know what a huge fan of the Burberry scarves I am. So classic and timeless, not only do they not date but they wear incredibly well and can so easily dress up even the plainest of outfits. The exact one that I'm wearing in the photo is this one here but they also have several other varieties, including this gorgeous light tan new arrival which is SO pretty!
SUMMER STYLE PICKS
1. Chloe Marcie Basket Tote // 2. Chloe Marcie Basket Crossbody // 3. Chloe Mini Marcie Crossbody // 4. Stella McCartney Blush Falabella // 5. Chloe Woody Slide // 6. Chloe Alphabet Crossbody // 7. Chloe Mini Marcie // 8. Veja Blue Sneakers // 9. Burberry Pink Wallet // 10. Marc Jacobs White Crossbody // 11. Chloe Woody Sandals // 12. Burberry Bear Charm // 13. Veja Blush Sneakers // 14. Veja Black Sneakers // 15. Veja Taupe Sneakers // 16. Veja Mint Green Sneakers
For those of you who aren't quite ready to say goodbye to summer, I've also rounded up some of my lighter weather picks (albeit most of these can be worn/ used all year around too!). The big callout here that I wanted to make was Veja sneakers! 24s.com have had a fresh batch of Veja sneakers delivered so unusually, they are currently fully stocked with sizes in plenty of their most popular styles and colourways! If you were looking to snag a pair – or simply wanted to top up your order to hit the next spend tier, a pair of these gorgeous classic sneakers are the ideal way to do it.
Happy shopping and let me know if you snag anything good!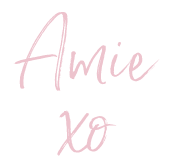 Thank you to 24s.com for partnering with me on this post!