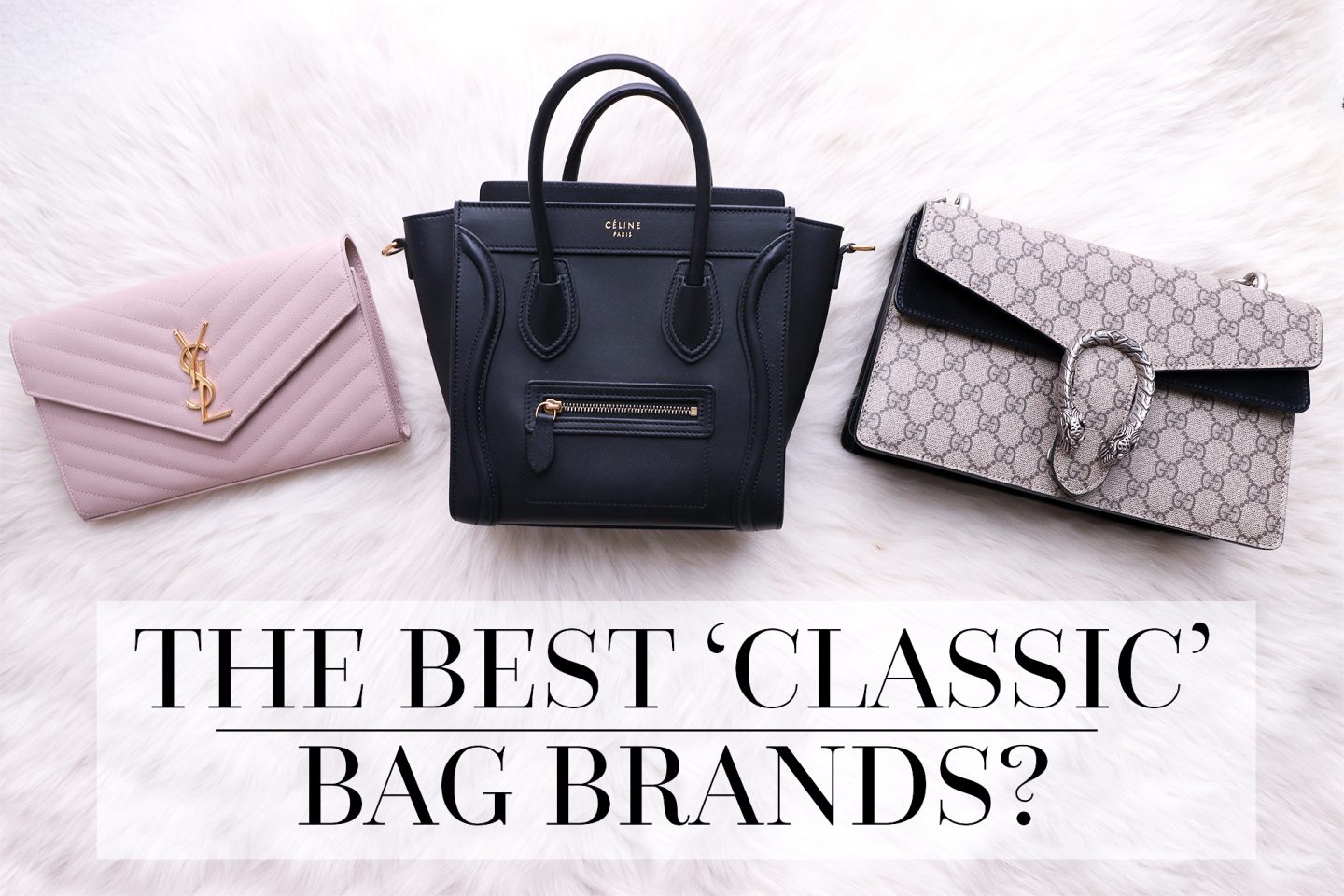 It's not a secret that my favourite luxury brand is Chanel. I've loved Chanel's aesthetic for far longer than I've been able to afford it and I can't imagine ever not loving the brand. And I know that I'm definitely not alone in this! That said, Chanel is a huge splurge and it's not getting any cheaper. So if you're not in the position to spend Chanel-money on a bag or simply don't want to lay out that kind of cash on a wardrobe piece, I thought I would layout the best brands to look at after Chanel.
By the 'best brands', I'm not looking at Chanel dupes but rather bags that will stand the test of time whilst looking super chic! I'm not talking specifically about resale value here because apart from Chanel, Hermès and a few select Louis Vuitton styles, very few bags actually have good resale value. That aside, there are still plenty of bags and brands that I think will still look current and stylish in five or ten years time and these are what I'm going to be including in this post.
As always though, I'm a firm believer that you should buy what you love regardless of blogger's lists, trend reports etc. Life is too short to do otherwise 🙂
Saint Laurent Bags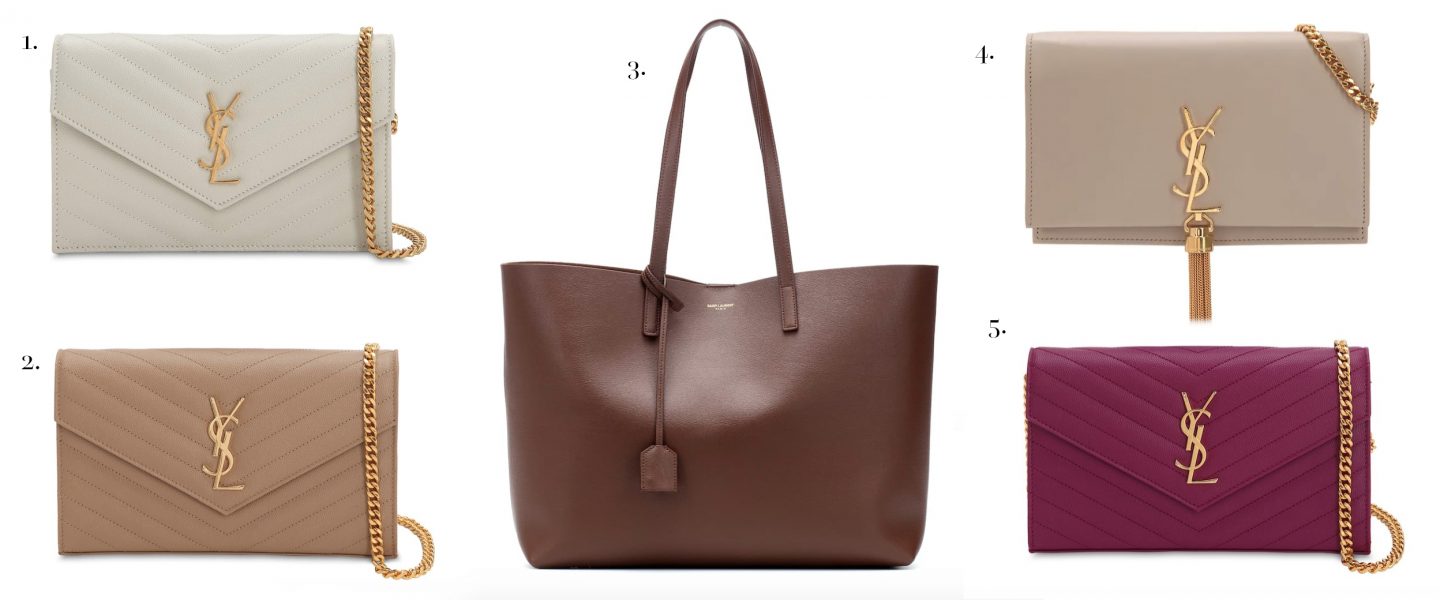 1. Saint Laurent White Crossbody // 2. Saint Laurent Taupe Clutch // 3. Saint Laurent Tote // 4. Saint Laurent Kate Bag // 5. Saint Laurent Berry Clutch
My love for Saint Laurent runs deep. I am constantly impressed with both their designs and also their quality and the bags that I own from them are some of my absolute favourites. I also think that a lot of their styles could be considered classic, helped by the iconic YSL logo that they were wise not to change despite numerous other changes at the fashion house. I believe that anything with the YSL logo will stand the test of time well but some of my absolute favourite bags from them are their smaller clutches and WOCs.
Best Styles: Saint Laurent WOC, Saint Laurent Tote Bags
Fendi Bags

1. Black Fendi Peekaboo // 2. Pink Fendi Peekaboo // 3. Taupe Fendi Peekaboo
Fendi is always what I consider a bag lover's brand. They are super chic (and super expensive) but also fly under the radar for many people. Their Peekaboo has absolutely stood the test of time though and year after year, Fendi commits to the bag again releasing new colours and iterations of this iconic style. Yes, it's a splurge but the quality is fantastic and Fendi never ceases to make it interesting with their new colours, leathers and style updates. It will be interesting to see how well Fendi does with their new Baguette style but I can absolutely imagine it being another hit for them.
Best Styles: Fendi Peekaboo
Celine Bags

1. Celine Box Bag // 2. Celine Belt Bag // 3. Celine Nano Luggage
In terms of brands that design classic bags, Celine has got to be up there with the best. They constantly knock it out of the park with their gorgeous and understated designs and I do consider so many of their bags to be classics. From their Celine Nano Luggage to their beautiful Box bags, there are almost too many styles to choose from. The fact that Celine doesn't go on sale also helps with longevity and demand but even that aside, the designs are classic enough to be wearable and chic for many years to come.
Best Styles: Celine Nano, Celine Totes, Celine Belt Bags, Celine Box Bags, Celine Trio
Dior Bags

1. Navy Diorama // 2. Lady Dior // 3. Blush Small Diorama
Dior is another brand that comes to mind as one that has produced and continues to produce some beautifully classic bags. They also don't seem to go overboard with new bag designs and most of the stock on their website seems to be their tried and tested styles. Whilst I've never owned anything from Dior myself, I have only heard glowing things about their quality and the fact that the Lady Dior bag has been around for decades and yet is still consistently in demand is no small feat. Lady Dior aside, I also love the Diorama and can absolutely see this being a classic for the brand too.
Best Styles: Lady Dior, Diorama
Mulberry Bags

1. Mulberry Blush Lily // 2. Mulberry Bayswater // 3. Mulberry Oxblood Lily
Mulberry is a brand that is so steeped in heritage and even though they've had their ups and downs, is still a force to be reckoned with in the luxury handbag world. The Bayswater continues to be one of those bags which is so iconic and that I still see as being so incredibly popular. Whilst I'm not fully convinced with the longevity of all of their newer designs, their Lily bag has been around (and popular!) for long enough now that I absolutely consider it to be a classic.
Best Styles: Mulberry Bayswater, Mulberry Lily
Gucci Bags

1. Gucci Monogram Dionysus // 2. Gucci Soho Disco // 3. Gucci Black Leather Dionysus
And finally, we have Gucci. Gucci has made the most astonishing comeback in the fashion world and is now in more demand than ever. They are also releasing new bag styles like the speed of light! This doesn't always mean good things for the longevity of those styles though which is the primary reason that I've left the Marmont off this list (despite my own love for the line!). It could well turn out to be a classic but if you wanted to play it safe, I would stick with the more tried and tested Gucci Soho Disco and Gucci Dionysus. They are both beautiful bags that I can see being around for many more years yet.
Best Styles: Gucci Soho Disco, Dionysus
Phew! And that is it for my list of the most classic bag brands and styles that I can think of. Obviously there are so many other worthy bags to list and consider but I had to cut myself off somewhere otherwise this would turn into even more of an essay than it currently is.
I hope that you found this post helpful and interesting and of course, if you think I left out any major and classic bags, let me know below!