All images are clickable!
It's Revolve's birthday today! I had no clue this was coming up but I was in the middle of placing an order with them and saw the happy notification – they're doing a one day only sale with 16% off everything! There are a couple of brand exclusions but everything that I wanted was included in the offer. Revolve has long been one of my favourites but returns were always tricky which always prevented me from buying from them more. Happily, they've made returns from the UK super simple now so it's a lot more risk free!
With this knowledge, I went a little bit nuts with my order and jumped on literally everything I've had my eye on! I've listed everything I ordered above and below. I'm going to do my best not to keep everything but we'll see how that goes…
The code that you'll need to shop the sale is SWEET16 and that will get you 16% off pretty much everything.
FEATURED ABOVE
1. Pastel green tea dress // 2. Blue printed dress // 3. White sundress // 4. Green off the shoulder dress // 5. Red mini dress // 6. Green polka dot dress // 7. Printed midi skirt // 8. Cut off jeans // 9. Off the shoulder white top // 10. Ruffled skirt // 11. Red dotted skirt
I mainly shopped for Spring/ Summer because sundresses are just so much more exciting to me than sweaters at the moment! Plus I have a couple of trips planned in the next few months so even if the British weather lets me down, I'll hopefully get a lot of use out of these items.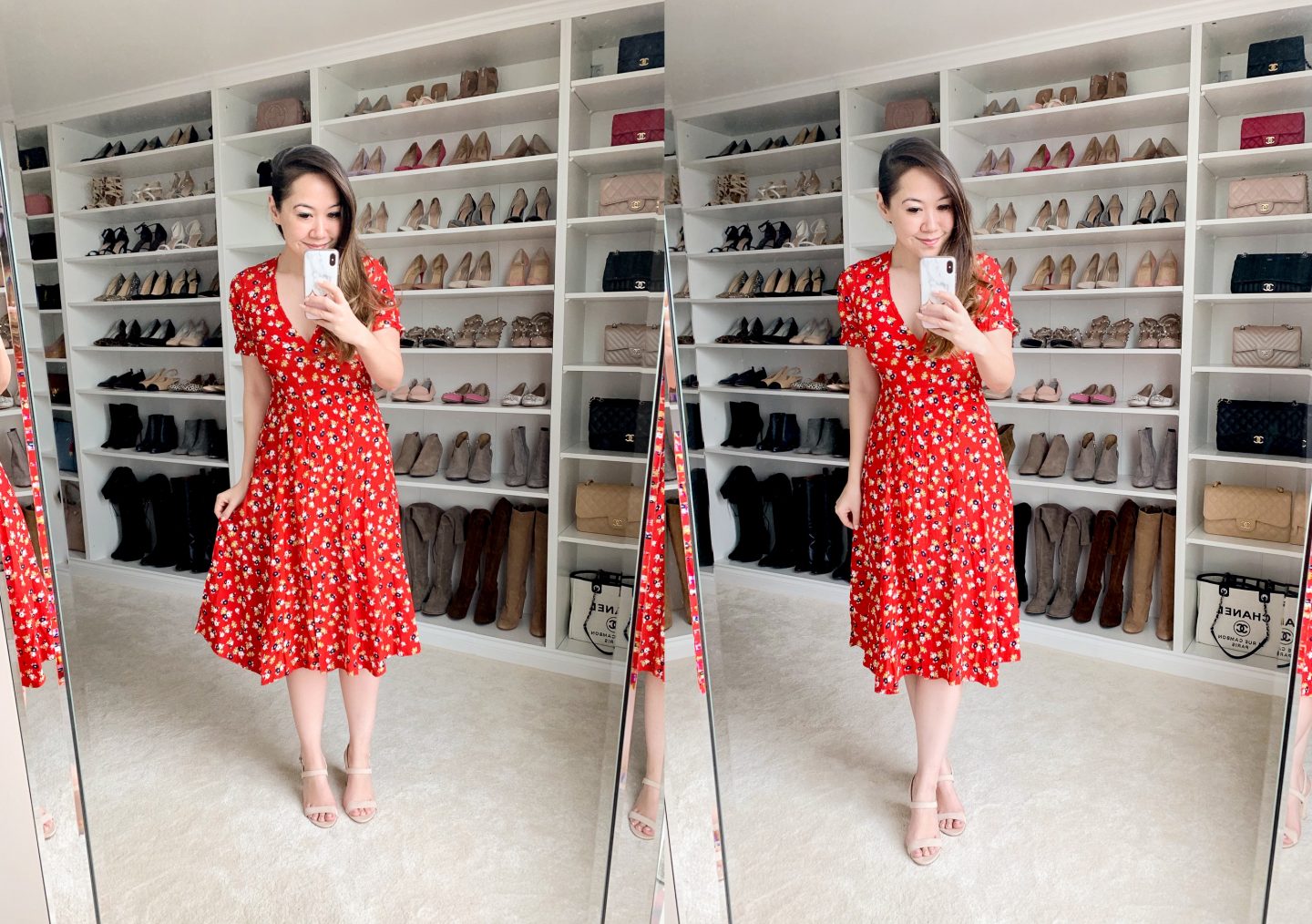 One of my favourite buys from my recent Shopbop order was this dress from Faithfull the Brand (pictured above – excuse the lack of make-up and wrinkled dress, I snapped this as soon as the order came and I tore it out of its packaging haha). I already own another dress from them (seen here) and absolutely adore it so this brand has been on my radar for a while. I knew Revolve stocked them too so obviously I checked out their dresses and was so excited to see an almost identical blue version which I quickly snapped up too. I also went for this polka dot number that was sold out in my size on Shopbop so I was super excited to see it on Revolve (and on sale to boot!) and this gorgeous skirt.
Not pictured here but a few things I also added to my order: this super cute pair of gold flip flops that had glowing reviews and this entire ASTR outfit (the skirt is here and the top is here). Sadly preorder items aren't included in the offer but I liked them enough to give them both a go full price.
Did you order anything from the Revolve sale?