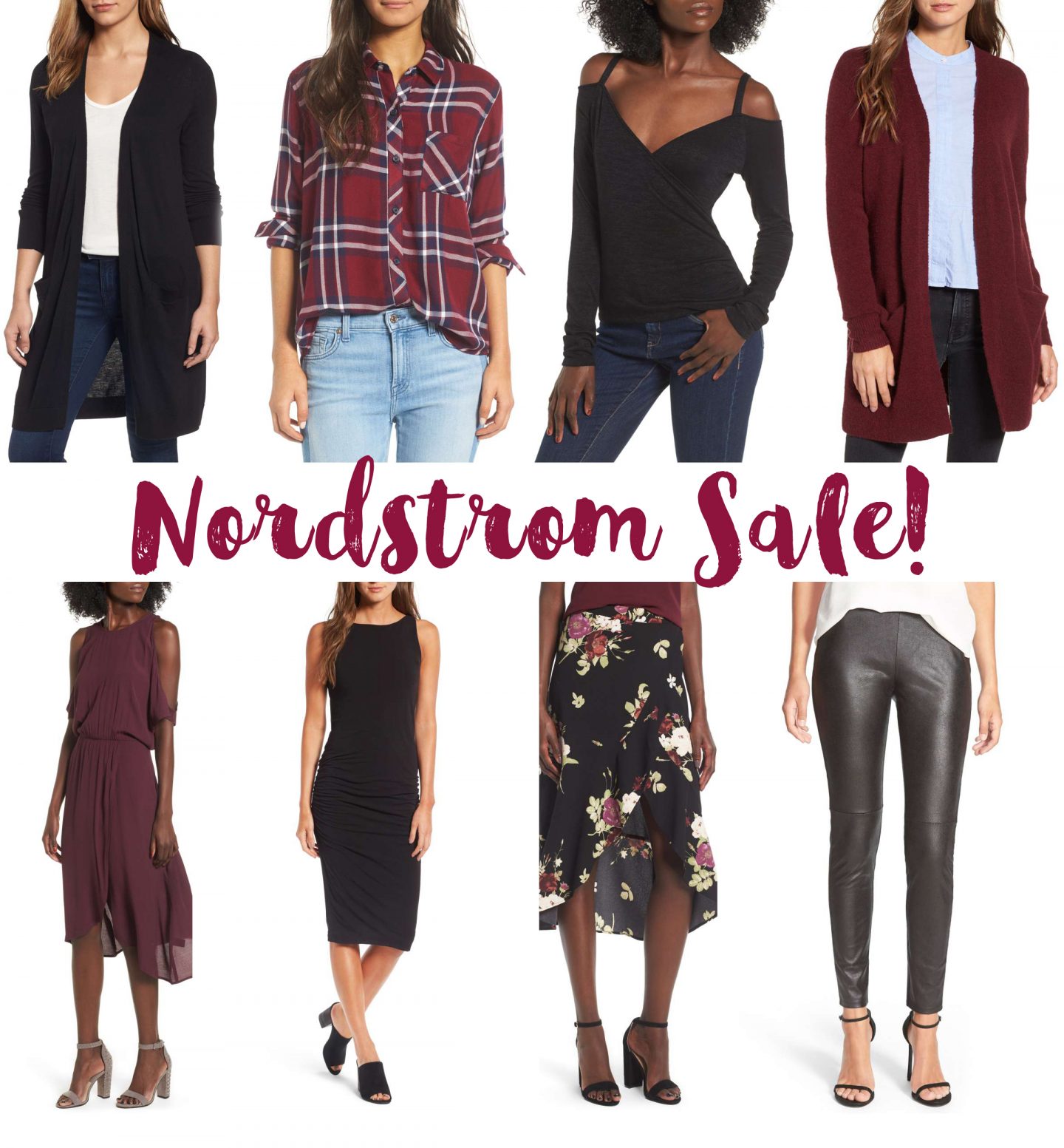 1. Burgundy Cold Shoulder Dress // 2. Rails plaid shirt // 3. Wrap cold shoulder top (bought in black!) // 4. Madewell burgundy cardigan  // 5. James Perse Black Dress  // 6. Printed wrap front skirt // 7.  Trouve faux leather leggings // 8. Long black cardigan
The Nordstrom Anniversary Sale is officially live! Can you tell I'm excited? I've been waiting for this sale all year, particularly for certain items that I've wanted to replace but didn't want to pay full price. The sale is seriously so good this year and is a healthy mix of old favourites from previous years and totally new styles.
I'll have a video going up tomorrow featuring my favourite items that have been brought back from last year as well as highlighting the best deals you can score. I will be doing a haul video when everything arrives but for those of you interested, I'm sharing everything that I promptly snapped up today 🙂

I obviously went for a lot of dark colours for the coming A/W season – I'm most excited about this Rails shirt which has been on my wishlist for the longest time, this gorgeous printed skirt and a James Perse dress (I already have the skirt version of this and I LOVE it!).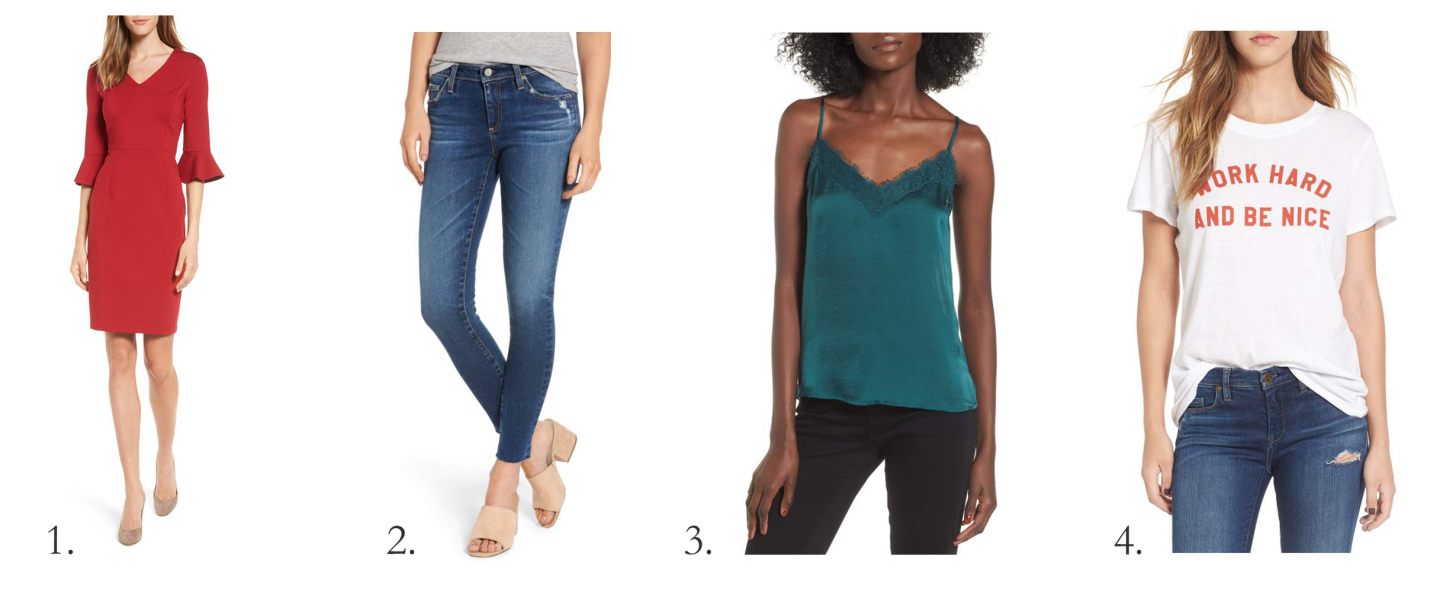 1. Halogen flare sleeved dress // 2.  AG Jeans // 3. BP Green lace camisole // 4. Work Hard and Be Nice T-Shirt
I made sure to stock up on my favourite purchase from last year – the famous AG jeans. I have absolutely lived in mine and I am way overdue a new pair! I also picked up this beautiful lace cami (so cute for layering under sweaters) and this bell sleeved dress which I fell in love with in the gorgeous fiery red colour. I also got this super soft tee with the slogan 'Work hard and be nice' – I have another tee from this brand and they are the softest things ever! Perfect for lounging 🙂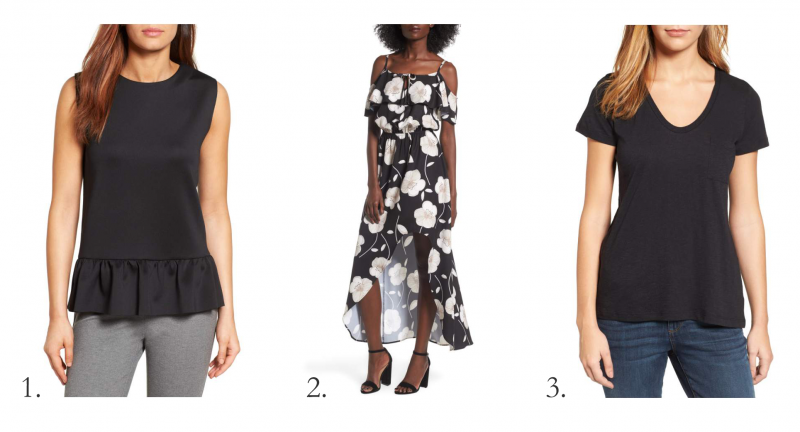 1.  Halogen peplum top // 2.  Printed maxi dress // 3.  Caslon Black T-Shirt
Always a fan of black and I couldn't resist this super cute peplum top and printed maxi dress. I swear I have 5 other black t-shirts but I have no idea where they are! This one had great reviews and looks like the slouchy fit that I love.

1. Halogen Cashmere Off Shoulder Sweater // 2.  Halogen bow sweater // 3. Nordstrom signature grey top // 4.  BP Striped Shirt
I love light neutrals and bought this gorgeous light grey top from the Signature line (planning on stealing the styling idea of leather leggings!) and this striped shirt. Every year, I always buy some cashmere from Halogen and I fell in love with this bow detail version and this off shoulder longer sweater.

1. Vince Camuto Booties // 2. BP coloured checked scarf  // 3. Halogen Flats  // 4.  Pink velvet pumps
Finally – shoes and accessories! I needed a pair of lower black booties and loved these Vince Camuto ones. On a less practical note, I loved these pink velvet pumps and Halogen flats so there was no way I could pass them up! Finally, I went for this lovely white and multi-colour checked scarf.
Some Shopping Tips & Strategy!
Do a search for key items first. If you're after a new pair of jeans, specify by type and brand. There are 46 pages of womens' items so browsing will take a while!!
Checkout as soon as you have your must-have items. Nordstrom offer free shipping in the US so best to snag your can't-live-without items first and then go back and browse your nice-to-haves later.
Unsure about size? Buy two sizes and return the one that doesn't work. I didn't do this on jeans and I missed out last year (until thankfully they had a restock).
Something sell out before you get a chance to purchase? Check back one to two weeks later. Nordstrom always restocks from returns and new deliveries so it's very worth doing this if you have your heart set on something.
Plan ahead! There are so many cute items that would make fantastic Christmas gifts – at fantastic prices. I'm featuring my favourites in a sale guide that's going up tomorrow 🙂
Don't forget to check back tomorrow both on my YouTube channel and on here – I'll be doing both video and blog post guides on my favourite picks from the sale!
Thank you for stopping by and happy shopping!