All images are clickable!
Okay, so the incredible luxury offers just keep coming! I don't think I've ever seen so many amazing deals on new season items at once before! I've rounded up all the best ones in this post with all of my picks above and below.
The big one that just went live is a Farfetch offer which is only live until 10th September at 5pm BST (so if you're in the US, you really only have until the 9th September to shop). They are offering 15% off a huge array of items – and when I say huge, I mean it. There are over 1,600 PAGES of items included!
However I also have a discount code which gets you $50 off a $600 spend which is stackable, i.e. if you picked items that had the 15% off, you can then take an additional $50 off that price if you spend over $600. Such an amazing deal! Happily this is also available to all customers – new and returning. You'll need to use the code SSFFAMIE at checkout to get the extra discount but the 15% off will be deducted automatically.
FEATURED ABOVE
1. Chloe Grey WOC // 2. Mulberry Alexa // 3. Chloe Blush WOC // 4. Manolo Blahnik Hangisi Pumps // 5. Salvatore Ferragamo Belt // 6. Gianvito Rossi Black Pumps // 7. Mulberry Chestnut Alexa // 8. Veja Sneakers // 9. Chloe Mini Marcie // 10. Gianvito Rossi Nude Pumps // 11. Anya Hindmarch Tote // 12. Manolo Blahnik Hangisi Flats // 13. Nicholas Kirkwood Beya Flats // 14. Stella McCartney Crossbody // 15. Cinq A Sept Blazer // 16. Tan Boots // 17. Black Boots // 18. Camel Coat
The code for the extra $50 off also works off items not included in the 15% off. So for example, if you wanted a pair of boots with the 15%, which came to $450 and then added on a full price Saint Laurent card holder at $300 – then you could still nab the extra $50 off.
You can view the T&Cs for the stackable offer here 🙂
REFORMATION DRESSES
Images are clickable
Right to left: 1. Blue floral dress // 2. Smock dress // 3. Yellow dress // 4. Dark blue floral dress // 5. A line dress
You guys probably know by now that I am the biggest fan of Reformation and happily, pretty much the entire line at Farfetch is included in both the 15% off and the stackable discount code! I couldn't resist this gorgeous yellow number so it's currently winging its way to me. If it arrives in time, I'll try to show it on IG or YT!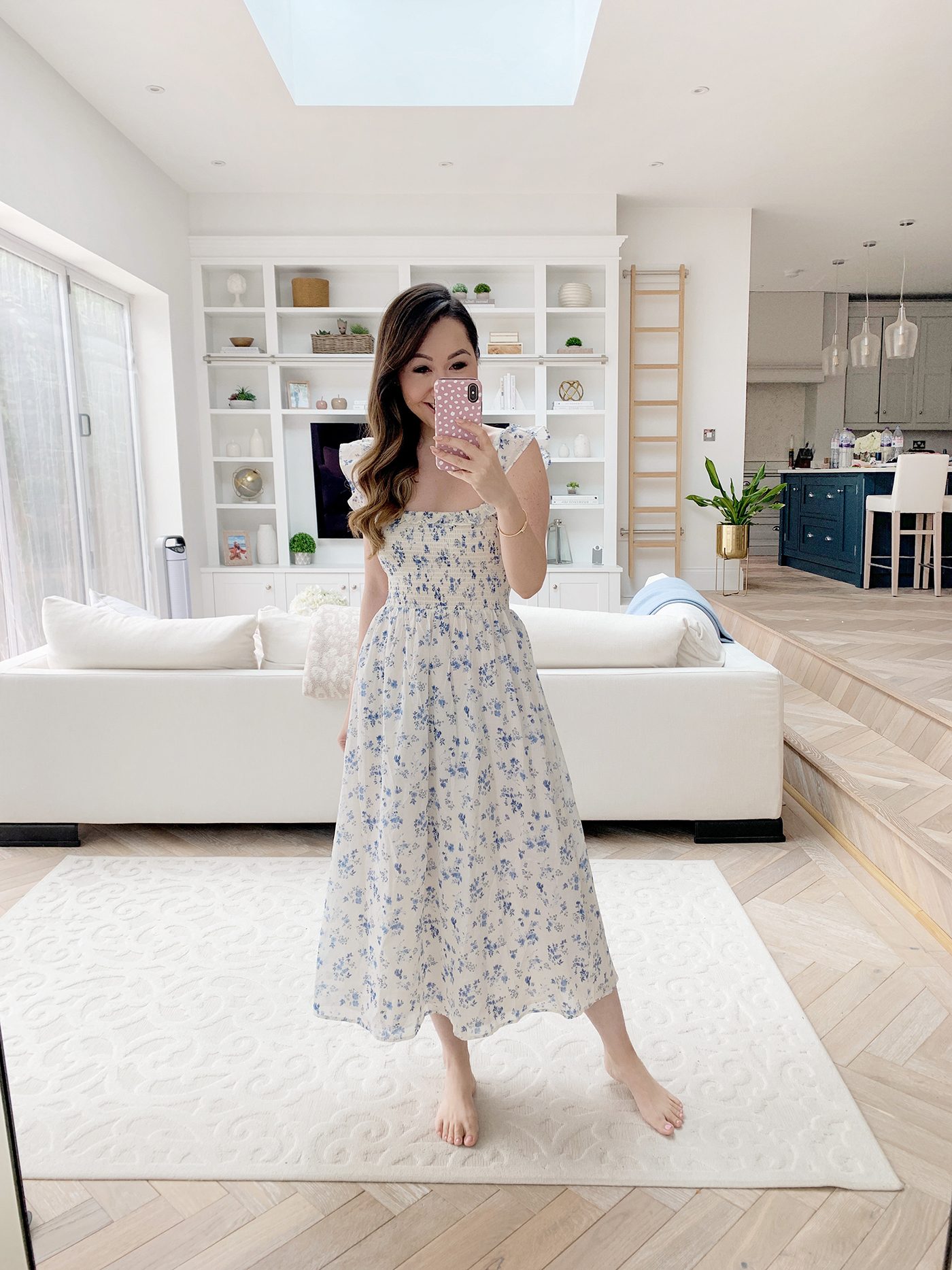 My white and blue floral dress is included and is currently fully stocked! I took an xs but I would say it fits a little snug so I could have sized up to a size small.
OTHER WARDROBE FAVOURITES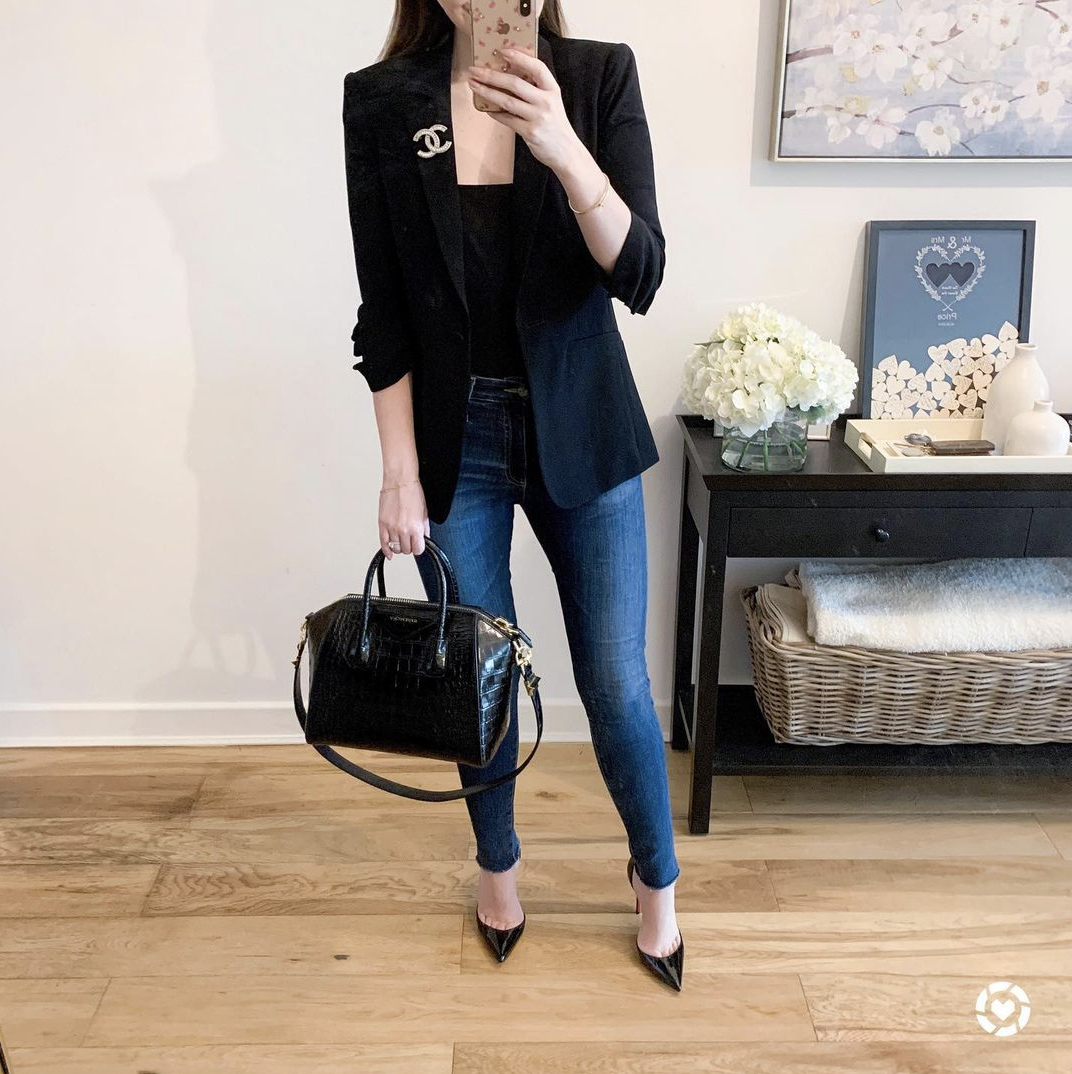 I also wanted to highlight some other wardrobe favourites, most notably this blazer which I think it probably my most asked about clothing piece of all time! It's a wardrobe favourite for me (I own it in three colours) and anytime you see me wearing a blazer, there's probably a 80% chance it's this one!
It's happily fully stocked in the black at the moment and included in both the 15% off AND the stackable discount code!
One thing to note – this is a great deal if you're in the US, but less so if you're in the UK/ Europe because of customs. If you're elsewhere, then I'd still definitely check as prices do fluctuate with different country taxes and rules 🙂
I would size down for this one – they run a little big IMO.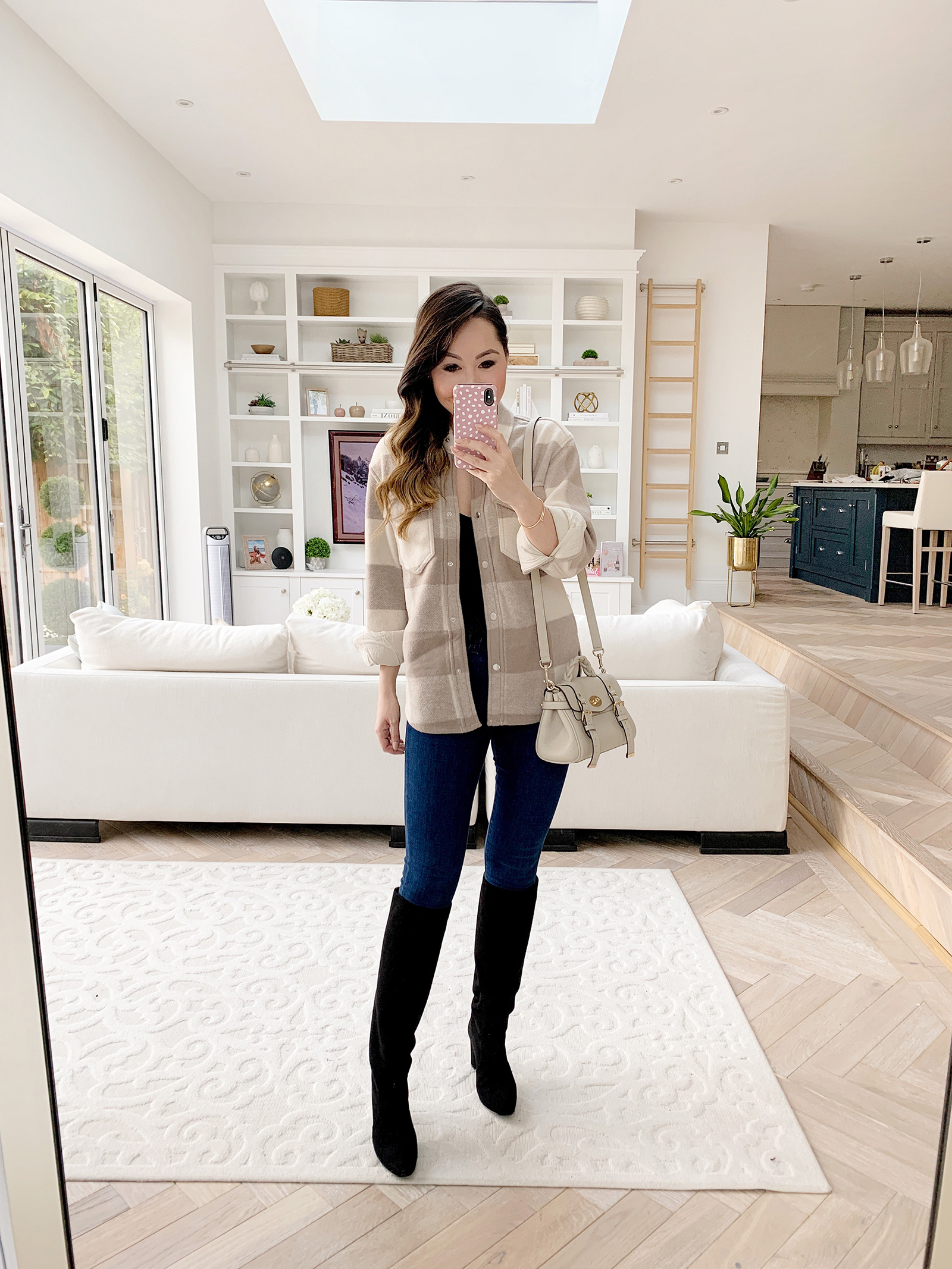 Next up, my boots! I only just got these but I loved them so much that I instantly ordered another pair in the tan colour. I've been on the hunt for a pair of knee high boots and was assessing the new season options when I stumbled across these. Still definitely luxury but way cheaper than some of the other high end options (every designer seems to have decided that over £1000 is now just the price for knee high boots :/). I decided to give them a go and I can't even tell you how much I love them.
The slouch just the right amount at the ankle but not too much (which generally I'm not a fan of), have the perfect shaped almond toe and feature a block heel which makes them remarkably comfortable for a high heeled boot. Would recommend full price but you can nab them with the 15% off and take the extra $50 if you add anything else to your order.
I generally take a 37.5 in heels, a 38 in flats and took a 38 in these and they fit great.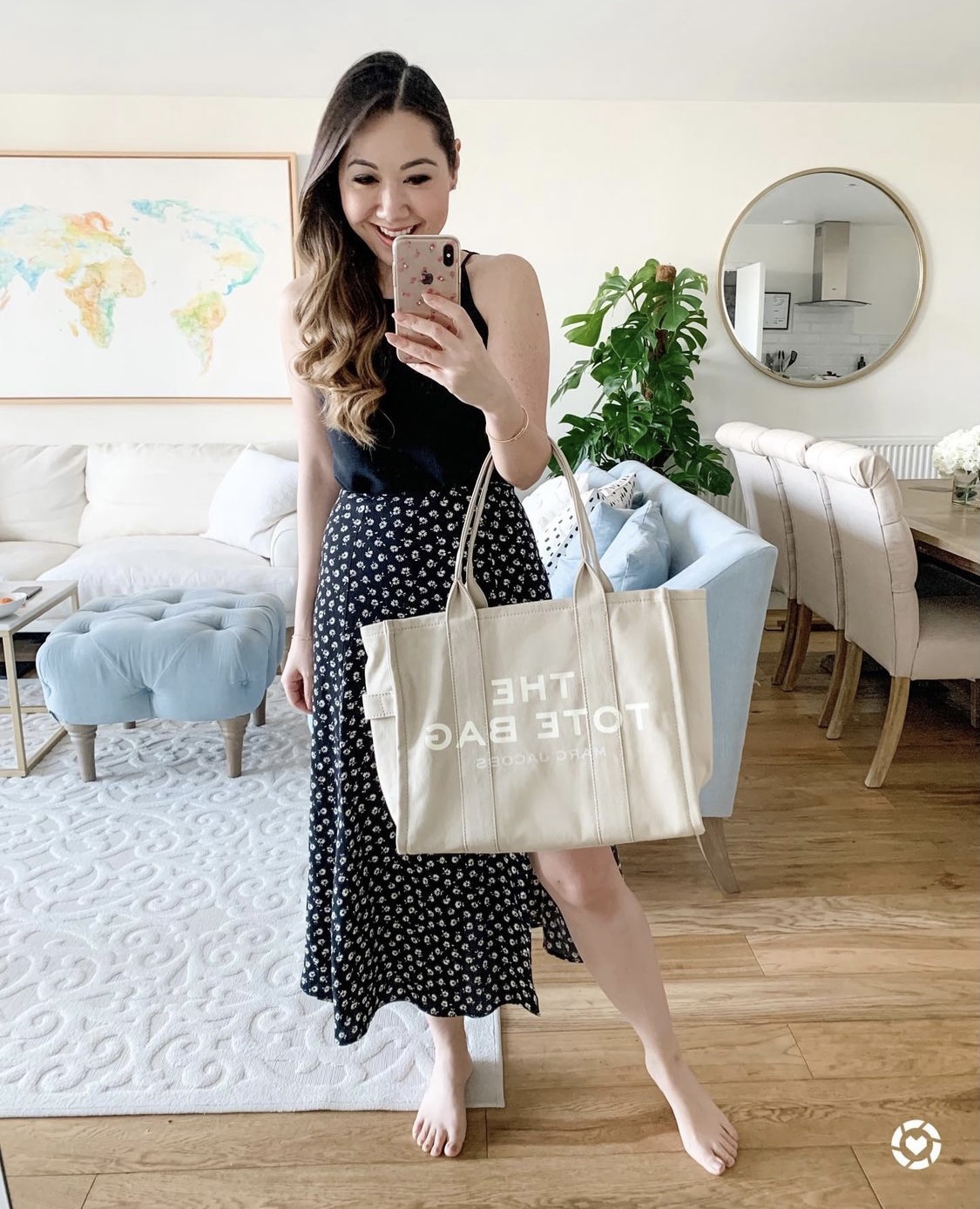 My Marc Jacobs tote is also included! Seriously the best thing if you're looking for an absolutely indestructible tote – perfect for groceries, school, work and everything in between. It's probably the strongest bag I've come across – and is happily still incredibly lightweight and comfortable to carry. I have been rough on mine and it's still looks good as new.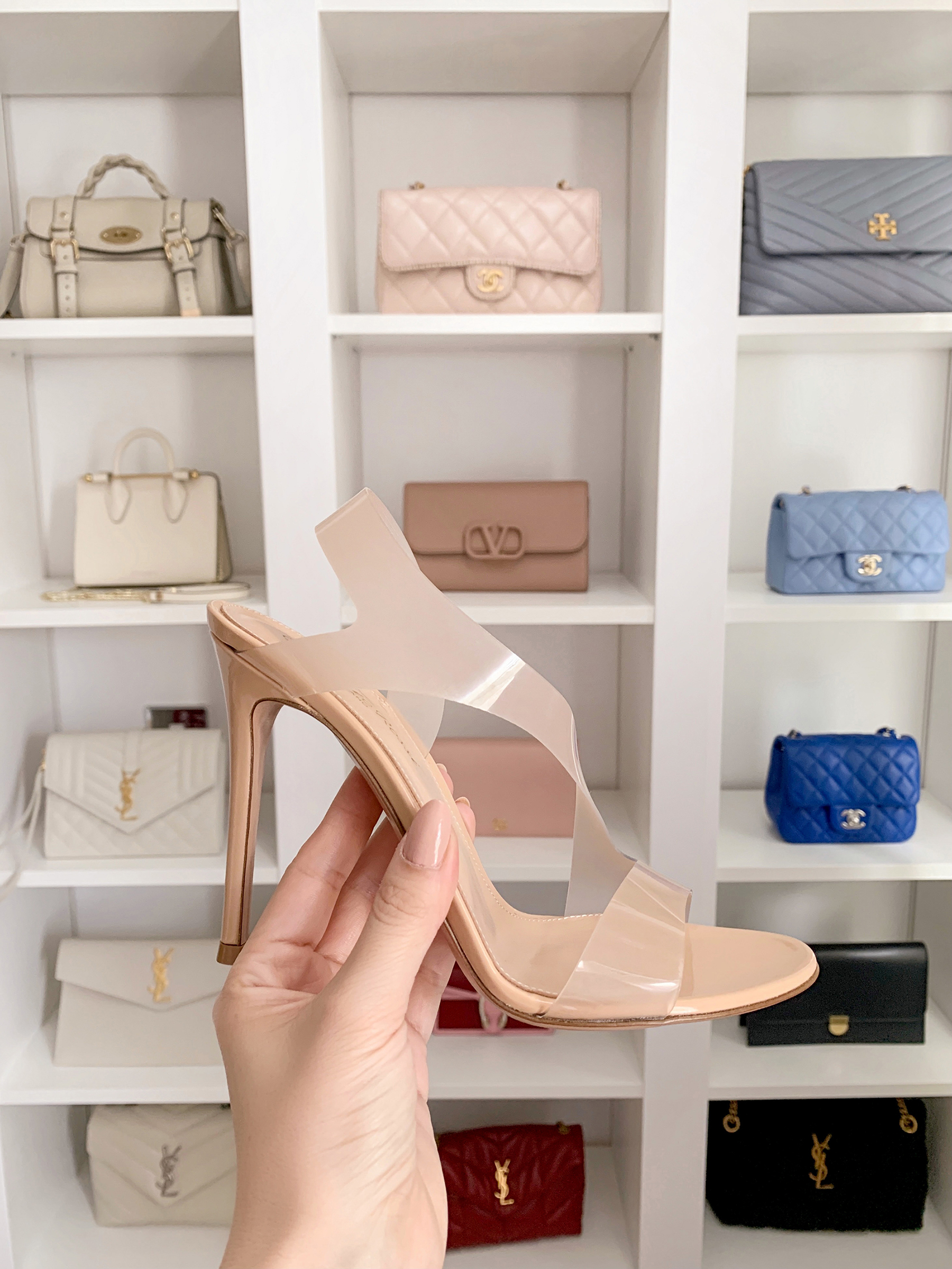 Finally, my new Gianvito Rossi plexi sandals are also included in the 15% off and the stackable discount. These are seriously so stunning and Gianvito Rossi is always such a favourite for me when it comes to shoes. They really are unparalleled in terms of quality and comfort.
10% off Saint Laurent
All images are clickable!
1. Loulou Latte // 2. White Wristlet // 3. Mock Croc Shoulder Bag // 4. Taupe Loulou // 5. Caramel WOC // 6. Nude Puffer Loulou // 7. Black Wristlet // 8. Envelope WOC // 9. Nude WOC // 10. Grey Shoulder Bag
Looking for Saint Laurent at a discount? Happily, that's been covered too! My code for the 10% off for new customers is also still live for a little longer. You just need to use code 10YTAMIE at checkout to claim the discount and you can see the full Saint Laurent bag selection here.
24s.com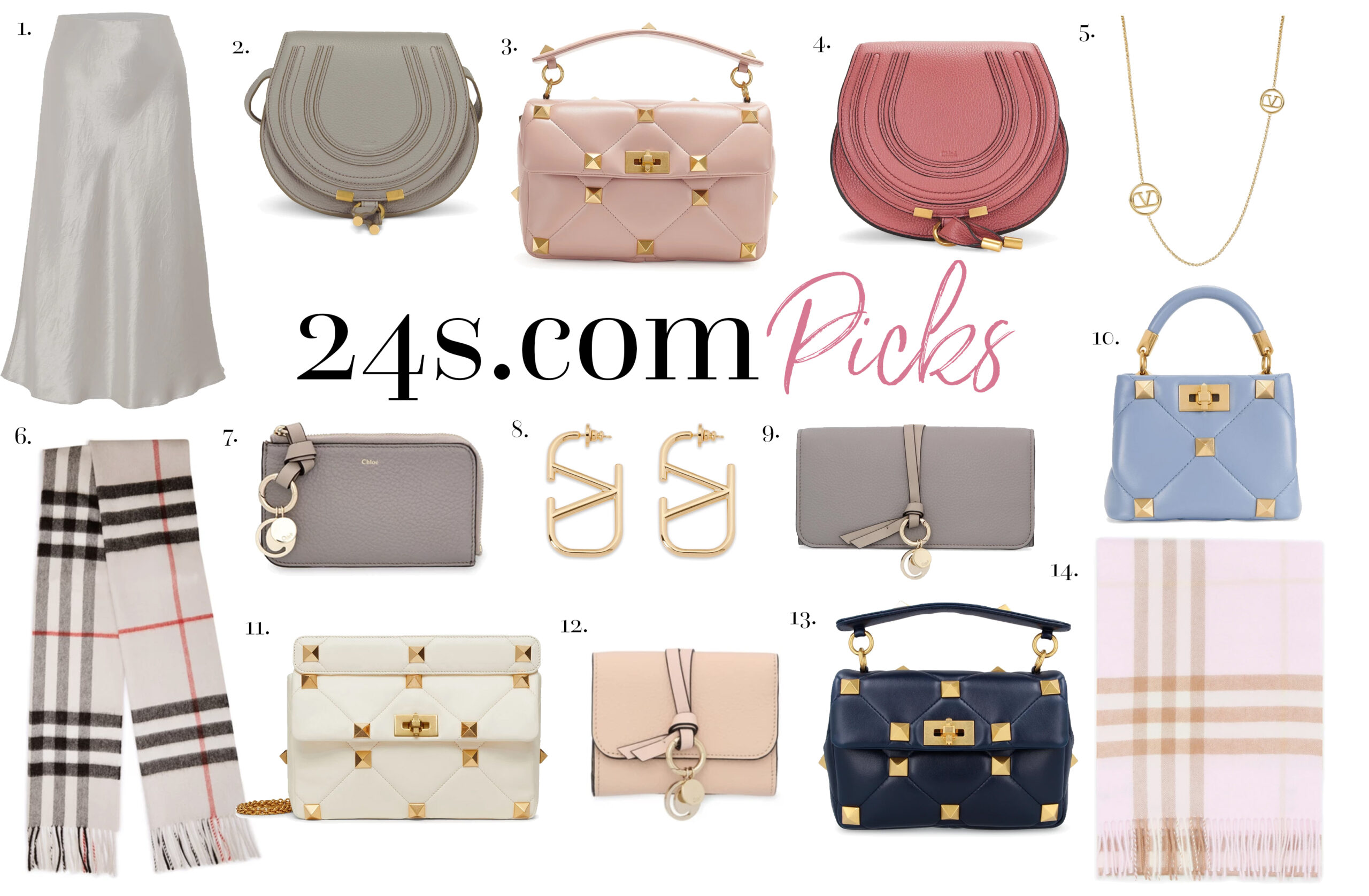 1. Max Mara Skirt // 2. Chloe Mini Marcie // 3. Valentino Roman Stud Poudre // 4. Chloe Mini Marcie Rose // 5. Valentino Necklace // 6. Burberry Scarf // 7. Chloe Grey Coin Purse // 8. Valentino Earrings // 9. Chloe Grey Wallet // 10. Valentino Blue Bucket Bag // 11. Valentino White Roman Stud // 12. Chloe Blush Mini Wallet // 13. Valentino Roman Stud Navy // 14. Burberry Pink Scarf
The 24s.com sitewide offer is also still live for one more day until Thursday 9th of September.
Here are the discount breakdowns:
£/$/€100 off a 500 spend – use code SHOP100
£/$/€200 off a 800 spend – use code SHOP200
£/$/€300 off a 1100 spend – use code SHOP300
There are brand exclusions but there is still so much good stuff included and if you calculate your spend precisely, it can work out to a huge 27% off!From classic Burberry scarves to my beloved Valentino Roman Stud bag.
10% off Louis Vuitton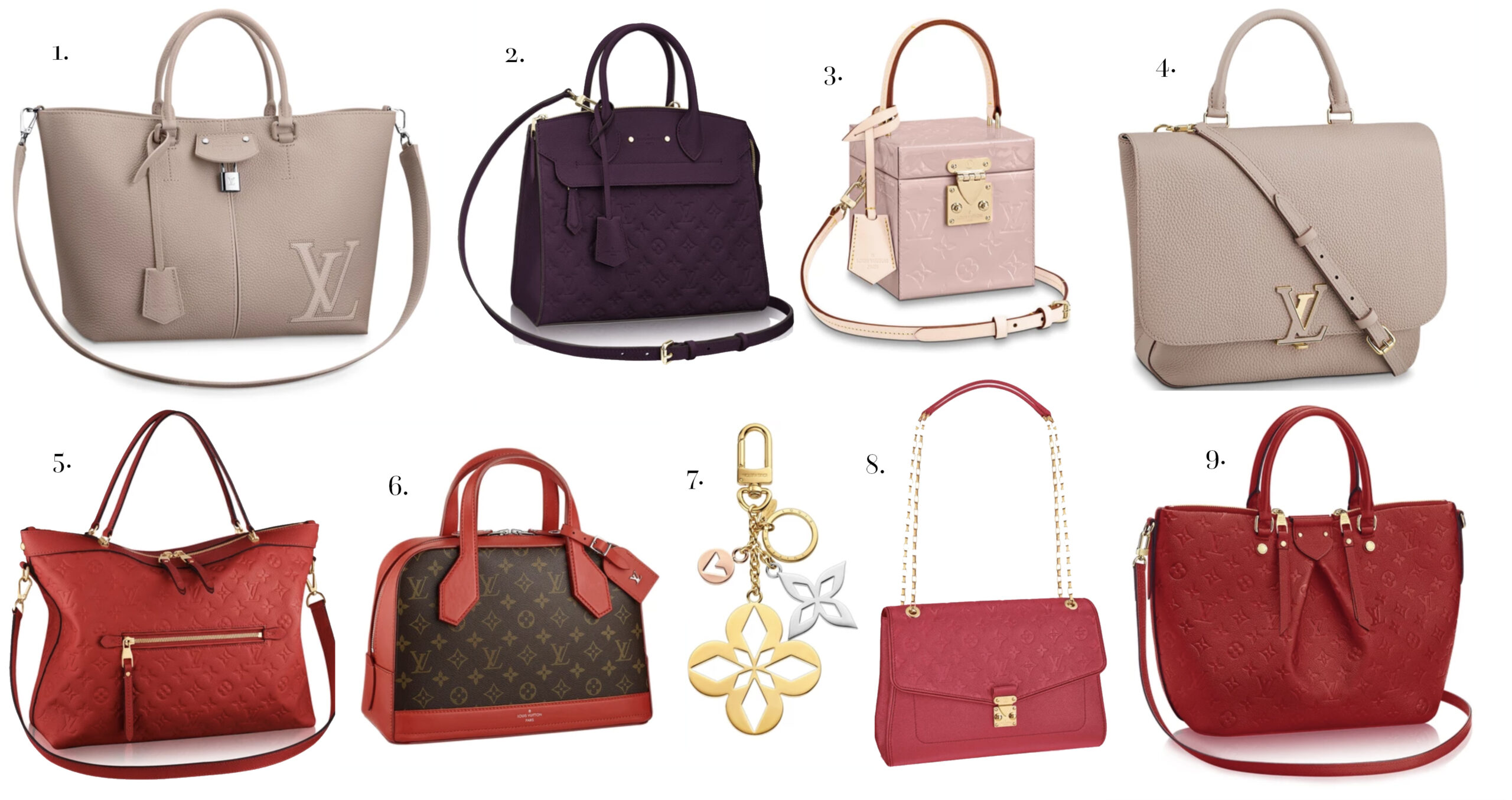 1. Galet Tote // 2. Empriente Top Handle // 3. Pink Box Bag // 4. Galet Messenger // 5. Red Empriente Bastille // 6. Monogram and Red Top Handle // 7. LV Keychain // 8. St Germain // 9. Red Empriente Top Handle
10% off Louis Vuitton Ultimates is still going strong – I've rounded up my favourite picks above! You'll need to use the code ULTIMATESFIRST10 at checkout to receive the 10% off any Louis Vuitton pieces included in this landing page (which includes all the items I've featured above!).
And that's it for this luxury sale round-up! I'm eagerly awaiting my orders from these sales, so I promise to share them when everything arrives! 🙂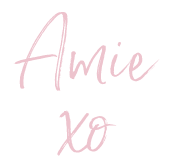 Disclaimer: This post is not sponsored, however I have previously worked with Farfetch and 24s.com
T&Cs for Farfetch – 10% off
This offer is valid for new customers only.
This offer is valid for full price items only.
This offer is valid for orders over 150 USD or the equivalent value in other currencies.
This offer is valid for selected brands and products only.
This offer can only be used once by an individual.
This offer is valid until 23:59 (BST) 22/09/2021.
This offer cannot be used in conjunction with any other FARFETCH offer.
FARFETCH reserves the right to withdraw this offer at any time without notice.