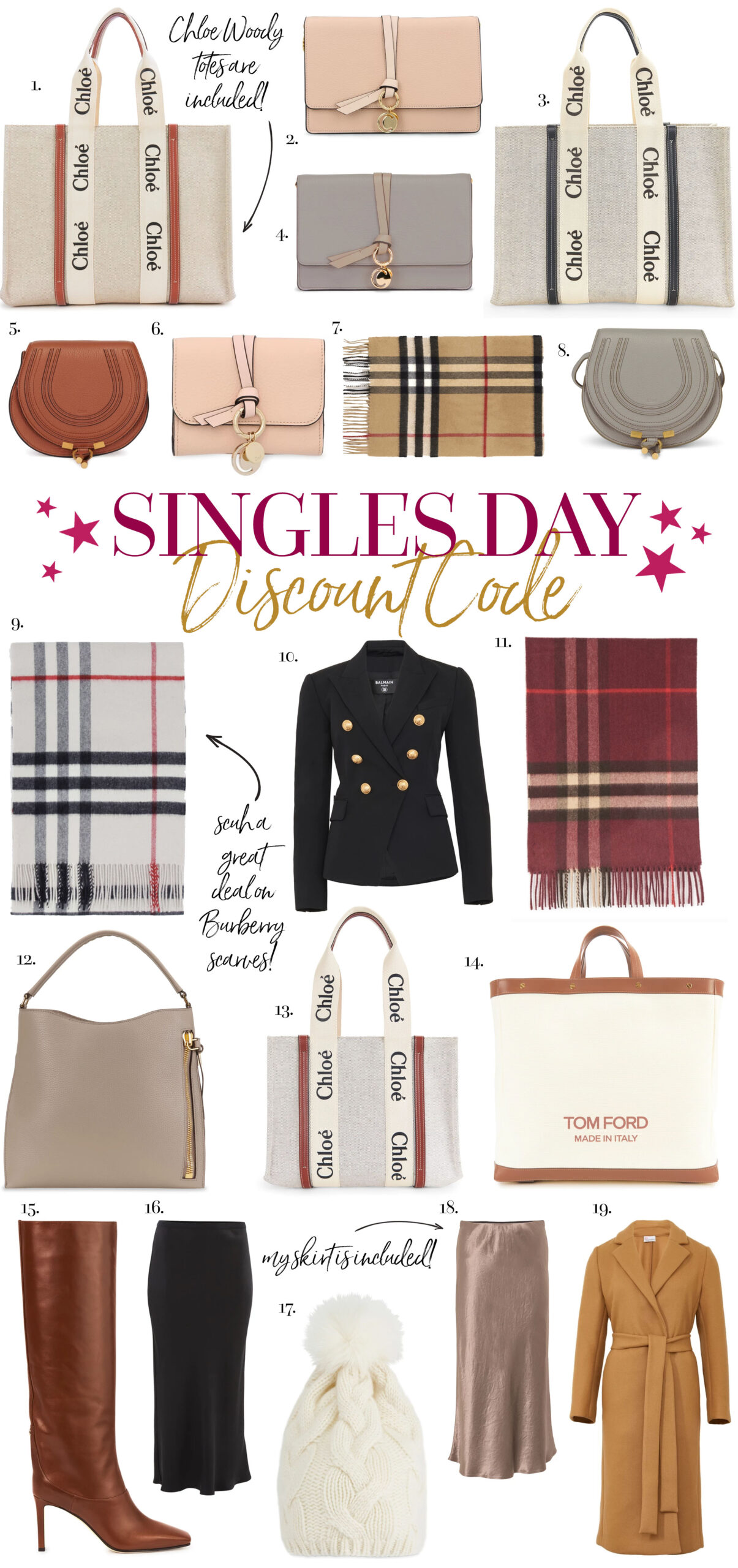 An amazing sale just launched at 24s.com for Singles Day! Singles Day has been getting bigger and bigger every year and last year saw some sales that were actually better than Black Friday. Needless to say I was pretty excited to see what this year had in store and 24s.com did not disappoint! They have gone live with a crazy good sale: you can get up to a huge 28% off your purchase – and there are some seriously amazing items included!
FEATURED ABOVE
1. Chloe Woody Beige/Brown Tote // 2. Chloe Pink Crossbody // 3. Chloe Grey/Navy Crossbody // 4. Chloe Woody Blue Tote // 5. Chloe Small Brown Saddle Bag // 6. Chloe Alphabet Mini Wallet // 7. Classic Burberry Scarf // 8. Chloe Small Grey Saddle Bag // 9. Burberry Stone Scarf // 10. Balmain 6 Button Jacket  // 11. Burberry Burgundy Scarf // 12. Tom Ford Alix Handbag // 13. Chloe Woody White/Brown Tote // 14. Tom Ford Travel Tote // 15. Jimmy Choo Mehesa Boot // 16. Anine Bing Black Silk Skirt // 17. Max Mara Crasso Beanie // 18. Max Mara Bias Cut Skirt // 19. Red Valentino Belted Coat
I've featured my favourite picks above and below – and had to split them into multiple collages because there is so much good stuff! From Chloe bags to Canada Goose coats to the whole Anine Bing line, there are some incredibly popular items that you can nab at up to 28% off. It is a tiered discount code with a different code for each level:
Take 22% off a spend of $/£/€ 250 – use code SINGLE22
Take 24% off a spend of $/£/€ 500 – use code SINGLE24
Take 26% off a spend of $/£/€ 1000 – use code SINGLE26
Take 28% off a spend of $/£/€ 2000 – use code SINGLE28
One thing to note: Chloe, Burberry, Max Mara, Miu Miu and Canada Goose items are only available at the discount level of 24% and above.
New To Sale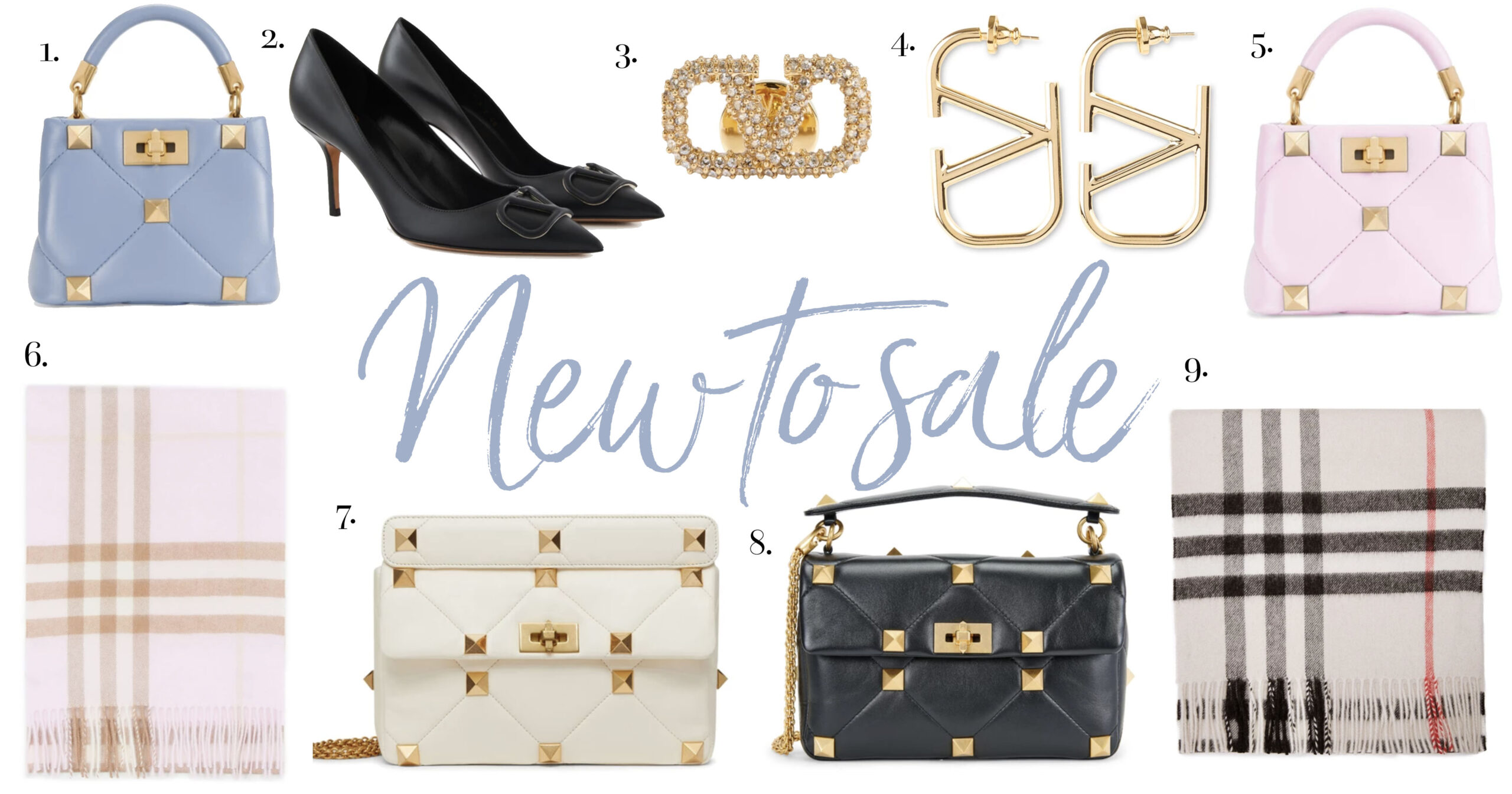 1. Valentino Bucket Bag // 2. Valentino Heels // 3. Valentino Stud Earrings // 4. Valentino Drop Earrings // 5. Valentino Pink Bucket Bag // 6. Burberry Pink Scarf // 7. Valentino White Roman Stud // 8. Valentino Black Roman Stud // 9. Burberry Stone Check Scarf
24s.com has also added some new lines to their discount code! Valentino has now been added – so you can get a huge 28% off their bags. They've also added women's Burberry scarves to the discount codes and for those of you who were trying to get the discount off Tom Ford, they've now fixed this bug too 🙂
Coats and Jackets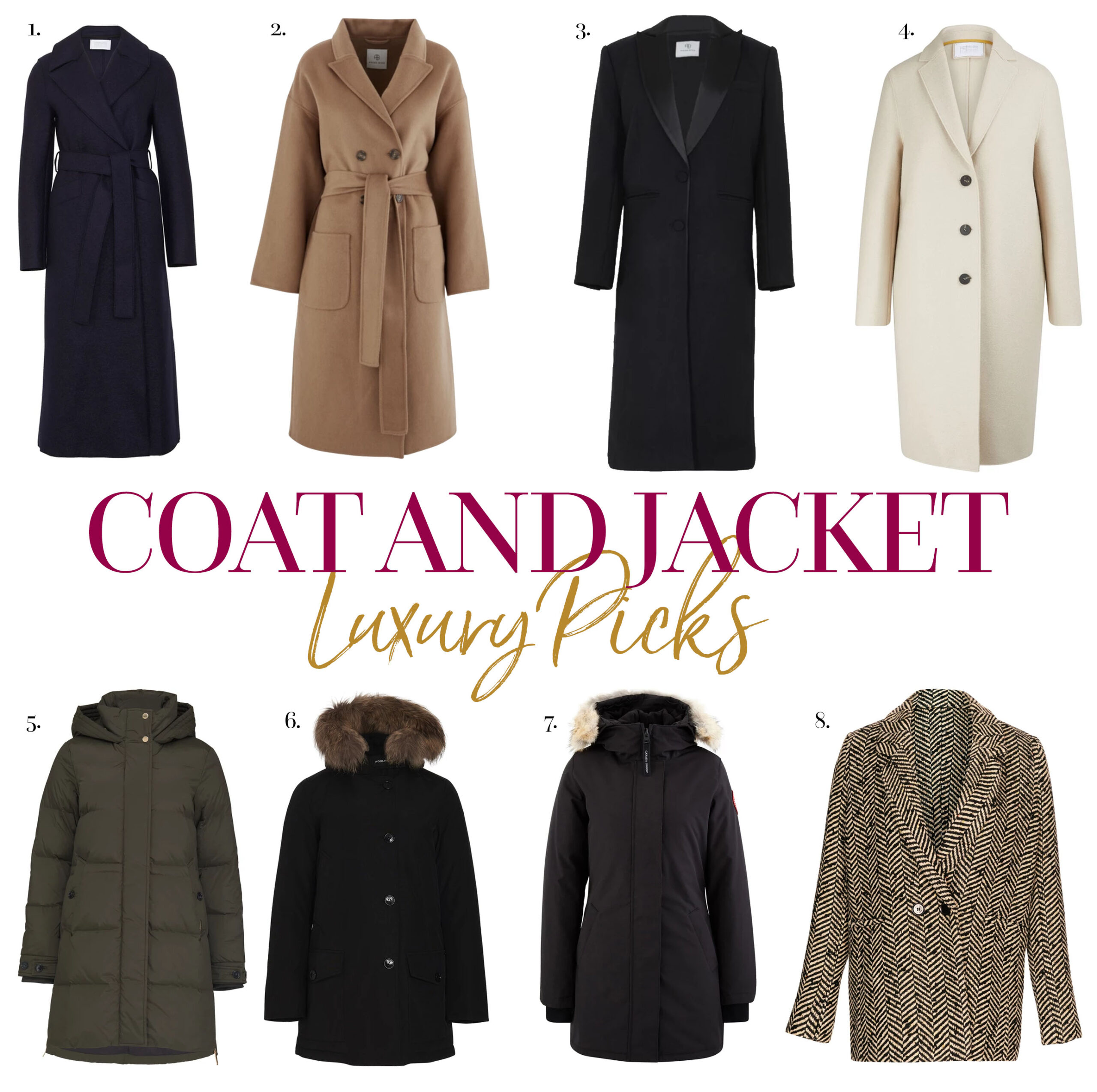 1. Harris Wharf London Pressed Wool Long Coat // 2. Anine Bing Wrap Coat // 3.  Anine Bing Black Coat // 4. Harris Wharf London Felted Wool Coat // 5. Woolrich Alsea Puffy Parka // 6. Woolrich Arctic Parka // 7. Canada Goose Victoria Parka // 8. Anine Bing Fishbone Blazer
It feels like it's fast approaching coat weather here in the UK and happily there are so many great new season styles included in the offer. A few brand call-outs here:
Harris Wharf – known for their beautifully tailored coats and beautiful quality.
Woolrich – I own one of their puffer coats myself and it's still in regular rotation, 6 years later! High quality and ridiculously warm.
Canada Goose – no introduction needed. Still so popular and pretty much the whole line is included.
Dresses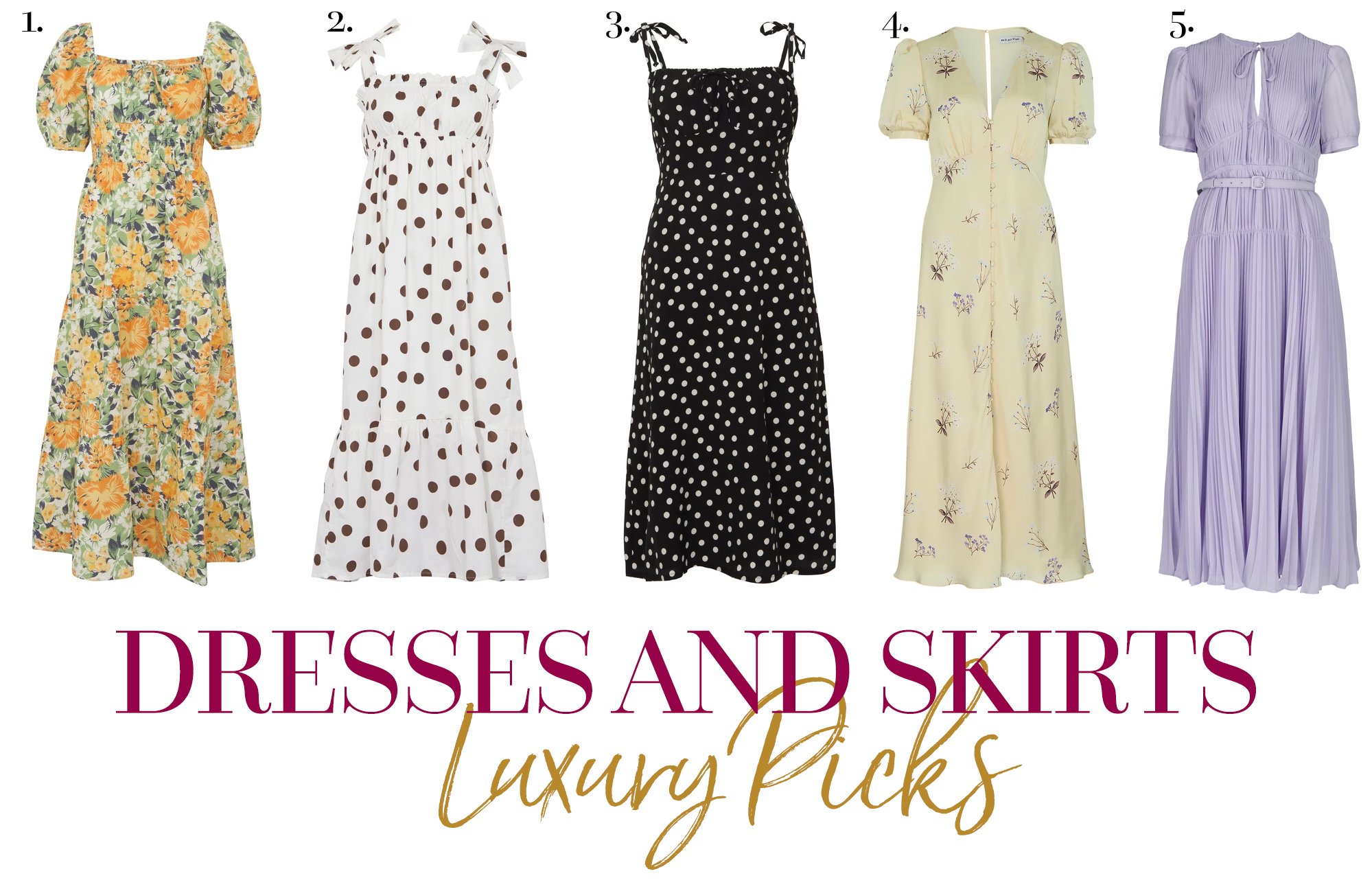 1. Faithfull The Brand Rene Midi Dress // 2. Faithfull The Brand Gia Midi Skirt // 3. Faithfull The Brand Robe Midi Raven Dress // 4. Self Portrait Floral Midi Dress // 5. Self Portrait Midi Dress
I also couldn't resist adding in a dress section – my picks aren't all that winter appropriate but there were too many beautiful styles to resist! Two of my favourite dress brands are included – Faithfull The Brand who does the most gorgeous printed dresses. Very French inspired, even though they're an Australian/ Bali based brand! And of course, Self-Portrait which needs no explanation of how gorgeous their pieces are!
Wardrobe Builders

1. Anine Bing Jacket // 2. Anine Bing Lesly Tank Top // 3. Anine Bing Sydney Sweater Cream // 4. Anine Bing Eva Tank Top // 5. Anine Bing Sydney Sweater Black
And now for probably my favourite section haha – I can never get enough of beautiful wardrobe basics in neutral colours. I know it may not be the most exciting section but here is where I usually get my best cost per wear! I ordered the Anine Bing asymmetrical tank and sweater myself – hopefully they'll arrive before the sale is over. If so, I'll share over on YouTube! 🙂
Items I Own and Love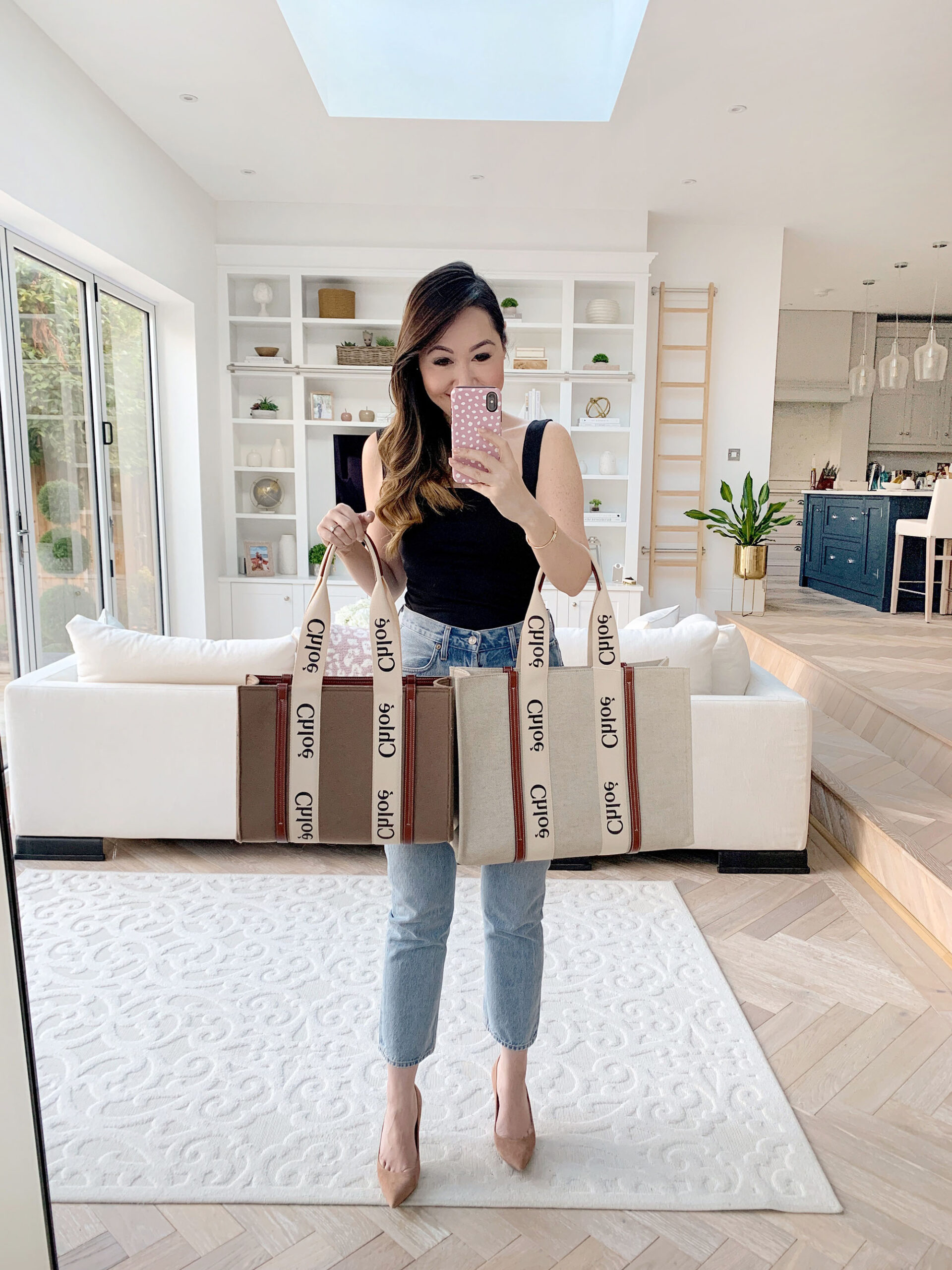 Finally, for a few pieces that I already own and love! The Chloe Woody totes are the big one here and I can hardly believe that they're included! You can get up to 28% off which is just incredible for such a popular bag. The large tote (pictured here on the right) in both the brown trim and the navy trim is included. You also have the medium size (the one on the left in this photo) included in both the brown trim and navy trim colours again. I'm sure these are going to sell out quickly so I would move on this deal asap if you have one on your wishlist!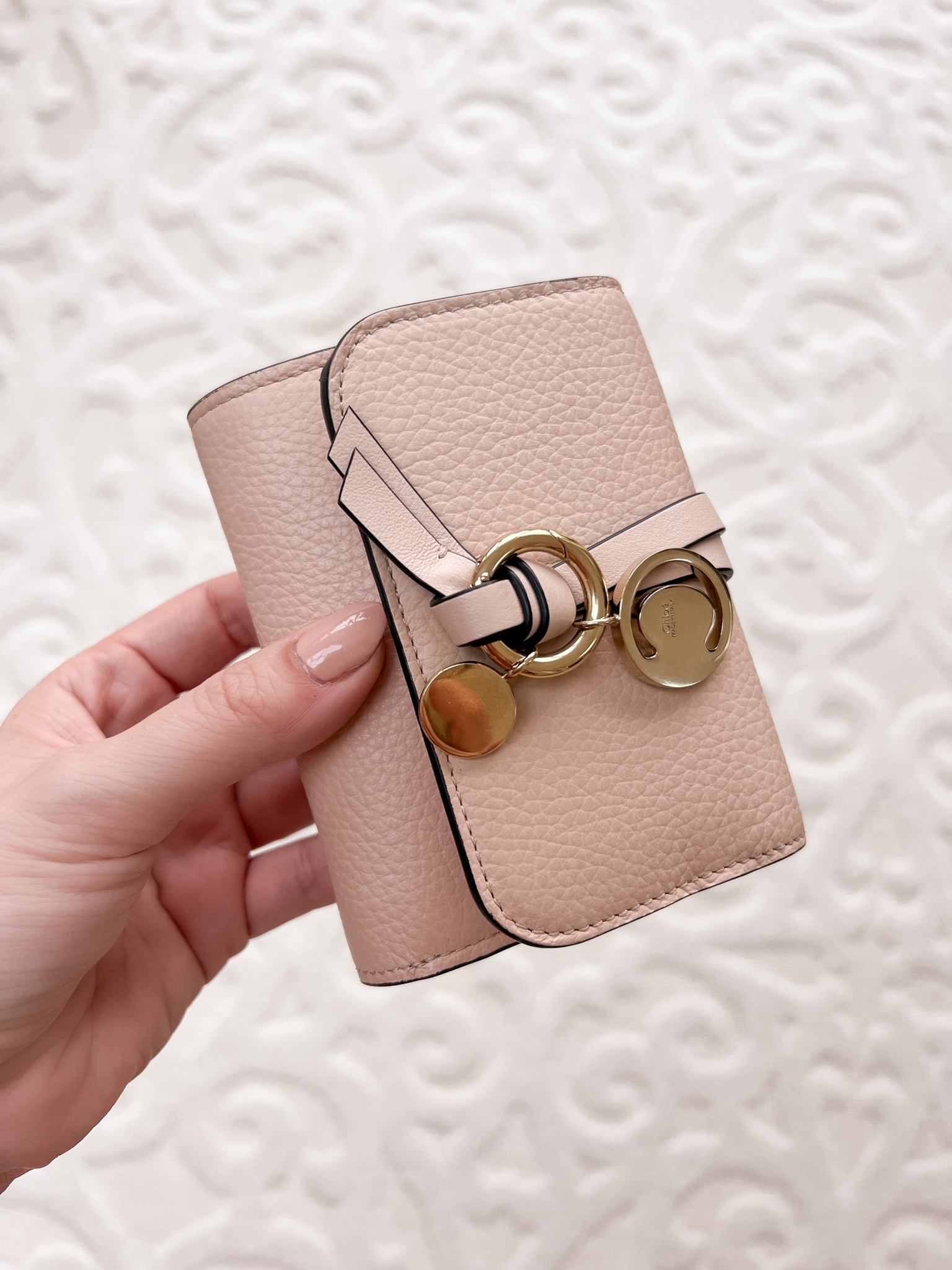 The Chloe wallet I got a couple of months ago is also included and is just the most adorable thing. I've not changed out of it since buying it! I love the adorable little charm on the front and it fits an absolute ton for such a tiny wallet. It fits in my smallest mini bags and I love the fact that it still manages to incorporate a bills section, coin compartment as well as plenty of room for all of my cards.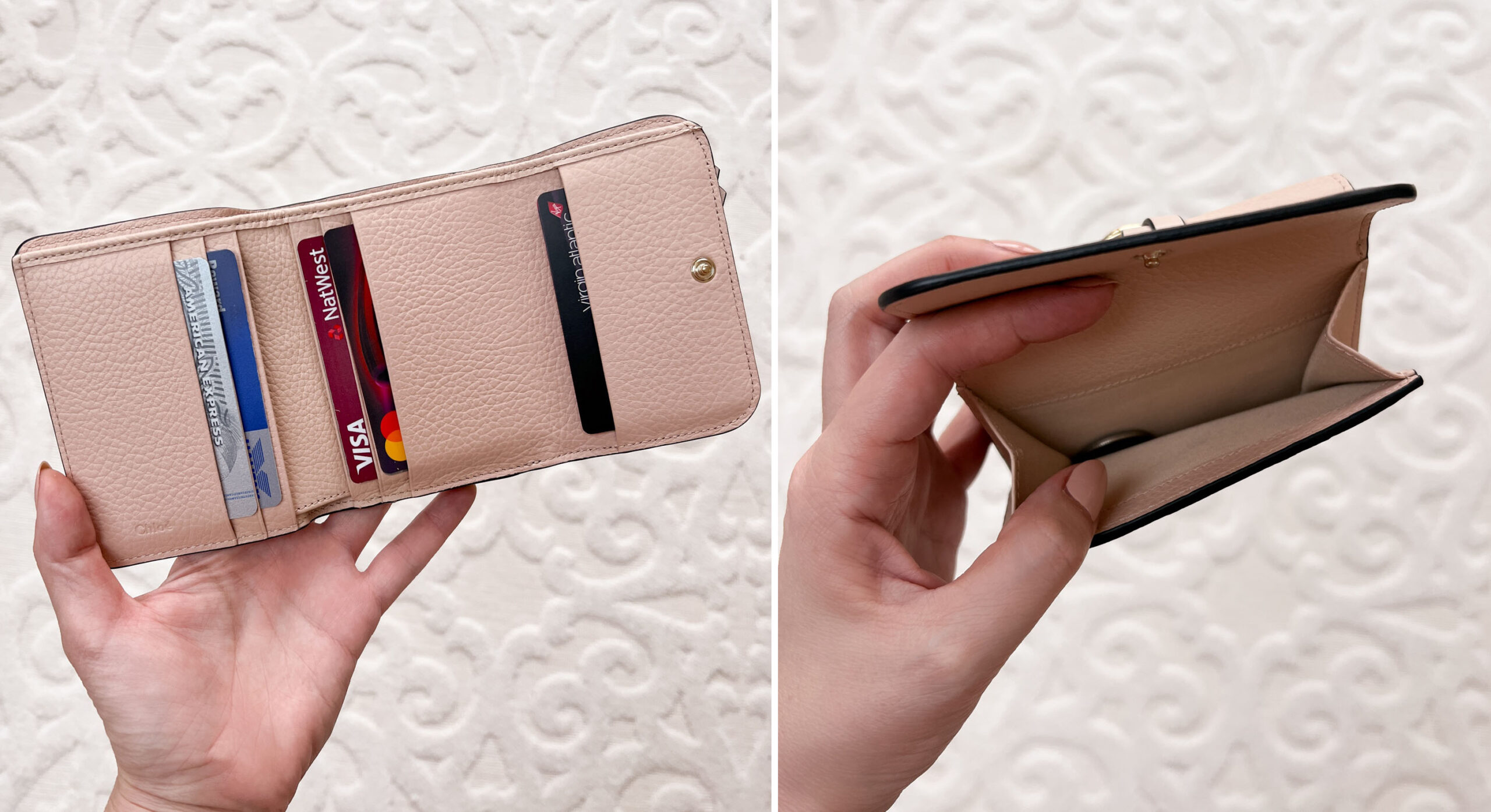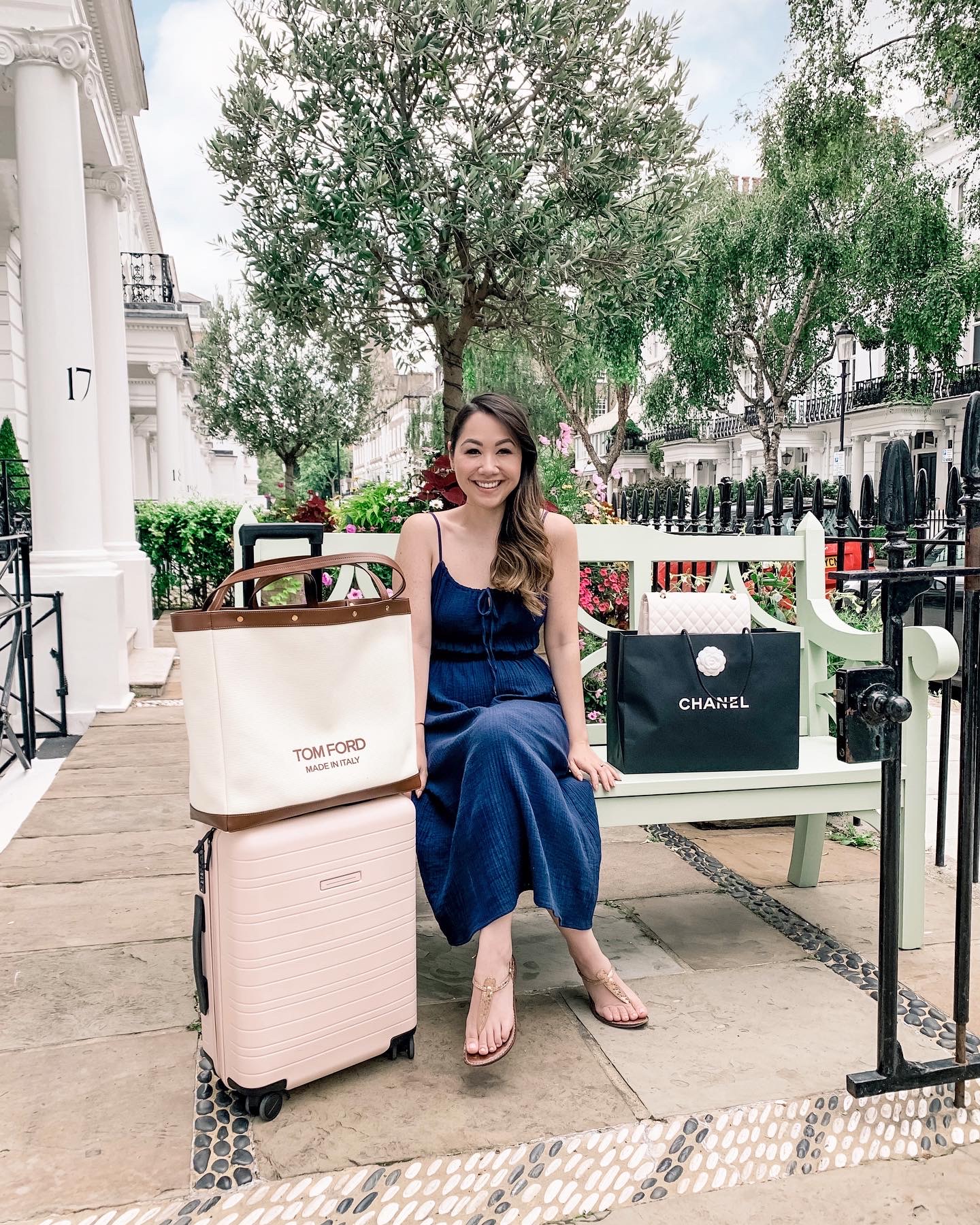 My Tom Ford travel tote is included too – I've spoken a lot about my love for this bag. It really is so comfortable to use for travel and I love the dual ways to wear it – great as a holdall but also so comfy as a shoulder bag too! It also helps that it's huge so fits an absolute ton haha.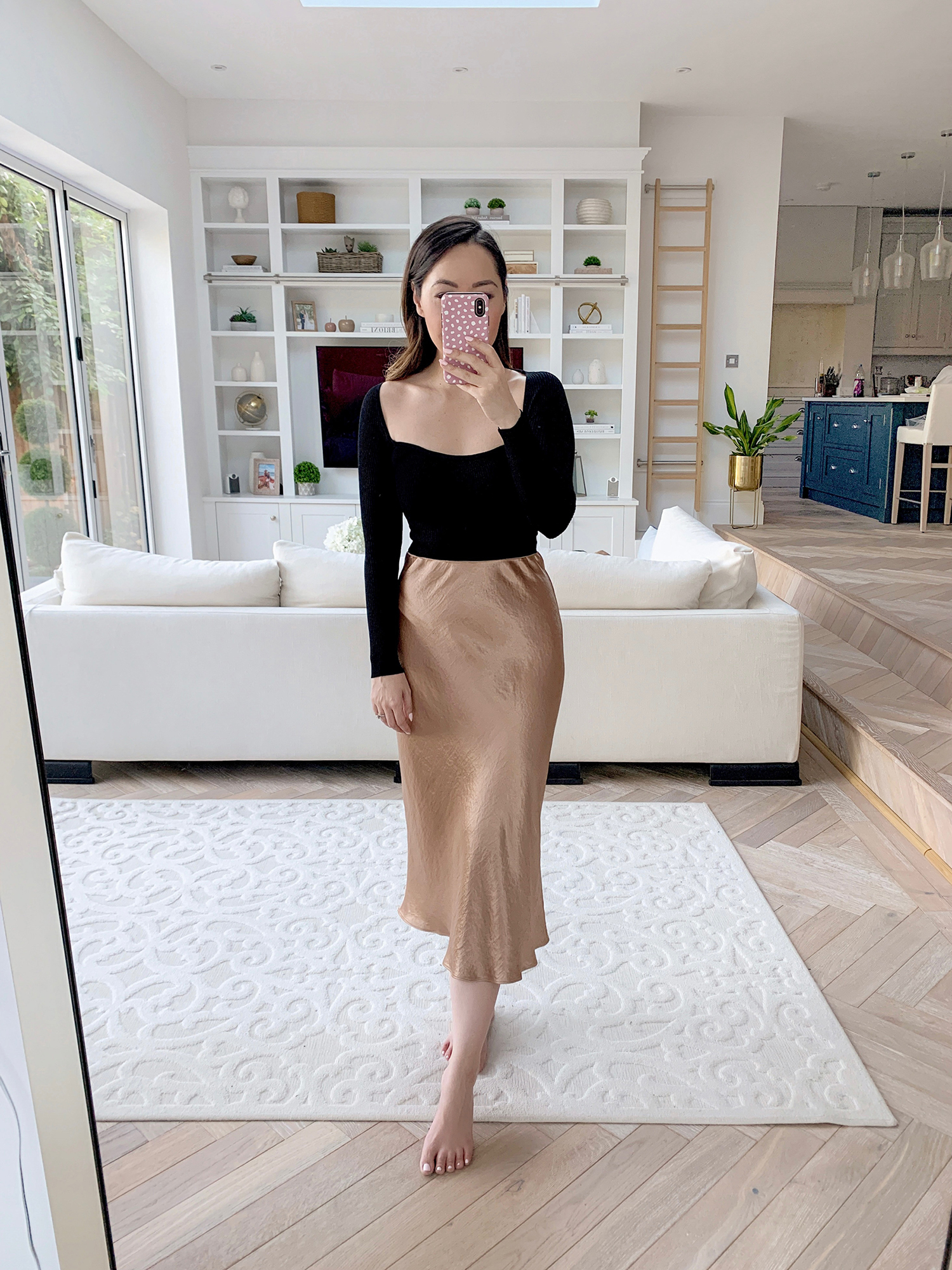 My Max Mara skirt is still fairly well stocked in terms of sizes and is available in both the bronze colour and the silver champagne colour! Such a great skirt and absolutely beautiful quality. The price isn't too crazy for a designer piece but obviously with the discount, it's even better!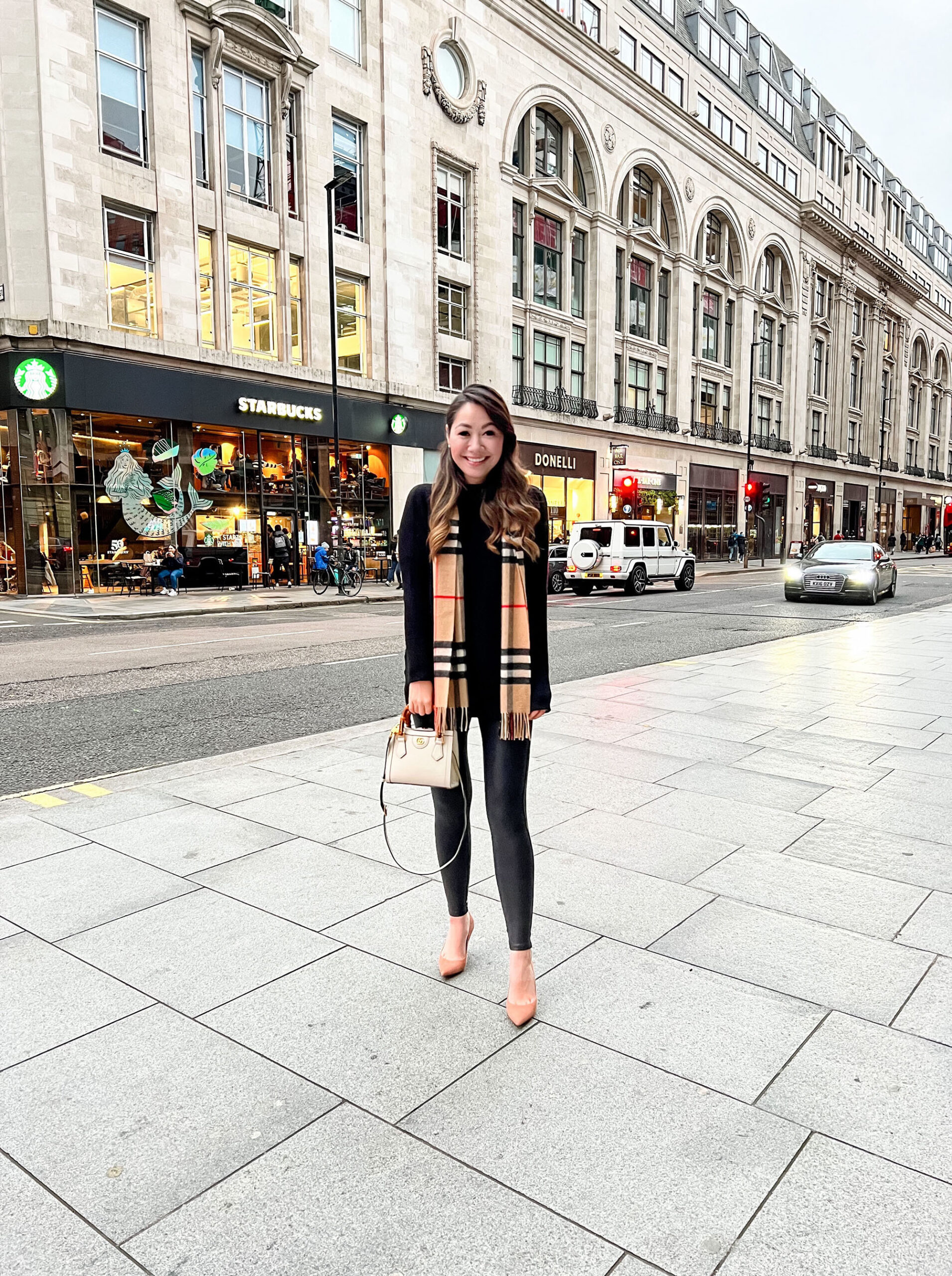 Finally, my Burberry scarf! I love these scarves so much and own them in a couple of colours. This is just one of those pieces where you'll get so much bang for your buck – it can go over everything and because they're so classic, they'll last you years and years. I bought mine 4 years ago and I still get so much wear out of it! The scarves in the women's section are excluded however all the Burberry scarves in the men's section are included (and as far as I can tell, this is a unisex scarf!) – including my giant check scarf, this fantastic navy one and this beautiful white version.
And that's it for this sale round-up! Let me know if you snag anything! 🙂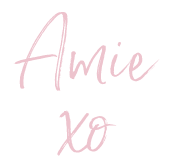 Thank you to 24s.com for partnering with me on this post!