Labor Day weekend is always known for its fantastic shopping and this year certainly didn't disappoint. Even though Labor Day is a US holiday, most of these sales are happily available worldwide.
LOUIS VUITTON PICKS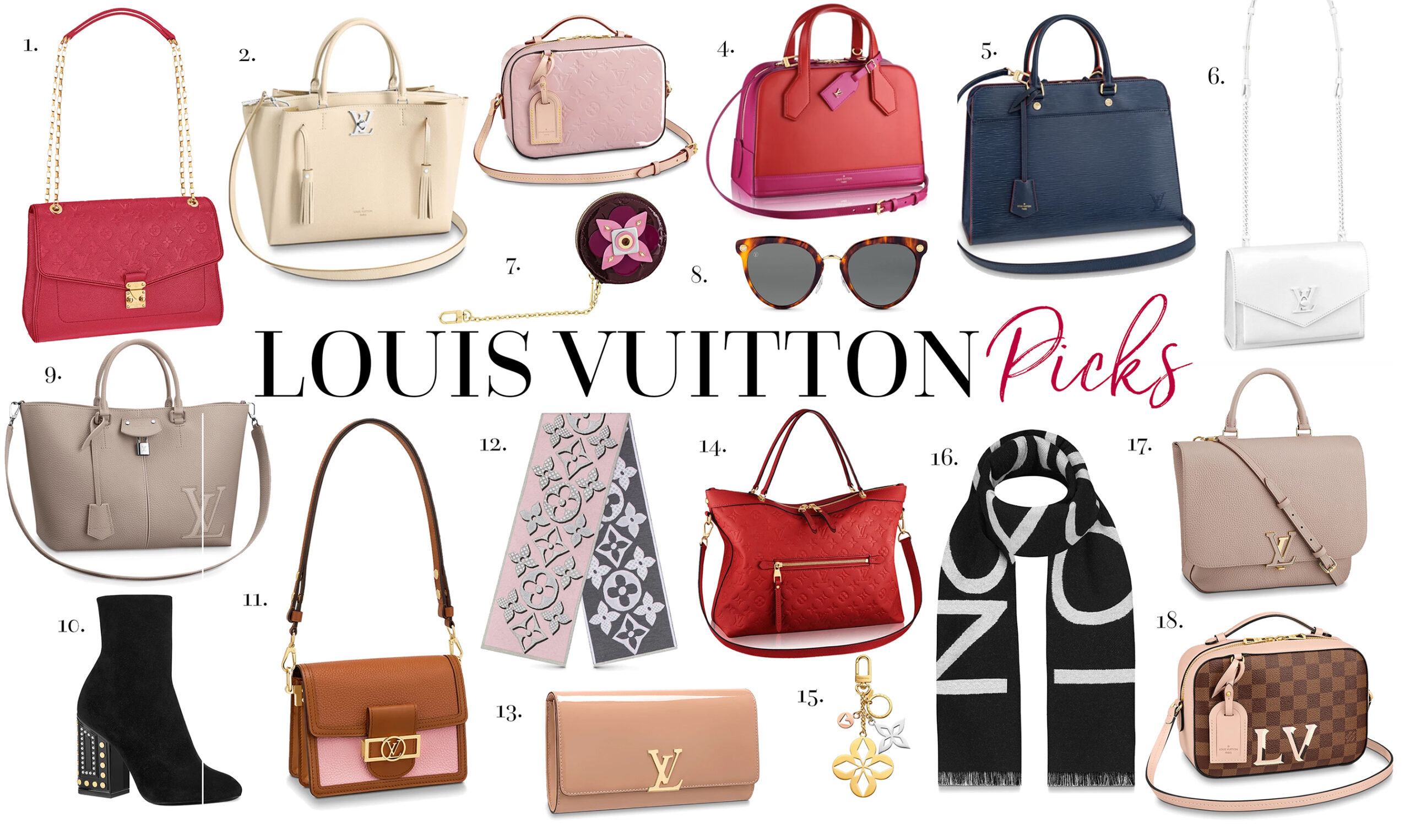 1. St Germain Bag // 2. Cream Top Handle // 3. Vernis Crossbody // 4. Pink and Red Top Handle // 5. Navy Top Handle // 6. Lockme Bag // 7. Coin Purse // 8. Sunglasses // 9. Galet Tote // 10. Ankle Boots // 11. Tan and Pink Bag // 12. Pink and Grey Scarf // 13. Louise Clutch // 14. Empriente Shoulder Bag // 15. Keyring // 16. Logo Scarf // 17. Galet Top Handle // 18. DE Camera Bag
First up is Louis Vuitton! 24s.com have an exclusive collection of Louis Vuitton pieces AND there's a discount code that actually works on these pieces! If you use the code ULTIMATESFIRST10 at checkout, you'll nab 10% off! The discount code works on all Louis Vuitton pieces on this landing page.
Needless to say, a discount off Louis Vuitton is completely unheard of so this is absolutely amazing! Stock is extremely limited though and there are often only one or two pieces of each item. Whilst stock won't be replenished, there will be new item drops periodically. I'll of course share these as soon as they do, so make sure to follow along my IG stories for the notifications 🙂
24S.COM PICKS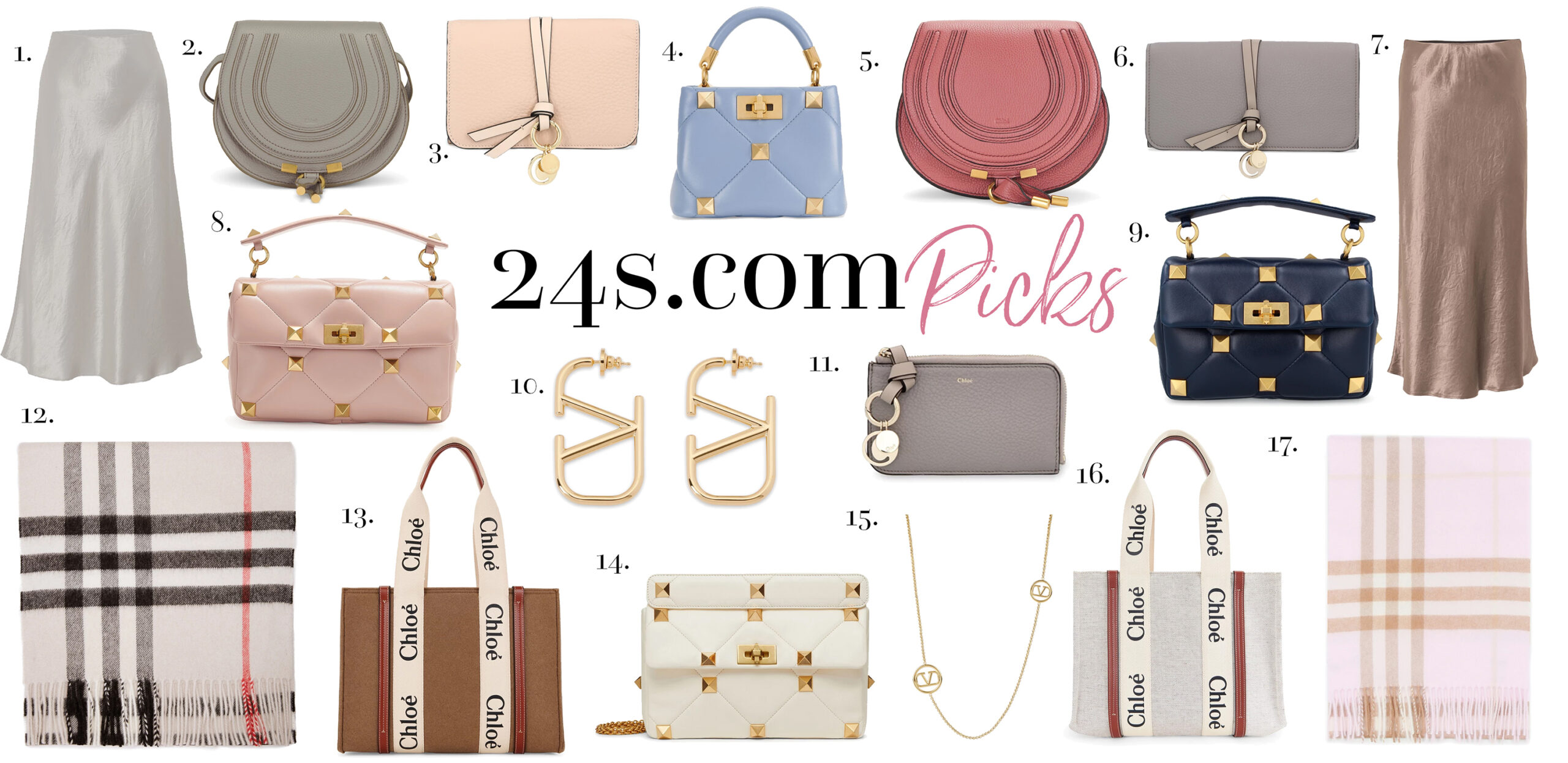 1. Max Mara Champagne Skirt // 2. Chloe Grey Mini Marcie // 3. Chloe Blush Wallet // 4. Valentino Blue Bucket Bag // 5. Chloe Dusky Rose Mini Marcie // 6. Chloe Grey Wallet // 7. Max Mara Bronze Skirt // 8. Valentino Roman Stud Bag // 9. Valentino Navy Roman Stud // 10. Valentino Earrings // 11. Chloe Card Holder // 12. Burberry Scarf // 13. Chloe Brown Woody Tote // 14. Valentino White Roman Stud // 15. Valentino Necklace // 16. Chloe Grey Woody Tote // 17. Burberry Scarf
24s.com are also hosting a separate discount code off all other merchandise – there are some brand exclusions but a ton of amazing items are included! Here are the discount breakdowns:
£/$/€100 off a 500 spend – use code SHOP100
£/$/€200 off a 800 spend – use code SHOP200
£/$/€300 off a 1100 spend – use code SHOP300
If you calculate your spend precisely, it can work out to a huge 27% off!
I nabbed this Chloe Woody tote and a gorgeous little Chloe wallet but there is so much good stuff! From classic Burberry scarves to my beloved Valentino Roman Stud bag!
FARFETCH
All images are clickable!
1. Loulou Latte // 2. White Wristlet // 3. Mock Croc Shoulder Bag // 4. Taupe Loulou // 5. Caramel WOC // 6. Nude Puffer Loulou // 7. Black Wristlet // 8. Envelope WOC // 9. Nude WOC // 10. Grey Shoulder Bag
My Farfetch discount code is still live and it can nab you 10% off most items at Farfetch (including as a stackable discount off sale items!). Saint Laurent is the big one here as it's now pretty much impossible to find the brand at any kind of discount. I've rounded up my favourite picks above (can you tell I like neutrals?!).
You'll need to use 10YTAMIE at checkout – and it needs to be a new email address that isn't previously registered at Farfetch.
SENREVE
1. Aubergine Aria // 2. Sand Aria // 3. Chestnut Aria // 4. Mauve Aria // 5. Mauve Maestra // 6. Blush Alunna
Senreve currently have their handbag revival sale ongoing, where they sell slightly imperfect bags at a discount! You can choose your discount level – and the number of 'flaws' at that level. I've bought twice at the 20% off level, and to date, I still don't know what's wrong with the bags. Mine look perfect – even to my very picky eye!
Stock does seem to be moving very quickly – occasionally they do replenish though so it's worth checking back if you had your eye on something in particular. One particular callout is my beloved Aria in the chestnut colour – currently in stock and available at the 20% (i.e. almost perfect) discount level.
MIRTA

1. Cherry Red Top Handle  // 2. Navy Top Handle // 3. Brown Opera Bag // 4. Yellow Top Handle // 5. Plum Shoulder Bag
Mirta are doing an exclusive offer for September 9th, where you can take $90 off any purchase of $450 or more. If you're not familiar with Mirta, then they are an online marketplace for Italian artisans. Imagine actually visiting Italy and shopping at the individual boutiques and stores – that's what you're shopping here. I have two bags (from two different handbag makers sold at Mirta) and they are so beautiful! The leather quality is fantastic, especially at this price point.
You'll need to use code SUPER99MIRTA at checkout to nab the discount.
ELEMIS (US only)
1. Cleansing Balm // 2. Collagen Day Cream // 3. Reviving Eye Cream // 4. Rose Cleansing Balm // 5. Night Cream
All images are clickable!
Elemis are having a fantastic Labor Day sale in the US, where you can take a huge 25% off their full sized bestsellers – plus if you spend over $100, then you also get a free gift with purchase. Elemis is a fairly new discovery for me – I tried their cleanser earlier in the year and have been hooked ever since. I rotate between the rose scented one and their regular balm cleanser (the only difference is the scent, I just like to switch it up for the variety) and they are seriously game changers for your skin. They leave my skin so soft, bright and glowing – I can see the difference immediately!
I've also been trying their collagen day cream which is now another favourite. I've really been focusing in on making sure my skin is hydrated enough recently and this is the perfect consistency – thick enough that it feels like it's doing something whilst still being fast absorbing and non-greasy. Love!
You'll need to use code LABORDAY at checkout to nab the discount.
Let me know if I missed any out!