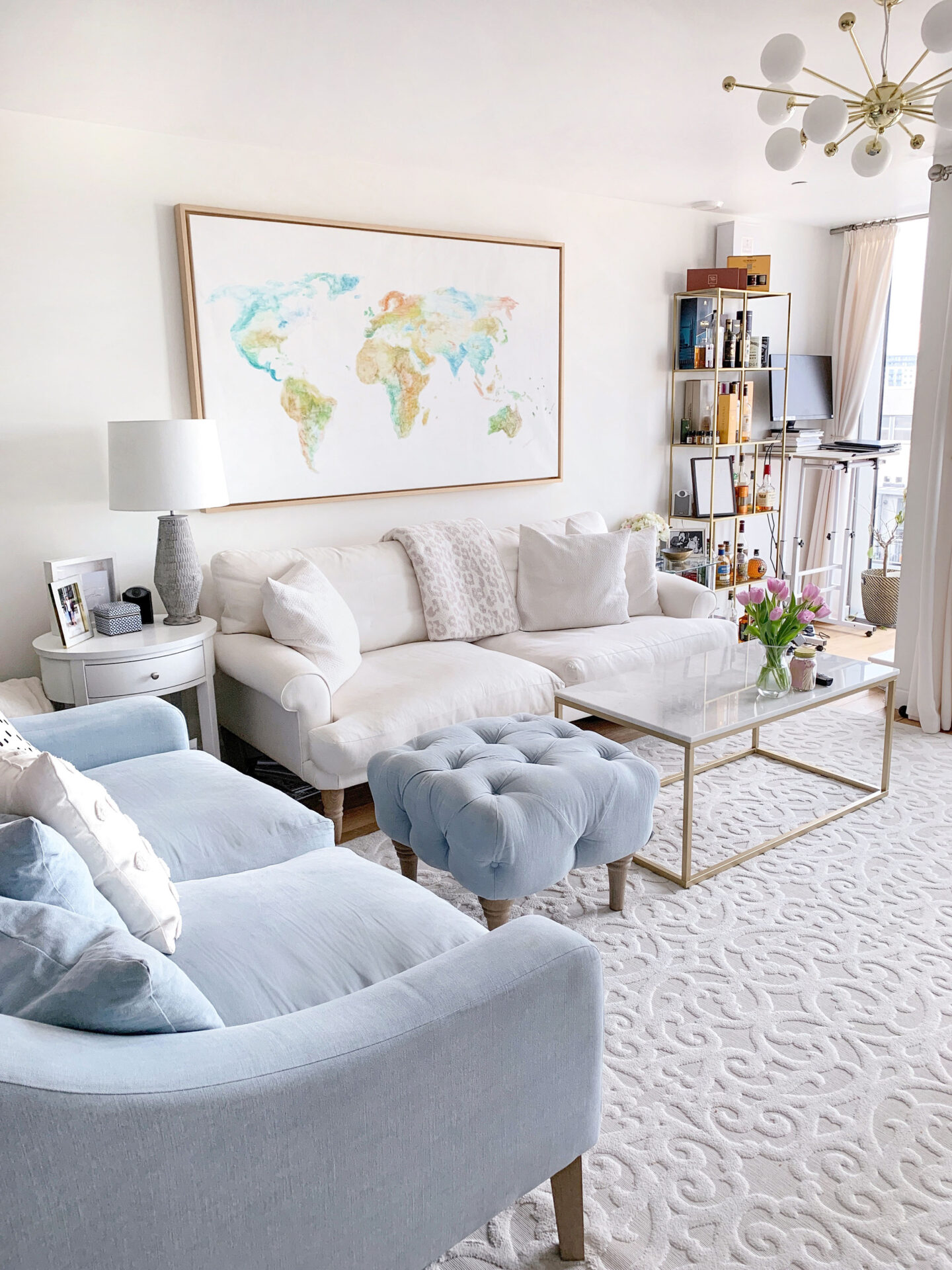 I've been getting so many questions about where I got my furniture and decor pieces from my one living room photo that I shared on Instagram that I thought I would do a round-up of everything here!
My goal for the living room was to keep it light and bright whilst still being cosy. The colour scheme couldn't be too feminine (Dan used to live here when it was a bachelor pad so I didn't want it to seem completely alien haha!) so we just went for white and light blue.
FEATURED ABOVE
White Sofa: Loaf Slow Coach Sofa in 'Oyster White Clever Linen'
Blue Sofa: Loaf Oscar Sofa in 'Soothing Blue'
Footstool: Loaf Dimple Footstool in 'Soothing Blue'
Coffee Table – mine is sold out but this is a similar one (Using gold spray paint on any cheaper furniture items is always an option and something I do frequently to get the look I want!)
Gold Shelf (used as a 'Whisky Shelf')
Map Artwork – Painted by Dan
The main thing for me was the sofas – I had lusted after a Loaf sofa for so long so I was so happy that I was able to get one! We had originally ordered our main sofa from another store but we had so many issues with it that we ended up returning it and getting another Loaf one – so both the white one and the blue one (along with the foot stool) are from Loaf. They are pricey but what I love about them is that even though they are made to order, if you don't like it when they deliver – you can get a full refund which really takes the pressure off such a large purchase.
**A note about the items we ordered from Loaf – we opted for the high legs on every item. I didn't realise until I visited their showrooms but their sofas are really, really low so opting for the taller legs just brought them up to (what we consider to be) a normal height.**
I imported both my rug and side table from the US – which I know sounds crazy but I just couldn't find anything I liked in the UK that was a reasonable price. Even with the shipping prices and customs, both items ended up being cheaper then my second choices in the UK. I bought my rug from Bed, Bath and Beyond who are currently out of stock but it's also available here. My side table is a fairly plain white one but I struggled to find one that was a decent size in the UK – they all seem to be made a bit smaller here. This one was ideal and a great price.
Finally, the newest addition to our living room is Dan's standing desk in the corner. Sitting at our dining room table really wasn't working for him so he decided to give a standing desk a try and he loves it. I don't think it's for everyone (I hate the idea!) but he's used it every day and hasn't looked back.
Hopefully that covers everything you wanted you know, let me know if you have any other questions!