All images are clickable!
Cyber Week sales are here! They have started off with a bang with so many amazing sales live already! The above collage is a mix of all retailers but I've also done my best to break the best deals down by retailer below. I'm anticipating many more sales to be going live over the next couple of days so I'll be adding to this post as they launch!
FEATURED ABOVE
1. Chloe Shearling Woody Tote // 2. Missoma Green Pendant Necklace // 3. Burberry Checked Scarf // 4. Anine Bing Chelsea Boots // 5. Chloe Mini Marcie // 6. Ear Crawler Earrings // 7. Balenciaga Top Handle // 8. Diptyque Candles // 9. Stuart Weitzman OTK Boots // 10. Longchamp Travel Bag // 11. Canada Goose Jacket // 12. Tory Burch Perry Tote // 14. Cami NYC Camisole // 14. Tory Burch Puffer Tote // 15. Diptyque Candle // 16. Leopard Print Blanket // 17. Monica Vinader Bracelet // 18. Tory Burch Eleanor Crossbody
There are too many great sales and deals to go over individually but some of my absolute favourites include Diptyque candles at between 20-25% off at 24s.com (use code BLACKFRIDAY20 for 20% off $/£/€ 250 or more, and code BLACKFRIDAY25 for 25% off a spend of $/£/€ 500 or more).
I've shopped this one myself and purchased multiples of both the Biscuit holiday candle and the holiday trio sets to give as gifts. I've smelt them all and they are all incredible and will make for the most stunning gifts!
Other favourites include my green pendant necklace from Missoma (use code AMIE25 for 25% off at checkout), my Tory Burch Perry tote in the gorgeous chestnut colour, Barefoot Dreams leopard blankets and my sparkly ear crawlers (the perfect holiday-ready earring!).
For a full round-up of the 24s.com sale (which is an amazing one!), see my post here!
SENREVE
All images are clickable!
1. Continental Clutch // 2. Aria Belt Bag // 3. Midi Maestra // 4. Aria Belt Bag // 5. Mini Maestra // 6. Poema Pouch // 7. Mini Meastra // 8. Aria Belt Bag // 9. Aria Belt Bag // 10. Mini Maestra // 11. Alunna Bag //
Senreve have gone live with the most amazing offer I have ever seen from them! You can take a huge 25% off anything in this landing page AND it's stackable with their gift with purchase offer! You'll need to use the code THANKS25 and then you'll be prompted at checkout to select your free gift.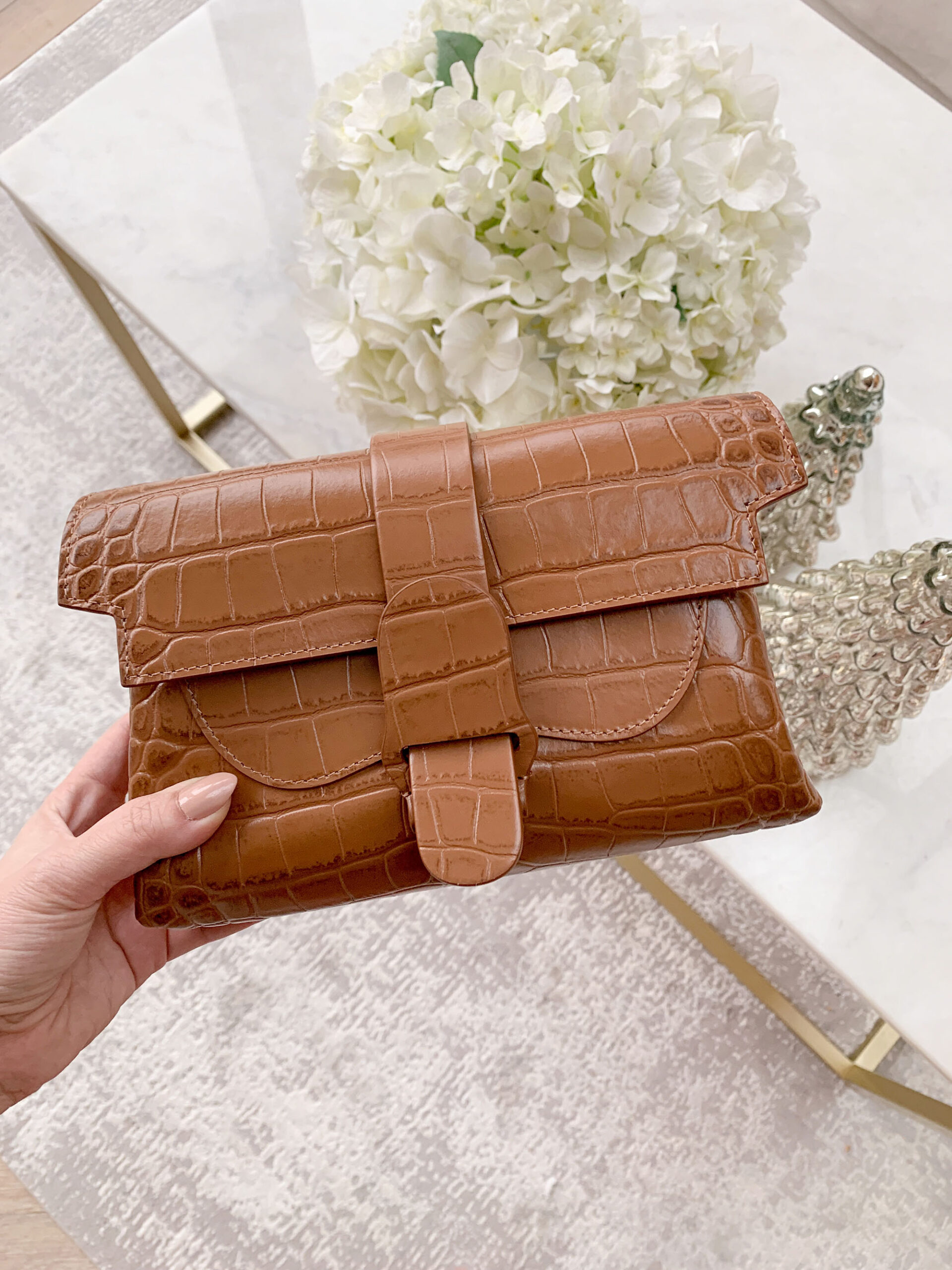 Both of my favourite Arias in the chestnut are included (in both the mock croc and the plain leather version) – you can nab 25% off these AND choose a chain as your gift with purchase! Stock is very limited though so I would move quickly if there was something you had your eye on!
REFORMATION
All images are clickable!
1. Crimini Dress // 2. Kourtney Dress // 3. Ami Dress // 4. Juliette Dress // 5. Rylan Two Piece // 6. Calla Top // 7. Juliette Dress // 8. Kourtney Dress // 9. Sigmund Dress // 10. Nikita Dress // 11. Cello Top // 12. Henrietta Cashmere Dress // 13. Cumberland Coat // 14. Val Regenerative Wool Cardigan // 15. Bard Dress //
Reformation has gone live with a huge 25% off sitewide!
So many of my wardrobe favourites are from Reformation including my cashmere sweater dress (size XS) and my new navy midi dress (size US 4)!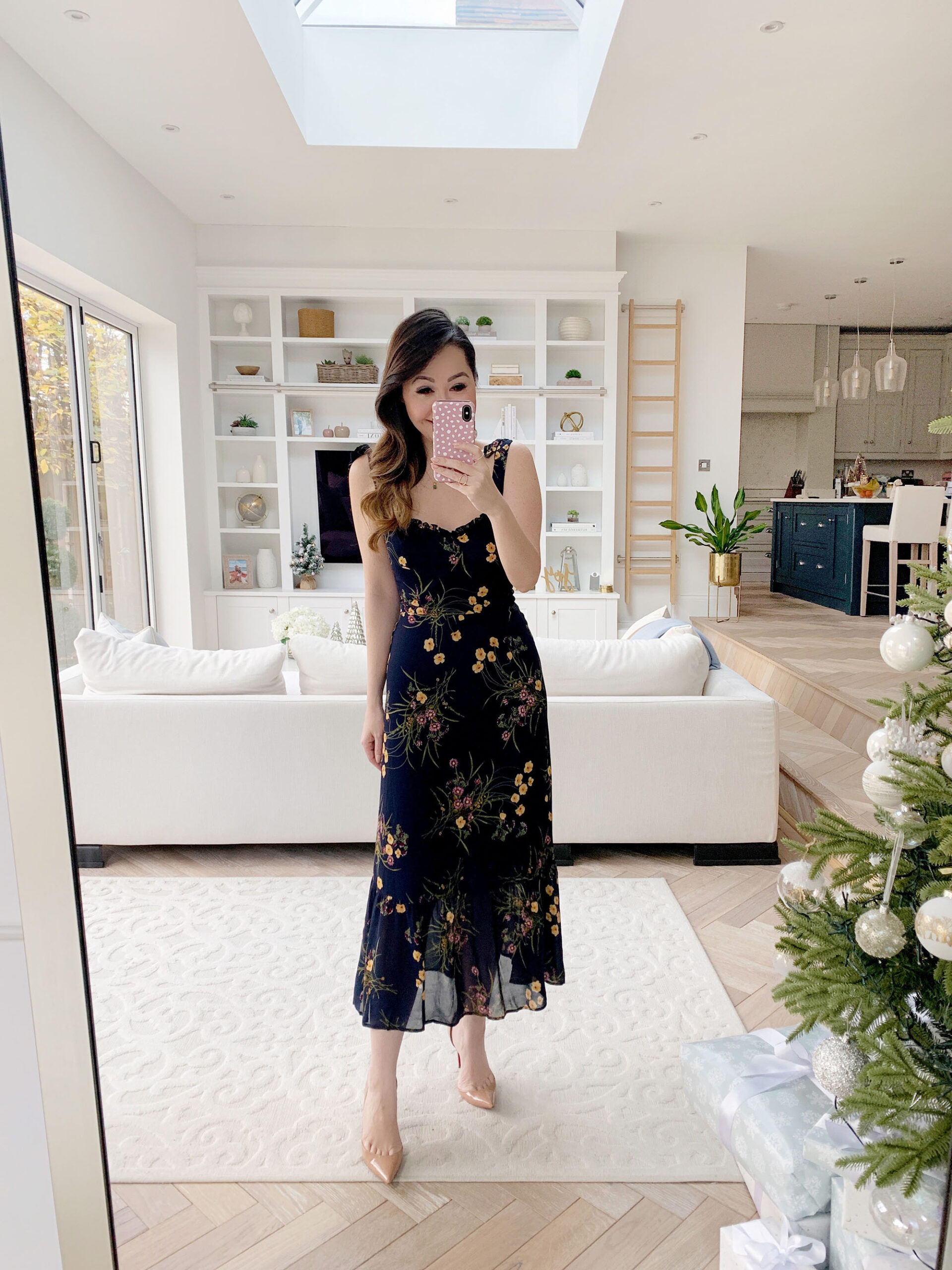 Navy mini dress – size US 4
This is the rarest of sales at Reformation and their pieces are pricey so this an amazing sale!
THE WHITE COMPANY
All images are clickable!
1. Alibaba Laundry Basket // 2. Winter Mini Home Scenting Set // 3. Hooded Velour Robe // 4. Garth Cushion // 5. Oak Bookrest // 6. Parham Large Ceramic Vase // 7. Winter Hanging Votive Candle // 8. Round Marble Board // 9. Southwold Table Lamp // 10. Vintage Glass Dinner Candle Holder // 11. Fine Silver Photo Frame //
There is currently 20% off site wide at The White Company across a range of clothing, fragrance, beauty and home accessories – perfect for gift giving or sprucing up your home this festive season! I've picked out a few of my personal favourites including the Parham Ceramic Vase, the Southwold Lamp on my hallway console table and the Marble Serving Board which makes a great centrepiece at any dinner party. Use code JOY20 at checkout to claim the discount.
TORY BURCH (USA only)
All images are clickable!
1. Kira Chevron Mini Bag // 2. Eleanor Crossbody Bag // 3. Lee Radziwill Petite Bag // 4. Miller Wallet Crossbody Bag // 5. Kira Chevron Convertible Shoulder Bag // 6. Kira Chevron Chain Wallet // 7. Kira Chevron Convertible Shoulder Bag // 8. Perry Triple-Compartment Tote // 9. Eleanor Phone Crossbody // 10. Kira Pearl Drop Earring // 11. Ella Puffer Tote Bag // 12. Kira Chevron Small Camera Bag // 13. Kira Chevron Convertible Shoulder Bag // 14. Eleanor Shoulder Bag // 15. Kira Pebble Small Convertible Shoulder Bag //
The Tory Burch sale is now live in the US! I haven't seen anything for the UK yet, but if I do, I'll let you know 🙂
This is their Cyber Week event where you can take 30% off your purchase of $250 or more! There are so many great styles included from their classic Perry tote to their Kira bag to this fantastic puffer tote. My Eleanor bag is also included in the smaller sizes in this beautiful teal colour and this crossbody black style.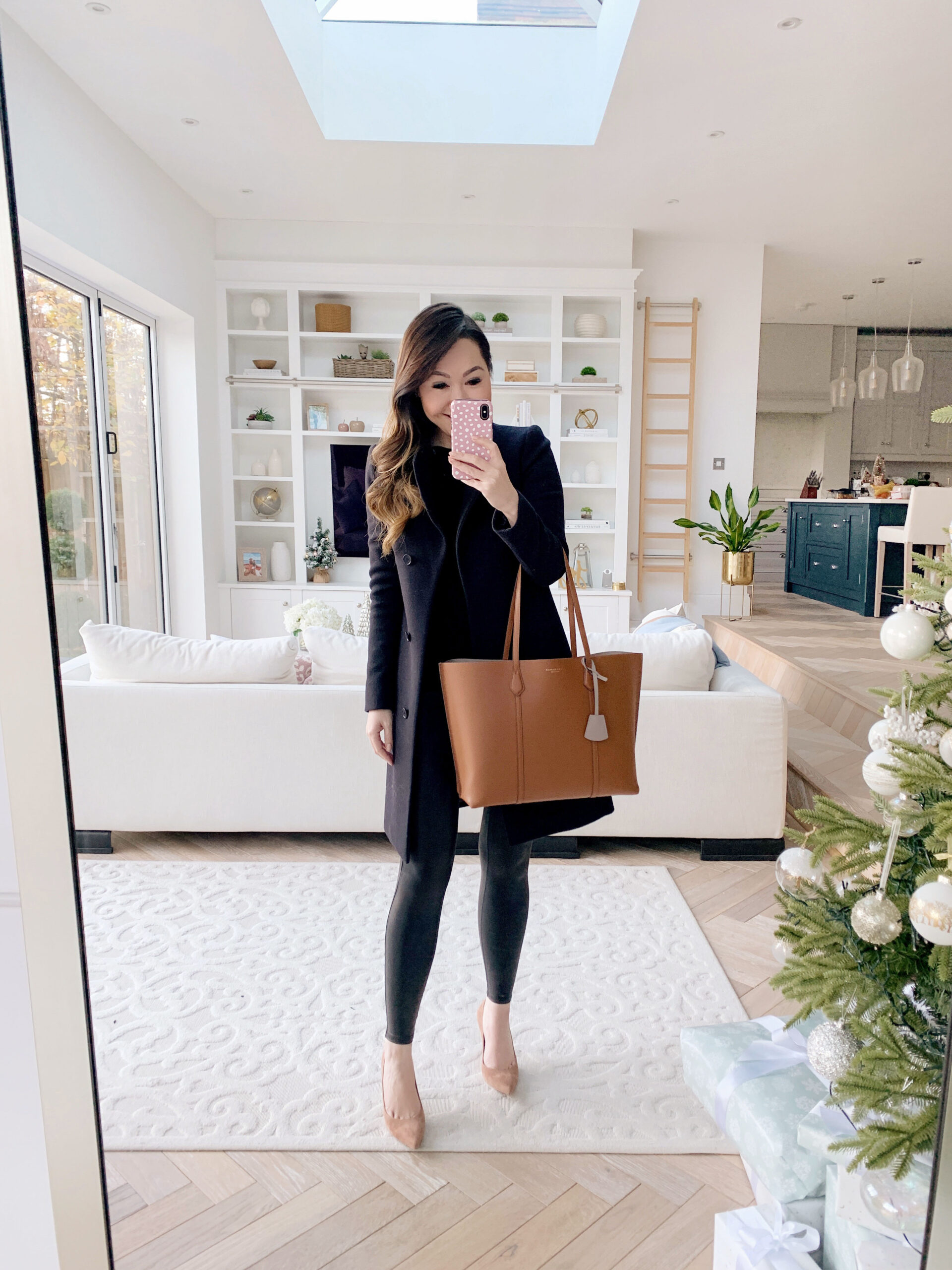 My new Tory Burch Perry tote in the beautiful chestnut brown colour is included in the sale! This is the most gorgeous shade of brown – not too dark, not too light – just perfect! It has a lovely travel tag in a complimentary taupe shade and is genuinely the perfect warm neutral tote. So great for work, errands and everything in between!
NORDSTROM
All images are clickable!
1. White Bobble Sweater // 2. Kate Spade Basket Bag // 3. Cozy Slippers // 4. Criss Cross Sweater // 5. Stuart Weitzman Stretch Boots // 6. Stuart Weitzman OTK Boots // 7. Varley Sports Bra // 8. Longchamp Travel Bag // 9. Grey Tunic Sweater // 10. Black Flannel Layer Sweater // 11. Theragun Mini // 12. Red Bobble Sweater // 13. Leopard Print Blanket
Nordstrom have gone live with a huge Black Friday clearance sale with a ton of new markdowns. There are a lot of pages to go through but there are some seriously great finds if you're willing to spend some time browsing!
I own this Theragun Mini in the white and it's fantastic. Dan has the larger one which is great but is a little heavy/ large for me to use. The mini is much better suited to my hand size and has been a life saver after some tough workouts!
My slippers are also included – don't let the low price fool you, these are fantastic! So incredibly soft and luxurious to wear. I also wanted to highlight the Stuart Weitzman boots included – the styles are new but the 'to the knee' boots look almost identical to my 50/50 boots and these OTK boots are the updated version of my Lowlands – at 40% and 50% off respectively!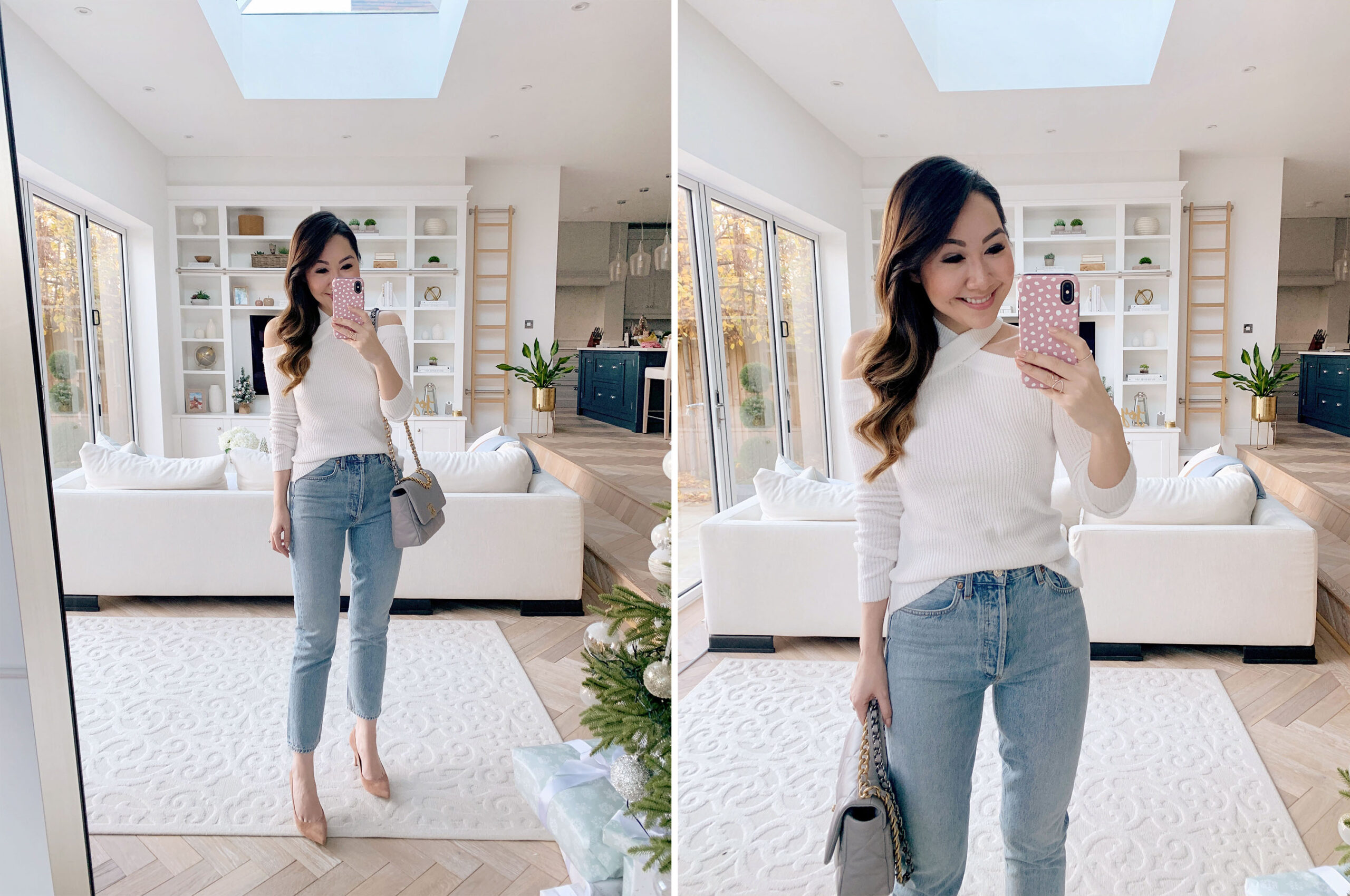 My criss cross sweater is on sale for a huge 43% off! This one comes in a bunch of colours and is so gorgeous! It's a slim fit so happily works well with both denim and skirts. Fits TTS in my opinion – I took an XS.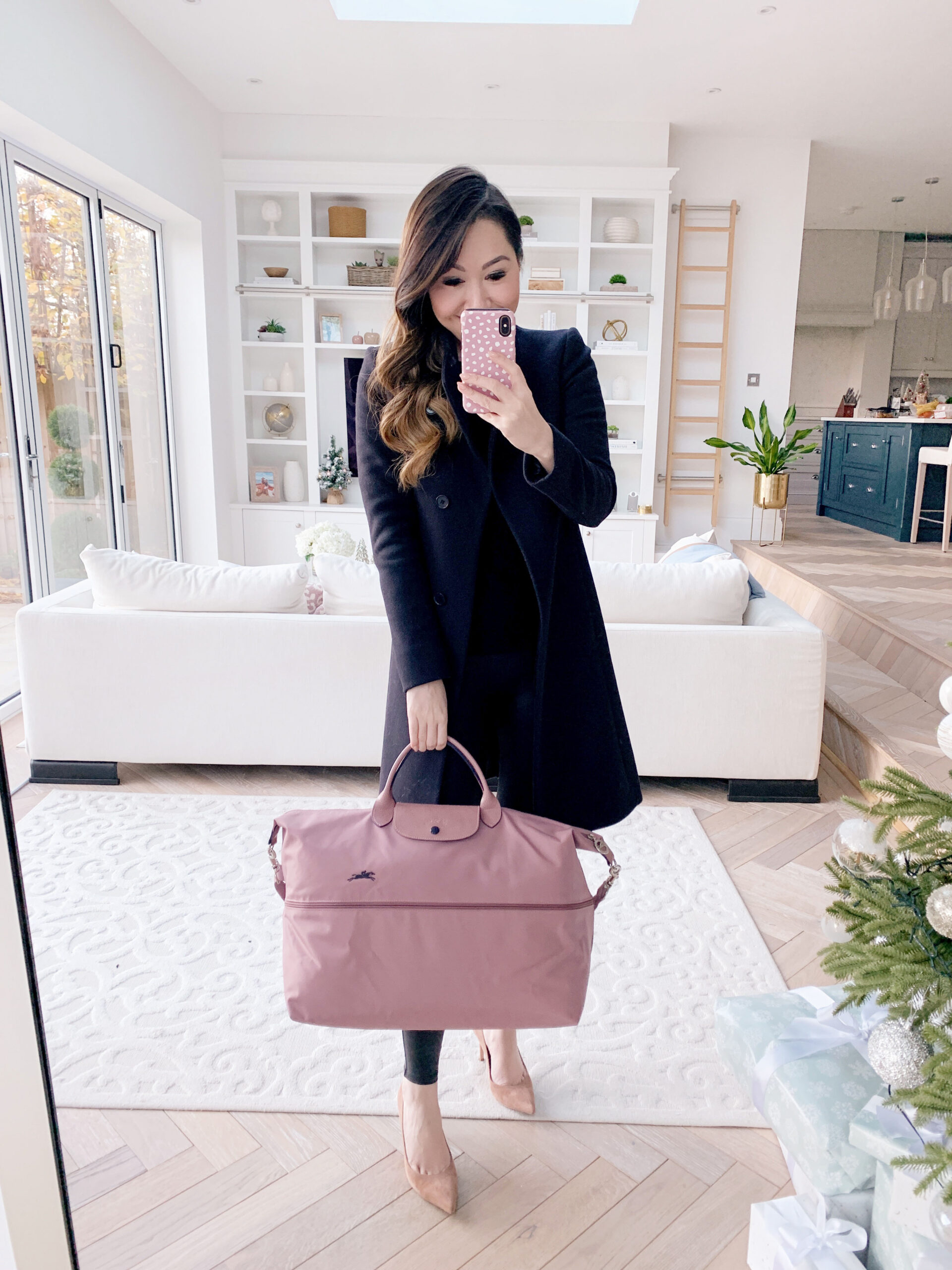 Finally, the classic version of my expandable Longchamp tote is included! The classic style in this gorgeous peony colour is currently on sale and looks to be fairly well stocked. This is my second expandable tote from Longchamp and they are genuinely the best travel bags. They fit a ton but can also expand if you have a tendency to shop when travelling and end up bringing back more than expected (i.e. me every single time haha!).
MONICA VINADER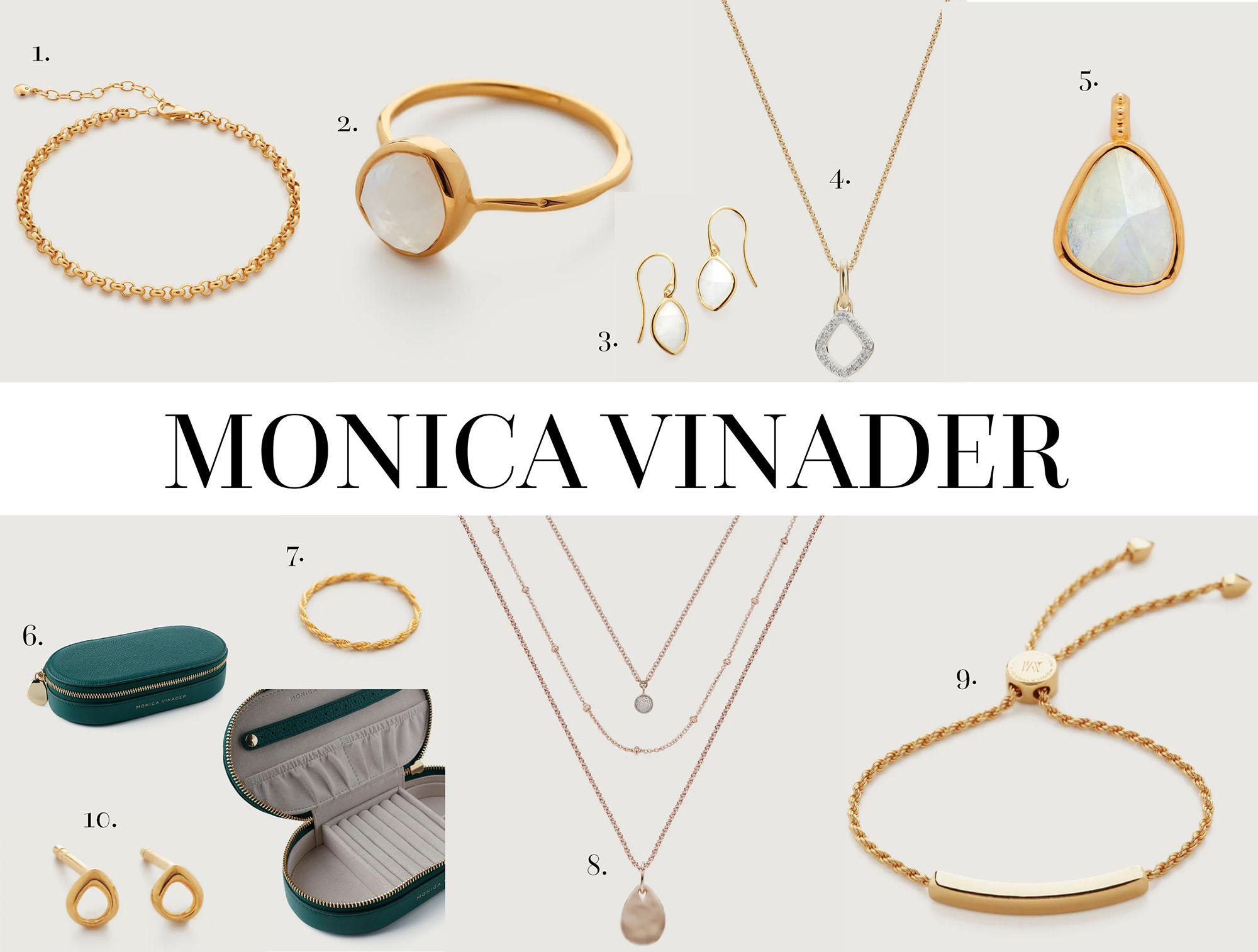 1. Vintage Chain Bracelet // 2. Siren Stacking Ring // 3. Petal Earrings // 4. Riva Mini Kite Diamond Pendant Charm Necklace // 5. Deia Gemstone Pendant // 6. Leather Oval Jewellery Box // 7. Corda Skinny Ring // 8. Fiji Tiny Button, Beaded Chain, Fine Chain and Ziggy Mini Petal Necklace Set // 9. Linear Charm Bracelet // 10. Nura Reef Open Stud Earrings //
Monica Vinader currently have a huge sale on, with 25% off everything or 30% off if you spend £150 or more! On top of that there are Flash Sales on everyday with up to 50% off. I've pulled together some of my favourite pieces in the collage above, perfect for finishing off a party season outfit or as a really gorgeous gift idea!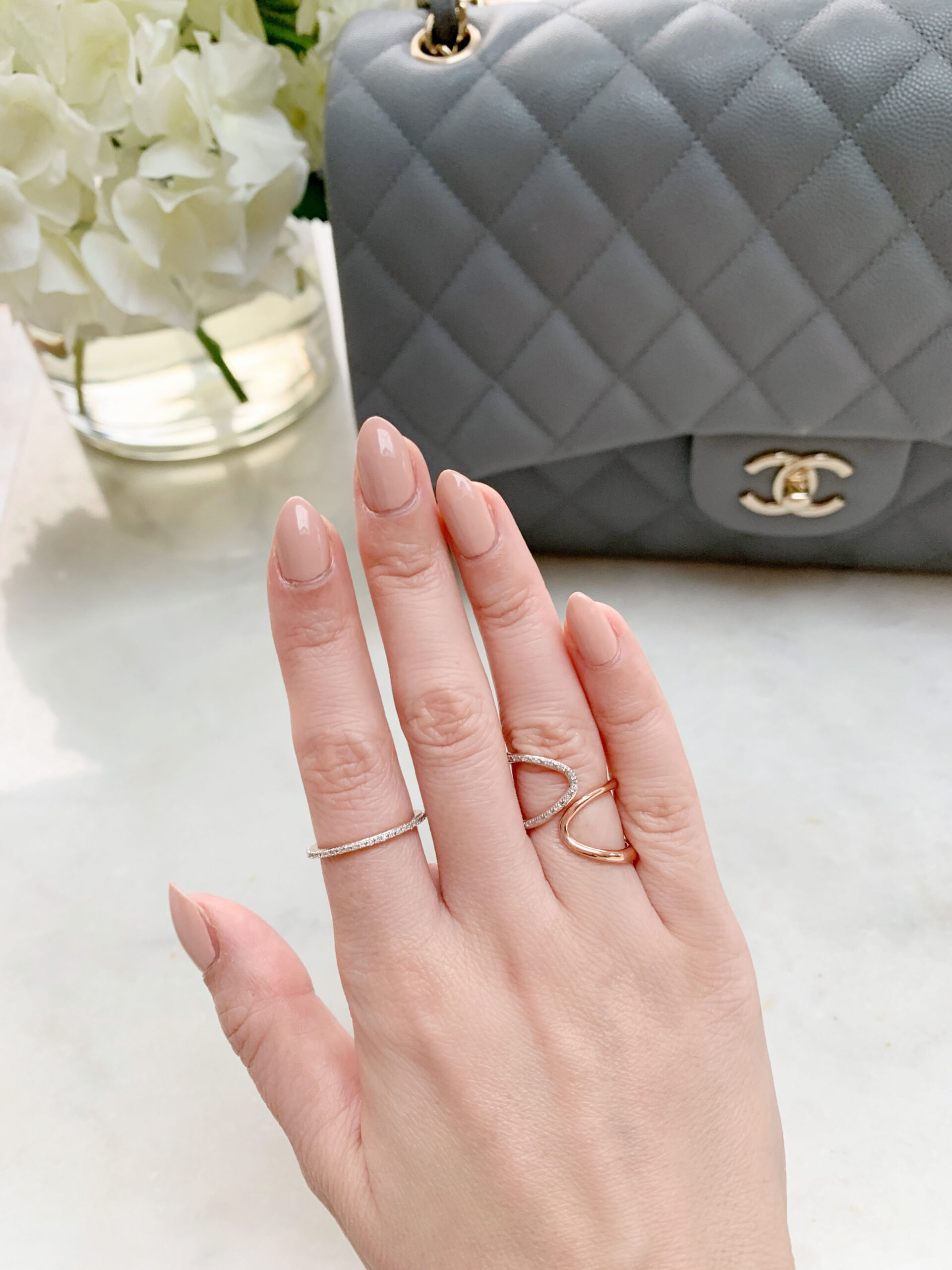 Two new-ish pieces to my jewellery wardrobe are these two gorgeous rings! The simple band is this beautiful eternity ring and then the stunning cocktail ring is this one – SO unbelievably pretty with just the right amount of sparkle. I'm not much of a ring person but have fallen head over heels for this combo! Both are currently 25% off or 30% off if you spend over £150.
ASTRID & MIYU
1. Glimmer Navette Stud Earrings // 2. Navette Crystal Band Ring // 3. Tennis Chain Necklace // 4. Wreath T-Bar Chunky Bracelet // 5. Molton Stud Earrings // 6. Rope Chain Bracelet // 7. Bold Gold Huggies Earrings // 8. Iridescent Crystal Rose Gold Ring // 9. Large Rose Gold Beaded Choker // 10. Elemental Rose Gold Band Ring // 11. Gold T-Bar Chunky Chain Necklace // 12. Etched Rose Gold Band Ring //
Astrid & Miyu are offering 25% off everything online! I've spoken about Astrid & Miyu jewellery before – their pieces are so beautiful and dainty, perfect for everyday wear! The ear crawler style earrings I just got are included and available in gold, rose gold and silver. My ones are in gold and have been on repeat ever since I got them. They are ridiculously pretty and just the loveliest thing to accent a party dress or to make an everyday outfit that little bit more special (I've literally been wearing mine even with just leggings at home haha!).
They do so many lovely designs – and they all come in the prettiest pink and grey gift boxes, so perfect for gifting too!
DAY DESIGNER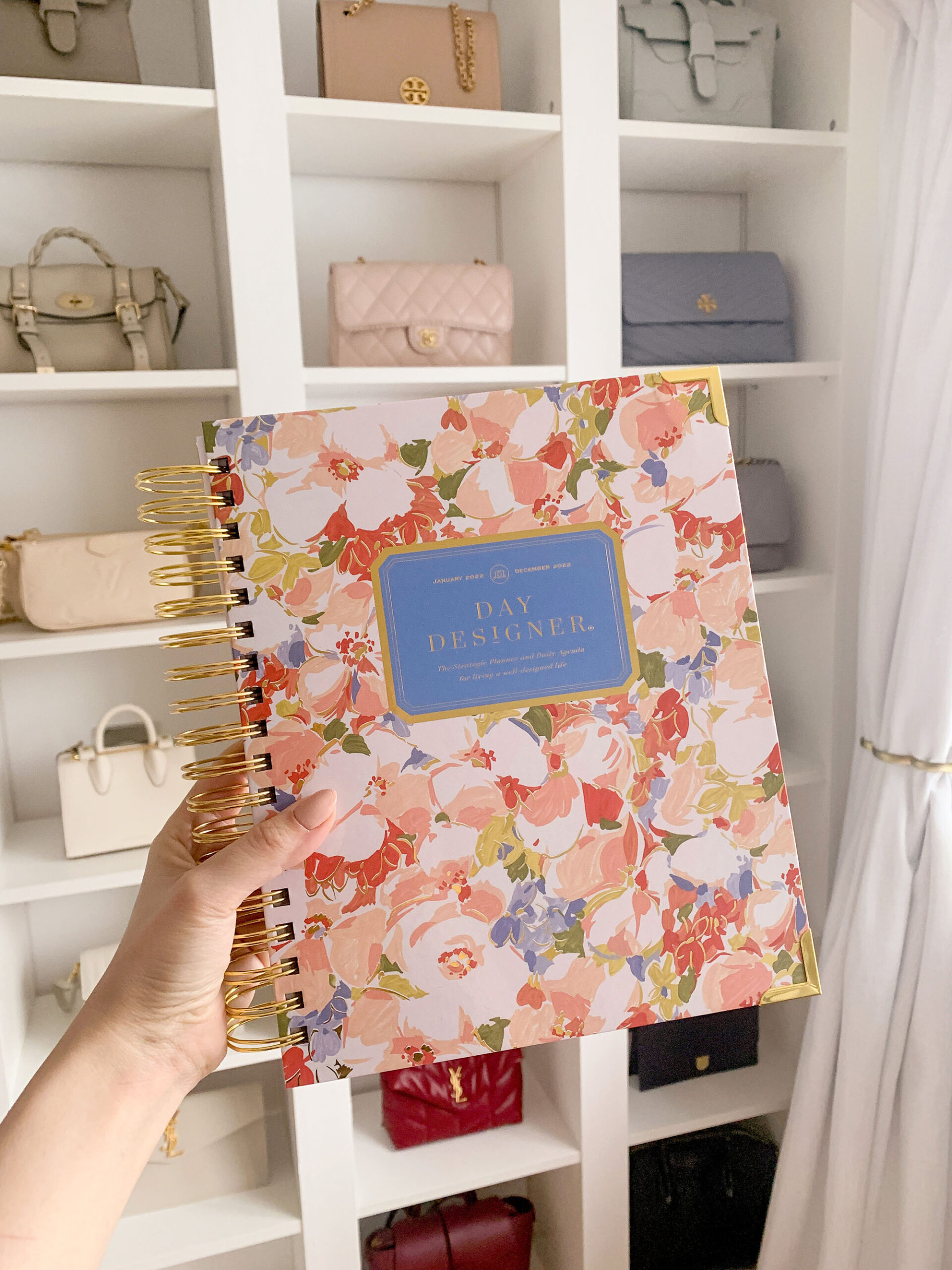 Day Designer have an early access discount code to take 20% off your order! This is my daily planner and has been such a game changer for me this year in keeping organised. You'll need to use code CYBER2021 at checkout to nab the discount.
This petal printed one is my new one for next year whereas the one I'm currently using is this gorgeous neutral leopard print one.
CAMI NYC
All images are clickable!
1. Carol Top // 2. Racer Charmeuse Cami // 3. Justine Blazer // 4. Racer Charmeuse Cami // 5. Juni Cami // 6. Risa Velvet Lace Sweatshirt // 7. Juni Cami // 8. Darcy Cardigan // 9. Sandy Blouse // 10. Racer Charmeuse Cami // 11. Racer Charmeuse Cami //
Cami NYC have gone live with a huge 30% off sitewide with the code THANKS30! Cami NYC are one of my go-tos for beautiful silk camisoles – I own several of them myself and 4 years later, they are still going strong. They are wonderful quality albeit pricey so the 30% off is very welcome! I just purchased this one myself (I take my standard XS in these) – the lace detail is just so pretty!
The classic cami is the racer style (I own this in four colours – so beautiful and timeless) – currently fairly well stocked but stock does always move quickly during this sale. I also take an XS in this one. My colour is an old one (purchased 3 years and still looking great!) but they have plenty of beautiful colours with currently good stock in various sizes.
FARFETCH
All images are clickable!
1. Chloe Maxi Logo-Print Short Sleeve T-shirt // 2. Faux Fur Oversized Coat // 3. Marc Jacobs Quilted Messenger Bag // 4. Janie V-Neck Cropped Cardigan // 5. Manolo Blahnik Crystal-Embellished Pointed Pumps // 6. Slingback 75mm Leather Sandals // 7. Mallorca Sandy Sports Bra Top // 8. Turtleneck Ribbed Merino Wool Jumper // 9. Tory Burch Kira Quilted Leather Bag // 10. Nora Button-Down Loungewear Top // 11. Tory Burch Kira Cuff-Style Bracelet // 12. Nurturing Full-Length Leggings // 13. Devi Pointed-Toe Pumps // 14. Isla Single-Button Blazer // 15. Marc Jacobs The Beauty Triangle Pouch // 16. Prada Two-Tone Buckle Belt // 17. Veja Campo Low Top Sneakers //
Farfetch have also gone live with their sale! The Farfetch sale is always so vast but there are so many great finds if you're willing to do a little digging! 🙂 From Tory Burch bags to gorgeous Manolo Blahnik styles to on trend Veja sneakers – the discounts are fairly generous with so much to choose from!
MORE SALES HAPPENING NOW!
SSense – they went live today with their annual sale. Stock isn't as good as in previous years but is better if you have access to their private sale.
Saks Fifth Avenue – they've just gone live with a huge Designer Clearance – definitely worth checking out if you're a fan of Theory. The stock selection is amazing.
24s.com – a tiered discount code where you can take up to 25% off sitewide. See my full round-up here.
Mango – take up to 50% off a huge selection of amounts. See the selection here.
Baublebar – take 30% off everything with code BB30
There will be more sales launching tomorrow so I'll be updating this blog post as sales go live so check back then! 🙂