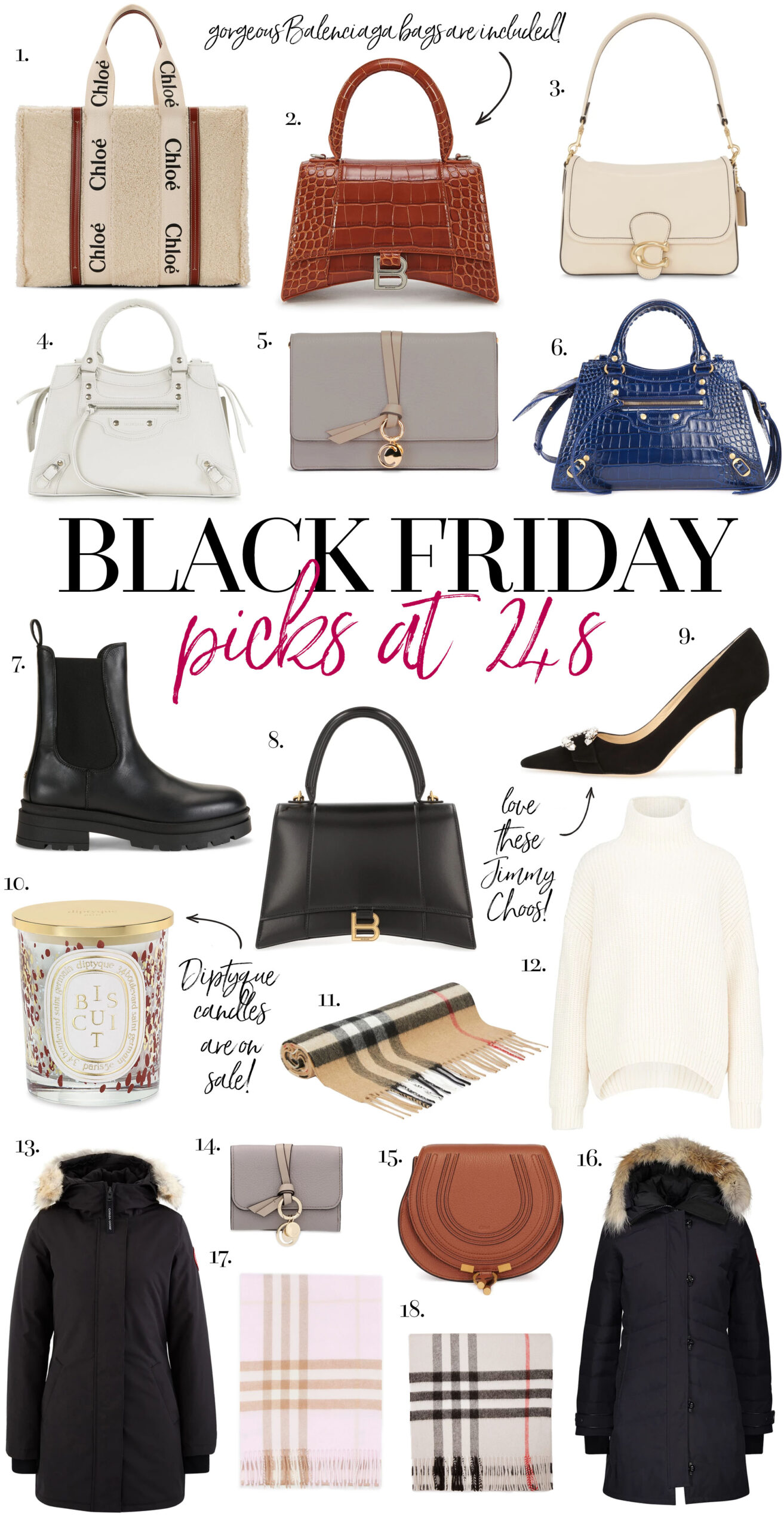 Black Friday at 24s.com has arrived! As per usual this offer is an amazing one – they're offering 20% off a spend of $/£/€ 250 or 25% off a spend of $/£/€ 500 or more! If you shopped their Singles Day offer, this is a similar one however the spend levels are more generous and the stock selection is even better! I've rounded up my favourite picks above and below 🙂
FEATURED ABOVE
1. Chloe Sherpa Woody Tote // 2. Balenciaga Mock Croc Bag // 3. Coach Shoulder Bag // 4. Balenciaga White Top Handle // 5. Chloe Grey WOC // 6. Balenciaga Blue Mock Croc // 7. Anine Bing Chelsea Boots // 8. Balenciaga Hourglass // 9. Jimmy Choo Pumps // 10. Diptyque Candle // 11. Burberry Scarf // 12. Anine Bing Sweater // 13. Canada Goose Jacket // 14. Chloe Compact Wallet // 15. Chloe Mini Marcie // 16. Canada Goose Lorette Parka // 17. Burberry Pink Scarf // 18. Burberry Stone Scarf
You'll need to use a different discount code for each level of spend which I've listed here:
20% off $/£/€ 250 or more – use code BLACKFRIDAY20
25% off a spend of $/£/€ 500 or more – use code BLACKFRIDAY25
The discount is available sitewide with some brand exclusions which are the usual suspects of Louis Vuitton, Celine etc. Another thing to note is that some brands that are included in the discount code are only available at the higher discount level (i.e. 25% off). The notable brands that only work with 25% off are Gianvito Rossi, MiuMiu, Prada, Max Mara, Chloe, Sportmax, Burberry, Givenchy and Balenciaga. You'll need to spend over $/£/€ 500 in order to nab a discount off any of these 🙂
ITEMS I OWN AND LOVE
My Burberry scarves are included and it's no secret how much I love this accessory. It's not always easy to stay warm and look chic during the colder months but this scarf is my favourite way to elevate a winter outfit! The one pictured is my newer one in the beautiful stone colour but I also own the classic camel colourway as well as this beautiful blush pink shade. You really can't go wrong with this style and it is an amazing steal at 20-25% off!
DIPTYQUE CANDLES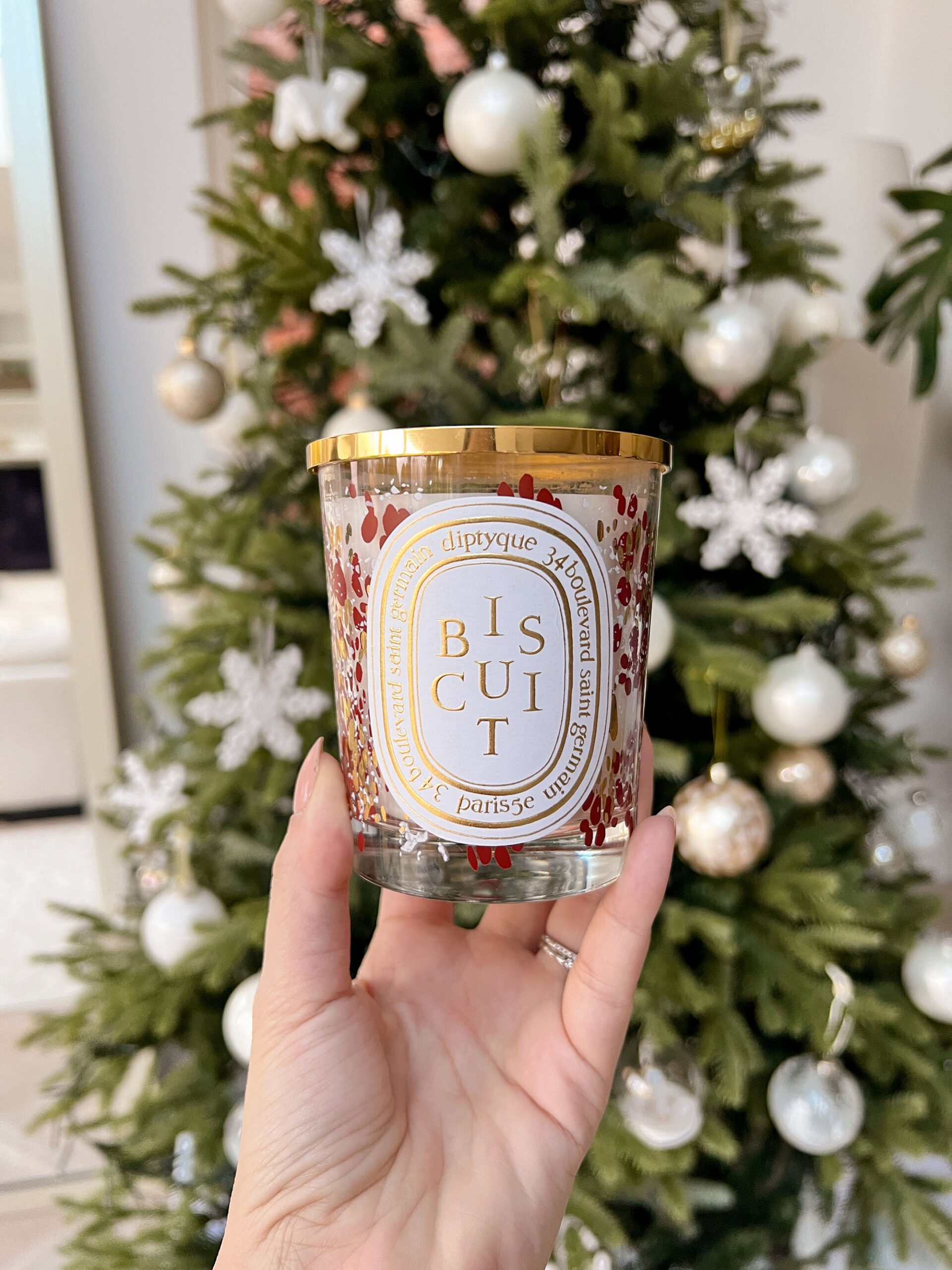 I was so excited about this inclusion that I had to do a whole section on it! I love Diptyque candles and they are crazy hard to find at any kind of discount (let alone a good discount!) but happily they are included at BOTH discount levels! You can get the entire Diptyque line as well as their new Christmas line!
If you've not smelt their Christmas line then I would definitely recommend doing so – I always make it a point to check out their holiday candles but this year is undoubtedly my favourite Christmas collection to date from them. They ALL smell absolutely amazing! If I had to pick a favourite though, it would be the Biscuit scent – it genuinely smells like freshly baked cookies and has the creamiest, most delicious smell. I already had one and just bought several backups along with this gorgeous Holiday collection!
BEAUTY PICKS
1. Roses Candle // 2. Chantecaille Highlighter  // 3. Baies Candle // 4. Tata Harper Mask // 5. Roses Candle Gift Set // 6. Tata Harper Oil Cleanser // 7. La Mer Gift Set // 8. Diptyque Candle Gift Set // 9. Tata Harper Regenerating Cleanser // 10. La Mer Luxe Gift Set // 11. Diptyque Trio Candle Gift Set
One of the best things about the Black Friday sale at 24s.com is that they include beauty in the discount! They stock some amazing lines – including Tata Harper (a longtime favourite of mine – their nourishing oil cleanser and face masks are in regular rotation!), La Mer and more! You can nab either the 20% or the 25% off which is an incredible deal for such high end beauty lines.
And that's it for this round-up! Let me know if you score anything from the sale! 🙂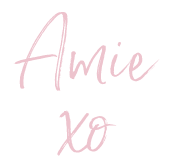 Thank you to 24s.com for partnering with me on this post!