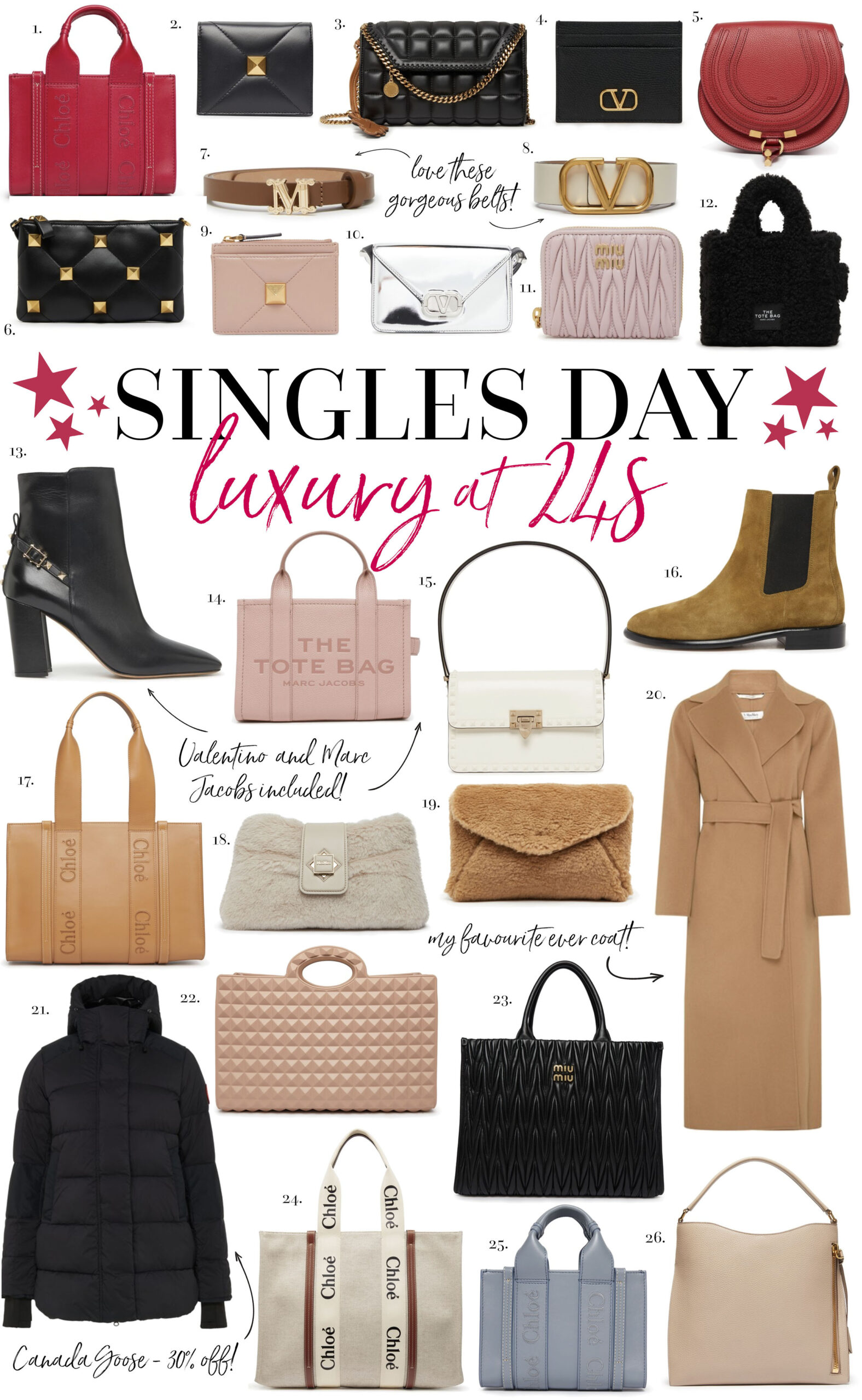 1. Chloe Mini Tote Bag Pink // 2. Valentino Roman Stud Wallet // 3. Stella McCartney Mini Bag // 4. Valentino VLogo Card Holder // 5. Chloe Marcie Pink // 6. Valentino Roman Studs Clutch // 7. Max Mara Belt // 8. Valentino Belt // 9. Valentino Roman Stud Coin Purse // 10. Valentino Small Letter Bag // 11. Miu Miu Wallet Beige // 12. Marc Jacobs Mini Teddy Tote // 13. Valentino Rockstud Booties // 14. Marc Jacobs Leather Tote // 15. Valentino Rockstud Shoulder Bag // 16. Isabel Marant Boots // 17. Chloe Medium Tote Beige // 18. Max Mara Teddy Clutch // 19. Max Mara Teddy Envelope // 20. S Max Mara Belted Coat // 21. Canada Goose Alliston Jacket // 22. Valentino Le Troisieme Tote // 23. Miu Miu Large Quilted Tote // 24. Chloe Large Woody Tote // 25. Chloe Mini Tote Bag Blue // 26. Tom Ford Hobo Small Bag
Singles Day sales are here! 24s.com have gone live with their biggest offer of the year and it is a good one. You can take 25% off your spend of $250/ £250/ €250 or a huge 30% off your spend of $1000/ £1000/ €1000!
There are some minimum spends and you will need the following codes to nab the discount:
25% off $250/ £250/ €250 – use code SINGLE25
30% off $1000/ £1000/ €1000 – use code SINGLE30
There are SO many incredible items included and you can see the full womenswear selection here and the menswear selection here. I've rounded up my favourite picks above and below along with some wardrobe favourites that I already own and love 🙂
GIFTING SEASON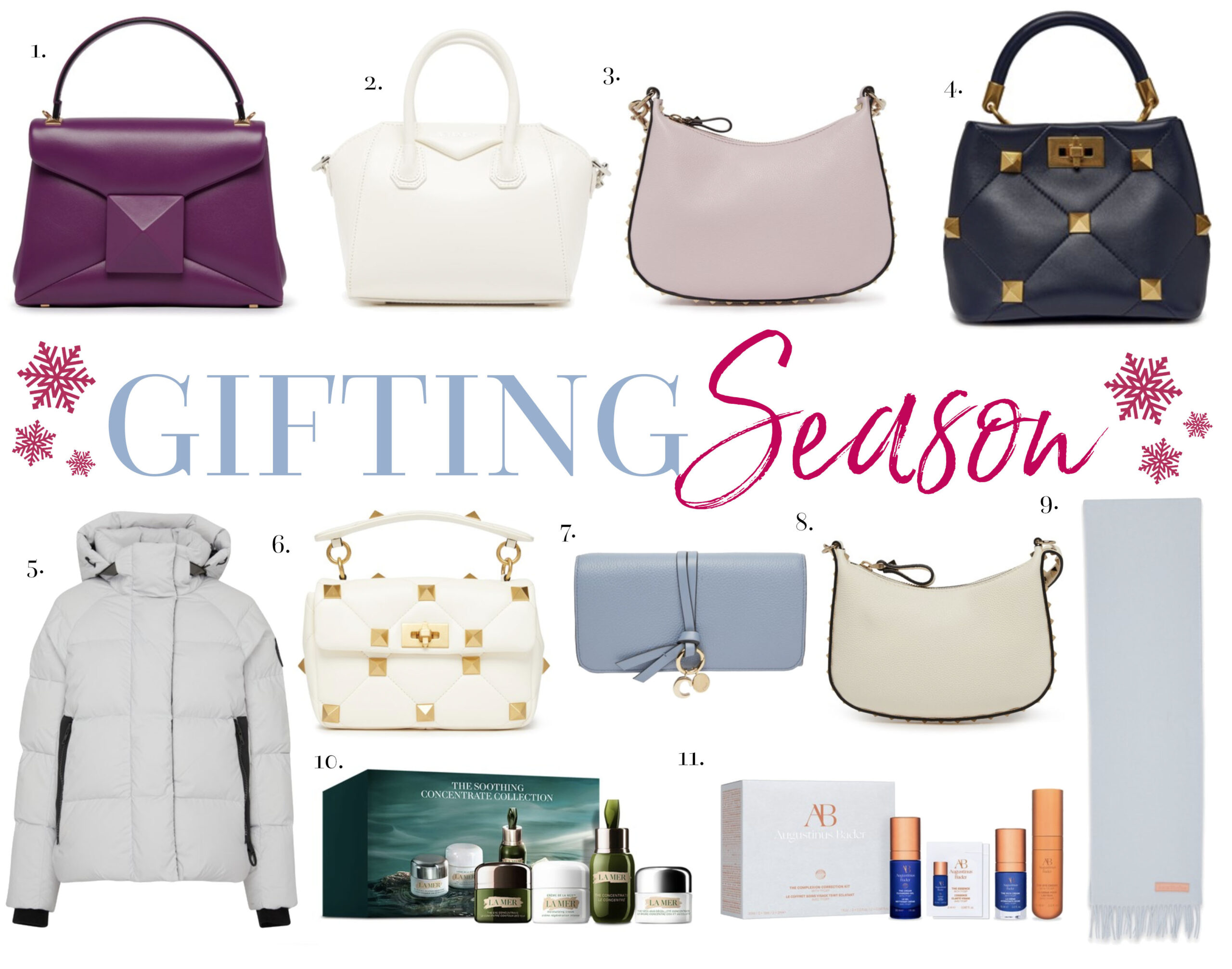 1. Valentino One Stud Small Bag // 2. Givenchy Antigona Toy Bag // 3. Valentino  Rockstud Hobo Bag // 4. Valentino Roman Stud Handle Bag //5. Canada Goose Junction Parka // 6. Givenchy Pouch // 7. Valentino Roman Stud Shoulder Bag // 8. Valentino Mini Rockstud Hobo Bag // 9. Acne Studios Fringed Scarf Blue // 10. La Mer Soothing Concentrate Collection // 11. Augustinus Bader Complexion Correction Kit
Gifting season is upon us! There are so many incredible gift ideas included in the offer from swoon worthy accessories like Valentino Garavani bags to La Mer gift sets, ACNE Studios scarves and Augustinus Bader sets – all at either 25% or 30% off!
WARDROBE FAVOURITES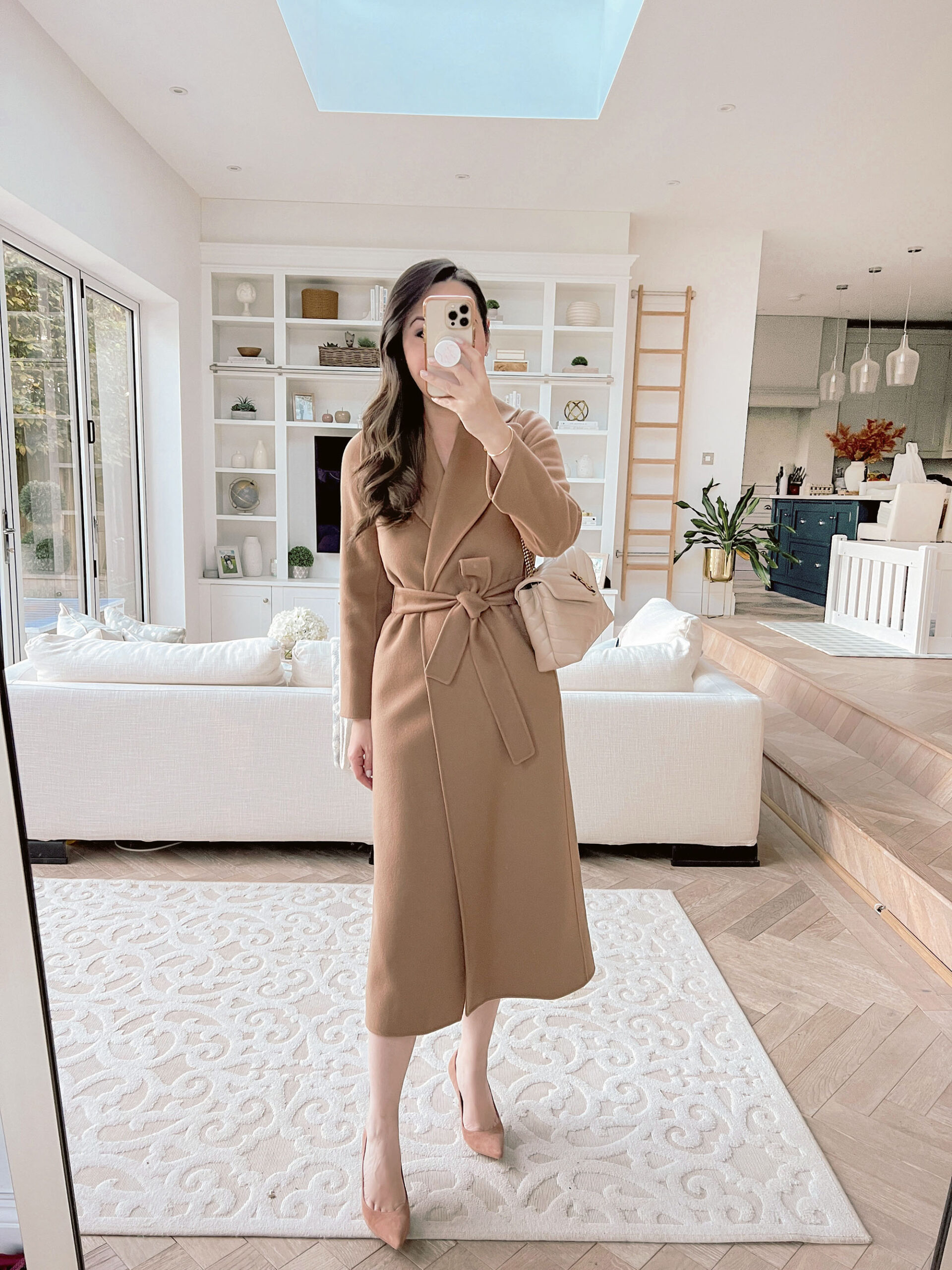 My favourite coat is included and available with a huge 25% off or 30% off if you top up the spend! This one is from S Max Mara and it's absolutely gorgeous – I've spoken about it many many times before haha but it really is the perfect coat. Well worth the splurge IMO because of how classic and well made it is. I've worn both of mine (I own it in the camel and the navy – pictured below!) countless times and they both look good as new.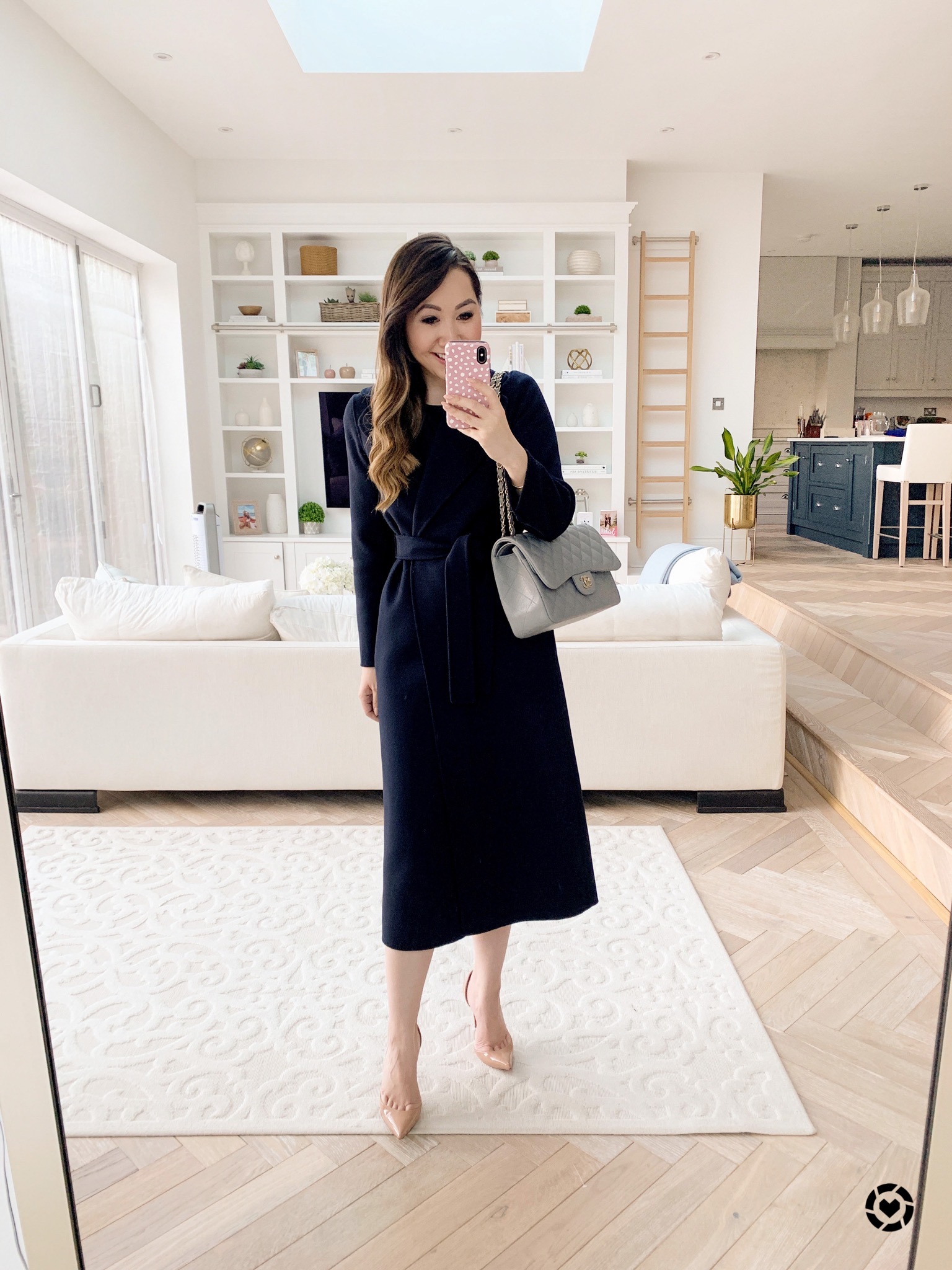 This is the navy one – and even though I have both belted here, I really do think these look just as good loose as they do tied. I sized down in both of mine because I do find they run a little large. I went for the IT size 34 in both and they fit like a dream.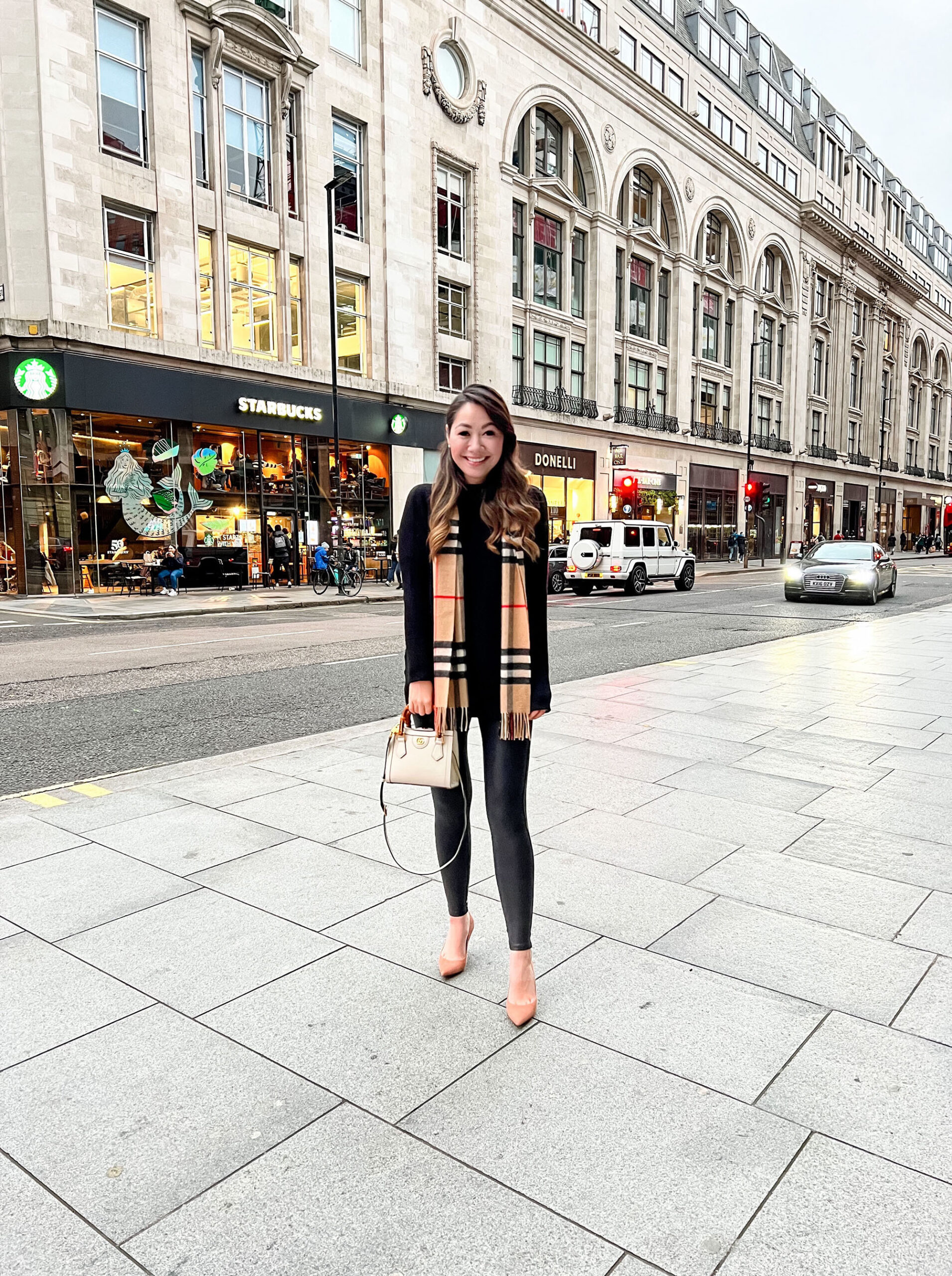 My Burberry scarf is also included – woohoo! This one is technically under the men's category but it's a unisex scarf so it's the exact same as the women's one that you'd buy. This really is the quintessential classic scarf and never seems to date for me. This one pretty much sells out every single year that it's included in the offer though so if you did want one, I would move on it super quickly!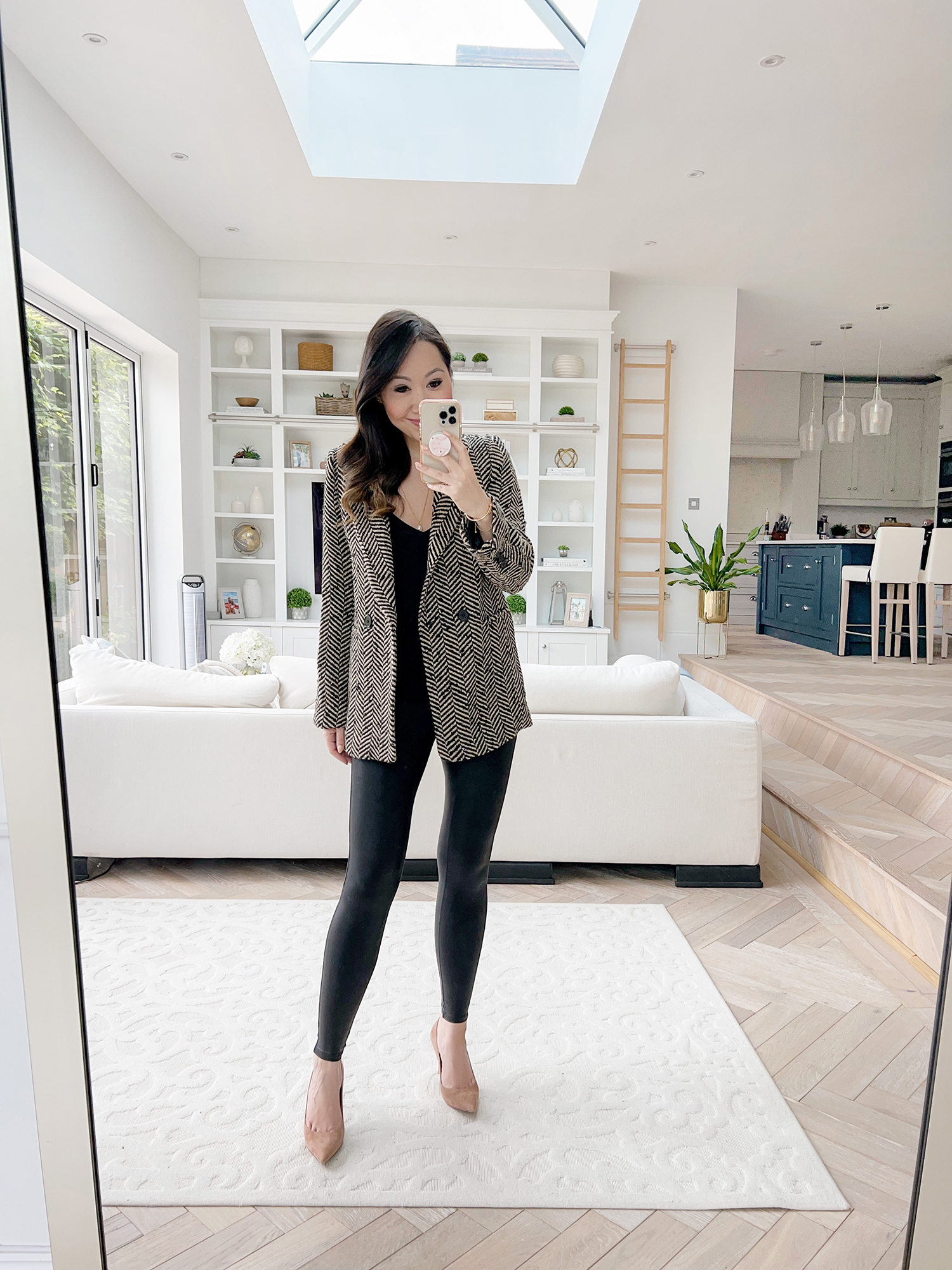 My Anine Bing blazer is another huge favourite for me – it's a slightly thicker one so perfect for this time of year before it gets really cold. It is an oversized one though so even though I do size down, it's also great layered over sweaters (and there's ample room to do so!). I've owned this one for a couple of years and love it so much that I just bought the lighter coloured one too that's also included in the offer! I took the size XXS for reference.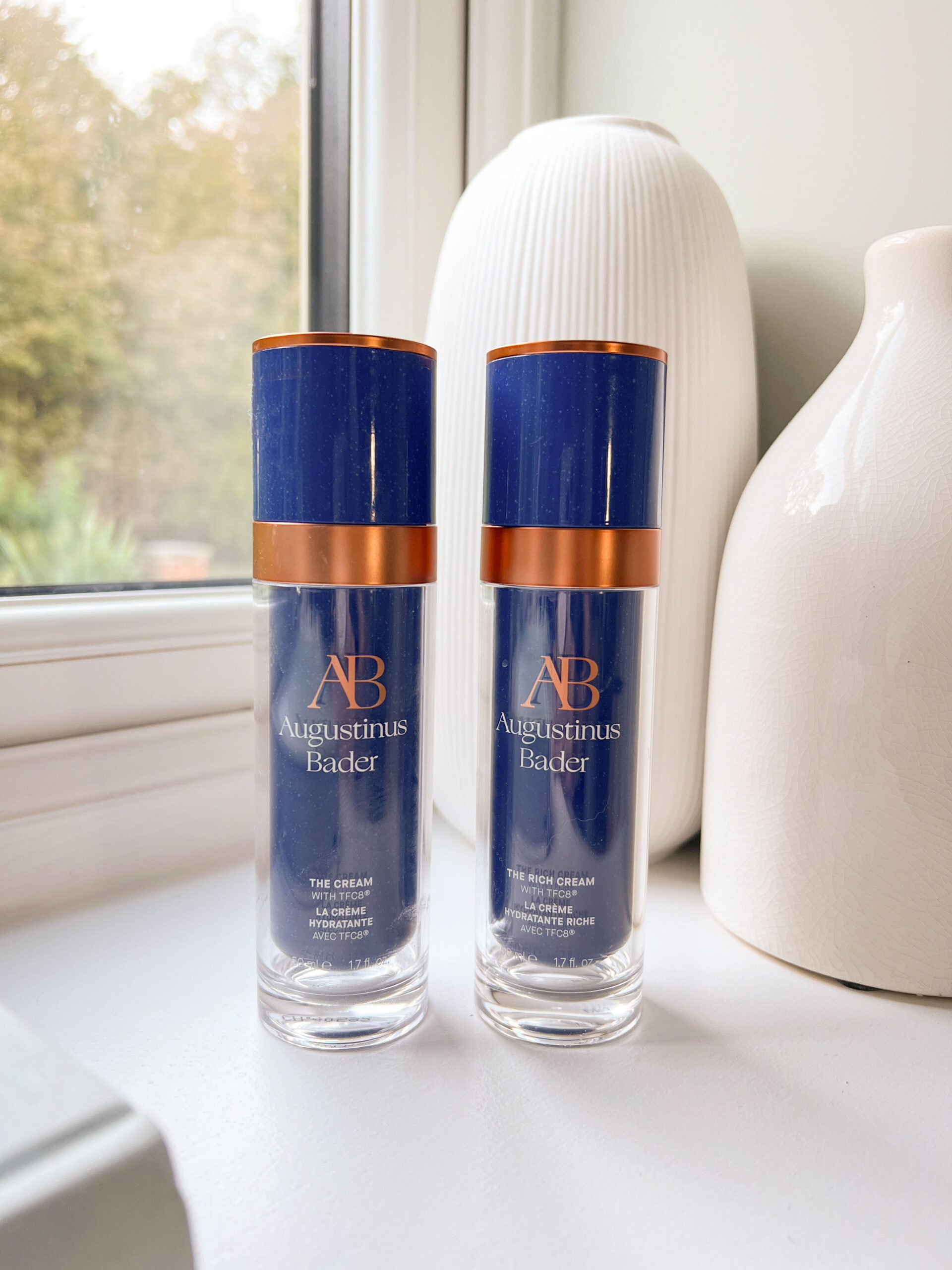 I need to eat my words with this one… I mentioned the Augustinus Bader Cream in the summer as a product that I simply didn't think was worth the money. Well, fast forward a few months and I'm so enamoured with it that I've just bought the 'Rich Cream' too!
I used the Cream (which is the medium weight version) exclusively when we went away in September as the tube was lighter than my other moisturiser options and I wanted to keep things simple when travelling. Usually when away from home, my skin suffers a bit but I consistently used this morning and night and I couldn't believe how soft my skin was. I've since been totally converted and have just bought the rich option as the weather gets colder and I wanted a thicker option for night time. It's definitely a splurge but I'm always willing to spend money on my skin if I actually think the product is worth it and for me, this 100% is. Of course a discount always helps so I was so excited to see the whole line included in this amazing offer!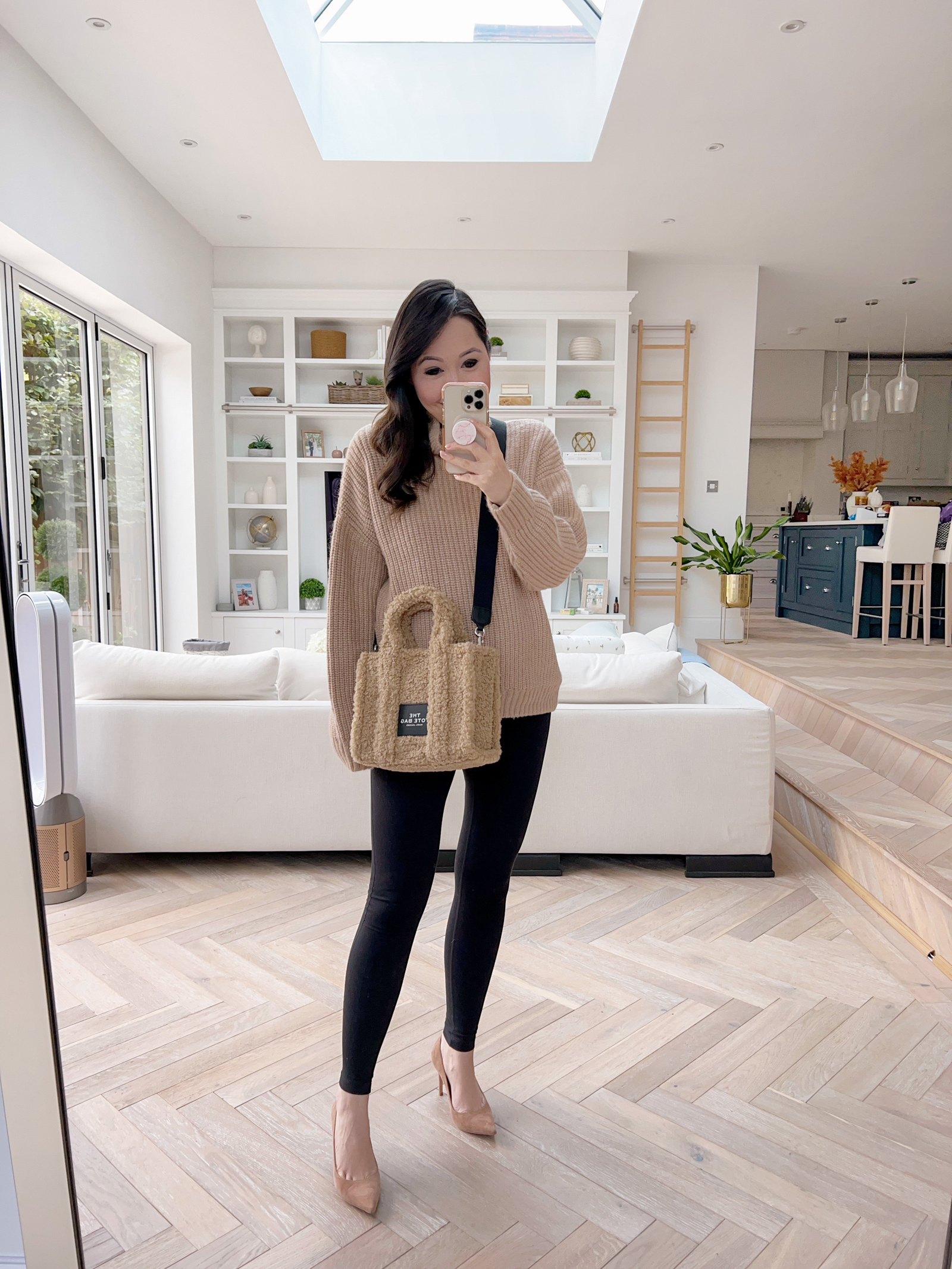 The Marc Jacobs Teddy bag is back in stock and also included! The perfect way to incorporate the teddy texture trend into your wardrobe without spending thousands on the Max Mara options. It's super lightwight, surprisingly room and just the cosiest most adorable little style!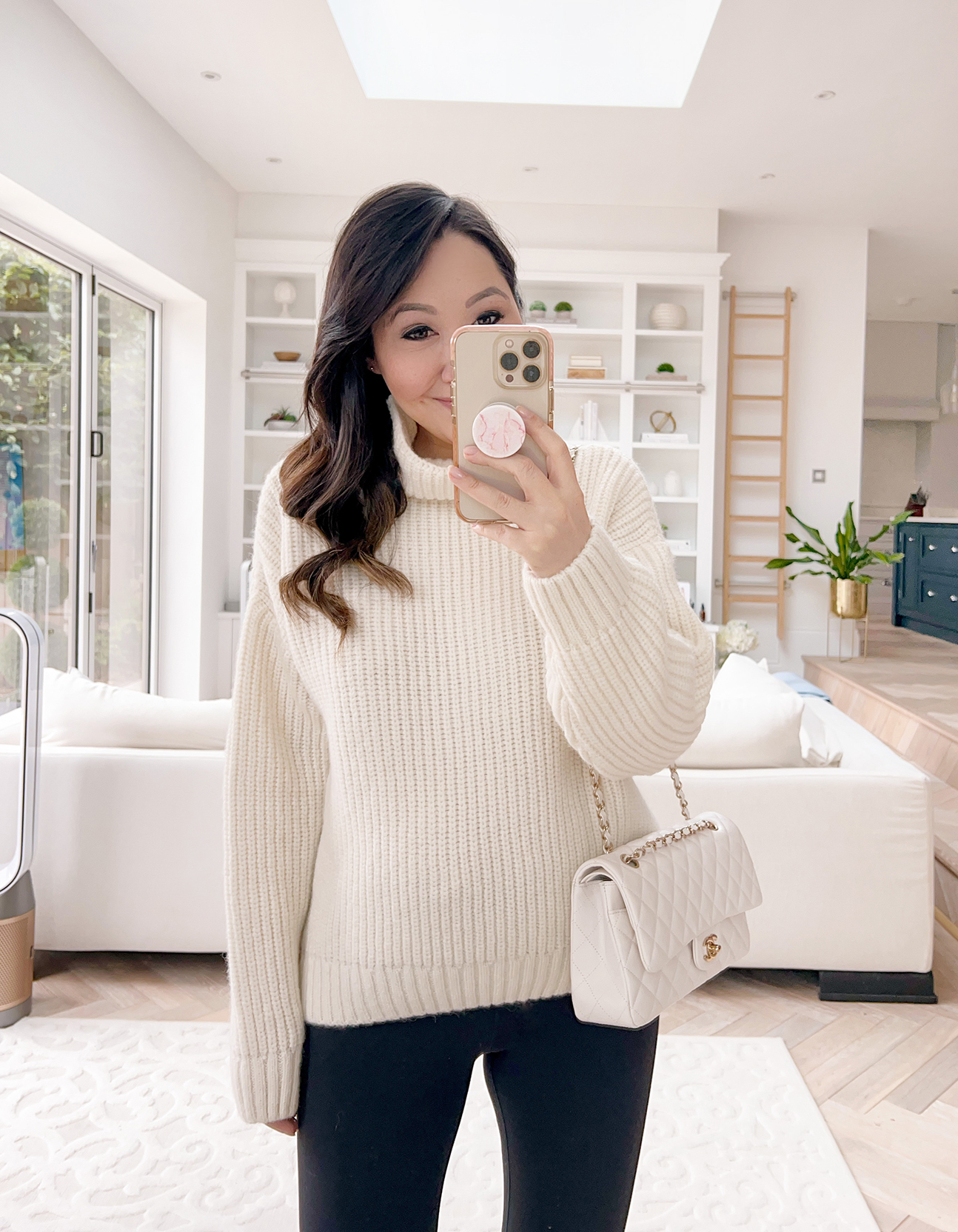 My favourite Anine Bing sweater is featured in both the camel and the white (I love it so much that I own both!) – the perfect oversized sweater, it's such a classic that they bring it back year after year. Note: I'm pregnant in the above photo so the sweater does usually fit a little longer!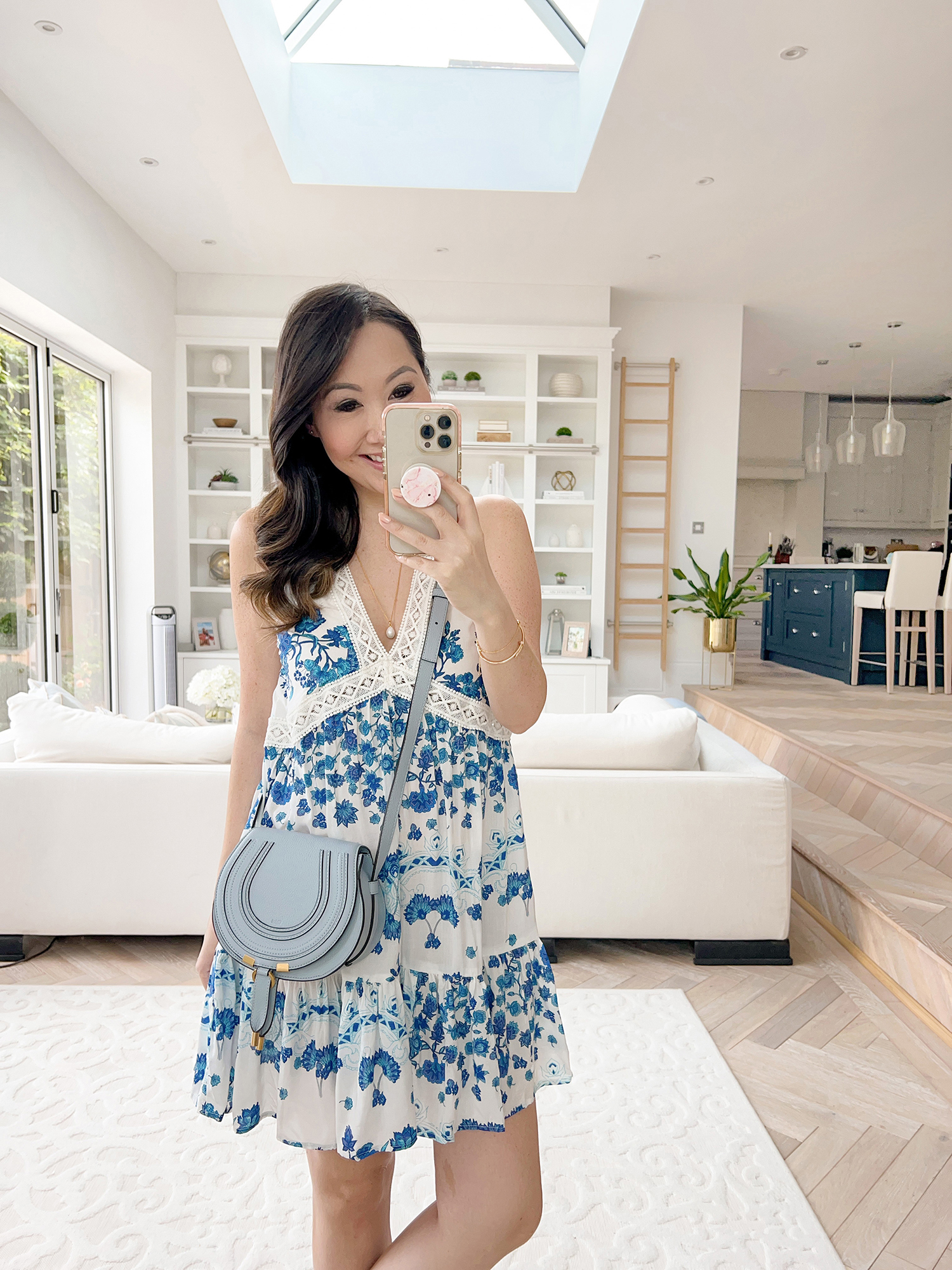 For anyone waiting for a good discount code on Chloe, you won't find better this – there are a ton of styles included and you can get either 25% or 30% depending on your overall spend. There are plenty of Chloe Mini Marcies included – such a gorgeous classic bag and the new season colours are so stunning!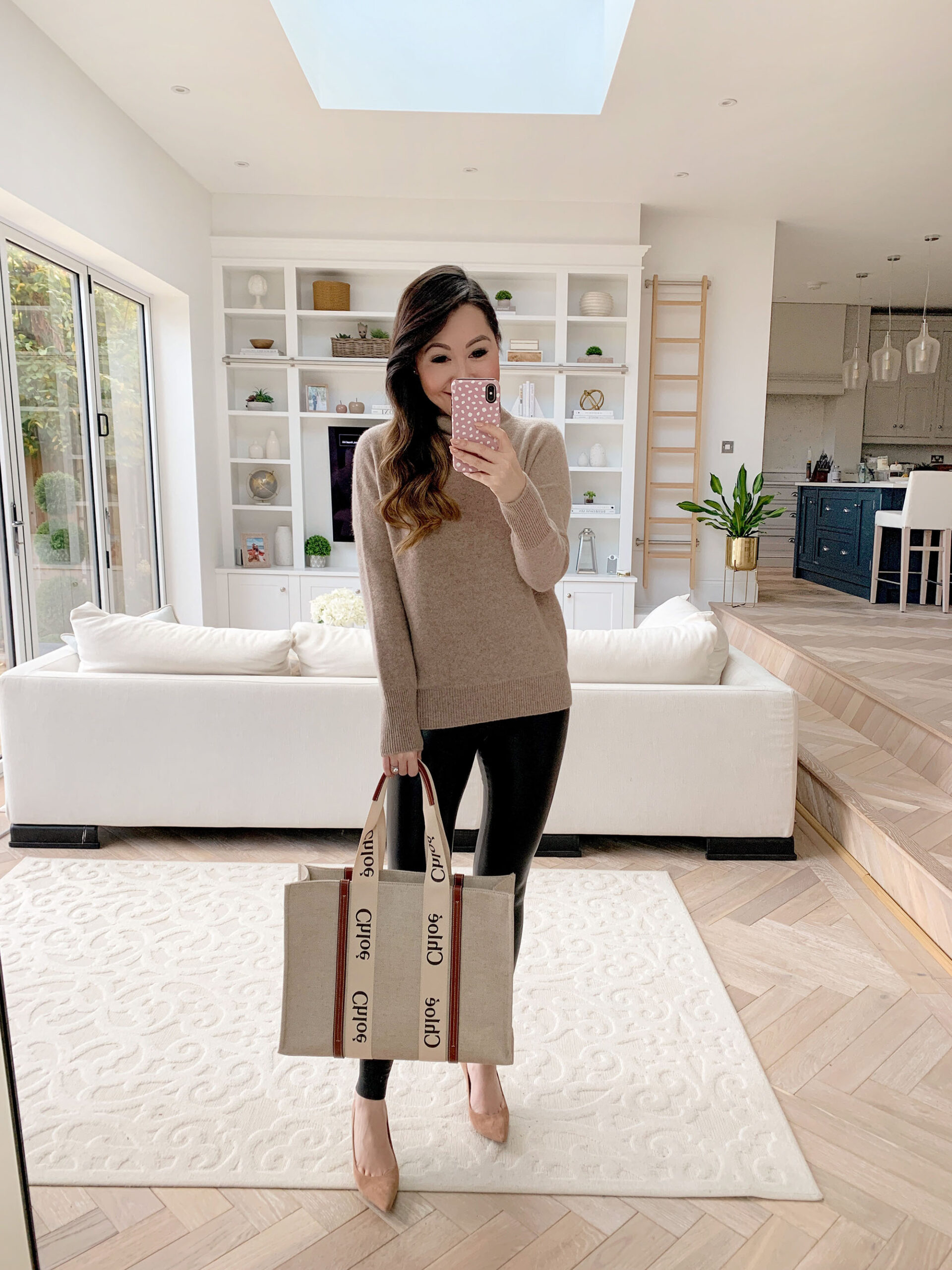 Finally, the Chloe Woody tote! If this one happened to be on your wishlist and you were waiting for a good offer – this is an amazing one. Such a classic style and pretty much indestructible. I've taken it on pretty much every trip I've been on for the past 2 years and it still looks absolutely incredible! 100% worth the money for me.
CLASSIC LUXURIES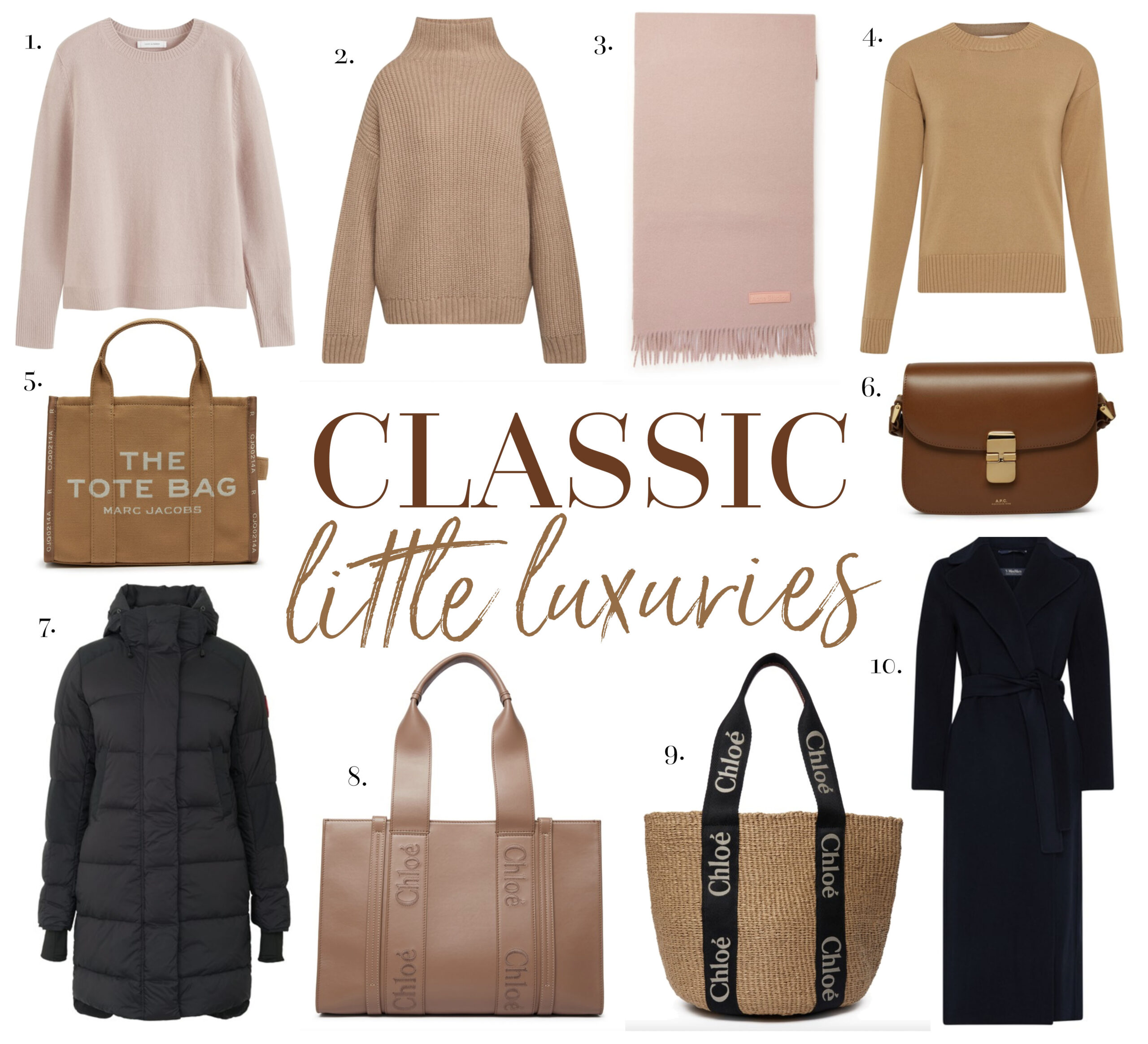 1. Chinti Parker Sweater  // 2. Anine Bing Sydney Jumper // 3. Acne Studios Vesta Scarf // 4. Camel Sweater //5. Marc Jacobs Jacquard Tote Bag // 6. A.P.C Grace Small Bag // 7. Canada Goose Alliston Coat // 8. Chloe Woody Tote Bag // 9. Chloe Large Woody Basket // 10. S Max Mara Poldo Long Belted Coat
Finally, I wanted to share a few more gorgeous neutral picks from the sale. From dreamy soft pinks to gorgeous camel sweaters, there are so many amazing finds! You can see the full selection of items here.
The offer runs until 16 November but the popular items always sell quickly with discounts this good so I would definitely move quickly if you had your eye on something!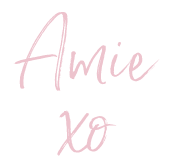 Thank you to 24s for partnering with me on this post!