All images are clickable!
Mytheresa are having the most amazing flash sale! This one is live until Sunday night (19 June) and you can take an extra 20% off their sale selection with a spend over $600 (or equivalent currency). The sale selection is absolutely amazing – so many incredible luxury wardrobe pieces at unbelievable prices. You'll need to use the code SALE4 in the US and SALE2 in the UK to claim the additional discounts 🙂
FEATURED ABOVE
1. Balmain Blazer // 2. Pink Clutch // 3. Floral Mini Skirt // 4. Sunglasses // 5. Gianvito Rossi Blush Pumps // 6. Marni Bag // 7. Gianvito Rossi Mid Heel Pumps // 8. Gianvito Rossi Crystal Sandals // 9. Cream Shoulder Bag // 10. Black Swimsuit // 11. Gianvito Rossi Peekaboo Heels // 12. White Midi Dress // 13. Blue Scallop Swimsuit // 14. S Max Mara Skirt // 15. Floral Sundress
There were too many picks for just one collage haha so I've included another below. There are a ton of pages included and some absolute steals – especially with the additional 20%! We're talking gorgeous Balmain blazers (well stocked with sizes!), AG jeans and the loveliest bathing suits like this beautiful scalloped version or this peekaboo version. I also wanted to highlight the Gianvito Rossi Plexi pumps – these are already majorly discounted AND you can nab the extra 20% off! The discount varies according to country but in the US, it works out to a huge 60% off if you hit the $600 spend.
COLDER WEATHER WARDROBE STEALS
1. Camel Sweater Dress // 2. Off The Shoulder Black Dress // 3. Self-Portrait Mini Dress // 4. Vince Striped Sweater // 5. Off The Shoulder Tan Dress // 6. Salvatore Ferragamo Pumps // 7. TODs Loafers // 8. Paris Texas Boots // 9. S Max Mara Skirt // 10. Blue Knit Sweater // 11. AG Jeans // 12. Black Bodysuit
I also wanted to include some colder weather favourites too! It's not exactly the season for it as we are definitely having a heat wave at the moment but if you're someone who likes to plan ahead, then there are some incredible deals to be had on cold weather picks. From cashmere Vince sweaters (I own the plain version pictured below and it's such a classic, gorgeous piece!) to fantastic pleated skirts like this gorgeous S Max Mara one.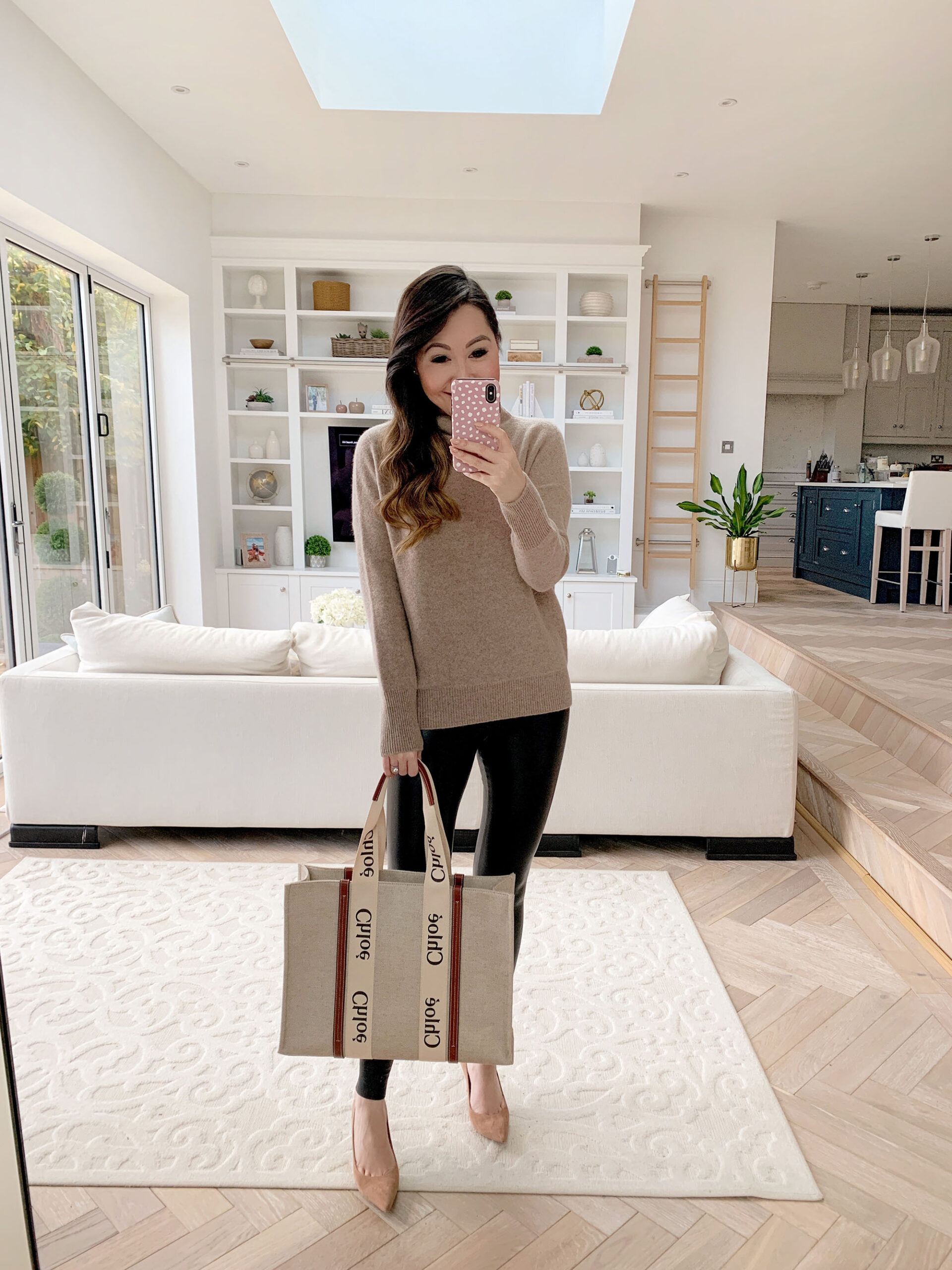 S MAX MARA SKIRT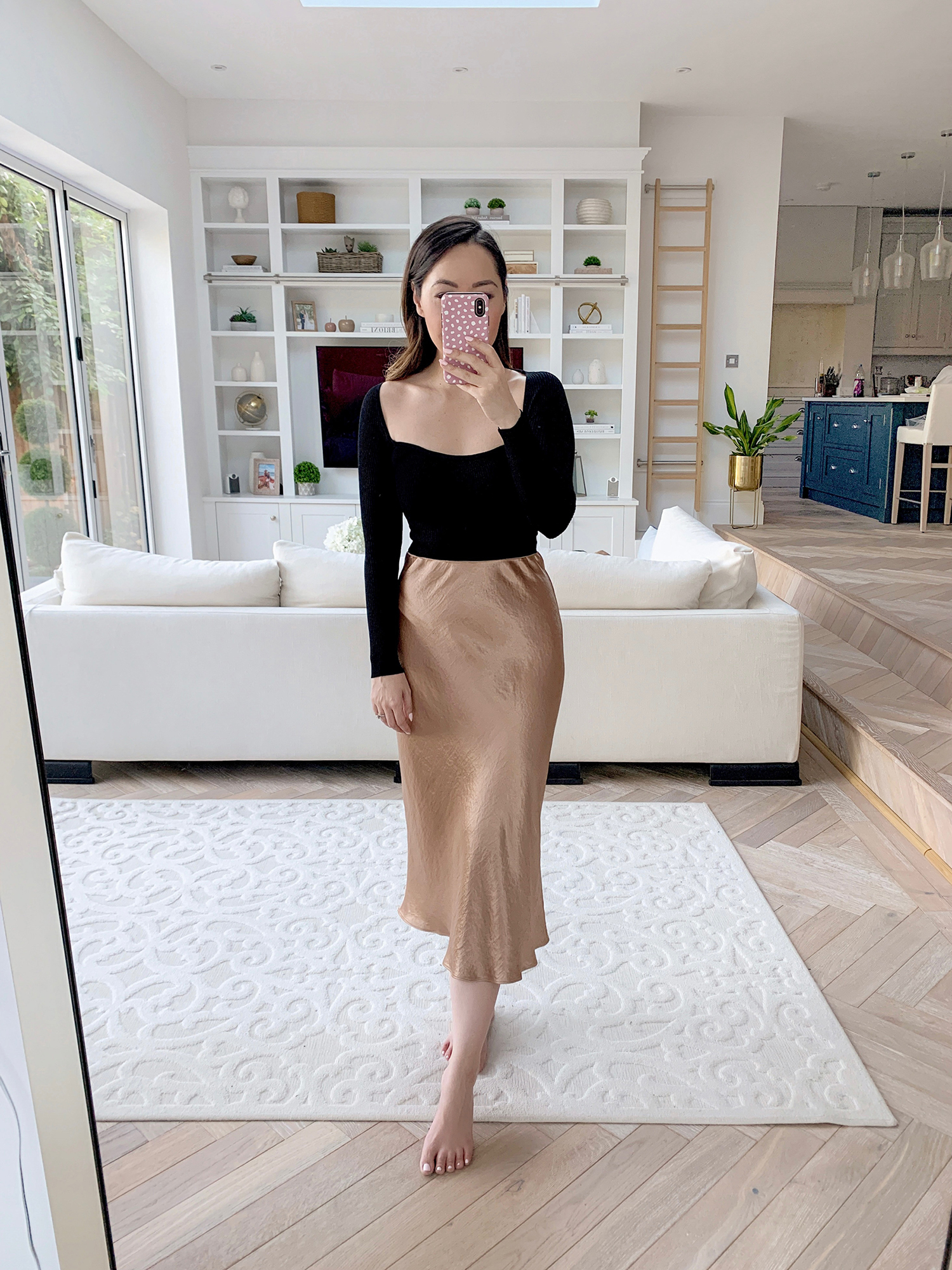 I also wanted to highlight that my S Max Mara skirt is on sale! I think this is now part of S Max Mara's permanent line as they seem to bring it back year after year. It is truly stunning – super flattering (unliked a lot of bias cut skirts), so easy to pull on and the fabric moves in the most beautiful way. I don't think it's badly priced even full price but it's now discounted to 30% off and you can nab the extra 20% if you hit the qualifying spend!
And that's it for the round-up! The flash sale only extends until Sunday night – the items will then still be on sale but the extra 20% off disappears at midnight.
Happy shopping!