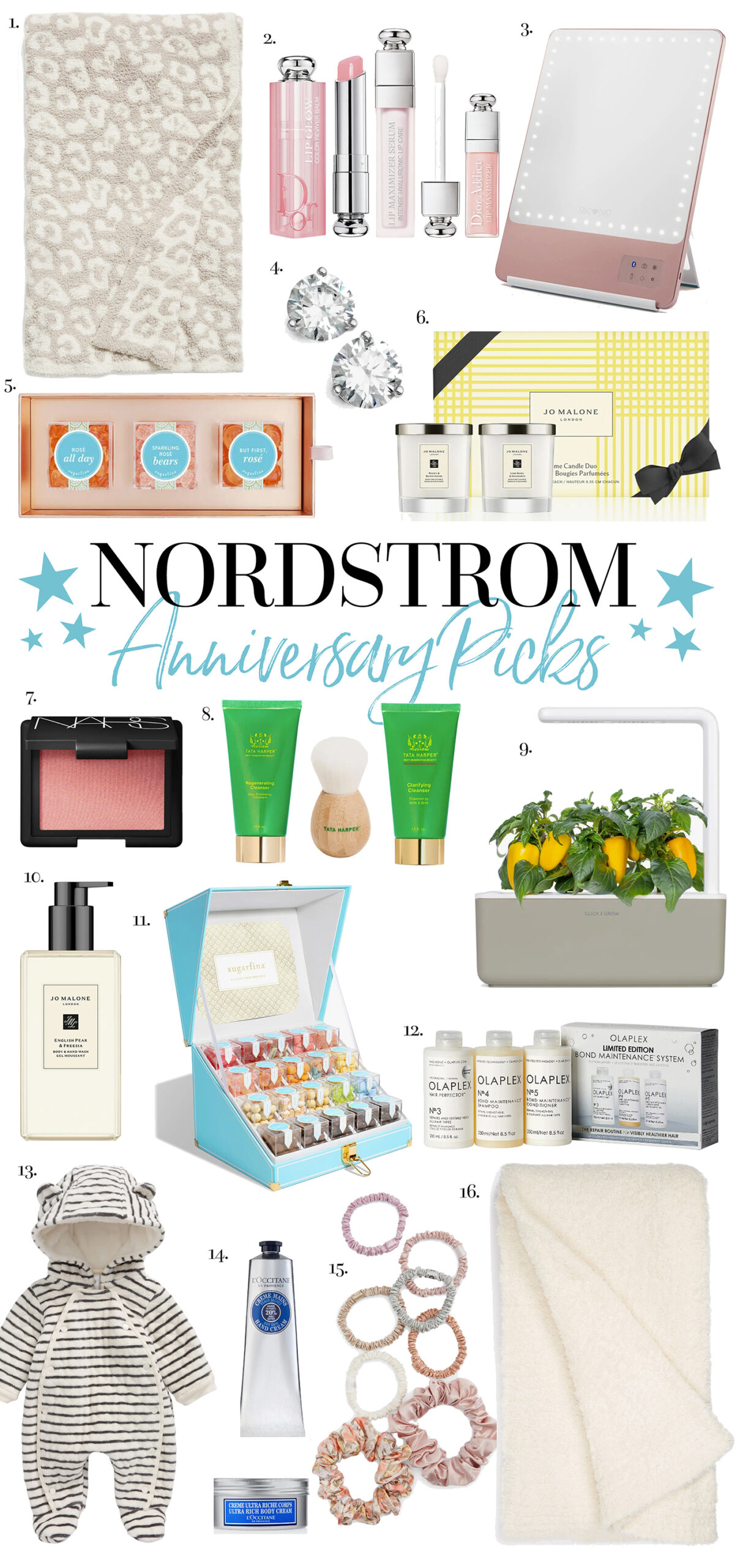 1. Barefoot Dreams blanket // 2. Dior Lip Set // 3. RIKI skinny lighted mirror // 4. 2ct Cubic zirconia earrings // 5. Rosé candy bento box // 6. Jo Malone candle set // 7. NARS blush // 8. Tata Harper Skincare deep clean kit // 9. Click & Grow smart garden // 10. Jo Malone body and hand wash //  11. Sugarfina candy trunk // 12. Opalex bond maintenance // 13. Baby hooded bunting // 14. L'occitane hand and body cream // 15.  Slip Sunkissed scrunchie set // 16. Barefoot Dreams throw blanket
The Nordstrom Anniversary Sale is now in full swing and happily, I have been seeing some restocks happening! I didn't feel like like I covered the non-fashion categories enough in this year's NSale content so I thought I would do a round-up here of some of my favourite picks!
The NSale is such a great time to save on more luxurious items for yourself or your or to stock up on gifts if you like to plan ahead! The Barefoot Dreams blanket is an absolute classic that never gets old for me and shockingly, is still well stocked in all varieties! I also own this Click & Grow and think it's absolutely fantastic. If you're not much of a gardener (like me haha) but you like fresh herbs, you will not regret this purchase. So easy and worthwhile!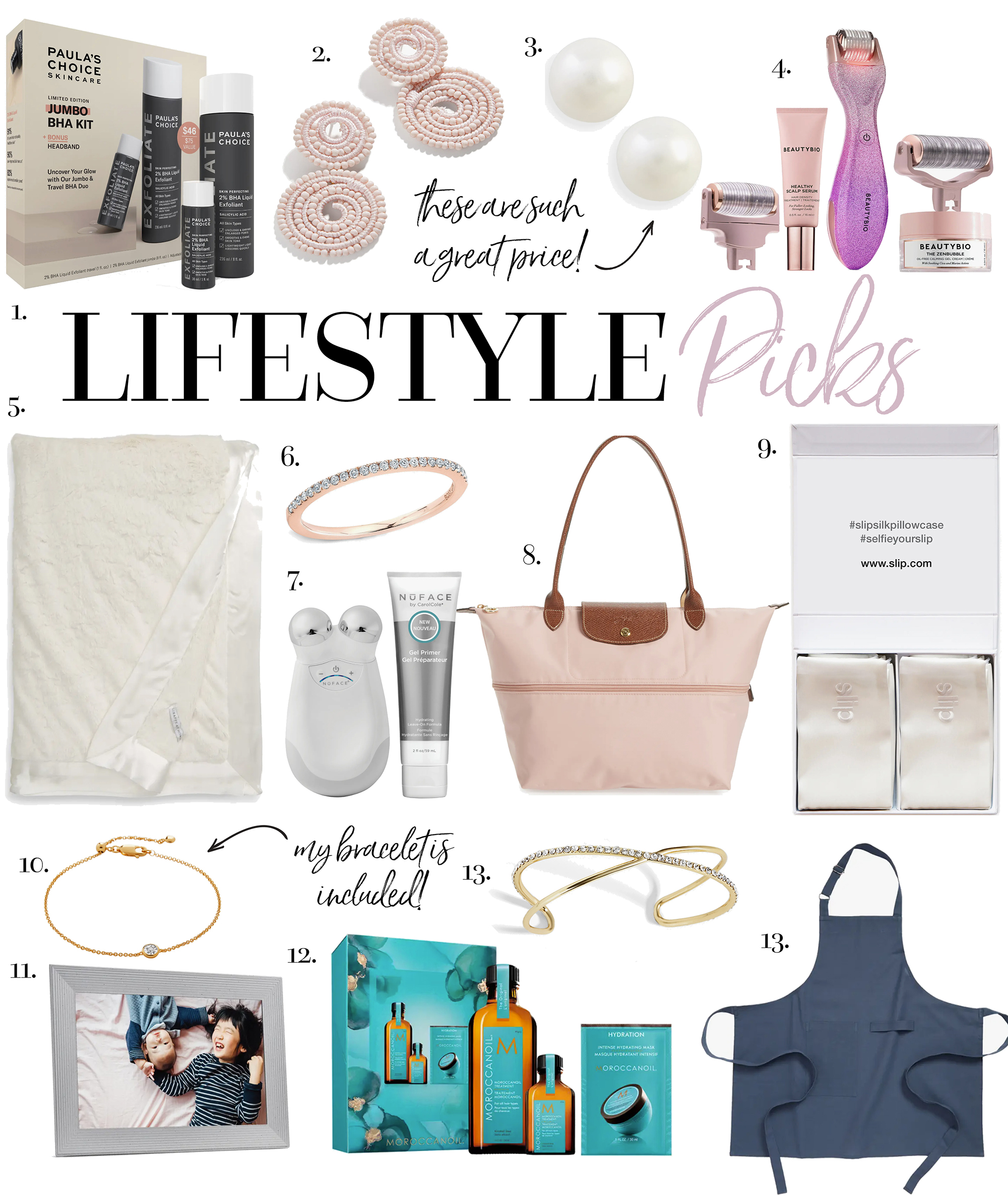 1. Paula's Choice BHA set // 2. Baublebar earrings // 3. Pearl stud earrings // 4. Beautybio GloPRO set. // 5. Giraffe at Home Luxe Throw // 6. Bony Levy Diamond Stacking Ring // 7. Nuface facial toning kit // 8. Longchamp Tote // 9. Slip pillowcase duo // 10. Monica Vinader diamond bracelet // 11. Digital photo frame // 12. Morrocanoil treatment set // 13. Baublebar cuff bracelet // 14. Cotton Apron
There are so many favourites of mine included – I still use MoroccanOil to protect and repair my hair from all the heat styling I do and this set is an amazing deal! My current favourite bracelet is also included in the sale this year – I wear this everyday and it's just the prettiest thing.
If you're looking to pamper yourself, then nothing is better than silk pillowcases! Such a game-changer for your skin and hair. Finally, my two favourite beauty devices – the GloPro and the NuFace are hard to beat. The GloPro is fantastic if you're primary concern is fine lines whereas the Nuface is great to combat any sagging and gravity in general haha. Would highly recommend both!
IN STOCK FAVOURITES I OWN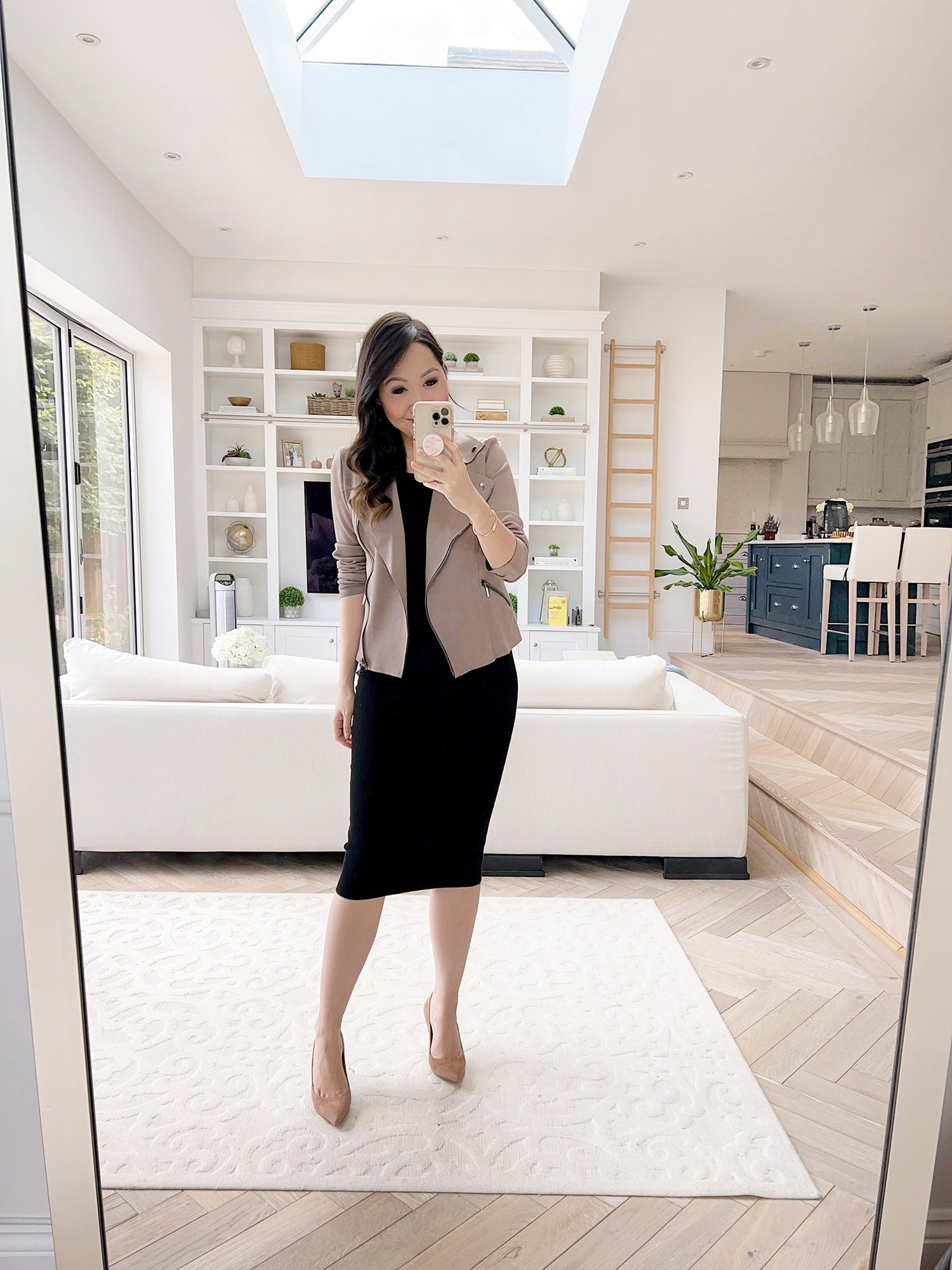 Moto Jacket – size XS // Black Bodycon Dress – size S // Gianvito Rossi heels
One of my favourite buys from this year's sale is this moto jacket. Such a great find and at a really great price too – I'm honestly shocked that these are still in stock! My colourway is running low but it's stocked in three other colours with fairly good stock availability currently. Would definitely recommend this one – very comfy but structured enough to be super chic too. I took an XS and I'd say it runs TTS with enough room for me to fit a crewneck underneath (whilst still being fitted).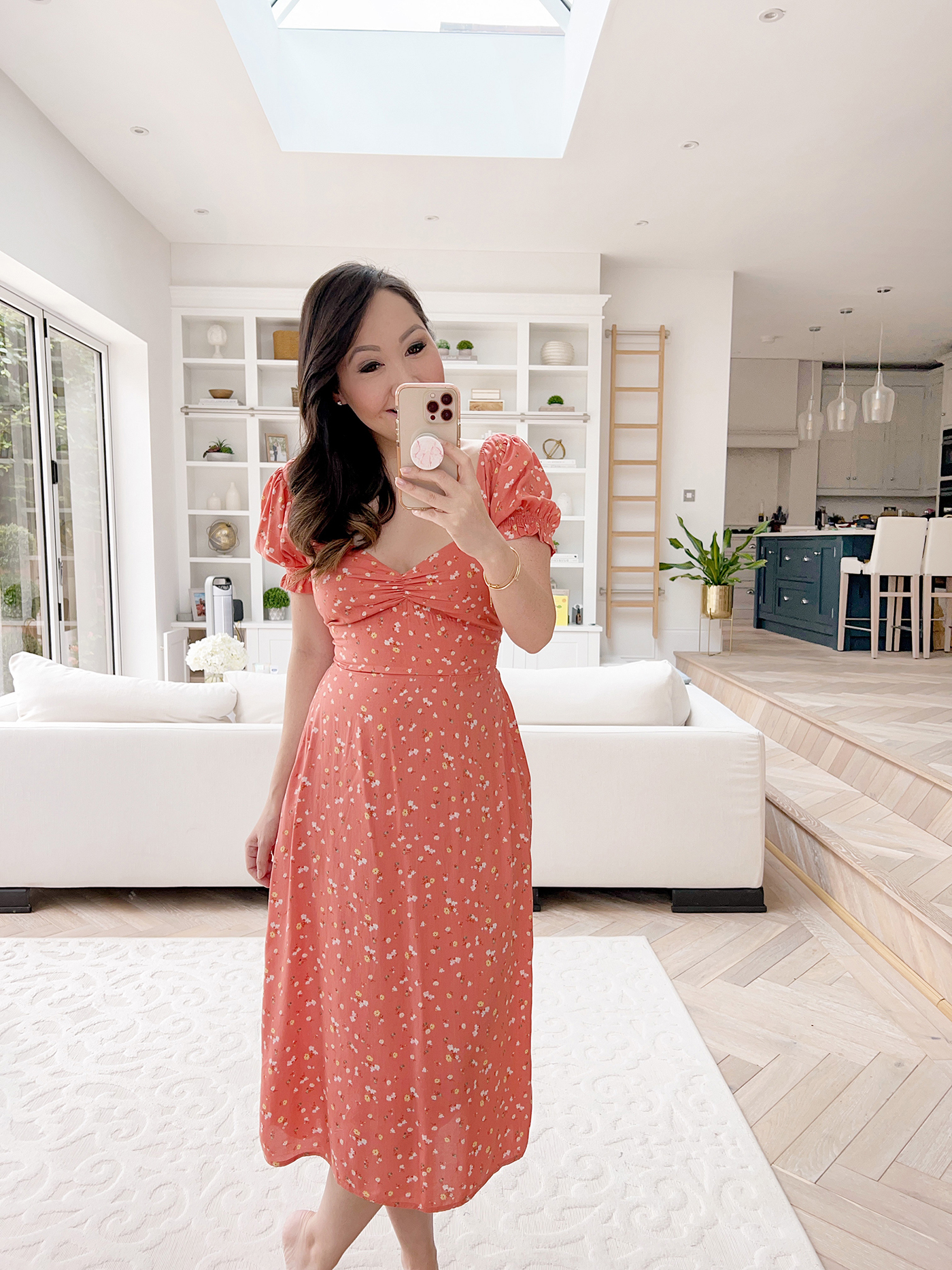 Peach Midi Dress – size Small
One of my lost Nordstrom packages turned up today! Woohoo! Totally thought both were lost forever so I'm thrilled that one of them turned out (keeping my fingers crossed for the other one still!). I only had the chance to snap a quick photo of this dress today (everything else needs a serious iron after being stuff in a box for so long haha!) but I'm so happy with everything!
This dress is absolutely adorable – it probably won't fit for too much longer haha but I do think it runs TTS. Very light and breezy but not see-through at all. The colour is a really pretty soft peach/ apricot with adorable little puff sleeves. I took a size small for reference.
Black Pleated Dress – size XS
I was so happy with this dress – another later arriver from my long lost package, it is just the loveliest thing! Pleated all the way throughout with beautiful movement in the skirt. The dress is pretty shapeless without the tie belt but as soon as you pop that on, it seems to transform the dress. Really elegant and equally lovely with flats as it is with heels. I took a size XS for reference.
If you want to see a video mod shot, you can check out this video where I show it towards the end 🙂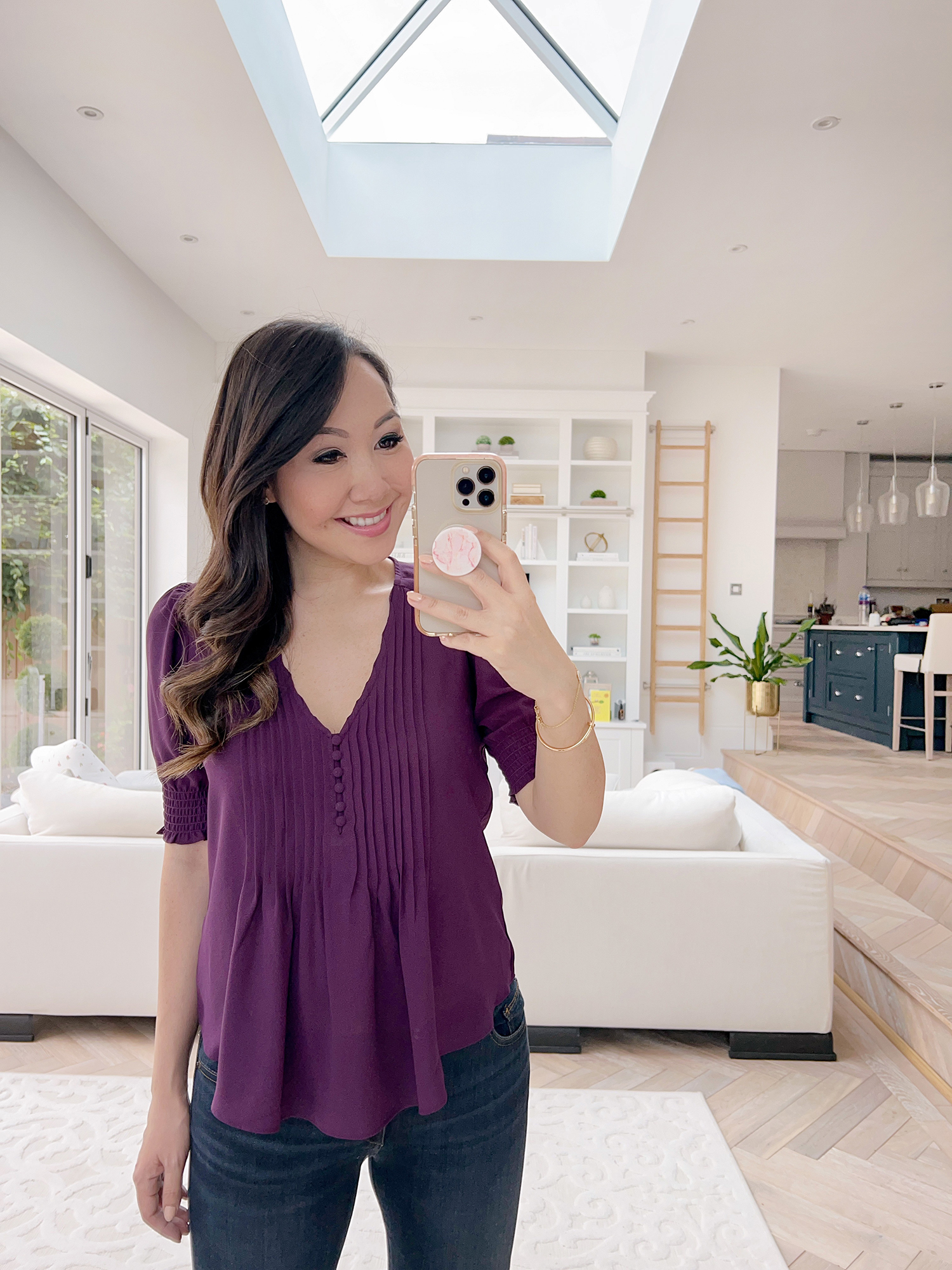 1.State Top – size XS // Skinny Jeans – size 28
Next up – my 1.State top! I already owned this style in a yellow print and it's become one of my most worn tops. Such a pretty style – smart enough for work zoom calls whilst also being super comfortable and lovely enough for casual wear too. The NSale version is cut a tiny bit lower in the v-neck but has the same lovely draped fit in the body with the smocked sleeves.
I took the size XS and found it fit TTS.
Rebecca Taylor Blouse – size 2
This was one of the pieces that I was most excited about so I was thrilled to have it finally arrive! This one is a Rebecca Taylor top and is just SO pretty! It's fully lined with semi sheer sleeves, a nipped in waist and gentle peplum. It zips up on the side but as as heads-up, there's no stretch. I probably only have another couple of weeks wear out of mine but I do think it fits TTS in general. I took my regular size 2.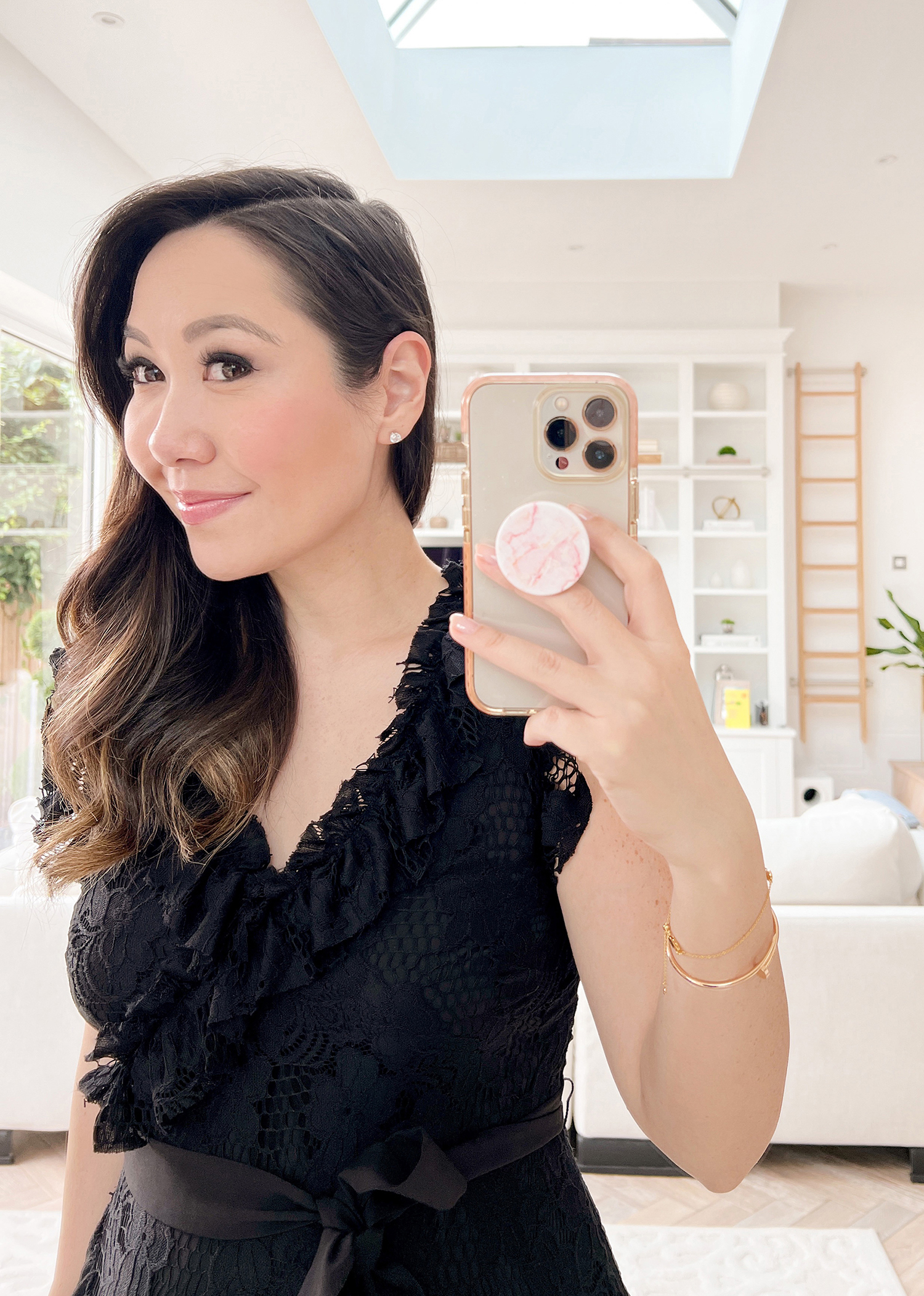 And then, my earrings! These sold out by the third day of early access but happily they've restocked. I've raved about these before but they really are the perfect affordable studs – they have an insane amount of 5 star reviews to prove it haha. If you want some studs that are super affordable but look like the real thing, then definitely worth a look!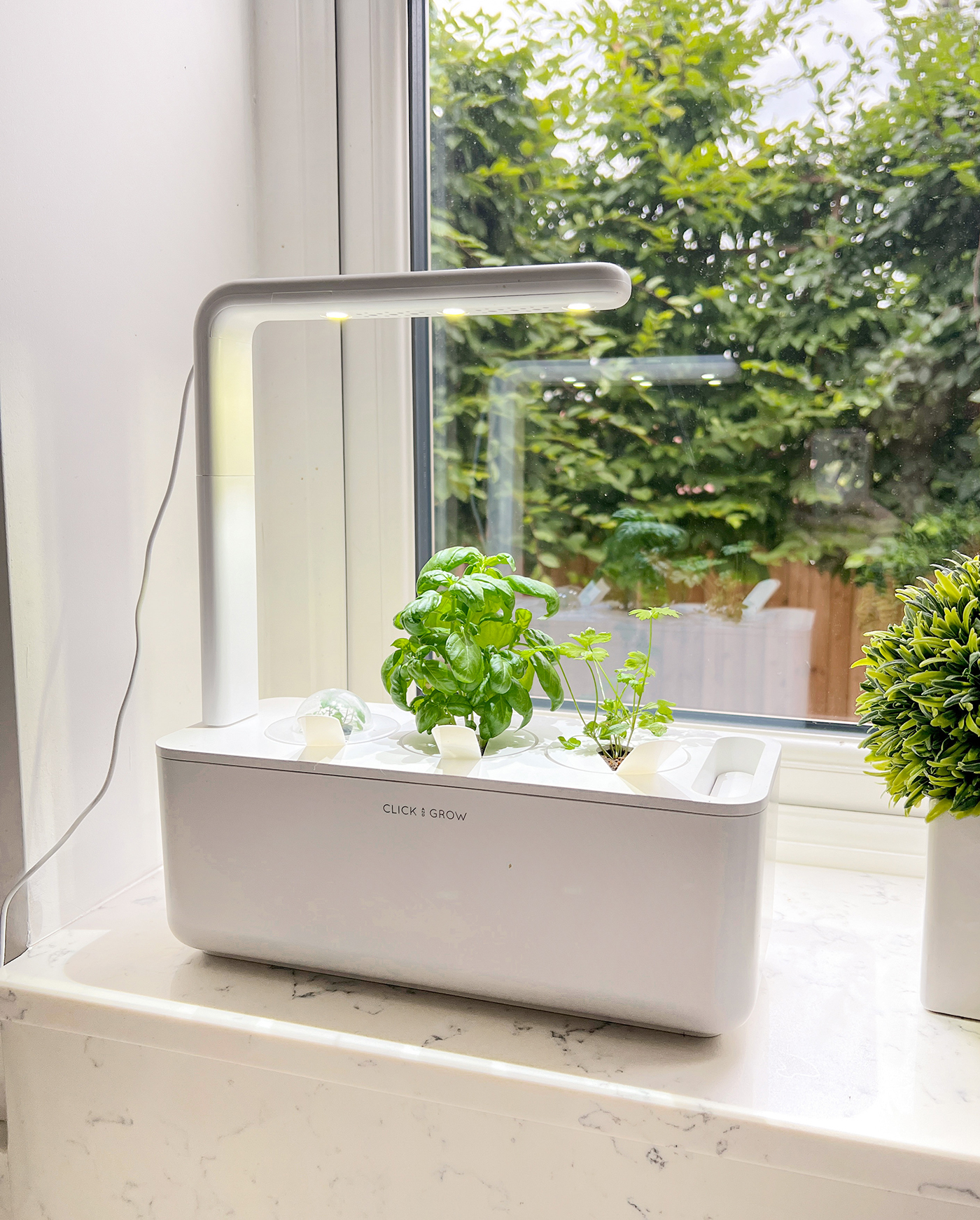 Click & Grow White Indoor Garden
Finally, my Click & Grow! I got mine last year and it's seriously the coolest device. I'm not much of a gardener but I do love fresh herbs and this is a fantastic way of growing your own whilst also being incredibly low maintenance. Setting up takes a couple of minutes and then all you have to do is top up with water every few weeks. I popped in some fresh pods at the beginning of July and you can see how fast they grow. I have fresh mint on the left (always the slowest for some reason haha), basil in the middle and parsley on the right.
You have to purchase the pods separately but they last an incredible amount of time and have been 100% worth it for me.
Phew, and that's it for this round-up! Thank you for stopping by and happy shopping!