All images are clickable!
The Nordstrom Anniversary sale is here! I've been shopping this sale for years and it's one I look forward to every year. Some of my old favourites sadly aren't included in this year's sale but fortunately there are a ton of gorgeous new arrivals that I'm so excited to try!
If you've shopped this sale before, you'll know that stock moves extremely quickly so even though I'll be covering this sale on my YouTube channel, I've also listed every single item I ordered here so those who don't want to wait for the haul video! If there's something on your wishlist or you see something that catches your eye, I would always recommend purchasing sooner rather than later to avoid stock disappointment.
FEATURED ABOVE
1. L'AGENCE Blazer // 2. Boss Long Sleeve // 3. Vince Blend Sweater // 4. HALOGEN® Sleeveless Top // 5. Good American Blazer // 6. Varla Block Heel // 7. Allbirds Running Sneakers// 8. Blair Slip-On Sneaker // 9. Kate Spade Shoulder Bag // 10. HALOGEN® Bustier Vest // 11. AG Skinny Jeans // 12. Melloday Midi Dress // 13. High Waist Skinny Jeans // 14. Puff Sleeve Top // 15. Pleated Asymmetric Top // 16. Sleeveless Blazer Minidress // 17. HALOGEN® Midi Skirt // 18. Houndstooth Hem Dress // 19. BP Butter Tank Bodysuit
This year's sale is brimming with incredible pieces that made it so challenging to streamline my order (believe it or not, this is the condensed version!). There are so many pieces that I'm thrilled about, but a few stand out in particular.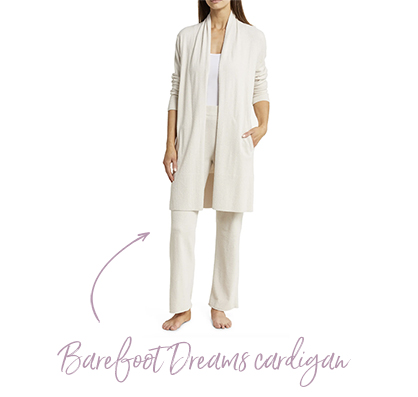 It's no secret I'm a huge fan of Barefoot Dreams in general – my whole house is filled with their blankets, cushions and cardigans!
The cardigan selection is definitely reduced this year but I was so excited to see a new style introduced – this CozyChic UltraLite cardigan!
Their usual cardigans can be on the heavier side so I'm super excited to try this one! I took mine in the X Small as they do tend to run a little large in my experience.
CozyChic UltraLite Shawl Cardigan – Almond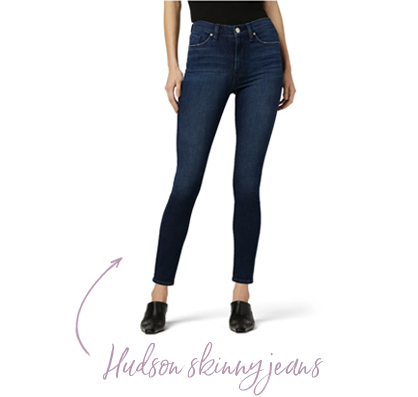 My absolute favourite jeans over the past few years have pretty much all come from the Anniversary sale so it's always a category I make sure to check out.
My favourite AG jeans have made a return this year and are well deserving of their incredible 5 star ratings. If you love your skinny jeans, these are really the ultimate!
I am in desperate need of some new denim so I ordered two pairs myself this year – a Kut From The Cloth pair and these Hudson dark super skinny jeans. Both were great prices so fingers crossed I like them both!
COSY PICKS!
All images are clickable!
1. Lunya Silk Pajamas //2. Pure Silk 10-Pack Scrunchies // 3. UGG Zip Bootie // 4. AQUIS Hair Drying Tool // 5. Nike Sweatshirt // 6. Caslon Raglan Sweater  // 7. Caslon Long Sleeve Top // 8. Treasure & Bond Sweater//
The Nordstrom Anniversary sale is always a great time to stock up on cosy pieces from sweaters to luxe pyjamas. I've spoken about Caslon before but they're a great brand for incredibly soft fabrics at a really great price. I have one of their cardigans from years ago that is still going strong!
There are also so many great beauty finds – I tend not to buy as much beauty from the sale since it doesn't always work out cheaper for me in the UK but I had to make an exception for the Aquis drying towels (total hair game changers if you've not tried them already!) and the Slip hair ties. I use Slip's silk hair ties on a daily basis and would not be without them now. This set is an exclusive I believe and I just love the colours!

I go through loungewear and pjs at a crazy pace these days thanks to the ever-mucky duo of Leo (just starting solids!) and Yoshi (looovvves dirt and mud so much!), so I picked up two sets – a new version of their classic moonlight pyjamas as well as this pair of Lunya pjs which I have been wanting to try for ages!
The moonlight pjs are so famous at this point and for good reason. They are super soft, incredibly comfy and are wonderfully breathable too. If you like your soft fabrics, I would highly recommend.
Pink Striped Moonlight Pajamas
I'm fairly convinced that Treasure & Bond is the most underrated brand on Nordstrom – they do the softest fabrics and the sweaters I own have all worn and washed incredibly well.
Best of all – they are ridiculously well priced! Even at full price, they represent great value but obviously during the #NSale, they are even better.
I went for this gorgeous speckled sweater – it has a slightly oversized fit and is a classic crewneck. Whenever anything is billed as oversized, I will always size down so I went for the XXS in this one.
Treasure & Bond Chunky Sweater
WHAT DAN ORDERED
Images are clickable!
1. Navy Polo Shirt // 2. AllBirds Sneakers // 3. Hugo Boss Jacket
Finally, I wanted to share what Dan ordered! Dan went *slightly* more minimal than me haha but made a beeline for some solid navy pieces. He's a big Hugo Boss fan and we both spotted this great lightweight jacket – he has a thicker version already that he wears a ton so hopefully he'll get a lot of use out of this transitional version.
He also went for this polo shirt and these great sneakers from AllBirds. I'd never heard of the brand but Dan had and we both loved the more minimal designs (so much so that I ordered a light blue pair myself!).
And that's everything I ordered from the sale! If you're looking for more tried & tested recommendations, then I have a series of videos over on my YouTube channel covering the items that I already own and love that are featured in the sale. I'm going to be covering fashion, lifestyle, beauty and baby picks in depth during the first couple of days of the sale, and of course I'll share a haul as soon as my order arrives!