All images are clickable!
We are in full swing with the spring offers now and another amazing discount code has just gone live… this time courtesy of Saks Fifth Avenue! This is another tiered discount where you can take $50 off every $200, with a maximum discount of $500. Meaning if you spend $2000, you get a HUGE $500 off! The discount isn't off everything but there is still a healthy amount included.
FEATURED ABOVE
1. Saint Laurent Suede Loulou // 2. Saint Laurent Rose Gold WOC // 3. Saint Laurent Medium Puffer // 4. Saint Laurent Lou Camera Bag // 5. Saint Laurent Nikki Bag // 6. Saint Laurent Camera Bag // 7. Manolo Blahnik White Hangisis // 8. Tory Burch Camera Bag // 9. Manolo Blahnik Blue Hangisis // 10. Cinq A Sept Black Blazer // 11. Salvatore Ferragamo Belt // 12. Saint Laurent Red College Bag // 13. Cinq a Sept White Blazer // 14. Saint Laurent Medium Loulou // 15. Saint Laurent College Bag // 16. Saint Laurent Tote Bag
And most importantly, this time Saint Laurent bags are included! So many of their most popular and classic items have been included in this generous discount so if there is a Saint Laurent style that you've had your eye on, it is definitely worth checking to see if they have it!
You'll need a code to shop the offer – use ADORE21SF at checkout and you can see the full selection of Saint Laurent bags here. You can spot the ones included in the discount code with the red text below the style name.
WOCs and SLGs
All images are clickable!
1. Puffer Clutch // 2. Polka Dot Card Holder // 3. Long Wallet // 4. Black Card Holder // 5. Dark Grey WOC // 6. Polka Dot Zip Pouch // 7. All Black WOC // 8. Burgundy Card Holder // 9. Black BiFold Wallet
Apart from a ton of bags included, there are also a LOT of smaller wallets, card holders and WOCs. Because of the tiered style of the discount, the minimum spend is only $200 to start the savings, so it's a great chance to go for smaller items that might otherwise not hit the minimum spend threshold of higher tiered offers.
MY FAVOURITE BLAZER – ON SALE!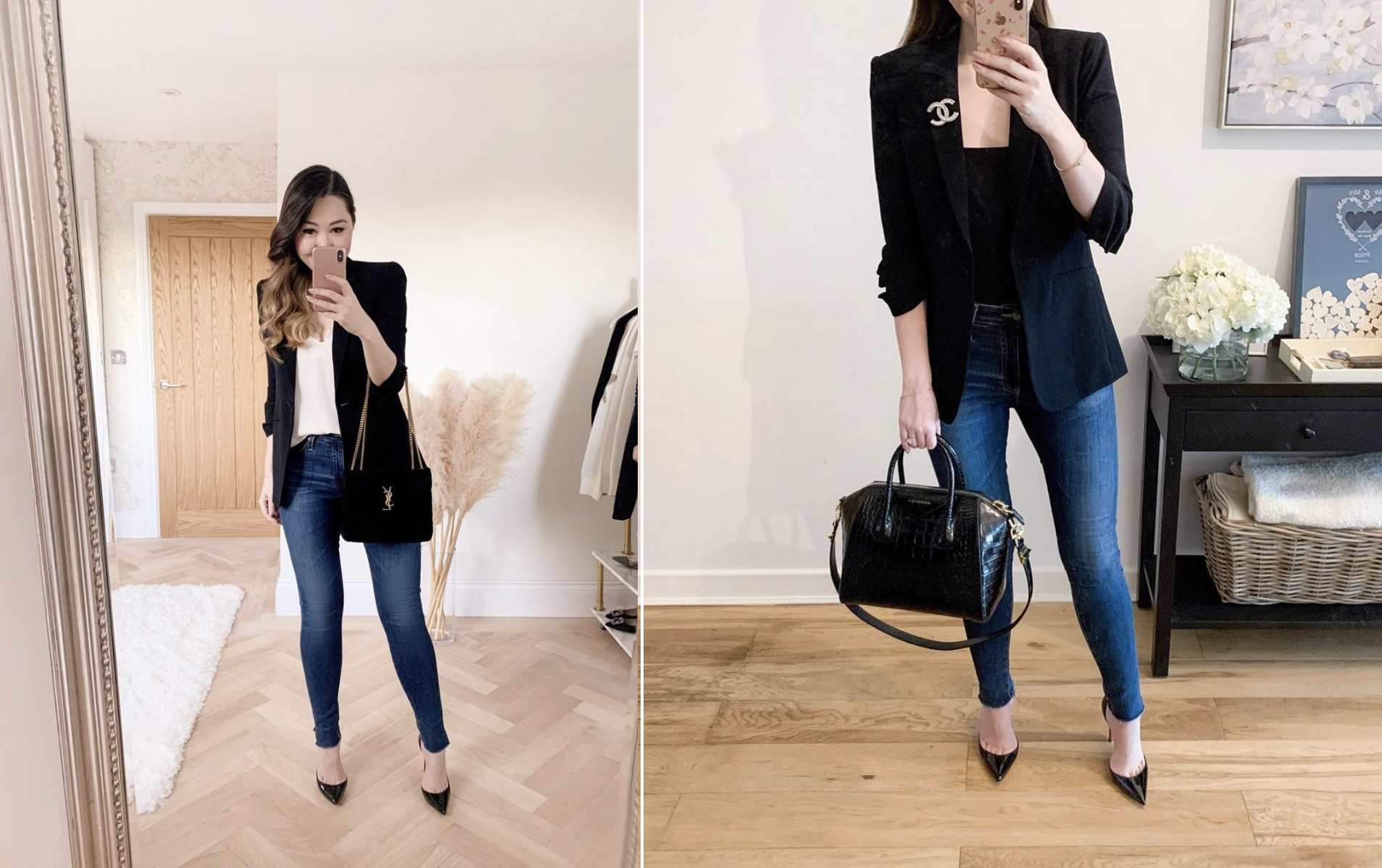 Black Khloe Blazer (wearing a size 00)
Finally, I wanted to mention that my Cinq A Sept blazer is included in the offer! This is genuinely my favourite blazer that I have ever owned. The photos show me wearing my original black one, but I've since ordered the navy and I just ordered the white version this week to take advantage of the savings!
It is a fitted style but is extremely comfortable and fairly lightweight. What makes it special is the ruched 3/4 length sleeves (always more flattering IMO) and the slightly padded shoulders which give you the sharpest silhouette. I've had my black one for a couple of years now and I'm still as obsessed with it as I was when I first bought it (hence the other colour purchases!). I would say to size down though as it does tend to run a little big. The black I bought in size 00 – but my navy one does fit a little smaller.
The sale doesn't run for long – it ends tomorrow (Saturday 17 April) I believe and Saks stock is always fairly limited in my experience so I'd keep this in mind if there was something you had your eye on!