All images are clickable!
Lunar New Year is upon us and with it, the first luxury sales of the year! Lunar New Year started off as a solely Chinese and Korean celebration but in recent years, more and more international retailers offer discounts to celebrate the occasion.
This year is definitely no except and there are some AMAZING sales that have gone live so I'm rounding them up in today's post. The collage above is a mixture of various different retailers but all items are also featured below with the respective discount codes you'll need to shop them.
Mytheresa – US, China, Hong Kong, and South Korea only
All images are clickable!
1. White Fleece Coat // 2. Salvatore Ferragamo Belt // 3. Balmain Blazer // 4. Gianvito Rossi Heels // 5. Canada Goose Jacket // 6. Gianvito Rossi Navy Heels // 7. Canada Goose Coat // 8. Tods Belt // 9. AG Skinny Jeans // 10. Self-Portrait Dress // 11. Self-Portrait Burgundy Dress // 12. Blue Tie Blazer // 13. Jimmy Choo Fleece Lined Boots // 14. Sand Suede Boots // 15. Jimmy Choo Boots
Mytheresa have gone live with their Lunar New Year offer and it is a fantastic one! You can take $100 off your $600 spend, or $200 off a $1000 spend! This one is only available in the US, China, Hong Kong and South Korea currently. The discount isn't available sitewide but there are a ton of items included – you can see the full selection here!
You will need to use a discount code for reach level of spend, which you can see here:
$100 off with minimum spend of $600 – use code LNY100
$200 off with minimum spend of $1000 – use code LNY200
SPRING READY PICKS
All images are clickable!
1. Bow Detail Dress // 2. White Dress // 3. Silk Wrap Dress // 4. Floral Tie Dress / 5. Flounce Mini Dress // 6. Floral Tie Dress 7. Stella McCartney Bag // 8. Gianvito Rossi Plexi Pumps // 9. Aquazurra Sandals // 10. Gianvito Rossi Sandals // 11. Stella McCartney Contrast Bag // 12. Jimmy Choo Nude Pumps
With winter sun vacations, spring and wedding season all either here or right around the corner, so many designers have released the most dreamy pieces! From gorgeous Zimmermann dresses to fantastic Gianvito Rossi heels (obsessed with this glittery version of my plexi sandals!).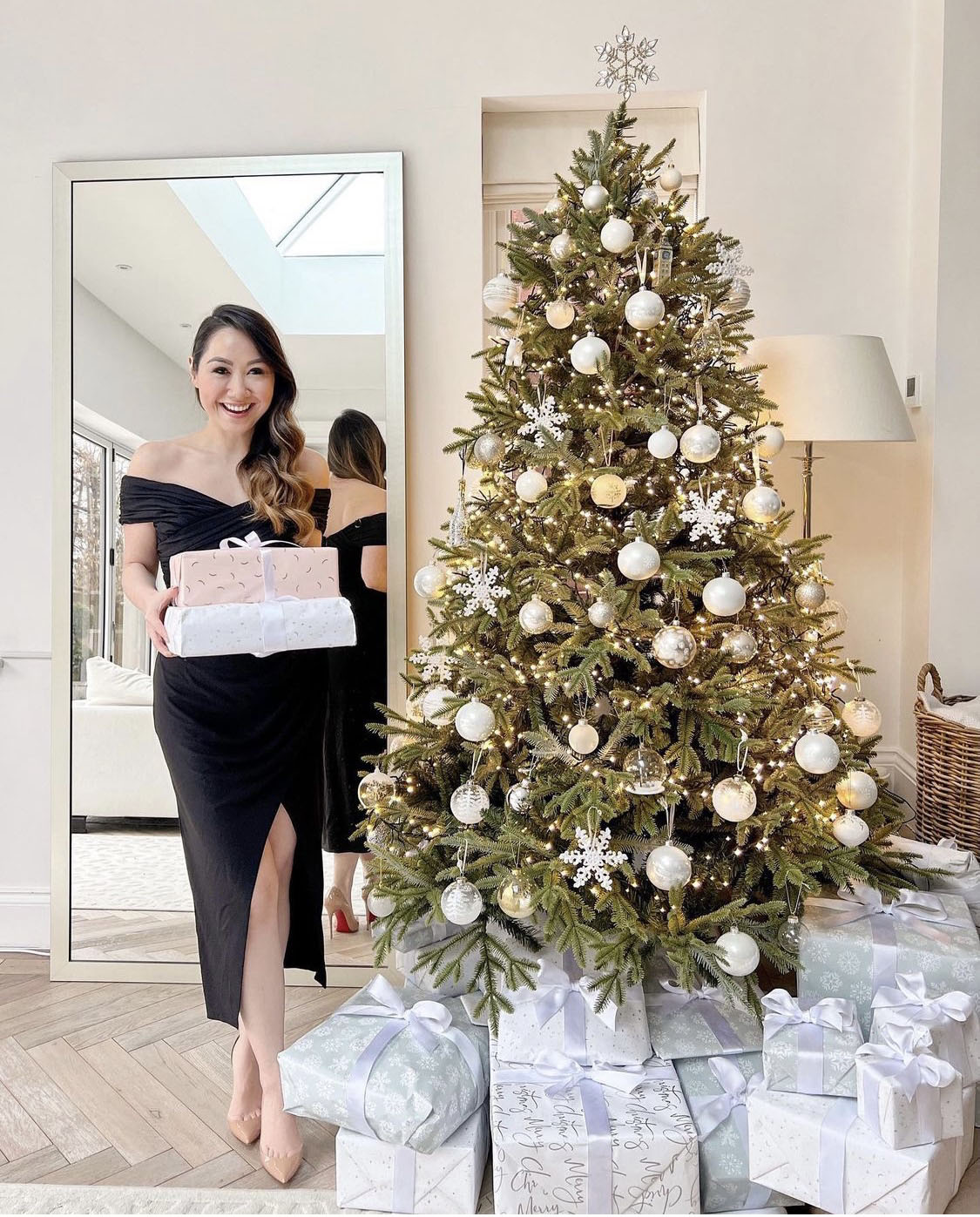 Self-Portrait Dress (size UK 8/ US 4)
My Self-Portrait dress is also included! I wore this on Christmas Eve and absolutely loved it! It's made of a stretch jersey so is happily incredibly comfy as well as being super glam!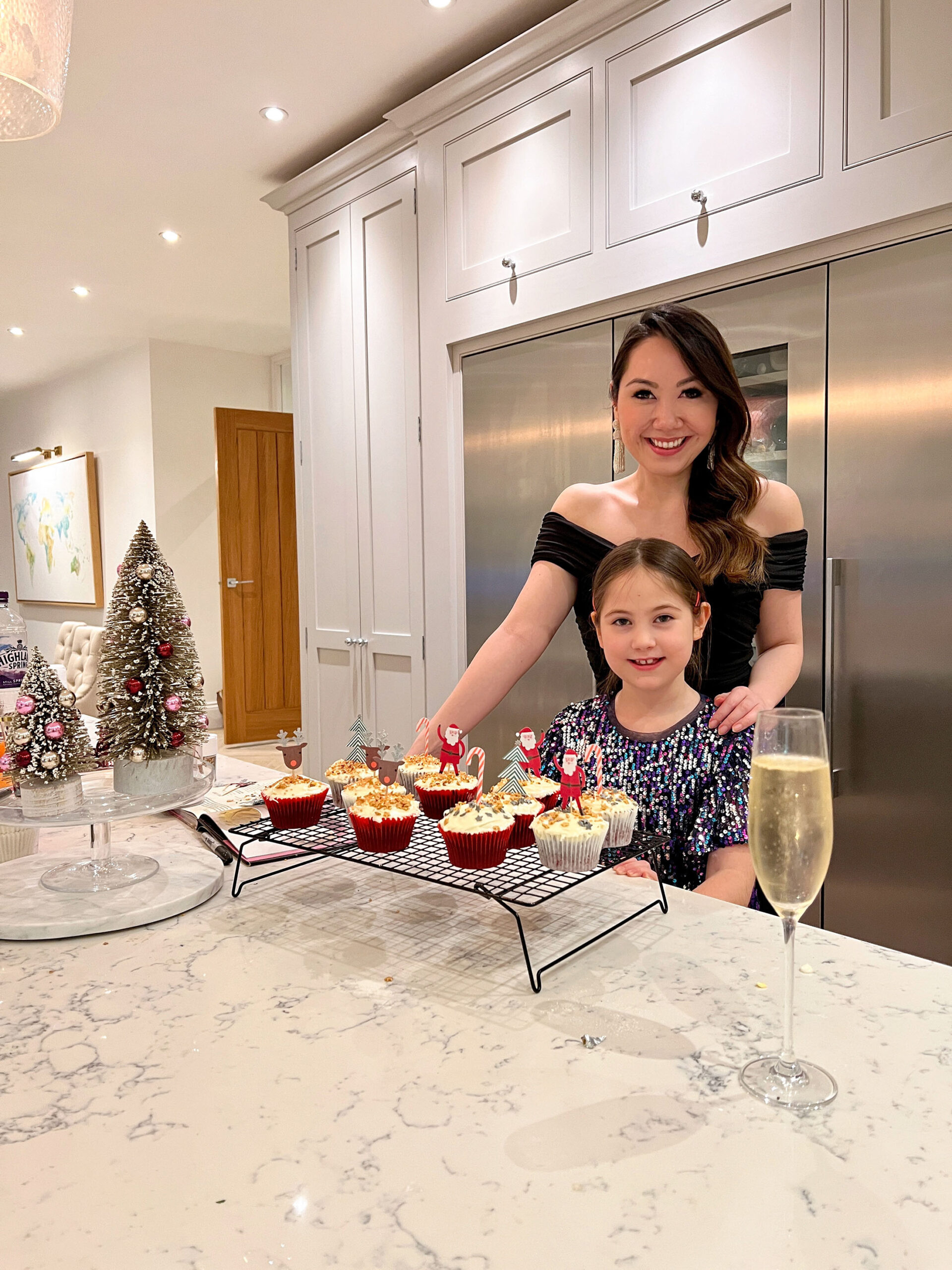 Me and my niece showing off our baking skills haha!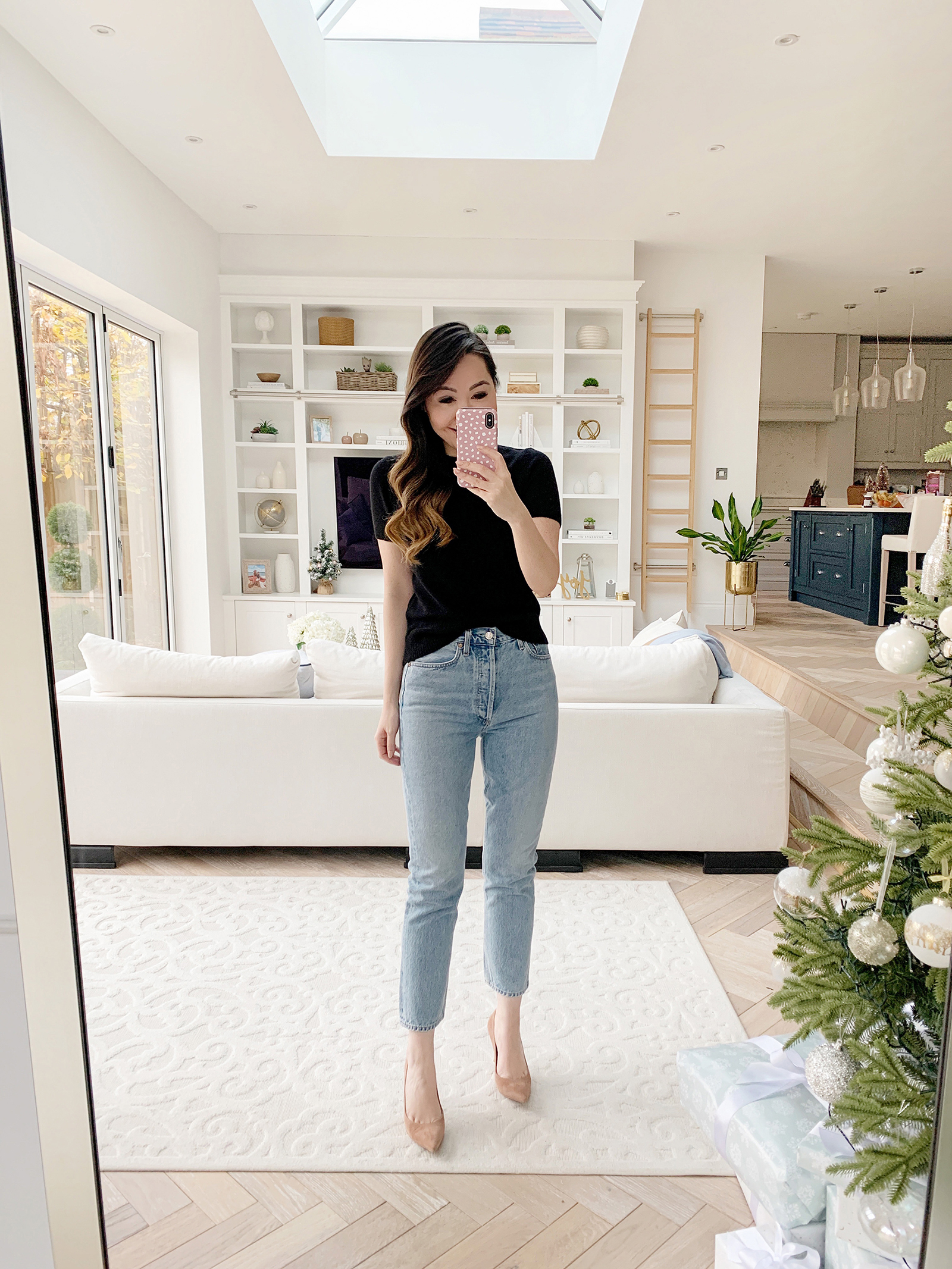 I also wanted to highlight that my Gianvito Rossi block heels – there are two colours included in the discount code; a slightly darker version of my exact ones as well as a gorgeous navy version as well. These are so great – super comfy for a heel so high due to the block heel and incredibly flattering on the foot. I found mine ran true to size. If you're after the higher stiletto version, my exact colour is also available and included in the offer!
Lululemon – UK and Europe only (ends Sunday at midnight!)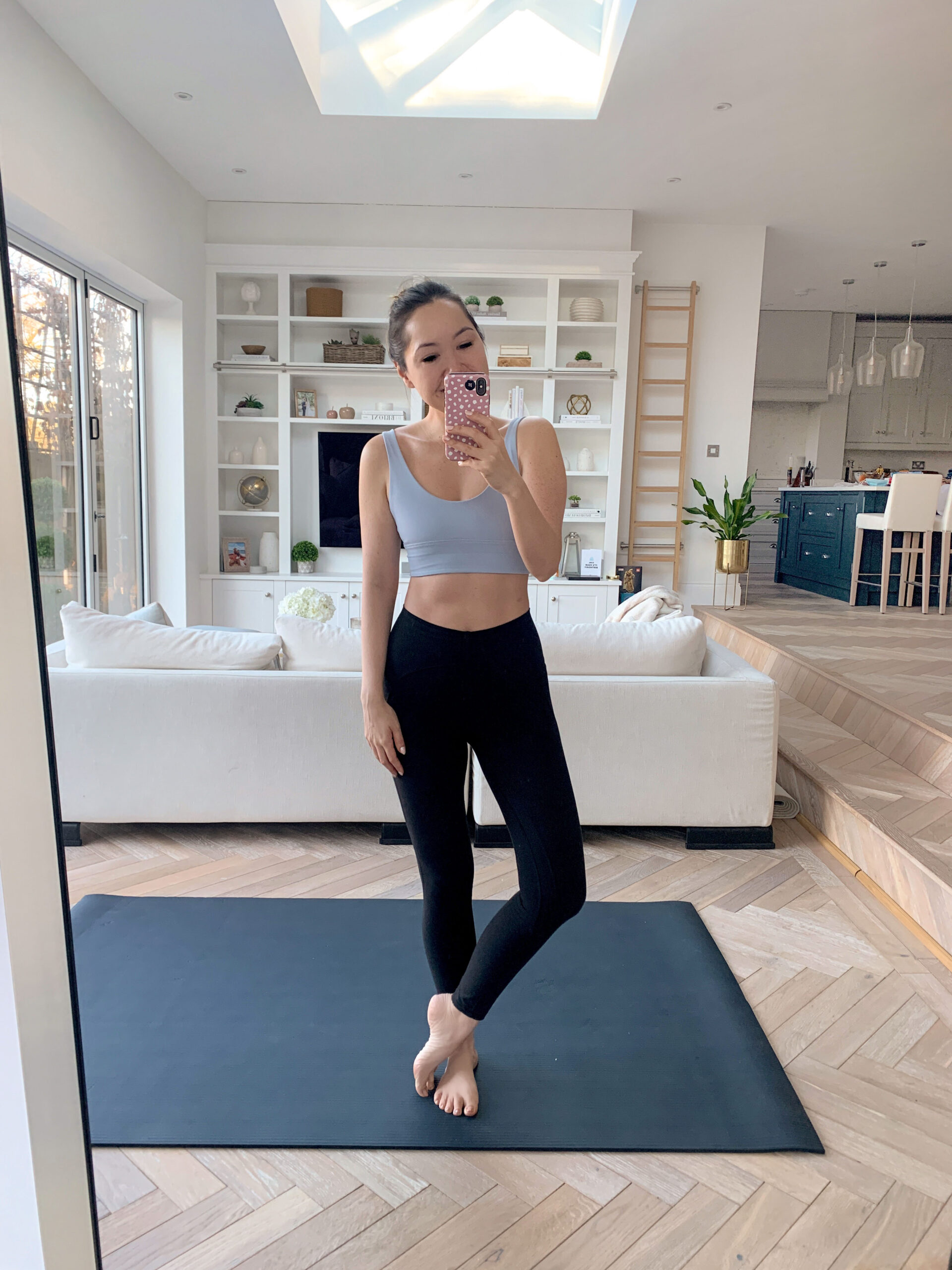 Align Bra (size 6) // Align Leggings (size 4)
Lululemon are live with the rarest of things – a sitewide discount code! I've been shopping from Lululemon for years and I don't ever remember them doing a sitewide discount code! As you can imagine, I very quickly placed an order and stocked up on my favourites haha!
The outfit above belongs to the Align line – if you're new to Lululemon, this is the softest most gorgeous line and one that I've been buying for years. For the leggings, you can size down for more compression (I own the leggings in both size 2 and size 4, depending on what I'm planning to use them for) and mine see me through from everything to cardio to days out. They don't have that shiny feel of a lot of activewear so are perfectly suitable as everyday leggings IMO. The bra is a newer discovery but is the perfect combination of stretchy comfort and support. For sizing, I almost always go for a size 6 in their sports bras as they run small in my experience.
1. Scuba Half Zip // 2. Wunder Puff Vest // 3. Like a Cloud Bra // 4. Perfectly Cropped Crew // 5. Free To Be Serene Bra // 6. Instill Leggings // 7. Align Shorts // 8. Align 25 Leggings
All images are clickable!
I've rounded up my absolute favourite items above – there are so many so items I love but I've done my best to only pick my absolute favourites. In terms of bras, the cloud bra is the softest bra ever! Comfy enough to wear all day line, it's also great for light impact workouts but probably not for cardio etc. For more support, the Free to Be Serene bra is fantastic and is what I'm wearing right now as I type this! Great for even the hardest workouts – I do size down to a 4 in this one.
I absolutely love both the cropped crew (seriously on a whole other level of soft!) and the scuba half zip and wear these most days (I own them in multiple colours now!). For bottoms, the Align 6 inch shorts are perfect for summer. For a silkier/ softer and more compressed feel, the Instill leggings are also gorgeous! The Wunder Puff line is another standout and I just ordered this black one with the code.
The discount code is GIFT20 and is only live until Sunday 23 January at midnight and as far as I'm aware, is only available in the UK and Europe.
LUISAVIAROMA – Global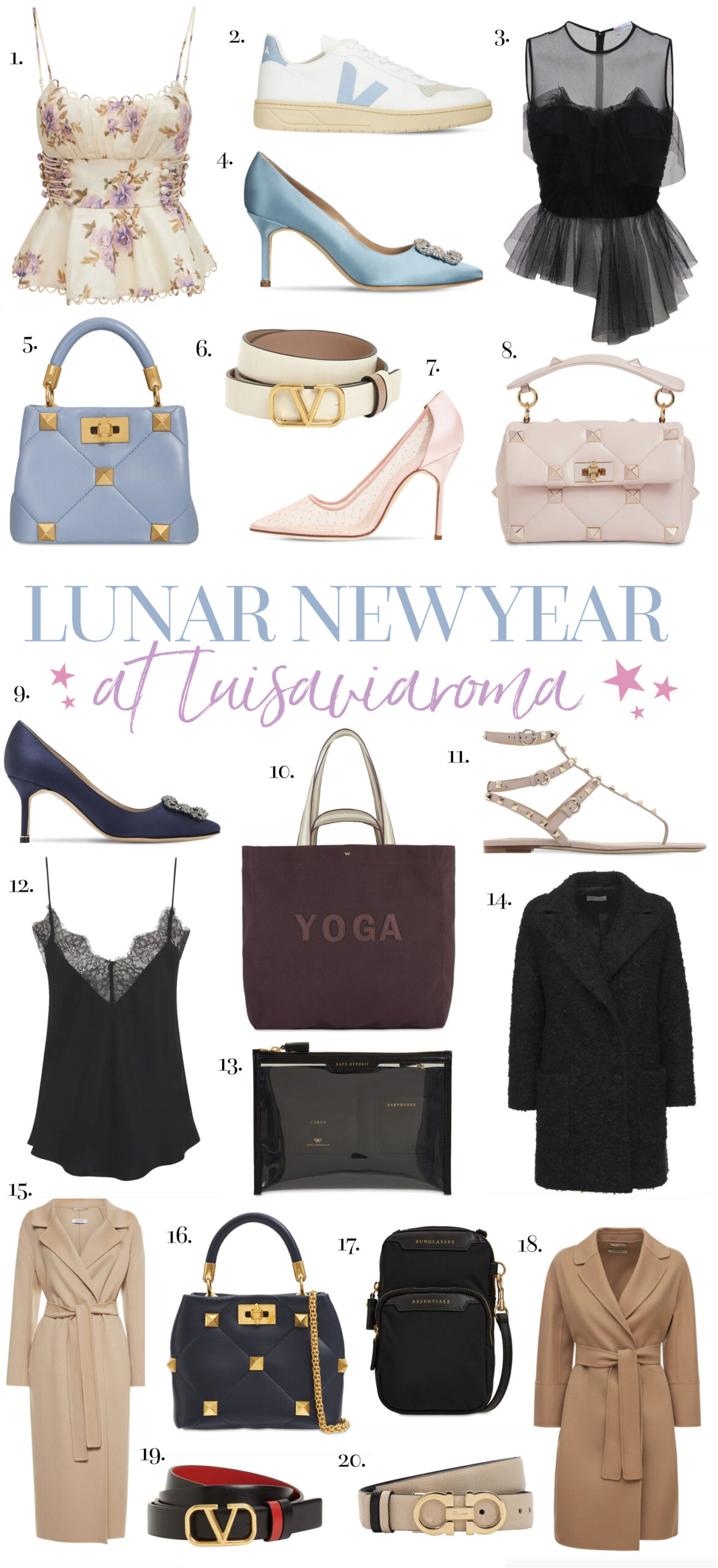 1. Zimmermann Top // 2. Veja Sneakers // 3. Valentino Tulle Top // 4. Manolo Blahnik Heels // 5. Valentino Blue Bucket Bag // 6. Valentino Belt // 7. Pink Tulle Heels // 8. Valentino Rose Roman Stud // 9. Manolo Blahnik Heels // 10. Anya Hindmarch Yoga Tote // 11. Valentino Sandals // 12. Anine Bing Camisole // 13. Anya Hindmarch Zipper Pouch // 14. RED Valentino Black Fleece Coat // 15. Max Mara Coat // 16. Valentino Navy Bucket Bag // 17. Anya Hindmarch Camera Bag // 18. Max Mara Short Camel Wrap Coat // 19. Valentino Belt // 20. Salvatore Ferragamo Belt
Luisaviaroma have gone live with a sitewide discount code where you can take 15% off your entire order! There are some brand exclusions – in this case, the usual suspects of Saint Laurent, Gucci etc. That said there are SO many amazing brands included! This discount code bypasses the non-starred item rule as well so even when you see the black stars on say, new season Manolo Blahnik or S Max Mara, you will still be able to use the discount code on the items!
You'll need to use the code APPRL15 at checkout and you can see all new arrivals here.
Brand exclusions are below – all other items (even if they have the black star) are included.
Gucci, Saint Laurent, Bottega Veneta, Balenciaga, Alexander McQueen, Stone Island, Stone Island Shadow Project, Moncler, Moncler Genius, Moncler Grenoble, Loro Piana, Ann Demeulemeester, Valextra
24s.com – Global except France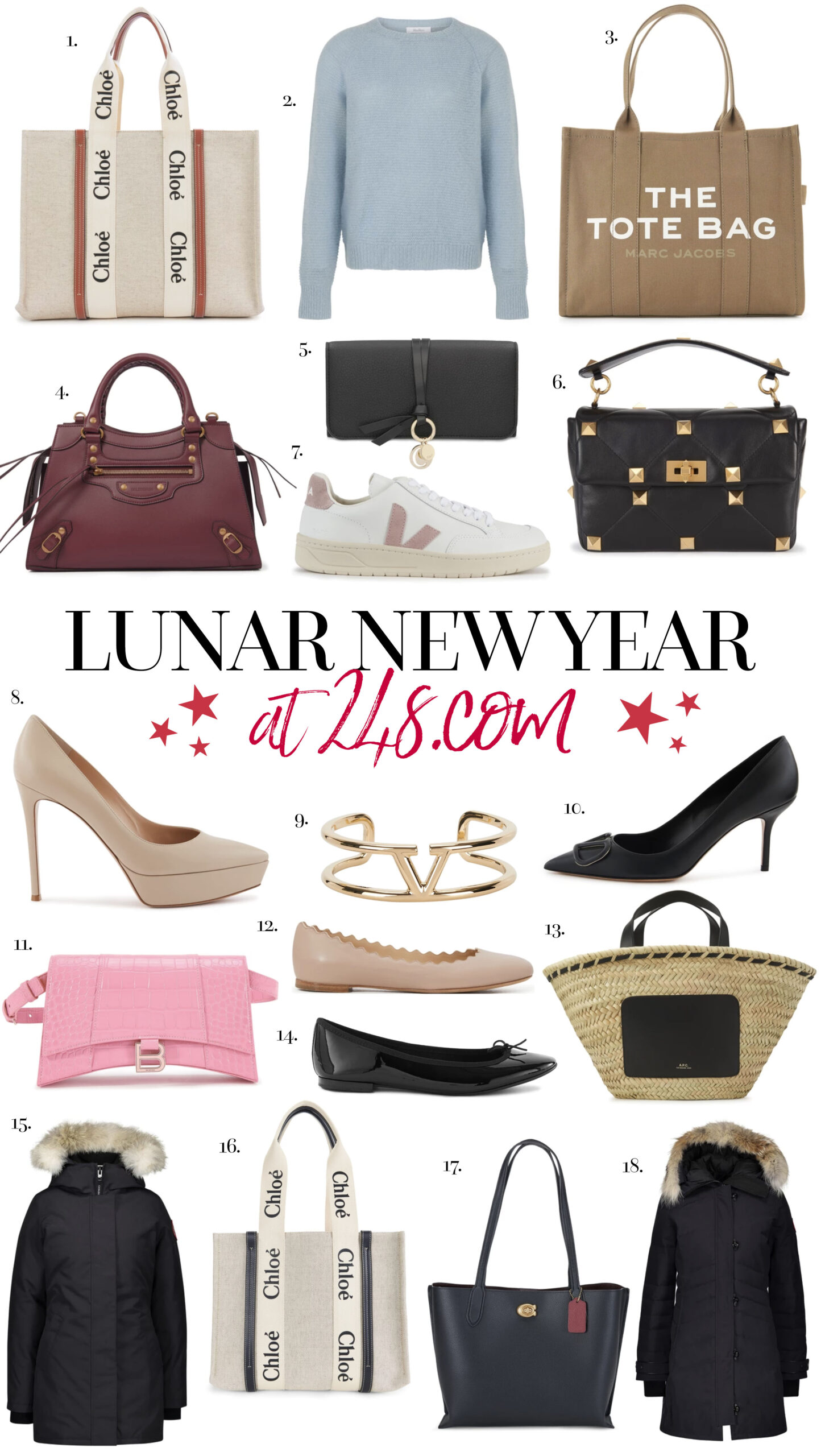 1. Chloe Woody Tote // 2. Max Mara Sweater // 3. Marc Jacobs Tote // 4. Balenciaga Hourglass Top Handle // 5. Chloe Wallet // 6. Valentino Roman Stud Bag // 7. Veja Sneakers // 8. Gianvito Rossi Nude Pumps // 9. Valentino Bracelet // 10. Valentino Black Pumps // 11. Balenciaga Pink Mock Croc // 12. Chloe Flats // 13. APC Basket Tote // 14. Repetto Flats // 15. Canada Goose Coat // 16. Chloe Navy Woody Tote // 17. Coach Tote // 18. Canada Goose Padded Coat
24s.com has gone live with another amazing discount code! This one is a tiered discount where you can take up to 25% off your purchase! This one is available worldwide except for France and happily there is a full landing page where everything is included to make for super easy browsing! You can view everything included here.
You will need a different discount code for each tier spend level and these are listed here:
15% off* $/€/£ 500 – use code CNY15
20% off* $/€/£ 750 – use code CNY20
25% off* $/€/£ 1000 – use code CNY25
There are SO many amazing items included and I have a full separate blog post on this sale for even more picks – you can see my full round-up here!
What I Ordered!
1. Pencil Dress // 2. Strapless Dress // 3. Beach Tote // 4. Floral Top // 5. Scalloped Sundress // 6. Sports Bra // 7. Leggings // 8. Strapless Dress // 9. Floral Sundress // 10. Smocked Dress // 11. S Max Mara Coat // 12. Anine Bing Sweater // 13. Black Tank Top // 14. Varley Fleece // 15. Anine Bing Sweater
I definitely took advantage of these sales – they were so amazing! It's still absolutely freezing here but we're also heading off on holiday soon so my purchases are a complete mix of cold weather pieces along with sundresses haha.
I'm keeping my fingers crossed that everything arrives quickly – if it does then I will for sure do a haul over on YouTube.
Phew! That is it for this kind of mammoth round-up! Let me know if you pick up anything good!