All images are clickable!
With a long weekend, comes lots of sales to shop! It feels like almost every store is offering some kind of sale this weekend and I've rounded up the best ones in this blog post! I've highlighted my absolute favourite picks and sales in collages above and below as well as a further list of all other sales at the bottom of this post.
FEATURED ABOVE
1. Valentino Roman Stud Bag* // 2. Mulberry Darley WOC (US only) // 3. Valentino Roman Stud Bag White* // 4. Golden Goose Pink Accent Sneakers* // 5. Givenchy Belt* // 6. Golden Goose Glitter Star Sneakers // 7. Chloe Daria // 8. Monica Vinader Bracelet // 9. Mulberry Bayswater (US only) // 10. Gingham Crop Top // 11. Cut Out Dress (US only) // 12. Blue Leggings // 13. Chloe C Bag // 14. Gingham Skirt // 15. Plunge Neck Swimsuit (US only) // 16. Jo Malone Gift Set (UK offer only – details below) // 17. Givenchy Chain Antigona* // 18. T3 Hair Dryer // 19. Mulberry Coin Purse (US only)
*For star marked items, use code MEMORIALDAYHN for 15% off
Some of the sales are international, some are US only and some are UK only – I've tried my best to mark this clearly where this is the case. I obviously can't check every single country availability though, so if I mark a sale as UK only and you're in Germany (for example), then it's still worth checking to see if the sale is available there 🙂
HARVEY NICHOLS
1. Valentino Poudre Roman Stud Bag // 2. Givenchy Chain Antigona // 3. Valentino White Roman Stud Bag // 4. Zimmermann Dress // 5. Golden Goose Pink Accent Sneakers // 6. Givenchy Soft Antigona // 7. Zimmermann Swimsuit // 8. Givenchy Shoulder Bag // 9. Golden Goose Glitter Star Sneakers // 10. Marc Jacobs Card Holder // 11. Givenchy Belt // 12. Tory Burch Card Holder
Harvey Nichols have gone live with a big discount for Memorial Day – you can take 15% off your purchase of $500 and over. There are exclusions but a ton of good stuff is included. Notably, my Valentino Roman Stud bag in poudre! I got some many requests to update you guys when this bag went on sale again so I was so excited to see it included this time, as it has been excluded the past few discount code rounds. They have my exact one here (in a few different colours as well!) as well the slightly smaller version of my one here.
They also have Golden Goose sneakers included in the discount with some new arrivals which are so pretty, that even I'm tempted (I tend not to spend on sneakers!). I am in love with this plain white pair with pink accents as well as this gorgeous glitter/ pink pair here. You'll need to enter code MEMORIALDAYHN at checkout, and all customs and duties are included in the checkout price.
REISS
1. Pleated Yellow Skirt // 2. Mint Green Swimsuit // 3. Off Shoulder Sweater // 4. Hybrid Quilted Jacket // 5. Black Shirt Dress // 6. White Dress
Reiss have finally gone live with their US sale! They're offering 20% off sitewide and so many of my wardrobe favourites are included! I always love Reiss – their pieces are always so beautifully made and always seem to strike the right balance between on trend and wonderfully classic. I own every one of the items featured above and they are all even more gorgeous in real life!
If you're looking for a glam one piece, this swimsuit is stunning. I'm usually strictly a bikini girl but this was an instant 'yes!' for me haha. In terms of dresses, I bought this black shirt dress during their UK sale and it is gorgeous. A little more heavyweight than your average shirtdress so it feels really substantial without being too weighty (if that makes any sense!). My trusty off the shoulder sweaters are also included – I've had mine for two years and they're still going strong and are literally one of my most asked about clothing styles!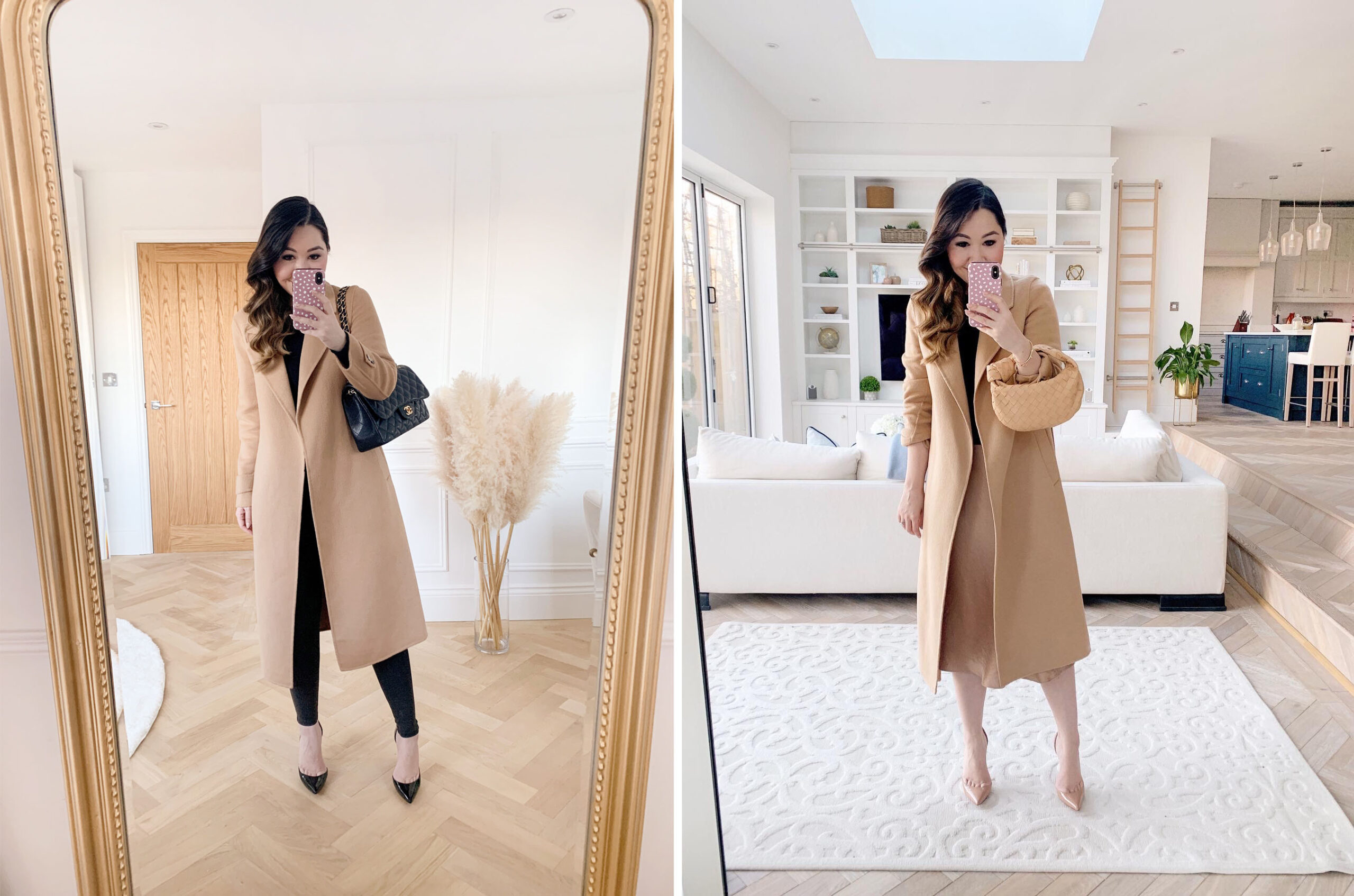 Camel Coat (size 0 – it runs a little big IMO)
I know we're only just coming out of the colder months but I wanted to mention my camel coat – I got this a few months ago and love it. It's a great alternative to Max Mara's far pricier versions and whilst this one is by no means cheap, the quality is gorgeous and the cut & style are wonderfully timeless.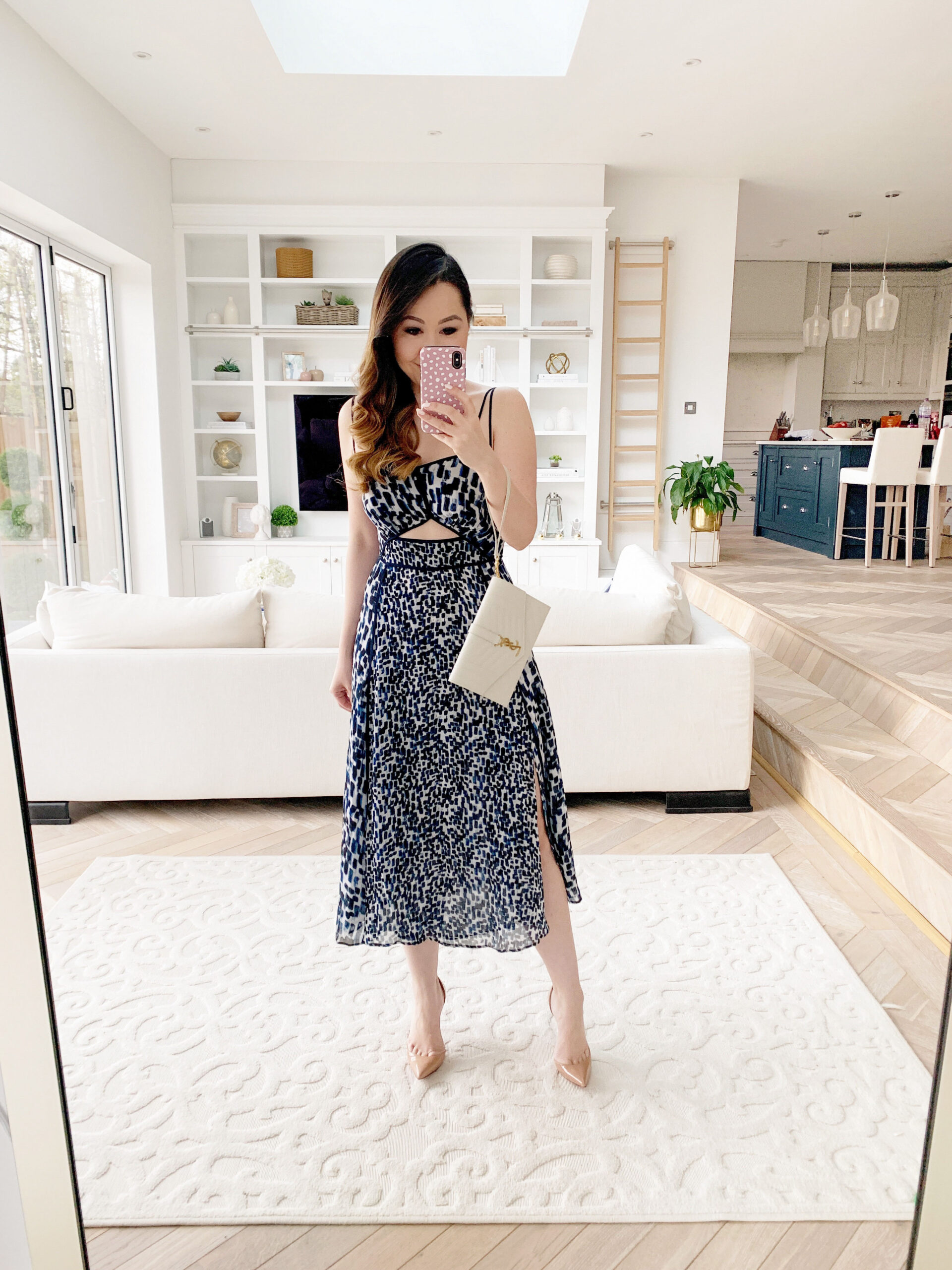 Blue Cut-Out Detail Dress (size US 2)
Finally, this dress which I just absolutely adore. You know those pieces that you instantly feel great in? Yup, this is one of those for me. The cut-out detail on the front makes it feel a little more edgy but it's still surprisingly flattering and the side slits just completely give this the wow factor. Just beyond gorgeous!
MULBERRY (USA only)
All images are clickable!
1. Yellow coin purse // 2. Red Small Bayswater // 3. Yellow Bayswater Tote // 4. Blue French Wallet // 5. Red Compact Wallet // 6. Darley WOC // 7. Top Handle Lily // 8. Iris Bag // 9. Burgundy Lily
Mulberry are now live with their sale in the US and they have a ton of great stuff included, including some of their really popular styles. I spotted everything from their Bayswater tote in various sizes to their wallets and SLGs in an array of beautiful colours and styles! You can browse the sale selection here.
ABERCROMBIE & FITCH
All images are clickable!
1. Trench Coat // 2. Gingham Crop Top // 3. Pink T-Shirt // 4. Lace Bodysuit // 5. Black Lace Bodysuit // 6. Gingham Skirt // 7. Blue Leggings // 8. Long Cardigan
Note about sizing: I take a size small in everything listed except for the trenchcoat and long cardigan – both of which I got an XS in.
Abercrombie and Fitch have 15% off pretty much everything in the UK and 25% off select styles in the US – with a ton of gorgeous items included. I've featured all of my own wardrobe favourites above – from my trench coat which looks so much more expensive than it is to these lace cami bodysuits which are just the most useful things ever!
For lounging and activewear, I just bought these leggings in the blue after loving the black version and they are just as great. Super stretchy but also hold you – great for working out and errand running. I have also been wearing these great little knot detail t-shirts on repeat. I mostly wear leggings and shorts around the house and these are super cute with their slightly shorter front. The adorable colour choices help too 🙂 (I own the pink and the blue).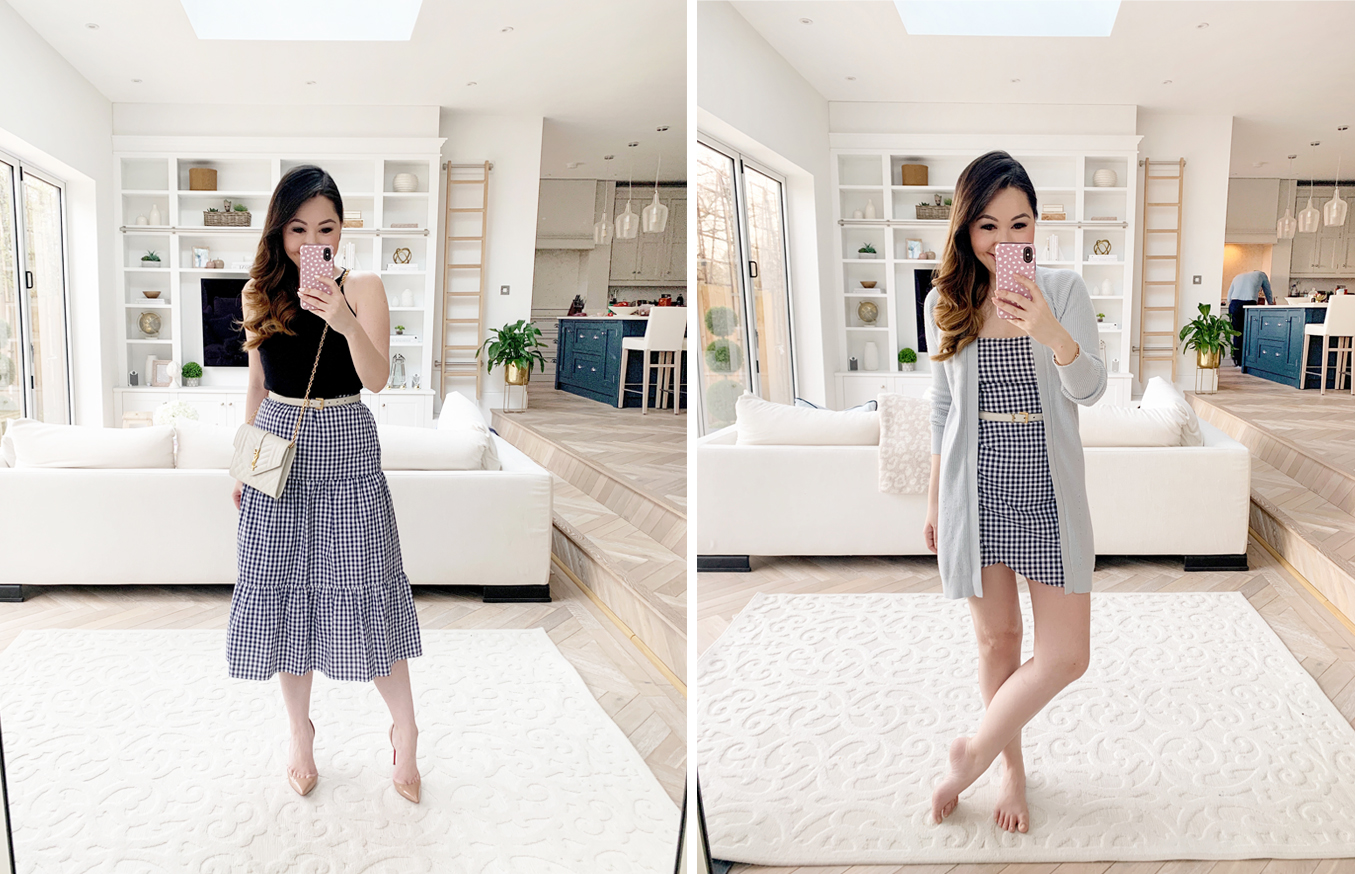 Gingham Skirt (size small) // Gingham Dress (size small) // Blue Cardigan (size xs)
My tiered skirt that I have in both the gingham and the plain black is included in the sales, as is my trusty long cardigan – equally cute with dresses as it is lounging around with leggings!
24S.COM
1. Gianvito Rossi Pumps // 2. IRO Skirt // 3. Vanessa Bruno Skirt // 4. Gianvito Rossi Sandals // 5. Chloe Wallet // 6. Chloe Tess Bag // 7. Gianvito Rossi White Sandals // 8. Chloe C Bag // 9. Marc Jacobs Wallet // 10. Fendi Blue Bag // 11. Fendi Pink Bag // 12. Chloe Faye Crossbody // 13. Chloe Daria
24s.com are having a public sale in the US and a private sale in the UK – however the private sale is accessible if you sign up for their rewards/ membership program (it's free). The stock selection is different between the US and the UK but from what I saw, is extremely good with a heavy emphasis on French luxury brands – which you may expect with them being based in Paris.
For those unfamiliar with 24s.com, the full name is 24 Sevres and they are owned by LVMH, as evidenced by all the incredible brands they stock!
The brands included in the sale range from Chloe to Fendi to Gianvito Rossi and most of the discounts I spotted ranged between 30-40% off.
NORDSTROM
1. Longchamp Le Pliage // 2. T3 Curling Iron Attachment // 3. T3 Curling Iron Base // 4. Monica Vinader Bracelet // 5. T3 Hair Dryer // 6. Longchamp Le Pliage Bag // 7. Blush Top // 8. Varley Sweatshirt // 9. Topshop Jamie Jeans // 10. Cece Floral Tie Top // 11. Barefoot Dreams Cardigan
The Nordstrom Half Yearly Sale is officially on! There are so many great things included, you can see all new sale arrivals here.
1. Blue Sweatshirt // 2. Blue Tie Sleeve Top // 3. Asymmetrical Top // 4. Off Shoulder Top // 5. Cashmere Polka Dot Sweater
ALL OTHER SALES
LUXURY
24s.com – they have a general sale in the US and a 'private' sale in the UK, however if you join their rewards program (it's free), then you'll gain access. See the US sale here and the UK private sale here.
Mulberry (US only) – Mulberry have a sale on in the US with several popular styles, including the various sizes of the new Bayswater design and the Lily. See the full selection here.
Saks Fifth Avenue – Designer clearance now on. A few luxury handbags including Chloe available here along with a large selection of luxury shoes and designer clothing.
SSense – Annual designer sale including handbags and shoes is now on. Stock selection this year is only so-so IMO, but you can see the full selection here.
FASHION
Rag & Bone (US) – Take 25% off sitewide (no code necessary)
Express – Take 40% off sitewide. Shop the selection here.
J Crew – Take 25% off your purchases with code WEEKEND
FITNESS
Alo Yoga – a *huge* amount of items have just been added to sale, up to 60% off with some of their best selling styles included. Shop the selection here.
Alala – Take up to 30% off sitewide. 20% off with no minimum purchase, 25% off $500-$1000 and 30% off orders over $1000. Use code FUNINTHESUN.
Nike (UK) – Take 30% off sitewide for Nike Members (free to sign up) with code SUMMER21
Nike (US) – New markdowns at up to 40% off. Shop the selection here.
BEAUTY
Saint Laurent Beauty (US): Receive TWO(!) Rock N Shine lipsticks with every order with code MDW21
Saint Laurent Beauty (UK): Take 20% off your purchase or 25% off your purchase over £100 with code YSLGIFT
Jo Malone (UK): Get a deluxe trio of minis with every purchase of £120 or more with code MAY_TREAT. You can see the gift with purchase you get here.
HOME
Lulu & Georgia (US): – take 15% off $500+ with code MDW15, take 20% off $1500+ with code MDW20, and take 25% off $3000+ with code MDW25
Caitlin Wilson – Great for cushions and other home decor items (I have several of her larger cushions and they're gorgeous!). Take 20% off sitewide with code SUMMERREADY
I expect more sales to be going live tomorrow and I'll be updating this blog post as they launch so make sure to check back (or keep an eye on my Instagram Stories) for the latest sale updates!