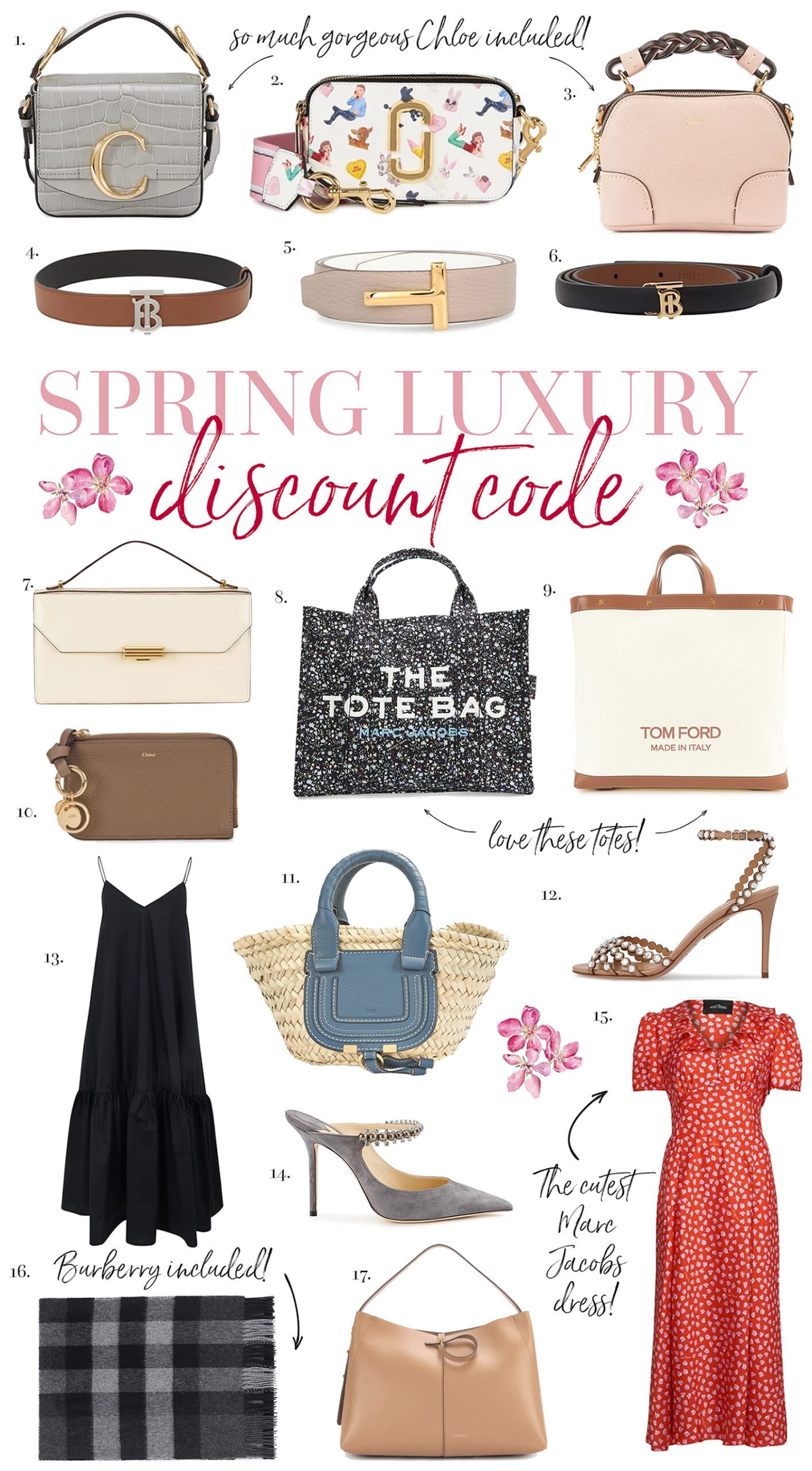 A new spring luxury offer has arrived! 24s.com has just gone live with their '520' Luxury Offer – where you can snag a huge 22% off so many beautiful items! You can view the full selection of items here – there's everything from bags to shoes to clothing and jewellery included.
FEATURED ABOVE
Chloe C Bag // 2. Marc Jacobs Printed Snapshot Bag // 3. Chloe Daria Bag // 4. Burberry Brown Belt // 5. Tom Ford Belt // 6. Burberry Black Belt // 7.  Manu Atelier White Bag // 8. Marc Jacobs Tote Bag // 9. Tom Ford Tote // 10. Chloe Wallet // 11. Chloe Basket Bag // 12. Aquazurra Sandals // 13. Anine Bing Black Dress // 14. Jimmy Choo Suede Bing Heels // 15. Marc Jacobs Heart Dress // 16. Burberry Scarf // 17. Wandler Tan Bag
I've featured some of my favourite items above and below – all are included in the offer, which you'll need the below discount code to shop:
My favourite picks include this stunning Marc Jacobs red dress along with all the many larger tote bags we're seeing right now – from this gorgeous classic Tom Ford style to the smaller version of my Marc Jacobs tote which is just the best workhorse!
MORE BAG PICKS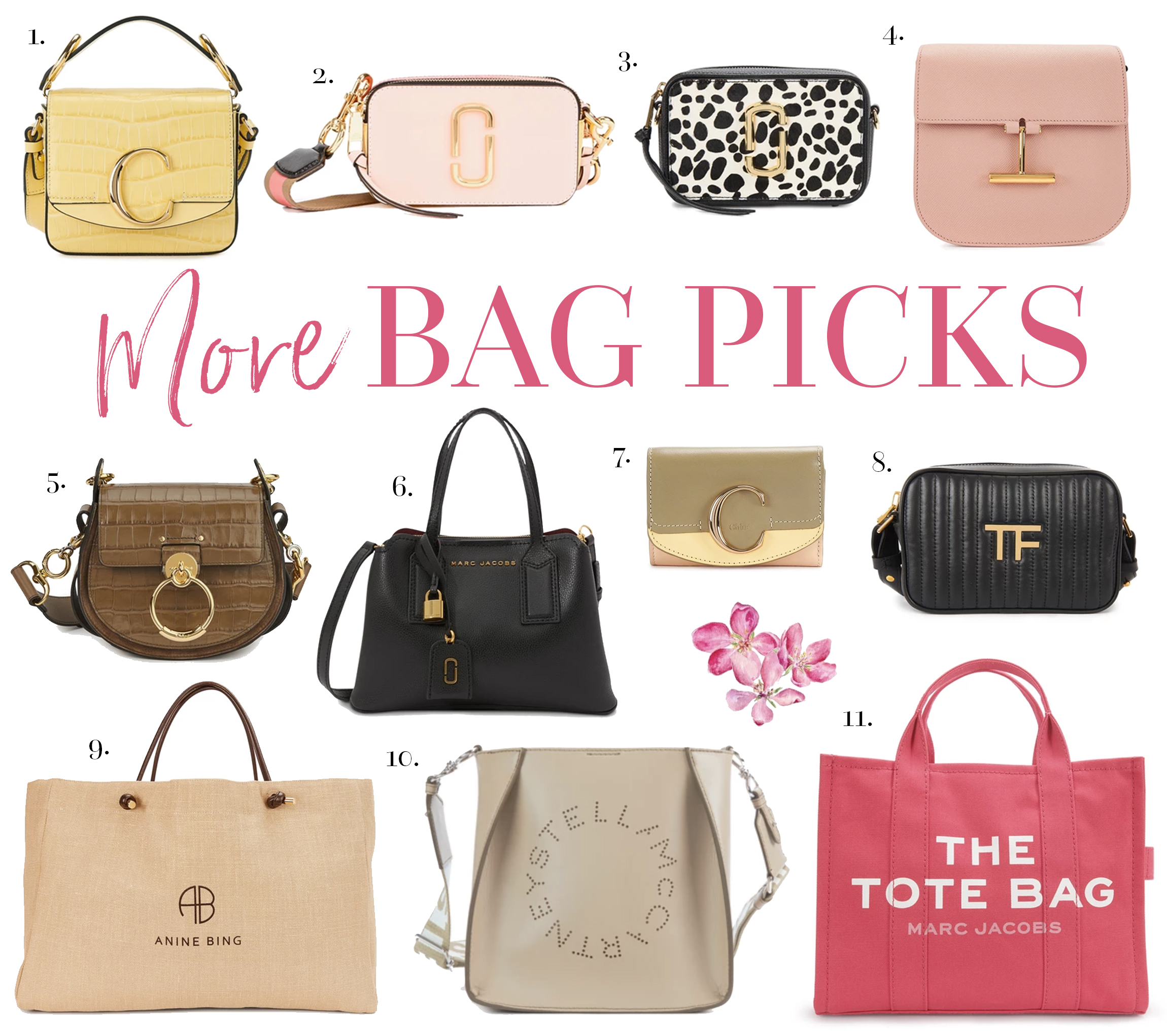 1. Chloe C Bag // 2. Marc Jacobs Pink Snapshot Bag // 3. Marc Jacobs Spot Snapshot Bag // 4. Tom Ford Blush Crossbody // 5. Chloe Mock Croc Tess // 6. Marc Jacobs Editor Bag // 7. Chloe C Wallet // 8. Tom Ford Camera Bag // 9. Anine Bing Tote Bag // 10. Stella McCartney Bag // 11. Marc Jacobs Tote
The bag selection is so pretty – full of beautiful styles for spring, from the loveliest Chloe C bag in pastel yellow to uber-luxe Tom Ford styles including this stunning blush crossbody!
SPRING FASHION PICKS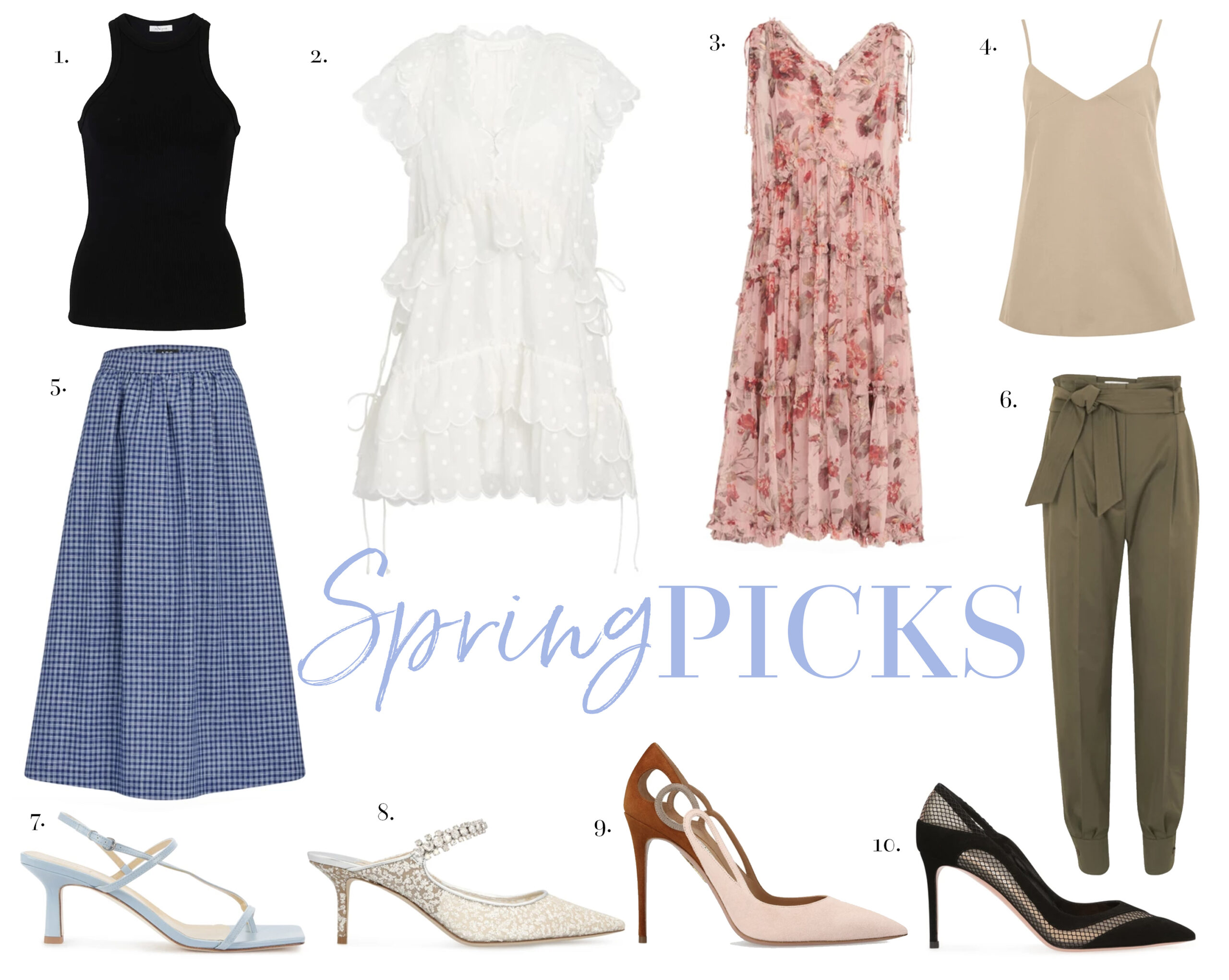 1. Anine Bing Black Top // 2. Zimmermann White Dress // 3. Zimmermann Floral Dress // 4. Max Mara Camisole // 5. APC Gingham Skirt // 6. Max Mara Tie Pants // 7. Blue Sandals // 8. Jimmy Choo Lace Bing Heels // 9. Aquazurra Cut Out Heels // 10. Aquazurra Black Mesh Heels
Finally, I wanted to round up some more general fashion picks – there are so many great pieces for spring/ summer from this on-trend gingham skirt from APC to the dreamiest Zimmermann pieces including this beautiful floral dress.
Shopping from 24s.com
I have spoken about 24s.com before but if you're not familiar with them, then are the only luxury e-retailer based out of Paris, France and are owned by LVMH – so pretty much at luxe as you can get 🙂 Even though they are based out of France, they do included all taxes at checkout – so happily no surprises upon delivery, and that goes if you shopping from the US, the UK – or anywhere else in the world!
They offer the most beautiful items with a truly luxury online shopping experience – so definitely one to check out if you are a luxury fan like me!
Please note, the offer is only available off these selected items but is happily available worldwide, except for France and Korea. The offer runs for a full 10 days and ends on 20th May – happy shopping! 🙂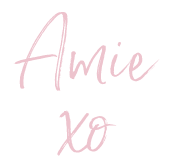 This post is kindly sponsored by 24s.com