All images are clickable!
It's the last day for my Farfetch discount code so I wanted to do a round-up of all my favourite pieces included! You do need a new email address to use the code but it works on SO many amazing brands from Mulberry to Jimmy Choo to Balenciaga!
You'll need to use the code CA10 at checkout to claim the discount and the spend needs to be over $150 or equivalent currency 🙂
FEATURED ABOVE
1. Mulberry Softie // 2. Balenciaga WOC // 3. Mulberry Mini Alexa // 4. Balenciaga Mint Green WOC // 5. Jimmy Choo Bing Heels // 6. Mulberry Quilted Darley // 7. Golden Goose Superstars // 8. Gentle Monster Sunglasses // 9. Golden Goose Pure Stars // 10. Cinq A Sept Blazer // 11. Stella McCartney Mini Bag // 12. Mulberry Wallet // 13. Balenciaga Hourglass Bag // 14. Mulberry Iris // 15. Reformation Dress // 16. Marc Jacobs Mini Tote // 17. Mulberry Green Darley
I've rounded up some of my favourites picks above and below – all either pieces I own or love (and are probably on my wishlist haha). Some particular favourite callouts – my Gentle Monster sunglasses! I don't wear any other sunglasses anymore; these are just so wonderful and fit SO well. My Golden Goose sneakers are also included – it's so difficult to find a discount on these and the 10% off works on both the superstars and the purestars.
My Mulberry Mini Alexa is also restocked in the chalk and available with the discount as is the whole Mulberry line!
WARDROBE FAVOURITES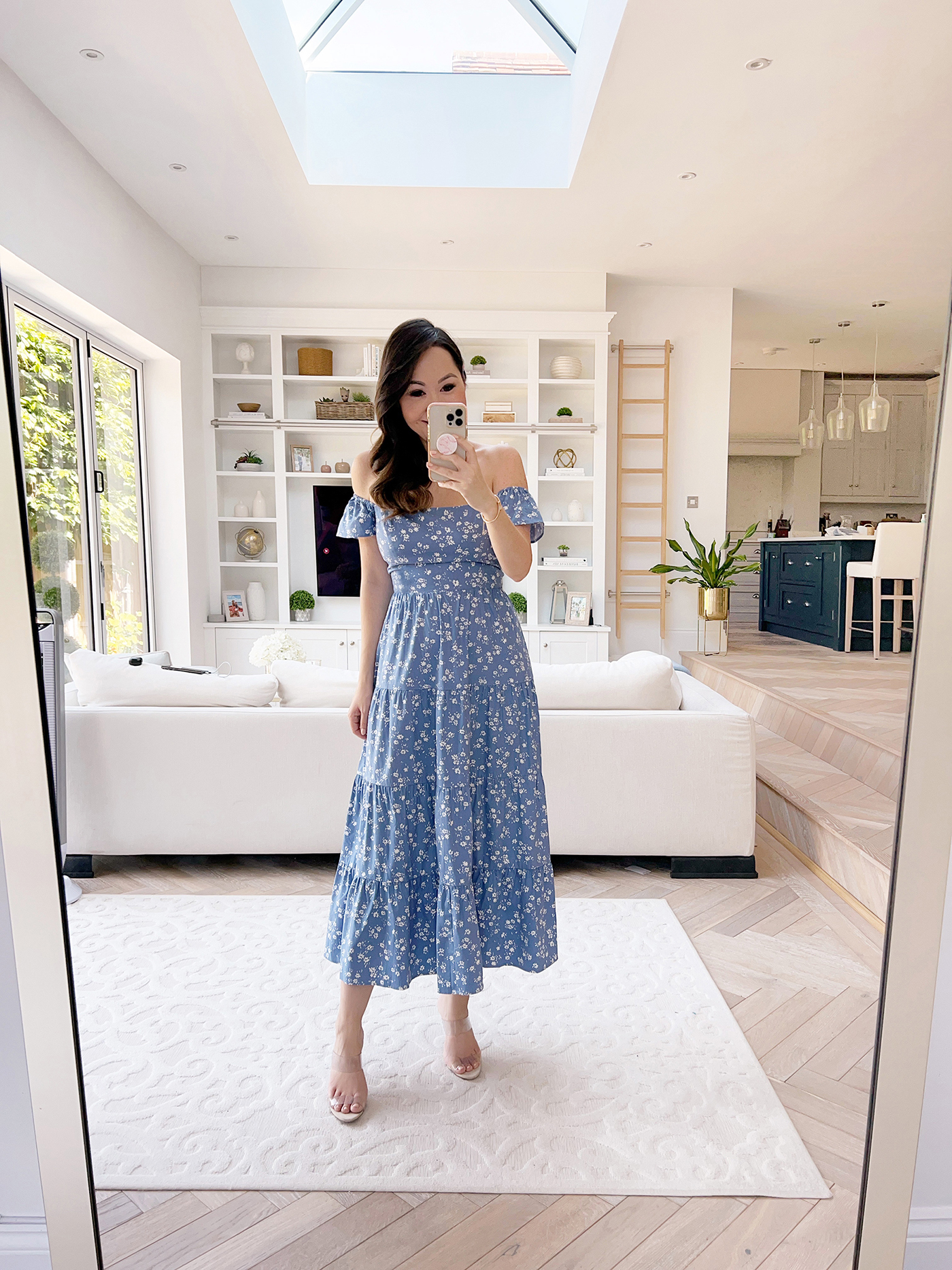 My Reformation dress has become an absolute wardrobe favourite (I also wore it to announce our baby news here!) – it's just the cutest, most flattering thing and with the off the shoulder silhouette, is right up my street 🙂
This one runs TTS – I usually get a size US 4 in Reformation but sized up to a size 6 this time in order to wear it a little longer this summer 🙂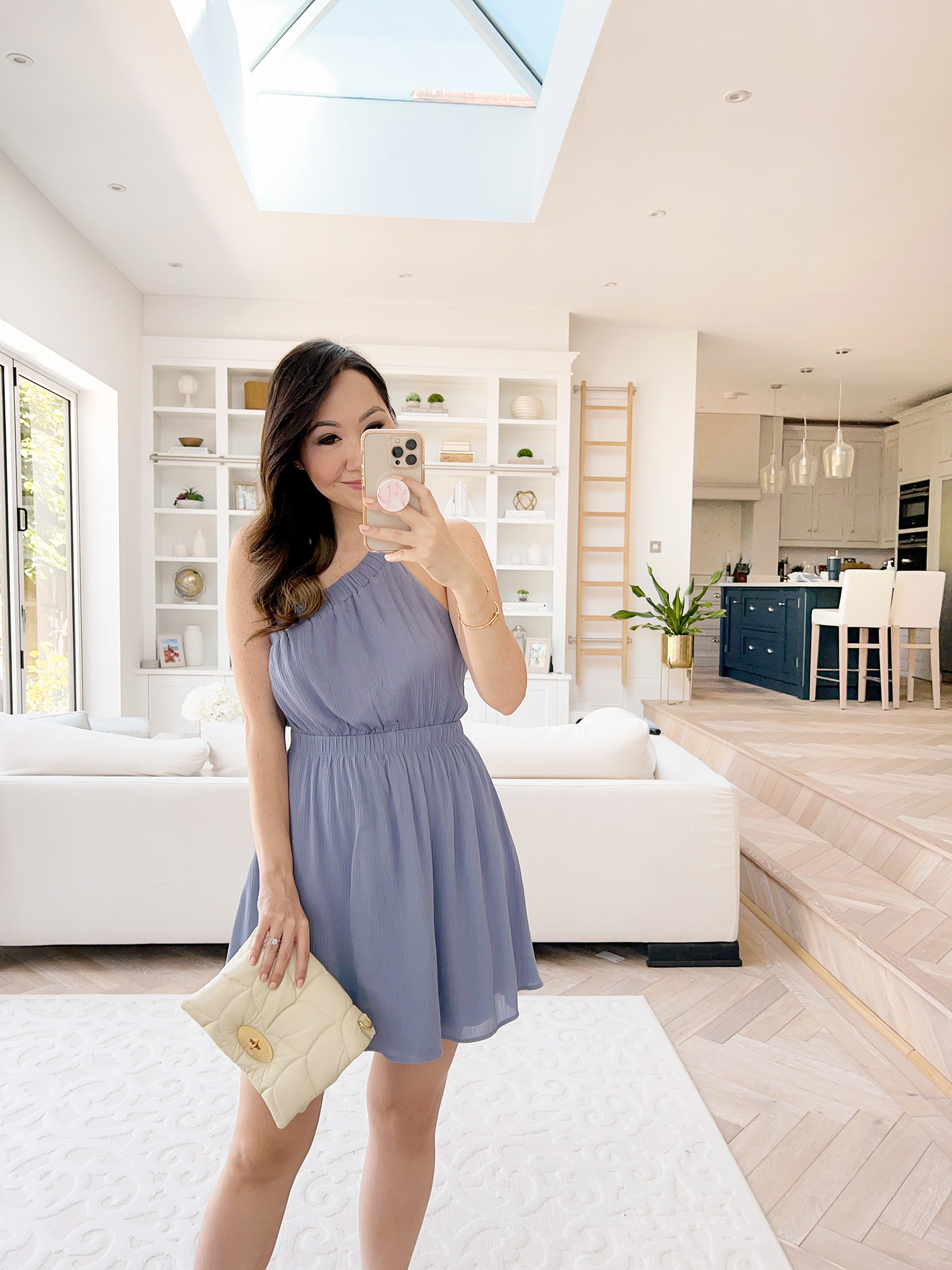 My Mulberry softie is also included! I've raved about this bag a few times but if you like your soft leather, then you need to feel this bag! It's the softest leather finish I think I've ever come across – yup, even beating the Saint Laurent puffer line!
I'm wearing it here as a clutch but it does come with a crossbody strap too 🙂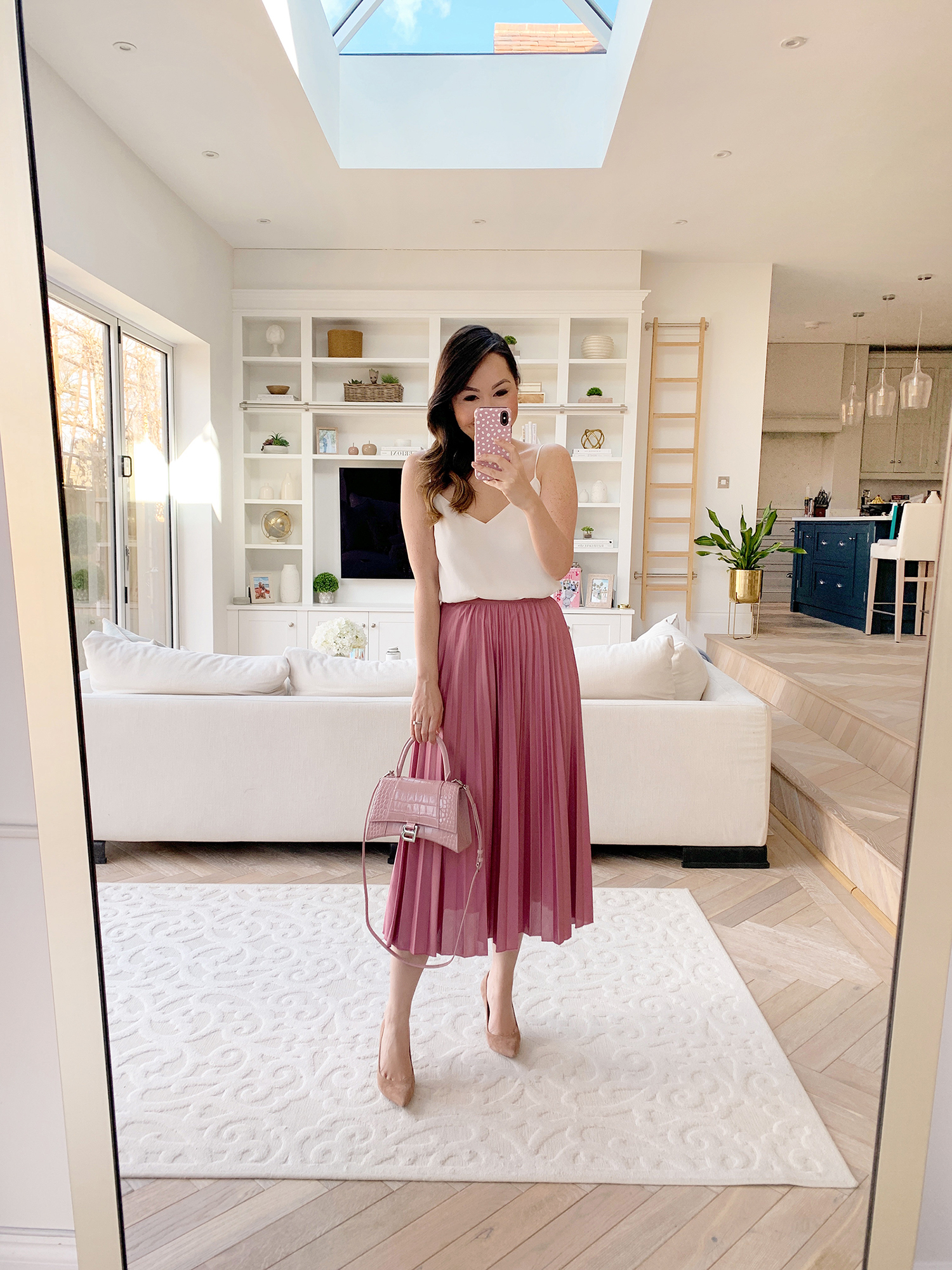 Finally, Balenciaga is also included in the code! It's getting more and more tricky to find any kind of discount on Balenciaga – especially the Hourglass line. Sadly, my colour is now sold out but they have plenty of new arrivals from this beautiful aqua colour to the stunning WOCS in light green and gold!
BEAUTY PICKS
All images are clickable!
1. Sarah Chapman Skinesis // 2. Tom Ford Lipstick // 3. RMS Uncover-up // 4. Tom Ford Eye Quad // 5. Olaplex // 6. Gucci Bronzer // 7. Charlotte Tilbury Filmstar Bronze & Glow // 8. Gucci Lipstick // 9. Gucci Pressed Powder // 10. Charlotte Tilbury Lipstick // 11. RMS Blush // 12. ByTerry Lip Balm // 13. Charlotte Tilbury Flawless Finish Powder
Beauty has also just launched at Farfetch and to celebrate, they're doing a 15% off code for both new AND existing customers! This is a separate code to the other one and is live until 13th August 2022! You'll need the code FBCA15 to nab the discount at checkout and there is a minimum spend of £150 to activate it.
So many of my everyday makeup favourites are stocked – from Tom Ford eye quads to the entire Charlotte Tilbury line! They also stock RMS which is another long time favourite and one that I've been relying on a lot since becoming pregnant for its more natural ingredients. The uncover-up is a daily essential for me now and I just purchased this blush which is SO pretty!
And that's it for this round-up! Let me know if you snag anything good!