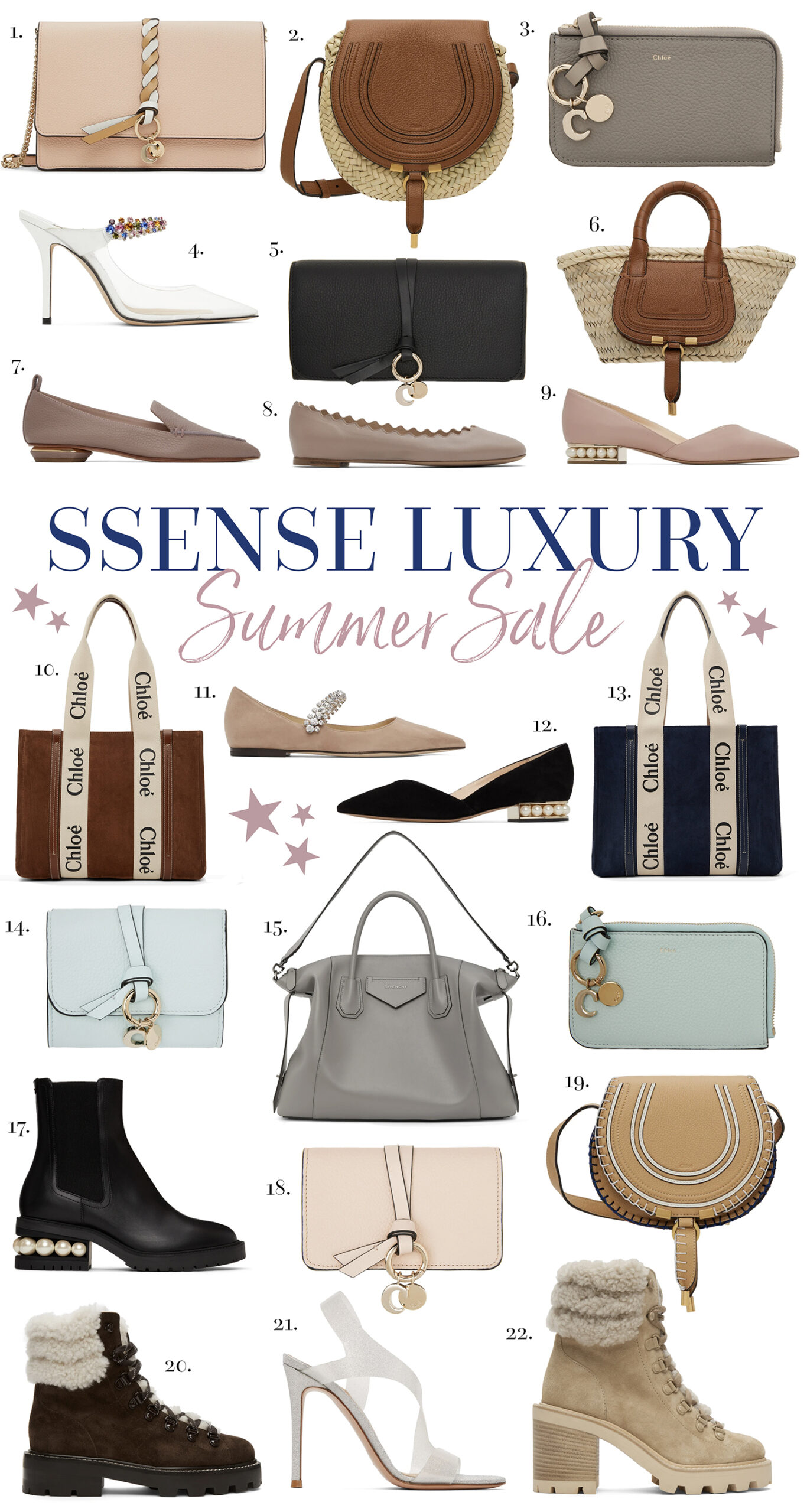 1. Chloe Crossbody // 2. Chloe Weave Mini Marcie // 3. Chloe Grey Wallet // 4. Jimmy Choo Bing Heels // 5. Chloe Long Wallet // 6. Chloe Basket Marcie // 7. Nicholas Kirkwood Beya Flats // 8. Chloe Lauren Flats // 9. Nicholas Kirkwood Pearl Flats // 10. Chloe Woody Tote // 11. Jimmy Choo Embellished Flats // 12. Nicholas Kirkwood Pearl Flats // 13. Chloe Navy Woody Tote // 14. Chloe Aqua Wallet // 15. Givenchy Soft Antigona // 16. Chloe Aqua Wallet // 17. Nicholas Kirkwood Pearl Chelsea Boots // 18. Chloe Pink Business Card Holder // 19. Chloe Tan Mini Marcie // 20. Jimmy Choo Shearling Boots // 21. Gianvito Rossi Plexi Sandals // 22. Jimmy Choo Heeled Shearling Boots
The SSENSE summer sale is now and oh my goodness, the stock selection is amazing! This one is available worldwide and there are a ton of incredible designers included, with items ranging from summer ready pieces to autumn/winter classics!
As you might expect, they aren't fully stocked when it comes to sizing for shoes and clothes but I still found a ton of great items in the popular shoe sizes and a variety of sizes still available for clothing pieces. The discounts are also truly incredible – so many pieces at over 30% with quite a few discount at rates of 50% and sometimes even 60% off! Because of the amazing deals, I've rounded up multi-season picks as sale time really is the best time to nab an investment pieces for less.
Some particular bargains I wanted to call out are this Chloe blush business card holder and grey coin purse at over 50% off, this long black Chloe wallet at over 55% off, this stunning Chloe new season blush weave crossbody at 25% off and this perfect autumn-ready brown suede Woody tote at over 30% off. I also currently have these Jimmy Choo boots in my basket – some cozy for winter and an absolute steal at 67% off! Finally, they are have a few sizes left in the Nicholas Kirkwood flats I own – the prettiest shade of dusky pink and so sharp looking!
WARDROBE FAVOURITES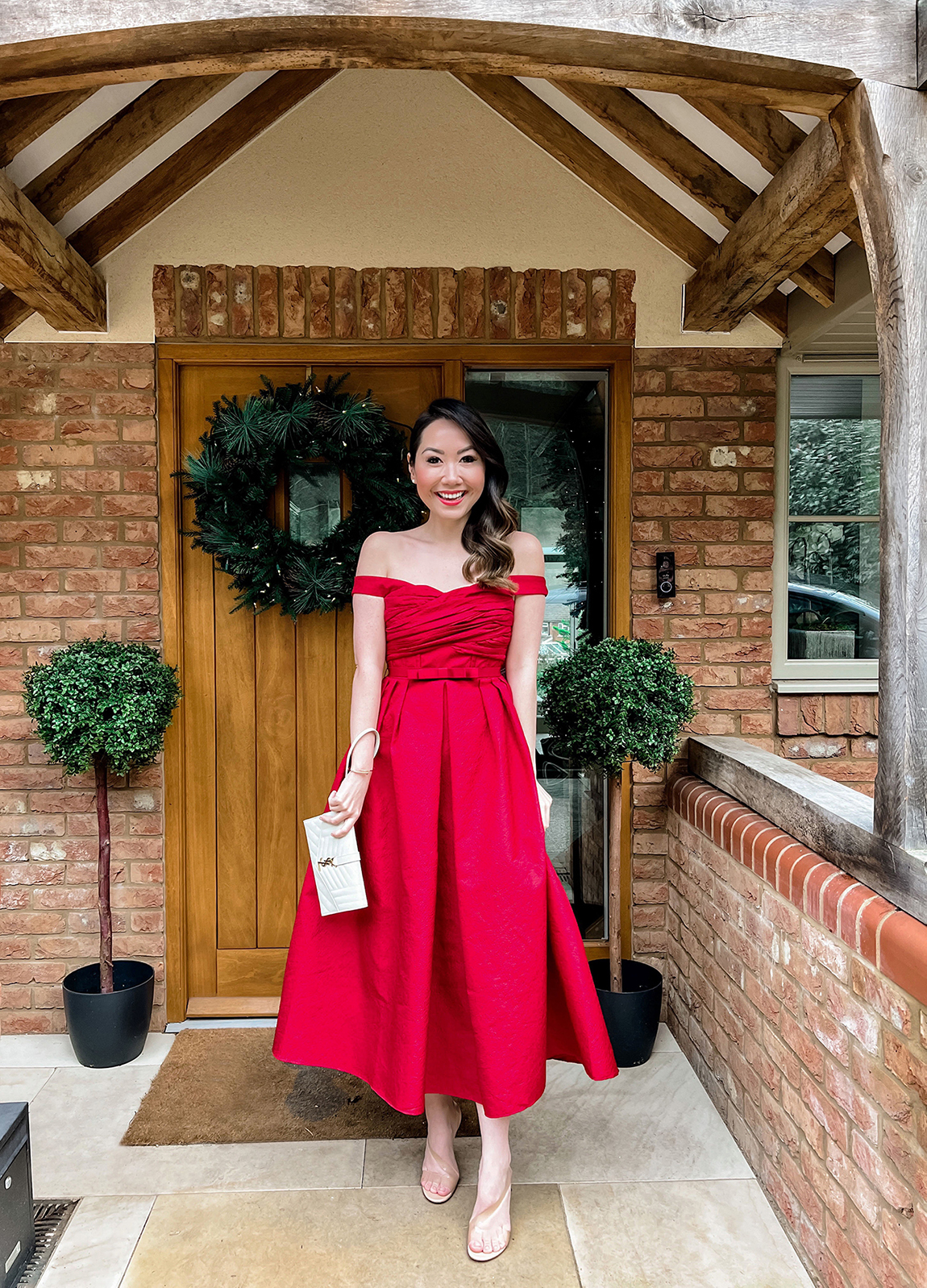 I also wanted to round up some of the wardrobe favourites that I own and love and that are included in the sale. My Gianvito Rossi plexi pumps are included in the gorgeous sparkling silver version and are available at over 50% off! If you like your 'barely there' shoes, then these are a gorgeous choice. They disappear into your feet and legs and so are super flattering whilst the straps actually make them incredibly comfortable too!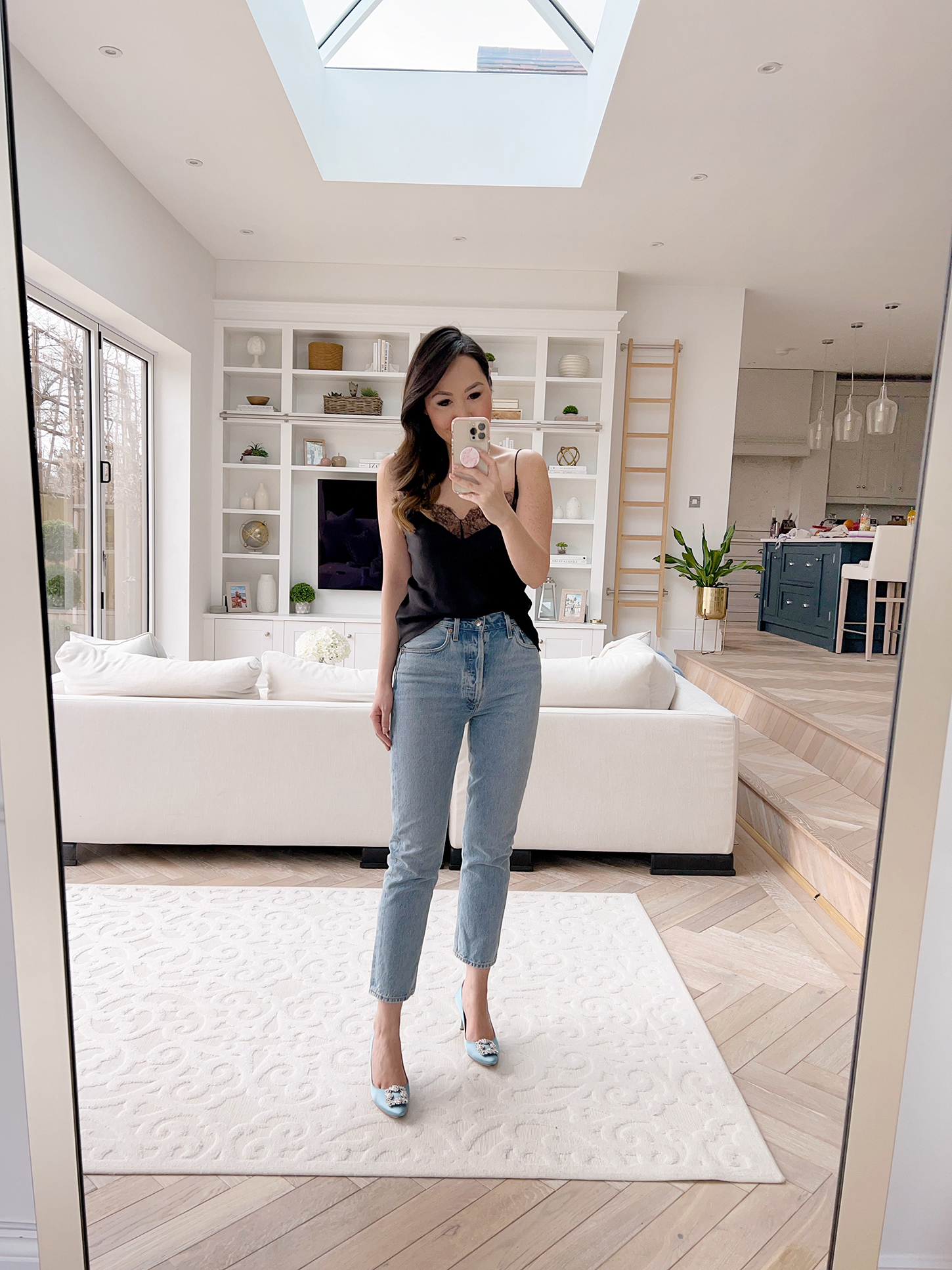 There are quite a few variations of my beloved AGolde Riley jeans included too! My favourite is probably this distressed pair with the same fit as mine but with the added distressing at the knees. Heads up about sizing – generally speaking, most people find these run large but if you have wider hips like me, I'd actually say to size up because there's no stretch. I would usually take between a 26-27 in stretch skinny jeans, but I went for a 28 in these.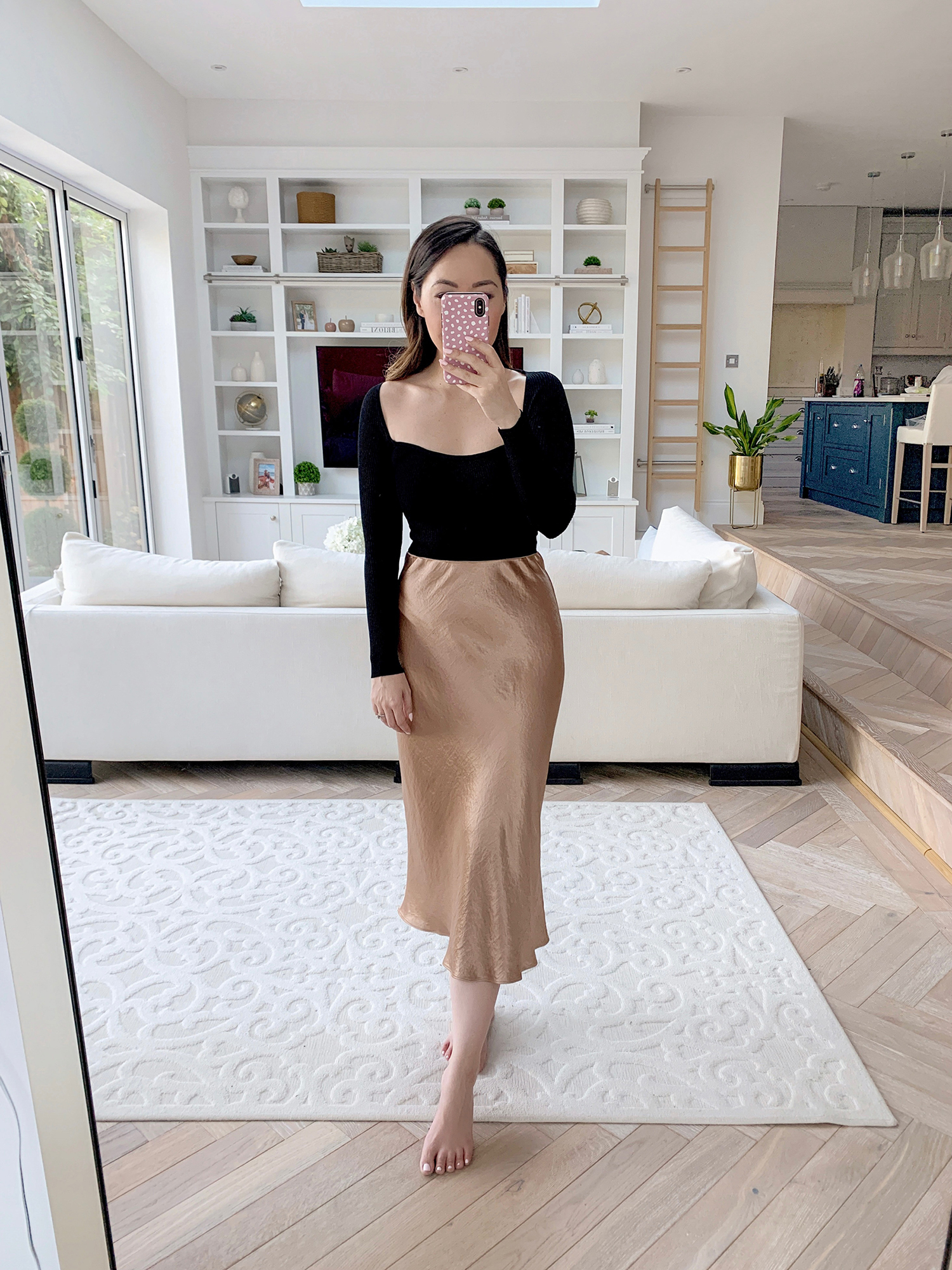 There is also a ton of Max Mara Leisure included! I adore Max Mara Leisure for their beautiful quality and surprisingly reasonable prices – made even better when on sale! My favourite bias cut skirt is included in a few different varieties – I took a size 38 but it fits a little loose so I could have sized down.
MORE LUXE PICKS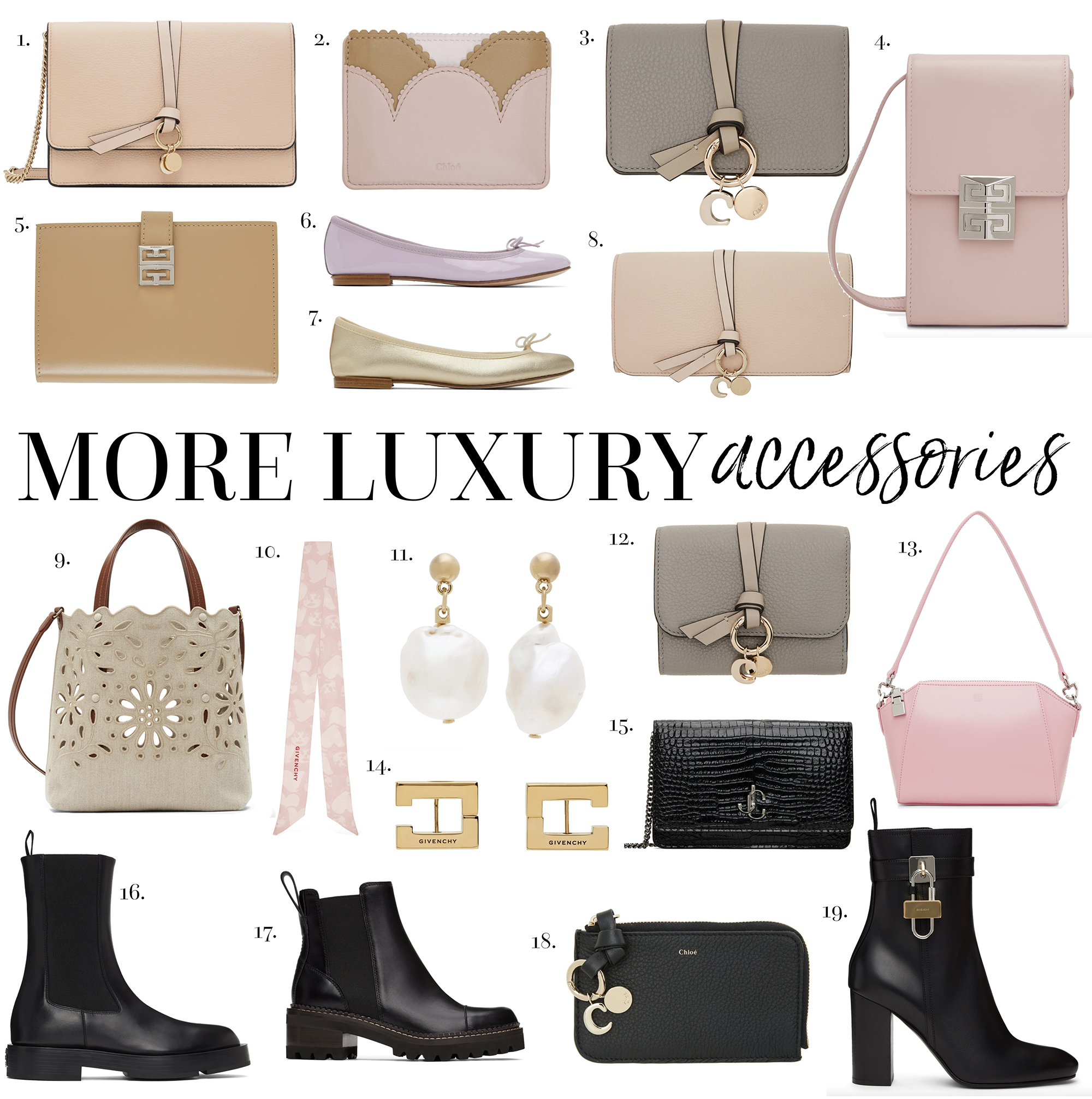 1. Chloe Crossbody // 2. Chloe Scallop Card Holder // 3. Chloe Grey Business Card Holder // 4. Givenchy Long Crossbody // 5. Givenchy Camel Wallet // 6. Repetto Lilac Flats // 7. Repetto Gold Flats // 8. Chloe Pink Long Wallet // 9. Chloe Summer Tote // 10. Givenchy Long Scarf // 11. Pearl Earrings // 12. Chloe Grey Small Wallet // 13. Givenchy Pink Shoulder Bag // 14. Givenchy Earrings // 15. Jimmy Choo Clutch // 16. Black Ankle Boots // 17. Short Black Chelsea Boots // 18. Chloe Small Black Coinpurse // 18. Givenchy Black Boots
The accessory selection is so strong, I had to do another collage! There are a ton of Chloe accessories – some at over 50% off, as well Givenchy boots, Jimmy Choo bags and more. I don't think I've ever seen discounts this generous so an amazing one to check out if you were looking to upgrade your accessories wardrobe or were even thinking of stocking up early for some gorgeous Christmas gifts!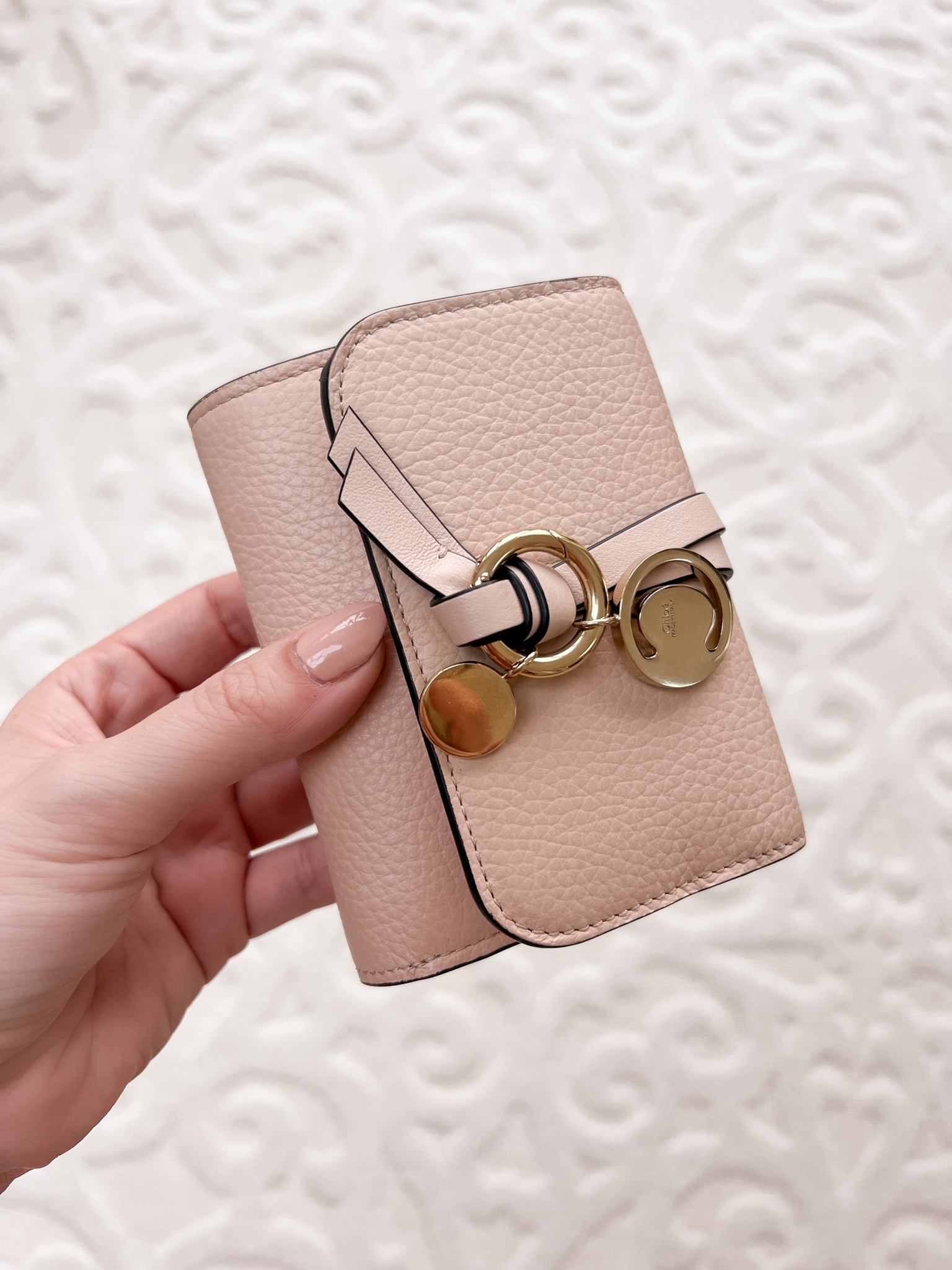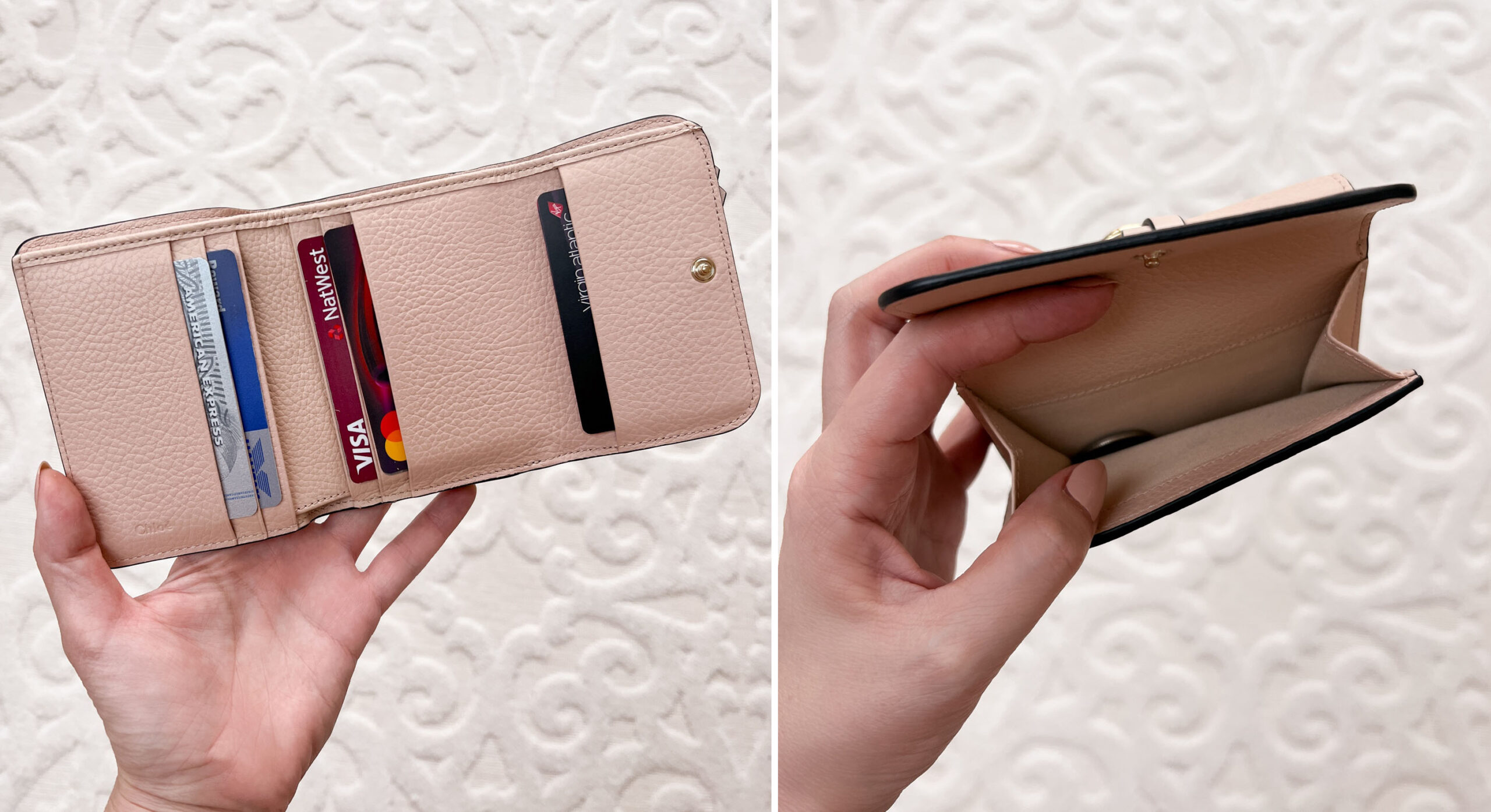 My exact Chloe wallet in quite a few absolutely gorgeous shades, from aqua to grey (discounted to a massive 46% off!). This is such an adorable style – and actually fits a ton despite being super compact. A great choice if you wanted the full functionality of a wallet whilst still actually being able to fit it inside your mini bags! FYI – the business card holder versions are also included in the blush and the grey – and they're both discounted to 50% off!
Phew! And that's it for this round-up! Happy shopping and let me know if you snag anything good!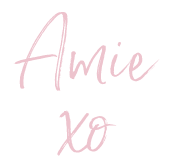 Thank you SSENSE for partnering with me on this post!