Camel Blazer – size US 2
Luisaviaroma have gone live with their Black Friday offer and you can take a huge 40% off! This is off non-starred items which you can view in this landing page. There are pages and pages included with everything from winter coats to gorgeous classic accessories! I've included my favourites below as well as some mod shots of the some of the items included in the sale!
You'll need to use the code APPRL40 at checkout to claim the discount 🙂
The blazer I'm wearing above is included – and oh my goodness, this is the perfect neutral blazer. Gorgeous relaxed fit and so comfortable to wear. It's currently a huge 40% off and the beautiful deep plum colour is included in the discount too!
FAVOURITE PICKS
1. Hoxton Denim Jeans // 2. Marni Medium Saffiano Leather Trunk Bag // 3. Belted Wool Blend Mini Skirt // 4. Politeama Nylon Down Jacket // 5. Polka Dots Recycled Chiffon Shirt // 6. Ralph Lauren Flag Cashmere Knit Sweater // 7. The Hava Faux Suede Ballerinas // 8. Giuseppe Zanotti Embellished Suede Sandals // 9. Aquazzura Babe Embellished Satin Pumps // 10. Manolo Blahnik Maysale Jacquard Mules // 11. Carmen Snowflake Crewneck Wool Sweater // 12. Technical Knit Leggings // 13. Savannah Lush Faux Fur Jacket // 14. Tracy Long Sleeve Satin Midi Dress // 15. Dsquared Leather Low Top Sneakers // 16. Theory Double Breasted Blazer // 17. Cashmere Knit Crewneck Sweater // 18. Stella McCartney Mini Falabella Faux Leather Card Holder // 19. Stella McCartney Falabella Shaggy Deer Clutch //
There is truly everything from beautiful Stella McCartney bags to winter ready chunky knits and gorgeously elegant dresses. Stock does seem to be moving quickly though – as you'd expect at 40% off!
MOD SHOT PICKS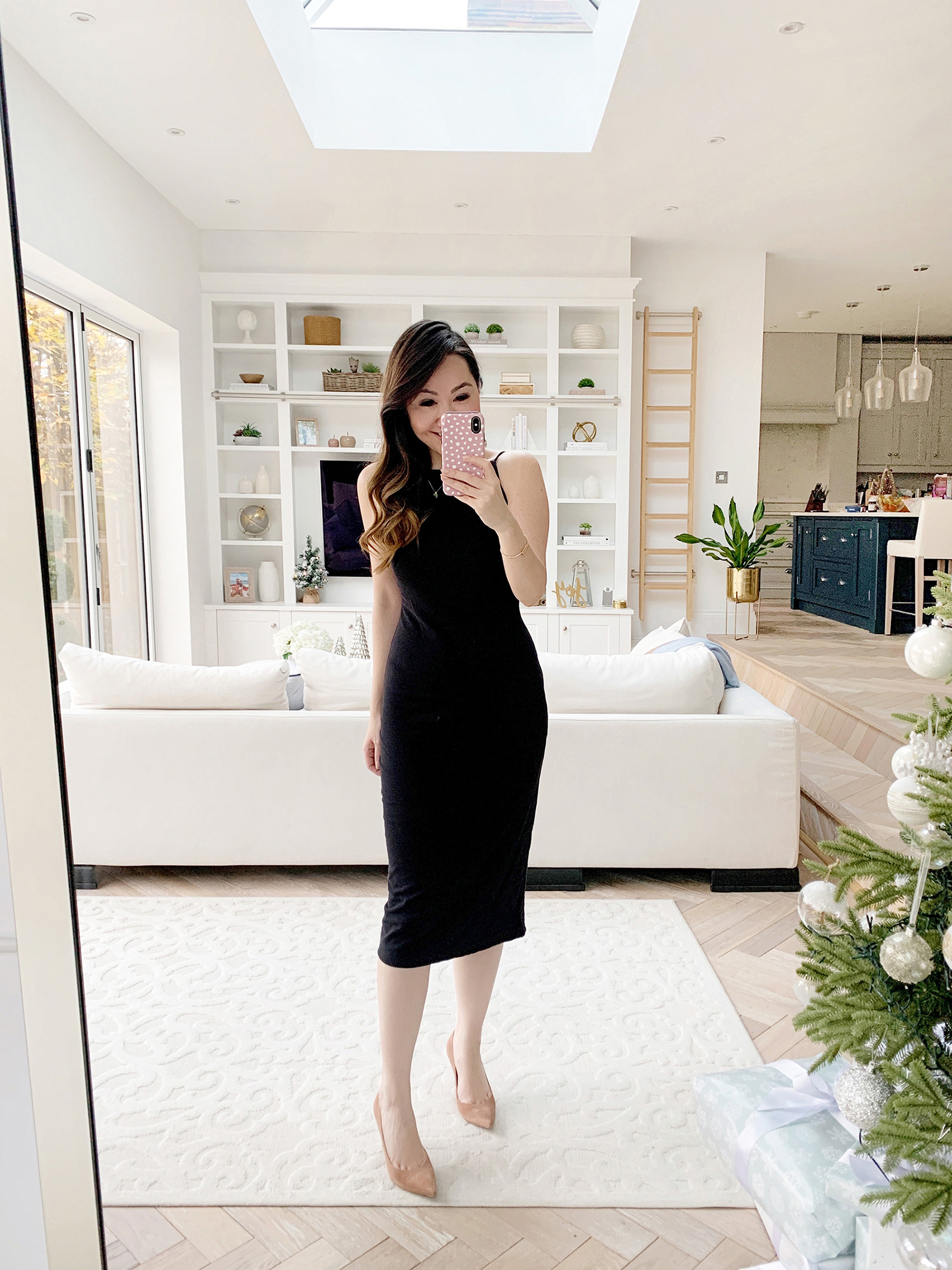 Black Dress – Size 1
First up – this dress! I wasn't 100% convinced about the fit on this one when I first ordered it but wow, it is gorgeous! It's a lightweight stretch cotton but isn't overly clingy. Sits beautifully below the knee and has a relatively high neck. The fit is both casual but still really elegant and I'm just in love haha. Equally lovely with heels as it would be dressed down with flats or sneakers. I took a size 1 for reference.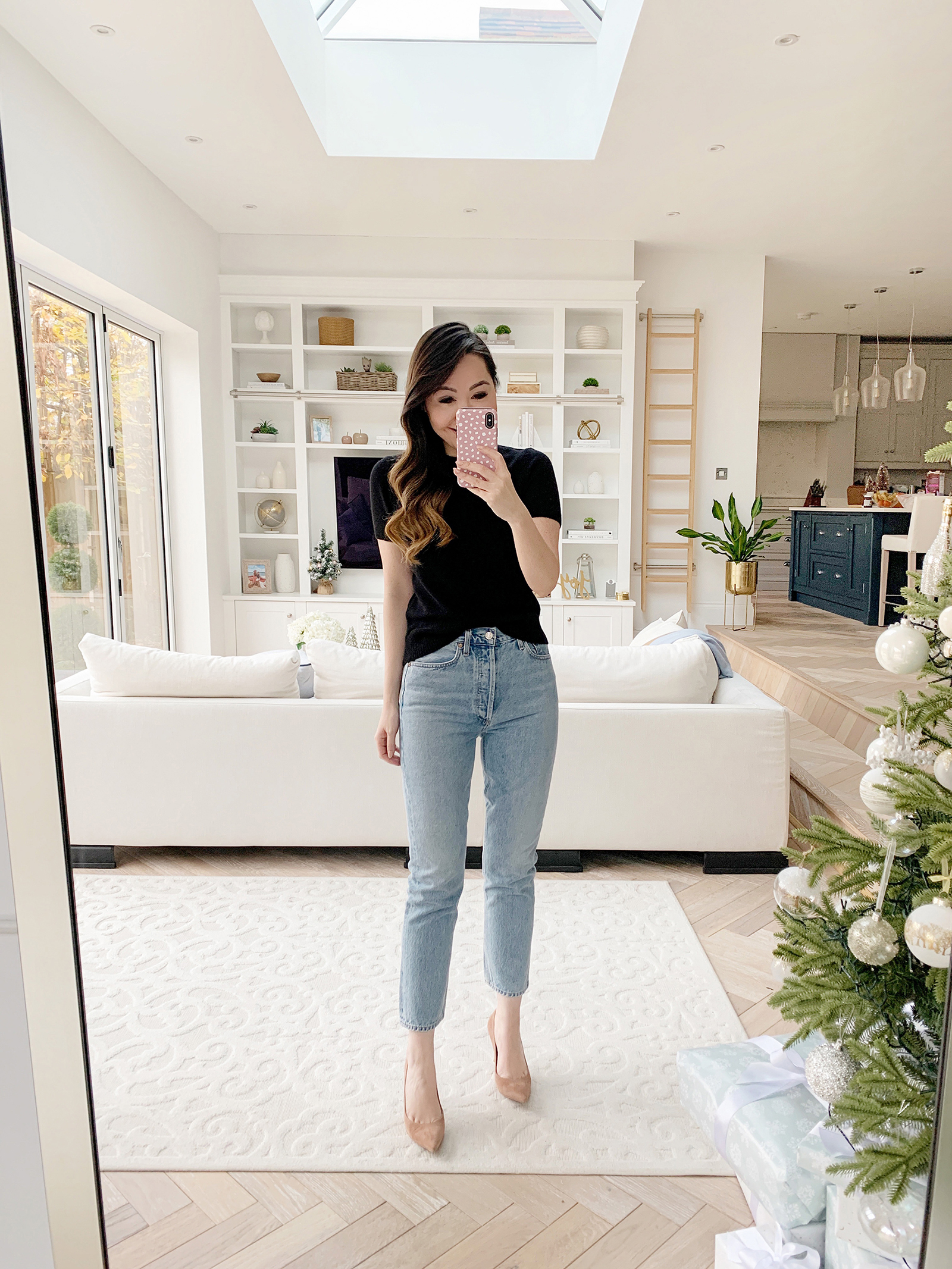 Black Cashmere Top – size small
This Theory cashmere top is gorgeous! So simple but so stunning. My black one is low in stock however the white one does seem to have a fair few sizes left and is also included in the 40% off. Gorgeous with jeans but also works so well with skirts too for a truly elegant look. I took a size small.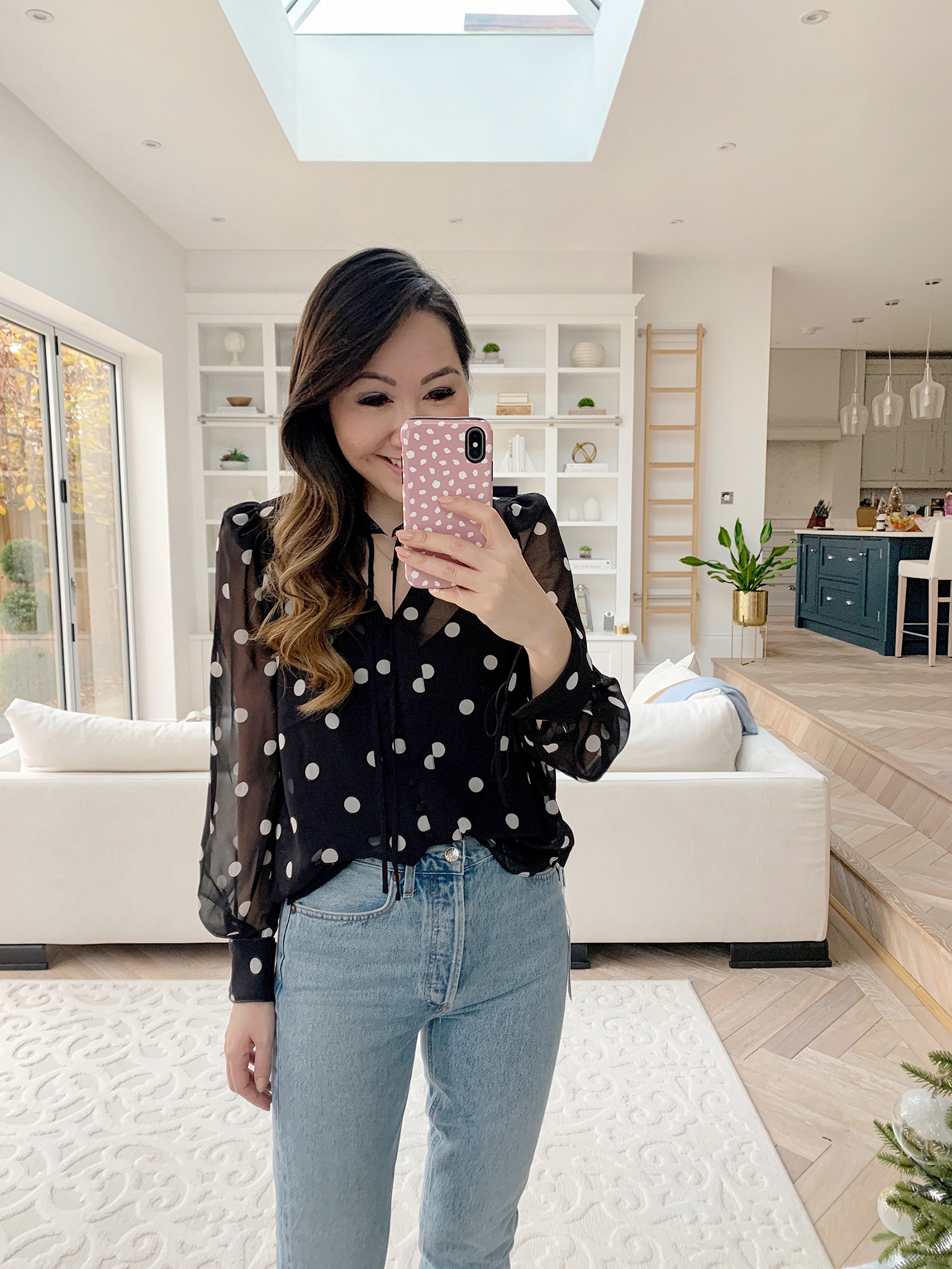 Polka Dot Blouse – size UK 6
This polka dot top is everything I wanted and more haha. I will never tire of polka dots and I just love the extra detail on this blouse! So so stunning. It is sheer so I had to layer a black cami underneath. I took a UK size 6 because it seemed like a looser style and it fits great.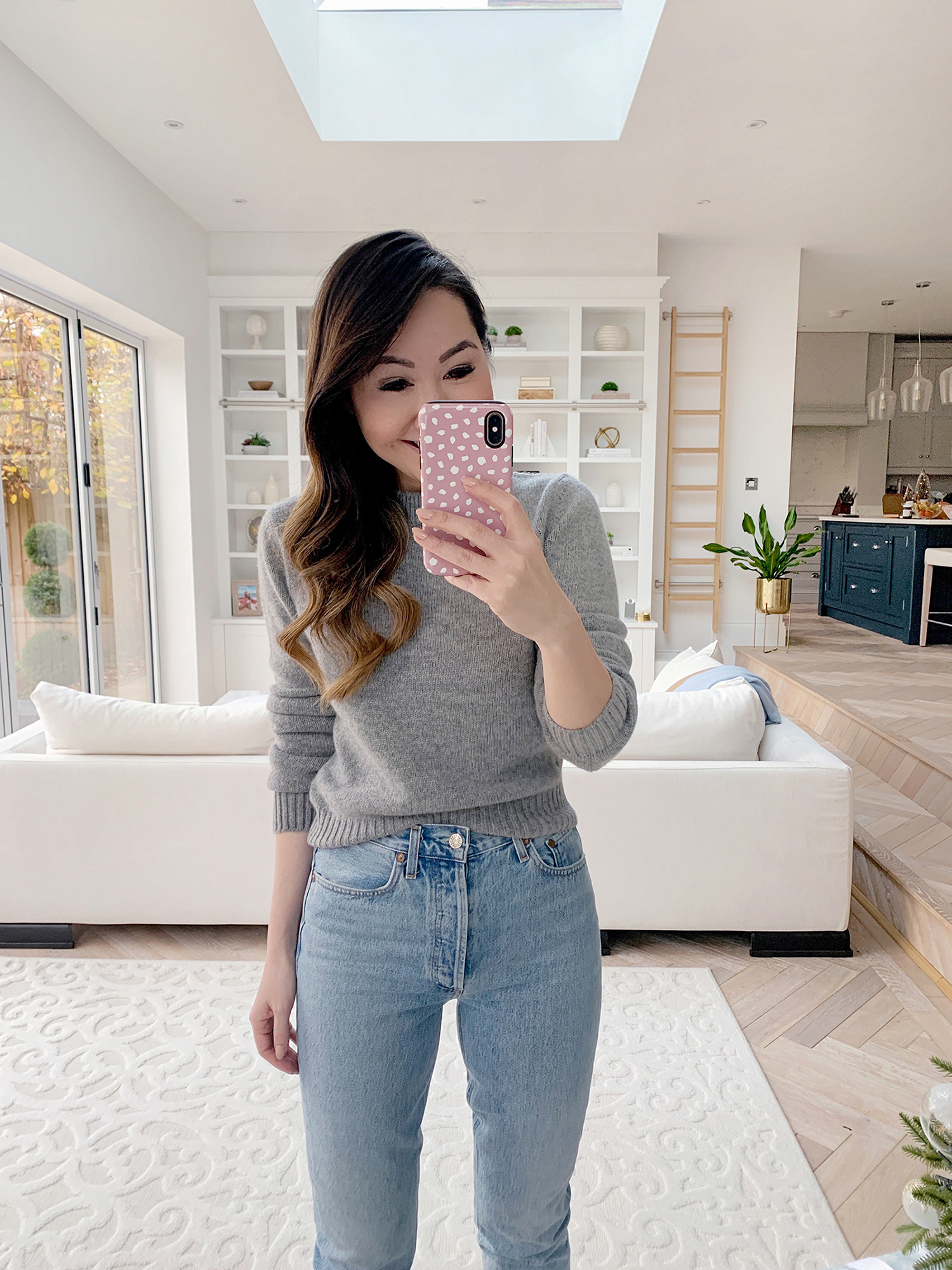 Grey Cashmere Sweater – size small
I specifically wanted to call out these gorgeous cashmere sweaters – they come in a bunch of colours and are absolutely gorgeous! They fit a little cropped so are adorable with high waisted jeans or a great skirt. It's so hard to find knitwear pieces that look substantial whilst still looking streamlined and these are just fantastic – and an amazing deal at 40% off! I'm wearing a size small.
You can see the pink, blue, navy and olive green ones here. The full selection from the brand is here.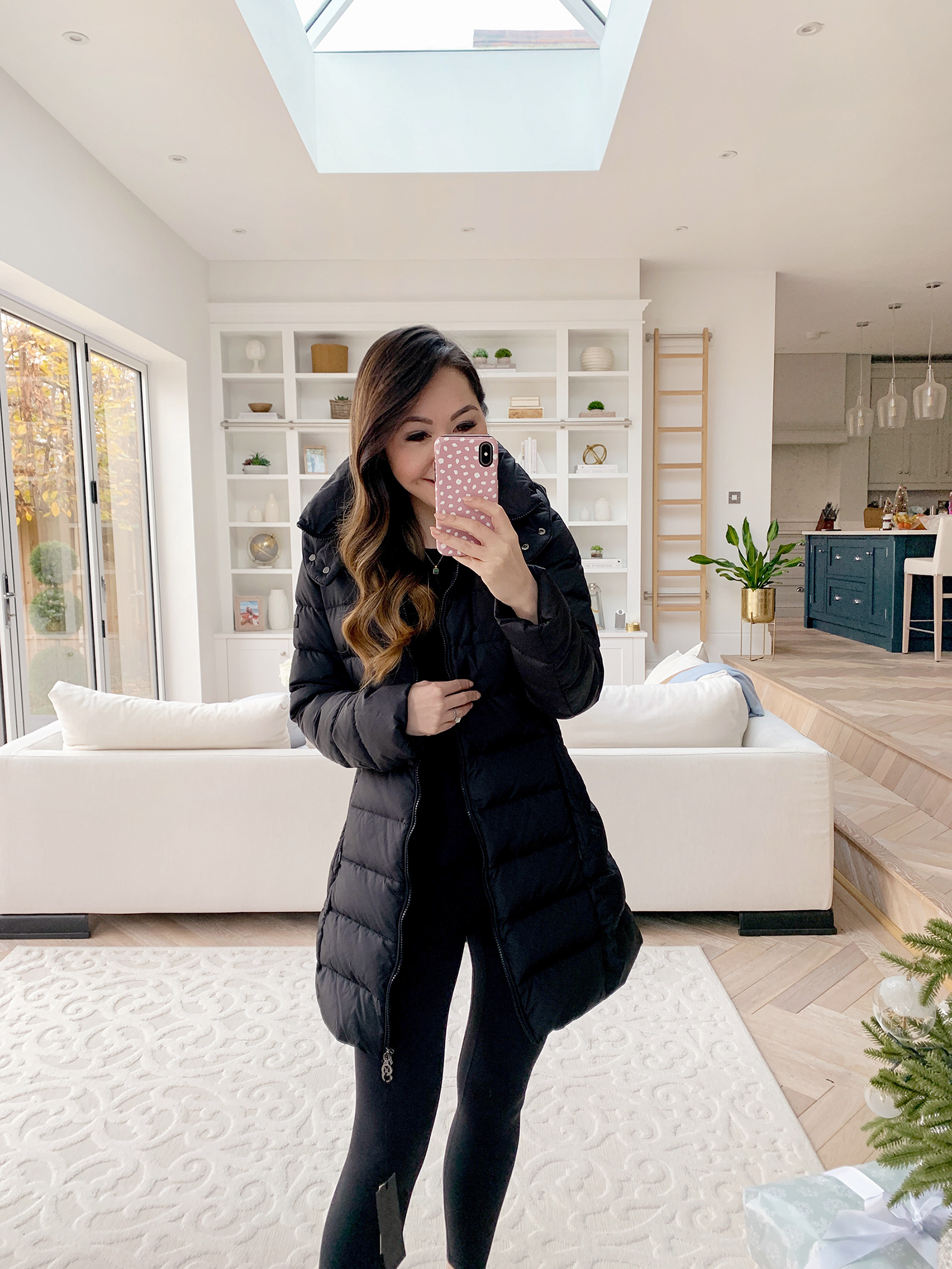 Puffer Jacket – ordered a size 1
Finally this puffer jacket – probably my favourite piece that's included in the sale. I didn't take a particular good photo of it but it is GORGEOUS in real life! My brother's staying for a few days and as soon as I put it on, he was like 'wow that's a nice puffer coat!' – I'm not sure I've ever had this reaction to a puffer coat before haha. I do have to size down but I've already placed my order for my new size – too great of a deal to pass up! I wasn't familiar with the brand but the quality looks to be fantastic and the fit is lovely – slim fitting with a slightly nipped in waist to give a lovely silhouette.
I'm wearing a size 2 in the above pic but it is a little too roomy so I've gone ahead and ordered the size 1.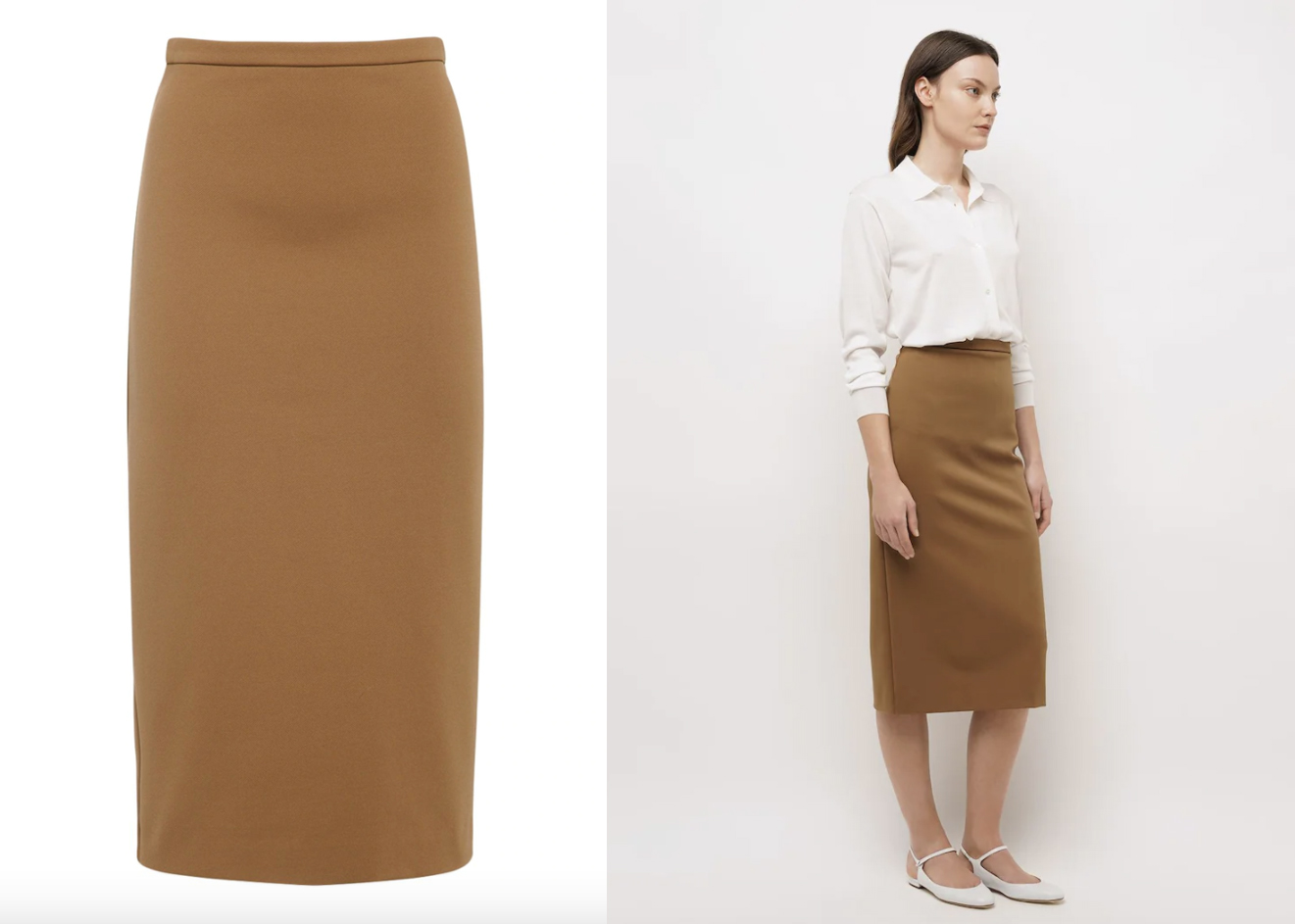 Camel Pencil Skirt – I ordered a size 1 
Finally I wanted to share another great find that I just ordered myself – I've been on the lookout for a classic camel pencil skirt and couldn't believe my eyes when I saw that this one was included in the offer! Max Mara clothing is so beautiful and I love the warmer tone of the skirt. With the 40% off, I thought it was a great price – especially for something so classic!
Don't forget to use the code APPRL40 at checkout to take 40% off everything in this post!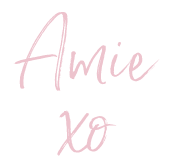 Thank you to Luisaviaroma for partnering with me on this post!