All images are clickable!
The Farfetch sale has been happening for a few days now but they just made it even better! You can take an EXTRA 20% off everything in this landing page PLUS they're given me a stackable discount code where you can take an additional $50 off when you spend $700 or more! The 20% off is taken off at checkout automatically and you can then use the code AMIEFFBF to get the extra $50 off (or equivalent currency).
FEATURED ABOVE
1. Marc Jacobs Knit Jumper // 2. Tory Burch Quilted Chevron Shoulder Bag // 3. Maje Tweed-Effect Collarless Jacket //4. Gianvito Rossi Transparent-Panel Pumps // 5. Tory Burch Smooth Shopper Tote // 6. Gianvito Rossi 85mm Pumps // 7. Anya Hindmarch Recycled Nylon Clutch Bag // 8. Tory Burch Cross-Body Bag // 9. Marc Jacobs Messenger Bag // 10. Manolo Blahnik Crystal-Embellished pointed Pumps // 11. Tory Burch Kira Logo-Plaque Purse // 12. Gianvito Rossi 105mm Pumps // 13. Givenchy Calf Leather Riding Boots // 14. Marc Jacobs Logo-Patch Luggage Bag // 15. Via Roma 15 Knee-Length Boots // 16. Maje Embroidered Shift Dress
I didn't have super high expectations of the items included but the stock selection is actually amazing! Everything from my favourite knee high boots to the gorgeous Tory Burch Kira to new season Gianvito Rossi styles! The extra 20% off only lasts until tomorrow (Sunday) night though so this isn't one to wait around on.
Just a reminder that with Farfetch, you're shopping from stores all over the world so it's always best to do a quick check at the RRP of the item you're thinking of, at a different store. All customs and duties are calculated at checkout but prices do fluctuate according to what country you're shopping from 🙂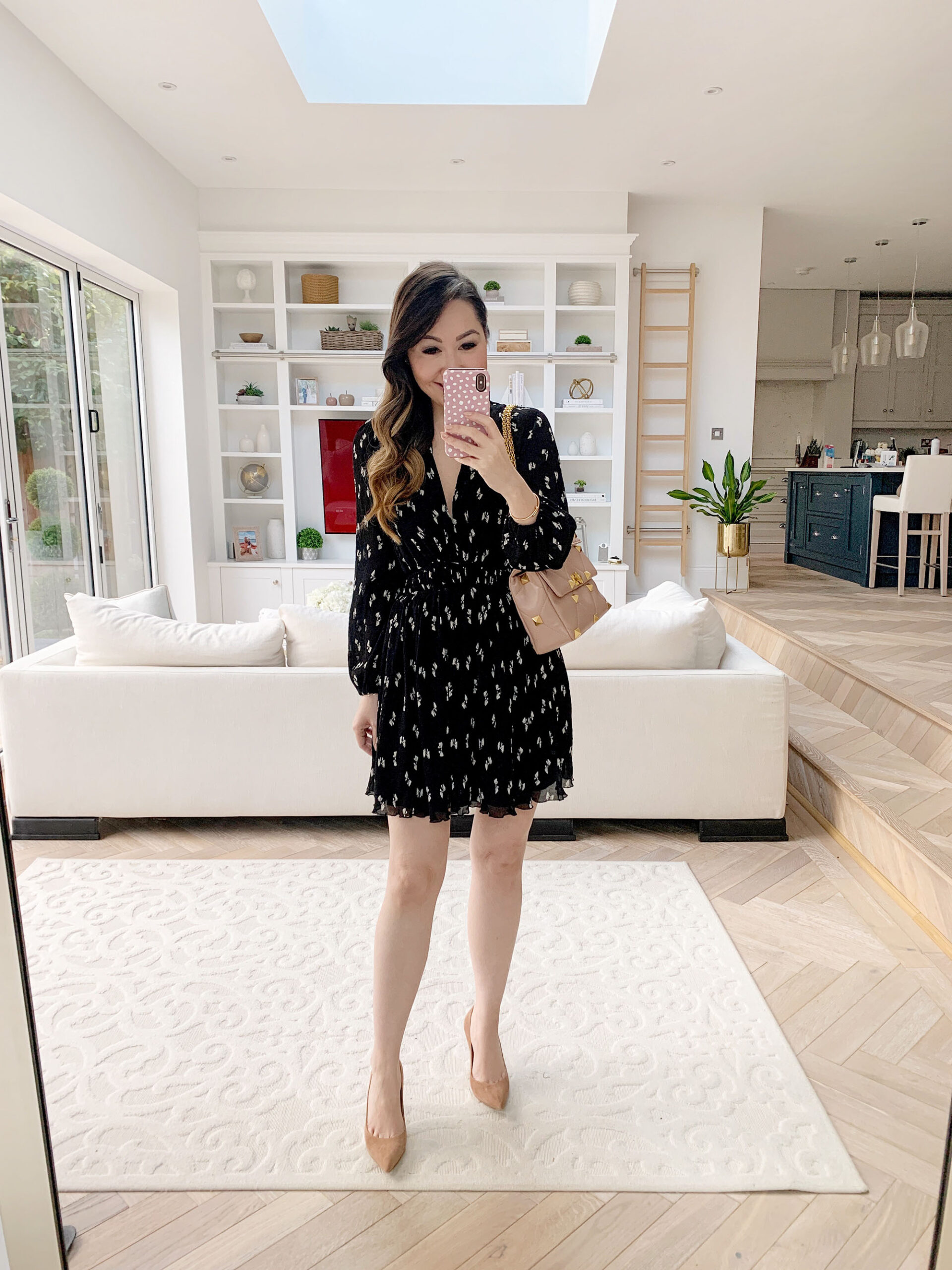 My Maje dress is on sale and included in the extra 20% off! This is just the prettiest thing and is so fun to wear. The sleeves are semi-sheer and the print is just so lovely without being too much. I wore it to the theatre for our October London trip and just loved it so much! I took a size FR 36.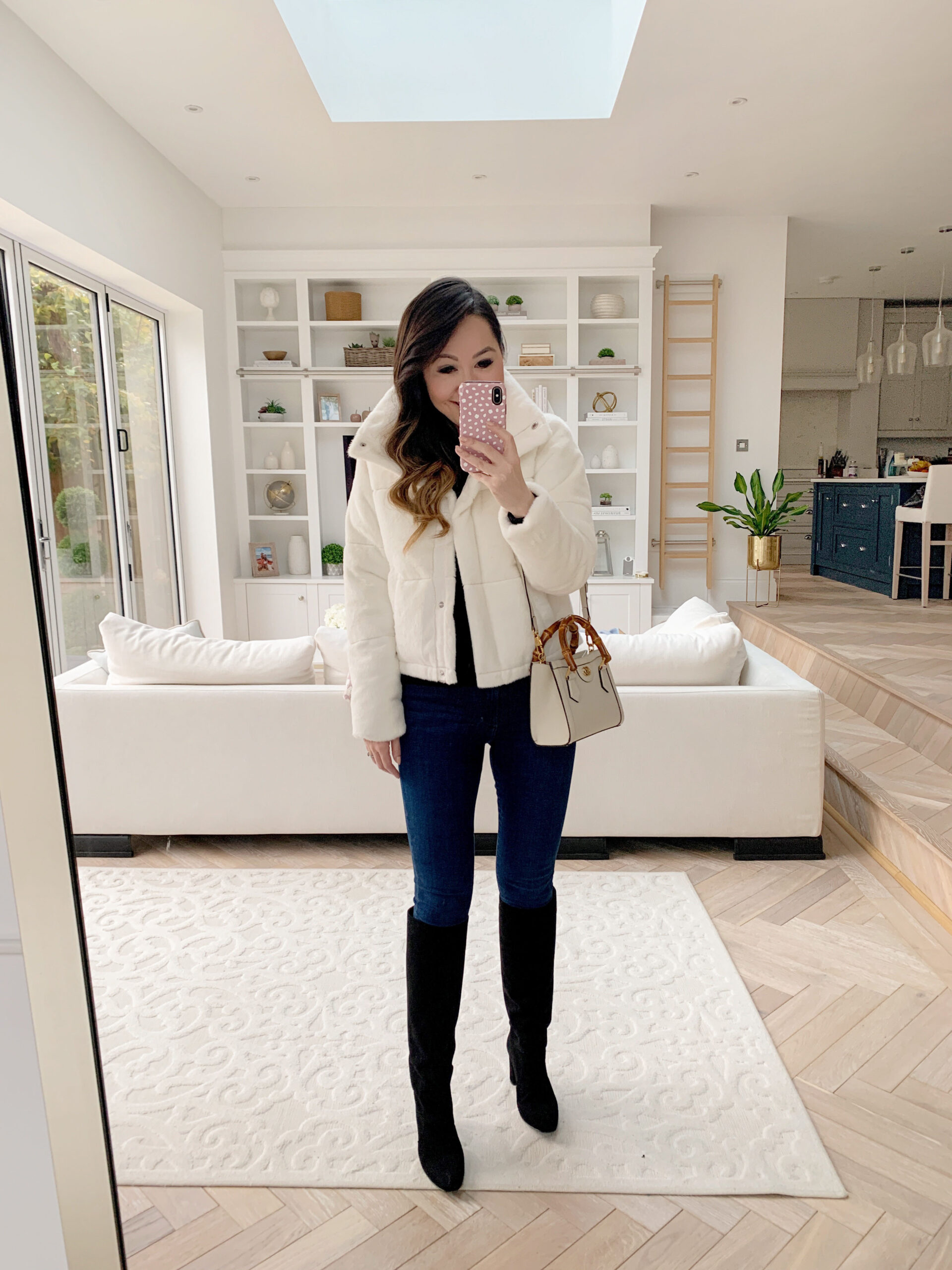 My boots are included! Definitely one of my favourite purchases this season – I own them in both the black and the chestnut! Sadly the black ones are now sold out but there are still a few sizes left in the chestnut and they're also included in the extra 20% off!
All images are clickable!
1. Maje Tiered Bow-Print Skirt // 2. Maje Long Horse-Print Skirt // 3. Maje Hounstooth-Pattern Blazer // 4. Maje Front-Slit Midi Skirt // 5. Maje High-Waisted Checked Skirt
They have pretty much the entire Maje line included. If you're not familiar with Maje, then they're a French brand who do the most beautiful clothing – very fun and feminine but still very classic and amazing quality. I have a coat from them that I bought 11 years ago that is still going strong!
All images are clickable!
1. Marc Jacobs Medium Quilted Weekender Bag // 2. Anya Hindmarch Make Up Bag // 3. Anya Hindmarch Rectangular Travel Case // 4. Gianvito Rossi Pumps // 5. Tory Burch Lug-Sole Boots // 6. Tory Burch Brooch // 7. Tory Burch Kira Chevron Cardholder // 8. Gianvito Rossi Ribbed Ankle Boots // 9. Tory Burch Lace-Up Heeled Leather Boots
They also have some fantastic accessories included – from adorable weekend bags from Marc Jacobs to the same in-flight cosmetics case from Anya Hindmarch! All on sale and all included in the extra 20% with the stackable discount code applicable 🙂