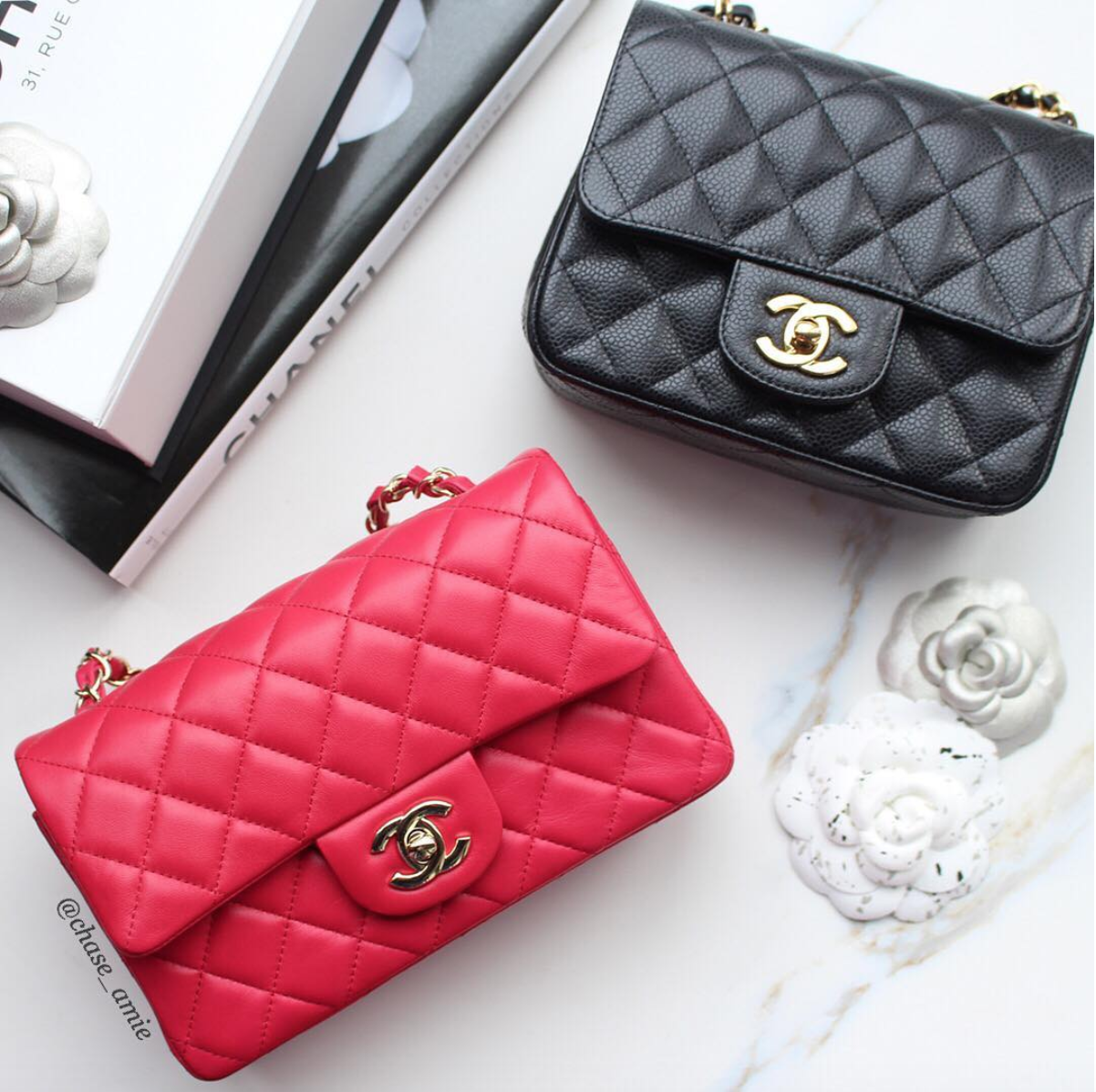 I've done several videos on Chanel bags and how to score the Chanel bag of your dreams but I still get quite a few questions on Chanel minis in particular so I thought I would dedicate a whole blog post to it. Chanel minis are among the most popular styles that Chanel offers and they are notoriously difficult to get so here I've broken it down into the general information you need to know about Chanel minis and what steps you need to take to get one!
Why are Chanel Mini Bags So Popular?
There are a few reasons for this; they have the classic look of a Chanel flap but aren't considered part of the 'classic flap' line by Chanel and therefore don't carry the hefty price tag of the M/L flap for example. Chanel minis are far from cheap of course but at around £2000, they are much more accessible than some of the larger sizes that will run you around £4000 upwards. More than price accessibility though, the Chanel minis are just plan adorable and also fit a surprising amount. I have videos here and here showing exactly how much they fit. Due to the absence of a double flap, the minis can fit more than the small sized Chanel flap and only slightly less than the M/L sized flap.
Chanel minis are also available at Heathrow Duty Free because they aren't considered 'classic' which means if you're lucky, you may be able to nab one at a discount.
Are Chanel Minis Always Available?
The short answer to this is 'no'. Because Chanel minis are not considered part of the permanent line (which really only consists of 4 bags: the small classic flap, the M/L, the jumbo and the maxi), they are released as seasonal bags. So even though to most people, a black Chanel mini flap may look like it belongs in Chanel's classic line, it doesn't – it's a seasonal bag and is only released in batches whenever Chanel feels like it.
As far as I know, Chanel releases minis every single season though – usually in both the square and rectangle size, although nowadays the rectangle size is more common. The colours, material and finish though is subject to variation each season – and can also vary according to what country you live in. Black Chanel minis (which are the most popular) aren't always included in seasonal releases, although they do seem to pop up fairly frequently – presumably because Chanel knows that they always sell well.
The exact release date of each season varies every year and different stores and different countries will all receive the new collections at different times. The best way to keep track of release dates is to visit the Chanel Thread on the Purse Forum. There are always ladies there who monitor when each collection is released and when they should arrive in store.
How Can I Track A Chanel Mini Down?
Again, this will depend on the country you live in. In the US, there are waiting lists you can join – in Europe, waiting lists are much less common and I've never come across one in the UK. Instead, you'll just have to rely on phoning around each store to check if they have any stock.
In my experience, even though 'seasonal collections' are supposed to last through the season (so typically, a few months), the most popular bags will sell out in the first couple of weeks. For whatever reason, Chanel tend not to stagger the release of bags over a couple of months so if you want a mini (or any popular seasonal bag for that matter), then you should try and get one within the first few weeks of the seasonal release date.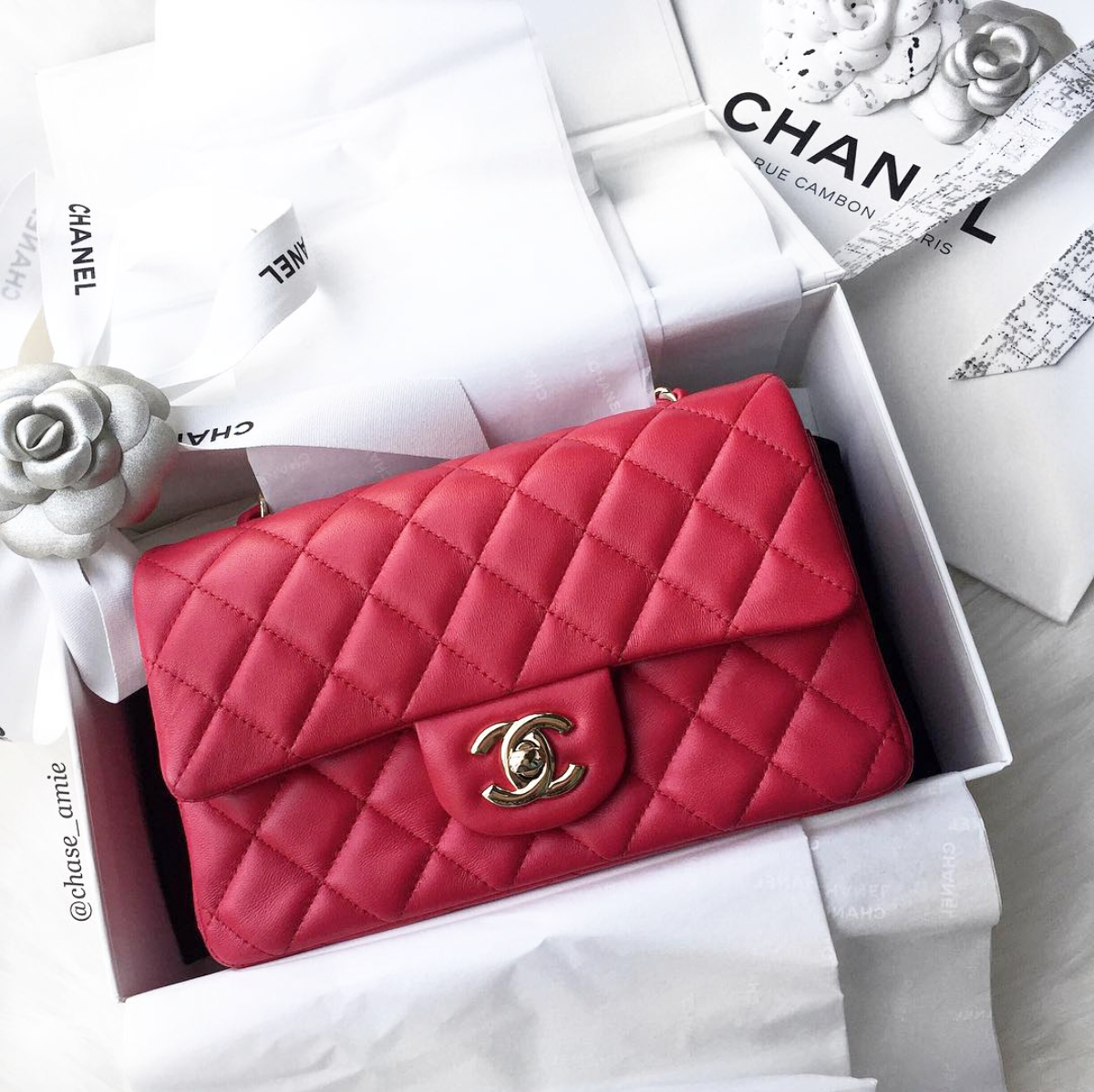 What Steps Should I Take To Score a Chanel Mini?
I appreciate that all of this information may seem overwhelming if you're new to Chanel so I have a checklist below to try and help break down all the points:
Keep track of release dates for Chanel minis in the seasonal collections. The best place to do this is in the Mini Thread and also the general 'shopping' thread in the Chanel section on the Purse Forum. The Shopping section will always have threads for the upcoming collections and members will have intel there on release dates as well as what's included in that particular release.
When you have an approximate release month (you're unlikely to get a firm date that is applicable everywhere), you're going to want to phone a store or pop in to enquire about the new arrivals. Often SAs don't have information about exact dates or what's being included so don't get disheartened if they're unhelpful; they genuinely just don't know.
IG is also a good way to see when new bags are released – people always show off new purchases on IG so that's when you know bags are arriving in store! I always look at specific Chanel hashtags (i.e. #chanelmini) or if you follow enough bag related accounts, the 'explore' section.
When you know bags are arriving in store, phone around. In London for example, there are many Chanel boutiques to phone and I have been known to phone around them all in search of a bag! They may offer to search the 'system' for you to see if the bag you're after is available in any of stores nearby – definitely take them up on this but take it with a pinch of salt. Often, the popular bags get sold so quickly on the day that they don't get registered in the system so it's not always that accurate.
You can ask them to phone you if a specific bag comes in, but don't rest all your hopes on this. Sometimes they do phone and sometimes they don't. This isn't about withholding a bag – it's sometimes just easier to sell it to the person right in front of you than to phone and follow up a 'maybe' sale. Unless you have a solid relationship with a SA, it's best just to phone periodically yourself to check.
Be persistent. Deliveries happen most weekdays so try phoning between 10:00am and 11:00am before the store gets busy to see if they've received what you're after in that day's delivery. In my experience, individual boutiques are better bets than department store boutiques (in London anyway).
If you do track one down, be prepared to go to the store asap (as in, same day in most cases…) to pay. The official policy is not to reserve but most nice SAs will hold the bag for you for a couple of hours.
I hope you found this useful! Please let me know if you have any questions below and I'll either try to answer you or will update the blog post to include the info.