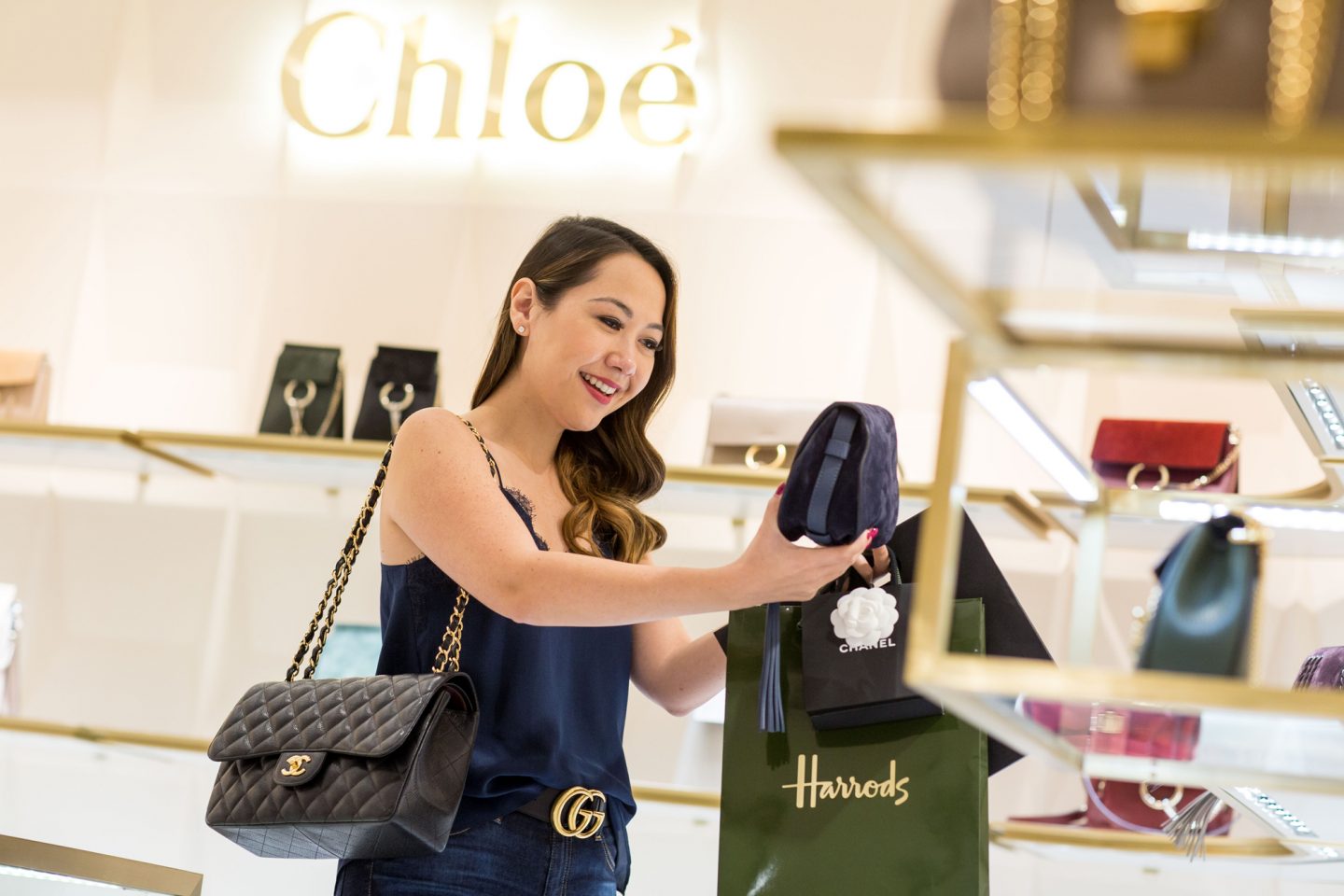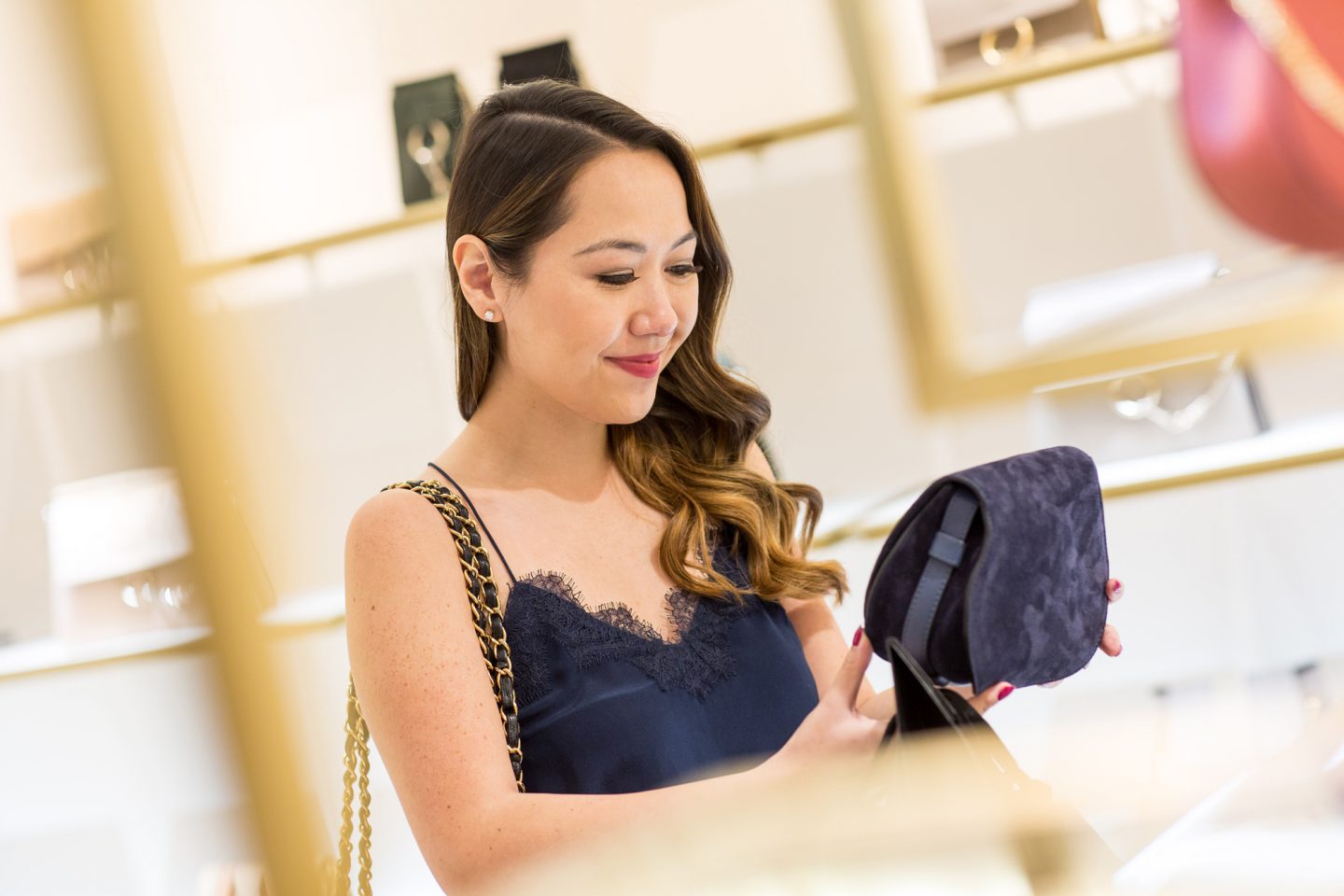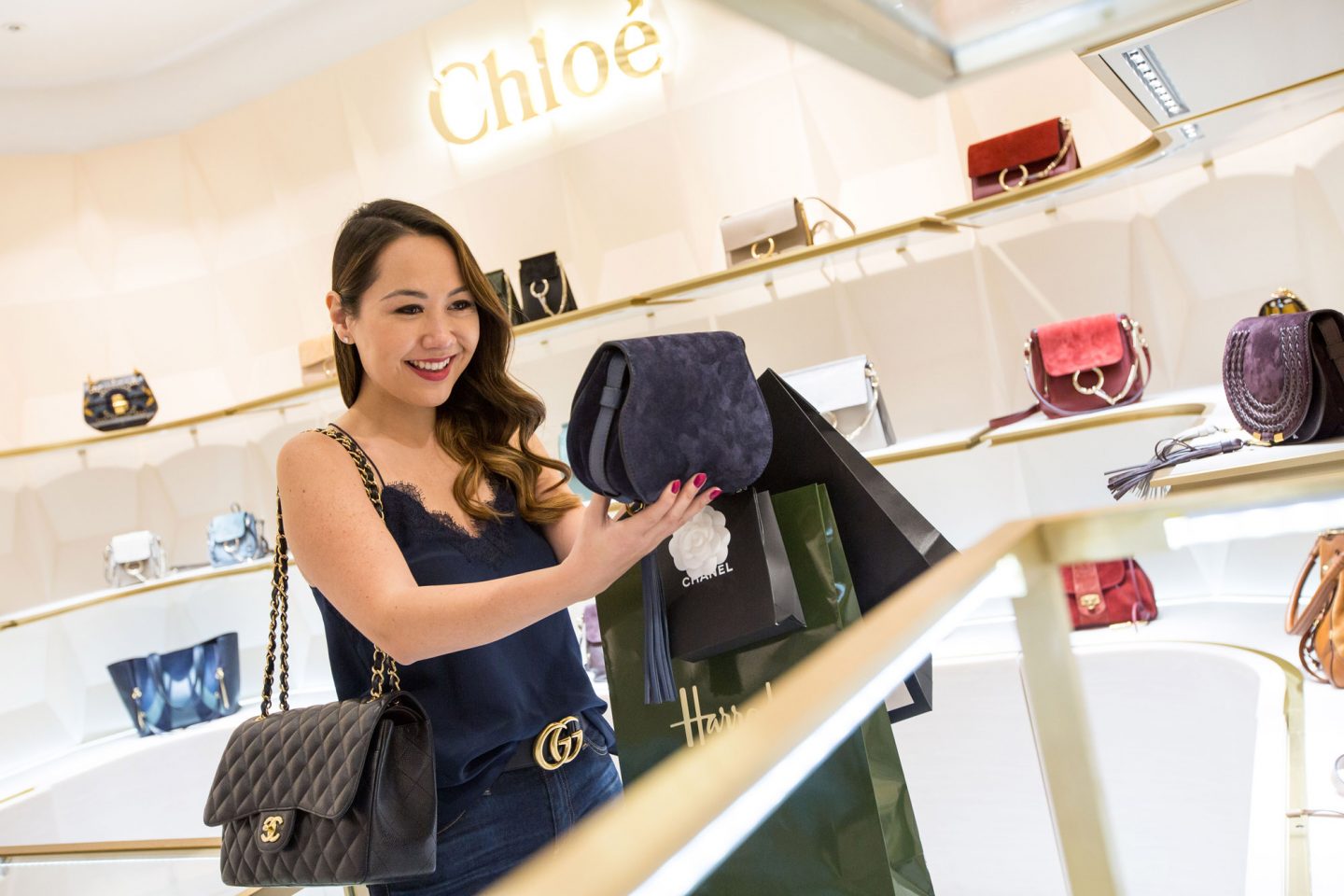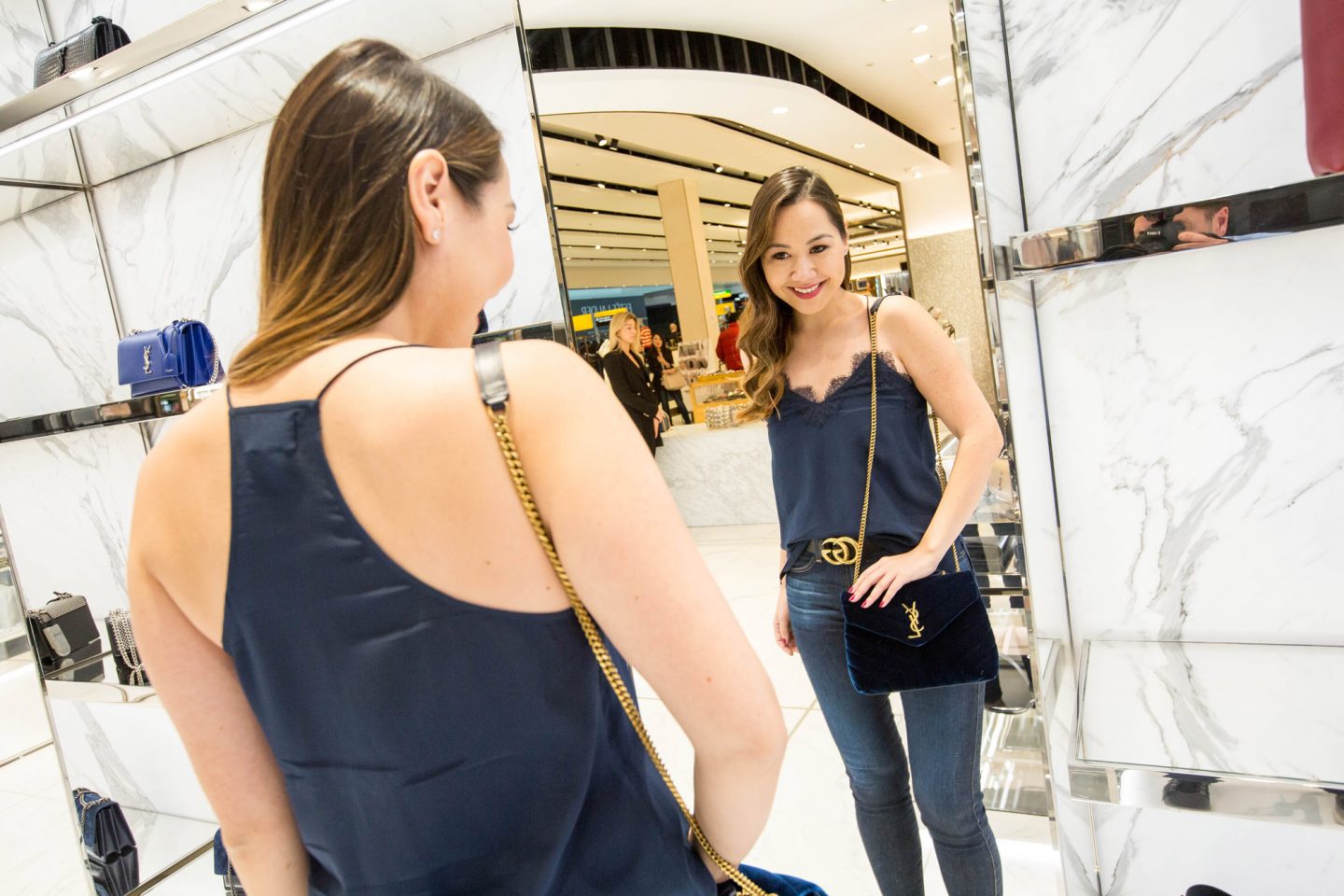 I was lucky enough to be invited by Heathrow to experience their personal shopper lounge in Terminal 5. I've already used and spoken about the personal shopper service before on both my channel and my blog – it's a great way to shop at the duty-free Chanel boutiques (and all the other amazing stores also!) at T3 and T5, even if you're not flying out of these terminals. So I thought I would round up not only my top tips about how to make the most of your shopping experience but also answer some frequently asked questions that I get about the whole process.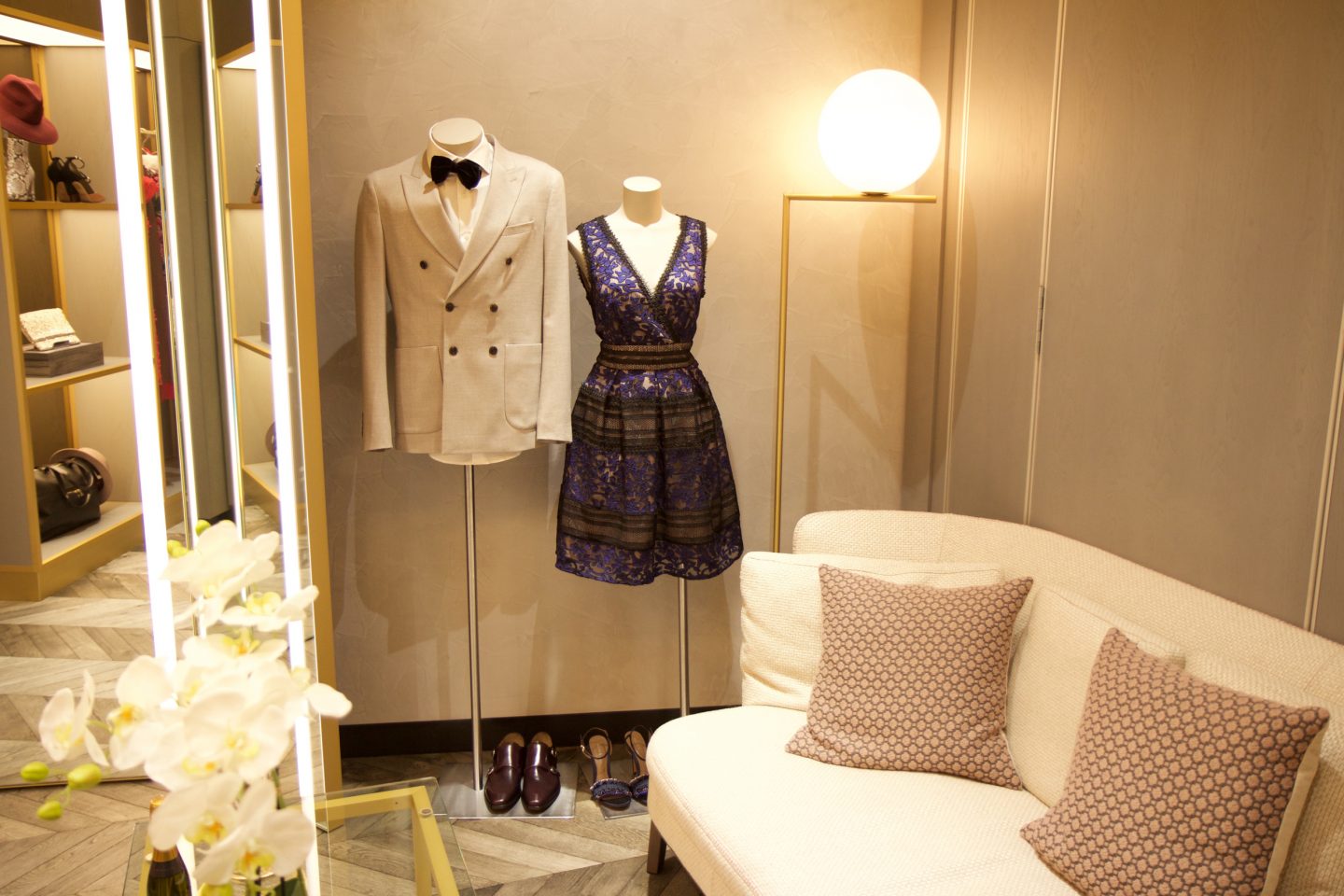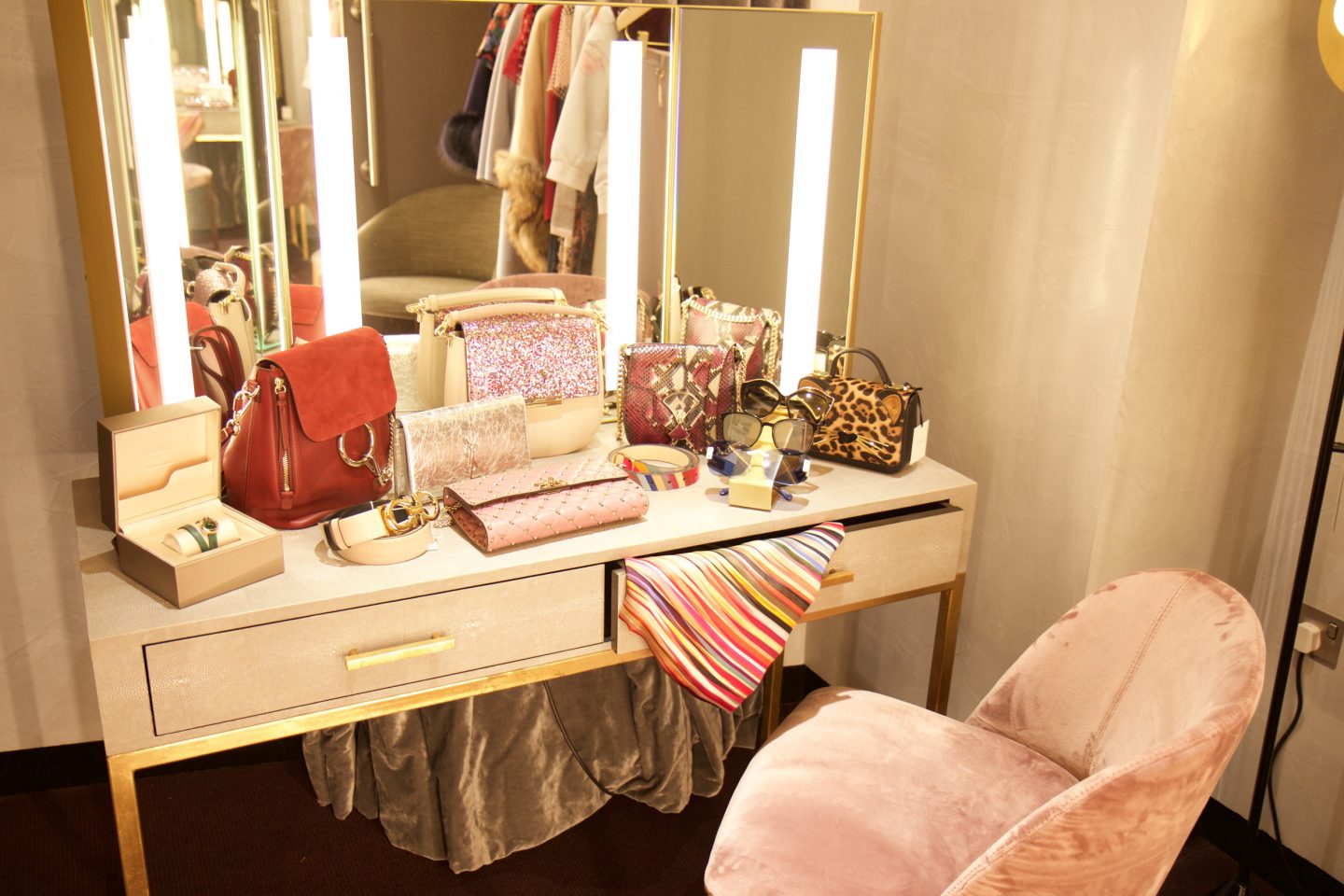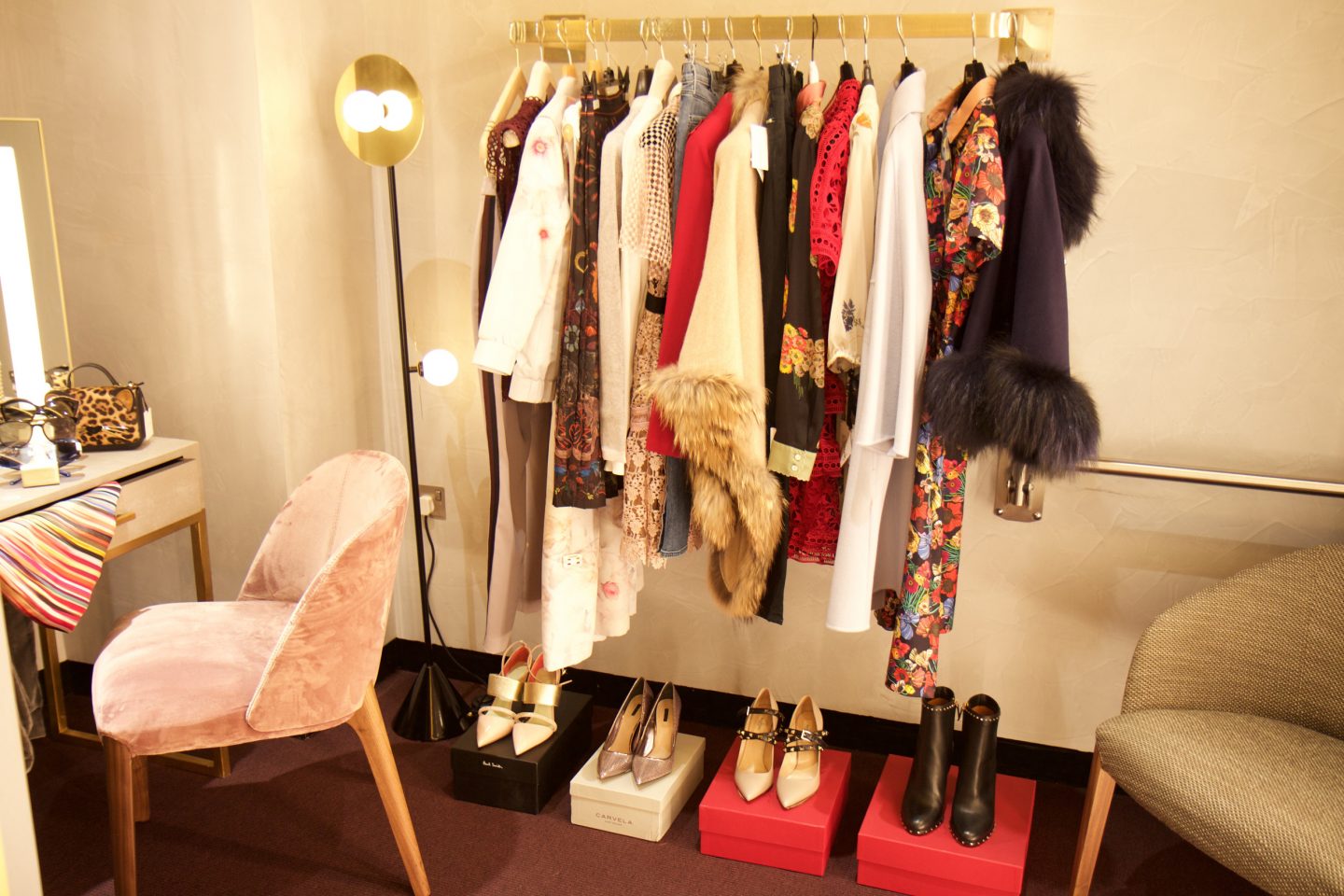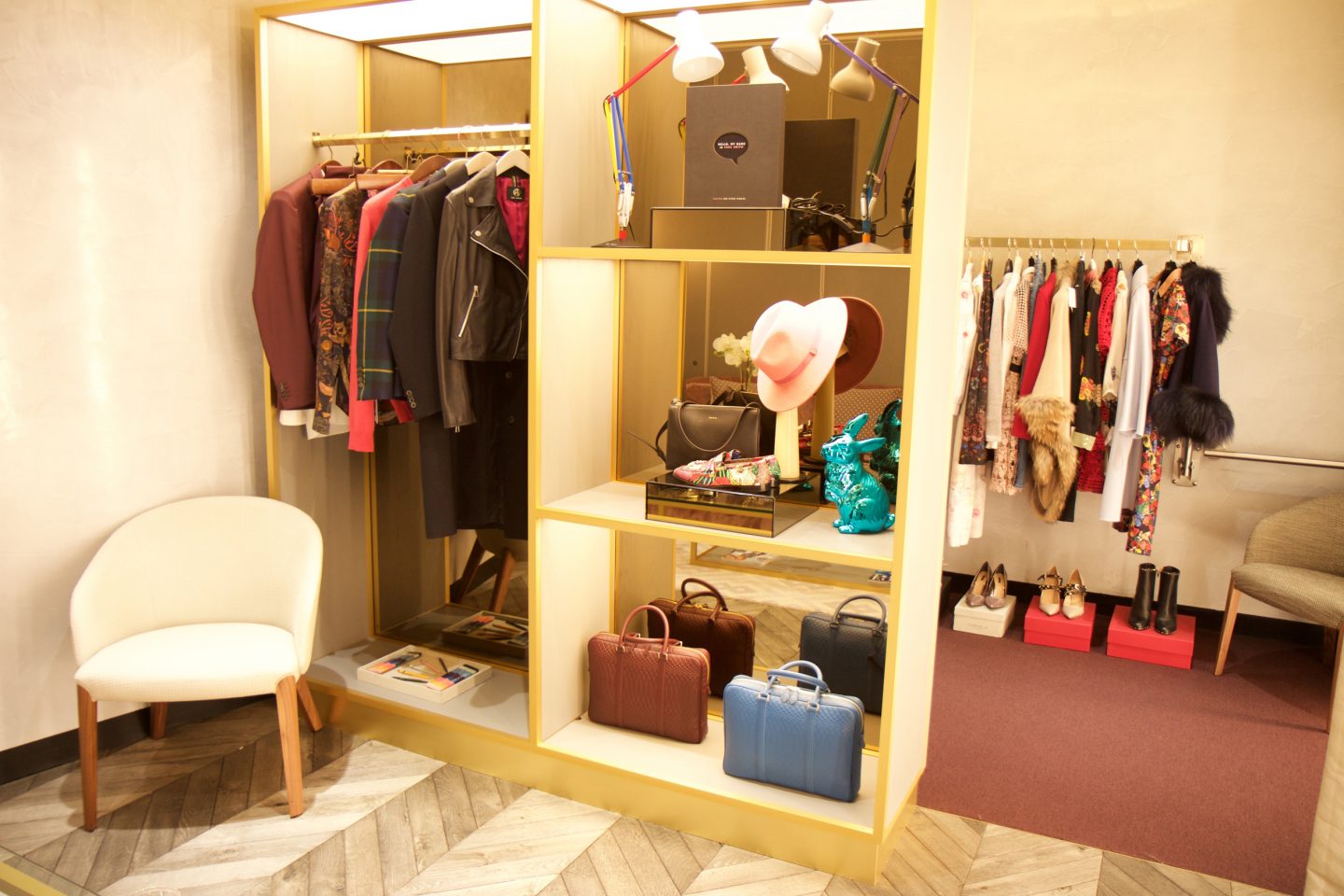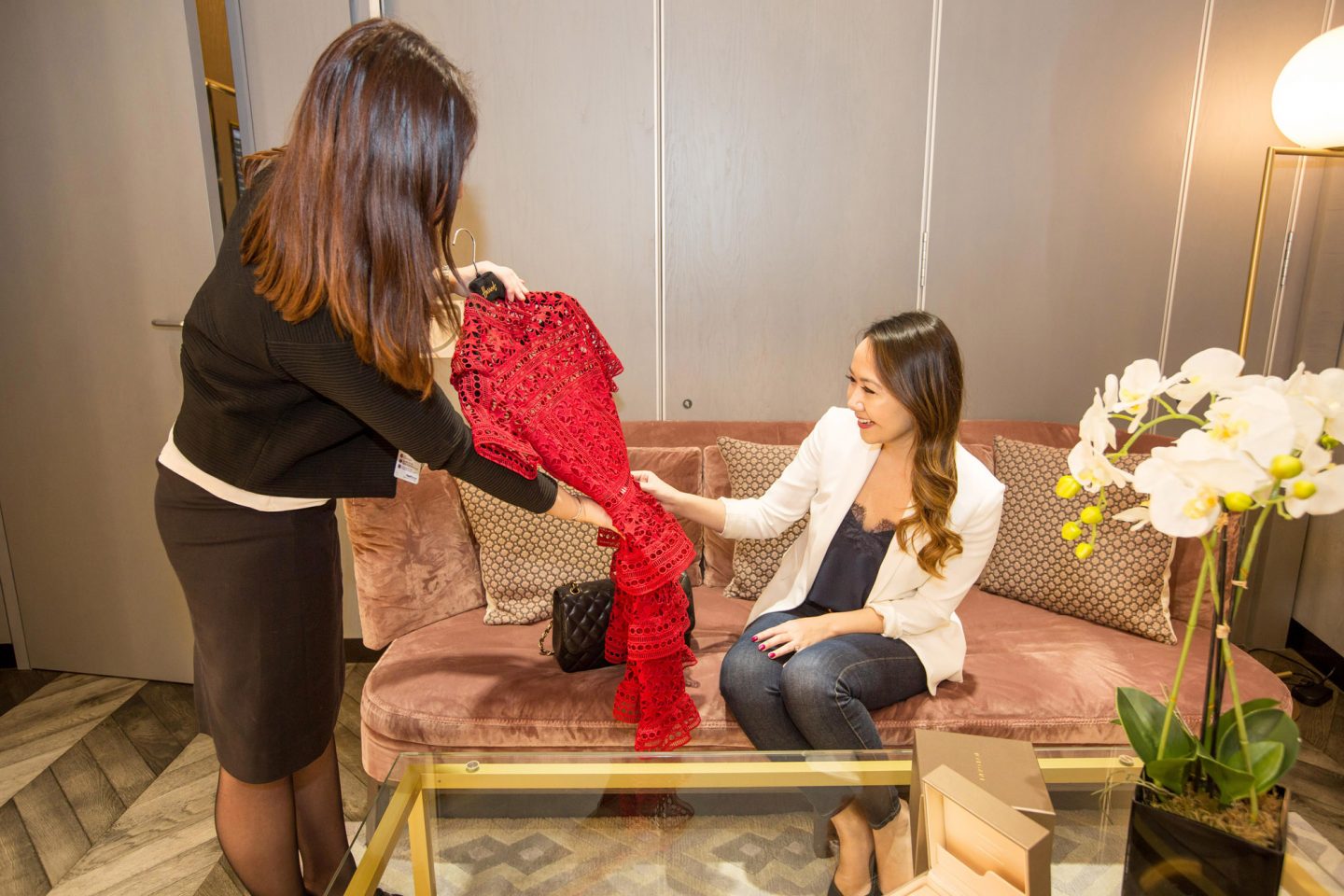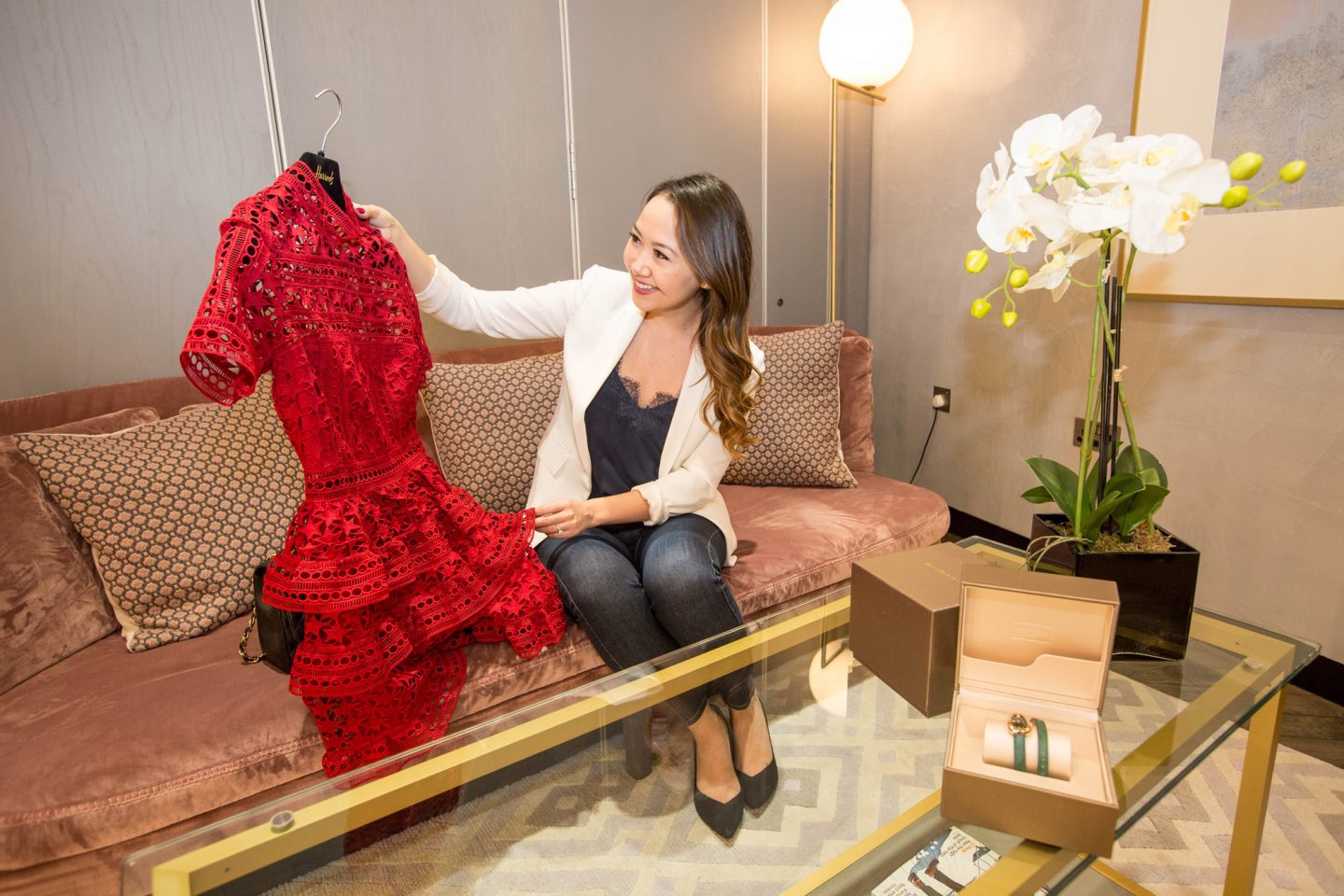 Tips For Making The Most Of Your Shopping Trip
Firstly, research what shops are in which terminal. If you really want to shop Chanel, then Terminal 5 (T5 for short!) will be your best bet.
If the shop you want to visit is in a different terminal, then you can book a personal shopper to escort you to that terminal. Be aware though, Heathrow is large and you need plenty of time before your flight!
If you want a specific item from a particular store, you can reserve the item ahead of item. If you use the personal shopper service, you can also send along a list of your wish list items and your personal shopper will take it from there!
If you have your heart set on a particular item, check with a personal shopper to see if it's in stock – some stores can bring items in for you (I did this with Burberry last year). Alternatively, your item may be stocked in another terminal – so it's always good to plan ahead.
If you're a lover of luxury shopping, then visiting Terminal 5 is definitely worth considering – pretty much every high end store has a boutique there from Hermès, to Prada to Gucci (opening next month!) to Louis Vuitton. A shopper's paradise! The personal shoppers at Heathrow have knowledge of every store and brand there so when in doubt – just ask 🙂
Register for and use a Heathrow Rewards card – it's free and you can earn points on all your shopping. If you're buying a bag or other luxury good, this can mount up! Last time I visited, I claimed almost an entire meal (including the wine!) for free because I'd accumulated enough points.
Leave some extra time and make use of the personal shopper lounge. You can see how amazing it is in my vlog below but not only do you get to make use of the space but you also get complimentary Champagne! The one I visited was in Terminal 5, but there is also one in Terminal 2 and another is opening in Terminal 3 in December. But book early – as you can imagine, it's fairly popular so it does get booked up in advance.
If you're really serious about shopping, you can arrive many hours ahead of time – most airlines will allow you to check in early now so you can take full advantage of the amazing shops, restaurants and personal shopper lounge. After all, where else can you get discount Chanel or Louis Vuitton!?
Don't think that Heathrow is only for luxury accessories – there are so many great clothing store options too! Think Ted Baker, Reiss, Barbour and many more – you can view the full list here. All of the personal shoppers are also trained stylists so if you want some help sorting through all the offering or simply want to try something new, then this is a great service. My stylist, Ling put together outfits from Ted Baker, Harrods, Sunglass Hut, Kate Spade, Kurt Geiger, Bulgari and Paul Smith that I never would have tried myself – not only does it show just how much choice there is but it's also a lot of fun playing dress-up!
If you're planning on buying a lot but are concerned about how you're going to carry it all, then you can opt to leave the items at Heathrow for collection on your way back if you're flying within the EU or even have them sent to your home address!
If English isn't your first language or if you simply prefer to speak in another language, you might be able to request to have a personal shopper in your preferred language – the team speak 14 languages combined!
If you're planning on shopping another terminal, try to travel light – you're going to have to go in and out of security a lot and lots of hand luggage can get in the way. Last time I switched terminal, I only had my Neverfull and I was so grateful that I wasn't loaded down!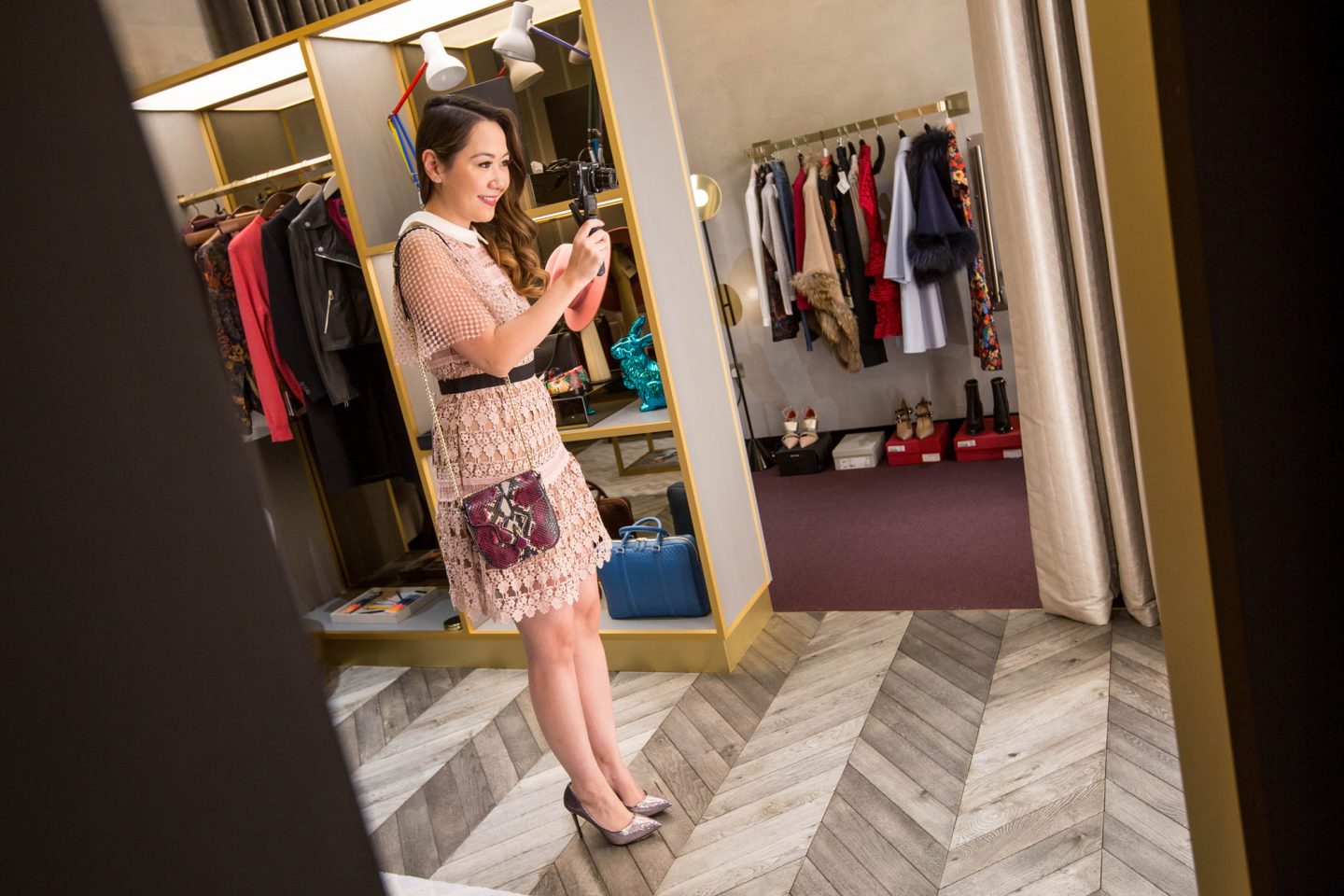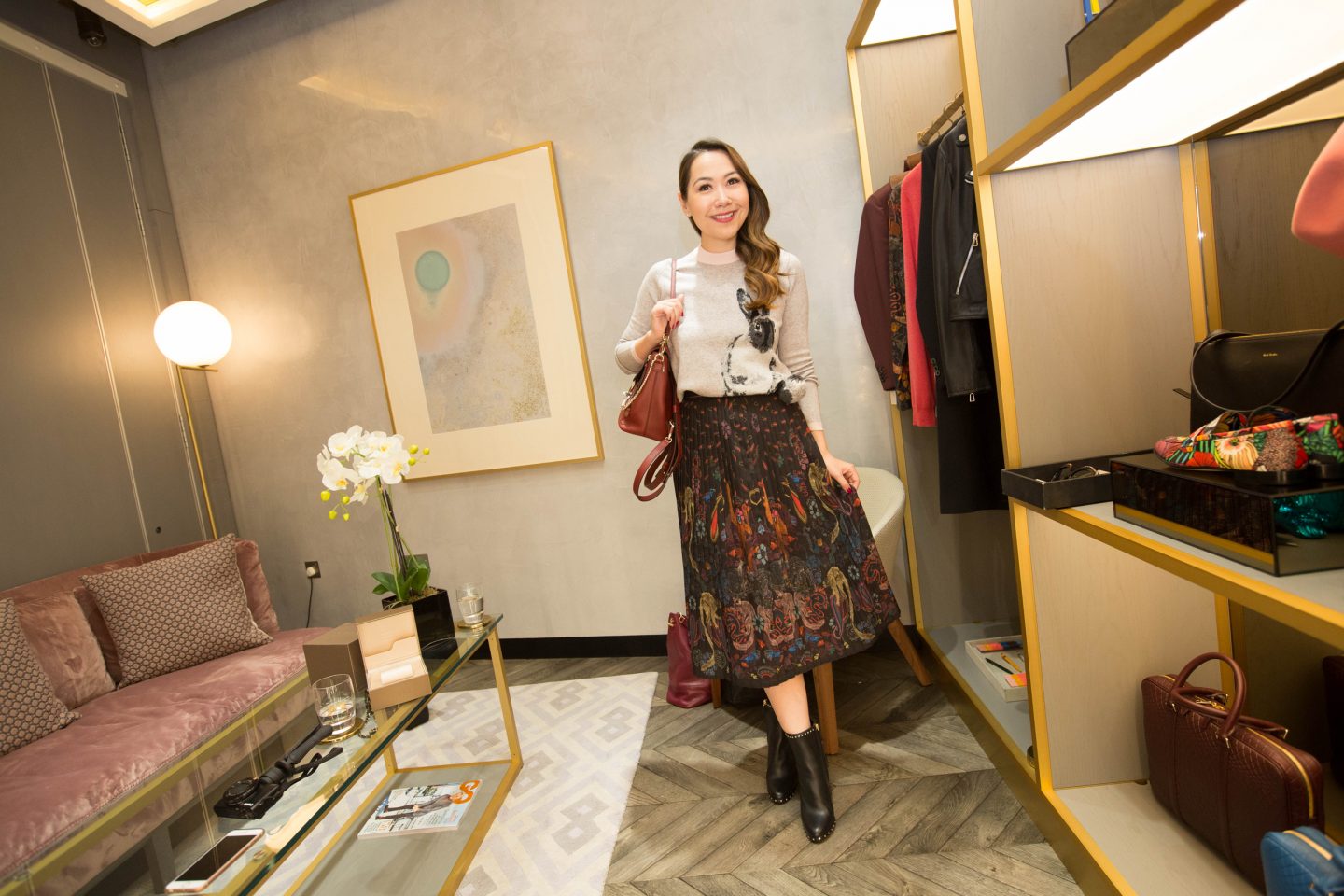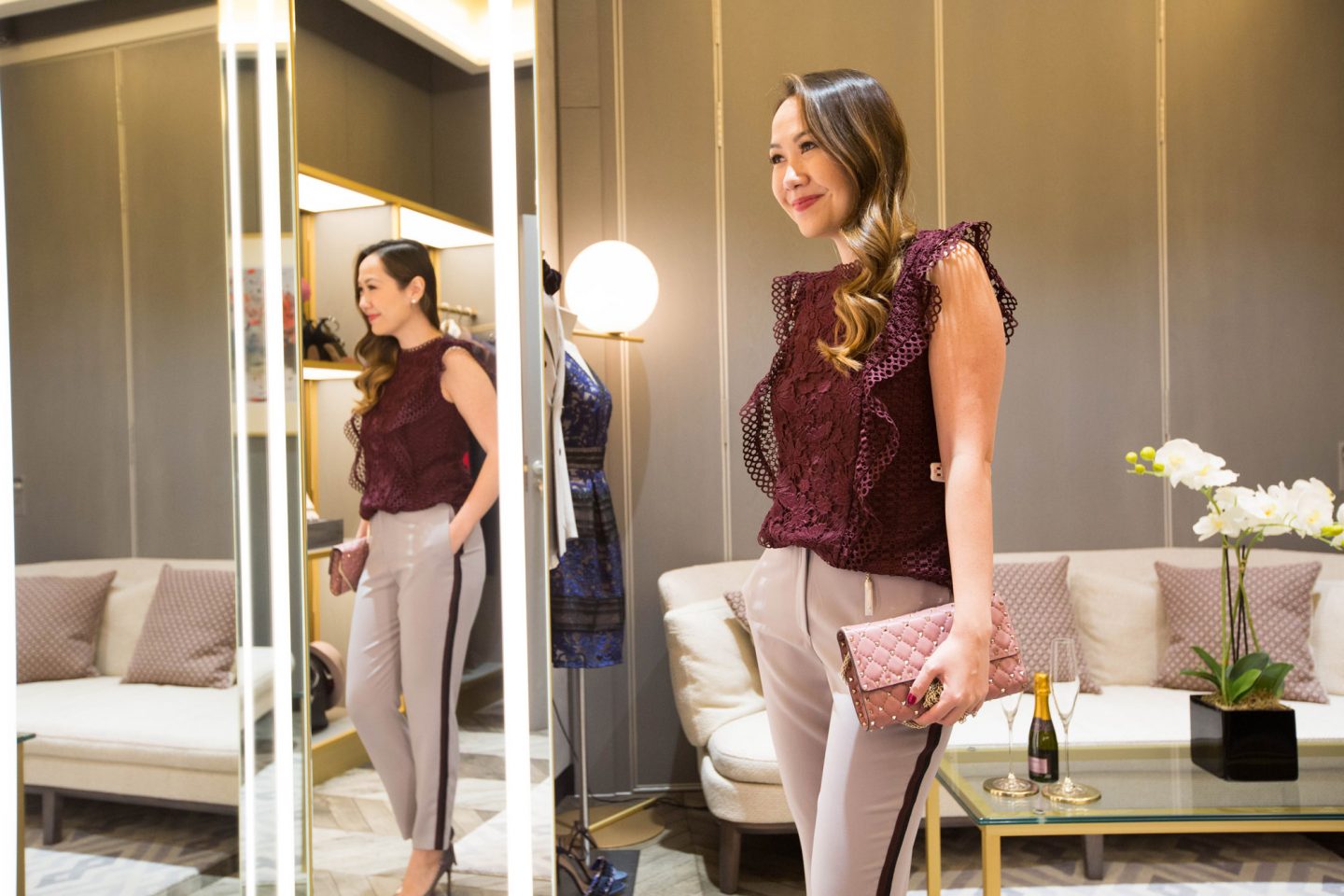 Outfit 1: Self Portrait (Harrods) dress, Carvela by Kurt Geiger shoes, Bulgari watch, Bulgari handbag | Outfit 2: Paul Smith jumper, Paul Smith skirt, Valentino (Harrods) boots, Chloe (Harrods) handbag | Outfit 3: Ted Baker bomber, Ted Baker top, Ted Baker trousers, Carvela by Kurt Geiger shoes, Valentino bag (Harrods)
Frequently Asked Questions
Q: Does the Chanel at Heathrow stock classic flaps?
A: No, I'm afraid not!
Q: Does Chanel sell mini flaps at Heathrow?
A: Yes they do! Mini flaps aren't considered classic flaps so they are available seasonally.
Q: Can I reserve or order a particular bag or item?
A: You can use the personal shopping service (you'll need to book at least 48 hours before your fly date though!) and one of the team members will be able to reserve an item for you up to 24 hours before if it's in stock. For some stores you may be able to order items in (like Burberry), however Chanel does not allow you to order items in.
Q: Do I get duty free prices if flying within the EU?
A: This varies according to the store. Unfortunately with Chanel and Louis Vuitton, you can only take advantage of duty free prices when flying internationally but with others such as Burberry, Mulberry and Gucci, you can buy duty free even when flying within the EU.
Q: Can I visit the shops upon arrival to Heathrow?
A: You need to be flying out of Heathrow to visit the shops.
Q: How can I find out what stores are at my terminal?
A: The Heathrow website has a whole list, sorted by terminal number – you can check here for the full list 🙂
Q: How can I book the personal shopper service? Is there a fee?
A: There is no fee to use the personal shopper service and you can book here.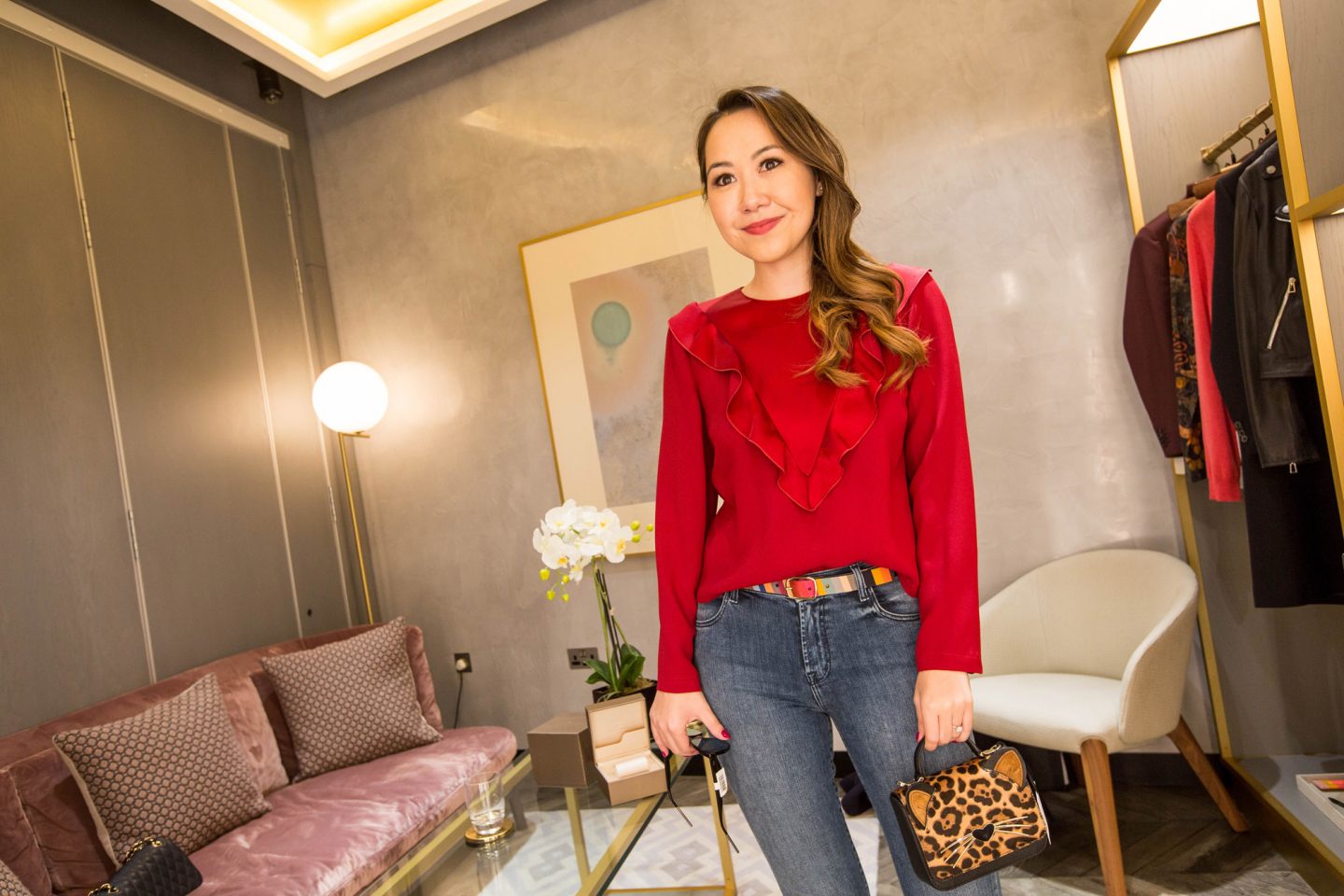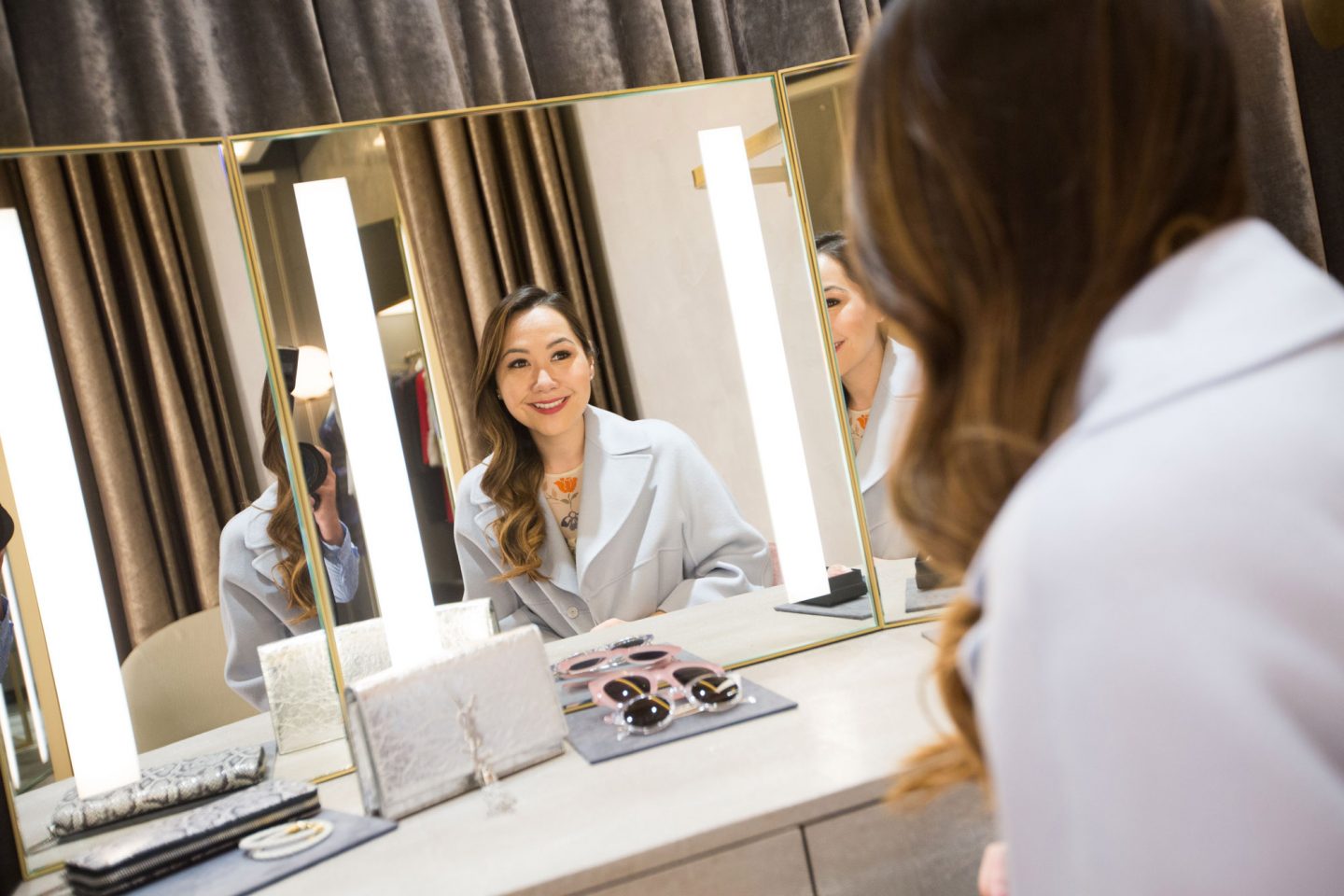 Outfit 1: Red Valentino top (Harrods), J Brand jeans (Harrods), Paul Smith shoes and Belt, Miu Miu sunglasses (Sunglass Hut) | Outfit 2: Max Mara (Harrods) jacket, Red Valentino (Harrods) dress, Valentino (Harrods) pumps, Saint Laurent clutch (Harrods)
I documented my trip in the video below!
And that's it for this blog post! I hope you found this helpful – if you have any other questions that weren't answered here, let me know down below in the comments and I'll either add to this blog post or I can do another one.
You can book the personal shopper service here – just remember you'll need your flight number and dates on hand to do so 🙂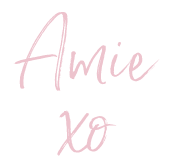 Thank you to Heathrow for sponsoring this post!