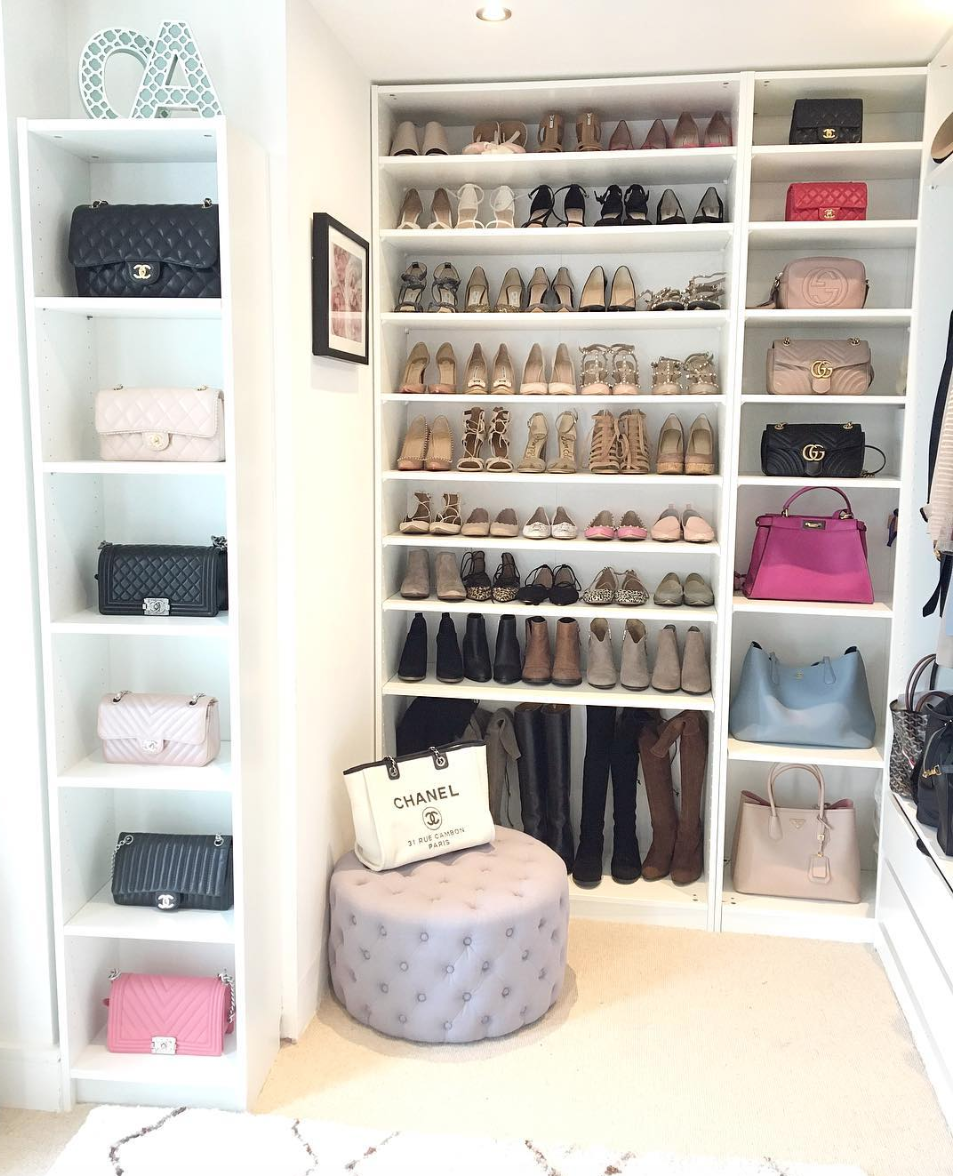 Even though my main outlet is YouTube, I always think blog posts are useful reference points – particularly if you work in an office (anyone that does will almost certainly know how difficult subtly watching a YT video can be vs. reading a blog post haha!) so I thought it might be helpful to list out all my tips on how to take care of your luxury bags and shoes in this blog post, to coincide with my video.
So without further ado, here is everything I do to maintain my luxury items:
1. Store Your Bags Correctly
This is an important one and whilst space certainly helps in this regard, don't think you need a walk-in closet to properly store your bags. My closet is a very recent addition to my life – up until two years ago, I was ALL about the creative solutions! My biggest tips here are to tuck in your straps/ handles where possible and stuff your bags with soft items, i.e. tissue paper, clothing, packaging etc.
If you can, store upright, even if that means all in a row. If not, lay flat but try to avoid putting your bags in piles or adding any weight on top of your bags to avoid any misshapen leather.
2. Buff Lambskin Leather
If you buy a Chanel bag with all its packaging, you will likely get a soft leather cloth which can be used for buffing lambskin. Believe or not, this cloth actually works! Just rub gently on the affected area, and it will help to reduce the appearance of scratches, dents and wrinkles. I've done it with all of my lambskin Chanel bags and it really does help to keep the leather puffy and shiny.
3. Let Your Bags Breathe
The amount of concerned messages I receive about my bags being out in the open never fails to amuse me. Despite only having had my closet for 2 years, I have pretty much always displayed my bags out in the open, simply because I like to look at them! It has never done them any harm and even if you want to keep your bags in their dustbags, it's important to let them breathe once in a while to keep the leather looking fresh.
Another element to this is sunlight. My videos here are a bit misleading as you can see sunlight streaming in through the two large windows I have. I actually only open the curtains when I'm using the room – which 90% of the time, I'm not. I use it to get ready, I use it to film videos… and that's pretty much it! This coupled with the fact that my bags are a bit set back from the sunlight glare means I'm not concerned about the sun fading the colour on my bags. If your bags are in direct sunlight, then I would definitely advise moving them or covering them if possible though. If any of my bags are in the living room (which is 1/4 window!), then I always move them away from the sun.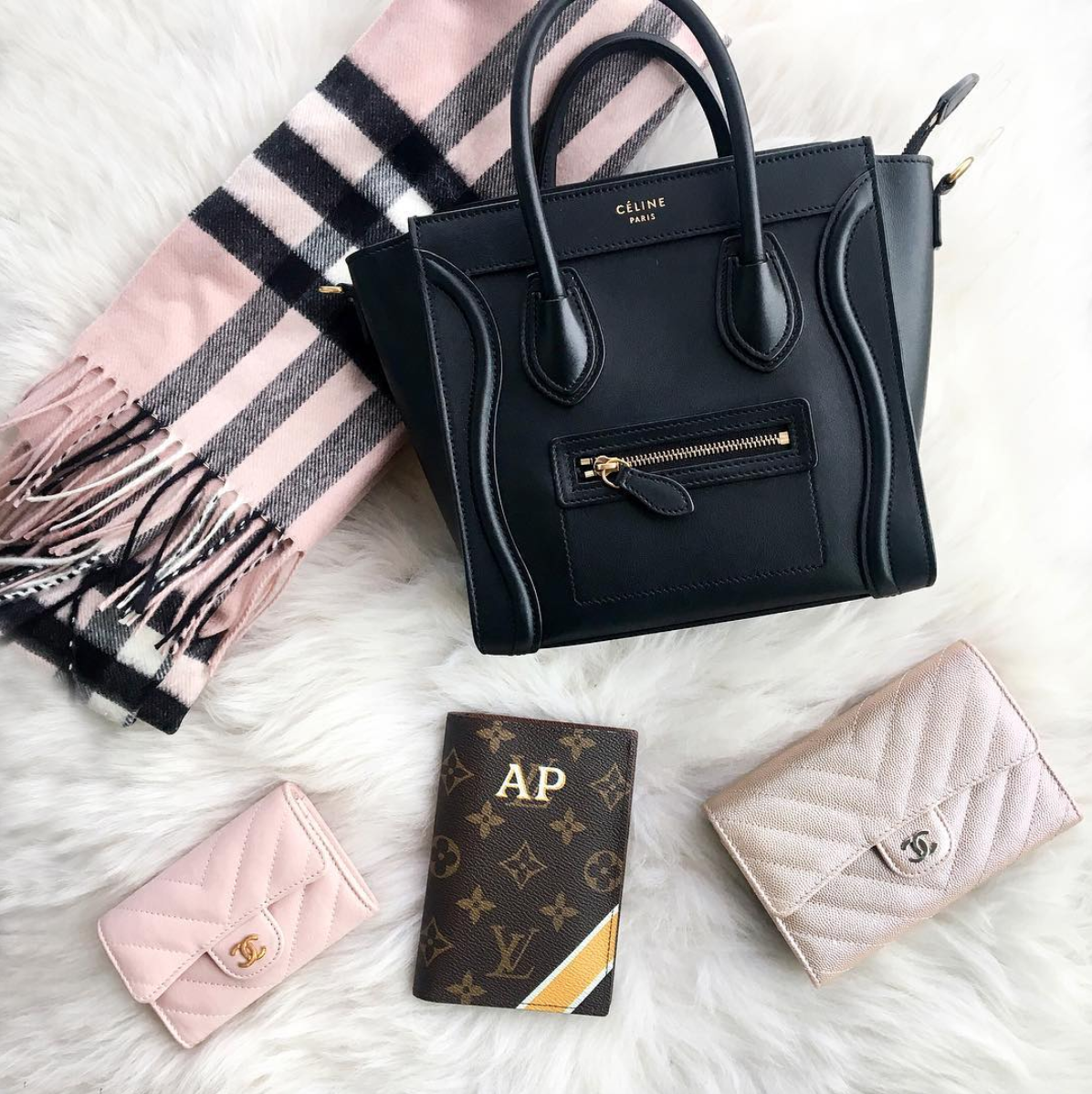 4. Use Bag Shapers and Bag Organisers
If you're worried about sagging or structural issues with your bags, then bag shapers and organisers are truly helpful. I use a few different ones but my favourites are Love Lolo Liners, Lanillio Liners, and the lesser known but definitely-worth-checking-out Kate and Cham liners (they have a fabric outer and waterproof inner! So clever).
5. Use Material Protectors
I can honestly say I don't think I will ever buy another suede item without spraying it before use again. Especially when we're talking Stuart Weitzman over-the-knee boot prices, why wouldn't you? Super easy to use, just spray over your boots and wait a couple of hours. I top up every couple of months. My favourite for suede is this one from Scotchgard and my favourite multi-purpose ones are this Scotchgard one and this Collonil one. If these aren't available in your country, just do a search on Amazon and filter by highest rated – it's how I found mine!
6. Protect against colour transfer
Similar to the point above but if you're serious about protecting against colour transfer, then I would recommend a double-sided approach. Firstly, spray the item in question (whether that's a bag or some shoes) – I would tend to use the Collonil spray for this. Secondly, spray your jeans to colour lock them – I use the Scotchgard for this. I'm careful in general but since doing this, I haven't had any colour transfer disasters.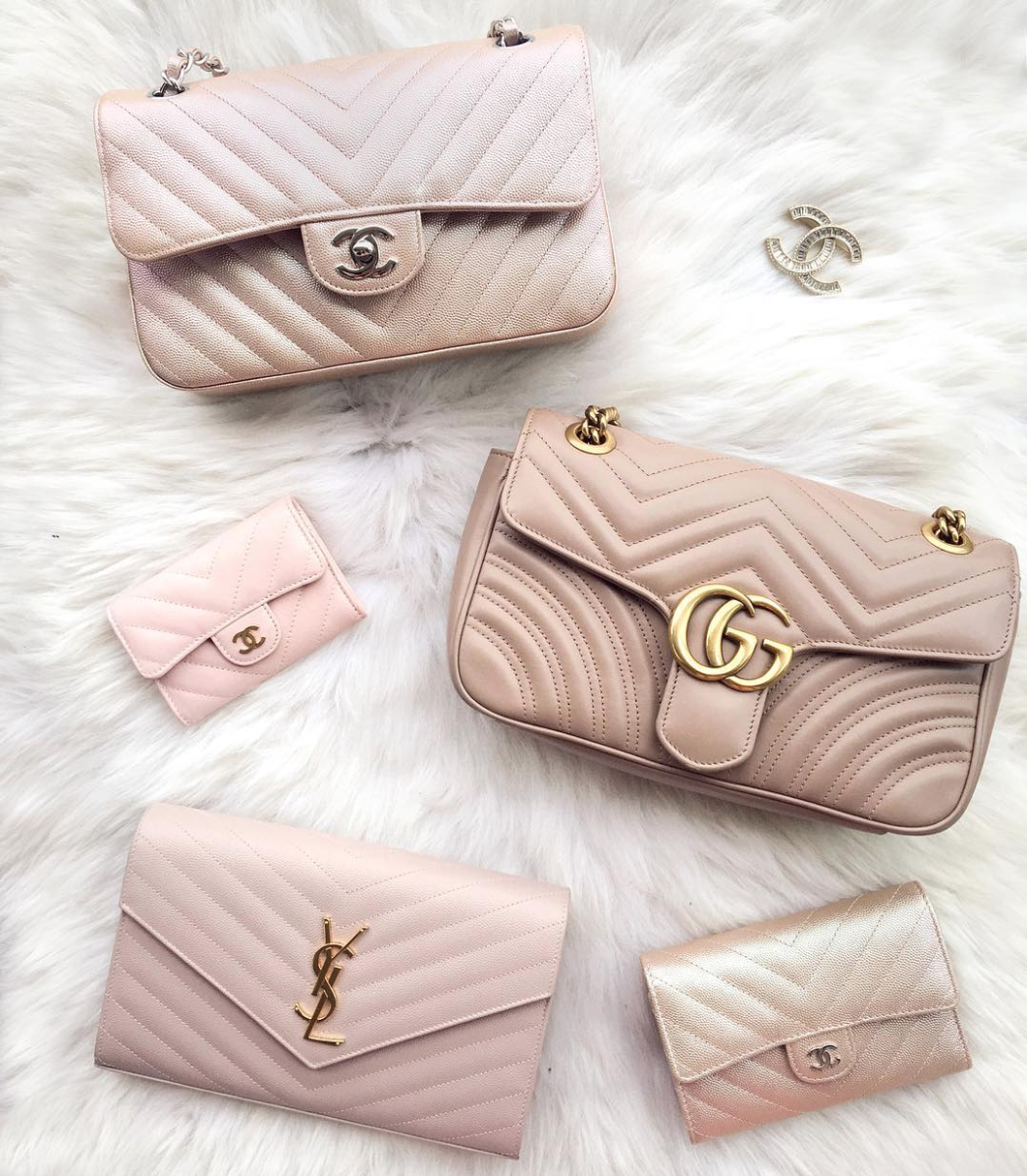 7. Inspect your bags and shoes
This is the easiest and cheapest one on this list (mainly because it's free haha). Inspect your items! I always get asked how I keep my shoes so clean – the simple answer is I wipe them down.
Before putting your items away, just do a quick once over. If you spot anything, use a dry or damp cloth (or wet wipes if the material is suitable) and clean any dirt you see. If you spot it same day, you'll prevent any stains or marks from sinking in. If you do have any major dirt, my favourite cleaner is Collonil Carbon Gold.
8. Rotate your items
Even if you only have one fancy bag – it's well worth it to get a cheaper one to rotate in and out of. Constant use will wear out any item, regardless of how well you take care of it and even though I'm a great proponent of not being scared to use your luxury goods, adding in extra items to balance usage will always help maintain them.
9. Make use of dustbags for travel
Dustbags are there to be used so if you do travel with your luxury goods (and I didn't for the longest time!), then definitely make use of them! I store my more expensive shoes and bags in them and will always pack my bags in hand luggage with me. Another nifty trick? If you're carrying a larger, more structured bag, then pop your smaller bags inside for added protection and room efficiency!
10. Think through your environment
And my last one is to think through your environment. I pretty much never take out a delicate material bag without checking the weather forecast first. Similarly, if I know I'm going to a crowded bar – caviar or grained leather is always going to be a better choice for me than lambskin. Being aware of your surroundings will help to ensure your items stand the test of time.
And that's it for this blog post! I hope you found these tips and tricks useful 🙂 If you have any questions for me, pop them down below. Thank you for stopping by!