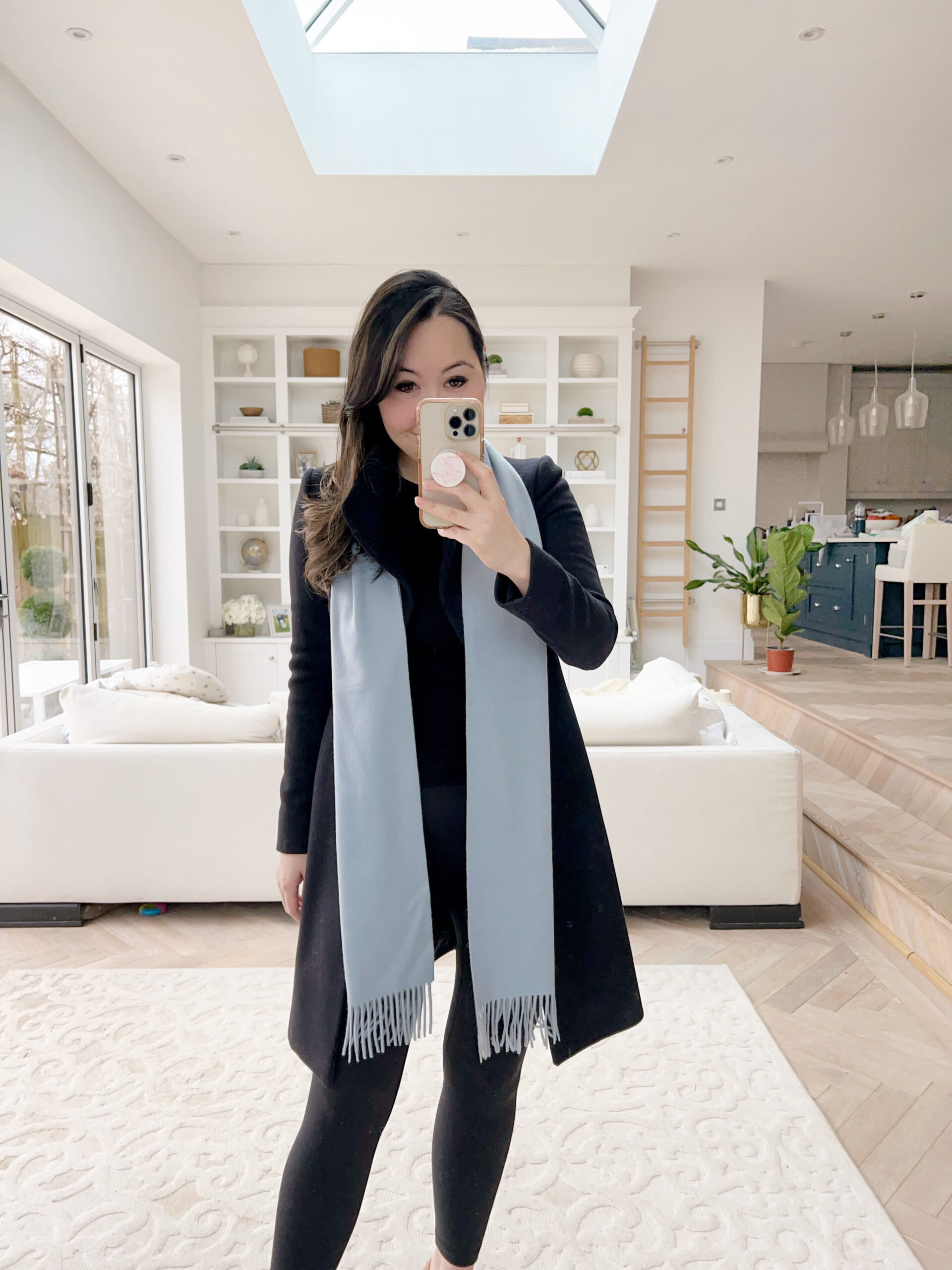 The 24s.com offer is still going strong and it is such a good one! I couldn't resist placing an order myself and I just got my order through so I immediately snapped a few photos to share what I got! If you're not familiar with the offer, you can take 15% off your full price order over $/£/€ 200 and a huge 20% off your order over $/£/€ 400! I spent over the £400 mark so I was able to nab 20% off my entire order.
Not everything is included but there are a ton of amazing brands and items featured – you can see everything that's included in this landing page here. The offer runs until Valentine's Day! You do need a discount code to nab the discount which varies according to the spend tier as below:
15% off $/£/€ 200 – use code SVD15
20% off $/£/€400 – use code SVD20
I'm share some offer highlights below but you can see a complete round-up of all my picks in my blog post here.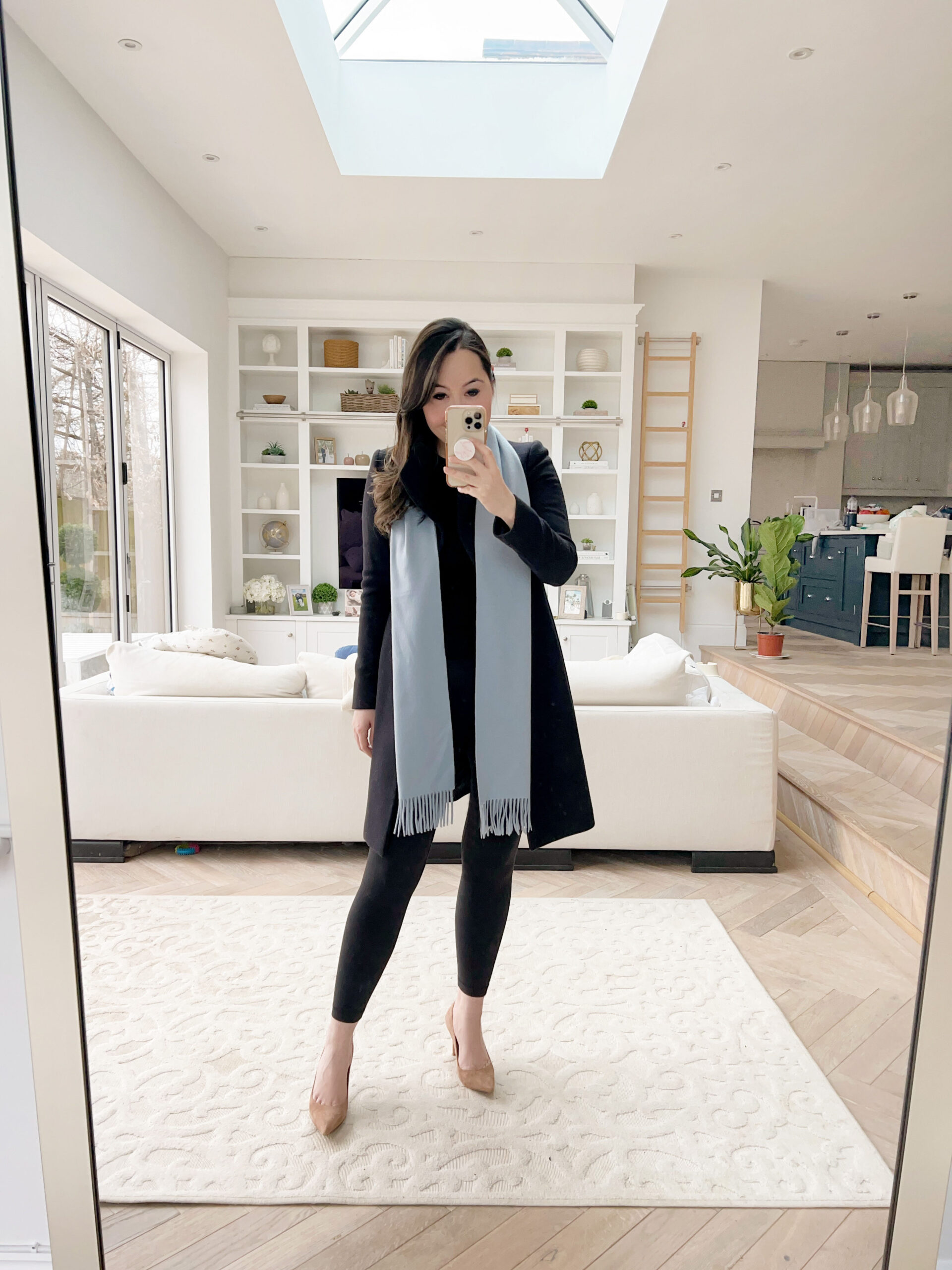 First up, I ordered this gorgeous blue scarf! I'm a sucker for a beautiful baby blue colour and actually thought this was already a really great price for 100% cashmere – with the 20% off, I thought it was amazing! It's even prettier in person and the quality is lovely – the cashmere is really substantial and it's the perfect length. The blue is absolutely perfect too – great to perk up winter outfits but will work beautifully for spring too! If you're into your warmer colours, they also have this in a deep camel colour and a fiery red shade too.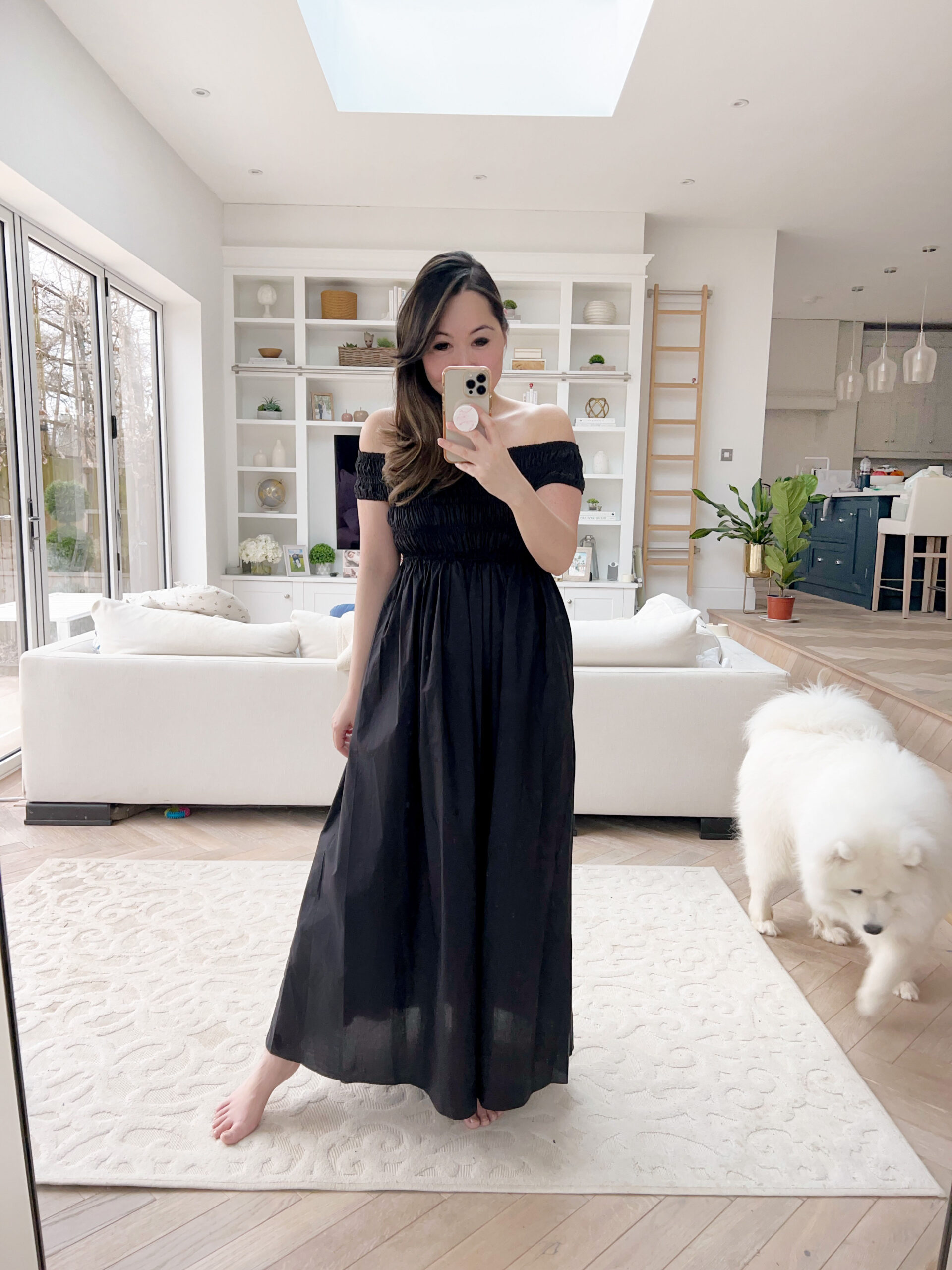 Excuse the fluffy photo bomber in the background haha (side note: how big has Yoshi grown?!). I was so excited about this dress – I got something similar during the NSale but sized up to accommodate pregnancy so it doesn't fit quite as I'd like now. This has all the same elements that I loved but is a plain black style which makes it just a little more versatile. It's from a brand called Matteau that I've become a little bit obsessed with – so much so, that I just ordered this dress too while the offer is still on!
Their pieces are absolutely gorgeous! So many beautiful dresses, skirts and swimsuits. I just ordered the one dress initially to test the quality but it totally exceeded my expectations – I'll make sure to share the other dress as soon as I receive it!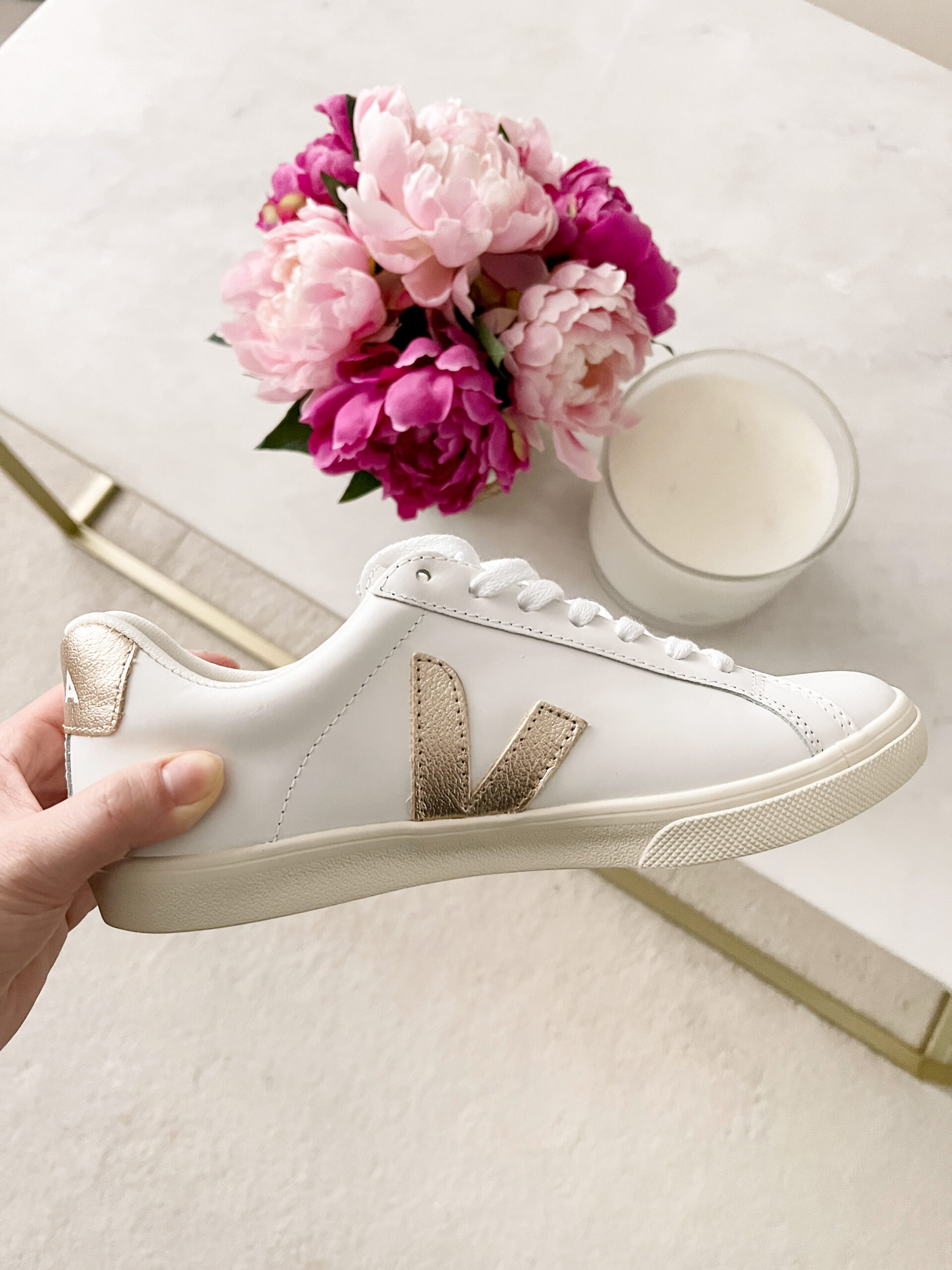 Finally, I nabbed myself a new pair of Veja sneakers! I've only owned one pair previously and after my mum 'borrowed' them (and then never returned them haha), I decided to get myself another pair because I missed them so much! I've been waiting it out for a good offer and saw they were included in this discount code AND were well stocked in sizes! You can see the full Veja selection here – there are a TON of styles currently in stock!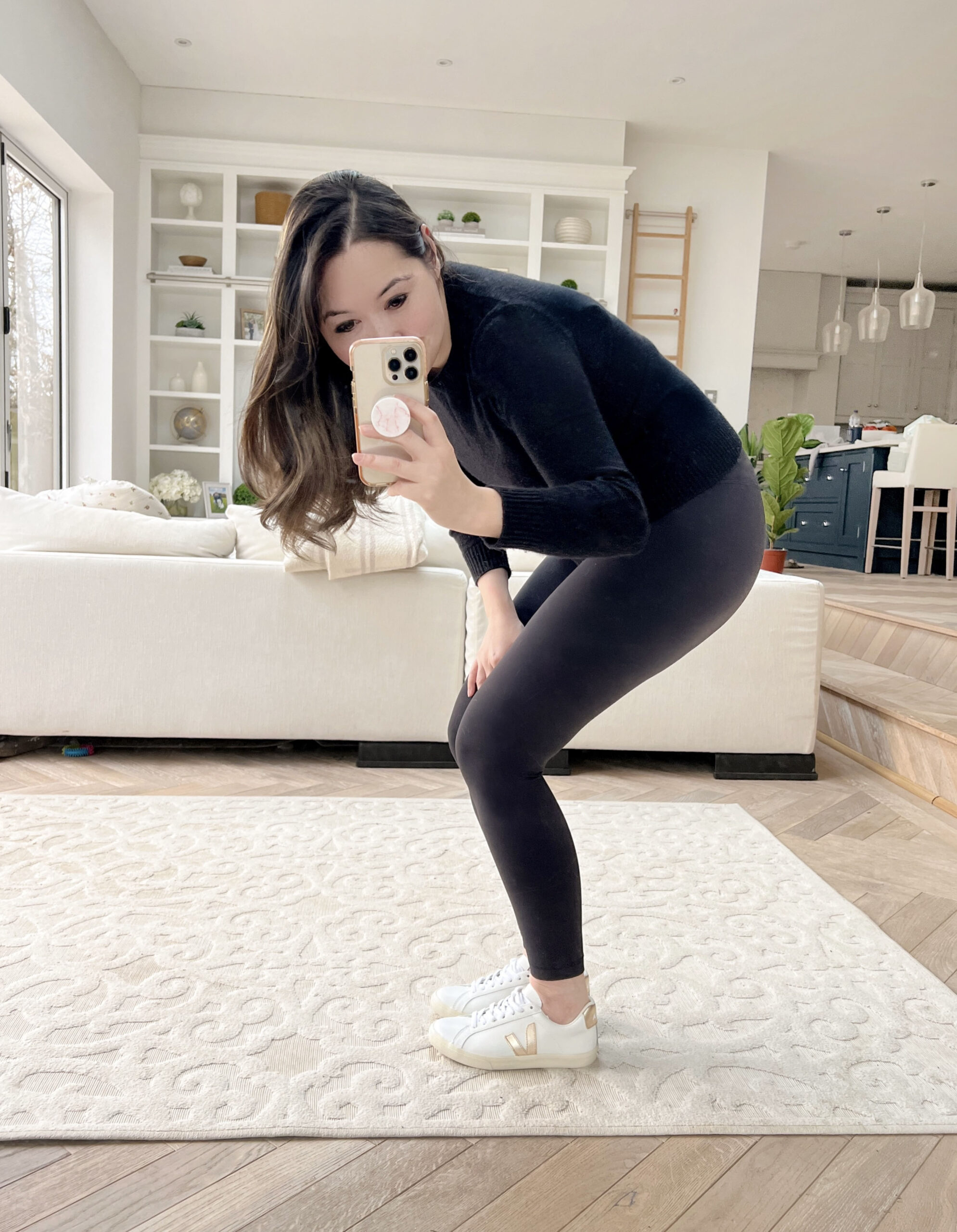 I found them to be TTS and super comfy!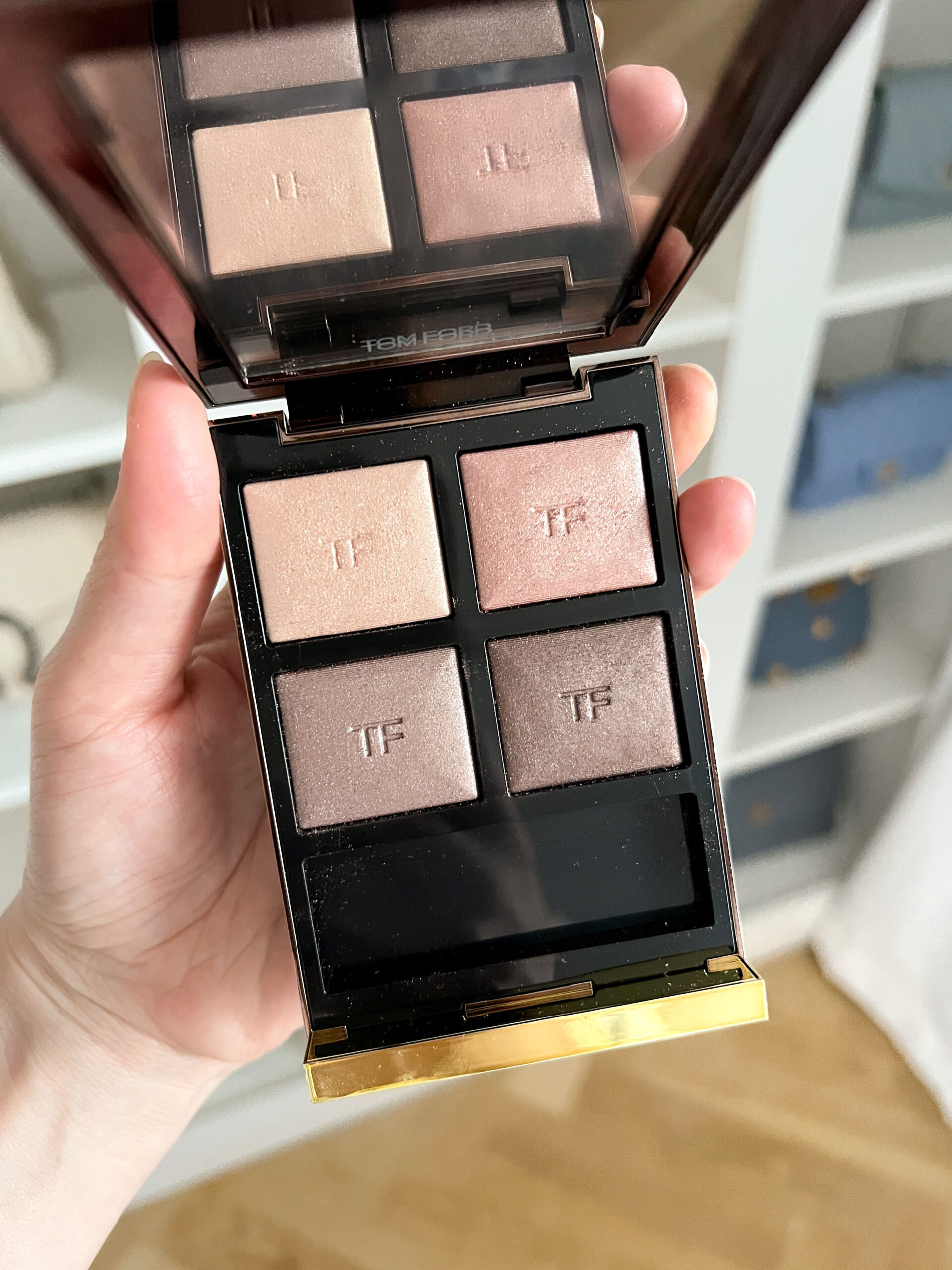 Finally, I also stocked up on my favourite eyeshadow – the Tom Ford eye quad in nude dip. I've been using this palette for YEARS – I think this could be 6th repurchase! It's my daily eyeshadow so I definitely get through it haha. Tom Ford Beauty being included is amazing – especially if you want to hit the next spend tier without overspending on another accessory or clothing piece! They have the entire line included in the offer which you can see here 🙂
MY PICKS FROM THE OFFER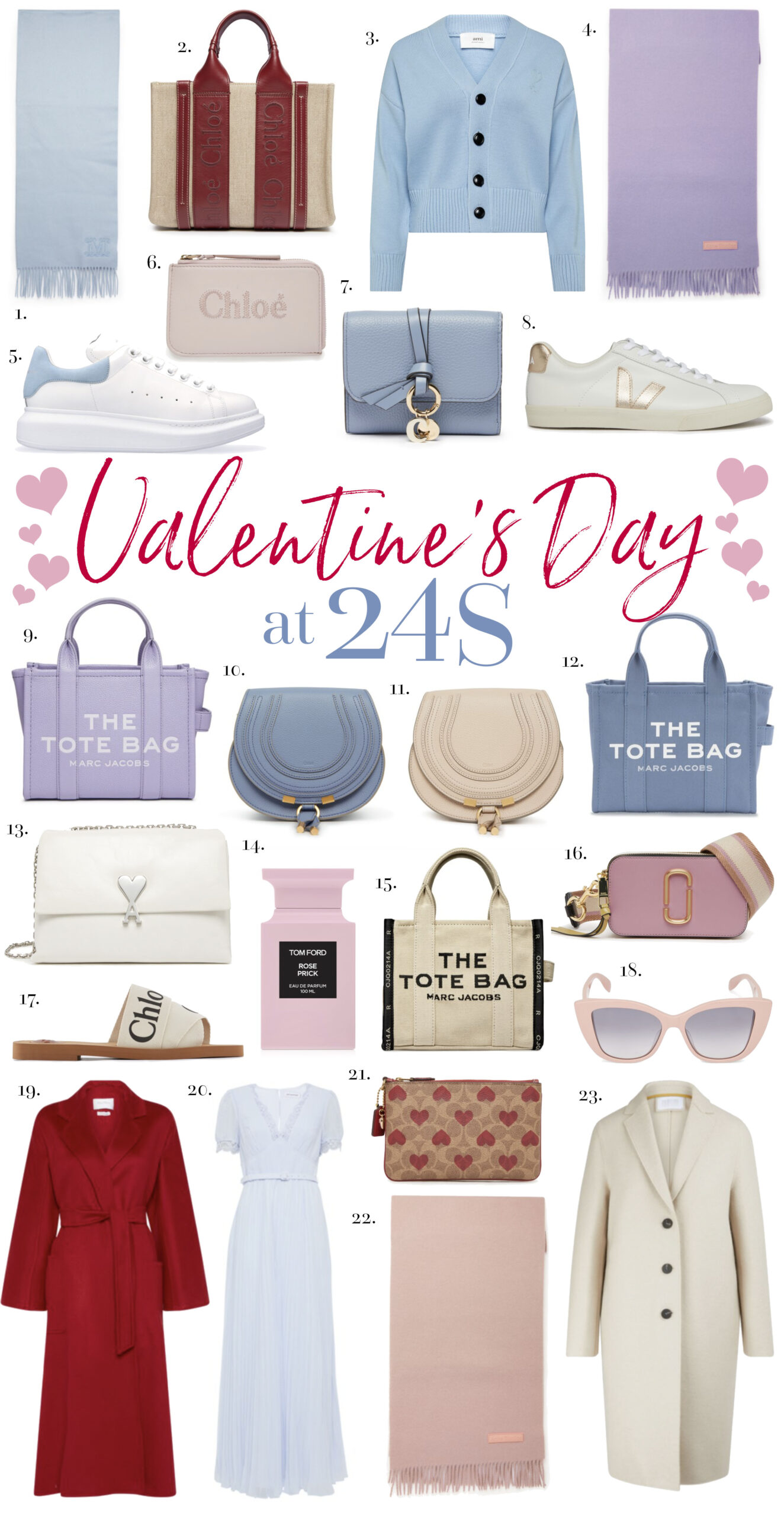 1. Blue Scarf // 2. Chloe Mini Woody Tote // 3. Blue Cardigan // 4. Purple Scarf // 5. Alexander McQueen Sneakers // 6. Chloe Wallet // 7. Chloe Wallet // 8. Veja Sneakers // 9. Marc Jacobs Lilac Tote // 10. Chloe Blue Mini Marcie // 11. Chloe Cream Mini Marcie // 12. Marc Jacobs Blue Tote // 13. White Shoulder Bag // 14. Tom Ford Perfume // 15. Marc Jacobs Tote Bag // 16. Marc Jacobs Snapshot // 17. Chloe Sandals // 18. Pink Sunglasses // 19. Max Mara Red Coat // 20. Blue Maxi Dress // 21. Heart Print Pouch // 22. Blush Scarf // 23. White Coat
As mentioned above, I do have a whole blog post with all of my picks and wardrobe favourites from the offer included. So many great pieces from my favourite Coach puffy Tabby bag to a new release of my baby blue Chloe Mini Marcie as well as a full restock of the Chloe Woody tote styles!
The offer ends on Valentine's Day so there's a few days left to shop 🙂