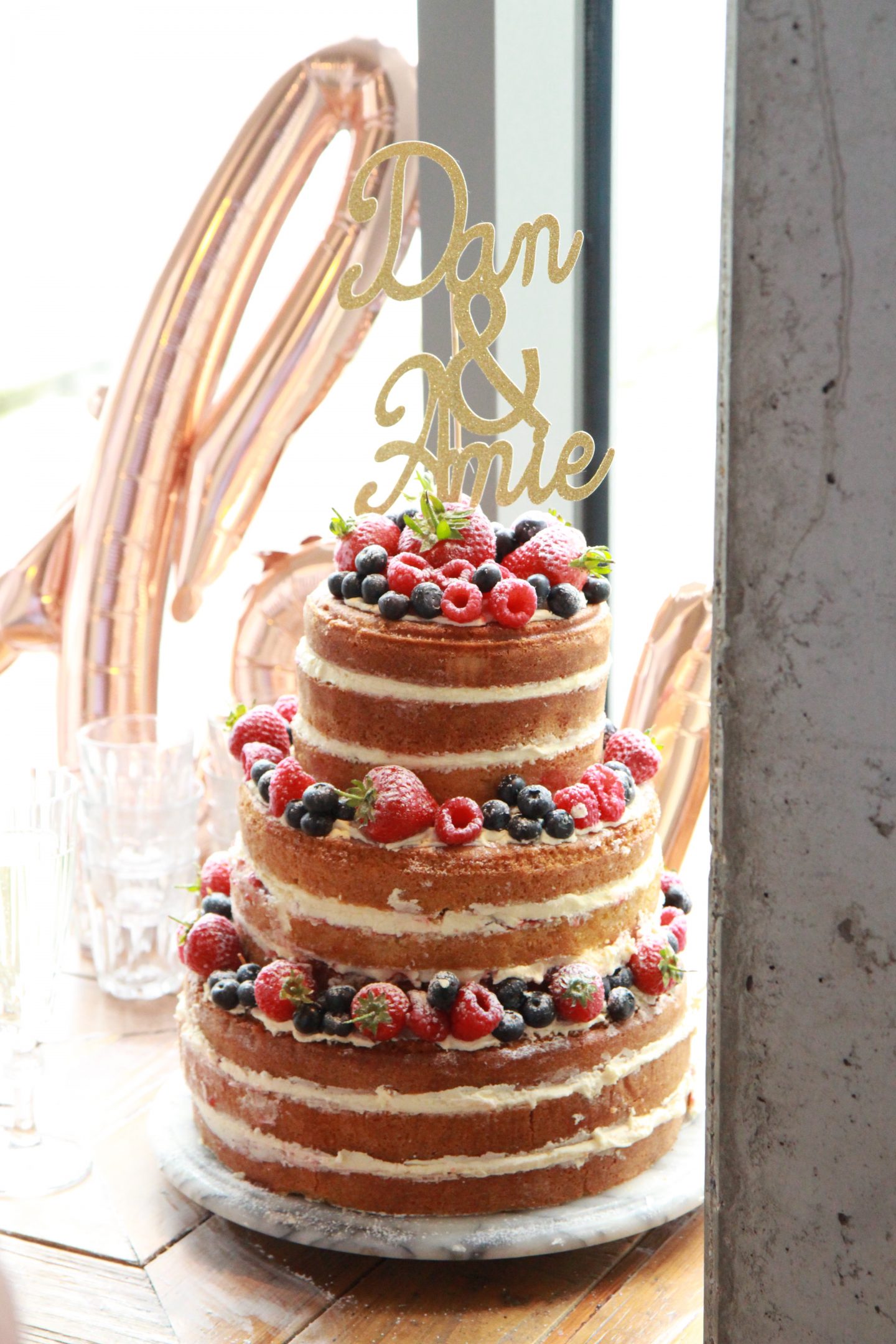 For this week's Wedding Wednesday, I thought I would share some thoughts and tips about hosting an engagement party! For us, an engagement party was absolutely a 'nice to have' rather than a necessity. Most of our friends who are married had one but to varying levels of scale and expense. We're paying for the wedding ourselves and the fact was that the engagement party spend would come out of our wedding budget so we knew that if we did have one, we didn't want to go too crazy.
We ultimately decided that we wanted to host at least a small gathering, mostly because our friends are a busy lot and it's rare we can get everyone together so we wanted to seize the chance while we could! It turned out to be a seriously great day at a fairly minimal expense so I thought I would share some of our tips on how to keep the cost down if you are thinking about having a engagement celebration 🙂
Pick your venue carefully. We choose somewhere fairly local and it was key that the space didn't come with a hire fee. There was a low minimum spend but we met this without issue.
Timing is key. We wanted our guests to have a good time, but we weren't in a position to host an all-out crazy party in addition to the expensive party we're planning next year! We started it after lunch (less likely to turn into a super boozy affair) which also enabled us to get away with drinks and light food rather than an all out meal.
We opted against canapés in terms of food, which were bizarrely expensive at our venue. We just ordered bar food for those who wanted it as well as cake for everyone.
We also DIYed our cake which I documented here. It was much cheaper, a lot of fun (and only mild amounts of stress on the day!) and really really delicious! We were also ridiculously proud of ourselves after and it was a big talking point on the day.
Consider serving prosecco as your main drink (although this was an easy call for us as I'm a huge fan of prosecco!). After planning events for work for many years, one thing I've learnt is that it's always cheaper to serve a nice prosecco vs. a nice wine, primarily because you get 6 glasses to a bottle of prosecco vs 4 glasses for a bottle of wine. Most people drink a glass of prosecco at the same rate so you end up getting more bang for your buck 🙂 Of course, you should always be able to offer your guests wine and other drinks if your guests don't like prosecco, but if there are filled glasses already there, most will opt for the easiest option!
Look online for decorations. We bought balloons from Not On The High Street, mini cake toppers from eBay and pom pom decorations and rose gold table confetti from Etsy. If you put some time into looking around, you'll be able to find some great deals!
Limit your guest numbers! It was tempting to invite everyone we could think of (that we liked haha!) but we tried to limit it to those we wanted to invite to the wedding – this brought the cost down as well as avoided awkward conversations!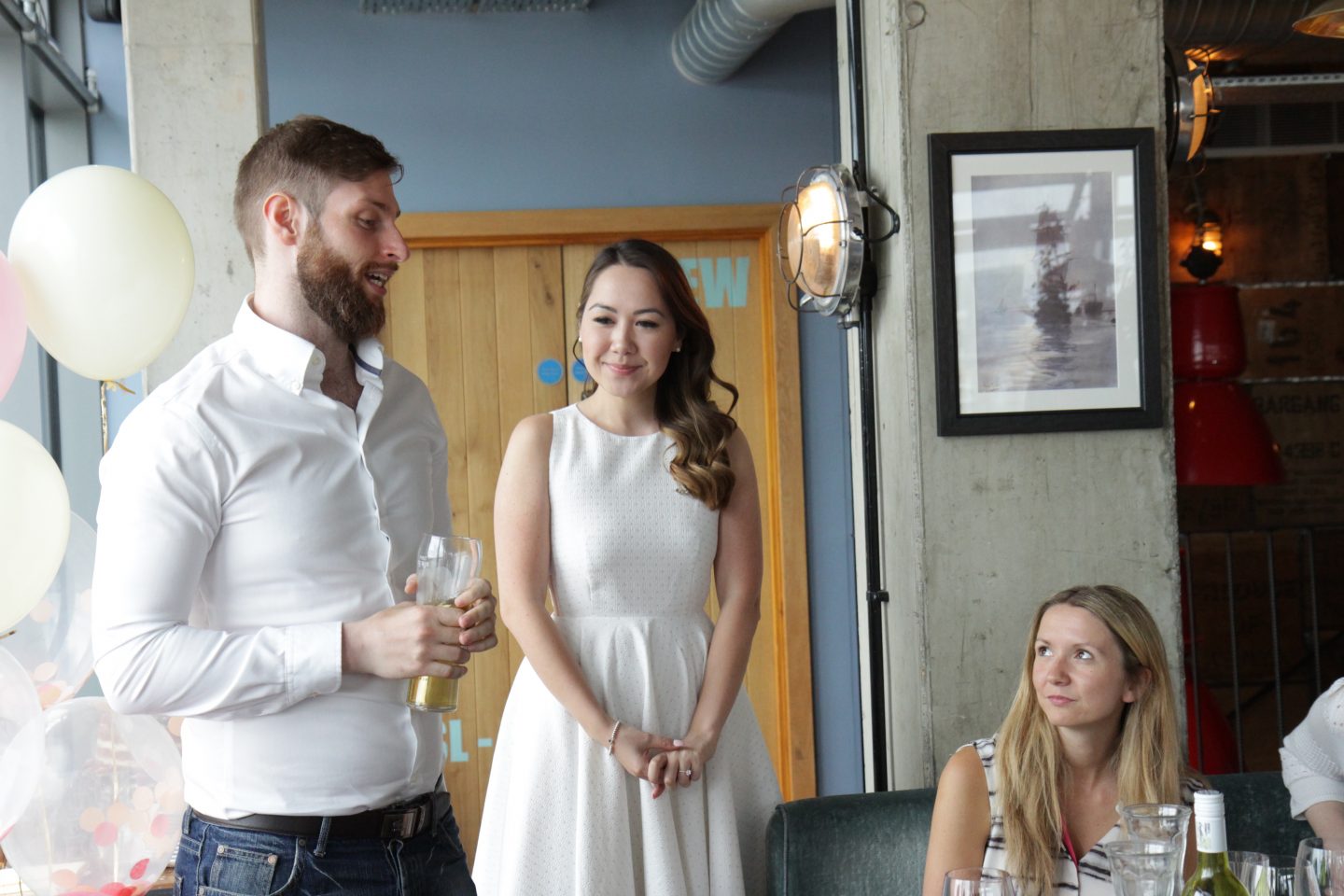 We unfortunately didn't manage to get any good photos from the day so the above is the best we have! It looks like giving Dan is giving the worst speech ever (especially with the stink eye my friend is giving him haha!) but it really was a nice day!
I hope these tips help you if you're considering an engagement party but aren't sure whether you can justify the spend. We had such a good time on the day, it's hard to imagine our enjoyment would have been increased if we had spent more on any of the items above!
Are you planning on an engagement party or did you have one if you're already married? Let me know in the comments!