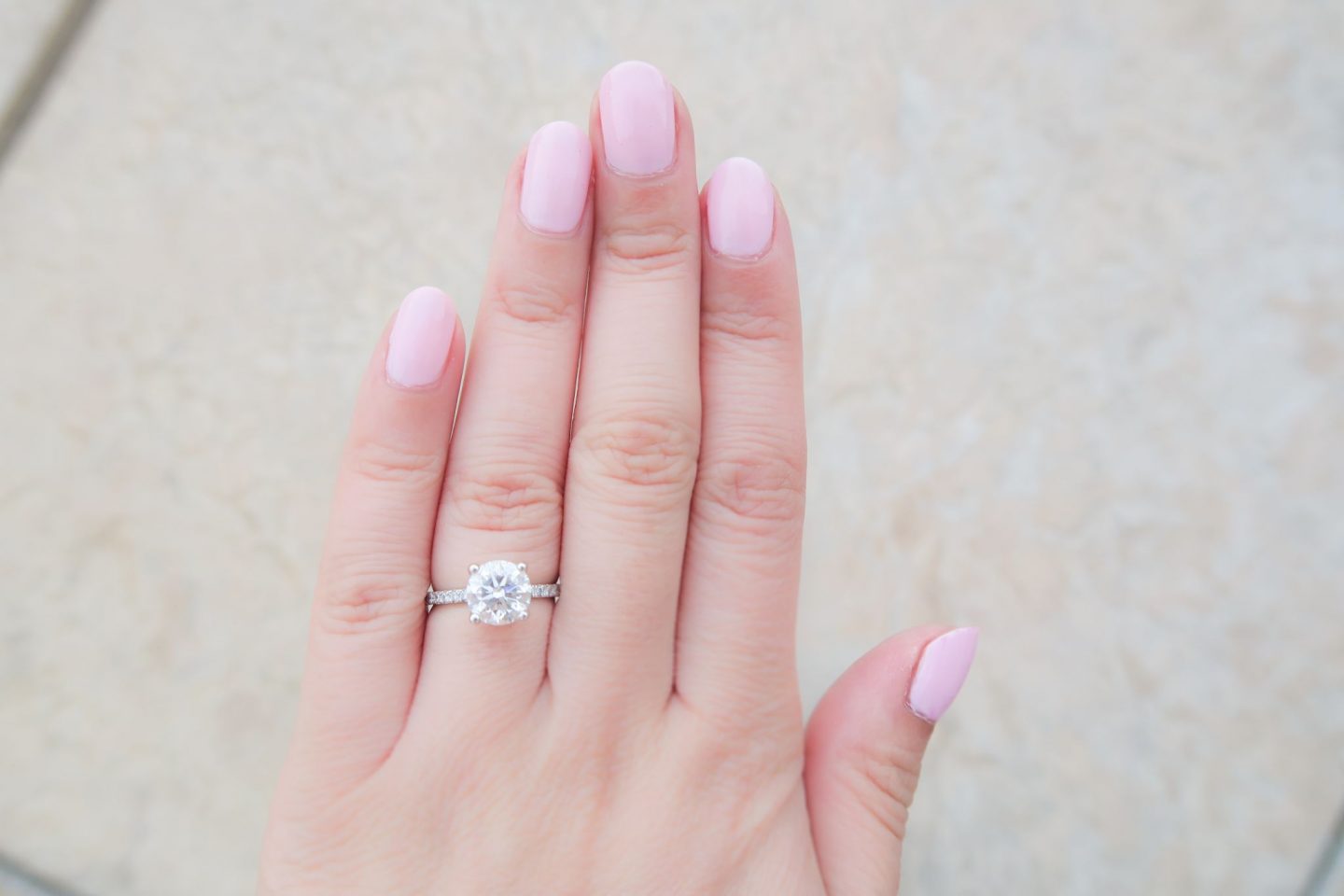 Apologies for the lack of a Wedding Wednesday post last week – time totally ran away with me during my holiday so I'm a bit behind on everything (story of my life, I know…). Anyway, I'm back this week (and hopefully every week going forward!) sharing my favourite pink nail polish colours for brides to be or anyone that happens to like pink nail polish!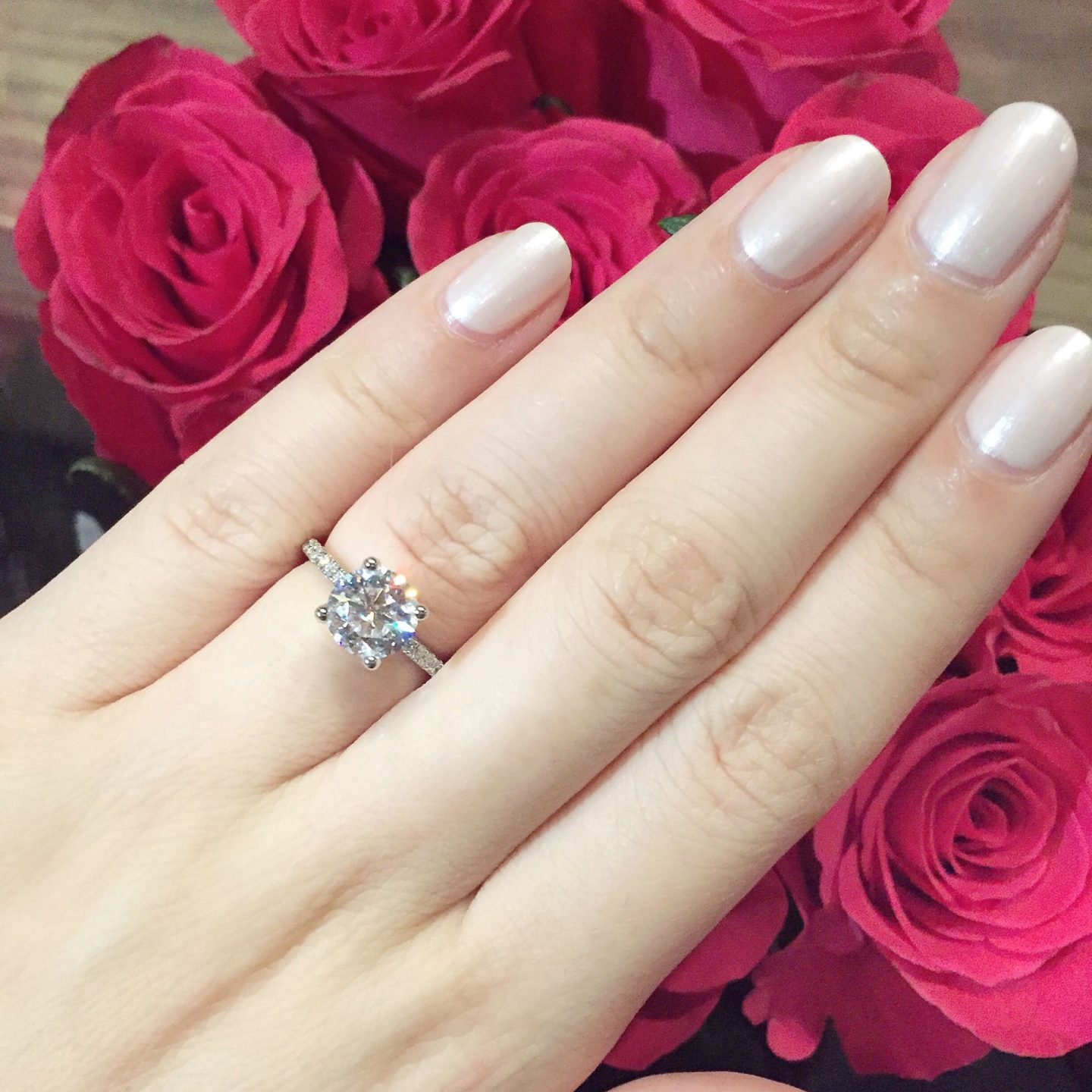 I've always been a big fan of pale pink nails (and actually, pale pink anything!) – I think it's the prettiest and most flattering colour you can wear on your nails so of course, it was my go-to when I got engaged. I received so many questions about what colour polish I was wearing when I first posted my ring photo (above). It's an OPI shade that I've had for years called Play The Peonies and I LOVE it! So much so that I have a back-up bottle. It's a soft pearly pink which is so romantic and pretty, and best of all? Lasts an absolute age when you apply three thin coats. The only issue is that I'm fairly sure it was part of a collection that isn't readily available. If you are able to track it down, I would highly recommend doing so – it's one of my favourite shades of all time.
I wanted to find some alternatives that were readily available though so I've rounded up three super pretty options which you should be able to buy from most drugstores:
Sally Hansen Miracle Gel in 'Plush Blush':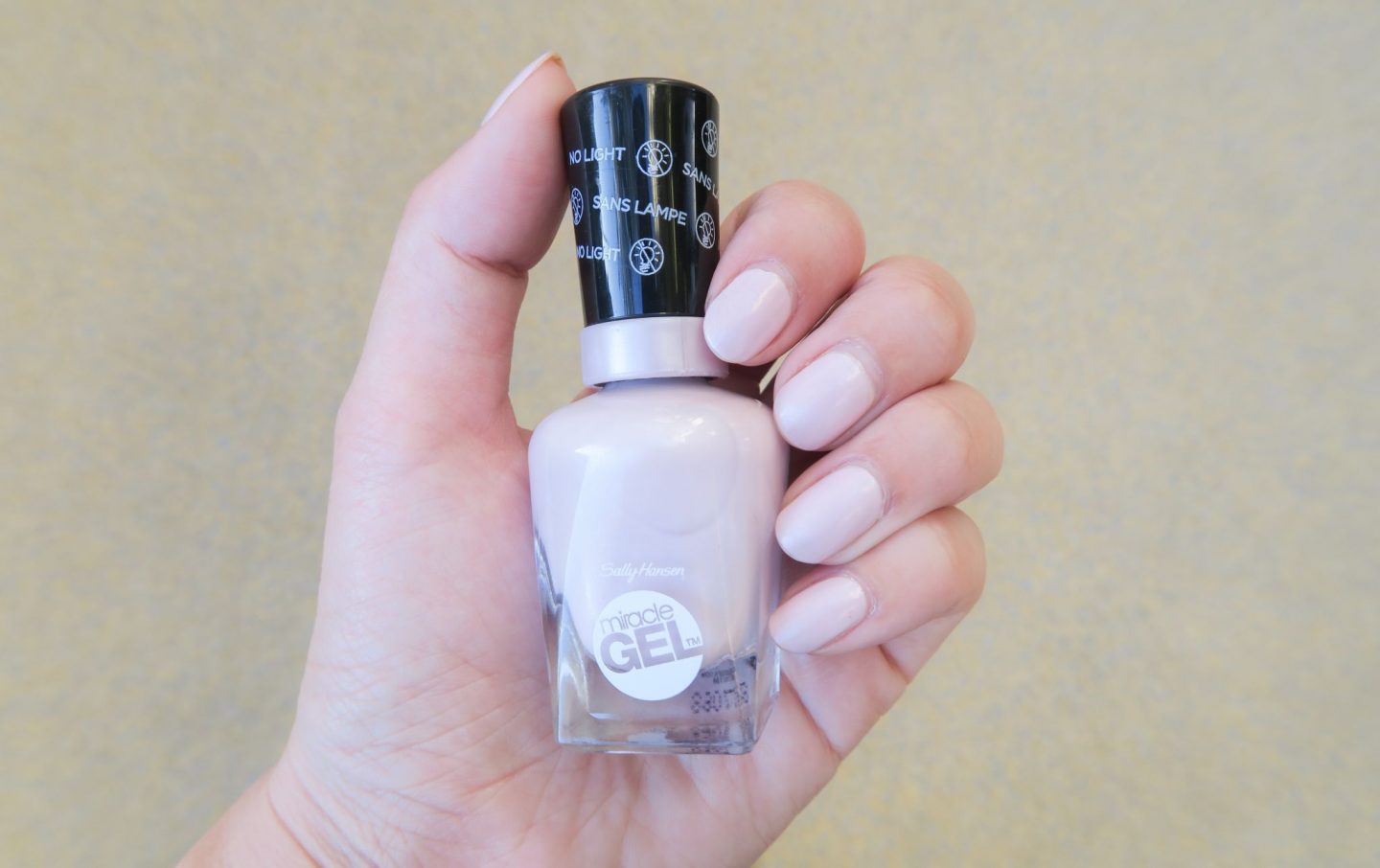 This has got to be my favourite of the bunch. It has that same pearly quality that makes the OPI Play The Peonies shade so beautiful but is a smidge darker. It also has a gorgeous tinge of lilac to it and instantly makes your hands looks prettier IMO. This isn't the best photo because of the lighting so I took one with my phone too: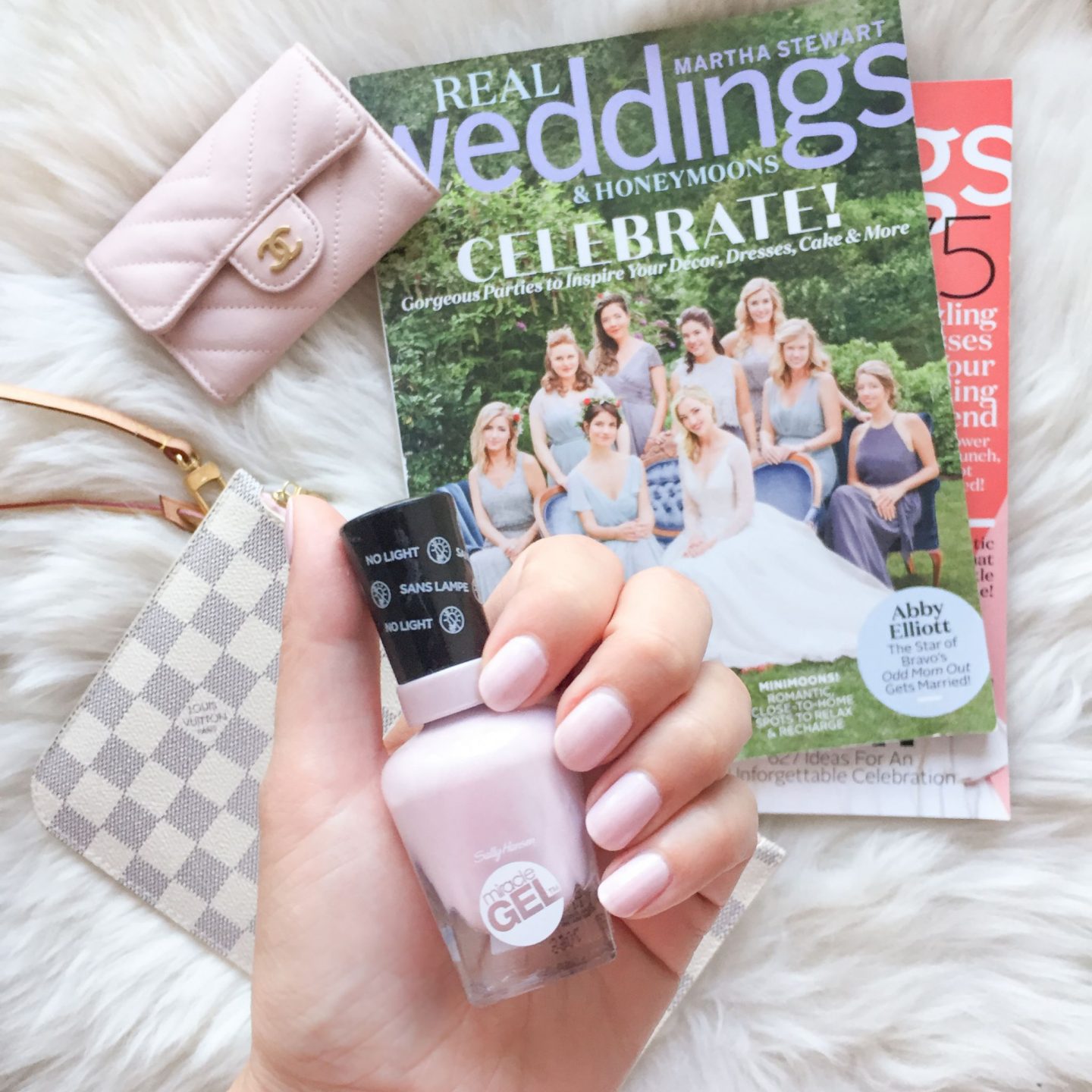 It's very pretty and incredibly long-wearing – an instant plus for me! I'm pretty sure you're supposed to use it as part of a multi-step program but I just teamed it with my usual top coat and it worked just fine 🙂 I did apply three thin coats to get the look I wanted but it was fairly fast drying. A gorgeous choice!
You can buy Sally Hansen Plush Blush from Amazon in the UK or Ulta in the US.
Essie Nail Laquer in 'Minimalistic':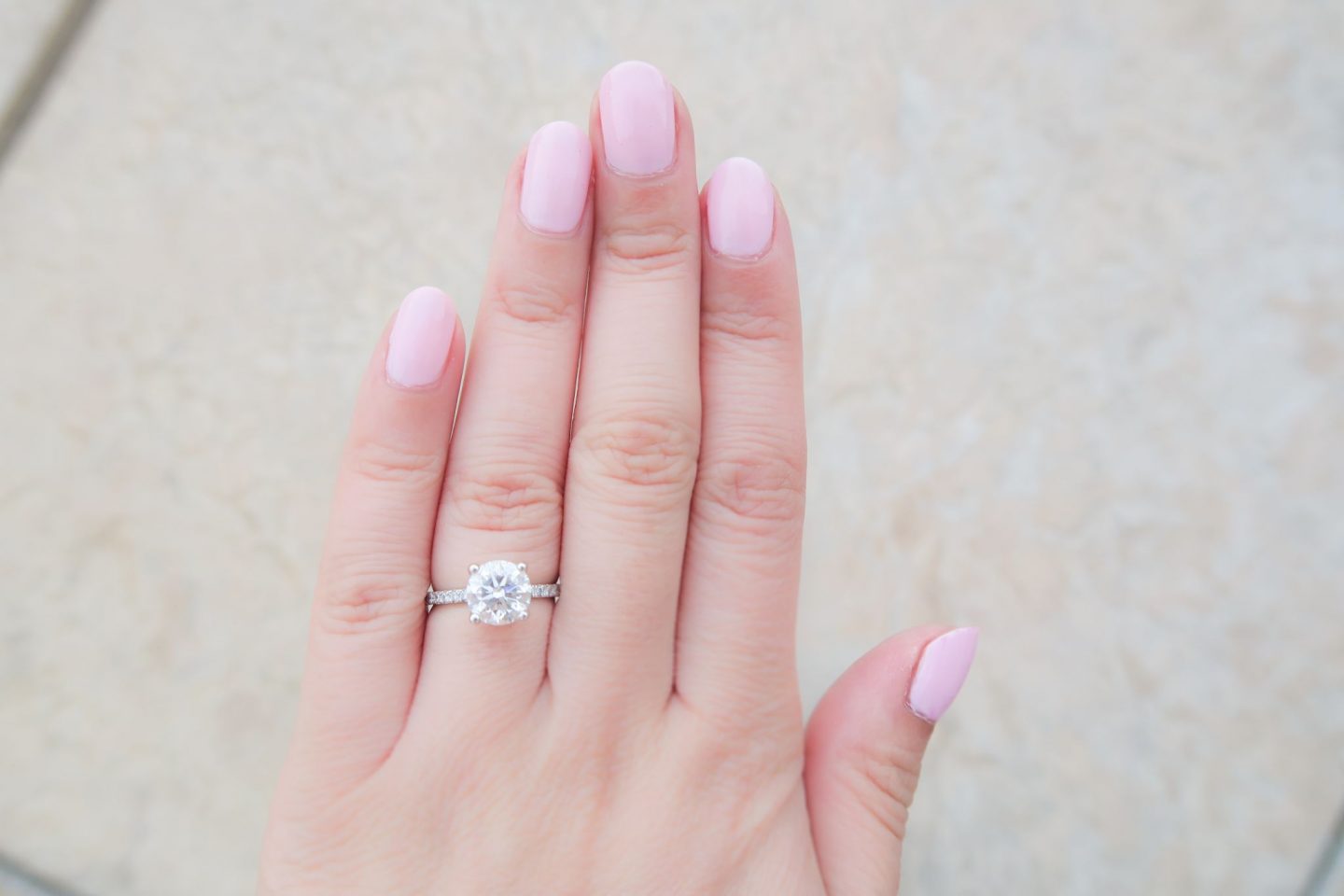 This is my next favourite. A beautiful white-based pink, this is probably the most opaque of the lot and only required two coats to get this stunning colour.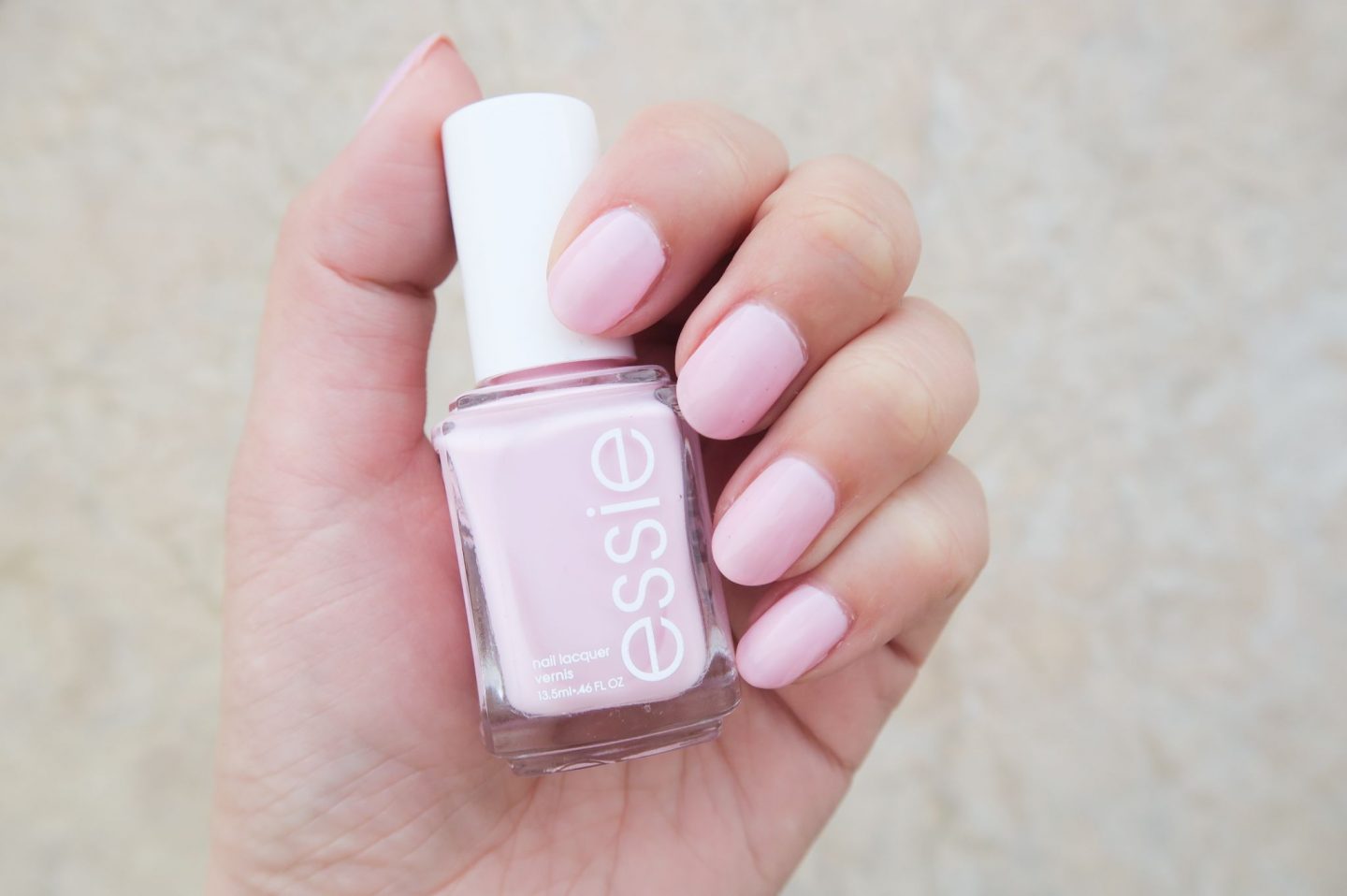 Very girlie and very lovely. The application was easy but as with a lot of Essie nail polishes, I find it didn't last as long as I would have liked. Nevertheless I loved the look of it while it lasted and it's a lovely choice for those of you who don't like pearly-hued polishes.
You can buy Essie Minimalistic from Amazon in the UK or Ulta in the US.
Essie Gel Couture in 'Blush-Worthy':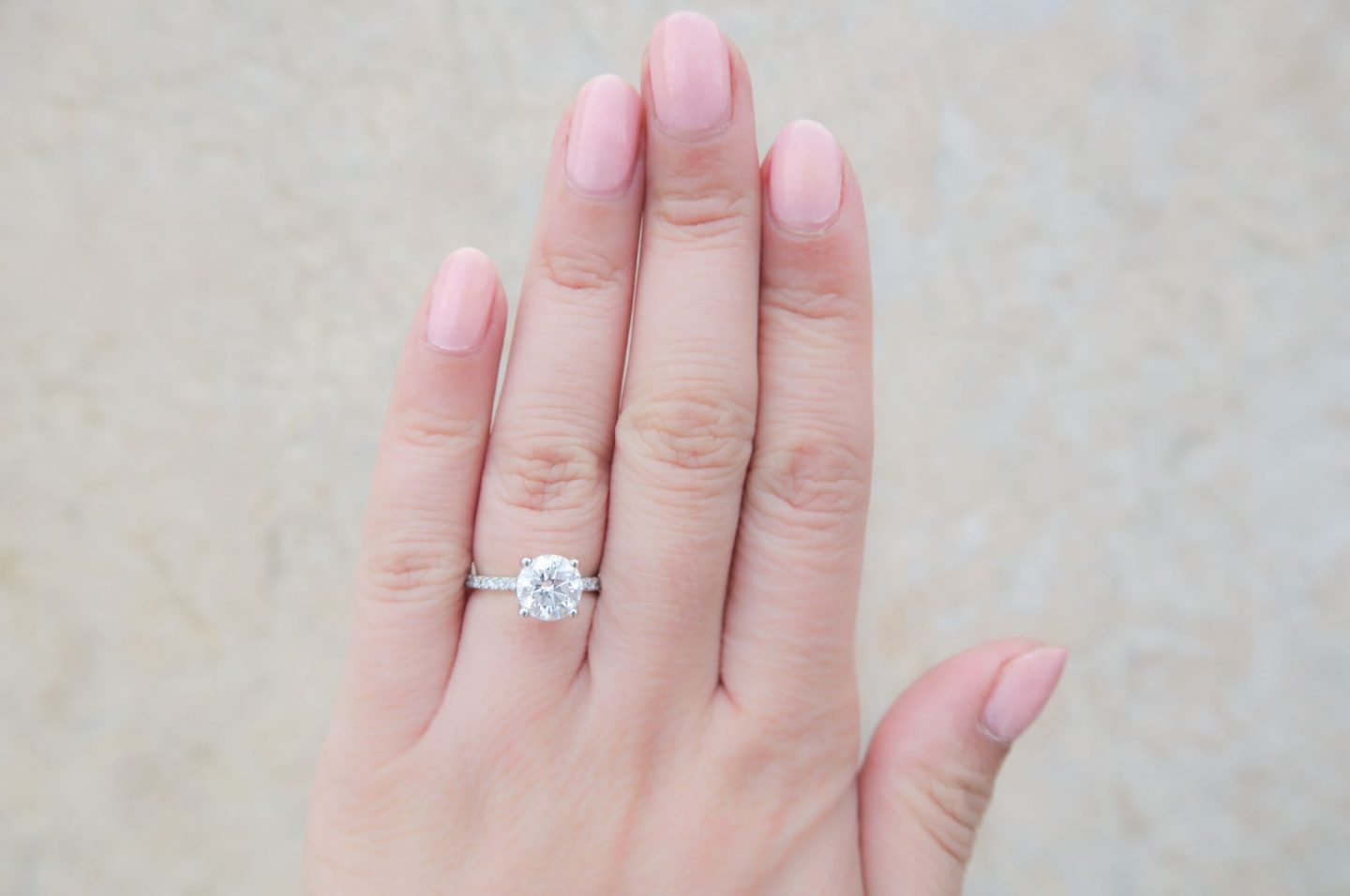 This is part of Monique Lhuillier's bridal collection with Essie so of course I had to try it! The formula is part of their 'revolutionary' Gel Couture line. I bought the special top coat and everything but to be honest, found the formula a bit 'meh' in both application and longevity.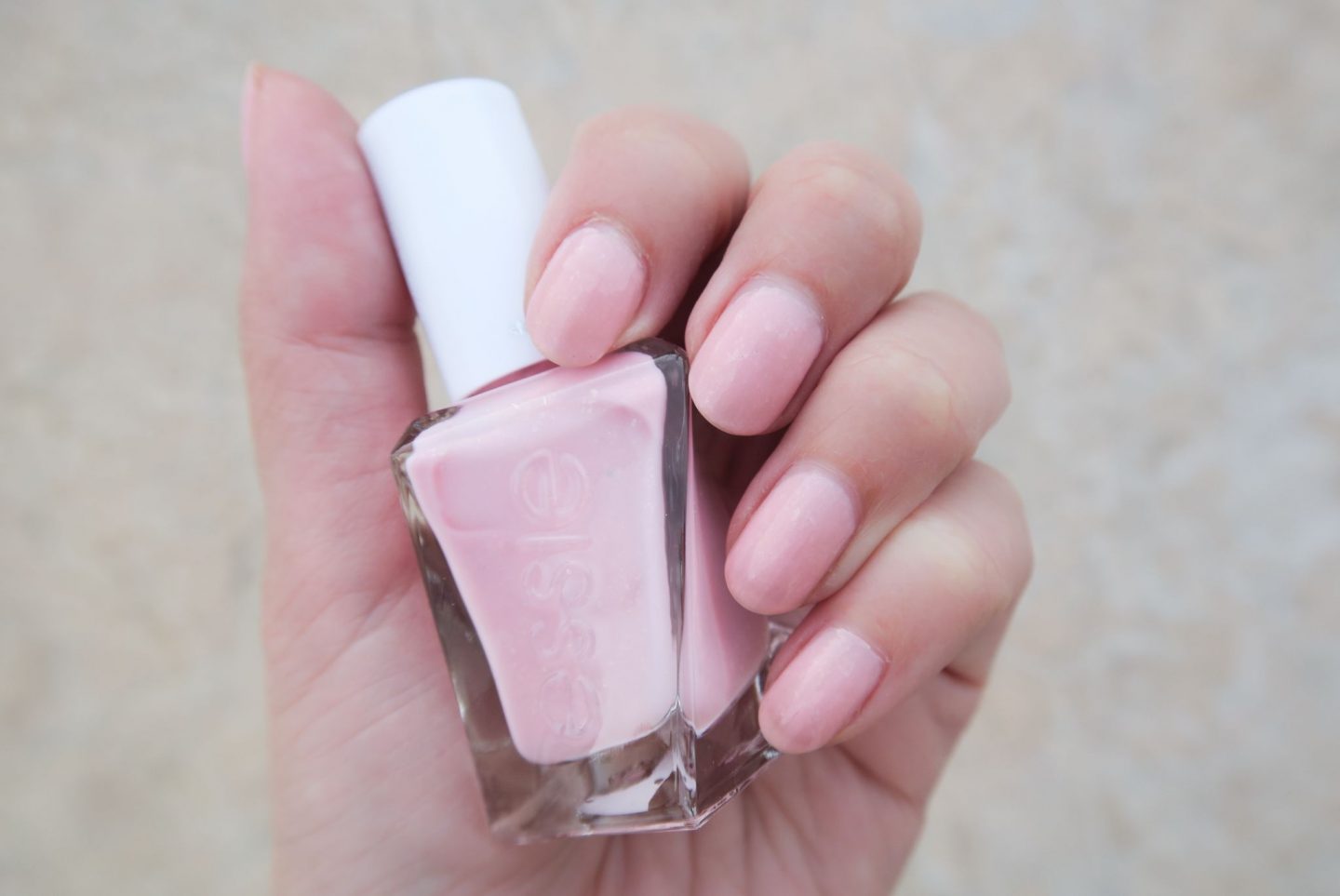 The colour is pretty and I especially loved the little bits of glitter (a hint of sparkle but not too much) but I generally like my pinks to be a bit more opaque which this doesn't achieve with any reasonable amount of coats. That said, I think this will be stunning over a more solid, opaque pink which is why it still makes the cut! I'm planning on combining the Essie Minimalist and Blush-Worthy for the ultimate engagement pink 🙂
You can buy Essie Blush-Worthy from Boots in the UK or Target in the US.
And that's it for my round up of pretty pink shades! I'll be doing another post later on my favourite non-pink flattering nail polish shades so stay tuned for that if pink isn't quite your thing!
Thank you so much for stopping by!