Christmas is fast approaching and for those of you still looking for gifts for your loved ones (totally including myself in that category…), I've partnered with Nordstrom to bring you a huge gift guide round-up! I've separated these into gifts under $25, under $100, luxury gifts and gifts for men to hopefully cover most bases 🙂
Worn Above
1. Plaid Green Top // 2. AG Jeans // 3. Simple Stud Earrings
Nordstrom truly is the one stop shop for everyone on your list and helpfully have categories for every person that you might need to gift in your life! and An added bonus? They helpfully list all items which are guaranteed to arrive before Christmas. I would definitely encourage you to place any gift orders as soon as possible though – last order dates for Christmas are earlier than ever this year because of courier-overload so it's always better to be safe than sorry!
GIFTS UNDER $25
All images are clickable!
1. Fluffy Socks // 2. This Works Set // 3. Paris Ornament // 4. Confetti Ice Cube Tray // 5. 'I Like You And Naps' Cards // 6. Scrunchies // 7. Bunny Bluetooth Speaker // 8. Reusable Bag // 9. Heart Marble Coasters // 10. Badass Necklace
Stocking stuffers are always my biggest challenge every year. To find smaller gifts that will actually be used is always the goal but it can get so challenging! I've rounded up some of my favourite affordable finds – from these gorgeous marble heart coasters (don't be put off by the low rating, I think one of the reviews accidentally input a low star rating!) to these lovely travel-themed ornaments – perfect for your adventure loving friend that's looking forward to international travel resuming.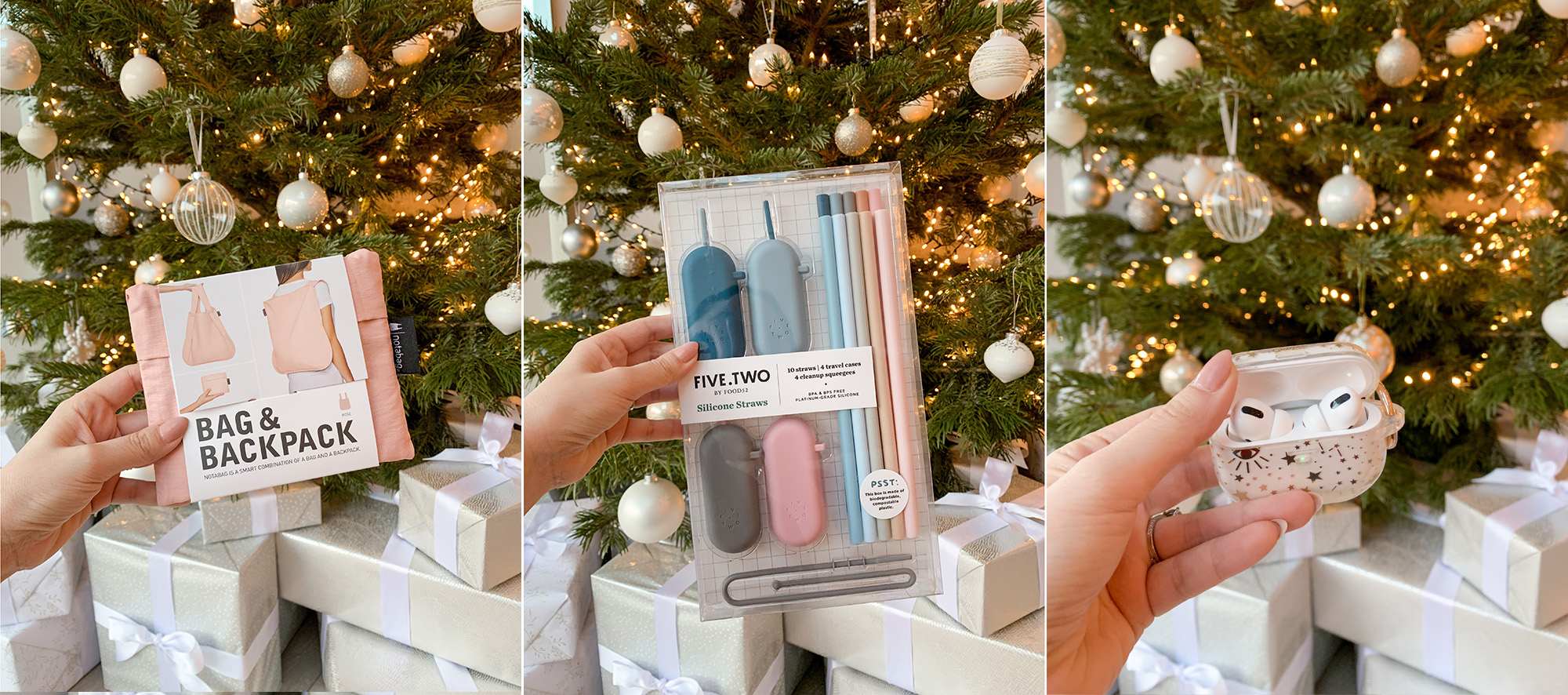 Left to right: 1. Convertible Bag // 2. Travel Straw Kit // 3. Airpods Pro Case
I also wanted to include some cute ideas that I bought recently from Nordstrom. I'm always on the lookout for fun, usable items that aren't going to be a waste but which the recipient wouldn't necessarily buy themselves. I found this travel-friendly reusable straw kit and I thought it was the best idea. We switched away from disposable straws a while ago and love the fact that these come with mini travel cases! I also recently got this Airpods Pro case and I absolutely love it! I only just got some Airpods but I've quickly become hooked and I LOVE how sturdy, well made and cute this case is.
Another eco-friendly gift is this fantastic convertible bag which folds away into a little pouch (perfect for storing in your handbag!) and expands out into a super useful grocery bag and converts into a backpack if you're carrying a lot. I got this one for my mum – we both try to avoid buying plastic bags as much as we can so foldable reusable bags are so useful! It inches slightly over the $25 mark but the reviews were absolutely glowing, so worth the little bit extra 🙂
For more stocking stuffer ideas, Nordstrom have an entire section to browse – so many pages of wonderful ideas for every age!
GIFTS UNDER $100
All images are clickable!
1. Cheers Sweater // 2. Bluetooth Speaker // 3. Floral Pouches // 4. Stud Earrings // 5. Pepper Mill // 6. Pink PJs // 7. Stud Earrings // 8. UGG Blanket // 9. Word Lightbox // 10. Ski Sweater
For those looking for gifts with a bigger budget, I've rounded up my favourite picks under $100 – from this adorable Ski sweater to the stud earrings I find myself wearing most days (they're a fantastic alternative to fancy diamonds if you don't want the expense – or the stress!). A slightly more random gift idea? A pepper mill. My mum gifted one of these to Dan a couple of years and he still claims it's one of the best gifts he's ever received! He loves pepper and spices so finds this nifty gadget so fun and useful.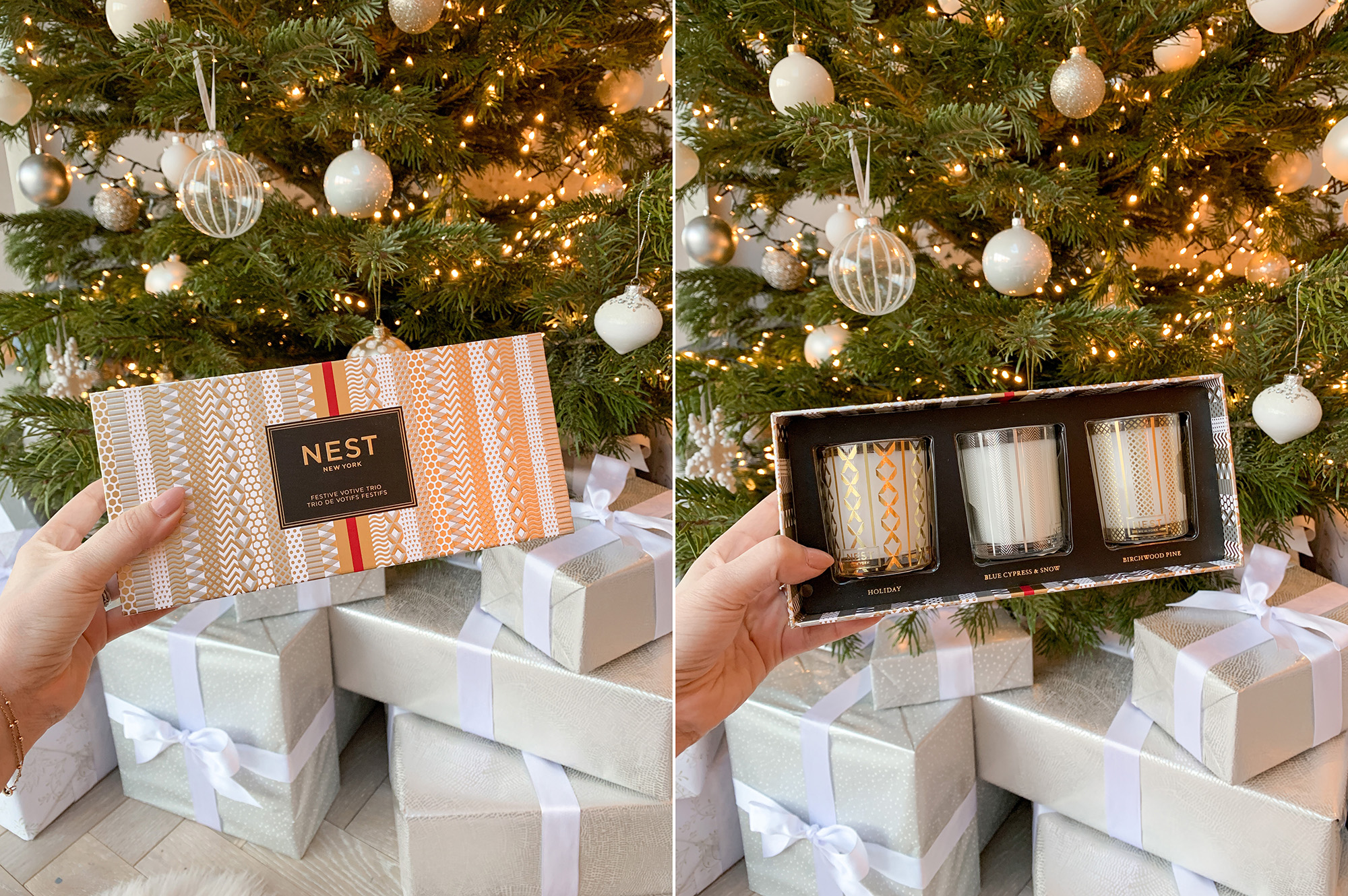 For a gift idea that is a sure fire win – especially for that person that you need to gift but you don't know super well – I just don't think you can go wrong with a beautiful candle and this is one of the nicest holiday candle sets I've ever come across. The packaging is simply stunning and the scents are out-of-this-world good. The right blend of fragrant whilst being super Christmassy – I can't imagine who wouldn't be delighted with this set!
LUXURY GIFTS
All images are clickable!
1. Saint Laurent Belt // 2. Saint Laurent WOC // 3. Mulberry Scarf // 4. Tory Burch Pink Crossbody // 5. Barefoot Dreams Cardigan // 6. Tory Burch Boots // 7. Ganni Baby Blue Scarf // 8. Mulberry Tote // 9. Barefoot Dreams Blanket // 10. Saint Laurent Camera Bag
I also wanted to cover some luxury gifts for those of you wanting to all out and splurge this year. I've still tried to keep these at a variety of price points so they start from just over $100 right through to the very high end with Saint Laurent. Barefoot Dreams is always a winning idea and I've gifted these pieces myself so many times to an always-delighted response. My personal favourites? Their classic blanket (mine is still going strong from years ago!) and their simple long cardigan – to date, one of my favourite cardigans I've ever owned!
On the higher end side, this Mulberry tote with its beautiful blue mock croc print is a stunning classic whilst this gorgeous neutral camera bag from Saint Laurent is a guaranteed delighted-response waiting to happen!
A beautiful purse option that doesn't run into the thousands? This Tory Burch Shoulder Bag. This was a purchase from last year and it's so lightweight and easy to wear – so deserving of its dozens of 5 star reviews! My mum has recently swiped this from my closet (just to 'borrow' apparently!) and she told me it's one of her favourite bags that she's ever worn, particularly because of the proportions. She's 5'3″ so if you're more on the petite side, this is a wonderful choice. I suspect I'm not getting it back any time soon…
MEN'S GIFT PICKS
All images are clickable!
1. Puffer Vest // 2. Airpods Case // 3. UGG Slippers // 4. Bose Speaker // 5. Patagonia Fleece // 6. Nike Training Hoodie // 7. Star Wars Cookie Cutters // 8. Winter Solder Cuff Links // 9. Theragun Massage Gun // 10. Kiehls Gift Set // 11. Whiskey Tumblers
I only have two guys in my life to buy for – Dan and my brother but they both present gifting challenges! This year, I'm most excited about the Theragun I bought Dan (who constantly suffers from aching muscles) and this Airpods case I bought my brother – who loves anything matte black! If you have a golfer in your life, a puffer vest is a great shout. Dan has recently gotten into golf but hates wearing a proper jacket when playing because it restricts his movement; I bought him a puffer vest recently and he loves it! It keeps him warm but still allows full movement of his arms.
For the movie fan, I thought these Star Wars cookie cutters were fantastic and I just ordered these cuff links for Dan – we're both huge Marvel fans and I know he's going to love the Winter Solider theme (from Captain America 2!). Finally, previous hits include these UGG slippers – bought for my brother and judging by how worn his are – they were a big hit! And then there's this speaker I bought for Dan – he loves it and gets daily use out of it (he loves to play music when showering – happily, it's waterproof!).
If you're looking for more gifting inspiration for the men in your life, Nordstrom happily have a fantastic curated selection that you can see here.
Phew! And that's it for this gift round-up. I hope you found it useful and thank you so much for stopping by!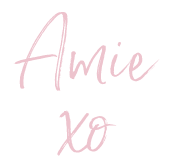 Thank you to Nordstrom for partnering with me on this post!