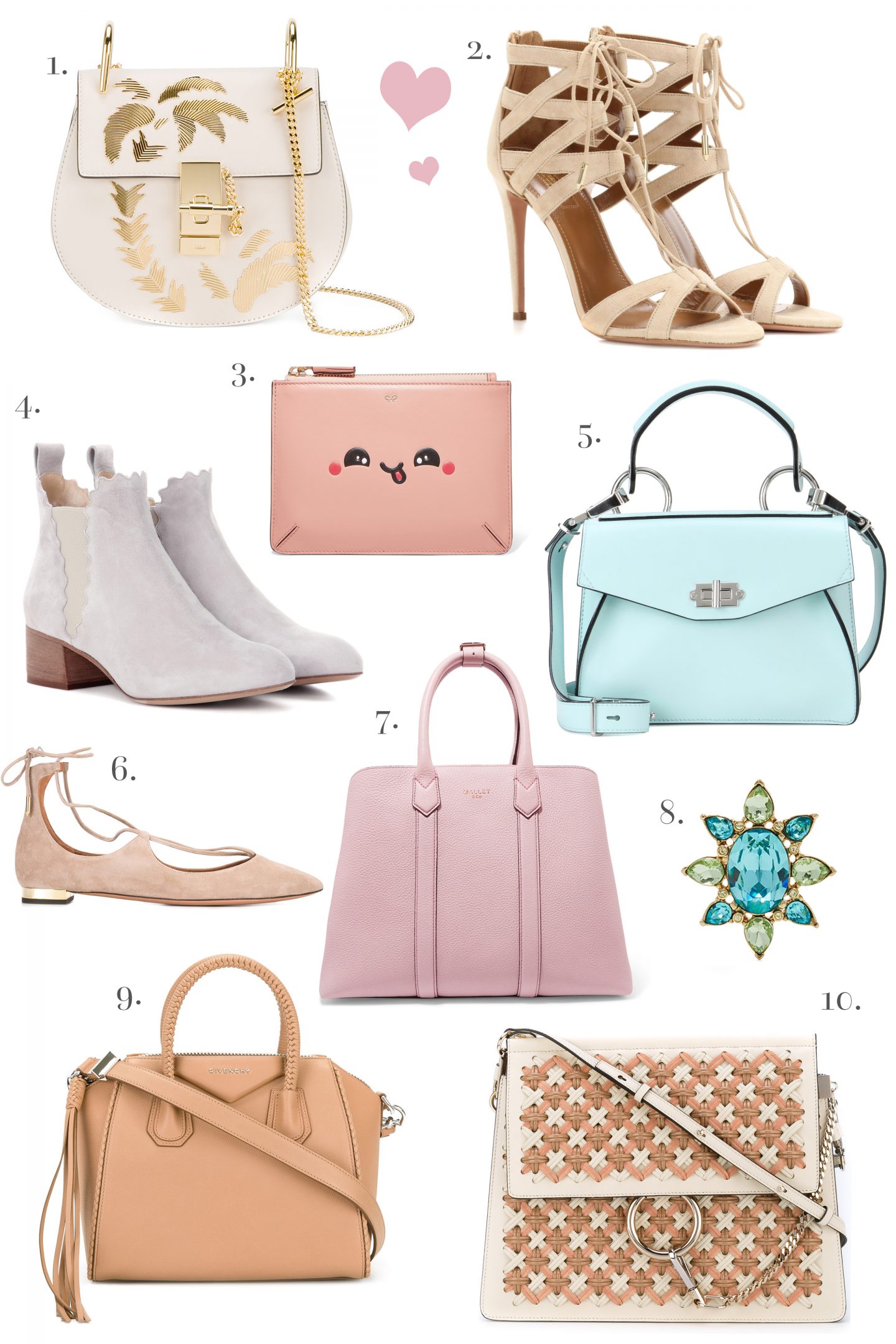 I'm sorry for the absence of a Wedding Wednesday post yesterday – there will be one up this week but it'll go live on Sunday now (Wedding Sundays for one week only!). I'm still in the middle of training for my new job but I wanted to stop by and share all of the amazing sales that have just gone live!
Above
1. Chloe Drew Bag (30% off) // 2. Aquazurra Beverley Hills Sandals (30% off) // 3. Anya Hindmarch Pouch (40% off) // 4. // Chloe Lauren Boots (30% off) // 5. Proenza Schouler Bag (30% off)  // 6.  Aquazurra Christy Flats (20% off) // 7. Mallot & Co Tote (40% off) // 8.  Oscar De La Renta Ring (60% off)  // 9.  Small Givenchy Antigona (20% off) // 10. Chloe Woven Faye Bag (20% off)
I did a post like this a couple of weeks ago and genuinely thought that they were the summer sales but apparently, that was just a warm up! Pretty much every single one of my favourite stores has a sale on – I've listed all the details below!
Net-a-Porter – up to 50% off many lines here.
MyTheresa – sale starts today! Up to 50% off including some of favourite brands here.
Burberry – many lines reduced including trench coats here.
Tory Burch – up to 50% off bags, shoes and clothing here.
Selfridges – sale now on accessories, shoes and clothing here.
Ted Baker – a major sale on so many lines, including some gorgeous dresses!
Farfetch – So many designers on sale, including Dolce & Gabbana which was just added here.
Kate Spade – now up to 60% off selected lines, including my gorgeous little Isabel bag!
Moda Operandi – sale is now up to 70% with new lines being added here.
Jimmy Choo – up to 50% off bags and shoes. SO many gorgeous ones to choose from here.
Anya Hindmarch – up to 50% off their gorgeous Spring/ Summer accessories lines here.
Joseph – 50% off and extra lines just added here.
Lululemon – We Made Too Much section stocked up (and there is some good stuff!) here.
Let me know if I've missed any good ones out!