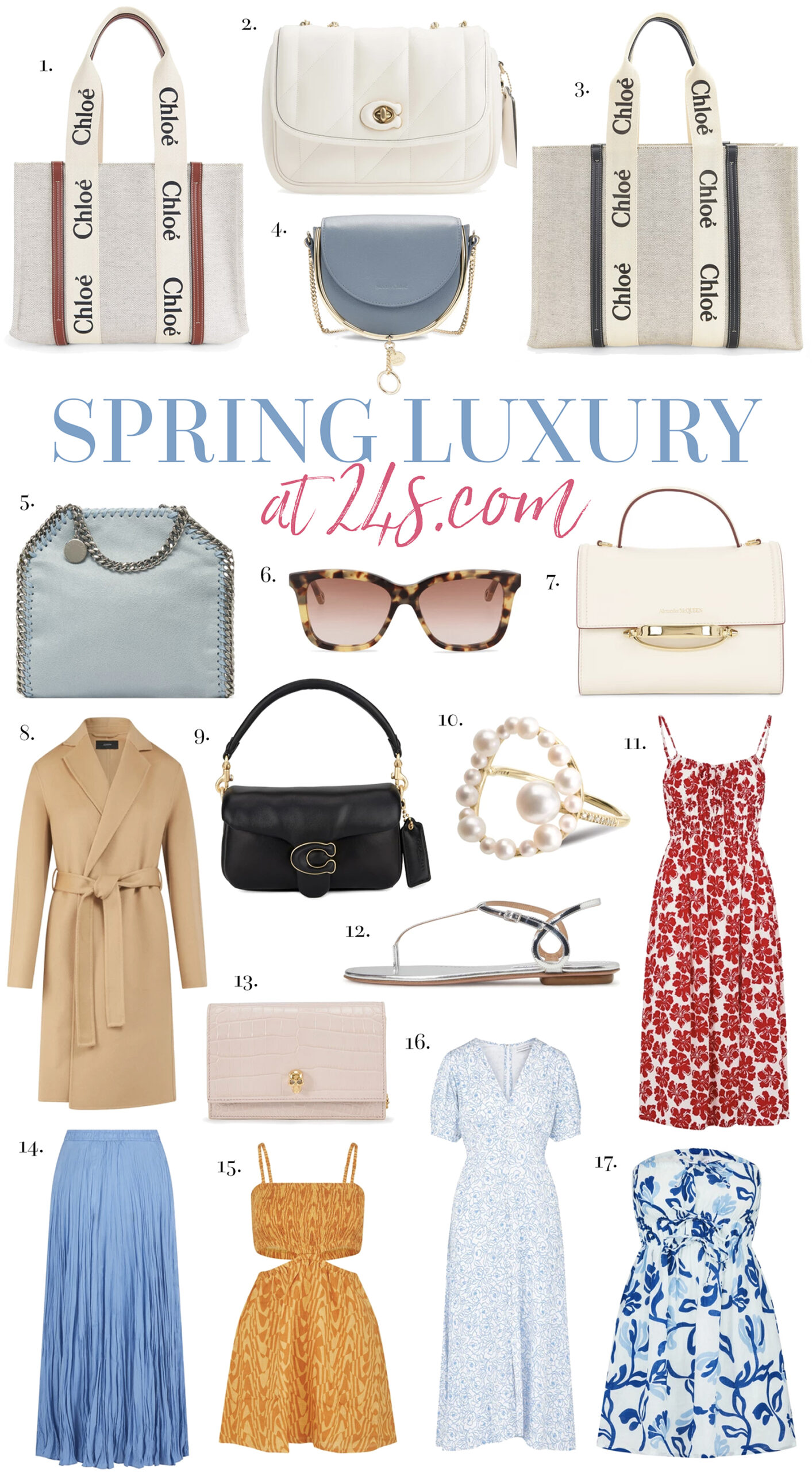 1. Chloe Woody Tote // 2. Coach White Shoulder Bag // 3. Chloe Large Tote // 4. See by Chloe Blue Mini Bag // 5. Stella McCartney Blue Mini Bag // 6. Chloe Sunglasses // 7. Alexander McQueen White Top Handle // 8. Camel Coat // 9. Coach Puffer Bag // 10. Pearl Ring // 11. Red Sundress // 12. Silver Sandals // 13. Pink Clutch // 14. Blue Midi Skirt  // 15. Yellow Cut-out Dress // 16. Blue Midi Dress // 17. Strapless Blue Mini Dress
24s.com have gone live with another amazing offer – just in time for spring! They've actually increased this offer and are now offering a huge 20% off! (it was previously 15% off!) – with everything from Chloe Woody totes to Coach bags and new season Faithfull dresses included! I've gone ahead and rounded up my favourite picks above and below as well as including some wardrobe favourites that I already own 🙂
You'll need to use the code SPRING20 at checkout to nab the discount and you can see everything included in the discount code in this landing page here.
NEW ARRIVALS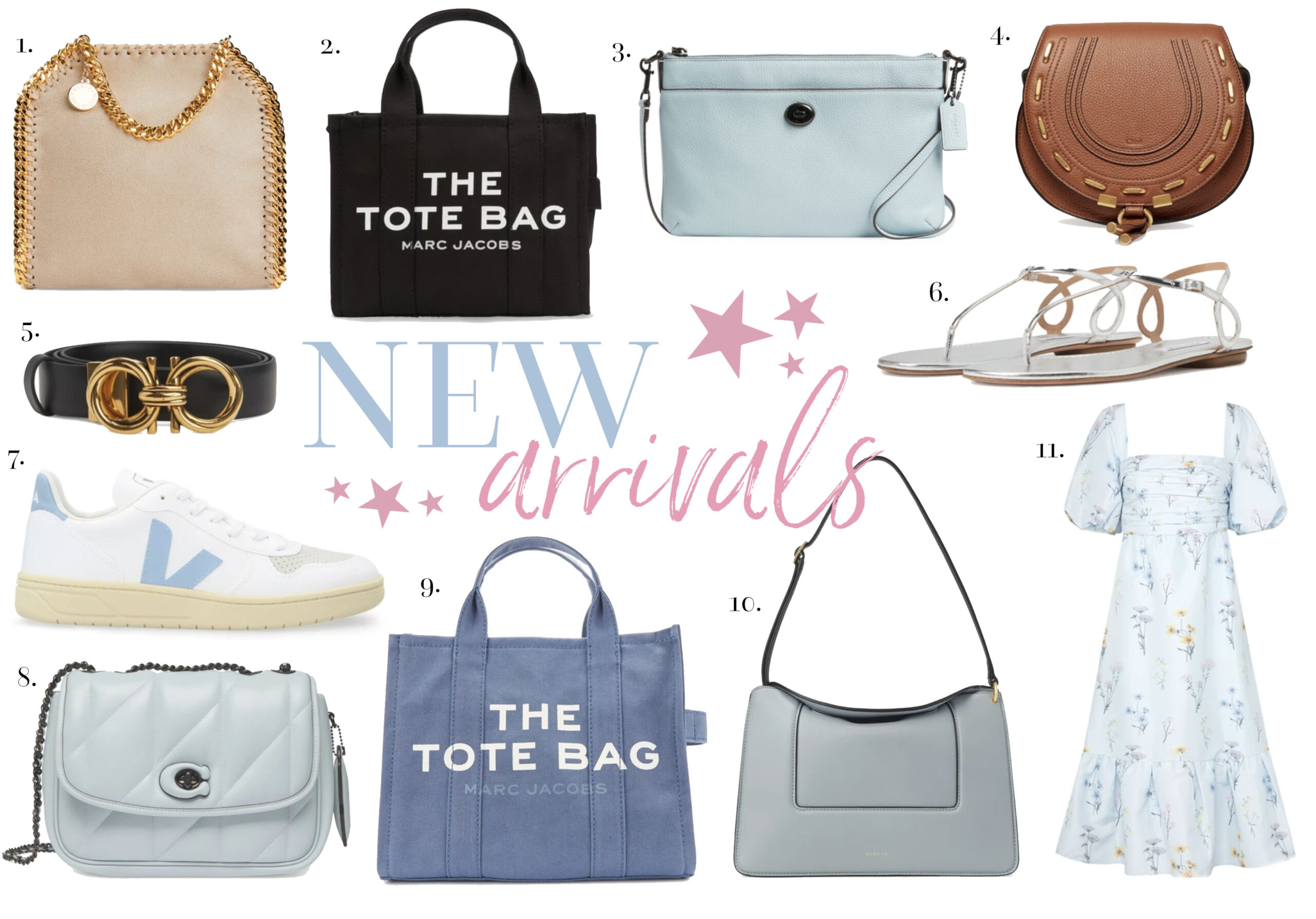 1. Stella McCartney Mini Bag // 2. Marc Jacobs Tote // 3. Coach Crossbody // 4. Chloe Tan Mini Marcie // 5. Salvatore Ferragamo Belt // 6. Aquazurra Sandals // 7. Veja Sneakers // 8. Coach Light Blue Crossbody // 9. Marc Jacobs Tote // 10. Blue Shoulder Bag // 11. Self-Portrait Blue Dress
Happily, 24s have continued to add new arrivals to the selection and there are some gorgeous pieces – everything from spring ready Self-Portrait dresses to beautiful new Veja sneakers in the prettiest colours! They have new designs of the Chloe mini Marci as well as the most adorable Stella McCartney mini bag – all at 20% off with the code SPRING20.

1. Canada Goose Jacket // 2. Coach Tote // 3. Canada Goose Gilet // 4. Coach Puffer Bag // 5. Canada Goose Jacket
Not exactly as spring-ready but there are also some fantastic deals to be had for more colder weather pieces! There are plenty of restocked Canada Goose styles with healthy size selections as well as some gorgeous Coach pieces, from the crazy popular puffer line to beautiful classic tote bags!
MORE LUXURY PICKS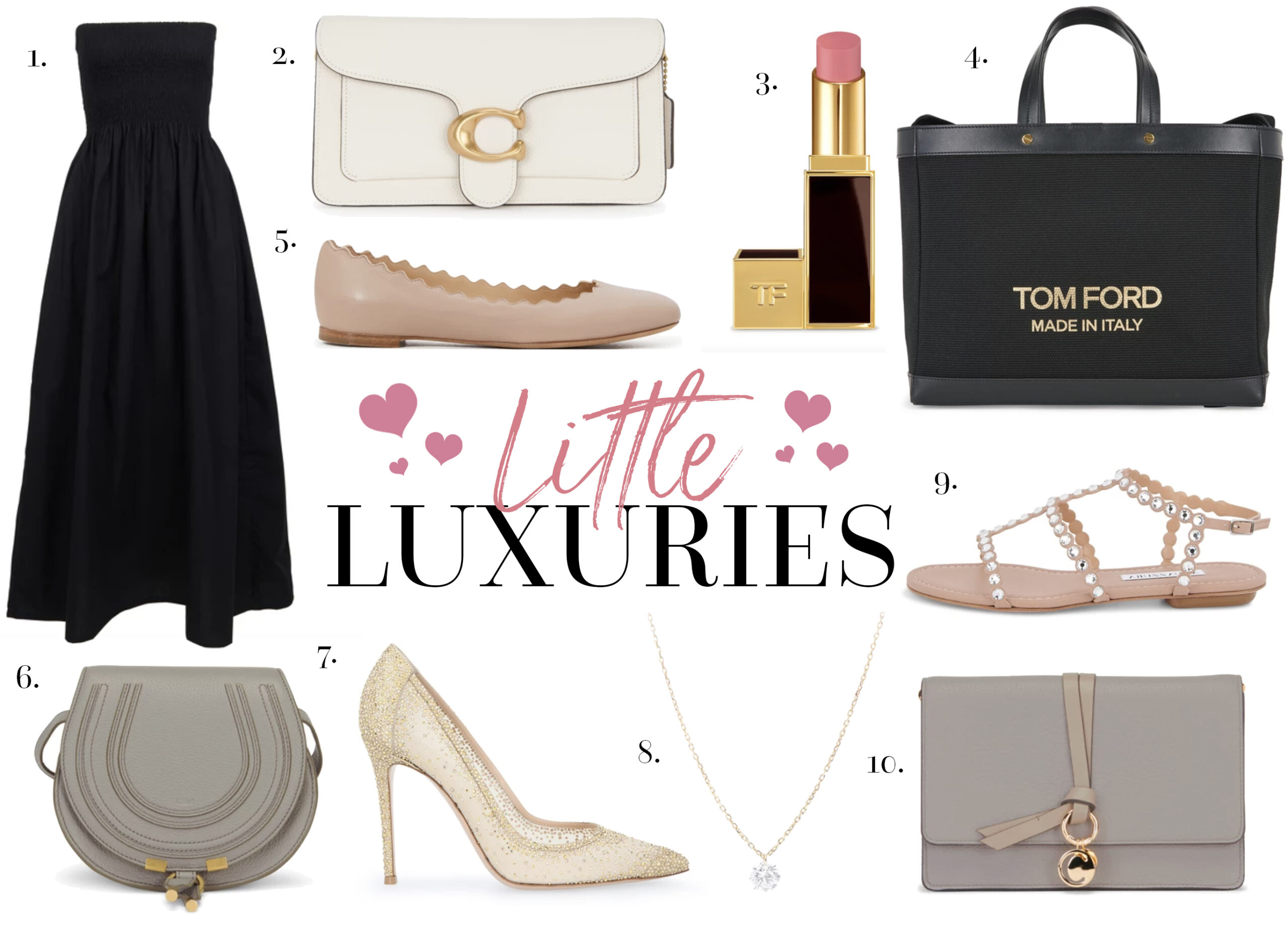 1. Black Strapless Dress // 2. Coach White Bag // 3. Tom Ford Lipstick // 4. Tom Ford Tote // 5. Chloe Flats // 6. Chloe Mini Marcie // 7. Gianvito Rossi Crystal Heels // 8. Diamond Necklace // 9. Aquazurra Sandals // 10. Chloe WOC
There are so many amazing items included – including Tom Ford makeup (often excluded from discount codes) to new-in Coach styles to gorgeous dainty jewellery like this stunning diamond necklace. My Chloe Mini Marcie bag is also included in a few different colours as well as these stunning Aquazurra sandals which are 100% on my wishlist!
WARDROBE FAVOURITES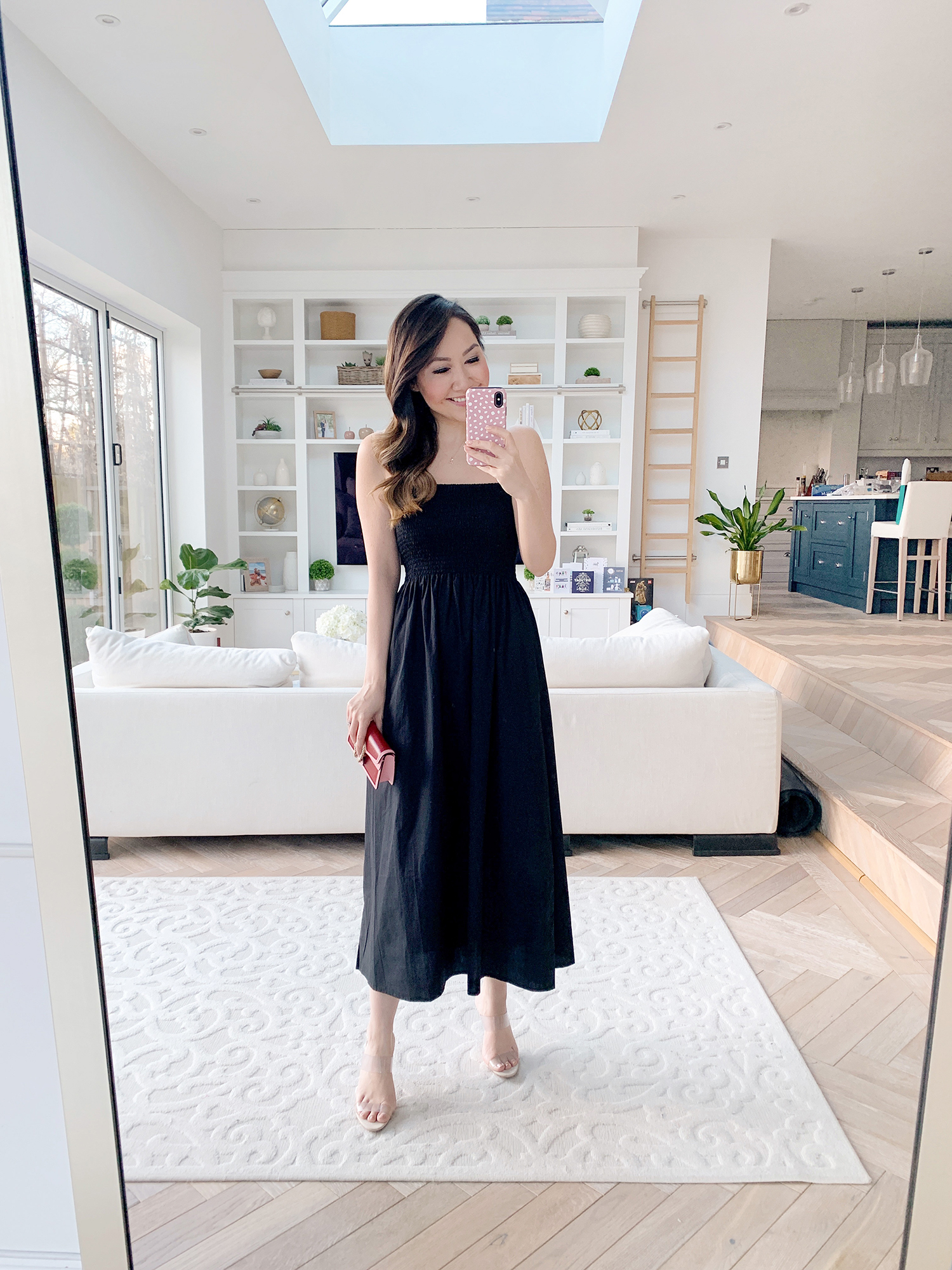 Black Strapless Dress – size xs
My Faithfull dress is also included – I showed this in a haul video from January and it is the perfect little black sundress! I wore it on holiday in Mexico and just loved it. Easy to dress up or down so it works equally well with sandals and a denim jacket as it does with heels and some statement jewellery.
If you're not familiar with Faithfull The Brand, I would definitely recommend checking them out. They're an Australian brand and do the most beautiful dresses and skirts – very similar in vibe to Reformation but maybe slightly more whimsical. I can't even count how many dresses I own from them now – they are so stunning and always fit beautifully. And happily, 24s.com have an amazing stock selection and have included them in the discount! I've gone ahead and ordered a couple more dresses for my upcoming trip to the US so I promise to share them on my channel if they arrive in time 🙂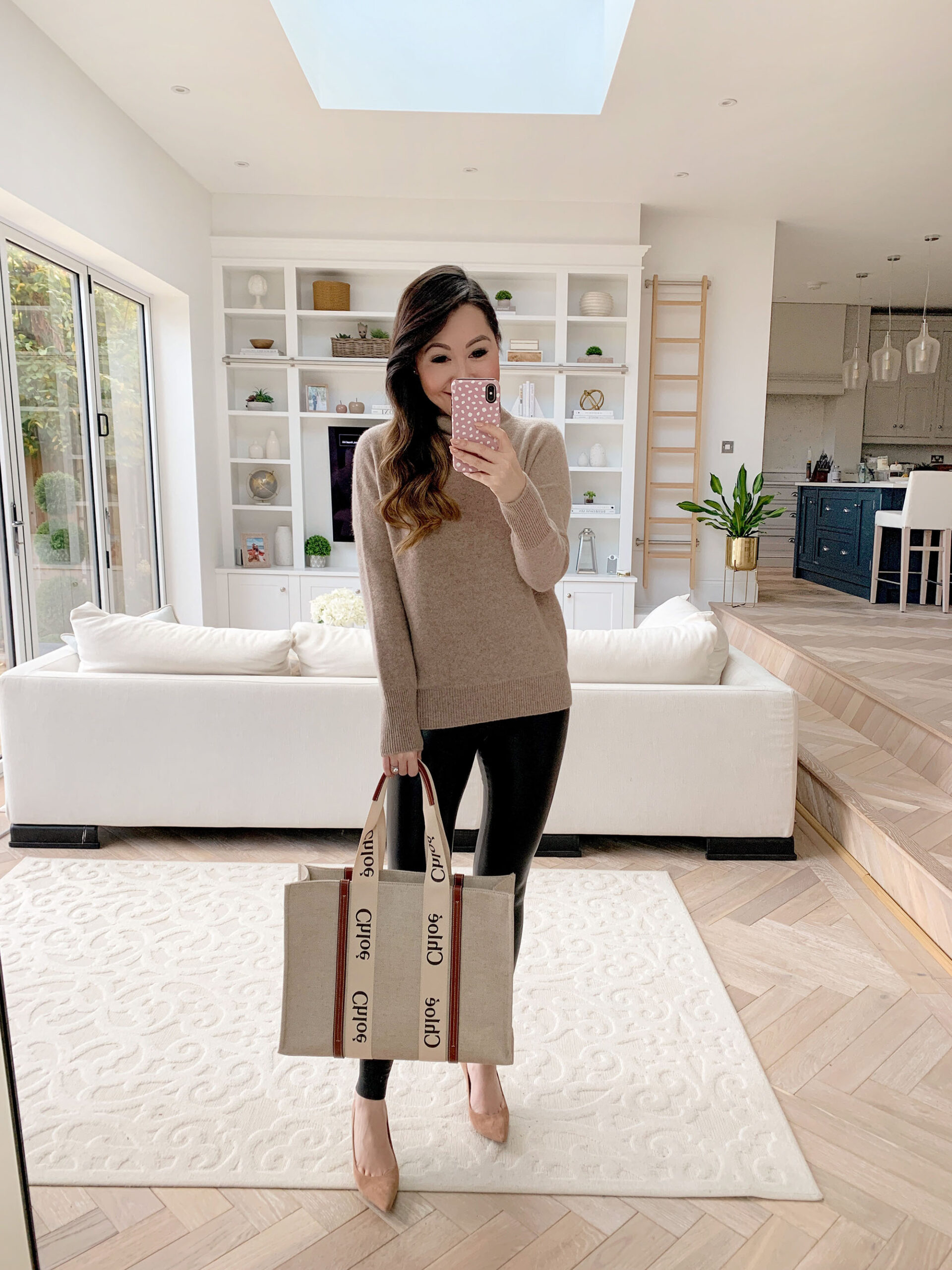 Chloe Woody totes are back in stock in both the medium and large size and are also included in the discount code! The one I have is the larger one and my love for this thing just grows stronger every month haha. Big enough to use as a travel bag but small enough to be suitable for every day wear too. Mine's done amazingly well in terms of wear & tear considering how much I've used it – would 100% recommend if you're on the fence about getting one!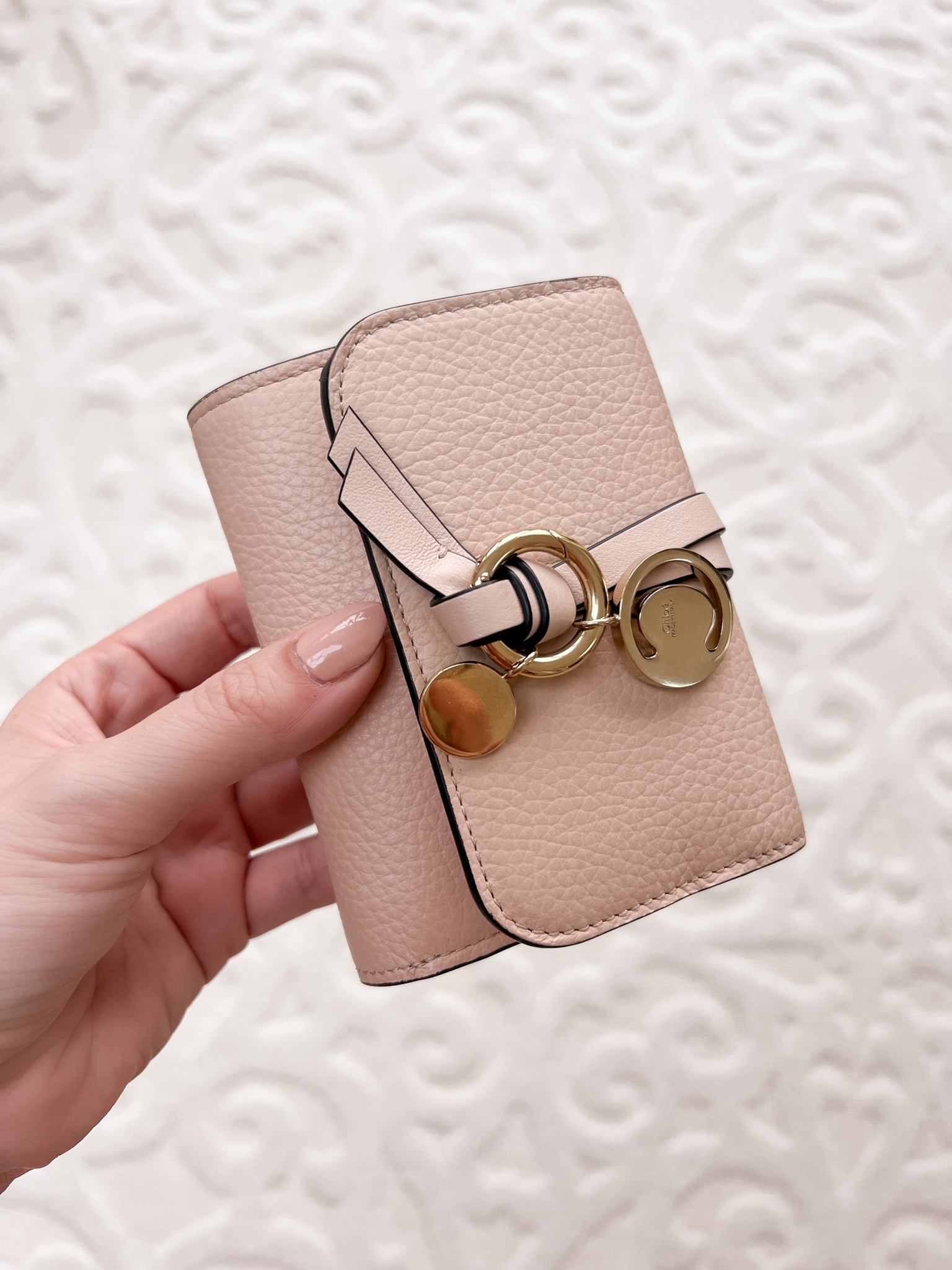 Finally, my adorable Chloe wallet in the larger size is included! This is such a great wallet – the charm detail is so lovely and the organisation on Chloe wallets is fantastic. I was a little worried about how the leather would wear as it does seem to be more of an 'untreated' variety but it's actually done so well! I've used mine a ton and it looks as good as the day I bought it.
To see everything included in the offer, you can just head to this landing page – and don't forget to use SPRING15 at checkout! You can take advantage of the discount until 3rd April 🙂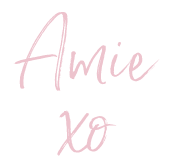 Thank you to 24s.com for partnering with me on this post!