All images are clickable!
Shopbop's bi-annual sale event is here! I pretty much always shop this sale because it's always so good! Shopbop tends towards the pricey side so the tiered discount is always very welcome – this time it ranges from 15% off all the way to a huge 25% off if you spend over $800. I've rounded up my favourite picks above as well as what I ordered below!
Don't forget – you'll need to use the code STYLE at checkout to nab the discount 🙂
FEATURED ABOVE
1. Cinq A Sept Blazer // 2. Black Cut-out Dress // 3. Beige Cardigan // 4. Polka Dot Dress // 5. Black or White Tank Top // 6. Distressed Jeans // 7. Schutz Heels // 8. Tory Burch Kira // 9. Tory Burch Perry Tote // 10. Pearl Earrings // 11. Biker Boots
There are so many amazing items included. Particular call-outs for me are the ALC tops which I snagged earlier this year and loved so much that I bought in both the black and the white. More on the pricey side but are incredible quality and are the perfect length for skirts and higher waisted jeans.
Also included is a ton of Tory Burch styles – including my Kira in a near identical shade to the one I own. My one is last year's colour and now discontinued but the rainwater looks to be extremely similar. Finally, almost the entire Vince range is included (including these fantastic boots – very similar looking to my Gianvito Rossi's but much cheaper) – I only own a couple of pieces from Vince but they never disappoint in terms of quality and fit.
WARDROBE FAVOURITES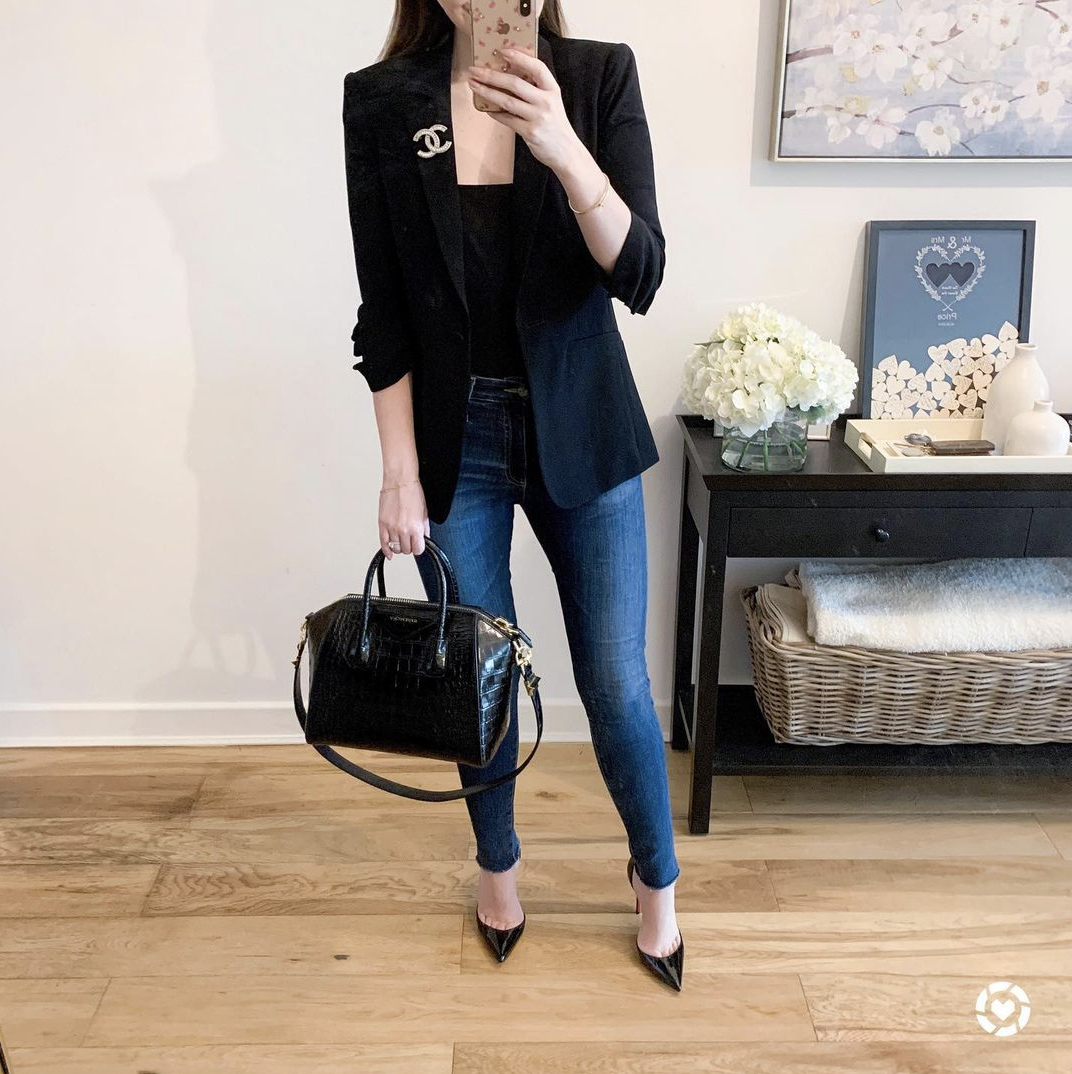 My Cinq A Sept blazer is included this time round and there are still a few sizes left! Make sure to size down in this one – I own three of them now and I have them all in either a 00 or a 0.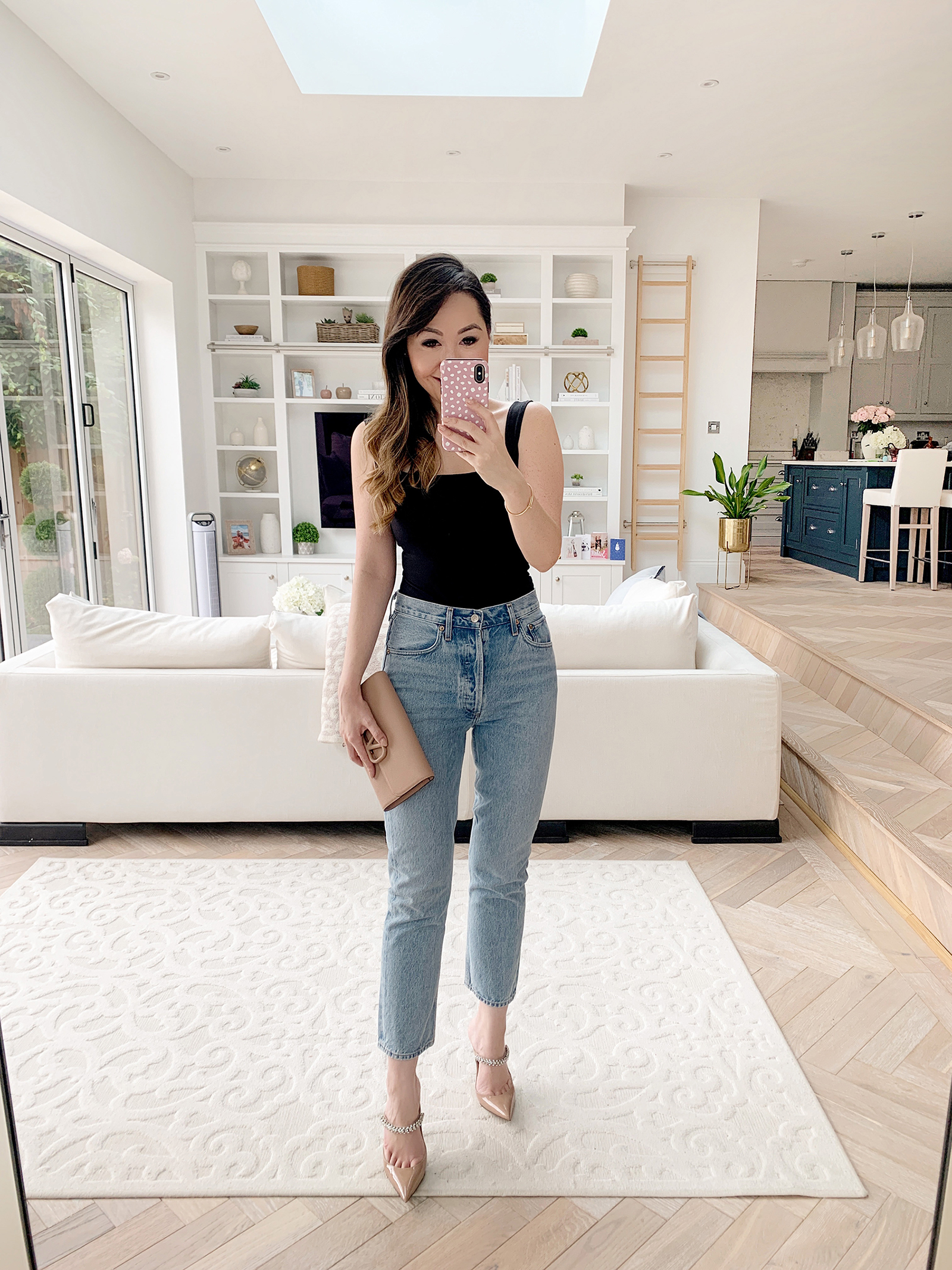 My current favourite designer jeans are also included. I own this style in both the plain version and the distressed version and they're both so great! The size guide generally says to size down – I didn't (and ended up taking a 27) because my hips are on the wider side but if you have regular hips, then I would say to size down for sure 🙂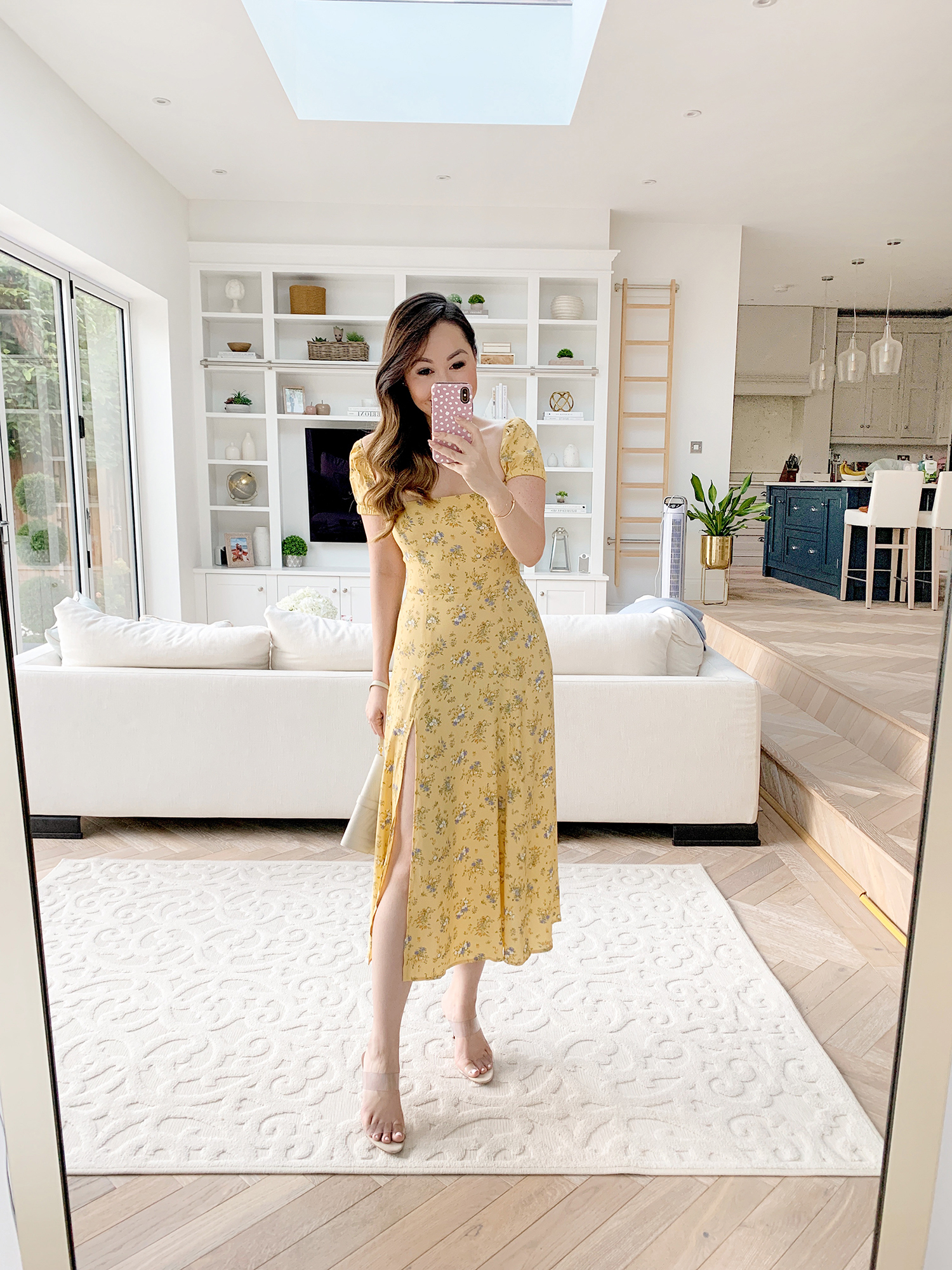 Some of my favourite heels are included too! I've gone on about these a gazillion times but they truly do live up to the hype. Incredibly comfortable and pretty much invisible on your foot – so they go with everything! These are my go to heels if I know I'll have to walk a bit. Probably the most comfortable heels I own.
WHAT I ORDERED!
Images are clickable!
1. Jeans // 2. High Neck Sweater // 3. Cut Out Sweater // 4. Green Polka Dot Dress // 5. Straws // 6. Hoop Earrings // 7. Faux Pearl Earrings // 8. Tory Burch Perry Tote
And now for what I ordered! It's a bit of a random mix but I tend to go for tried and tested brands or very highly reviewed pieces (returns to Shopbop from the UK are a bit of a faff so I tend to err on the safe side with my choices!). I've been obsessed with high neck sweaters recently and this one from Vince had absolutely glowing reviews (I checked the reviews on Nordstrom – and there were plenty of raves!). I also went for this unique design from Paige in this beautiful snow white colour – totally convinced by the reviewer that said it was the best sweater she owns!
These jeans looked fantastic on the model so I did a search for them online and also found incredibly positive reviews. And then I couldn't resist this polka dot dress – no reviews but I saw a video of it (on Net-a-porter here) and loved it! It is linen which I'm always a little iffy on but it doesn't look like it creases too badly in the video and prints are always helpful at disguising any lines 🙂
I wanted some new portable straws (love no disposable plastic but I hate the feel of paper straws haha) and thought these were both cute and functional! I also wanted some new classic earrings and thought these oversized faux pearls and sparkly hoops were stunning. And finally, I've been eyeing up the new Tory Burch Perry colours (seriously, SO many gorgeous neutrals) and couldn't believe my eyes when the tan was included! I quickly added to basket and checked out haha.
Phew! And that's it for this round-up! Did you snag anything from the sale? Let me know below!