All images are clickable!
For my primarily US followers, I'm doing a follow-up post highlighting the best luxury deals available at Selfridges! In case you're new to shopping with Selfridges and you're based abroad, you can get some great deals on luxury pieces. Luxury goods are always cheaper in Europe – and so it can sometimes work out less expensive to buy from the UK and ship abroad.
This isn't true for every brand and it's always worth doing a price comparison. There are some super desirable items where you can make savings though – including a ton of classic Saint Laurent styles and new season Bottega Veneta! I've highlighted my favourite picks that work out cheaper in the collage above.
Featured Above
1. Medium Loulou with GHW // 2. Mock Croc Pink Kate // 3. Suede Niki Bag // 4. Saint Laurent Leopard Pouch // 5. Compact Wallet // 6. White Kate with GHW // 7. Black Camera Bag // 8. Grey Zipped Pouch // 9. Medium Loulou with SHW // 10. White Kate with Tassel // 11. Bottega Veneta Red Mini Jodie // 12. All Black Kate // 13. All Black Niki Crossbody // 14. Uptown Tote // 15. Bottega Veneta Padded Cassette // 16. Camel Camera Bag // 17. Long Kate with Tassel // 18. Black Uptown Leather Strap Crossbody
Important to note that Selfridges is a super popular shopping destination in the UK (and now, globally!) so stock selection moves quickly! They get frequent new arrivals though so it's always a good idea to check back.
Full selection of Saint Laurent bags
Full selection of Bottega Veneta bags
I've also done some direct price comparisons on some of the most popular styles below – the Selfridges price is including any customs and duties but excluding shipping (which I've detailed below in a separate section). The 'US department store' price is the local price but without local taxes and shipping.
Favourite Deals
Saint Laurent Kate Medium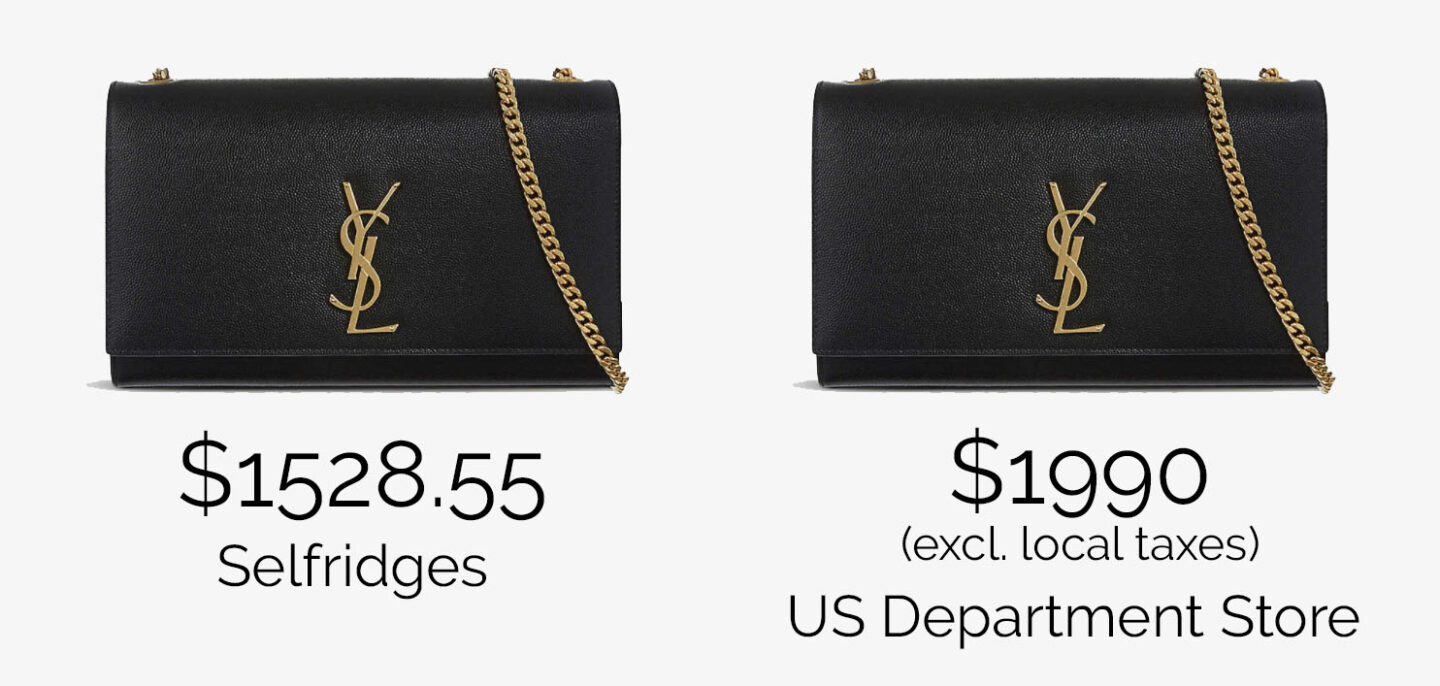 The Saint Laurent Kate Medium in black has a substantial saving of almost $500 and is one of their most classic styles. This is the one without the tassel so is easier to make work for the day as well as evening.
Uptown Crossbody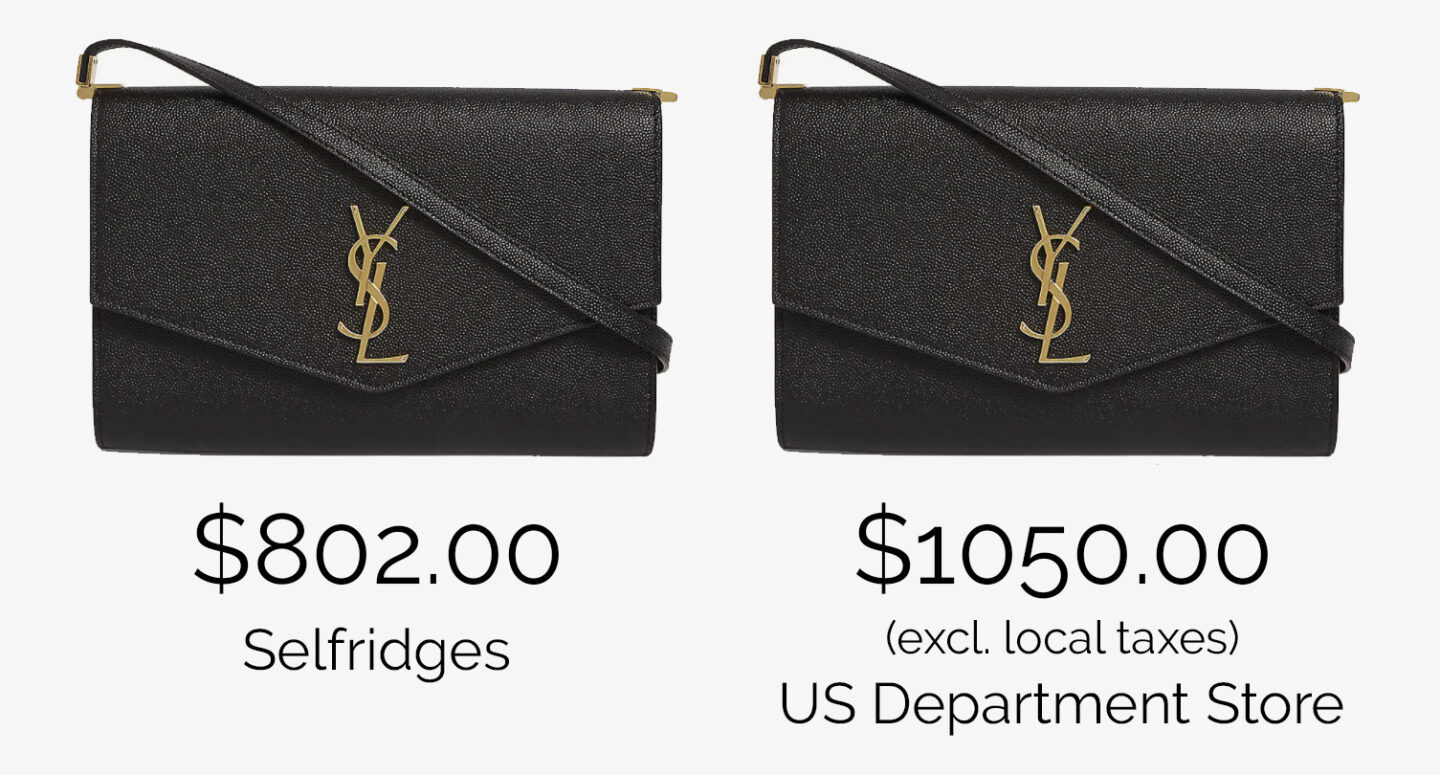 The Saint Laurent Uptown Crossbody bag in black is one of their newer styles and was released off the back of the success of their Uptown Clutch line. This is the larger style with the leather strap – perfect if you need a little more room for your belongings 🙂
Saint Laurent Camera Bag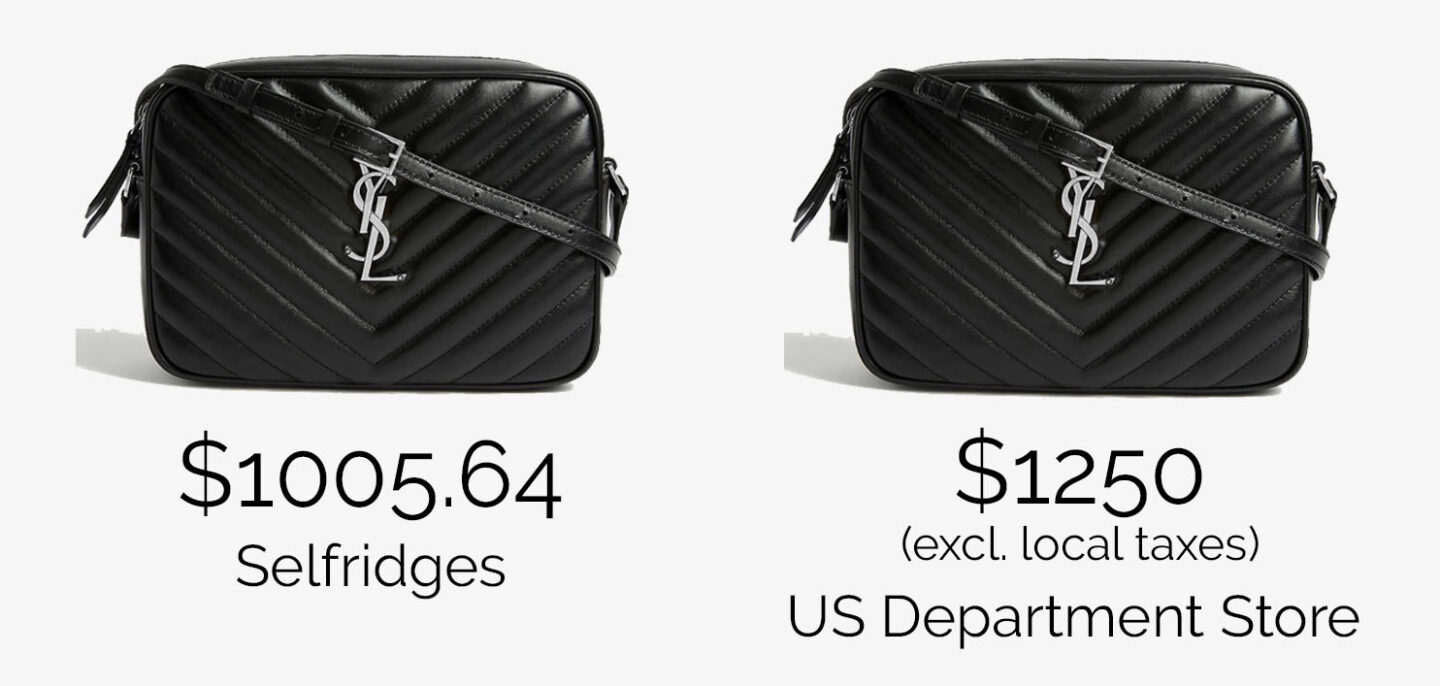 Their now-classic Saint Laurent Camera Bag in black – this is the larger size one featuring their beautiful chevron leather design. Also available in their gorgeous camel colour.
Saint Laurent Medium Loulou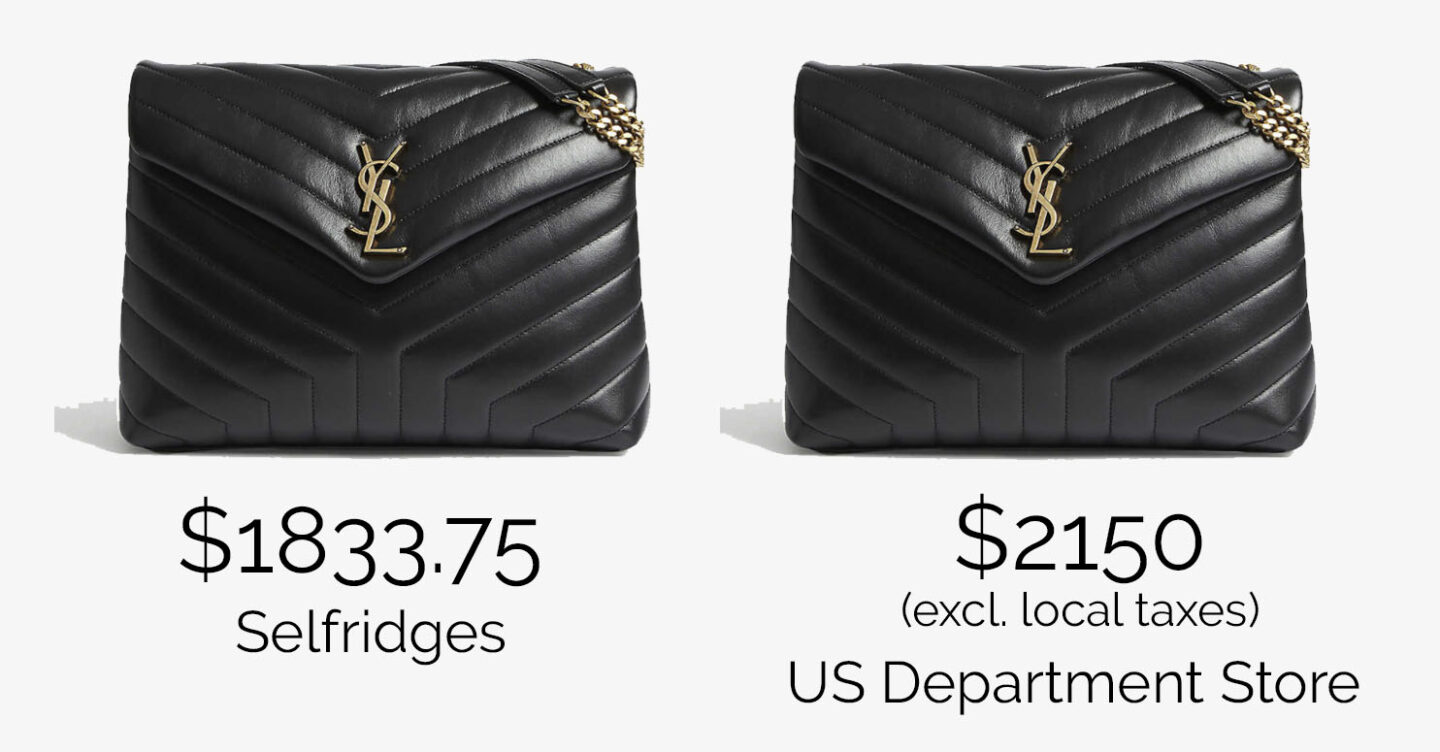 The Saint Laurent Medium Loulou line also sees some great savings. This is the larger shoulder bag size and both the gold hardware and the silver hardware styles are available.
Saint Laurent Zipped Pouch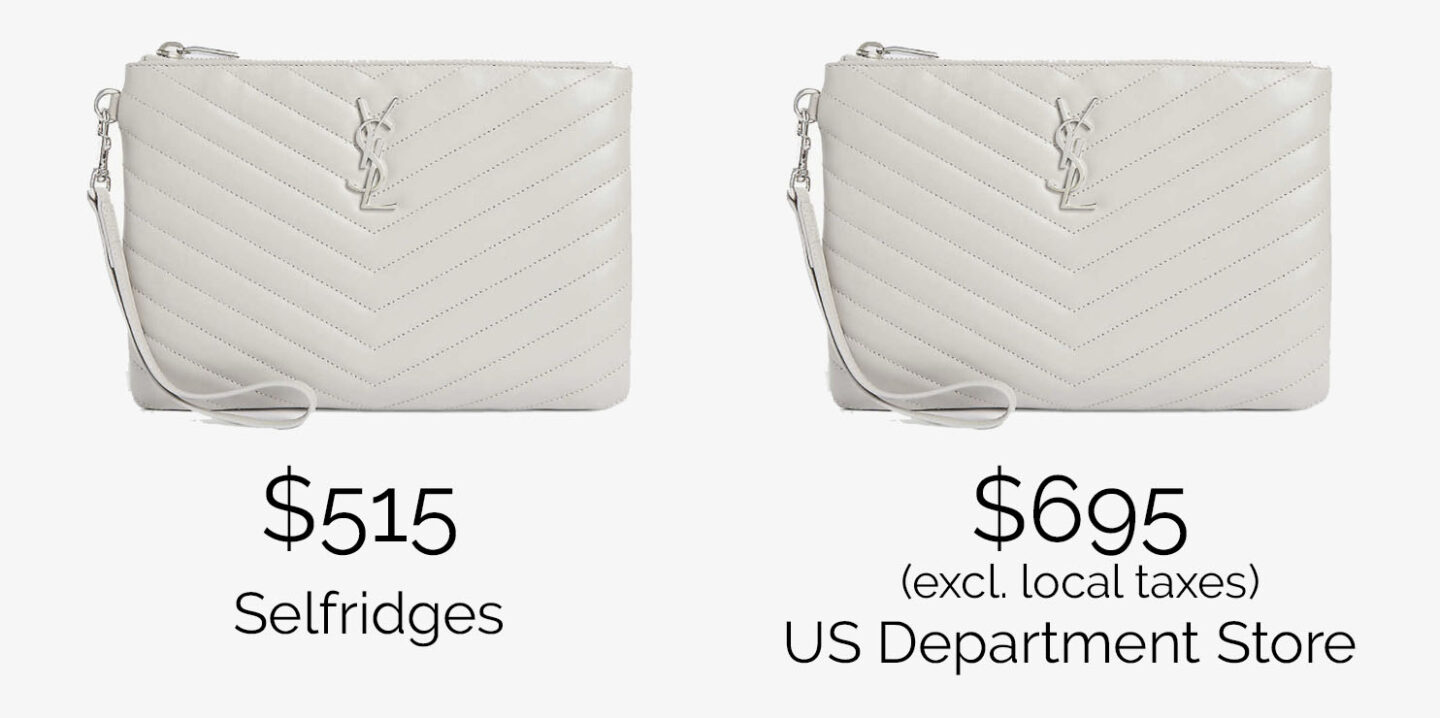 They have a few different pouches including this gorgeous Saint Laurent Zipped Pouch in grey (am I the only one on a grey bag kick right now?). Love the silver hardware combined with the pale grey leather. Their pouches are light, versatile and surprisingly roomy in my experience.
Saint Laurent Pink Kate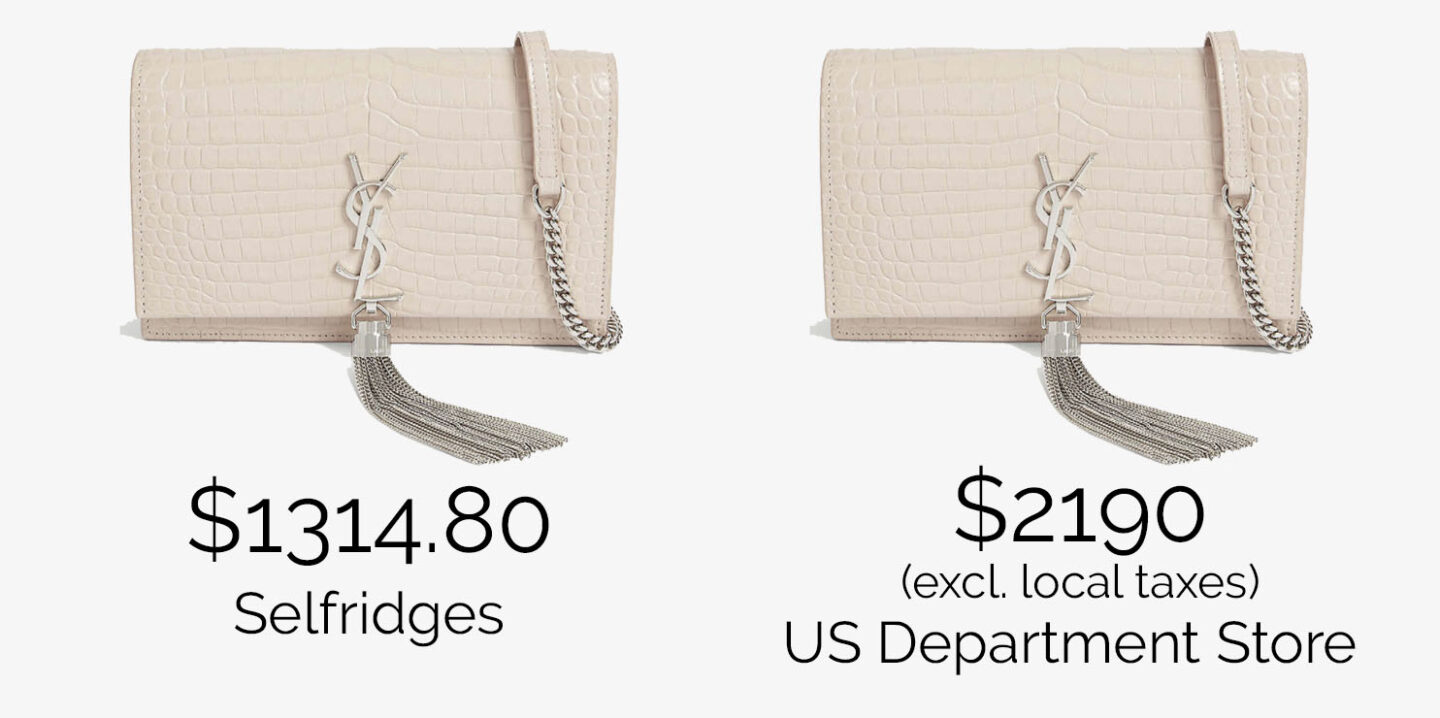 The Saint Laurent Mock Croc Kate in light pink is available in the smaller size with a huge saving – Saint Laurent do beautiful mock croc and this combo is just stunning!
Saint Laurent All Black Kate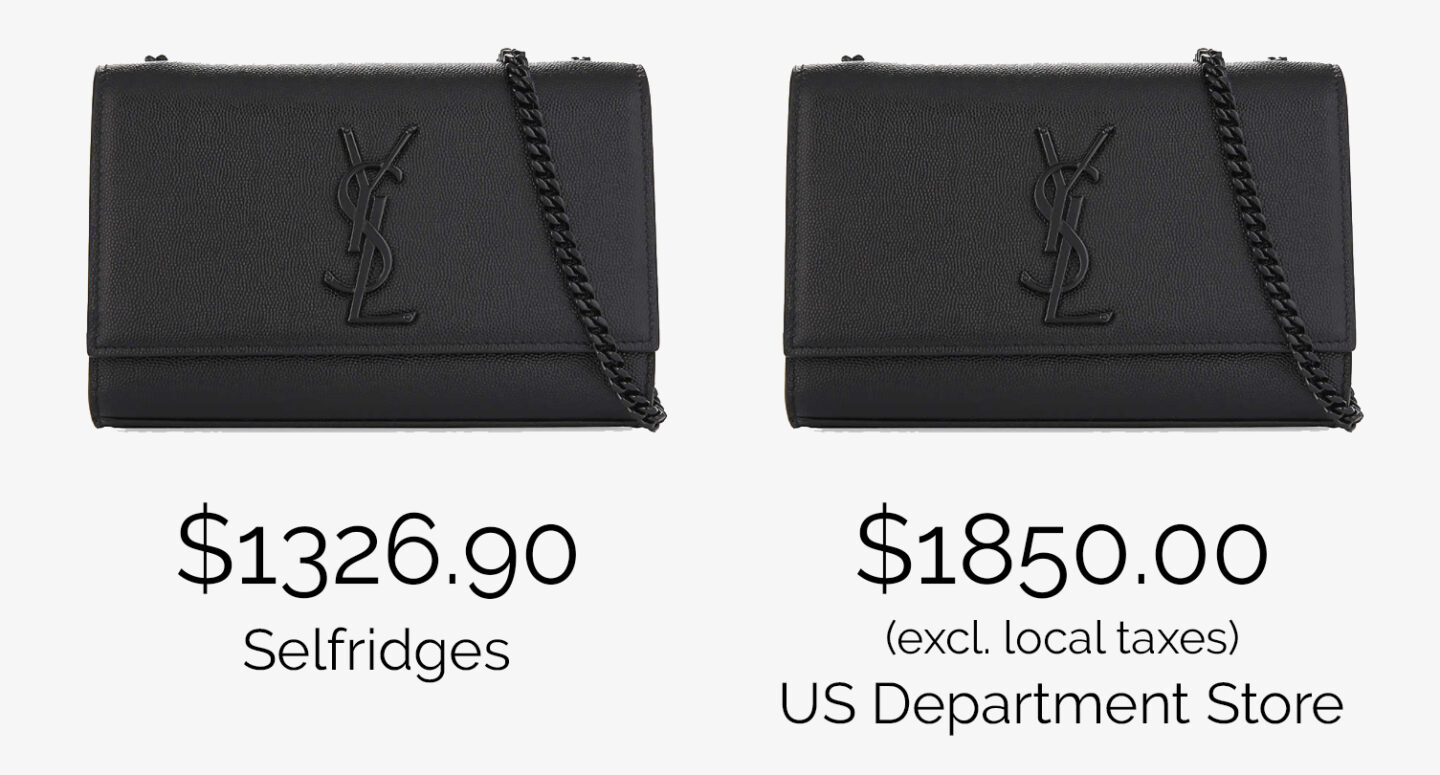 The Kate line in particular seems to have some great deals, including this stunning 'All Black' Kate – which I believe, is a new arrival. The price for this line is always a little anyway (due to it being one of their original 'classic' lines) but the price difference is substantial across a lot of their Kate styles.
Customs and Duties
For the US, as long as the item is under $800, there are no customs or duties to pay fees to pay. If the items is over $800, then Selfridges will automatically calculate this for you at checkout so there are no surprises upon delivery. What you pay at checkout is all you will pay.
This may be different for countries other than the US, so it's always best to check if you're shipping to a country outside of the US 🙂
Shipping
Delivery is $30 and orders are sent express delivery so they arrive super quickly however Selfridges also offer unlimited global deliveries for $55 a year. I do the UK version of this with Selfridges (and have done for the past three years!) and it's fantastic. The shipping is always ridiculously quick and it works out to be fantastic value if you buy more than 1 item per year. Would definitely recommend!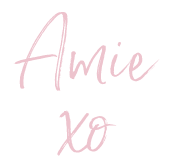 Thank you to Selfridges for partnering with me on this blog post!