All images are clickable!
The Selfridges Christmas Comes Early sale is now live! I look forward to this sale every year – it's a set 20% off or 10% off beauty with the code SELFCCE and you can take the discount code off anything in this landing page but you've got to be logged in – or you can register for a new account (both work fine so you don't need an existing purchase history).
FEATURED ABOVE
1. Coach Leather Shoulder Bag // 2. Valentino Garavani Ankle Boots // 3. Marc Jacobs Mini Canvas Tote // 4. Ugg Gloves // 5. Neom Scented Candle // 6. Johnstons Ribbed Cashmere Scarf // 7. Diptyque Biscuit Scented Candle // 8. Johnstons Cashmere Beanie Hat // 9. Opalex Healthy Hair Essentials Gift Set // 10. Diptyque Scented Candle Limited Edition Gift Set // 11. Clinique Advent Calendar // 12. Le Specs Sunglasses // 13. Reformation Plum Midi Dress // 14. Commando Faux-Leather Leggings // 15. Self-Portrait Lace Midi Dress // 16. Refomation Floral-Print Midi Dress 
There are so many gorgeous items included – from Valentino to Reformation to Diptyque! I've rounded up my favourites above and below as well as some gift picks for men!
ITEMS I OWN AND LOVE!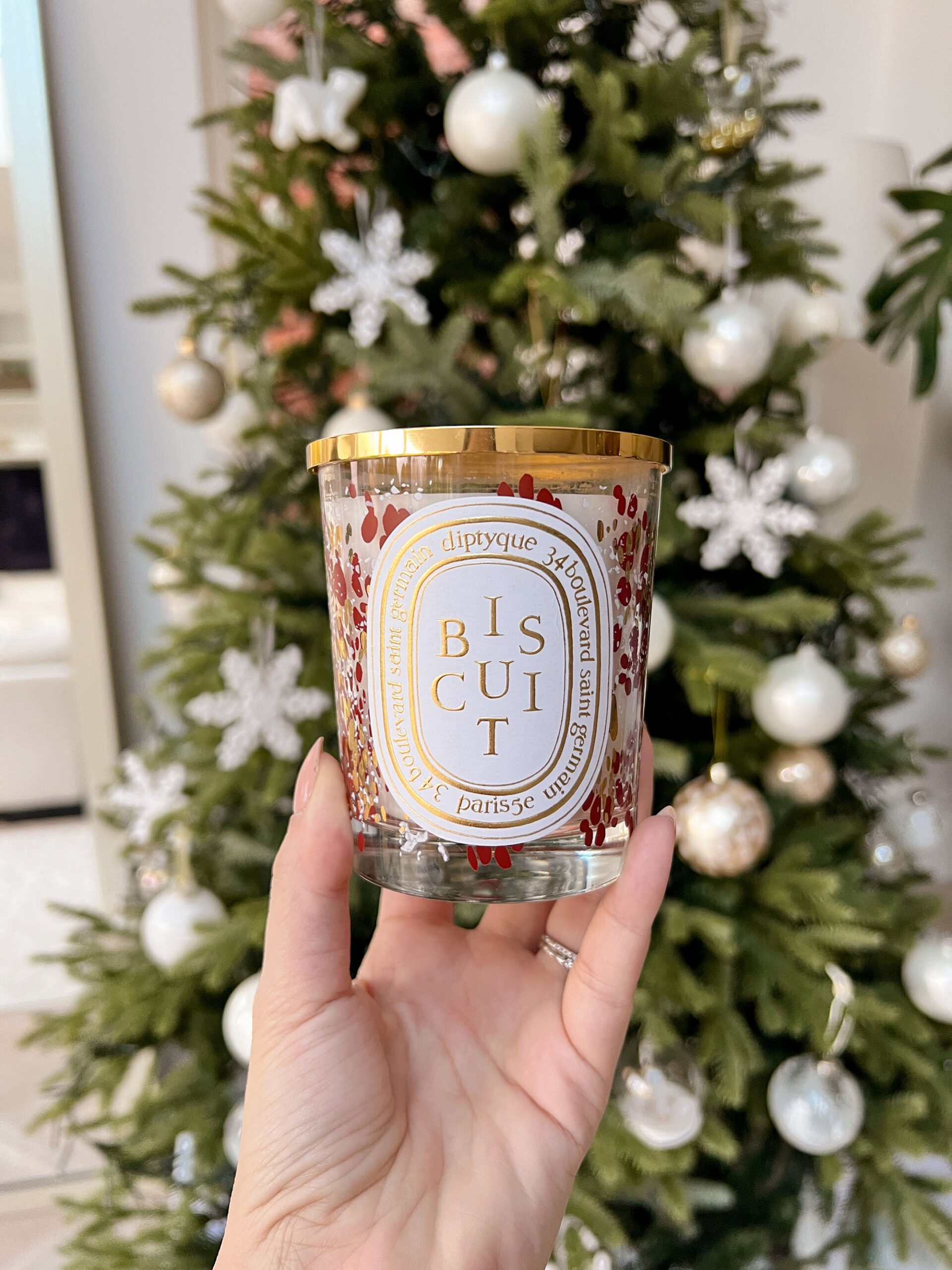 A couple of favourite call-outs – the whole Diptyque line is included at a generous 20% off. This is the same spend level as 24s but happily, there's no minimum spend so you can purchase just the one candle and still claim the discount. My favourite is the Biscuit candle – smells absolutely incredible but the whole holiday line is just gorgeous!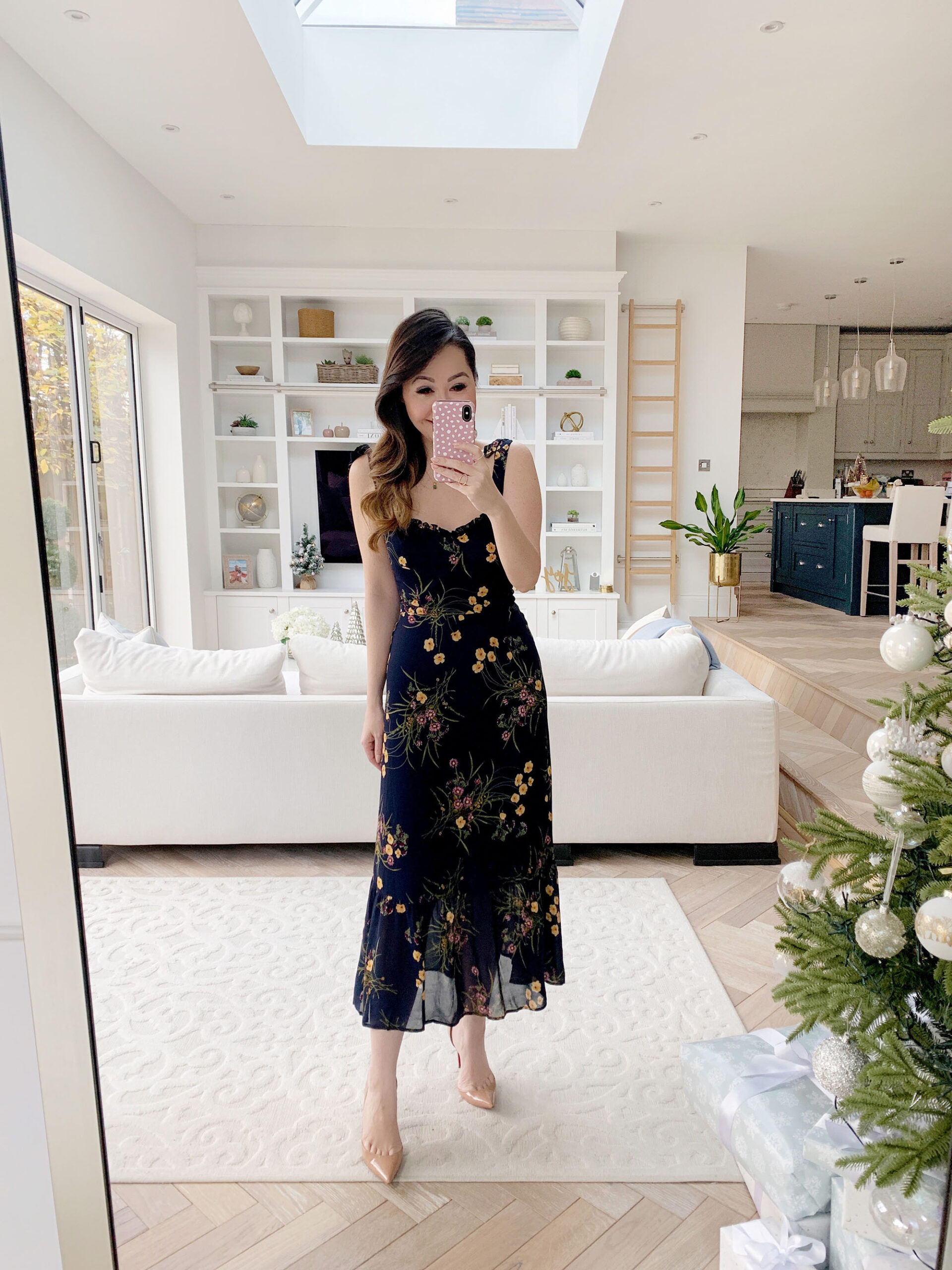 My Reformation dress is included along with a whole bunch of other styles – all at 20% off! This is one I'm sharing in an upcoming haul video but it is the prettiest thing. Perfect for a winter wedding or holiday party! I took a UK size 8/ US size 4.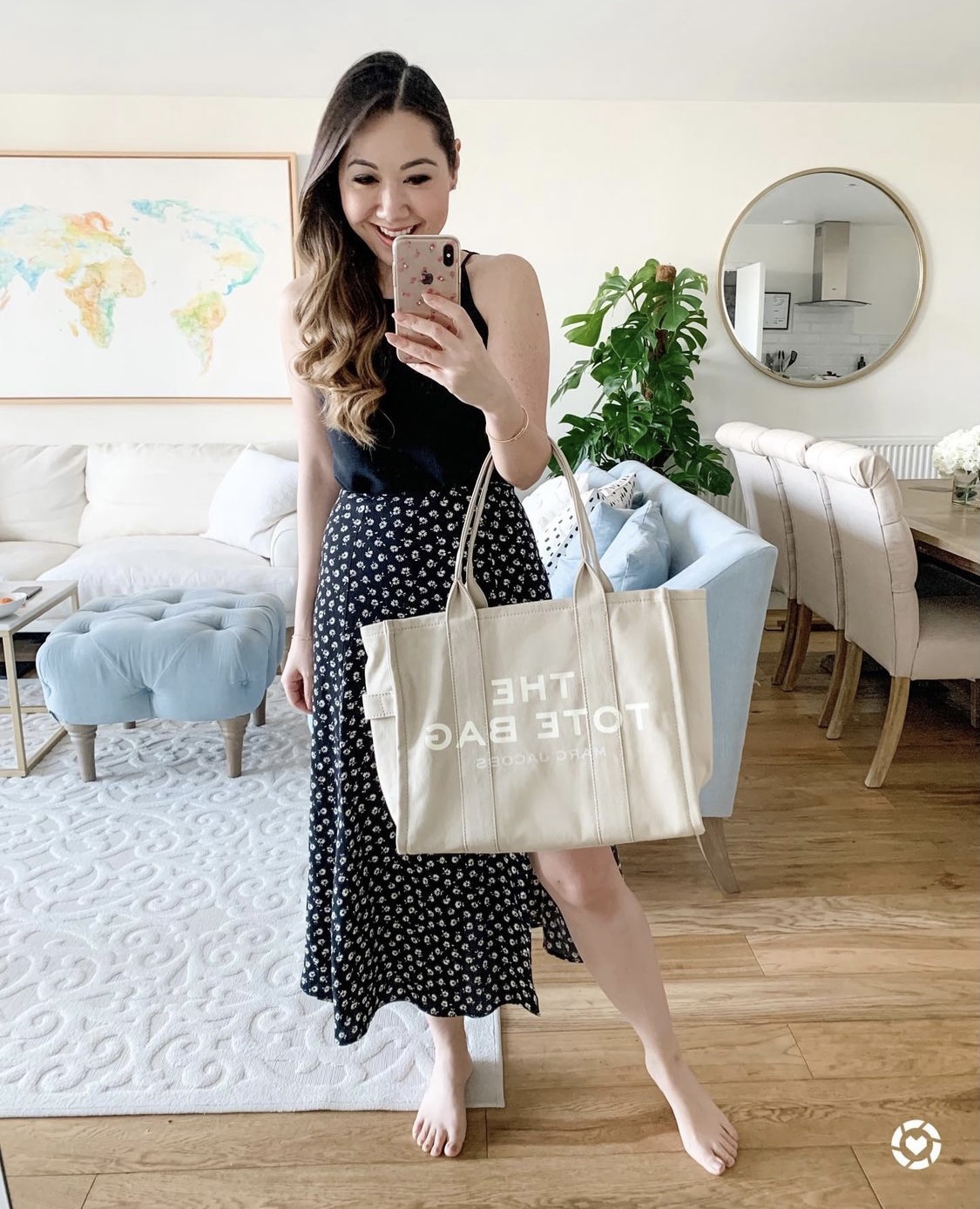 My Marc Jacobs tote is also included – these now come in a whole bunch of different colours and sizes! This tote has become crazy popular for a reason – very lightweight but just the strongest thing! I've put mine through its paces and it still looks good as new.
PARTY WEAR PICKS
1. Reformation Tie-Strap Crepe Top // 2. BA&SH Alpaca-Blend Jumper // 3. Self-portrait Woven Midi Dress // 4. Spanx Faux-Leather Leggings // 5. Vince Slip Midi Dress // 6. Reformation Midi Dress // 7. Max Mara High-Waist Satin Midi Dress
If you're looking for outfits for the upcoming holiday season, there are a ton of great pieces included in the sale! Classic Self-Portrait styles along with my favourite bias cut skirt and my wear-everywhere faux leather leggings!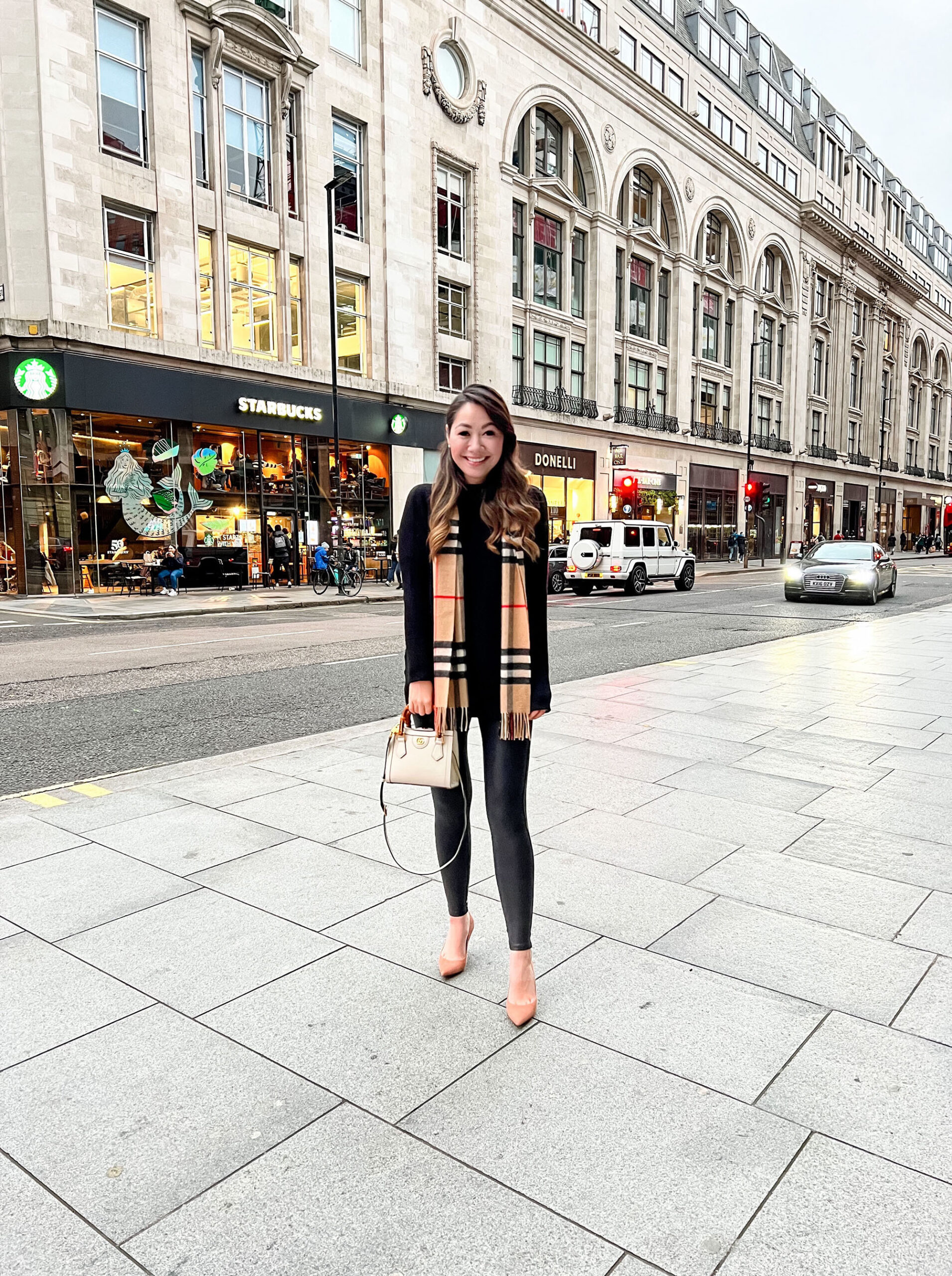 I just picked myself up a back-up pair since these are such a great price at the moment – they are the comfiest things and look great with pretty much everything. Definitely a wardrobe staple for me! I took a size small for reference.
GIFT IDEAS FOR HER
All images are clickable!
1. Vivienne Westwood Wool Scarf // 2. Diptyque Baies Scented Candle // 3. Marc Jacobs Large Canvas Tote // 4. Larq Self-Cleaning Stainless Steel Bottle 500ml // 5. Stella McCartney Glitter-Embellished Woven bag // 6. Supergoop! SPF 30 Sunscreen // 7. Gucci Floral Eyeshadow Palette 
There are a ton of lovely options for beautiful gift ideas – from the most clever self-cleaning water bottle (perfect for anyone that spends a lot of time outdoors!) to the Gucci Floral Eyeshadow Palette that I just featured in my Gift Guide video!
GIFT IDEAS FOR HIM
All images are clickable!
1. Tumi Nottaway Rain-Proof Backpack // 2. Burberry Reeth Leather and Suede Trainers // 3. Dsquared2 Icon Embroidered Cotton Baseball Cap // 4. Polo Ralph Lauren Logo Embroidered Cotton Pique Polo Shirt // 5. Tateossian Skeleton Gear Brass Cufflinks // 6. Vivienne Westwood Milano Grained Leather Billfold Wallet // 7. Polo Ralph Lauren Quilted Down Shell Gilet // 8. Tissot PR100 Sport Chrono Stainless Steel Quartz Watch // 9. Polo Ralph Lauren Polo Bear Logo-Embroidered Stretch-Cotton Socks Pack Of Two // 10. Barbour Ashby Corduroy Trimmed Wax Cotton Jacket // 11. Calvin Klein Logo-Printed Pack of Three Stretch-Cotton Trunks // 12. Y3 Logo-Embroidered Wool-Knit Beanie Hat // 13. Off-White C/O Virgil Abloh Quote-Print Leather Cardholder // 14. Hunter Original Chelsea Logo-Print Rubber Ankle Boots // 15. Fred Perry Ringer Logo-Embroidered Cotton-Jersey T-Shirt // 16. Barbour Tartan-Patterned Tassel Wool and Cashmere-Blend Scarf // 17. Fulton Commissioner Wooden Crook Umbrella // 18. Screen #D Round-Frame Glasses // 19. Barbour Corduroy Trimmed Wax Cotton Overnight Bag //
There are also some really great gift ideas for Men. I've picked out some of my favourites including this Polo Ralph Lauren Cotton Pique Polo Shirt, Barbour Wax Cotton Jacket and these Hunter Chelsea Boots. Included in the sale are also these Ralph Lauren Polo Bear Socks I got for my husband because they are just too cute!
And that's it for this round-up! Are you shopping the Selfridges sale?