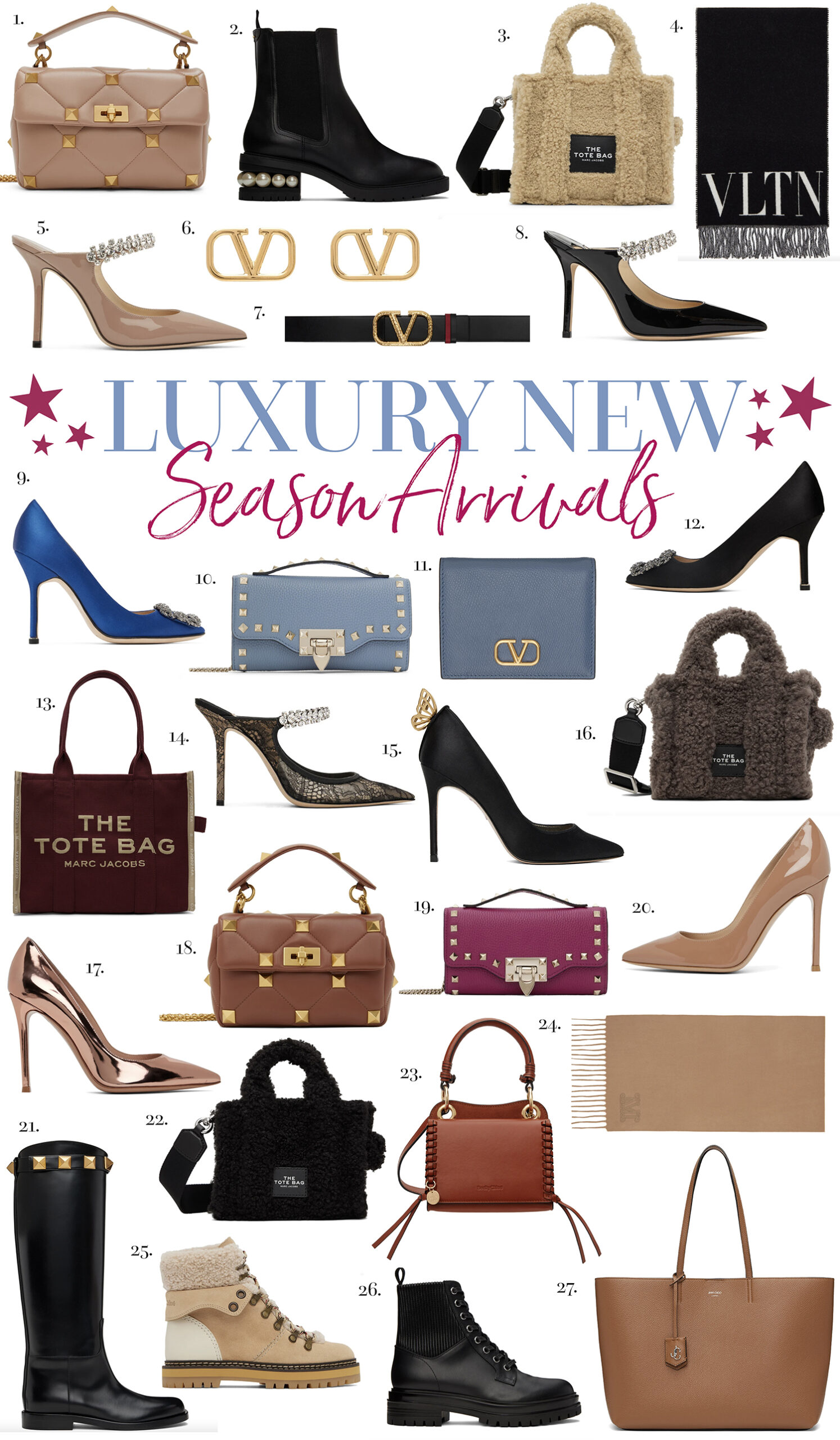 1. Valentino Roman Stud Bag // 2. Pearl Stud Boots // 3. Marc Jacobs Mini Tote // 4. Valentino Scarf // 5. Jimmy Choo Bing Heels // 6. Valentino Earrings // 7. Valentino Belt // 8. Jimmy Choo Black Bing Heels // 9. Manolo Blahnik Blue Hangisi Pumps // 10. Valentino Wristlet // 11. Valentino Blue Card Holder // 12. Manolo Blahnik Black Hangisi Pumps // 13. Marc Jacobs Tote // 14. Jimmy Choo Lace Bing Heels // 15. Sophia Webster Butterfly Heels // 16. Marc Jacobs Micro Teddy Tote // 17. Gianvito Rossi Metallic Heels // 18. Valentino Roman Stud Cognac Bag // 19. Valentino Magenta Wristlet // 20. Gianvito Rossi Patent Pumps // 21. Valentino Boots // 22. Marc Jacobs Black Teddy Bag // 23. See by Chloe Bag // 24. Max Mara Scarf // 25. Shearling Boots //26. Black Biker Boots // 27. Jimmy Choo Tote
SSENSE have gone live with a brand new discount code to celebrate the start of autumn and all the gorgeous new arrivals! You can take 15% off your entire with the code FW2022. There are some brand exclusions but there are SO many gorgeous items included from S Max Mara coats and Valentino bags to Jimmy Choo shoes and Marc Jacobs totes!
I've rounded up my favourite picks above and below with several collages (there's just too much good stuff included!) as well as some tried and test favourites of my own that are also included in the offer!
This one runs until October 10th so there's one week left to shop!
A/W WARDROBE PICKS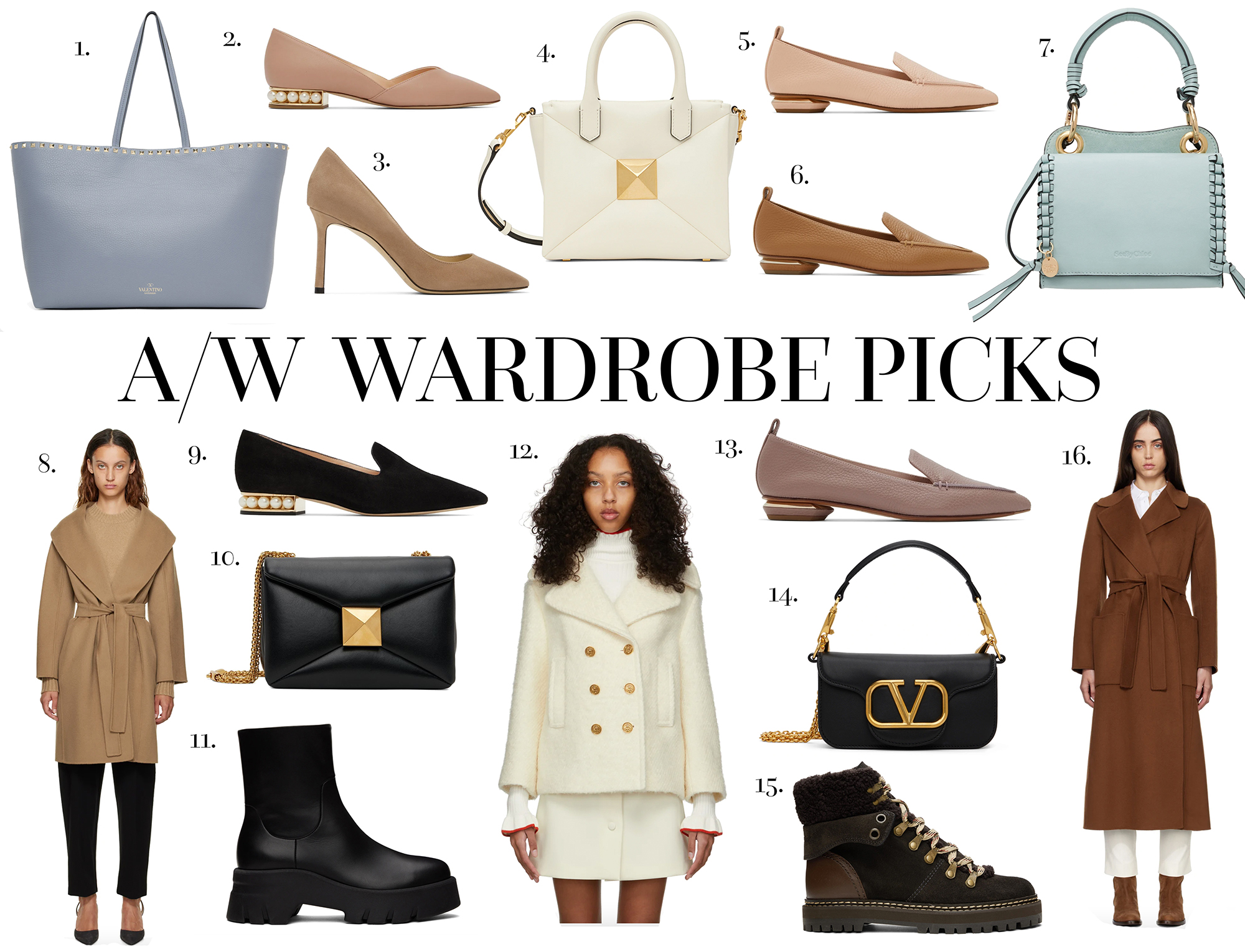 1. Valentino Tote // 2. Pearl Stud Flats // 3. Jimmy Choo Suede Heels // 4. Valentino White Tote // 5. Nicholas Kirkwood Flats // 6. Nicholas Kirkwood Camel Flats // 7. See by Chloe Blue Tote // 8. S Max Mara Camel Coat // 9. Black Pearl Flats // 10. Valentino Stud Bag // 11. Chelsea Boots // 12. Cream Jacket // 13. Nicholas Kirkwood Beya Flats // 14. Valentino Shoulder Bag // 15. Shearling Boots // 16. S Max Mara Brown Wrap Coat
There are so many beautiful new arrivals for autumn! These chunky chelsea boots are absolutely gorgeous – perfectly on trend and happily, a lot more comfortable than a lot of fashion these days haha. SSENSE also have a ton of new S Max Mara arrivals – you can see the full selection here. From their beautiful wrap coats to classic scarves, their pieces are true wardrobe investments – and obviously even better on sale!
I also absolutely adore this cream wool jacket – how unbelievably chic is this?! So beautiful! There are also so many Valentino bag styles included – from this stunning ivory top handle to their classic blue studded tote.
VALENTINO PICKS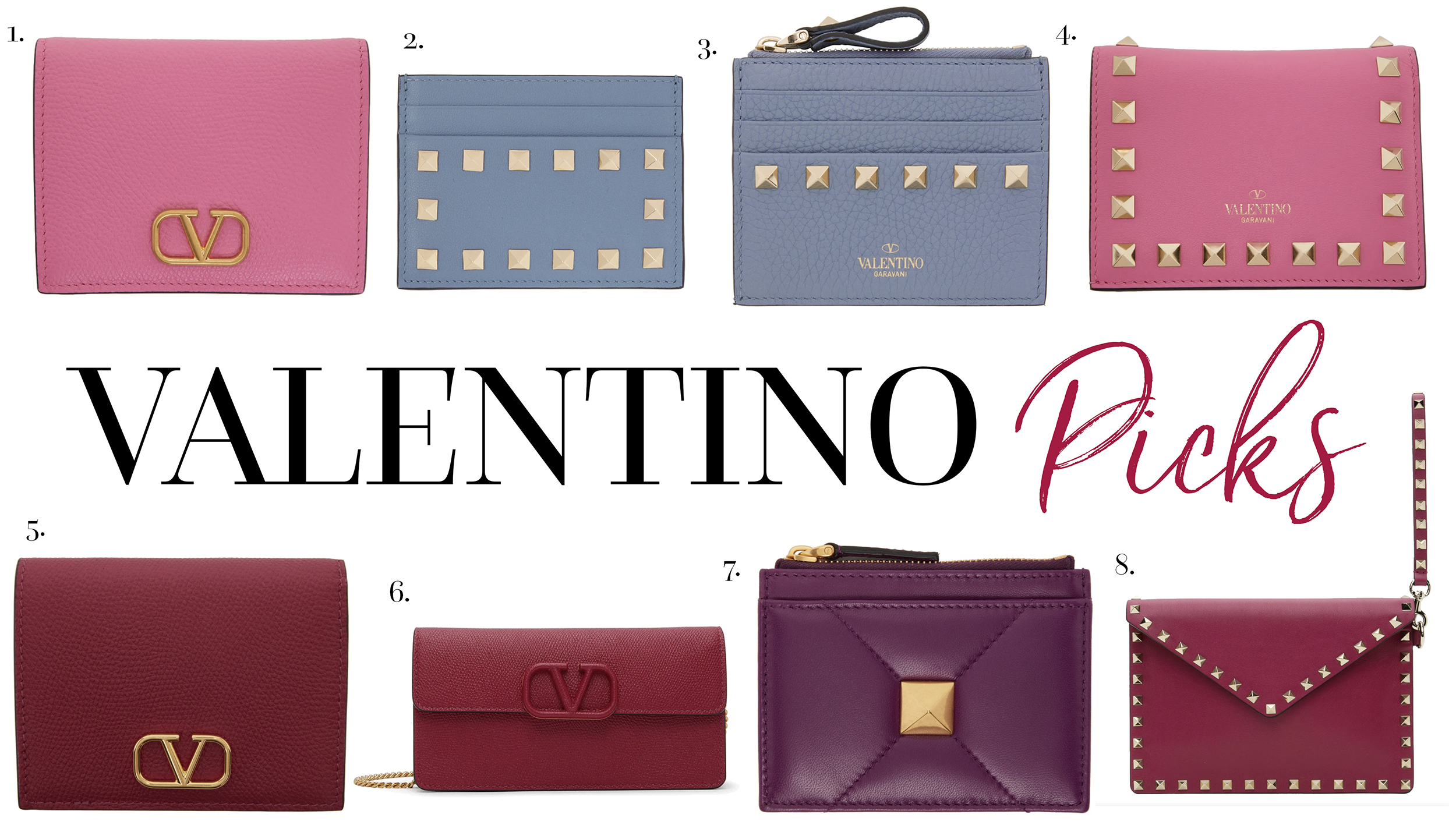 1. Valentino Pink Card Holder // 2. Blue Stud Card Holder // 3. Blue Coin Purse // 4. Pink Stud Card Holder // 5. Magenta Coin Purse // 6. Magenta WOC // 7. Plum Stud Coin Purse // 8. Magenta Wristlet
Valentino is excluded from pretty much every discount code these days so I was so excited to see it included this time! If you've been following their social media, you'll know they've gone heavy with the pink this year – and they have so many beautiful shades to choose from! From stunning magenta WOCs to gorgeous barbie pink card holders. They have also released a ton of options in their gorgeous light blue colour – an absolute favourite of mine; such a pretty shade!
WARDROBE FAVOURITES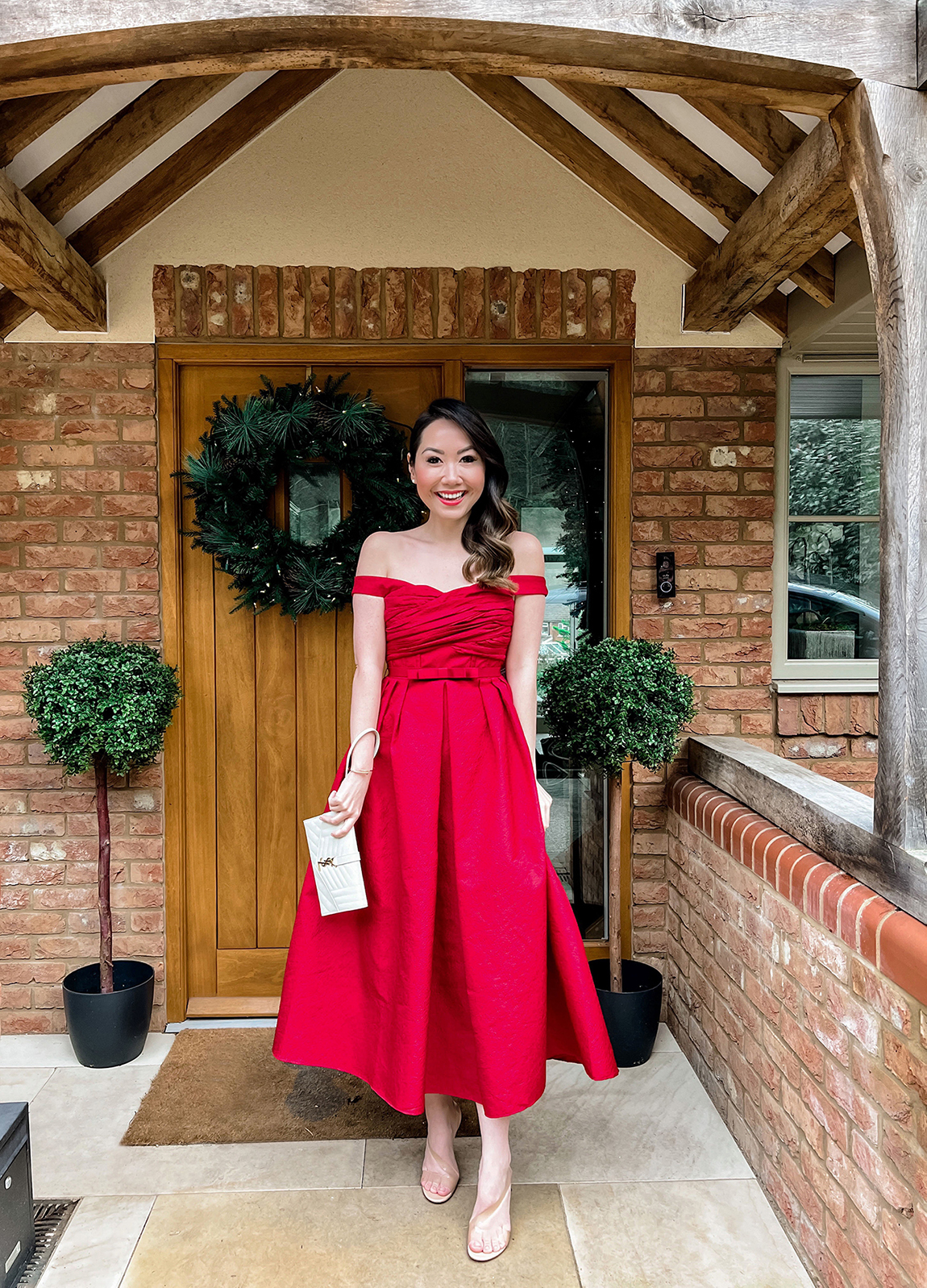 Now for some wardrobe favourites! My exact Gianvito Rossi heels have been restocked and are included in the offer! I absolutely love these heels – they go with everything because of their 'barely there' look and are surprisingly comfortable because of the plexi nature. Perfect for the upcoming festive season and beyond!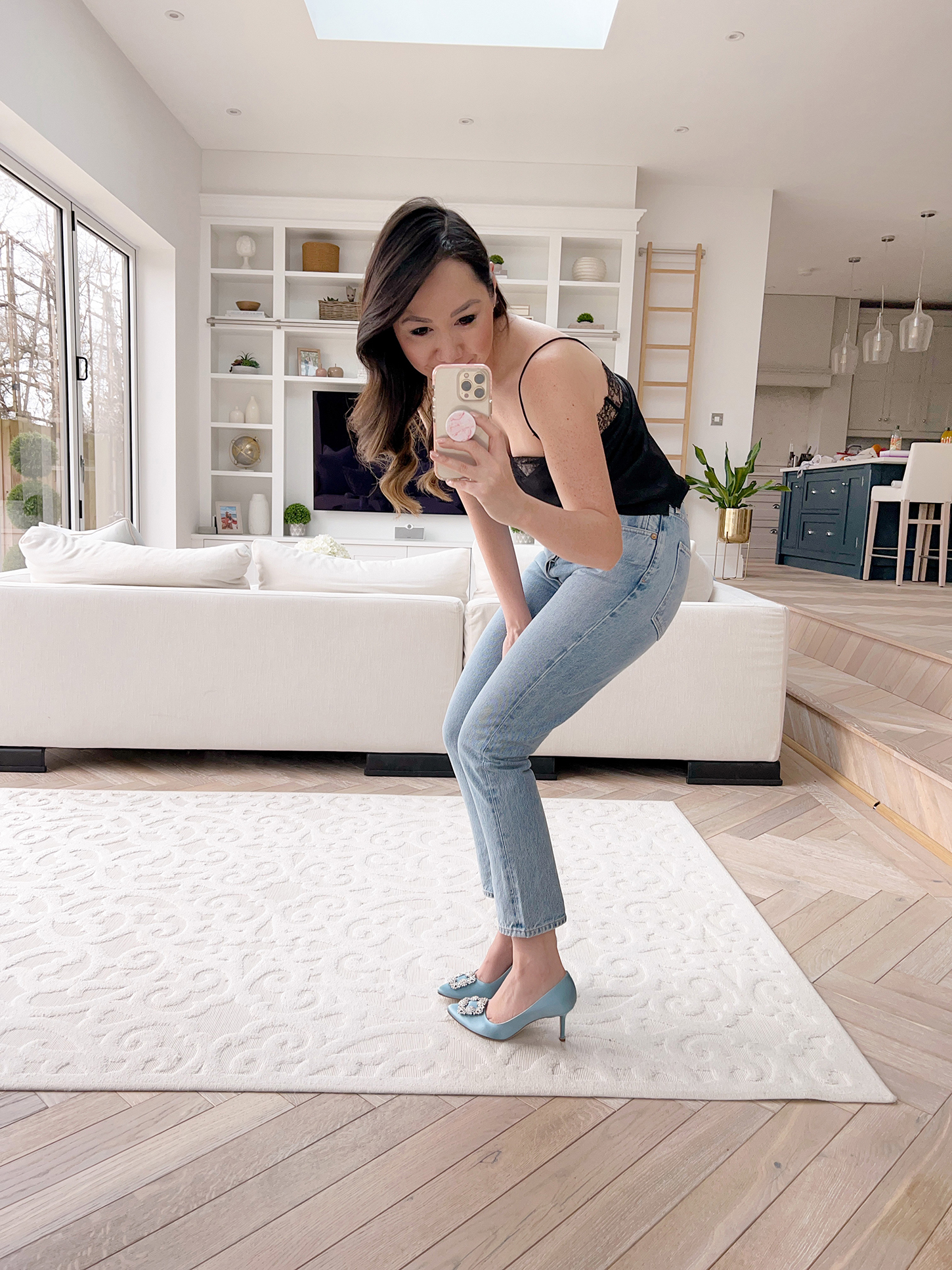 SSENSE also have a ton of Manolo Blahnik included in the offer – including their classic Hangisi pumps in every heel height! The height I'm wearing in the pic above is the mid heel and it's definitely become a new favourite. Still high enough for a height boost but wearable enough to get a ton of use out of them!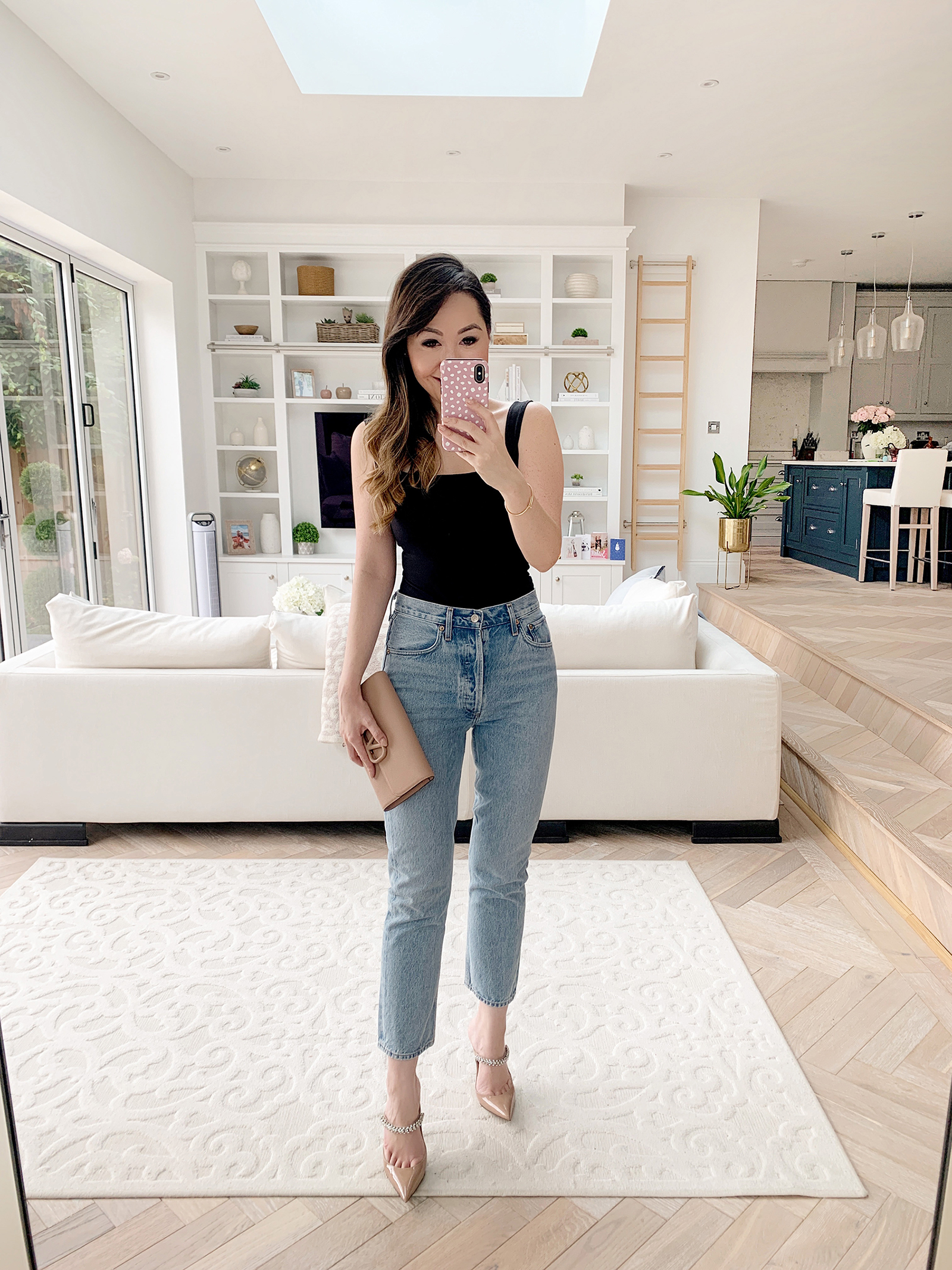 My Jimmy Choo Bing heels are also included! It's no secret how much I love these shoes – they are so beautiful and make such a statement even with the most simple of outfits. My exact pair are included as are the black ones and the stunning lace variety.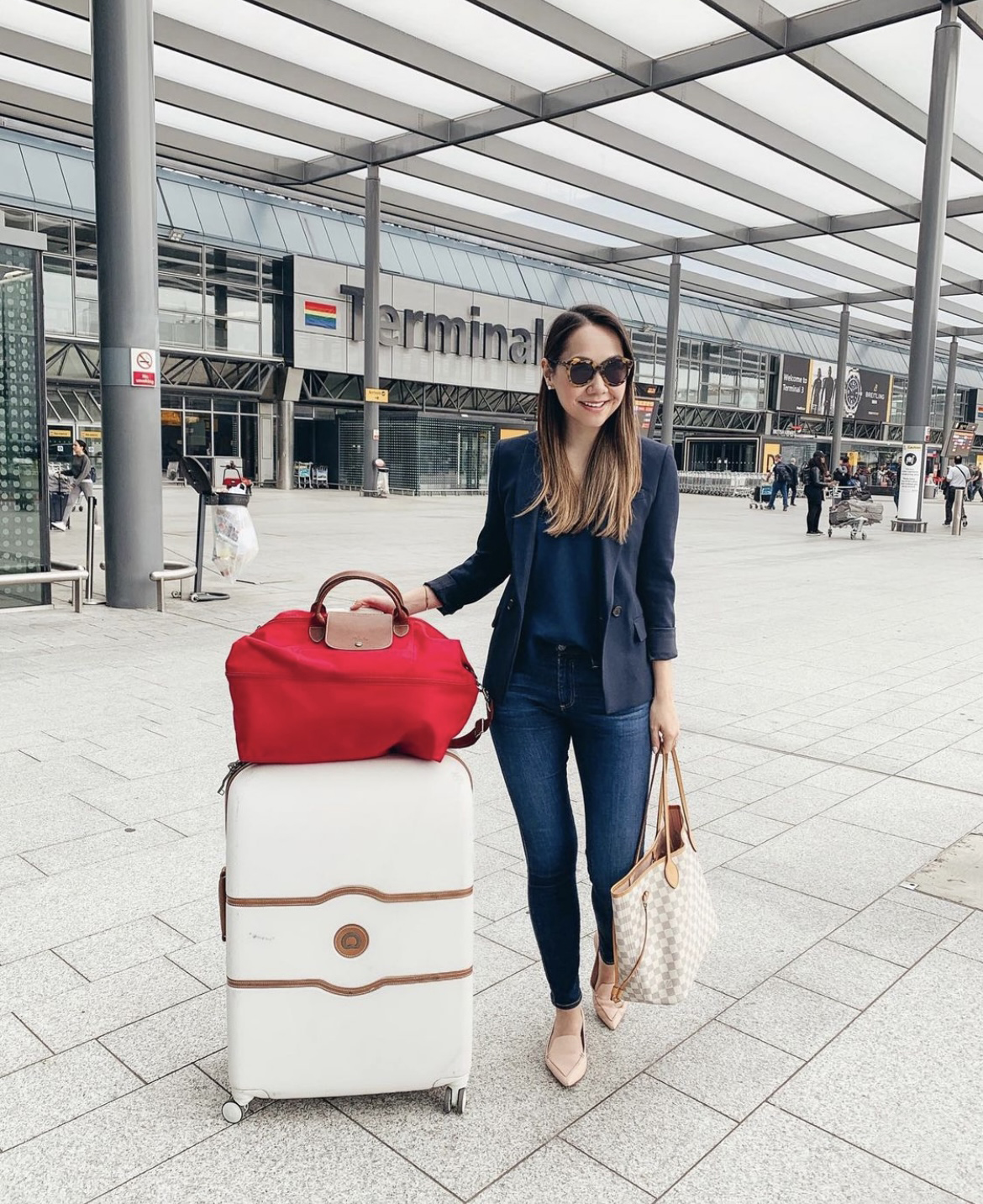 My Nicholas Kirkwood flats are included and there are a ton of colour choices to choose from! These are absolute wardrobe classics – such a lovely feminine take on the loafer and so much more wearable than a lot of the chunkier loafers you see. My exact ones are included (pictured above) but I also own the mauve colour which are fantastic too!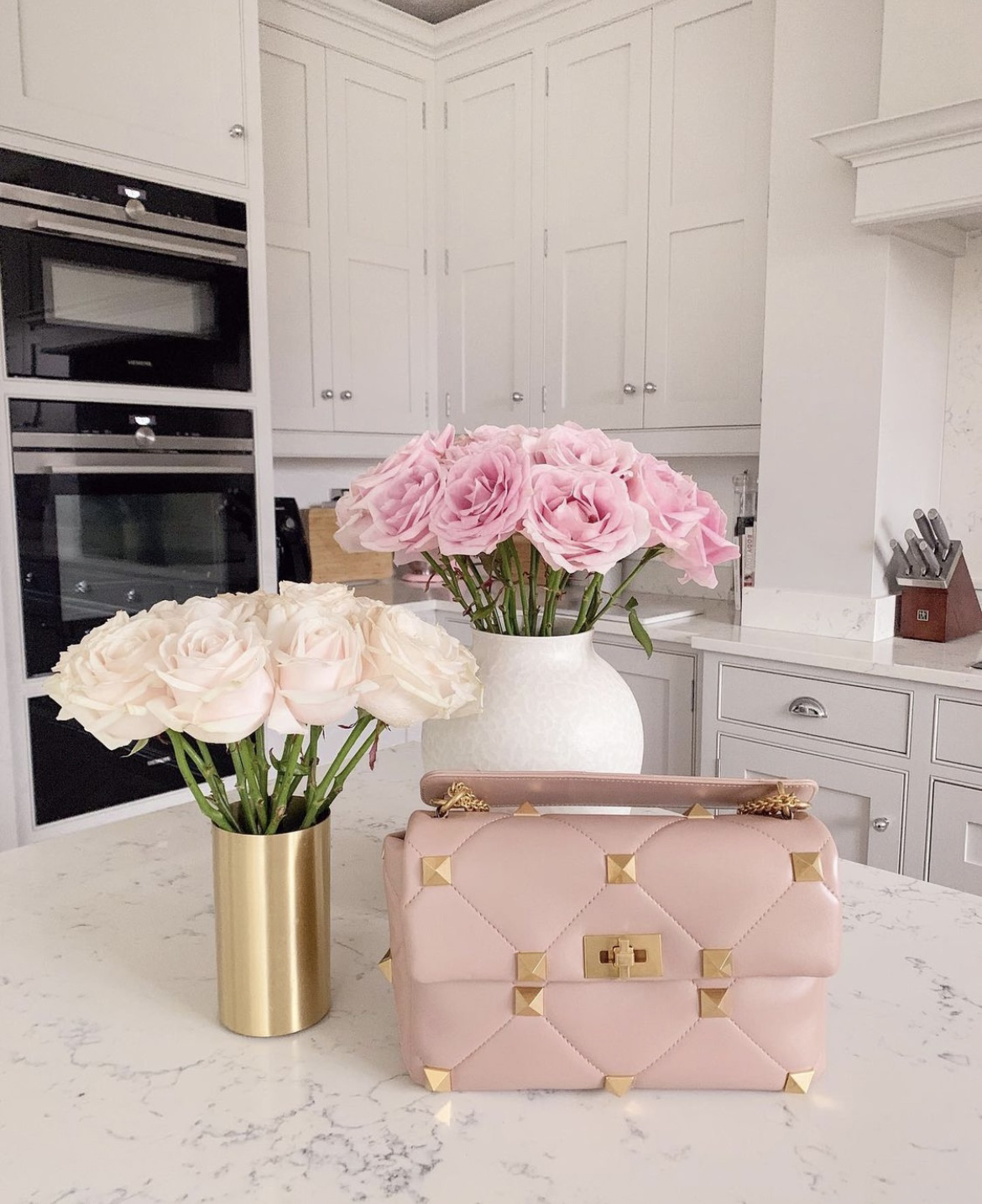 Finally, my exact Valentino Roman Stud is included! They have the beautiful poudre colour that I own as well as the new season arrival, chestnut.
Phew! And that's it for this round-up! Let me know if you snag anything good!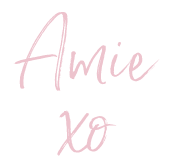 Thank you to SSENSE for partnering with me this post!